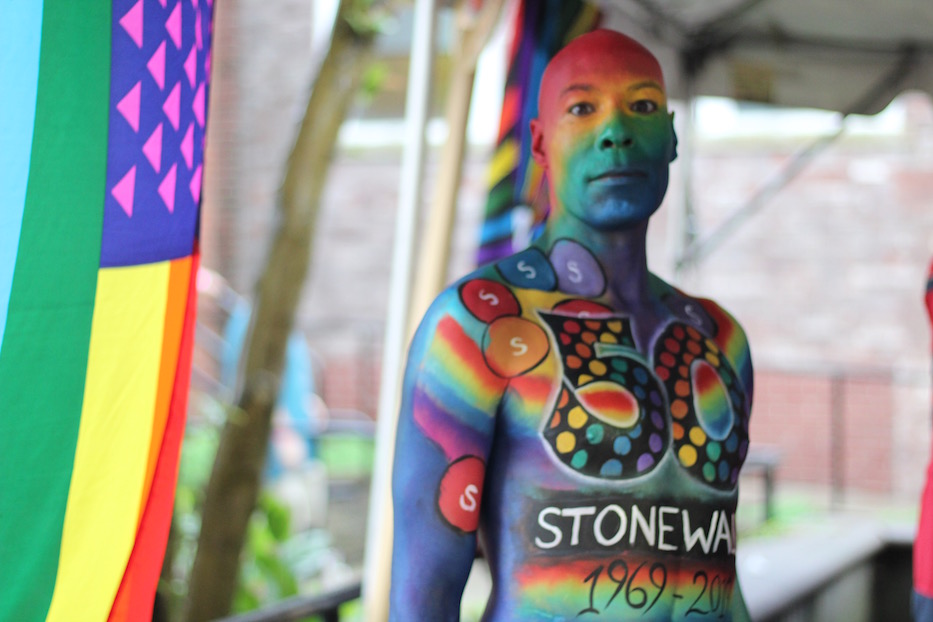 Bridgeport | Drag | LGBTQ | Arts, Culture & Community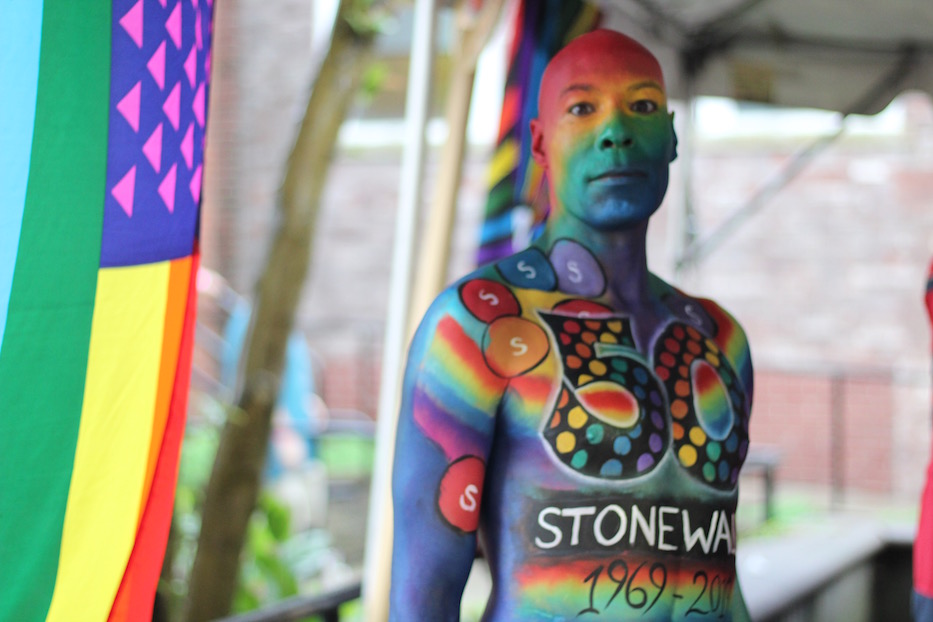 Brian Cobb. Lucy Gellman Photos.
The skies opened up and the flash mob got cancelled. The march turned into an umbrella-clad stroll. The dressing room flooded. Drag queens worried about melty, smudged makeup and braved puddles in very high heels. But the show went on. There was never a question that it would.
Thursday evening, driving rain was no match for SAMESEX 2019, Bridgeport's ninth annual pride march, art exhibition and variety show at City Lights Gallery and the nearby Bijou Theatre. The event was organized by artist Ricky Mestre, City Lights' Director Suzanne Kachmar and longtime LGBTQ+ advocate Kenneth Hopkins, whose drag persona Dolores Dégagé emceed the variety show portion of the event.
"Tomorrow is going to be our 10th year, and we want to blow it out of the water!" said Dégagé at the Bijou. "This is Bridgeport, the biggest city in the state! We can do this!"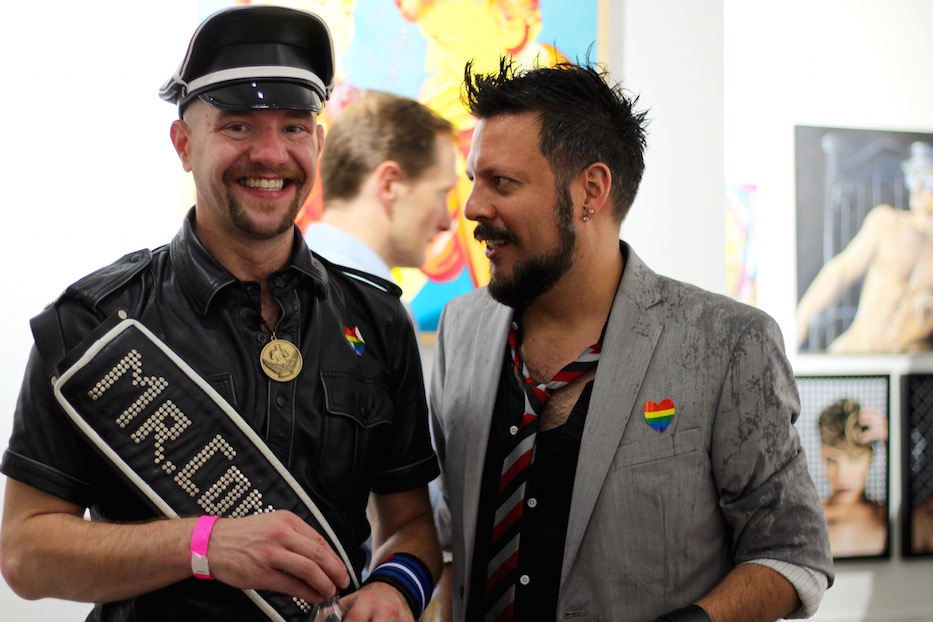 Mr. CT Leather Ryan Sperry with artist Ricky Mestre.
And indeed, the night unfolded as a show of joy and resilience, channeling both the 50th anniversary of the Stonewall Riots and unstoppable spirit of celebration that has always lived in SAMESEX. As rain began to fall in sheets around 7 p.m., attendees congregated beneath a tent outside the Downtown Cabaret Theatre, laughter filling the space.
Close to a check-in table, one attendee handed out heart-shaped stickers patterned with rainbows, covering everyone at least once by the end of the night. A couple walked around in tie-dye shirts that sported a list of events that had taken place in 1969, including both Woodstock and Stonewall.
At another, Brian Cobb (pictured at top) had painted himself into a sort of human Pride Flag, his chest emblazoned with the words "50/Stonewall/1969-2019." Working his way through knots of people, he posed by a pride flag that hung at the tent's opening, his body a thrill of rainbow on rainbow.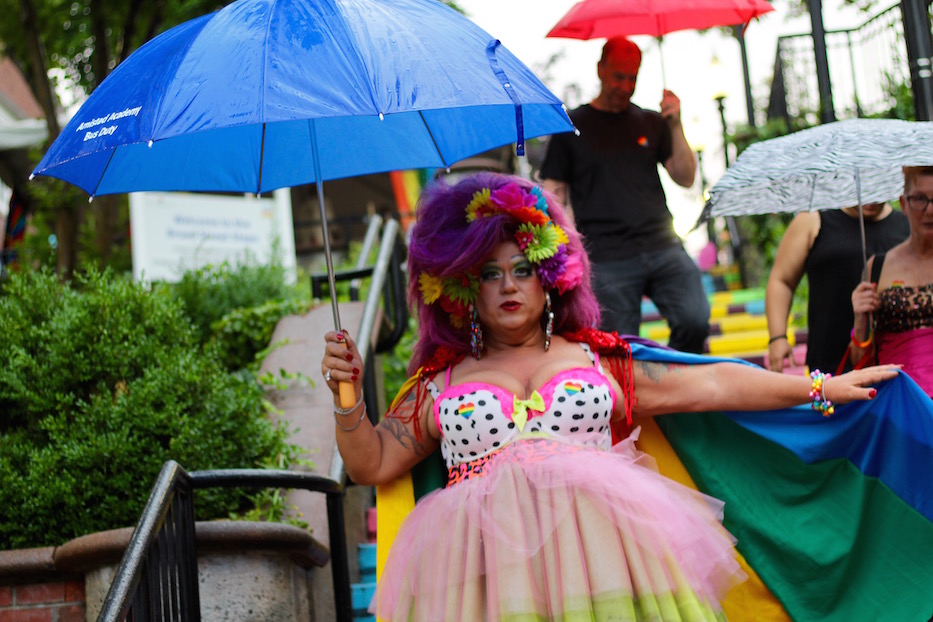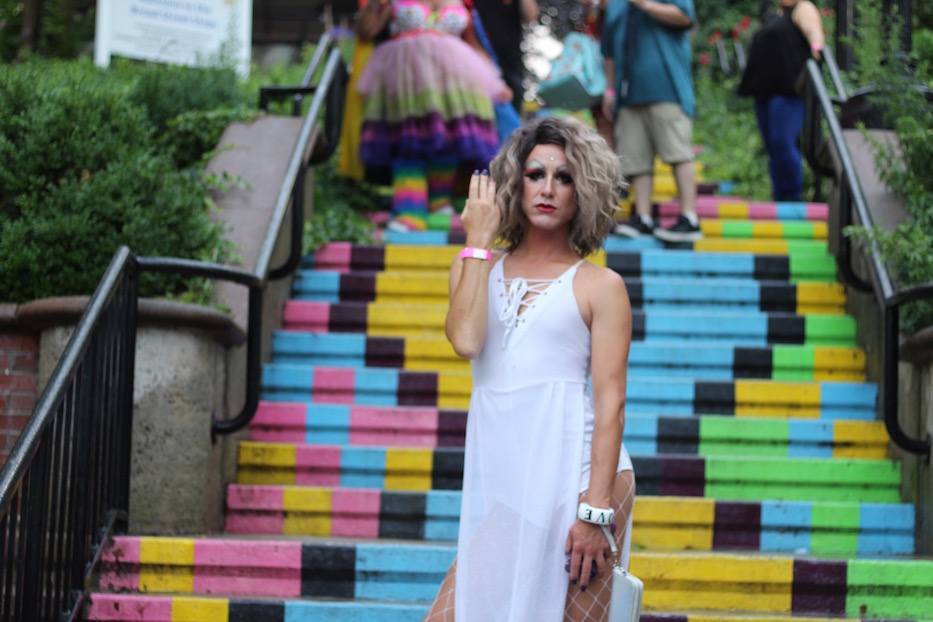 Dolores Dégagé (top) and Sorcia Warhol (bottom) en route to the Bijou.
"This is special, because it's me," he said of the body paint, for which he and his sister Alicia have become celebrated around the city and the state. "Like, I'm gay and I get to show that."
Next door at City Lights, art filled almost every square inch of wall for the annual SameSex Exhibition, which runs through the end of August (hold tight for a subsequent article on the show itself). As friends bounced from one piece to another, attendees continued to trickle in, some shaking off water while others pulled their umbrellas neatly shut. Queens Sorcia Warhol, Kiki Lucia and Dégagé mingled in their pre-show outfits, stopped every few minutes to pose for pictures.
A speaker crackled to life at one point, dancer Luis Antonio marking off a circle on the gallery. Slowly, the tinkling piano intro to "This Is Me" rang out over the space. Keala Settle's voice rose, conversation falling to a hush as dancers multiplied.
The song, which has become an unexpected LGBTQ+ staple since its release last year, was meant to score an outdoor flash mob on the city's brightly painted stairs—but plans changed when the stairs started collecting water. Antonio shrugged it off, rain coming off of his hair as he danced. The show had to go on. Even if that meant going on amidst hundreds of people in an art gallery.
Elsewhere in the gallery, queens prepared for the short, wet trek to the Bijou. A few posed with police, who had arrived to escort the march and weren't sure where to find any marchers (they eventually did, making an abridged, wet walk to the Bijou with a huge pride flag and Bridgeport Mayor Joe Ganim). Others, taking advantage of quiet, empty streets and a momentary break in the rain, posed mid-crosswalk for photos.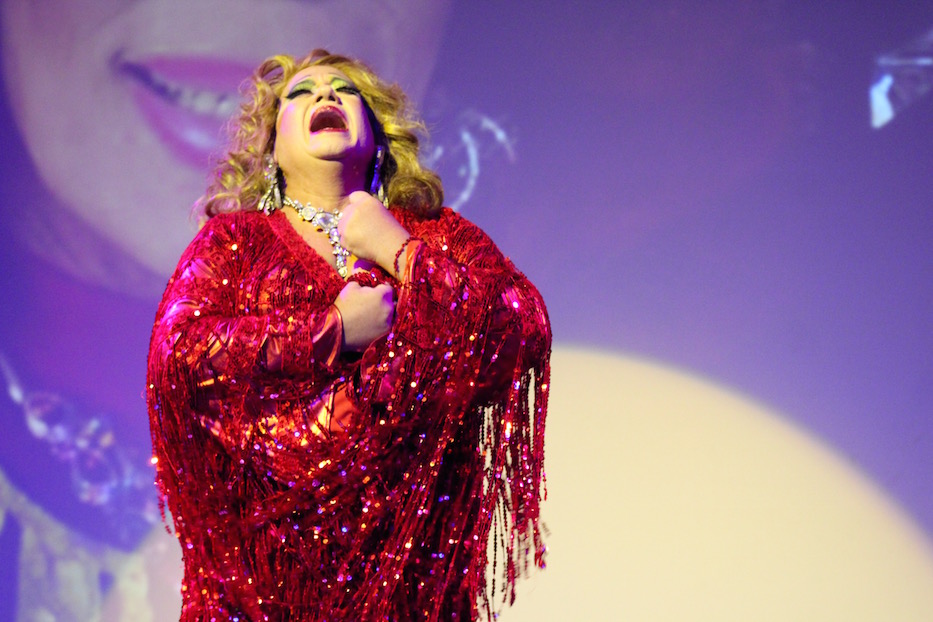 : Dolores Dégagé kicks off performances.
Inside the Bijou, performers refused to let the rain dampen spirits—or costumes, as the dressing rooms flooded and clothing was moved onto tables before getting soaked. As the lights went down on the variety show, Dégagé strutted out to Ike and Tina Turner's "River Deep Mountain High," images of the late Sassie Saltimboca stretching across the screen behind her. Around her was the blue and silver mantle Saltimboca wore for performances before her light was snuffed out by cancer in 2015.
If I lost you would I cry/Oh how I love you baby, baby, baby, baby!, Tina Turner belted from a speaker. Dégagé rocked to the words, lifting her arms, spinning in a dazzling red gown, and wrapping herself as she closed and then reopened her eyes.
The performance set a galvanizing, propulsive, sometimes funny and emotional tone for the evening ("I wasn't going to turn around, because I didn't want to cry," Dégagé later said of Saltimboca late partner). Dancers from Les Ballets Eloelle lifted the mood with their U.S. premiere, dropping physical comedy even in pointe shoes.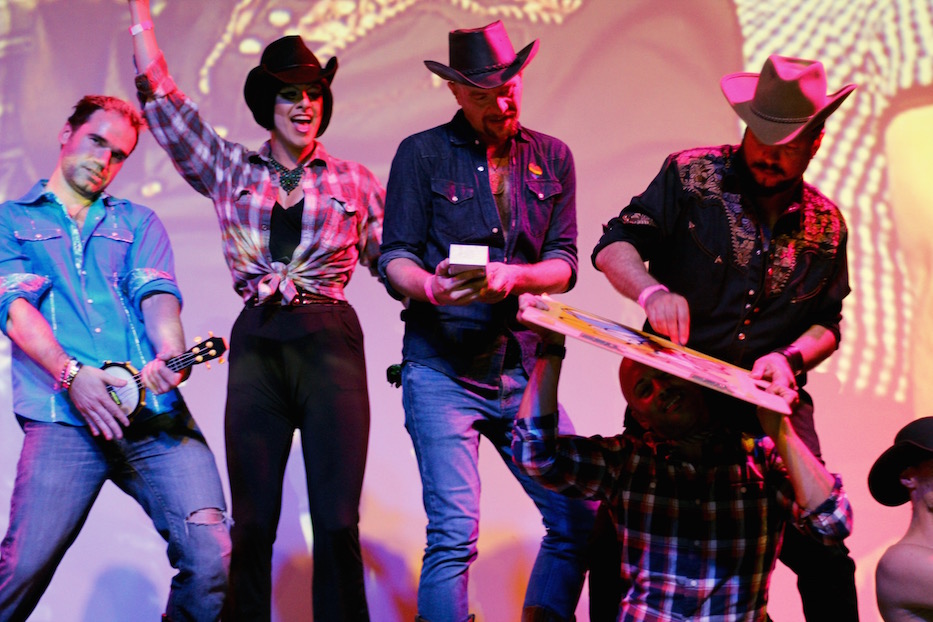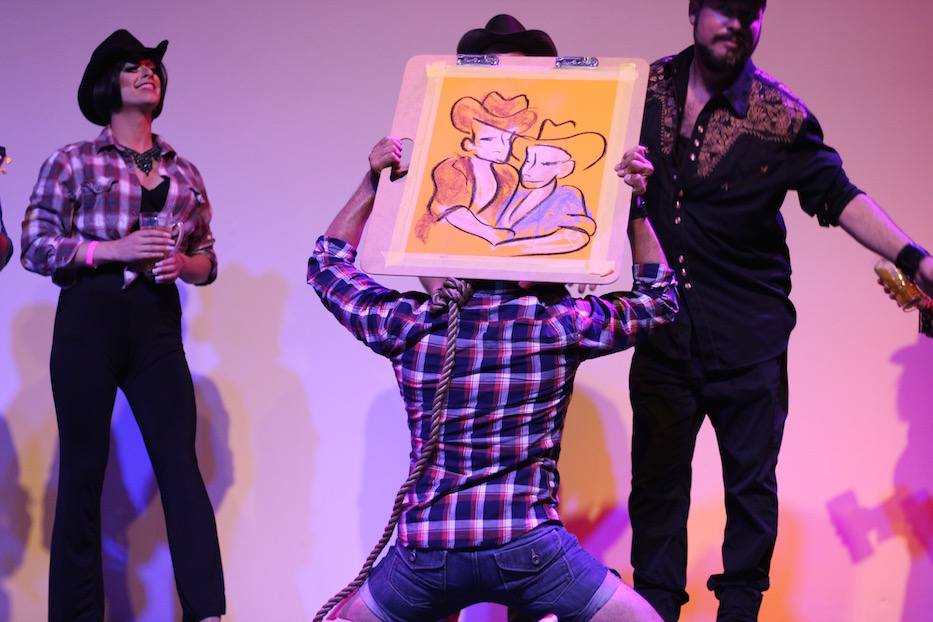 In a live drawing and multimedia number, artist Ricky Mestre turned country music on its head—and then some—reimagining films Brokeback Mountain and Blazing Saddles as he completed a drawing of two cowboys in love—on an easel on a man's back, while everyone on stage gyrated.
The founder of the My City Initiative, performer Netta Walker (pictured below) championed Bridgeport as she took the stage. Just a few months ago, she told the audience, she learned that a song she had produced had been featured on the TV series Younger, which plans on TV Land. The audience clapped and whooped in response.
"I found my passion here," she said. "We're doing great things and we're putting this city on the map."
A political tide rose as the night wore on. Performer and statewide trans advocate Casey Fitzpatrick got the crowd cheering as she performed against a blue-and-pink background that read WE ARE VALID in huge, blocky letters. Artist Kiki Lucia, who classifies her genre as protest drag, pulled out a "shattered doll" routine that doubled as a potent statement against domestic violence.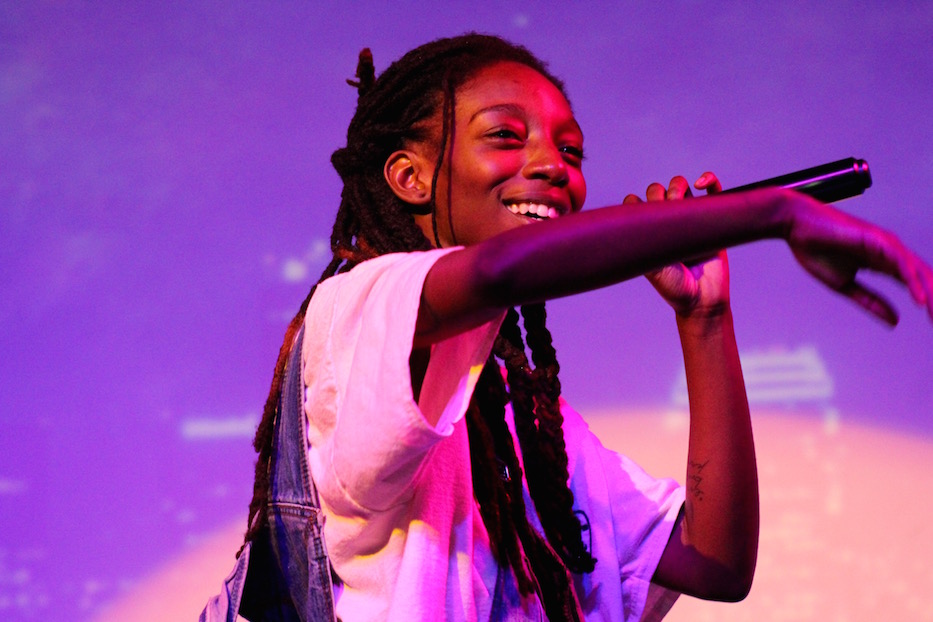 Dancer Philip Galbert mesmerized the crowd as he took the stage and transformed into a blur, pausing just enough for the audience to read his shirt—Trump, squinting and decked out in rainbow gear—and laugh at the irony in a summer where Trump has killed Obama-era Pride celebrations, forbidden U.S. embassies from flying the rainbow flag, and told four women of color that they are effectively not welcome in a country in which they have fought to rise.
"Do you know what Stonewall is!?" Dégagé cried out between numbers, the crowd cheering in response. "A riot! It was a riot and we cannot forget that."
She recalled her time as a student at the University of Missouri in 1979, ten years after Stonewall had unfolded hundreds of miles away in New York City. At a march that LGBTQ+ students had organized, she watched as students threw already-smashed beer bottles at marchers, and police stood by and did nothing.
"Do you know how old it is?" she yelled.
"Fifty!" the crowd cried back.
Final performances kept that riotous, fighting spirit going, fueling SAMESEX on the eve of its tenth year. One of the last acts of the night, DJ and musical artist Ephraim Adamz rocked the crowd, drawing cheers as he shouted out trans femmes, mourned the Pulse Nightclub shooting, and raised his fist in a show of resistance, his body pointed skyward from head to toe.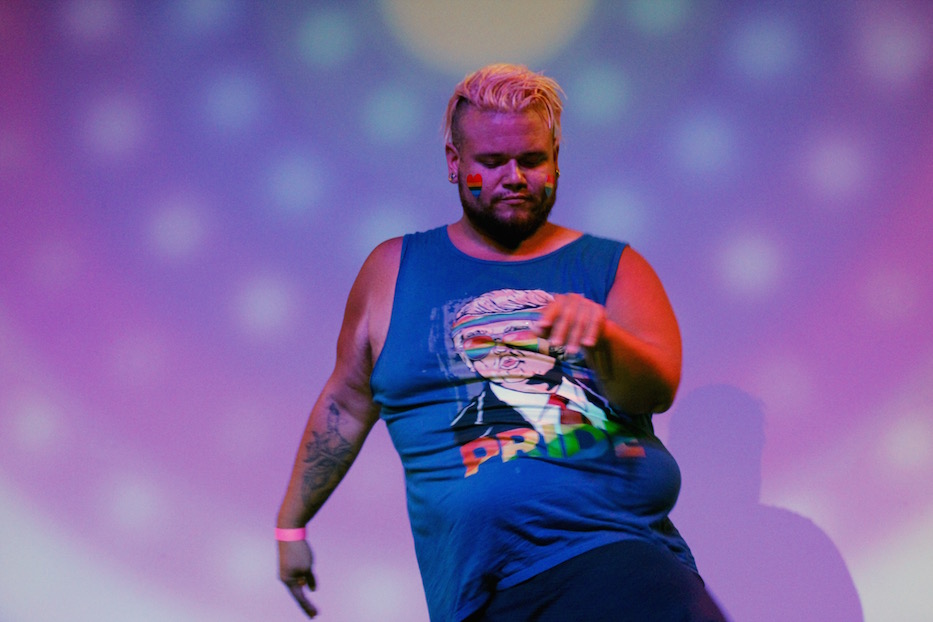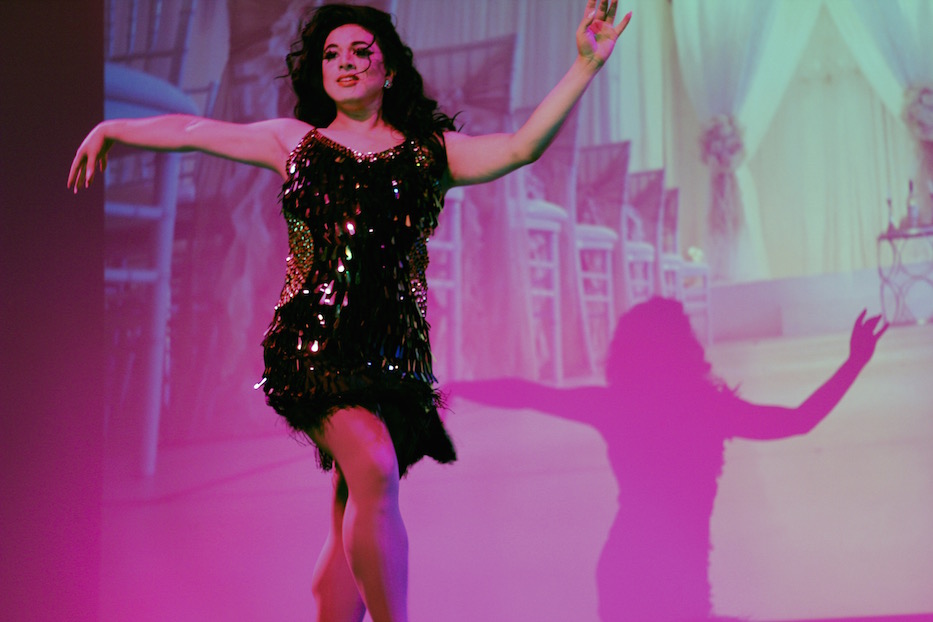 In a dazzling number that came close to 11 p.m., Rory Roux Heart took a different approach, celebrating the centenary of the German film Anders als die Andern (Different From The Others), a queer landmark produced during the Weimar Republic. As she danced before the screen, a century of gay protagonists and LGBTQ+ icons appeared, from Love Simon's titular character to the voguing heads and limbs of Paris Is Burning, perpetually in motion.
By the time artists and performers poured out of the Bijou, the sky had cleared completely. The streets were cool for the first time in weeks, with no hint of Friday's heat and humidity yet in sight. The rain was over. But Trevi Lounge beckoned; the party was just beginning.