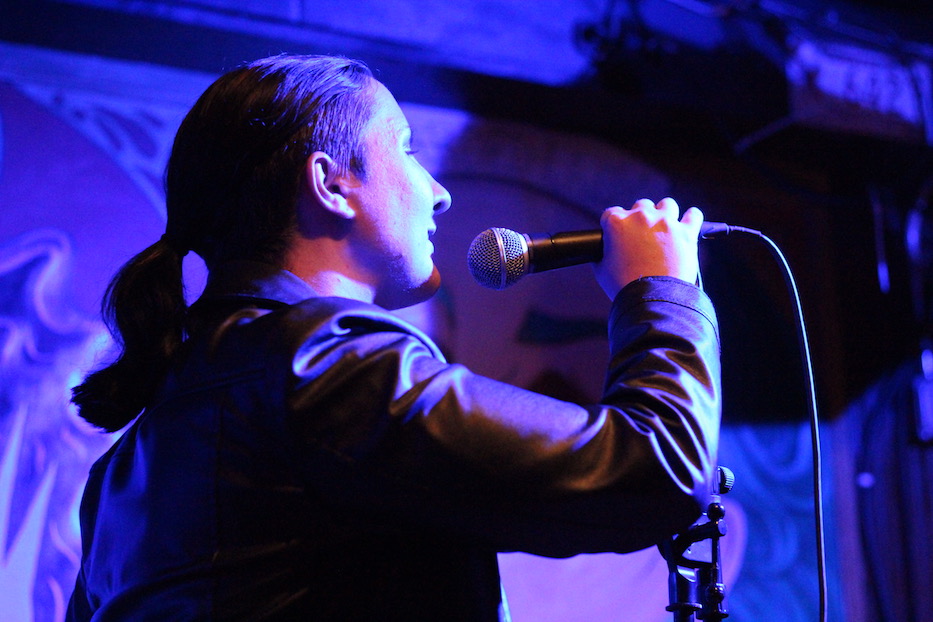 Drag | LGBTQ | Politics | Three Sheets New Haven | Arts, Culture & Community | ANSWER Coalition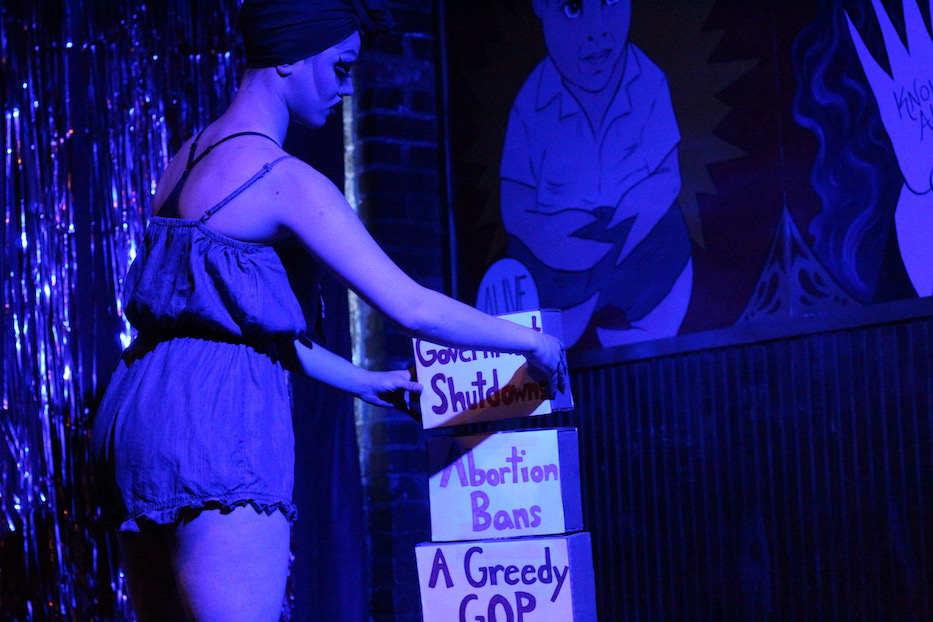 Rory Roux Heart. Lucy Gellman Photos.
On a small New Haven stage, Rory Roux Heart had started building a border wall. She stretched and toiled to a drumbeat, her limbs sailing up and down to a gravelly, booming voice overhead. Each brick came with a name: Destruction. Oppression. A greedy GOP. Abortion bans. The wall grew higher.
We build a wall to keep us free! A chorus announced cheerily around her.
Thursday night, performance became a call to join the resistance at the first ever Drag Down Bigotry, a fundraiser show for the ANSWER (Act Now To Stop War and End Racism) Coalition held at Three Sheets New Haven. Close to 30 community organizers, activists, drag performers and multimedia artists gathered for the full performance. The night included two relatively new performers, Providence-based Diss A Bility and Connecticut's Juniper Stix .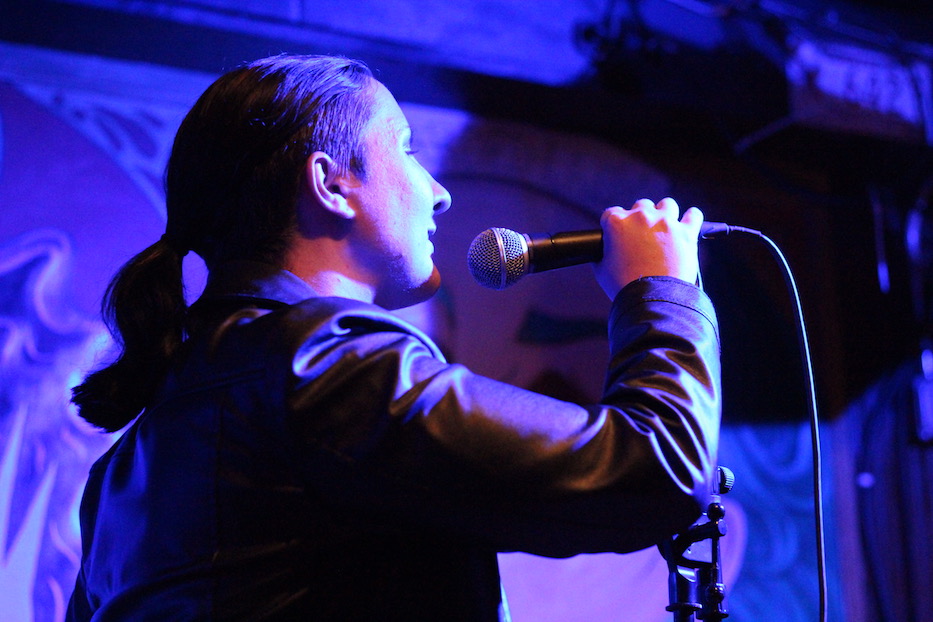 "We're just hoping that people come out, get to celebrate [Pride Month] a little bit early together and get to know the ANSWER Coalition," said IV Staklo (pictured above), a local activist and Trans Lifeline coordinator who is also a member of ANSWER and organized the event. "And to get to know these young performers!"
Staklo said the timing—the show fell right on the cusp of June, which is recognized as Pride Month nationally—was a little bit planned, and a little bit happenstance because of the bar's schedule. But early in the evening, it doubled as a call to action for many in the room, including Staklo and emcee Karleigh Chardonnay Merlot.
"Attention, this is your final boarding call to your ANSWER Coalition flight," said Merlot, who had started the day with an official name change in probate court, and ended it introducing drag performers and peddling the Stonewall Inn IPA. "Our destination tonight will be the valley of realness."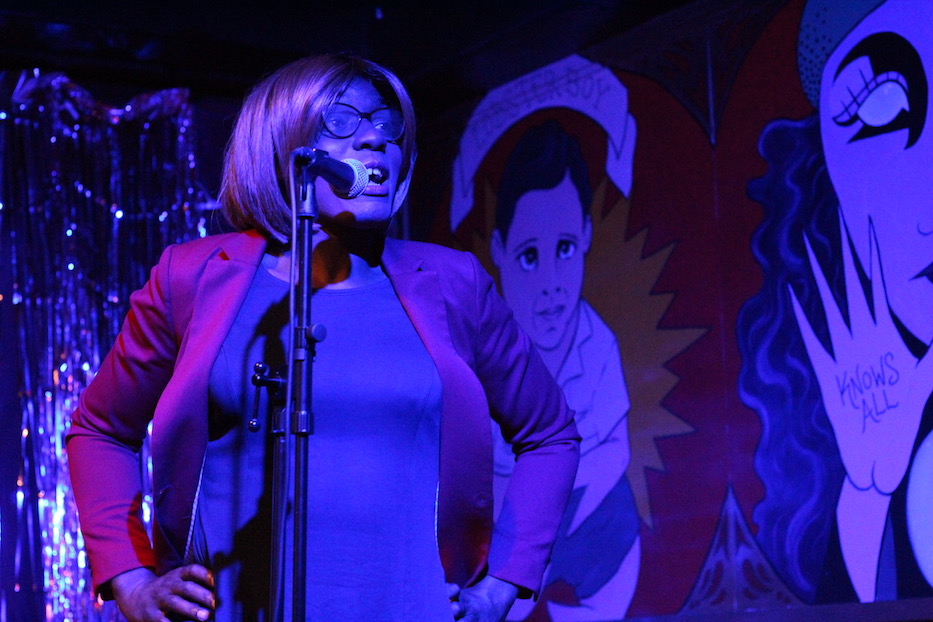 Merlot: "Our destination tonight will be the valley of realness."
"Let's make Pride a protest again, because we certainly need it," she continued, criticizing how corporate Pride celebrations have become. "For the last two years, this administration has made it open season. Let's remember that the first Pride wasn't about Absolut Vodka. It was about a brick."
Throughout the evening, performers kept that call going with political drag, from self-reflective performances on Antifa action and transition surgery to pro-Muslim drag in hijab.
Taking the stage early in the night, Heart set the tone for the show, stepping onto the stage with an armful of "bricks" and the pulsing beginning of Anaïs Mitchell's "Why We Build The Wall" from her album-turned-musical Hadestown.
The song is chilling if you know the context and even if you don't. In the musical, the god of the underworld himself addresses his citizens—his "children"—with a low, booming voice, their rising, insistent responses reminiscent of a whipped-up crowd at a political rally. On stage, Heart displayed each brick to the audience as the wall grew higher.
As she laid down a brick labeled "Abortion Bans," the room seemed to grow a little hotter. Phones came out to record. Hairs stood up on arms and on the backs of necks. A couple in the far corner of the room seemed to hold hands a little more tightly.
Because we have and they have not!
Because they want what we have got!
The enemy is poverty
And the wall keeps out the enemy
And we build the wall to keep us free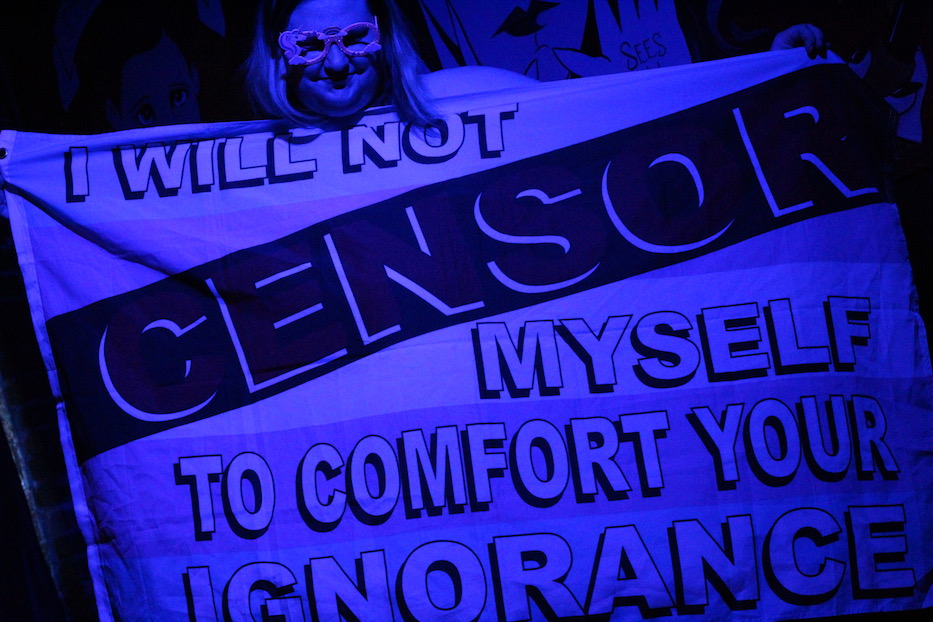 Moments later, Providence-based Diss A Bility took a different take, using their body as part of the performance. Walking past their rollator, they shifted balletically to the first notes of Kesha's "This Is Me," a song that has a sort of muscled, climactic build that becomes epic very quickly. A satin, dark blue yarmulke came into view as they lowered their head.
In time with the song, they peeled back a black shirt, exposing a body inscribed with the words "Queer," "DV Survivor," and tens of others, including "Antifa" right at the center of their chest. Audience members cheered as the performer unraveled a flag that read "I Will Not Censor Myself For Your Ignorance."
For Diss A Bility, Drag Down Bigotry marks a stop on a sort of comeback tour. After transitioning while suffering from an autoimmune disorder, they said they thought that they would not do drag ever again.
Then they saw a routine from a wheelchair-bound queen named Sarah Palegic. All bets were off. As they performed, Rose Martin's mural over the stage—a triptych of characters in a circus "Freak Show" that includes a lobster boy, fortune teller, and bearded lady—winked out as if to say, I got you.
"I wanted to incorporate all of my identities," they said, which also included a second performance in a masquerade mask, pink tutu and rollator, set to Katy Perry's "Supernatural." "I wear many different hats, and that's why I wrote all these labels. I wear all of them all the time."
"With this political climate, it's important," they added of the labels and the yarmulke in the first routine. "Raising these red flags and saying, 'this has happened before, and it's happening again now.'"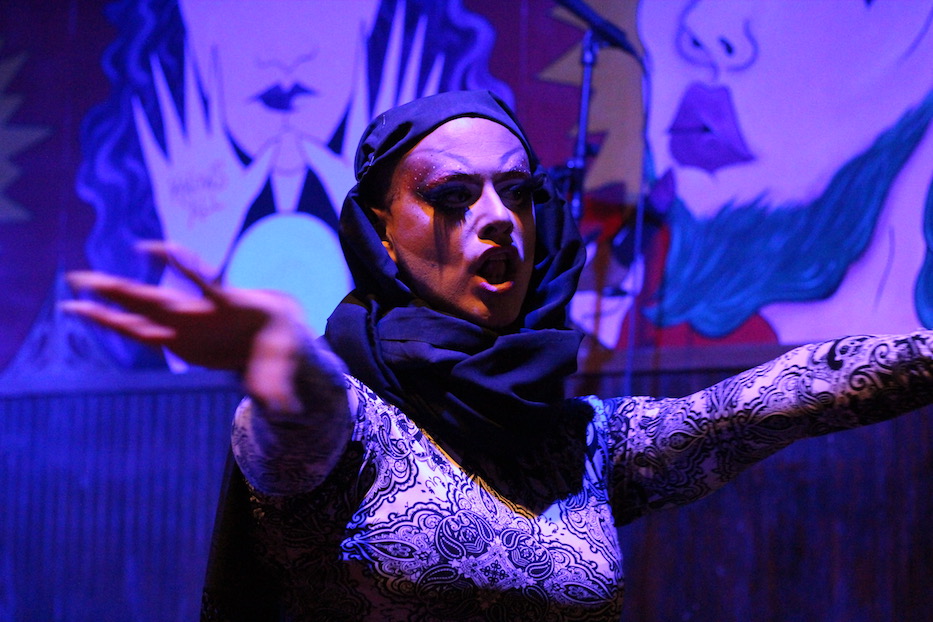 "My name is Kiki Lucia, and I'm a Muslim, immigrant, American drag queen".
So did Kiki Lucia, who brought two very different performance to the same small stage, separated by a fondly-dubbed "pause for the cause" intermission that left her changing feverishly.
In the first, Lucia ditched a Rosie The Riveter outfit "just for walking around" for a long dress and headscarf, stepping out to the words "My name is Kiki Lucia, and I'm a Muslim, immigrant, American drag queen" and first strains of a cover of Madonna's "People Are People."
Every so often, voiceovers from a queer, Muslim activist cut in describing what pride meant to her. As she moved, the lyrics took on a new intersectional kind of meaning, echoing through a city that has itself been reeling from Islamophobia since alleged arson ravaged Diyanet Mosque earlier this month.
Before the show, Lucia's alter ego Patrick Dunn explained that growing up in Turkey, he was exposed to extensive religious education, learning about both Islam and Eastern religions, Judaism, Christianity and others in the context of Islam in school. As he learned about the practice of fasting during Ramadan, he began to love tenets of the religion such as abstaining from food to sympathize with those in poverty (which he still practices today).
He recalled watching an animal sacrifice with his family when he was around 11 or 12, and then donating the meat to the poor, calling it an experience that remains with him in the community work he continues to do.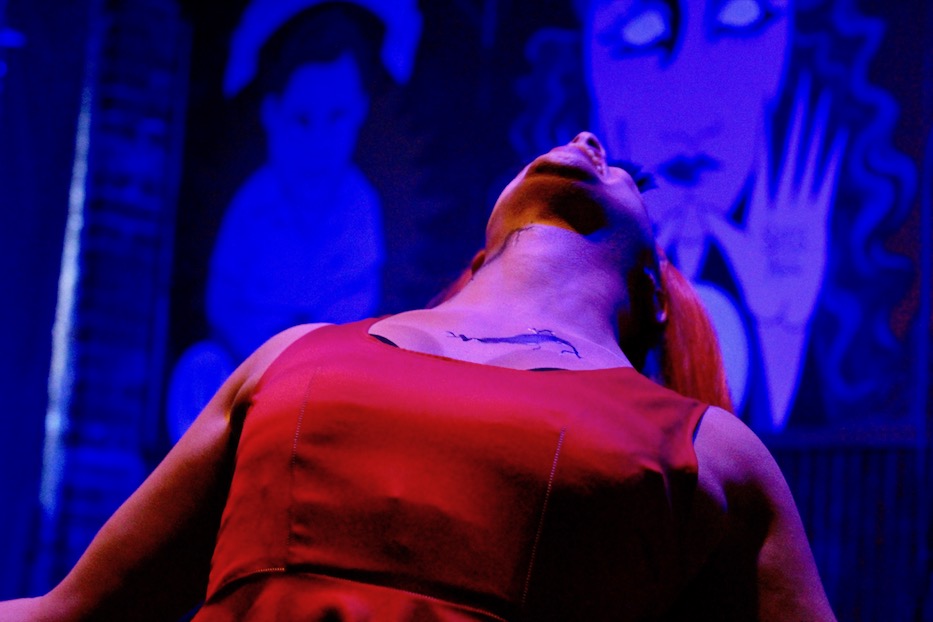 But when Lucia returned to the stage during the second act, it was with a different call to action—to stop ignoring domestic violence and abuse. Performing as a sort of "shattered doll" with a network of cuts on her face, she ventured out into the audience, so close to attendees she could nearly touch them.
Slowed down and captured in the wide, glinting whites of Lucia's eyes, the words of Brittney Spears' "Hit Me Baby One More Time" took on an entirely new meaning. But Lucia went on to defeat them, unzipping her dress to reveal an entirely different one (and matching red wig) underneath. She brought the house down.
As of Friday midday, the show had raised at least $200 for ANSWER. Staklo said the number wasn't final; the bar had not yet tallied donations that came from drink specials, including a special raspberry punch and Brooklyn Brewery Stonewall Inn IPA.
"A lot of things that were being done more covertly are being done more overtly under the current administration, and a good byproduct of that is a lot of people are in the streets and a lot of people are mobilizing," they said after the event. "Which means that we have an opportunity for a really transformative moment right now."
"None of this should be happening at the expense of our most vulnerable people," they added. "But we also can't forget that it's some of the most vulnerable and marginalized people that are rising up right now."
To learn more about the Connecticut chapter of the ANSWER Coalition, visit it on Facebook.