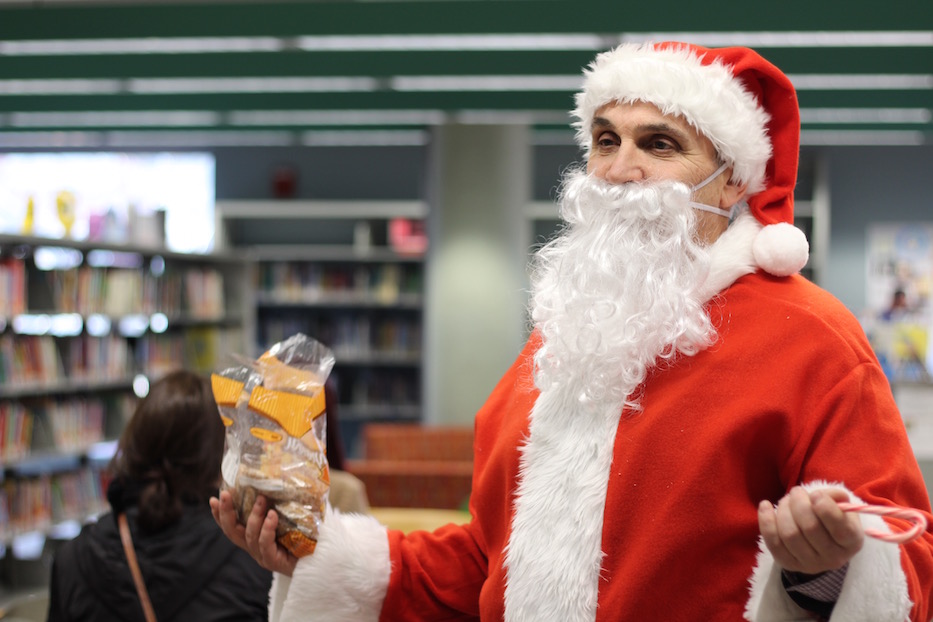 Arts & Culture | New Haven Free Public Library | Festivus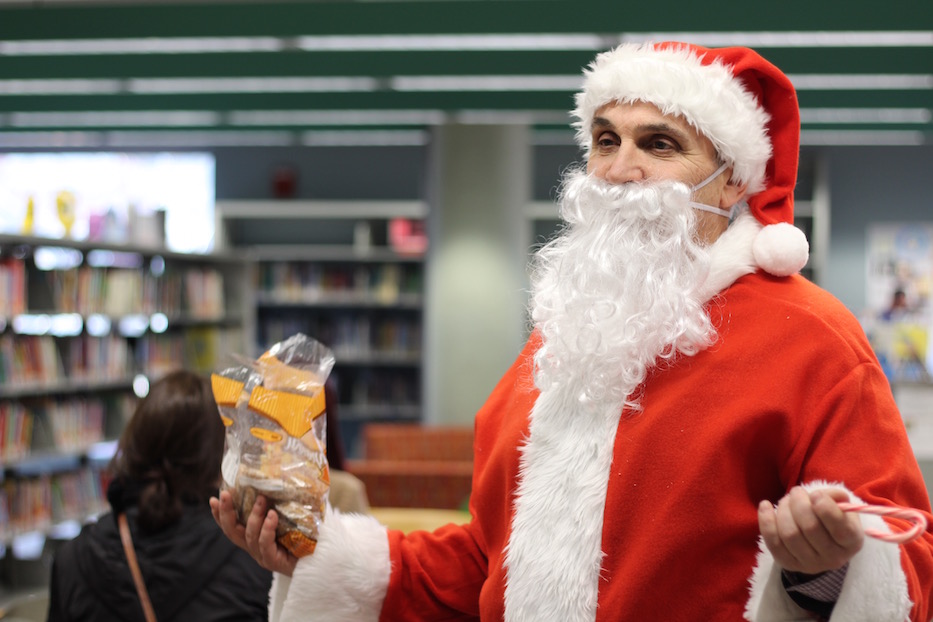 Santa, who had commentary on everything from reindeer to the impeachment. Lucy Gellman Photos.
Santa was making good time. Already, he had checked in with the youngest readers in the building, who all wanted the same make of toy car. He had surveyed a chess game, nervous as the pieces inched forward into enemy territory. Now he worked his way through the computer lab handing out candy canes and Russian spice cookies to a full house. A few people stopped him with their Christmas lists.
Friday, Santa made an appearance at the New Haven Free Public Library, surprising young readers, teenagers, and handfuls of New Haveners who came by the circulation desk. For a week, main branch librarians have been getting into the holiday spirit by dressing up as Kris Kringle and visiting different spots in the building.
This is the first year that Santa has made a point of visiting the main branch; he is already a hot commodity at both the Stetson Branch Library in Dixwell and Mitchell Branch Library in Westville.
Downtown, the appearances have included three female Santas—Business Outreach Librarian Gina Bingham, Young Minds and Family Learning Manager Margaret Girgis, and Young Minds and Family Learning Public Services Administrator Xia Feng. Friday introduced aJewish Democratic Socialist Santa who moonlights as Seth Godfrey, manager of reference and adult learning.
The idea started with Bingham, who thought that a rash of surprise Santas could be fun. For her, Santa has always been magic: she grew up in rural Colorado and never quite understood how Santa made it into her home, because her family didn't have a chimney. Sharon Lovett-Graff, branch manager at the Mitchell Library in Westville, mentioned that she had a suit from Santa's annual readings there. Once Bingham had tried it, other librarians joined in.
"We're really excited to do it," she said Friday afternoon as Santa watched an intense chess game that was unfolding downstairs. "I love our gender-fluid Santas. The best part about this has been the staff pitching in to help, giving it a sort of magic. "
Godfrey jumped onboard as the latest Santa when he saw how much fun the other librarians seemed to be having with it. As someone who didn't grow up with house calls from the jolliest old man on the planet—Godfrey was actually Bar Mitzvahed at Congregation Beth El-Keser Israel nearly 50 years ago—he said he is still delighted by the idea.
"I double as Hanukkah Harry, so I can't drive my sleigh on Shabbos," he said matter-of-factly as he began his rounds, pulling out striped candy canes and spiced Russian Pryaniki dusted with powdered sugar. "Before the North Pole I had a little trip to Moscow."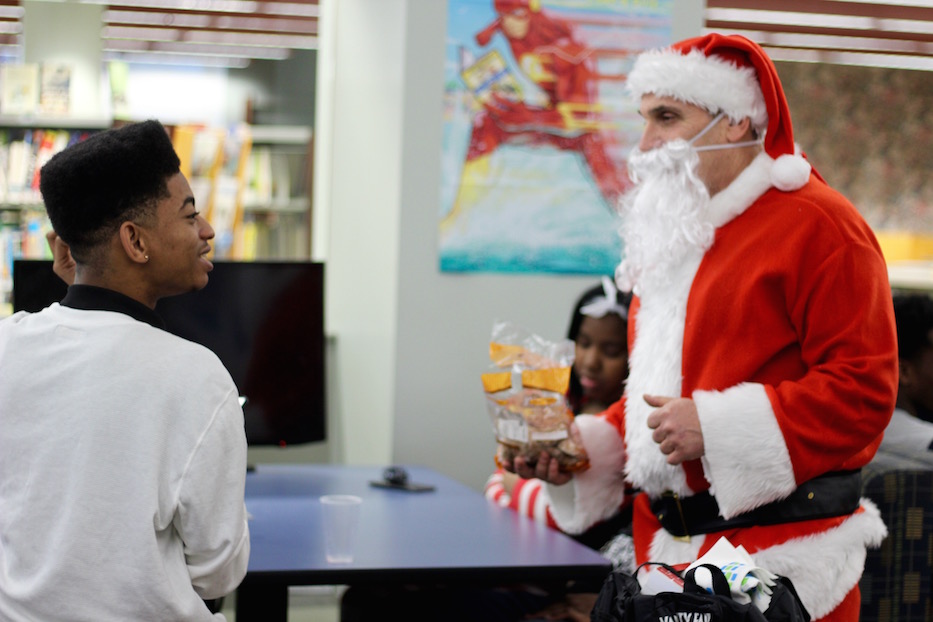 Santa and Marques McCullough, a 17-year-old theater student at Co-Op.
He added that he's sympathetic to Santa's plight in the current political and environmental landscape: recent agreements with People for the Ethical Treatment of Animals (PETA) and the proposed Green New Deal have pushed him to ditch actual reindeer for electric models, where energy efficiency is a top concern.
As Santa wound from the library's cafe towards the circulation desk, pint-sized patron Van Smith stopped in his tracks, taking his mother's hand with a huge grin. He pressed his face into her legs, suddenly shy before Santa's red suit.
"Hello!" Santa said. The three year old beamed and blushed, taking a candy cane before he ran back to his mom.
Santa headed upstairs, no match for the computer games unfolding in the children's section of the library. He trudged back down to the basement, composing himself as he walked into the teen center. At the back table, 17-year-old Dante Thomas sat straight up.
"Hey!" he said. "I sent a letter to you when I was like 10 and you never wrote back!"
That didn't phase Santa, who offered Thomas a cookie and started chatting with other teens in the room, packed and noisy on a Friday afternoon. For Thomas, a high school senior in East Haven, the visit conjured something magical. As a kid growing up in Connecticut, he stopped believing in Santa when he was eight or nine years old.
He's now 17, and doesn't ask for gifts most years. But the idea has remained charming to him: a guy who comes once a year bearing a big bag of goodies and slides himself down a chimney just to deliver them my hand.
"I love the holidays," he said. "It brings back a lot of memories, and it brings around the Christmas spirit. It's this time when everyone is together."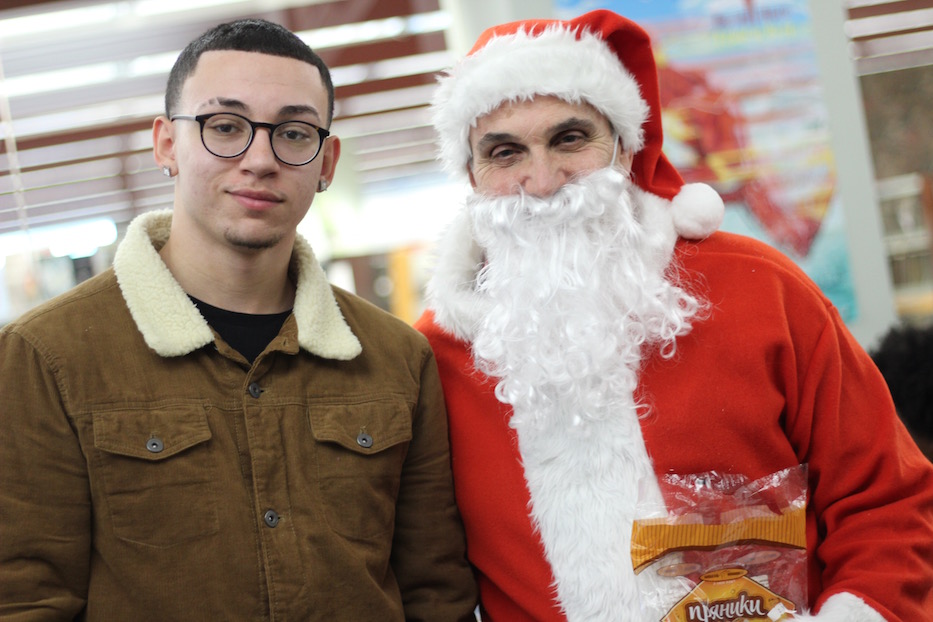 Dante Thomas : "It brings back a lot of memories, and it brings around the Christmas spirit. It's this time when everyone is together."
That was also true for Marquise McCullough and Heather Alvarado Garcia, both students at Cooperative Arts & Humanities High School. Raised coming to the library, McCullough said the main branch has become a special place for him, part refuge and part learning lab. To see Santa Claus hanging out and chatting in the middle of it added one more memory.
"He reminds us that there's happiness in the world," Garcia chimed in. "Like, teens are depressed all the time. So I approve of this."
By the chess tables, Santa caught up with Bennie Morris, who did a double take before he realized that it was his favorite librarian behind the beard. For 20 years, Morris has been coming to the main branch on a regular basis, mastering the chess games that unfold downstairs (he ranked third in the library's patron-wide tournament this year).
"I love it," he said. "Of course I do. Of course! It's part of bringing hope to the children's world. You have all the other fairy tales—Alice in Wonderland and going down the rabbit hole—but he's the best of all of them."
"All I want for Christmas is peace of mind and joy," he said. "And a little finance would be nice."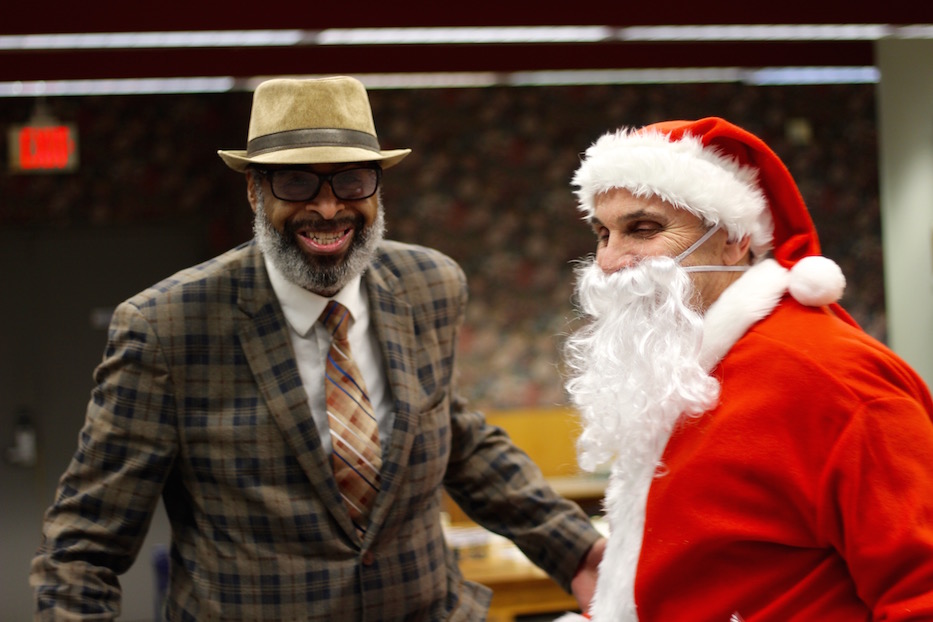 He said that Santa brings memories flooding back, a portal to another realm in his life. Decades ago, when he was one of five kids, Santa's peaceable and cheery nature "kept the family together" during the holiday season. Now, he's hoping that Santa can harness his giving powers—and his relationship with the incoming mayor—to fix potholes in the city.
"That's why I didn't bring the sleigh here," Santa commiserated. "We were worried about potholes"
Shrugging off a book with running tips ("Santa is more of a nosher, less of a runner") he added that he has had a more political year, based on the upcoming election and his time years ago in Russia, studying film and getting political ("I said, you don't get Shostakovich in the North Pole"). More than once, he handed out candy canes with reminders to vote, preferably for Bernie Sanders if people were asking. Because he doubles as Hanukkah Harry, he plans to be working around the clock for the remainder of the holiday season.
"I think we're universal," he said, adding that the Santa hat doubles as a kind of yarmulke. "I think I bring the same joy, the same theme of peace, Sisterhood, brotherhood, unity. Basically, I am a closet librarian. I just want the kids to enjoy a good book."
As for what he would like for Christmas, Santa said peace on earth is always at the top of his list.
"And maybe a condo by the water," he added. "I'm tired of renting."