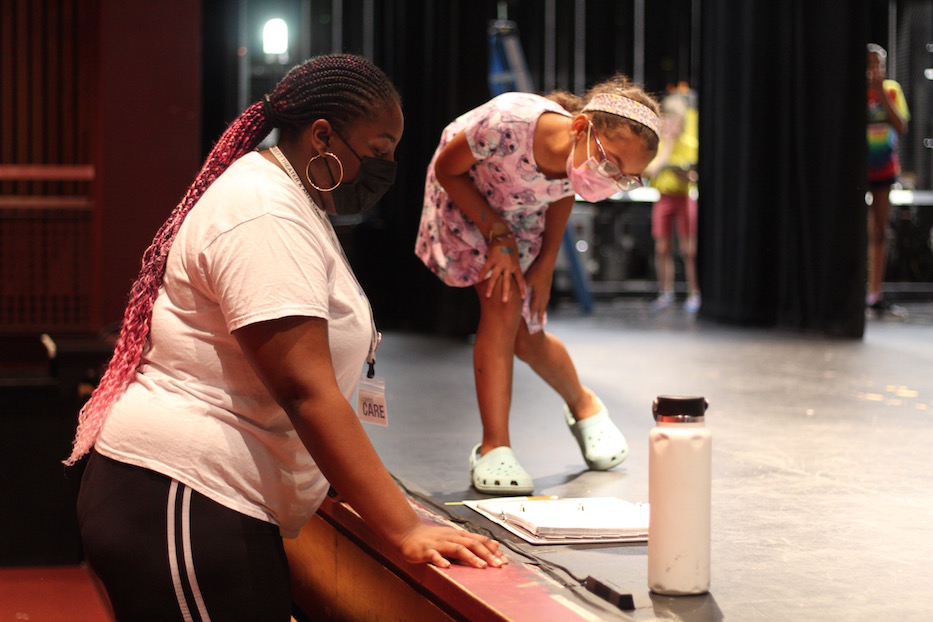 Co-Op High School | Education & Youth | Arts & Culture | Musical Theater | Visual Arts | Film & Video | Shubert Theatre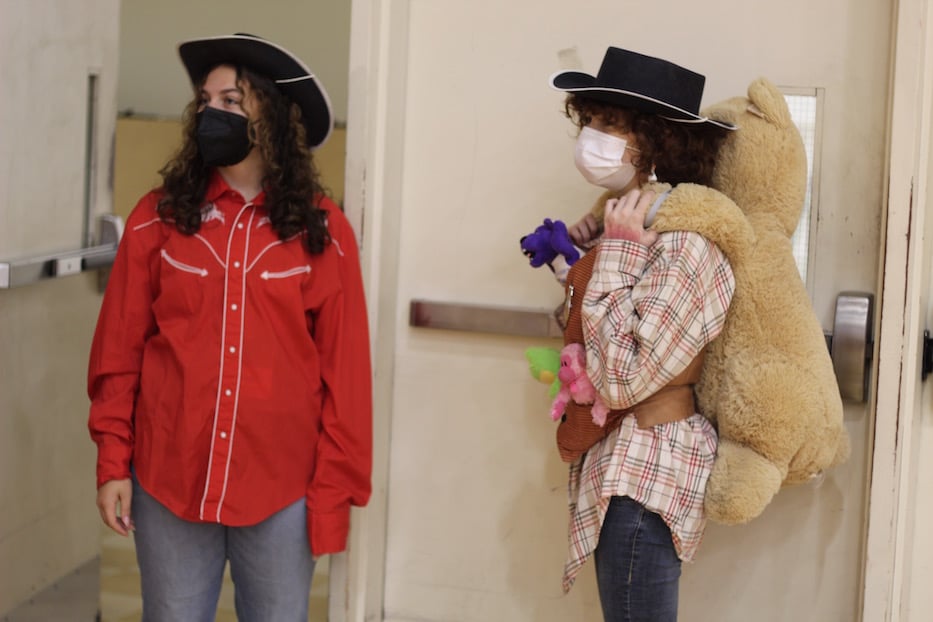 Top: A duel in the making from Molly Calderone and Katie Bassett. Bottom: Rehearsal for The Jungle Book. Lucy Gellman Photos.
Katie Bassett stared at Molly Calderone beneath the black brim of their cowboy hat, sizing her up. An oversized teddy bear hung around Bassett's shoulders; a small stuffed frog and plush pink monkey peeked out from where a gun in its holster might otherwise be. Even in the bright, clean gymnasium, it was possible to imagine a high-pitched whistle and ball of tumbleweed rolling through the space.
Welcome to the Shubert Theatre & Arts Summer Camp, ringing in its tenth year in downtown New Haven with back-to-back summer sessions that run through the end of this month. The brainchild of Kelly Wuzzardo, director of education and engagement at the theater, it has grown from a fledgling experiment in arts learning to a thriving summer program on College Street.
Along the way, it has had a rotating cast of theater nerds, tech designers, budding videographers, young playwrights, and painters in its midst. It sets up shop at Cooperative Arts & Humanities High School (Co-Op), which is just down College Street from the Shubert.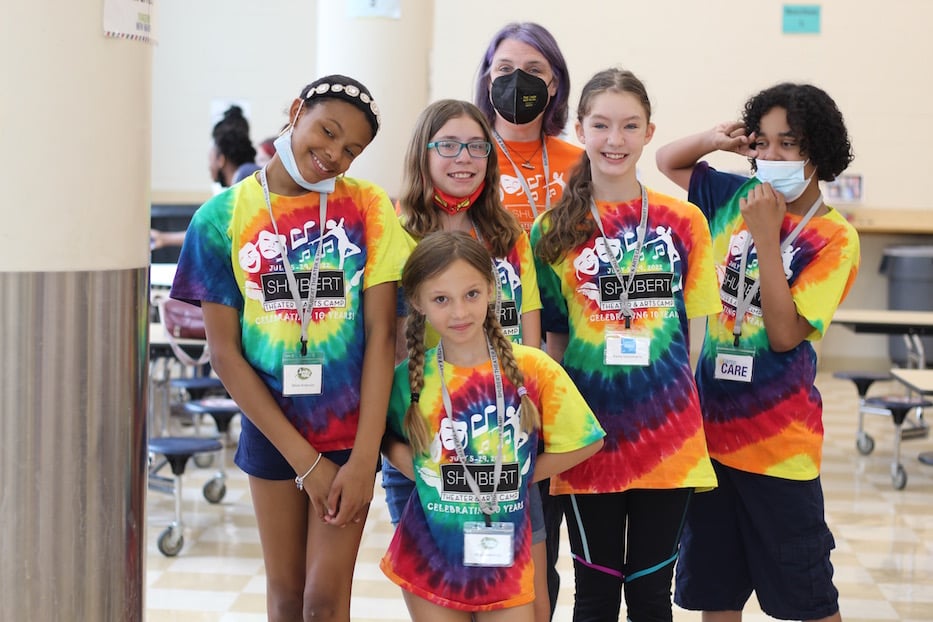 Kelly Wuzzardo, director of education and engagement at the Shubert, with a handful of campers in their 10th anniversary t-shirts. Lucy Gellman Photo.
"It's been a collaborative effort," said Wuzzardo, who will mark her 20th year working at the Shubert in 2023. "It's evolved a lot during the years. We changed it to meet the needs of the kids. We're finally getting back into our regular groove."
When it began in 2012, the camp was a chance for students to get a taste of what school might be like if they attended Co-Op, the city's fine and performing arts magnet high school. Most campers were prospective students, and interns were Co-Op students building arts experience over the summer. Wuzzardo ran it alongside educator Kjerstin Pugh, who has since moved on to New York City and started the group Offroute Art.
As the camp grew, so did its breadth. Campers now come from across the region, and apprentices and instructors range from New Haven Public Schools (NHPS) grads to their former teachers.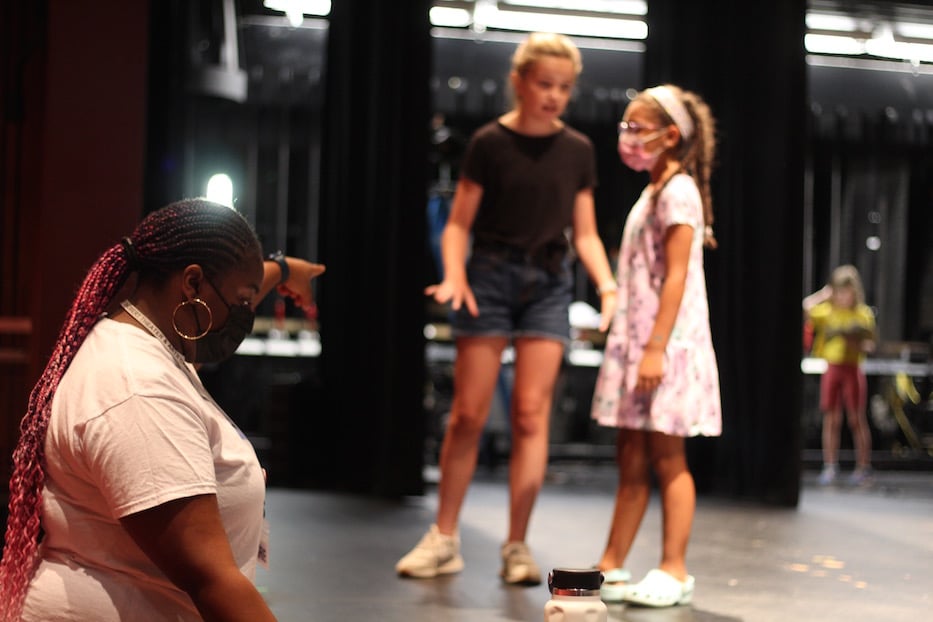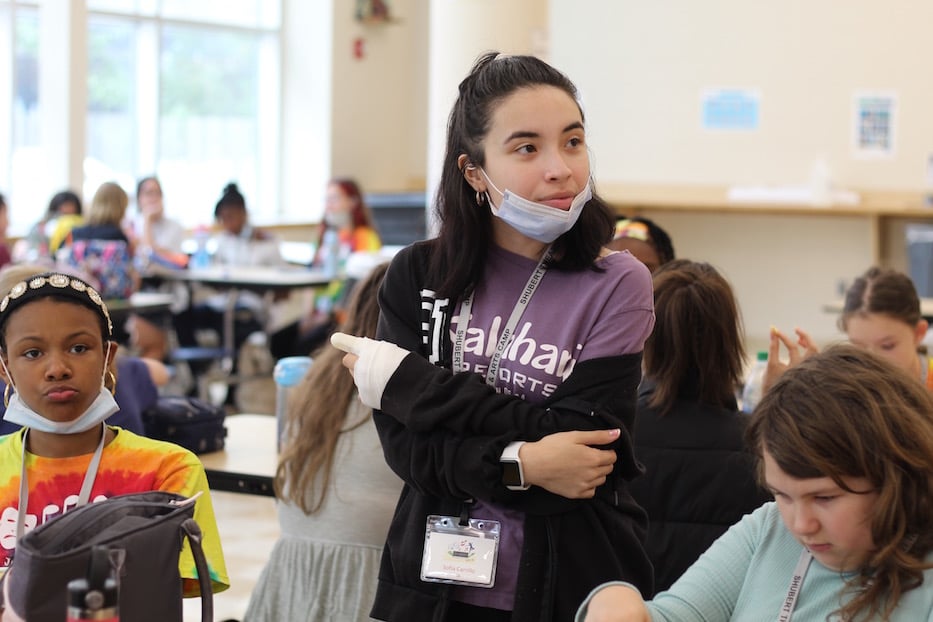 Top: Theater teacher Sumiah Gay. "Theater is in my blood," she said. Bottom: TA Sofia Carrillo, a newly minted Co-Op grad. Lucy Gellman Photo.
On a recent Friday, classrooms buzzed with activity, some groups moving out into the hallways as they worked. In the auditorium, theater teacher Sumiah Gay made her way across the stage, taking mental notes. A 2016 graduate of Co-Op, Gay went on to study theater at Western Connecticut State University, then enrolled in graduate school to get a degree in elementary education. She never lost the theater bug.
She joined the camp as an intern a few years ago, staying on to teach when it went virtual during the first year of the pandemic. From an intern, she became a teaching assistant, and then an instructor. What keeps her coming back, she said, is the students' enthusiasm every morning. It keeps her on her toes—and reminds her of what she loves about the field. "Theater is in my blood," she said.
That excitement was palpable as students filed in, some skipping down the aisles to the front row as others took their time, running their hands over the plush red chairs in Co-Op's auditorium. Within minutes, they would transform into the animals from The Jungle Book—Baloo the sweet, laid-back bear, the young boy Mowgli, Bagheera the glowing-eyed, fiercely protective panther, a slithering large snake named Kaa and a herd of elephants trying to stay in formation.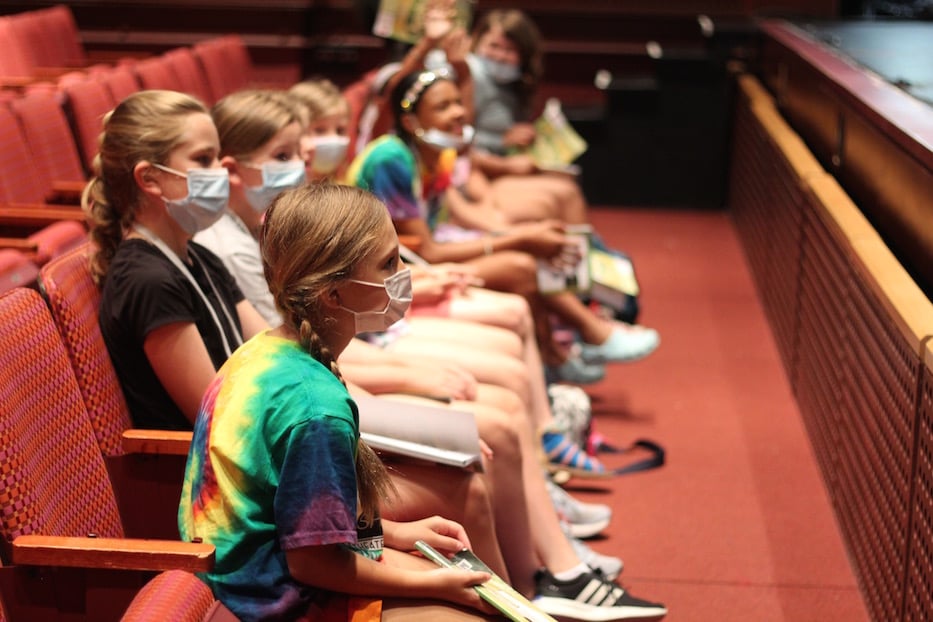 Lucy Gellman Photo.
In front of the stage, Wallingford-based sixth grader Ellarue Kellogg worked to get into character as the tiger Shere Khan, fearsome king of the jungle. Down the row, rising sixth grader Milan Anderson thought through her jump from a bee to an elephant to a section of the snake all in the first four numbers. Nine-year-old Arianna Frederick ran through her lines, trying to see whether she was officially off book.
It was okay not to be, Gay assured students: she had a script and was ready to jump in at the first shaky utterance of "line?" from someone in the cast.
As students headed to the stage for warmups, they became a blur of tie dye, printed pink cotton, denim and polyester. A few of the Shubert's special 10th anniversary shirts peeked out, folding in every color that the camp has used for its annual t-shirt designs since 2012. From the audience, newly-minted Co-Op grad Sofia Carrillo slipped backstage, showing students how not to run behind a scrim as they took their places. They oohed and aahed as the scrim billowed out with her movement.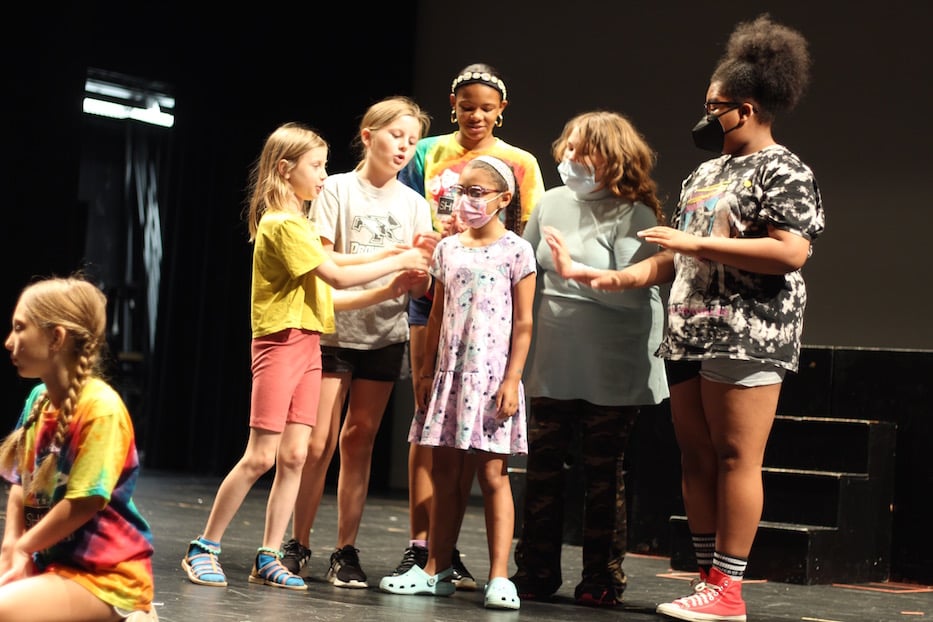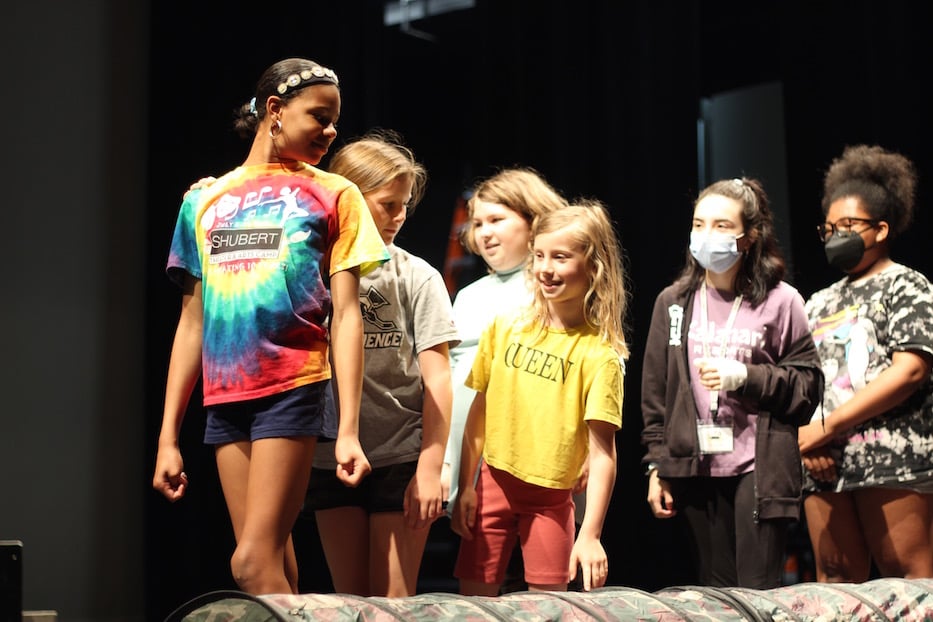 Rehearsal for The Jungle Book. Lucy Gellman Photos.
Then on cue, Gay asked for the music. The bombastic horns of the prelude coasted over the room, making way for woodwinds as students came out onto the stage. Students tapped their feet. Hands flew to their hips and became tambourine-like, jazzy. Offstage, a small fleet of props waited for actors to pick them up and bring them into the play. Perhaps most inventive, Gay has transformed a long piece of camouflage workout equipment into the body of the snake.
Theodora "Teddy" Anderholt, a first-time camper who plays multiple characters, later said that she is drawn to the drama and song of musical theater that she's learning at camp. Now nine and a half, she's been singing for seven years, and was excited to jump headfirst into the music for the show. It's more than that, she added—she's found a family in the process.
"I like performing in front of people and I enjoy singing," she said. "I also like being on a team. It's only the fourth day [at the time, it was] and everyone's been acting like they've known each other their entire lives."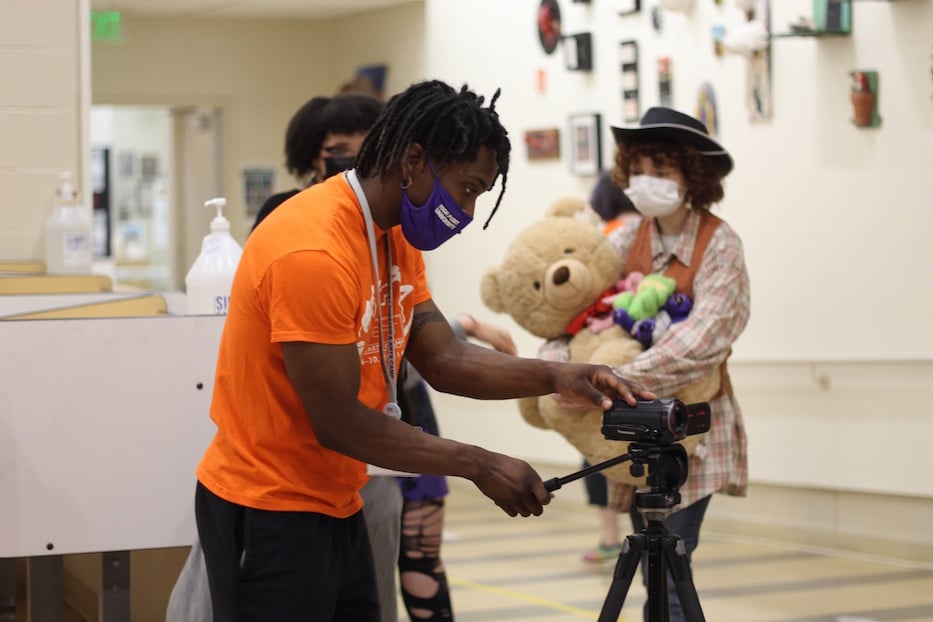 Darius Cummings, who started as a camper and now teaches. Lucy Gellman Photo.
One level down in the school's gymnasium, Bassett and Calderone were deep into filming a film-noir-meets-sci-fi-flick-meets-Western. Looking each other up and down, the two ran over their lines, delivering each of them with a Southern drawl so thick it seemed spreadable. Bassett pulled at one of their stuffed animal props, which students in the program use instead of fake weapons.
"There ain't enough room in this town for the two of us!" the two actors announced at the same time, dissolving into laughter. Behind a small video camera on a tripod, Darius Cummings and Aria Chiaramonte studied the framing, and then decided to retake the shot.
"I just need the two of you to run in place for me," he said. After momentary laughter, the two obliged. Chiaramonte soon got in on the action, as an evil imposter trying to take over Bassett's life. In addition to acting in the films, students write them—which often means no idea is too fringe or wacky.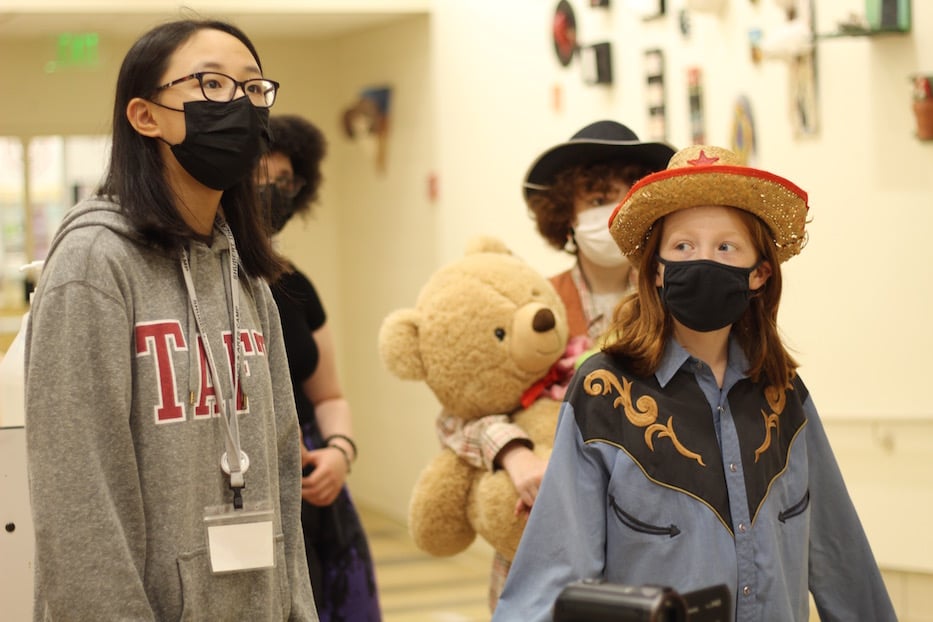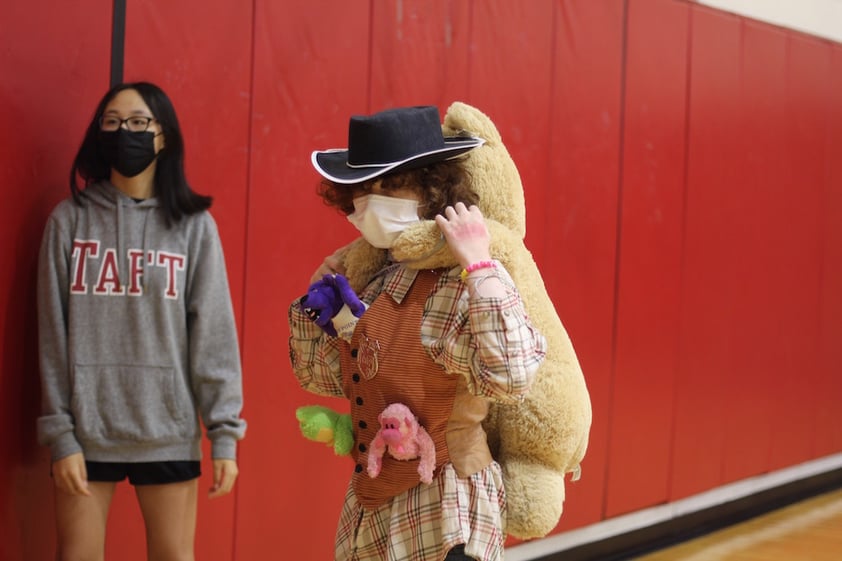 Top: Isabel Yang and Aria Chiaramonte. Bottom: The camp uses stuffed animals instead of weapons. Lucy Gellman Photos.
Cummings directed the scene in a firm, even voice, pointing out where actors should go. A graduate of Hamden High, he attended the Shubert Summer Camp for three years as a camper, then stayed on for two more as an intern, and then became a teaching assistant for one. Now a teacher and rising sophomore at High Point University, he said the camp lets him feed his love for videography during the summer, before he returns to a double major in philosophy and anthropology.
His filmmaking section is one of two for which there was demand this year: the other is taught by Betsy Ross Arts Magnet School (BRAMS) video teacher Matt Kelsey. In under two weeks, their campers have learned to write, shoot, act, and edit, using the two-week camp sessions to bring a short film to fruition. As Cummings directed students around the gym, he had help from his own teaching assistant, a student at Taft High School named Isabel Yang.
"It's a lot of fun," he said before gathering students to shoot the scene again. "I found it really important and impactful for my own life and I want to give back."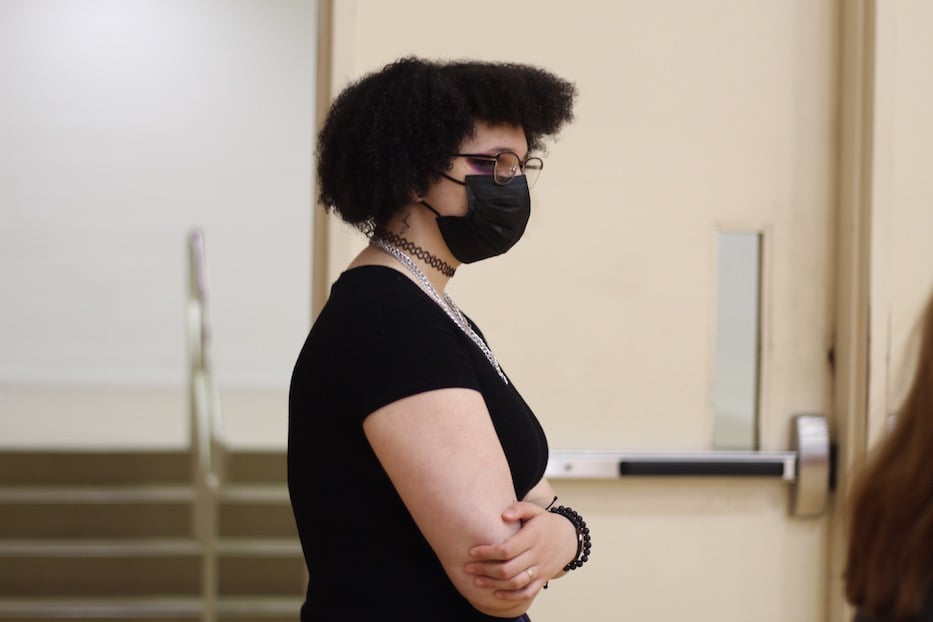 BRAMS student Lyra Garcia. Lucy Gellman Photo.
As some students perfected their on-camera performances, others reflected on the camp. A rising eighth grader at BRAMS, Lyra Garcia said they're grateful for the summer experience, which they've attended on and off for the past three years. This year, it helped them get out of their thick, pandemic-hardened shell after years of remote school and anxiety-riddled interactions.
"I use art as self-expression to show my feelings," Garcia said. "I was already very introverted [before Covid] and not being able to go to school for a year, not being able to leave the house for a year, made it worse. Camp has really helped with learning how to talk to people."
Back in the gymnasium, Chiaramonte ran through the shot, her red hair and freckles flying through the frame. Bassett sprawled out across the floor. Calderone leaned over them and wept. Cummings did a slow pan over their face, stopping close to Bassett's left ear. After the shot was complete, he declared it a job well done.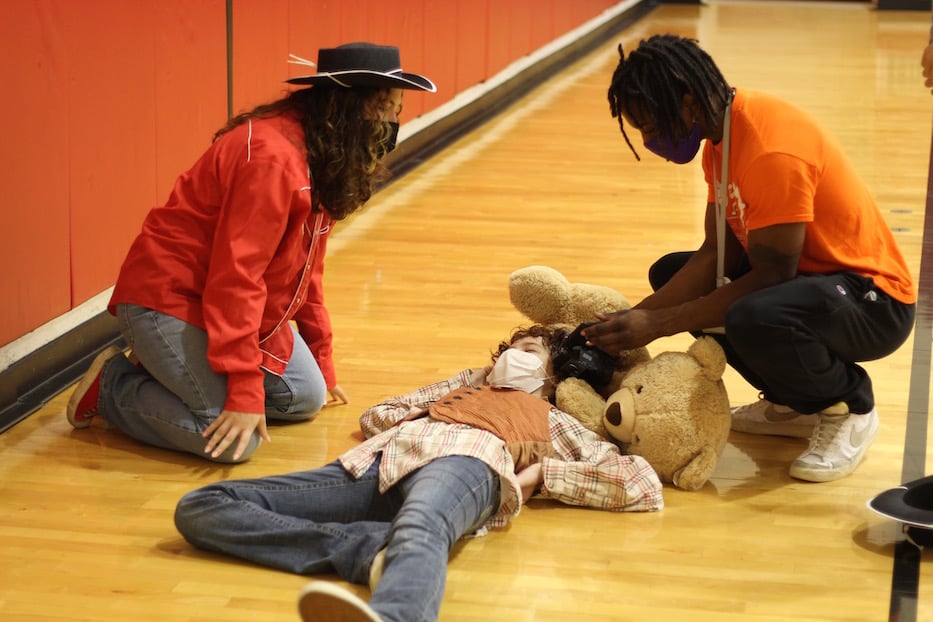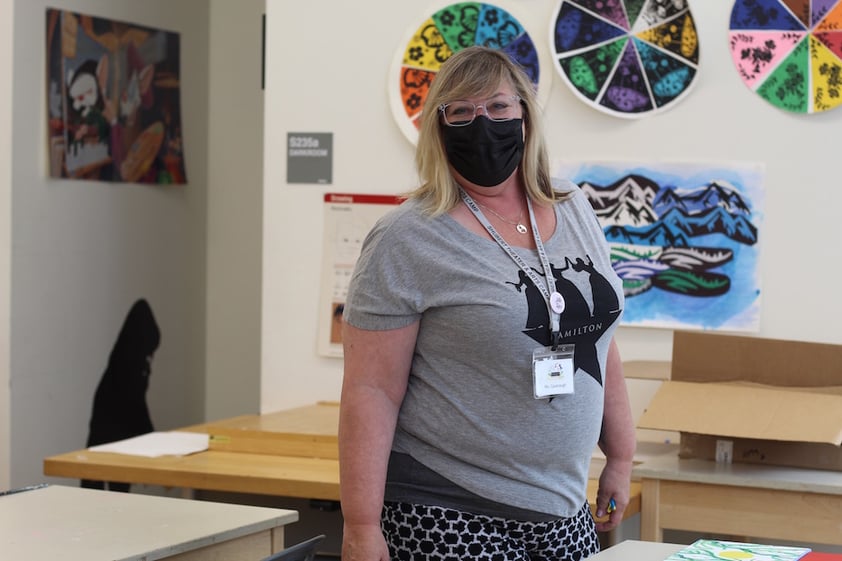 Top: Molly Calderone, Katie Bassett, and Darius Cummings. Bottom: Visual arts teacher Judie Cavanaugh, who has taught at the camp for five years. Lucy Gellman Photos.
Bassett said they are grateful for the camp, for which they commuted all the way from upstate New York. They are staying with their grandfather in Connecticut for the duration.
"Everyone is so welcoming and supportive," they said.
"This video is ridiculous," chimed in Calderone, who has been coming to the camp for multiple years. "It's silly. Everyone is encouraged to contribute these ideas. It's funny and entertaining. I think it's amazing. "
Behind the soaring lyrics, the laugh lines, and the unbridled sense of being back, there's also a serious mission. The camp has grown into a pipeline for creating a more diverse workforce across fine and performing arts institutions, Wuzzardo said. As an arts worker in a historically white institution, she doesn't just want to talk about equity, diversity and inclusion. She wants to do the work.
"When we talk about equity, this is what we're talking about," she said. "If you want to have a work staff that represents New Haven, train them. Give them these opportunities."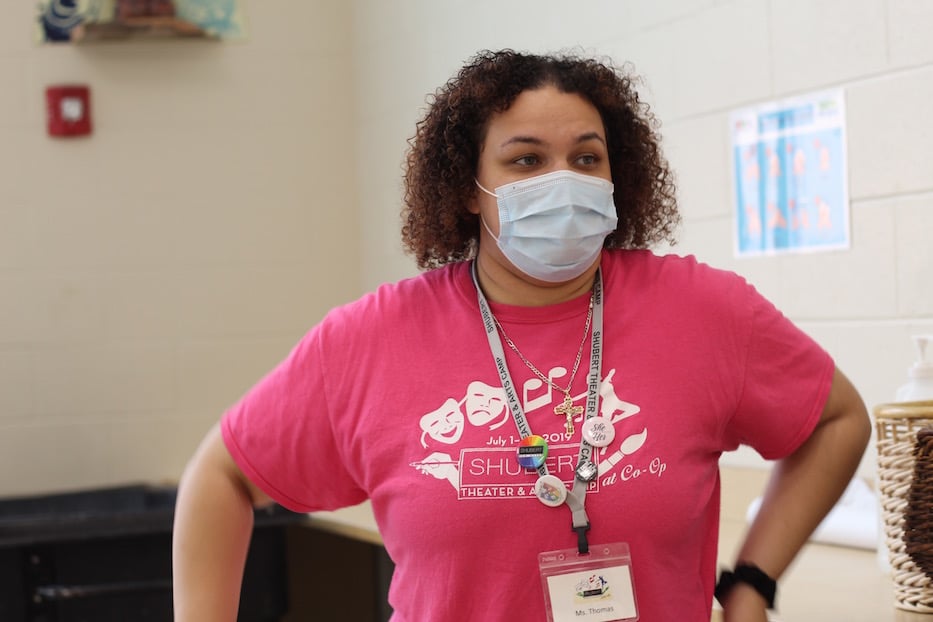 Assistant Director Zariyah Thomas: "It creates a safe space for children to express themselves." Lucy Gellman Photo.
Camp Assistant Director Zariyah Thomas, who graduated from Co-Op in 2014, is a living example of that approach. In 2013, she started working for the camp while going into her senior year at Co-Op, where she studied theater. When she finished high school, she returned to the camp for a technical apprenticeship. She has returned almost every year since, driven by a belief that theater can transform lives.
This summer is bittersweet, she added: she has decided not to return next year. The 10-year mark feels like the right departure point, she said.
"I love that it creates a safe space for children to express themselves," she said. "I like to see that growth."
Learn more about Shubert Summer Camp here. Learn more about the Shubert Theatre here.