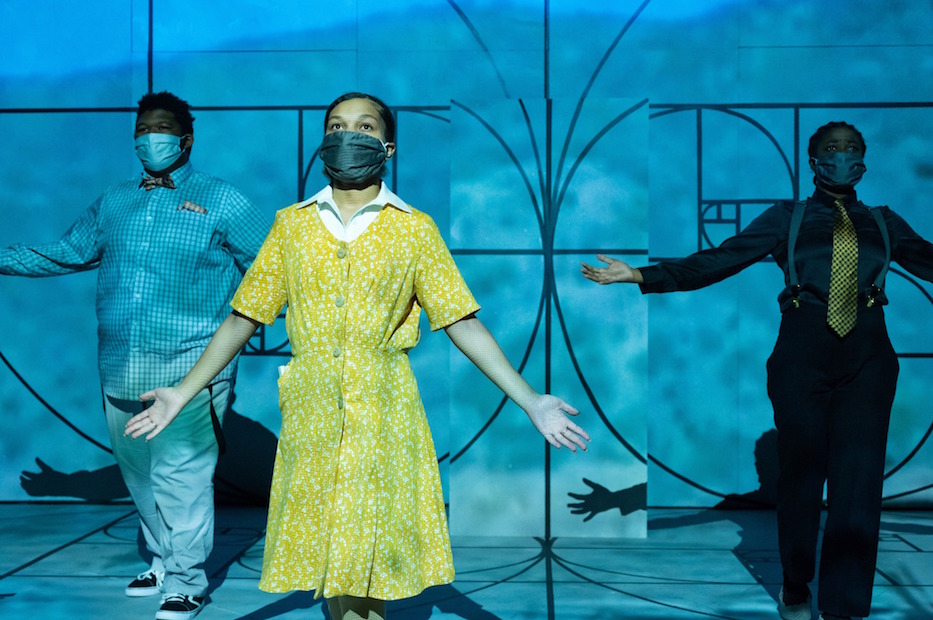 College theater | Education & Youth | Elm Shakespeare Company | Southern Connecticut State University | Arts & Culture | Theater | Arts & Anti-racism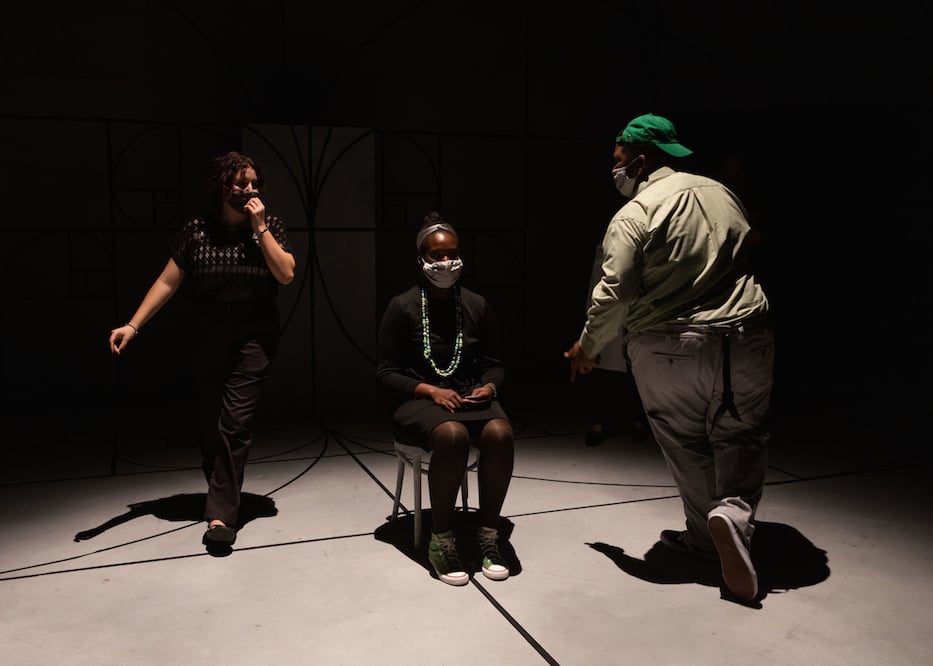 Jason Edwards/SCSU Photos.
Rose and her birth mother Anna orbit each other like strange, unfamiliar planets. Seated at center stage, Anna (Romanya Joseph) listens as her mother and boyfriend fight over whether she should have an abortion or raise the child she is newly pregnant with. Stage left, Rose (Selena Bautista) grips a crumpled letter in one hand. For the first time, she is watching the story of her life unfold.
When the two reach out towards each other moments later, the space glows between their outstretched fingertips.
That sense of holding—holding space and holding story—is at the wildly beating heart of Out Of Bounds, a new play from students in Southern Connecticut State University's (SCSU) inaugural devised theater course. Thursday night, the cast and crew opened the performance to a full house, with instructor-directors Gracy Brown-Keirstead and Sarah Bowles cheering from the audience.
Performances run through Saturday at the university's Kendall Drama Lab. Tickets and more information are available here.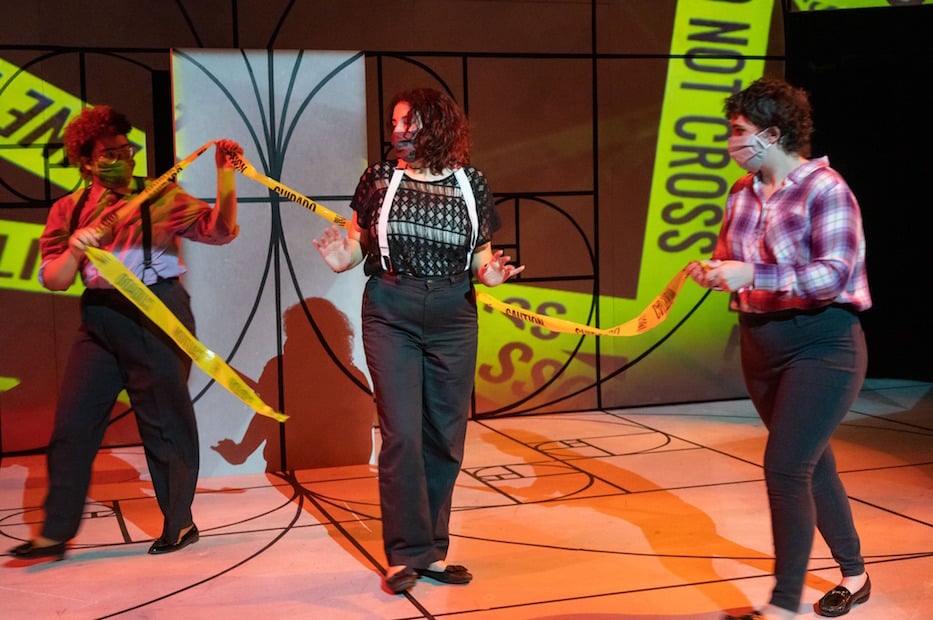 Jason Edwards/SCSU Photos.
"My heart is so full right now," said ​​Brown-Keirstead in an interview after the show Thursday night. "They created this from nothing. For a lot of these students, it's the first time they've been on stage … it took real bravery to tell these stories. They put their whole hearts in it."
The work behind Out Of Bounds began in late August, when SCSU students returned to campus with masks and vaccination records in tow. Brown-Keirstead and Bowles, who know each other through Elm Shakespeare Company, welcomed 12 students into a new course on devised theater. Originally, the group started with five large blank poster boards and markers, students tasked with writing down the stories that they wanted to tell over the semester. They buzzed around each other, filling the pages.
One student wanted to write about "Happy Trans People." Another looked at what it meant to be a first-generation college student. A third had found out that she had Native ancestry, and didn't know what to do with the information. A fourth was adopted, with questions about her birth parents. Some noted that they were born in or around 2001, meaning they have never known an America not enmeshed in war in the Middle East.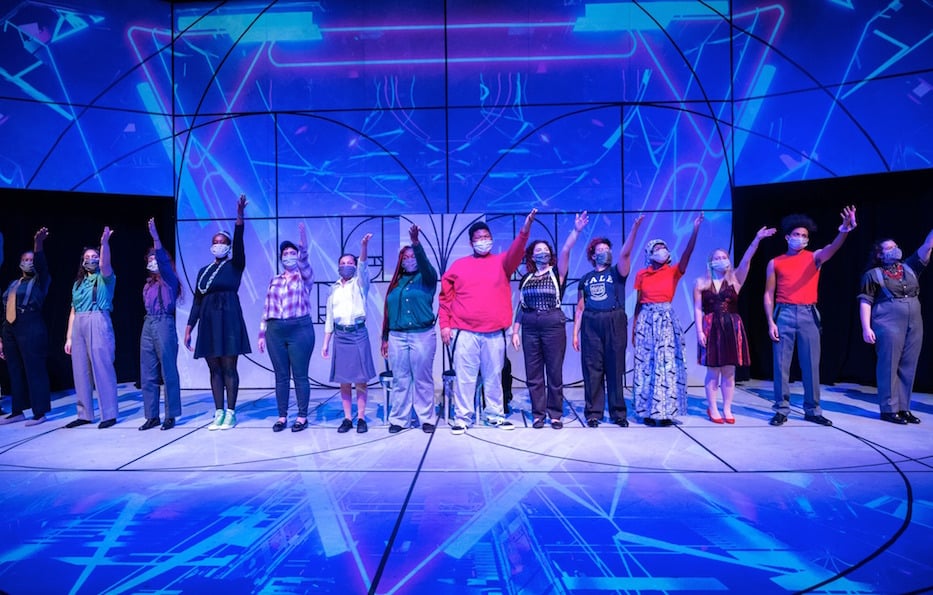 Jason Edwards/SCSU Photos.
"We wanted to make sure we were separating art from therapy," Brown-Keirstead said. She and Bowles took the posters, and created writing prompts from them. Students channeled their own lived experiences into world-building, creating different vignettes that could hold all of their stories. From those vignettes, they worked their way to scenes, and then to a script that was born roughly two weeks ago.
An additional four students joined the cast in October, and helped complete the play. All students are completely off book in the finished work.
It was a process, Bowles said: students weren't always keen on letting their ideas go in service to the larger work. As she used one of her favorite phrases with them—"putting the whole over the individual"—something clicked.
"Once we started cutting, they were like 'Oh! We really are experimenting!'" she recalled.
In the final work, actors have taken advantage of the cutting room floor to deliver a deep, sprawling exploration of normative sexual scripts, gendered expectations, boundary-setting, parallel and sometimes overlapping histories of displacement, and the sheer trauma of living in America in the 21st century. It is an extremely queer and intersectional piece of art, complete with a contemporary kind of take on camp.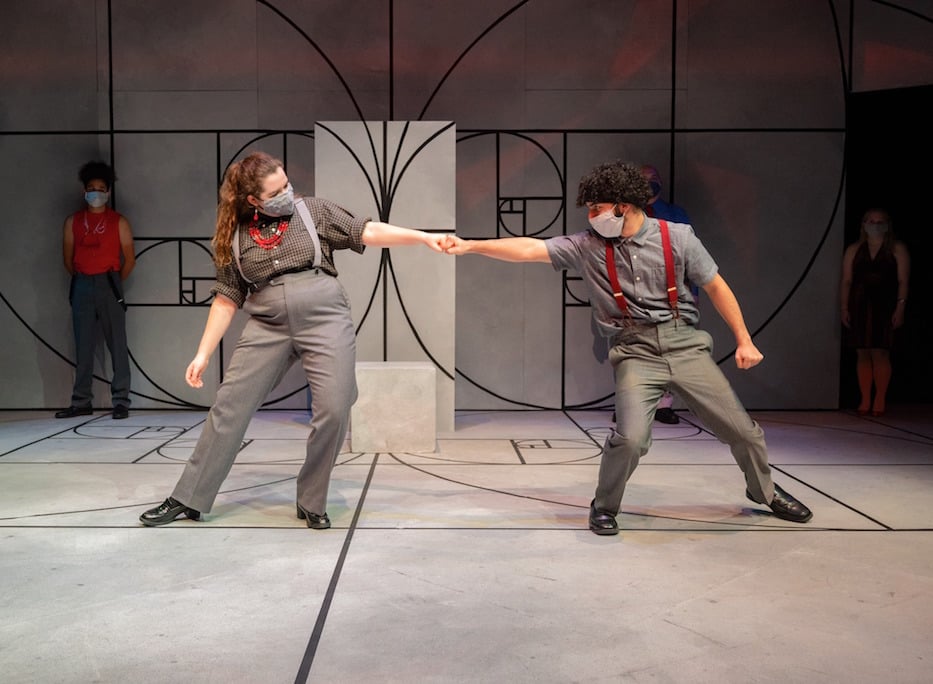 Jason Edwards/SCSU Photos.
That's apparent from the first moments of the show, as actors march out to Queen's 1984 "I Want To Break Free." The song is itself a parody of heteronormative scripts that was banned from MTV channels in the U.S. for its use of drag. As actors take the stage in time with the music, they lay out the reality of coming of age in this country almost 40 years after the song was first written.
Students walk away from Confederate and Blue Lives Matter Flags. They wrap each other in police tape, place their hands in prayer and then defect from organized religion, break with their fellow marchers to walk around the space by themselves. As two actors pile books into Sasha Mahmoud's arms, Mahmoud crumbles under their weight, raising a question about institutional knowledge versus lived experience.
It's a perfect entry point into the show. The 16 members of the ensemble reflect New Haven's kaleidoscopic population, but play everything from 1960s civil rights activists to Black high schoolers stopped by the cops to white, crisp-collared legacy students headed to Yale's football team. They tell both their own stories and each other's, holding the weight of racism, sexism, transphobia, and economic insecurity in the process.
In one scene, for instance, actors are able to explain gender identity versus gender expression using a "Squid Game" like sequence of stop and go, tiptoeing from one block of color onto another, and then another. As they cross the board, they question everything—including why a mainstream understanding of gender is still as fixed as it is.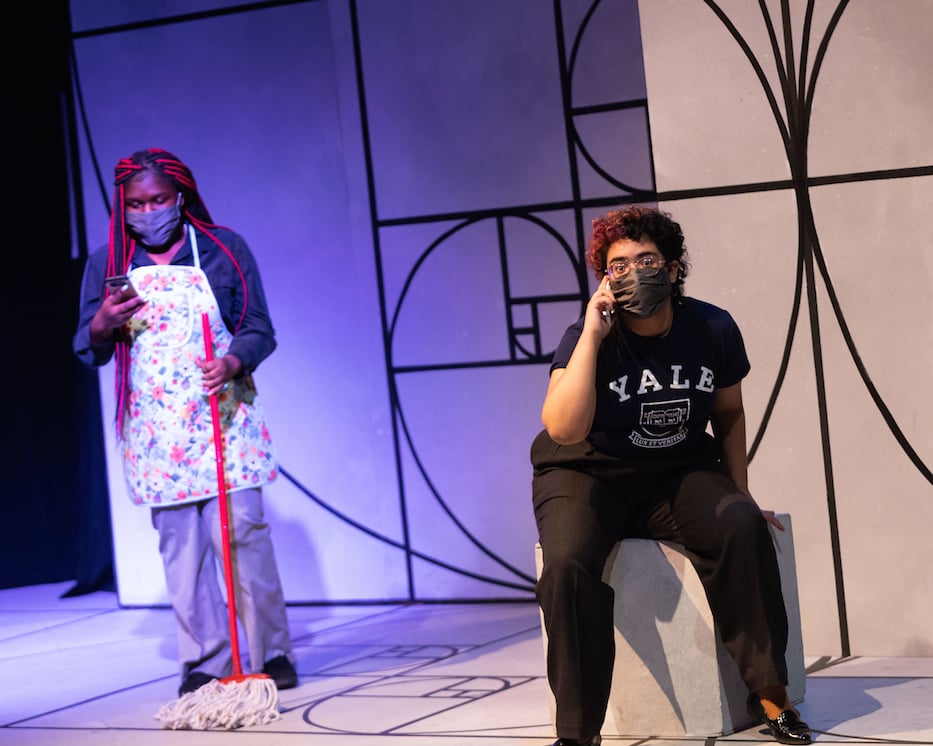 Jason Edwards/SCSU Photos.
In another, Aiden (Samhain Perez) is a first-generation, trans college student at Yale, where a cisgender legacy admit named Chad (Gian Melendez) has also started his freshman year. Aiden/Perez makes the space his own, walking from one side of the stage to the other as he gets to know his resident assistant, touches base with his mom and friends back home, and tries out for the football team.
Without using a single statistic or data set, he makes it clear why it's often hard for first-generation college students to stay in school, from extreme social isolation to unexpected, often prohibitive costs of top sheets and mattress covers. It's a stark contrast to Chad, who gets a personal fridge and monthly allowance of $500. Students come onto the stage, echoing Aiden's story in what becomes a poetic and deeply felt chorus.
"Excuse me, do you know what a first-generation college student is?" Perez asked during an opening night performance, breaking down what little of the fourth wall was left. "Yes! You! In the white hat."
With bold projection and minimal design from Douglas Macur, the set itself becomes an extra, unspoken and shape-shifting character. Macur uses the curved and straight lines one might see on a basketball court—a motif that is literally the definition of being in bounds—and explodes them. Throughout the play, his setup doubles as a green screen, cosmic interlude, and educational tool for the history of slave patrols and modern-day policing and unceded territory of the Quinnipiac people.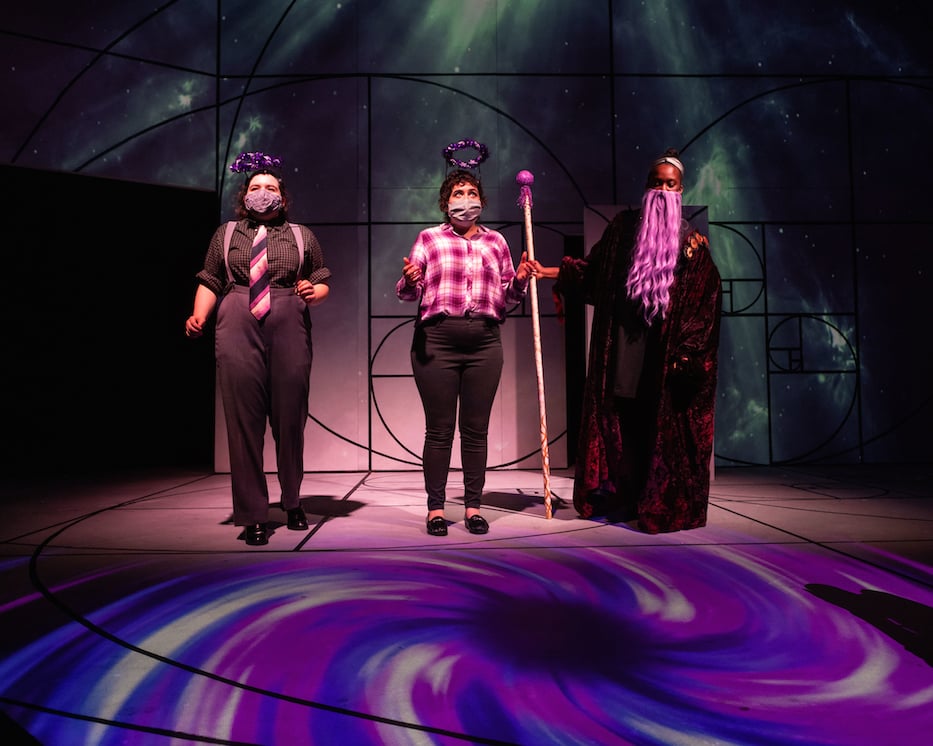 Jason Edwards/SCSU Photos.
In "Coloring Outside The Lines," it is transformed as two angles in purple tinsel haloes (Adriana Harris and Alexis Luft) watch as a God-like boss (Romanya Joseph) concocts the stew for Human #107 Billion Eight Million and Three (Selena Bautista). Beneath the boss, the stew is a bubbling circle of blue, white and pink, into which they sprinkle personality traits.
Twinkling stars and long shafts of light appear on the projection screen behind them, placing the audience somewhere along the milky way. The staging is brilliant: Bautista stands on an elevated block, as if she is almost ready to enter the world. Each time she gains a new personality trait, she acts it out soundlessly.
Bowles and Brown-Keirstead have harnessed the power of movement, and students sometimes speak volumes while using sparse, clipped and economical language or no words at all. Nowhere, perhaps, is this more powerful than in "Beyond What's Acceptable," an ensemble number set to Pink Floyd's "Comfortably Numb." Of 16 cast members, six enter as storytellers, their bodies glowing as projections light up the screen. Flames lick their shoulders and rise toward the ceiling. "Welcome to a world on fire," an actor says.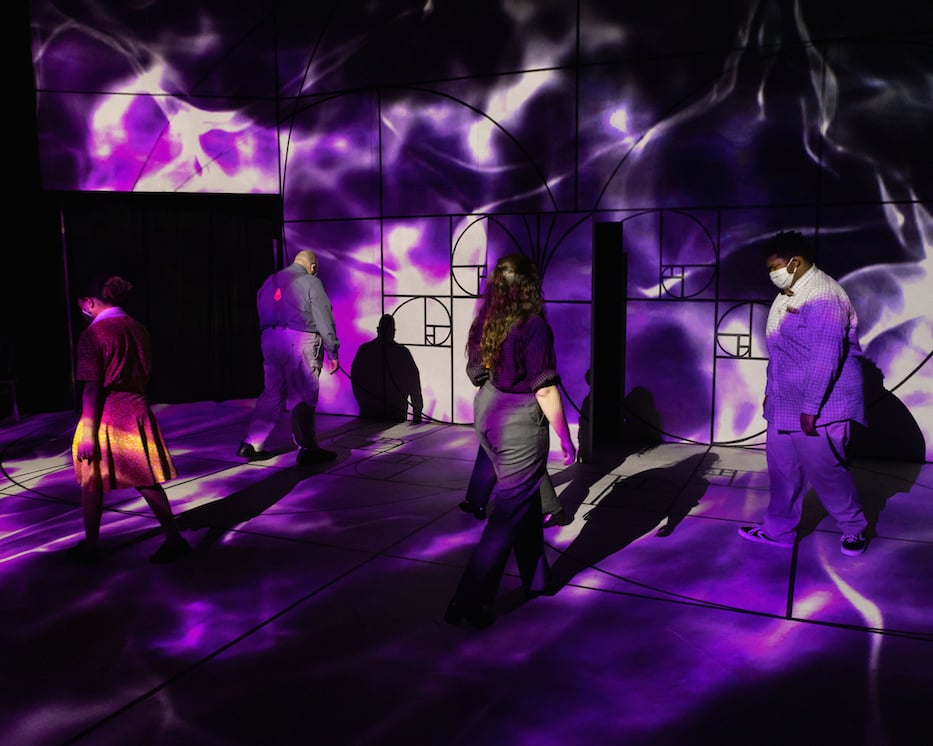 Jason Edwards/SCSU Photos.
Behind them, projections fill the screen: the relentless 9/11 news cycle, George Bush declaring war on Iraq and Afghanistan, redacted federal documents, environmental disasters, the state-sanctioned murders of unarmed Black people that continue unchecked today. Barack Obama announces the death of Osama Bin Laden. A sea of red hats swarm in front of the U.S. Capitol Building. Time marches on, as actors mime brushing their teeth and scrolling through their phones.
It is a lot to take in, from the launch of the country's longest war to a year in which the former occupant of the White House downplayed a pandemic, then urged Americans to look into intravenous bleach. And yet, it is perhaps the most genuine response to a 19-month period of complete insanity and wide, gaping grief, in a country that appears to be numb to it.
In March of 2020, these actors lived through the same news reports, rapid closures, and waves of illness and unemployment that those in the audience did. They too watched as the world scrambled to get back to normal. They brushed their teeth and went to class and made under $15 an hour at their jobs because they had to.
If the paradigm isn't going to shift now, they seem to ask the audience, then when?
For its maturity and poise, Out Of Bounds is also not without sharp humor, speaking directly to a moment that is sometimes so strange and outlandish that the only thing to do is laugh in its face and muddle through. A couple tries bondage, only to realize they've messed up the knots (if that's not your kink, maybe best to suspend judgement). A high schooler (Bliss Compper) tells the story of a white woman who tried to touch her hair at a concert, and adds humor and choreography that amplifies the everyday, wholly maddening absurdity of fetish, appropriation, and Karening everywhere.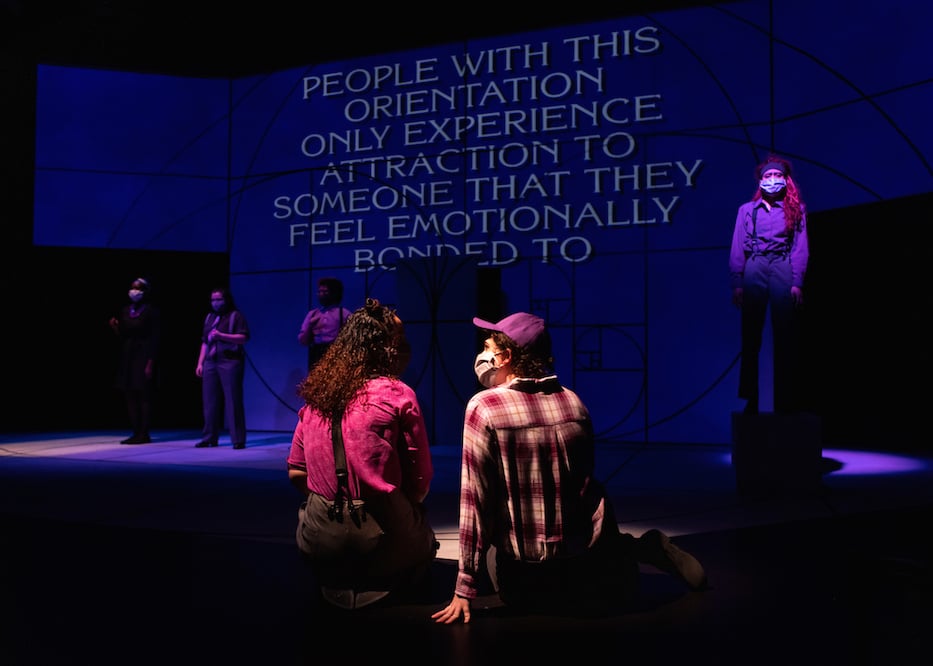 Jason Edwards/SCSU Photos.
There's a game of sex and gender jeopardy that feels not just refreshing, but also right on time for Trans Awareness Week. There are questions around the institution of marriage and the existence of chosen family. As two partners hurl insults at each other during "Love Rules," the audience hears the recognizable, crisp ring of a boxing bell calling time on the match. A referee (Daniel Santana Gonzalez) walks out onto the stage, hands lifted. When he walks off, the game of life goes on.
In that sense, Out Of Bounds is as much an educational tool as a study in self-disclosure. In an interview after the show, Brown-Keirstead said that she'd like to see some version of the work live on beyond this month. Currently, there are no plans for Out Of Bounds after this weekend. Brown-Keirstead pointed to the show's educational potential, particularly for young people who are close in age to the student actors.
"When you leave here, I want you to continue the conversation," she said Thursday, after the opening night performance. "If I have anything to do about it, I want to make sure that somehow, this lives on. Every time I see it [Out Of Bounds], they bring me to tears. The way they show up and show out and hold each other."