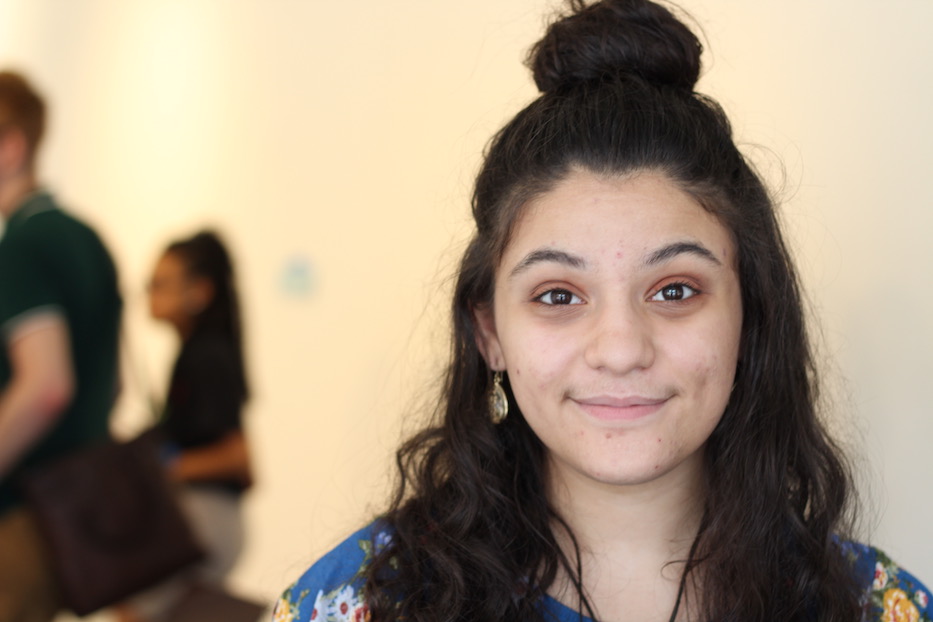 Education & Youth | Film | Photography | Summer Apprenticeship Program | Arts & Culture | Artspace New Haven
Nelly Torres and Sara Garzon. Garzon is an 18-year-old student starting at Gateway Community College in the fall. She said that she studied graphic design during high school at Metropolitan Business Academy and is excited for this next step. Lucy Gellman Photos.
One student snuck into an abandoned school at six in the morning. Another made it to one of the city's private beaches just as the sun was starting to set. A third and a fourth walked into Union Station after 8 pm., to find out what happens when rush hour is over.
They are just a few of the participants in Artspace's 19th annual Summer Apprenticeship Program, a three-week collaboration between the downtown arts incubator and 23 New Haven high school students that culminates in the exhibition The Sound We See: A New Haven City Symphony later this month. It is led this year by Paolo Davanzo and Lisa Marr, lead artists from the Echo Park Film Center in Los Angeles, with assistance from several community fellows.
The Sound We See opens July 26 and runs through September 14. More information is available here.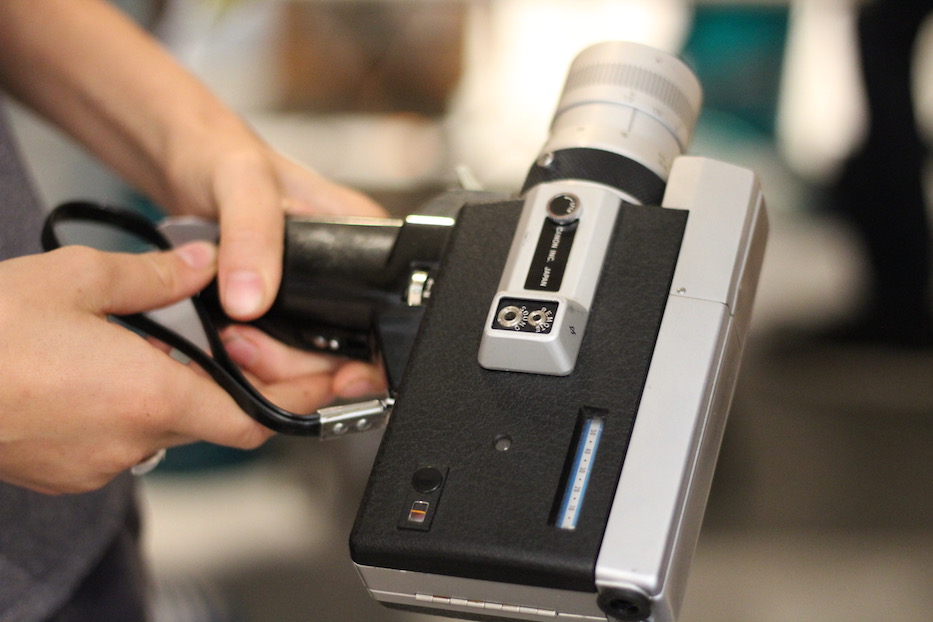 "One of the things we want to leave you with is that New Haven is a place to be," said Artspace Executive Director Helen Kauder to apprentices last Tuesday. "That New Haven is a place for you … and we are always here."
The idea behind this year's project sprang from Davanzo and Marr's collaborative filmmaking work, in which they work with community members to create a kinetic, living portrait of the place they call home. It dovetails more broadly with the city symphony genre that was popular in early twentieth century film, in which the city may be the greatest or most complex character in the whole film.
At Artspace, the project is an evolving ode to New Haven with 24 one-minute vignettes, each representing one hour in New Haven's daily life cycle. Each is shot, processed and edited by summer apprentices and fellows. In the three weeks apprentices are together this month, they have learned to shoot on 16 millimeter and Super 8 cameras, some working in pairs while others take on the projects solo.
Paolo Davanzo, looking at film that students have shot and developed.
They have also been learning to develop film, one of the gallery's back rooms turned into a place where that magic with solution and exposure can happen. Early in the program, the group also experimented with plant-based solutions to develop film, using materials donated from the ocean farming eco nonprofit GreenWave.
"It's just a celebration of community space, of community and family," said Davanzo Tuesday afternoon at Artspace's Orange Street gallery. "You get to see a city from such a unique perspective."
Last week, that celebration translated to filming at all hours of the day and night in spaces across the city. Working with program fellow Soledad Tejada, summer apprentices chose locations across New Haven's 18.7 square miles, from the far reaches of the East Shore and Annex neighborhoods to close to Westville and West Rock.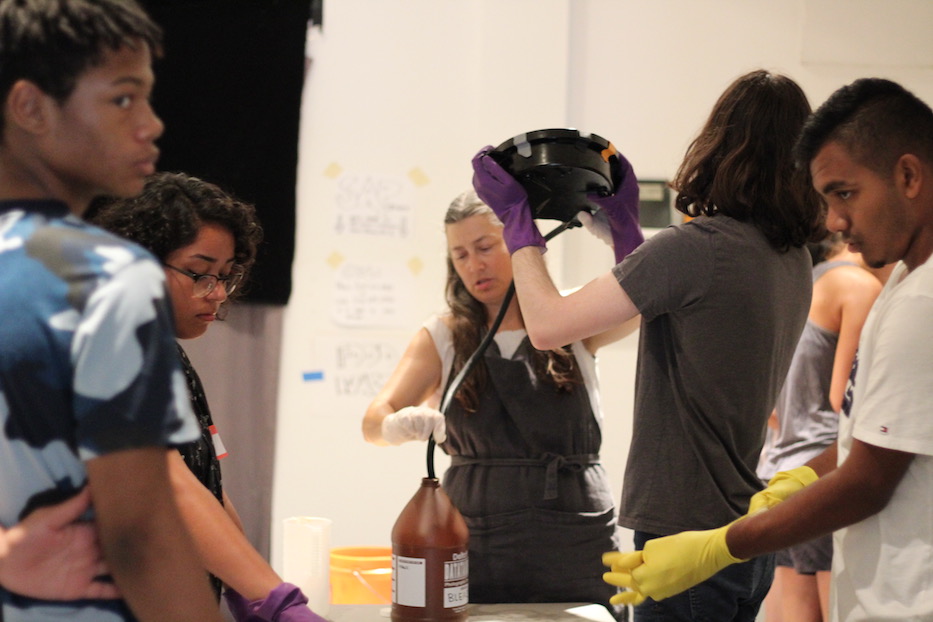 Marr, Davanzo and the program's fellows filled in the remaining slots, including a 2 a.m. look at the stars from the top of East Rock and late-night trips to the train tracks in the Mill River District and glowing Q Bridge. While the city is completely new to Davanzo—and "I'm smitten!" he said—Marr was in New Haven in the 1990s, while performing in an all-girl punk band called cub.
The city has changed a great deal in the intervening years, and the two have been watching it through the eyes of young New Haveners. Nelly Torres, a rising sophomore at New Haven Academy, said she was excited to capture Union Station, a spot that has held her imagination for years. While she now lives in Dixwell, she grew up close to the station in the city's Hill neighborhood. The opportunity to film was up her alley: she's interested in animation and game design.
On her designated filming day, she and fellow apprentice Genesis Maldonado arrived at the station close to 8:30 p.m. with a Super 8 camera. At first, Torres said, the two weren't sure what to capture—they had hoped to get large groups of people, but found that rush hour had already ended. So they started rolling, panning across the station to see what they found.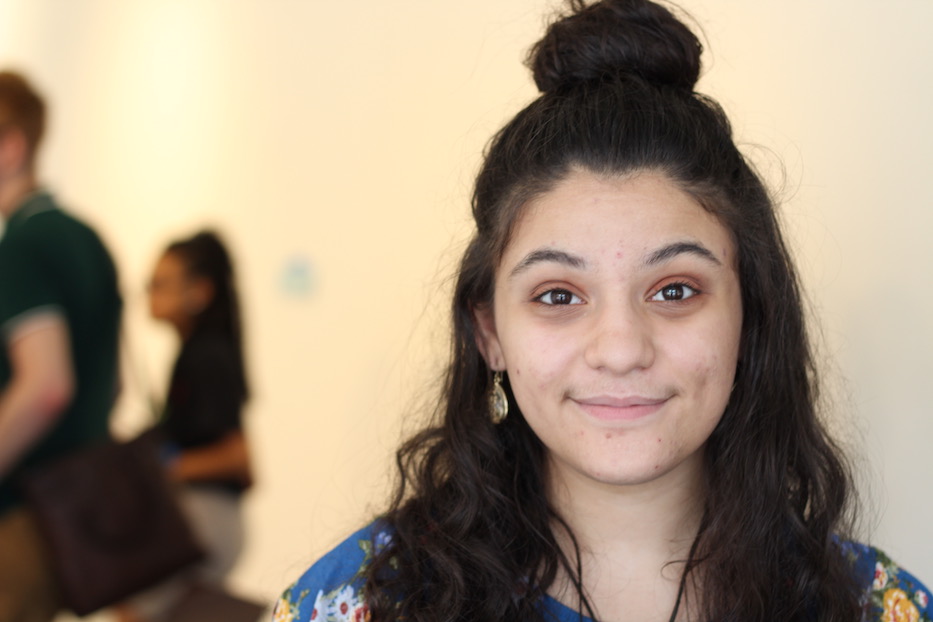 "I find it really fascinating how people act when they think that no one is looking," said Nelly Torres.
"I'm interested in people, rather than the city itself," Torres said. "I find it really fascinating how people act when they think that no one is looking."
The longer she and Maldonado looked, the more they found. On one end of the station, "there were a lot of weird people," and Torres began to wonder how they had ended up at the station even as she kept her attention pinned to filming. Even after the two were done filming, she said, she kept her ears open for strange activity, listening in as a woman got into a heated argument over her latte at Dunkin Donuts.
Close to the first-floor restrooms, the two found a chair that referenced the history of shoe-shining in transit hubs. Torres zoomed in on a sign that forbid travelers from sitting on the seat. Then she filmed Maldonado sitting there. The two started finding humor in the mundane.
"We filmed lots of funny moments," she said. "Filmmaking is a cool way to see different perspectives."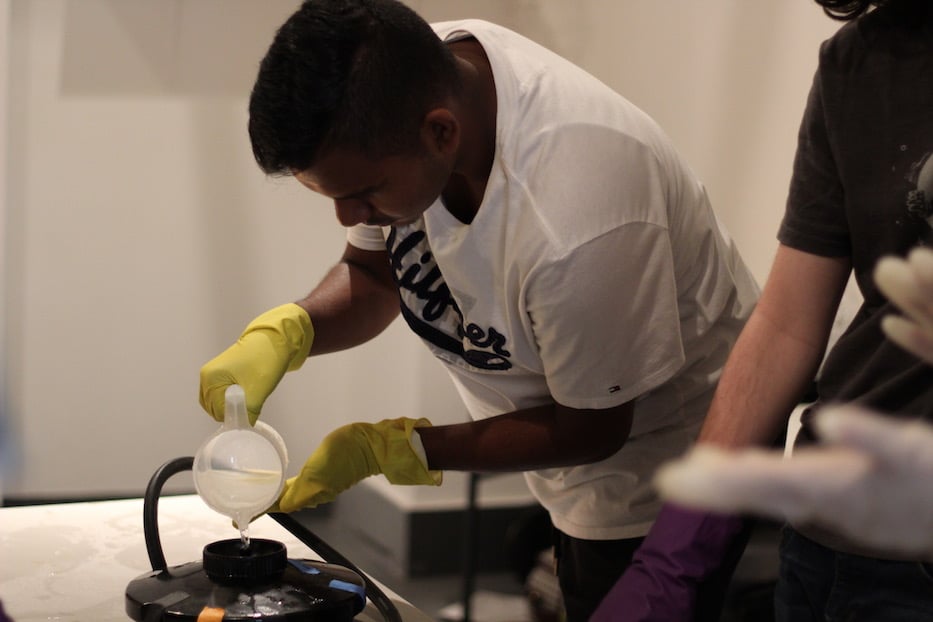 Pablo Giannotti, a 16-year-old student at Wilbur Cross High School, took a different approach. A resident of Fair Haven, he was curious about the long-abandoned school building at the corner of Clinton Avenue, close to where he grew up. Last week, he, Marr and Davanzo congregated at the location at 6 a.m. and pried a board off to sneak inside.
Giannotti said he knows there are plans to add to a mural that decorates the exterior of the school, and felt that the timing was right. Once inside, he walked through the empty floors, seeing what relics he could find. In classrooms, he found chalkboards that were still installed, a fridge turned on its side in one spot.
Rayona Higgins, a rising senior at Cooperative Arts & Humanities High School, noted that she "wanted to find a special place" for her minute-long section, and settled on the private beach at Anthony's Ocean View after thinking about how much she loved the water. When she arrived with fellow apprentice Alona Santiago, a rising junior at Metropolitan Business Academy, the two noticed a couple with a jet ski just hitting the water.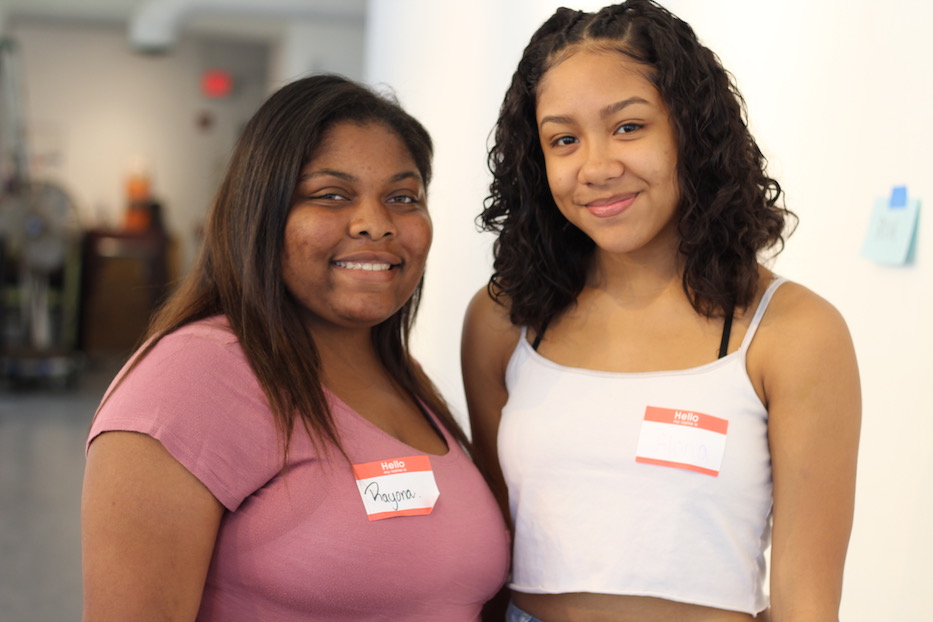 Rayona Higgins and Alona Santiago.
Santiago, a rising junior at Metropolitan Business Academy, said that it was almost as if the skiers had been waiting for them. It was "the golden hour," recalled Higgins—that magical time of day when the sun is just beginning its descent, and the sky fills with yellows and pinks, streaks of fiery red against a fading blue. As if on cue, the jet skiers revved up their engine.
"We got them riding into the sunset," Higgins recalled. "It really was perfect."
In three weeks, Davanzo said the film has taken on a life entirely of its own. While he and Marr have taken their work around the globe, New Haven's version of The Sound We See marks the first time that student filmmakers have doubled as creators of their own soundtrack, a decision that apprentices and fellows reached together.
Normally, Davanzo explained, filmmakers shoot and edit a cut, and then turn it over to local musicians to work on the soundtrack. But apprentices brought instruments from home, testing out their sounds last Monday before recording on Tuesday and Wednesday.
"It was kind of epic," he said.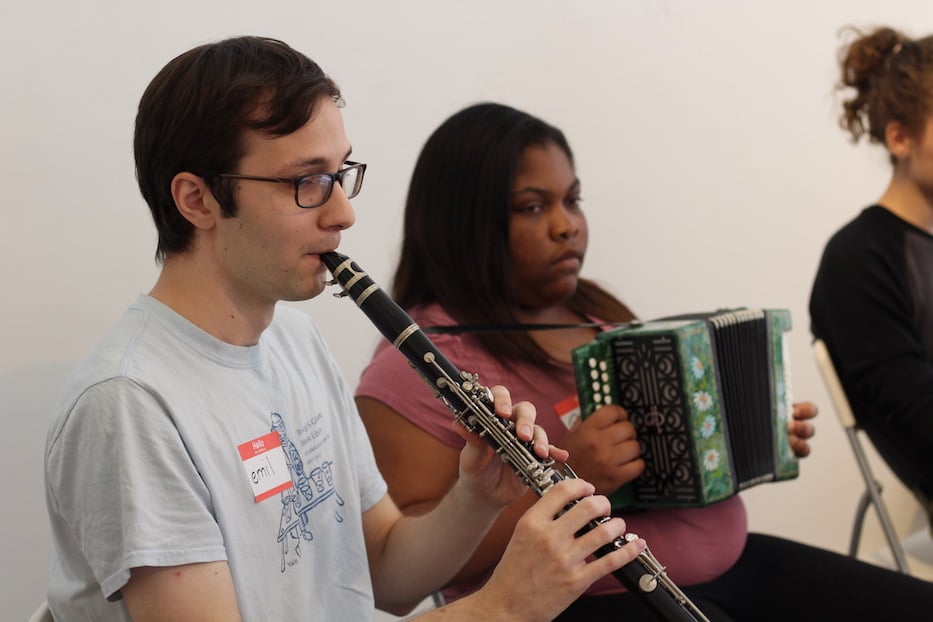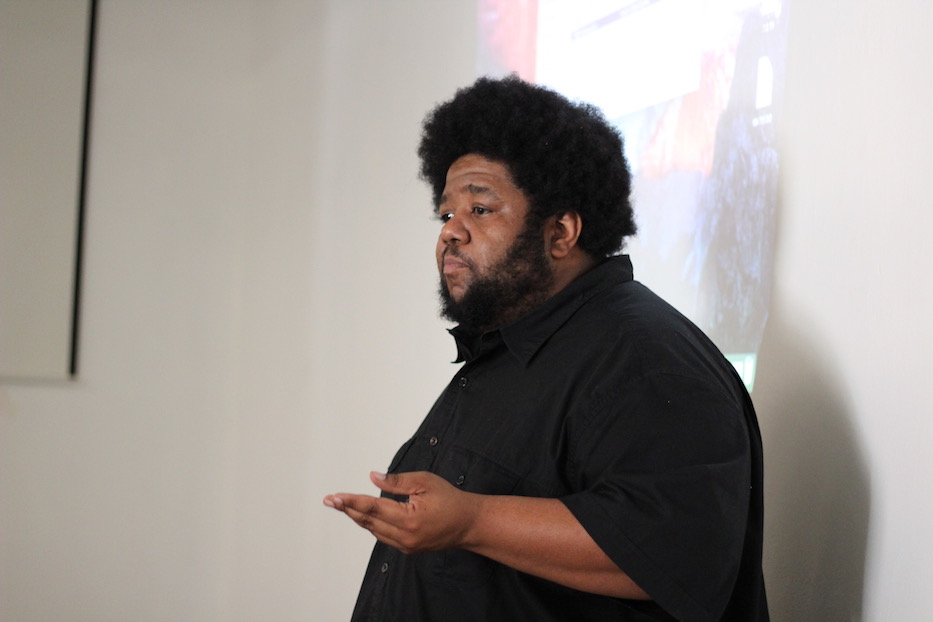 Top: Emil Ernstrom, Yale Yawkey Community Service Fellow. Bottom: Sorey gives students a masterclass in improvisation.
On a recent Tuesday, a sun-soaked room was filled with instruments that students had brought from home, including a flute, clarinet, two keyboards, and box accordion with green panelling. An audio editing program sat hooked up and untouched at a long table, beside a microphone. In Artspace's main gallery, apprentices sat wide-eyed around composer Tyshawn Sorey, picking up notes on improvisation before trying it out themselves.
"Improvisation is removing yourself from your comfort zone," he said, urging apprentices to listen close to each other as he pulled three volunteers from their seats. In the front of the room, New Haven Academy student Evan Mir joined Torres and fellow Emily Yue.
"Use your creative minds," Sorey suggested.
A plucky, stringed note rose, followed slowly by another. Torres dipped in and out on her flute. In their seats, apprentices bowed their heads and nodded, a few resting their chins in their hands. At the end of just two minutes, the room exploded into applause.
"Excellent!" Sorey said. "That was a musical composition."