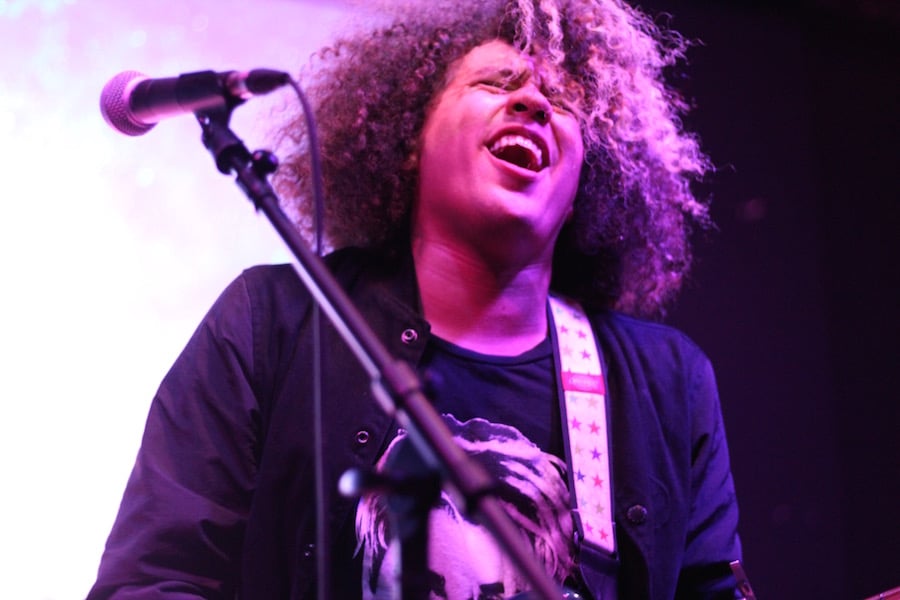 Downtown | Music | Arts & Culture | The State House
Jose Oyola was in his element. A track looped behind him, live percussion joining a propulsive beat that already had him bouncing at the knees. He approached the lip of the stage, the rounded tips of his shoes gripping the edge. The Puerto Rican flag hung halfway from his shoulders like a superhero cape. Then, before the audience knew exactly how, it had made its way up to the highest curl on his head.
Llévame donde está mi gente
Llévame para tocar un merengue
Llévame que quiero bailar
y el ritmo está bien, bien fuerte
Saturday night, Oyola returned to New Haven to bid farewell to Taco Hut, the promotion company and house show venue he began almost a decade ago in a Bishop Street basement. Nine years and one move to Brooklyn later, he decided to end it with one last sendoff, performing at The State House with musicians Ani Cordero, Corner Soul, and hometown favorite Ceschi Ramos. At its peak, the show brought out over 50, many crowding toward the stage into the wee hours of the morning.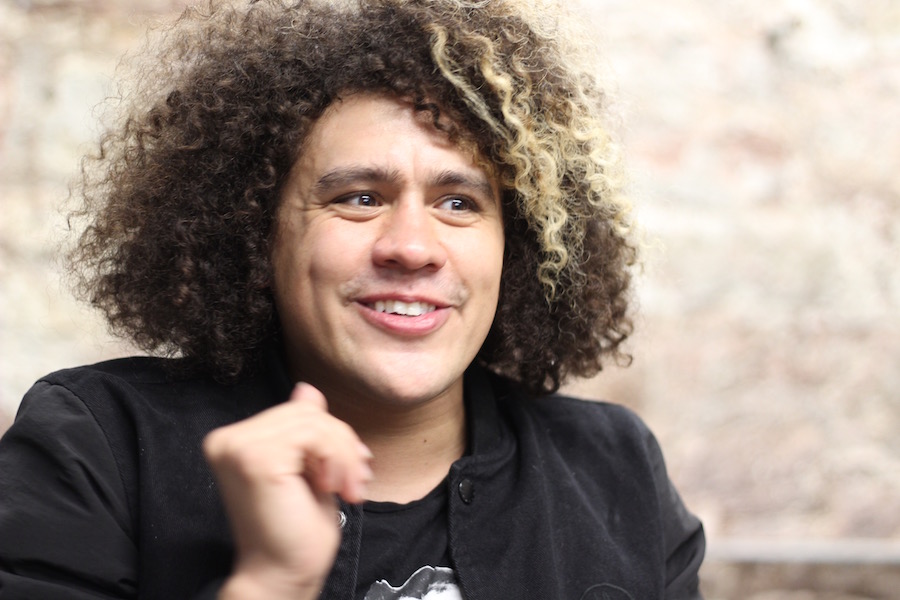 José Oyola Saturday night. Lucy Gellman Photos.
Taco Hut began in 2010, when Oyola was living with fellow New Havener Nick Rodgers in a house on Bishop Street, and struggling to make rent each month. Because the kitchen was right next to the driveway, two joked about starting a taco and burrito business to pay the bills. The business plan was easy enough: someone would make hot tacos on the stove, and pass them through an open kitchen window
Maybe because of the red tape it would have entailed, that kind of taco hut never came to be. But when an earthquake hit Haiti in January of that year, they decided to host a relief concert in their basement instead. Ian Young, Oyola's bandmate in the now-dissolved Sub Verso, had bands coming through town that needed a venue.
Oyola, then just 21, went to all of his neighbors with a petition, asking them to sign off on a house show. By the time bands were arriving at 116 Bishop, Oyola had organized a two-day festival. There were local performers and bands he'd never heard of, hailing from as far as Chicago and Texas.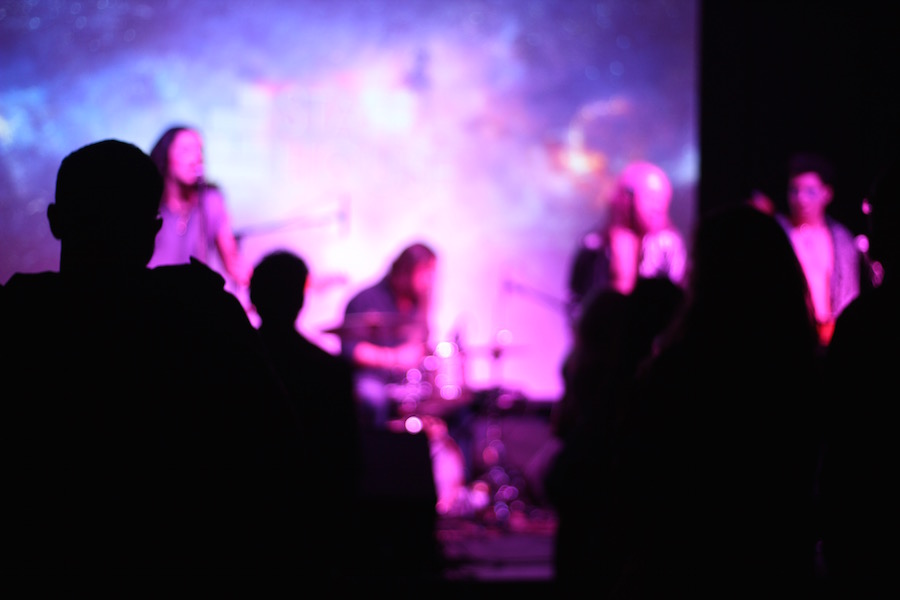 "I just remember the whole house shaking," he said in an interview before the show Saturday night, a can of Rhythm Lager in one hand. "The vibe was good. And Taco Hut … at first I hated the name, but it caught on too fast for me to be able to change."
From East Rock, he moved downtown, to a shoebox apartment on Chapel and Park Streets right next to Group W Bench. It was intimate—Oyola had to move his mattress under a bed when he practiced—but not too intimate for acoustic house shows, including Ports of Spain, early Elison Jackson, Xavier Serrano, and collaborations with poet Dave Gorin, an Yale doctoral student who was living just a few floors down.
"The Facebook events were like, nine people coming—we're like 'wooo!'" Oyola recalled in an interview before the show Saturday night. "We'd be like, so stoked. There wasn't even like the 'maybe' button yet. It was like, you're going or not going. And we were like '12 people? Yeaaaaah!'"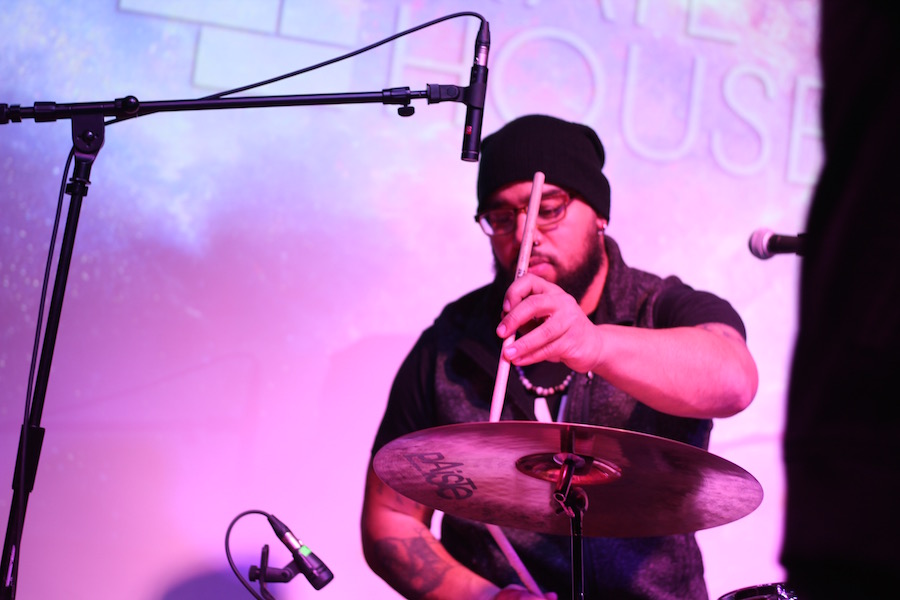 Percussionist Seth Faulk, who played with Oyola.
For the most part, it was a calm period for Taco Hut. But Oyola recalled one wild show there, the last before he moved. With Gorin, he took over an empty apartment in the building, setting up rooms for music, poetry, and merch. After a quiet afternoon start, attendance swelled, 30 people packing a room to hear Carlson play acoustic guitar, then migrating to another to hear poetry, and another to mingle and buy albums. Attendees kept coming late into the night. At one point, someone got stuck in the elevator and another musician pulled them out. Only at hour 13, around three the next morning, did the police show up with a warning.
Taco Hut kept moving, drawing a crowd as it did. From Chapel, Oyola moved to Orange Street in 2014, sharing a five bedroom apartment right next to Christy's Irish Pub with musicians Sam Carlson, Sam Perduta, Serrano, and artist Heather Young. The five bought a PA system and started hosting shows in their living room. After shows, a few musicians would stay behind and squeeze their bodies into a tiny crawlspace, teaching each other new tricks and testing out new material. It's how Oyola learned to play guitar, he said.
As attendance boomed, they found they'd discovered the perfect spot—because it was next to a bar, no one suspected the musicians for the noise. The landlord, a lawyer, would come to the shows and toast the band. And the bar liked having them there, because business tripled when Taco Hut shows were underway.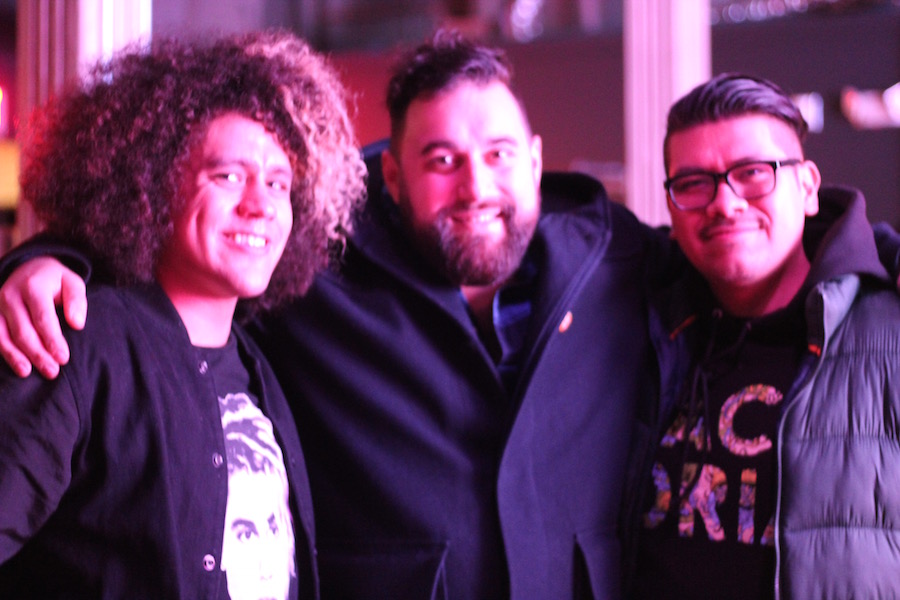 "It was like fluid," Oyola said. "Everybody was helping each other. It was a community … everybody knew each other's songs. Everybody sang along to each other's songs. "
As Taco Hut grew, Cafe Nine and The Space started reaching out, asking if acts would perform there. Oyola's own musical horizons were expanding with JOATA (it initially stood for José Oyola And The Astronauts, although the artist still uses the moniker), the first local band to perform at College Street Music Hall when it dropped its album Hologram there in November 2015. He moved to Westville, working at Lyric Hall and occasionally using the venue to host shows. And he made a sort of mission statement for Taco Hut—foster community through music.
"It didn't matter who you were when you walked through the door," he said. "The ticket was three bucks. It wasn't about money—when you do it right, money comes. When anybody walked in that door, I didn't see white, black—I'm just like, you're here for music. That's all I care about."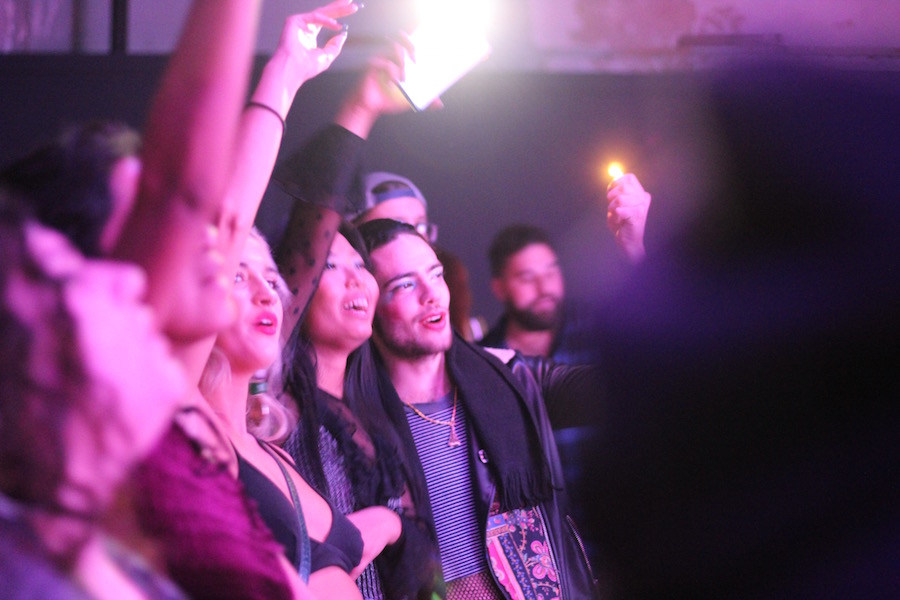 In the years since, he's organized Astrophest, an annual celebration of music that ran at Cafe Nine and Pacific Standard Tavern for three years in a row before it ended in April of last year. By then, Oyola had moved to New York, where he set up shop in Williamsburg in February 2017, and started to build a network in the city. He said it was only a matter of time until he was too tired to continue Taco Hut on top of full-time work and an attempt to build out his career and write new material.
"I want to focus on my own music," he said. "I get stressed out when I do shows. There are bands I need to take care of. It's something I want to do later … not now. Things have to come to an end. It feels good. Nine years is a long fucking time. Bands don't even last nine months. And I live in New York now. To me, Taco Hut is based in New Haven."
But instead of simply burying the venture, Oyola gave it a heroic sendoff, feting the city that turned him into JOATA while inviting some new friends to play within its limits. Think of a Norse burial soaked in glam rock, Nueva Trova, local hip hop and Boricua pride. Taking the stage just after 8:30, Brooklyn-based Ani Cordero ushered in an evening of fiery celebration, her voice at once steely and soft for the crowd. Performing work off her albums Recordar and Querido Mundo, she spun histories of oppression with her words, fighting back against it with each lyric.
As attendees trickled through the door, some with piping hot empanadas in their hands from the food truck outside, she pulled them close to the stage, her guitar a siren song against capitalism, police brutality, and violence enacted on Black and Brown bodies. Earlier in the evening, she had laughed about her first meeting with Oyola, at a Puerto Rican owned sushi joint where the two ate with the artist Fernandito Ferrer. On stage, she turned serious, her voice a sweet, muscled messenger of protest.
"Despierto un domingo y escucho las noticias/En mi país habido otra injusticia," (I wake up one Sunday and listen to the news/In my country there has been another injustice) she sang in "Me Tumba" ("It devastates me, it tears me down," she translated from the stage), her guitar built beneath the words.
"Relatan el evento con tanto detalle/Pero al fin del cuento dicen/Que el muerto es el culpable" (They recount the event in such detail/But conclude that the dead is the one who is guilty).
Between songs, she chatted with the audience, urging them to reach out to the American Civil Liberties Union (ACLU) if they saw injustice unfolding in their own lives. She voiced her support for Black Lives Matter, launching into ballad after ballad that attacked government corruption in the U.S. and abroad.
As her set wound down, she crooned a version of "Choferito" ("Driver") that had the audience singing along. In her words were decades of music history, winding from traditional Afro-Caribbean Plena to proud Puerto Ricans now living, like her, in New York City.
Ay Choferito prepárate
Ay Choferito prepárate
Porque yo quiero que tú me lleves ya
A la bahía San Juan
When Cordero left the stage to cheers, Corner Soul took it by storm, giving off a 1970s glam rock vibe in tight pants, bright face makeup, tight midriff shifts, and exposed nipple rings. Based in Lowell, Mass., the band met JOATA last year, when the artist came through to play a gallery and music venue called UnchARTed. Some time after his set, Oyola asked members if they'd be interested in touring New England with him. Frontman Tom O'Donnell said it was an easy yes.
As the crowd milled around, Corner Soul funked up the room, blending tight, reverb-drenched riffs with callbacks to T Rex's Marc Bolan, as well as Prince, and David Bowie. As they sang, a handful of Lowell-based groupies jumped up and down at the front, singing along and moving up close to the stage to snap photos of the band. Other attendees, some still arriving, hung back in the middle of the venue, bobbing their heads and shaking their shoulders with the sound. Back onstage, O'Donnell jammed with guitarist Hands D'Tomo and drummer Ray Clough as he loosed mind-bogglingly tight rhythms from his drumset.
But the heroes of the evening, holding onto some of the same love they'd had at College Street Music Hall three years ago, were Ceschi Ramos and JOATA. Drawing the audience in tight around the stage, Ceschi channeled some of Taco Hut's earliest acoustic house shows, just feet from attendees as he and his brother David performed Silvio Rodríguez' "Ojalá," cajon coming in like a heartbeat at the chorus.
To cheers, he migrated to the very lip of the stage, live illustrations scrolling behind him. There was an illustrated Ceschi on the screen, eyes heavy with exhaustion as he walked further into the frame. There were caricatures of cops, driving city streets and penalizing the good citizens of New Haven. He explained that 2019 would be a big year for him—he is dropping two albums before June, and plans for them to be the last work that he releases as Ceschi.
The performance, like the mammoth impact he has made on the city as Ceschi (one of the many hats he wears), was also drenched in nostalgia, whip-smart lyrics soaking the stage for a set that wasn't possibly long enough. He paused as he launched into "Forever 33" off his 2015 Broken Bone Ballads, laughing that he didn't remember the lyrics and would need help from the audience.
Just seconds later, he had hopped into the crowd, members making a tight circle around him. They stayed on their toes for the rest of his performance, cheering during new pieces and singing along with old ones like "Say Something."
If Ceschi took the audience to church, JOATA took them home. Sweeping onto the stage close to midnight, he kept energy high as he belted years-old favorite "Peligrosa" and then, pausing for just seconds, strummed out the first chords to his 2015 song "I'm The Cloud." He asked audience members to help him sing along with an intro melody. It was simple, he told them as he broke into a grin: just an ooooooh ooooh sung slowly, with harmony for those who really got into it.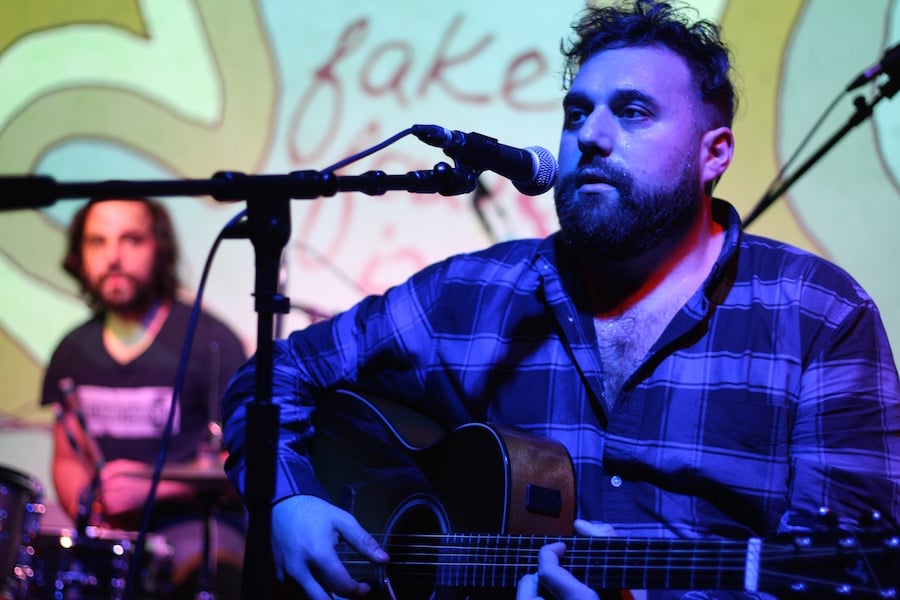 As he hit the lyrics—"I'm the cloud/who lifts you up/when you are down/when you are down," a longtime fan at the front turned into a personal hype man, singing loudly along.
To the audience's delight, JOATA spent much of the set on memory lane, trotting out old breakup songs that New Haven hadn't heard since 2013 or so, and favorites that included "World Keeps Spinning" that filled the room with a kind of warmth and youthful wonder.
But he also brought new work, a sort of show-and-tell about what he's been up to since moving to New York City. Bringing Cordero back onto the stage, he performed his new piece "Cambio," ferocious as the words flew from his mouth and landed on the audience.
No me arrastres por el piso
Soy un chico normal
No me veas tan distinto
Déjame decirlo
Yo no soy estúpido
Y merezco lo mejor
El dinero que me falta
No me hace inferior
Me hace una víctima
sistema corrupto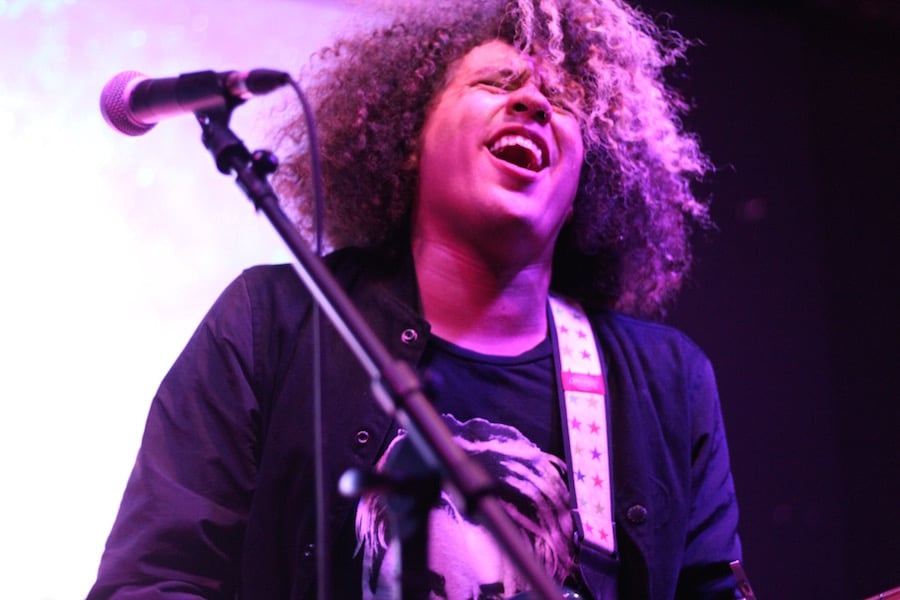 Then to cheers, he went back to an old-new favorite for the final number of the night, a take on "Born In This City" with a new verse from Ceschi. Born and raised in Hartford, Oyola has long performed the song as an ode to the place and people that brought him up. As the room swayed along Saturday, it took on new layers of meaning, the Connecticut cities that raised him no longer the cities he calls home.
As the two finished the song, Ceschi took the mic. He recalled the early days of Taco Hut, when a few friends told him that he really needed to check out "what this kid was doing," because it was putting a whole new spin on the local music scene.
Years later, he said he was excited to see Oyola branching out into new, uncharted territory. He praised the artist for building a kind of community that didn't need to exist anymore, because it had done everything it needed to.
"A lot of older heads aren't here, but I see a lot of new faces," he said. "And that's important. Progress is important."
For more video from the event, check out The Arts Council's Facebook page.