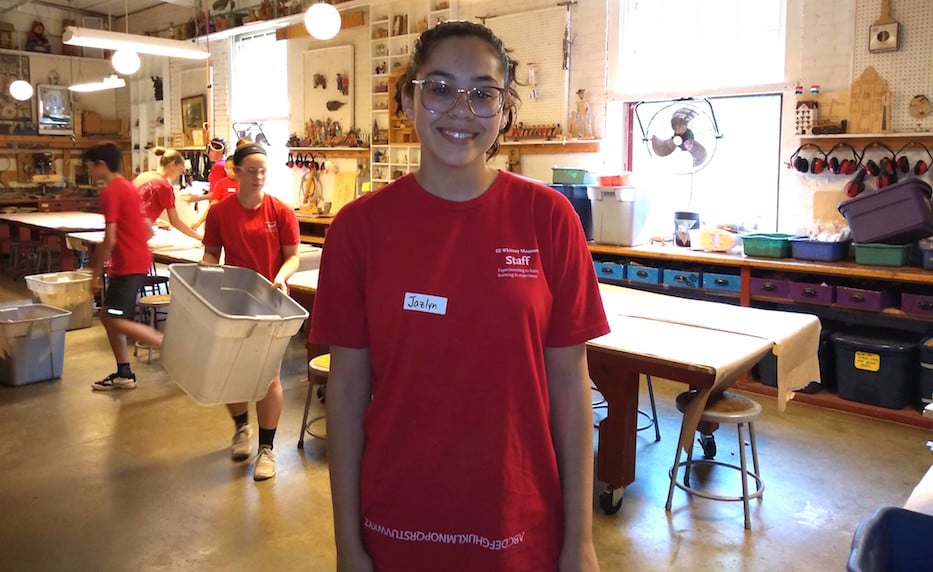 Arts & Culture | Youth Arts Journalism Initiative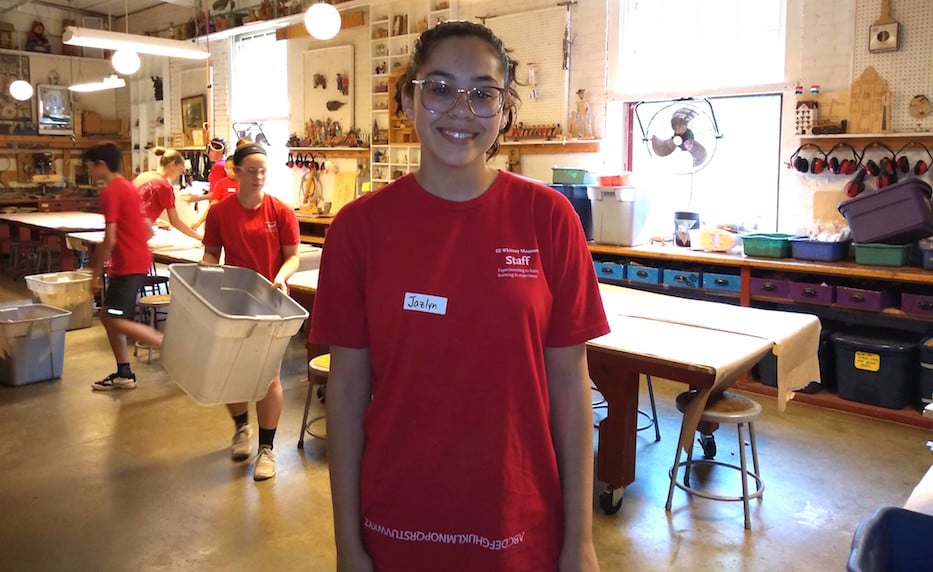 Jazyln Rivera. Jamiah Green Photos.
Jazlyn Rivera stood at a table packing wooden pieces for a project. She looked around the room, laughing with a few of her partners. Then she got serious again, turning back to her task at hand. Her brows furrowed above protective eyewear. She studied the pieces before her.
Rivera is one of several dozen students in the apprentice program at the Eli Whitney Museum, run by artist-tinkerers Ryan Paxton, Andrew Sargent, Buck Bailey, Kiran Zaman, Walter Zawalich and Wanda Faison. On a recent Saturday the program was buzzing with activity, filling the museum with the sound of laughter, excited conversation, and power tools turning on and getting to work.
Designed for students between the ages of 12 and 20, the program pairs students with established artists and makers in the New Haven community, giving them a chance to serve as "apprentices" as they learn building skills in the process. All of the apprentices in the program work in production, as well as master the use of hand and power tools. They also create designs meant for classes and retain copyrights to their design.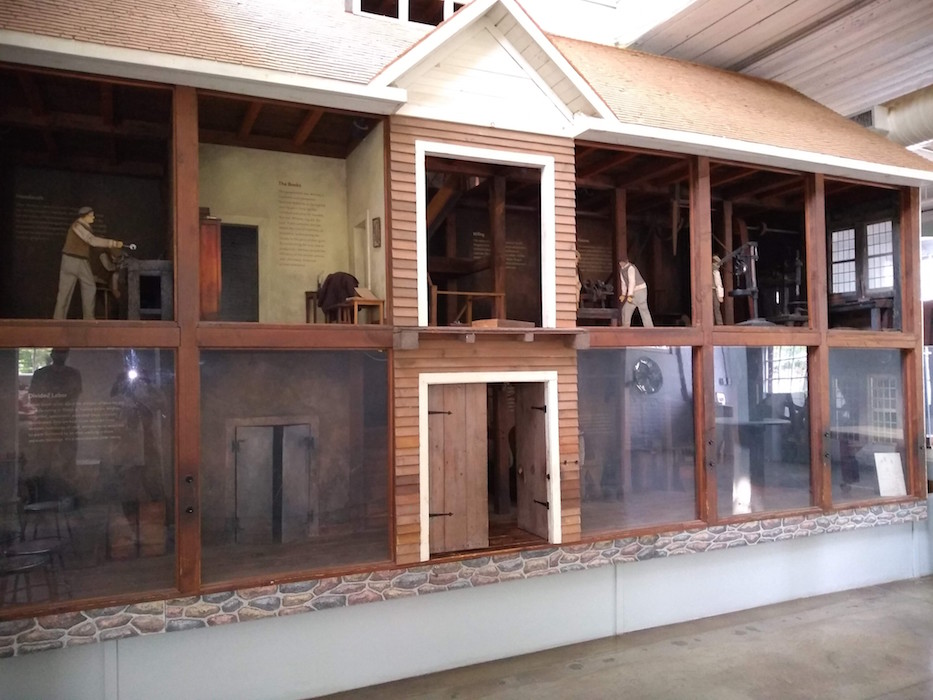 For Paxton, teaching in the program came out of his own love for tinkering. Raised in Brooklyn, he said he has been building things since he was a kid.
"I had built my first tree house at 11 years old," he recalled. "I don't know if my mom and dad didn't know or just didn't care, but that was the first time that I had ever used power tools."
After coming to New Haven, he kept tinkering (he is currently the entrepreneur-in-residence at the New Haven Free Public Library). Two years ago, he also joined the museum as a teacher.
"They do a lot of work," he said of the apprentices. "Some of them are in charge of packing up different pieces for projects, and some of them get done and dirty with work outside."
Paxton said that every time the apprentices come back the next day or week, they have a different job or different assignment. He lauded it as one of the best parts of the program, because it is less monotonous than work at similar retail jobs.
One of the most popular projects in this year's program is called "Electric City," which teaches the basics of how electricity works. There's also something called the "Grist Mill," which is powered by water. The Grist Mill is a piece of work that explains the history of the mills that used to power one of the old buildings in the Eli Whitney Museum.
As he bounced around the space on a recent Saturday, Paxton paused by a huge display that shows the history of the building, which was originally powered by a grist mill itself. He went on to the Carter Studio, a space in the museum were kids build different projects including as Bird Beak Variations, Solar System Model, Hand Mechanics, Humpty Dumpty Returns, and a cool electrical project that uses clips to run.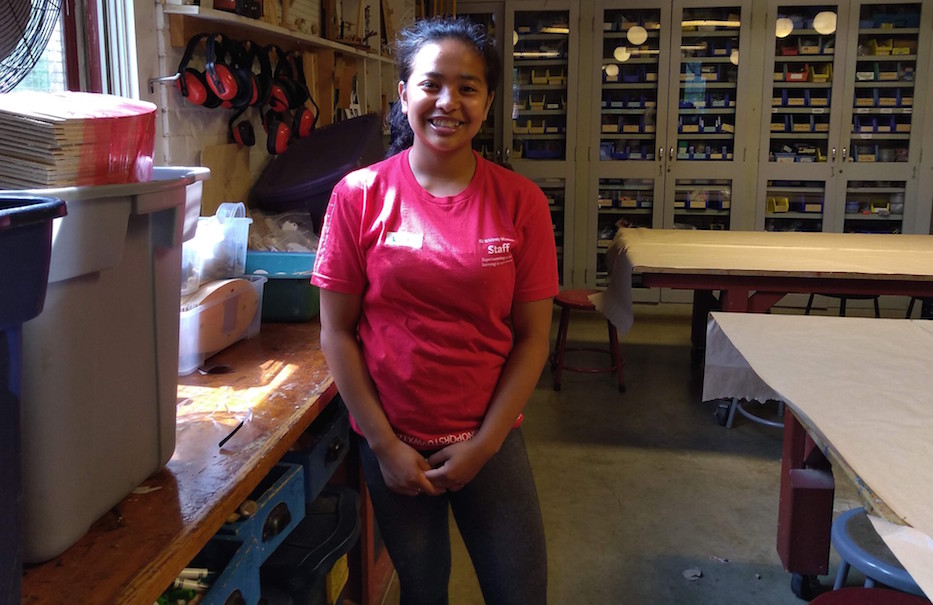 Some of the apprentices in the program like 16-year-old Linda Pham (pictured above) and 14-year-old Rivera were hard at work.
"It teaches you how to be a leader and think for yourself and not for others," Pham said.
She added that she started at the museum when she was eight, and enrolled in one of its summer programs for the first time. Since, she has visited the space on field trips and is not part of the apprentice program.
"I joined the apprentice program because I have a love for building and that what we do here. It also uses imagination and creativity," she said.
As she worked on her project, Rivera added that she joined the museum first because of its summer programs, with the encouragement of her mom. Now she enjoys the apprentice program because it has a lot of "cool machinery," from which students can learn to build and innovate.
"Always take opportunity." Rivera said. "Continue pursuing your passion, creativity is key."
"We make jokes here and there, but we do take our work serious," chimed in one of the fellow apprentices. "However, we do enjoy what we do and that's what matters."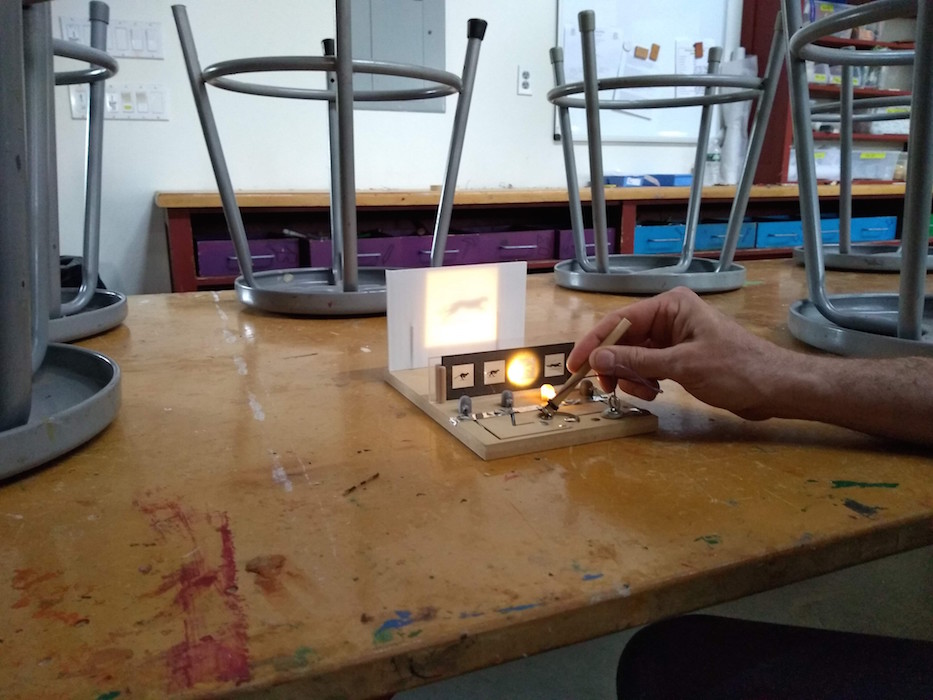 The museum's next program unfolds during the summer months, during which the apprentices take a leading role with fellow supervisors. This program is offered to kids within the ages of six to 14, with different classes that fits well for their age.
"There are a bunch of cool things that kids can learn from this summer," Paxton said. "To be honest, I think all the classes are pretty cool."
For more about the Eli Whitney Museum's summer program and classes, visit its website. This piece comes to the Arts Paper through the second annual Youth Arts Journalism Initiative (YAJI), a program of the Arts Council of Greater New Haven and the New Haven Free Public Library. Over eight weeks this spring, ten New Haven Public Schools (NHPS) students work with Arts Paper Editor Lucy Gellman and YAJI Program Assistant Melanie Espinal to produce four articles, for each of which they are compensated. Read more about the program here or by checking out the "YAJI" tag.