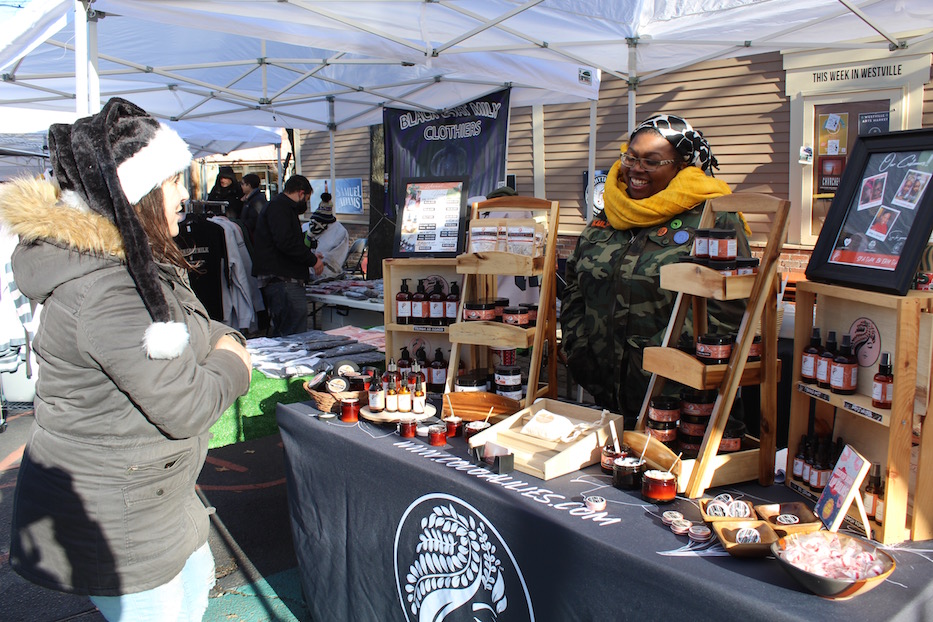 Black-owned businesses | Economic Development | Arts & Culture | Westville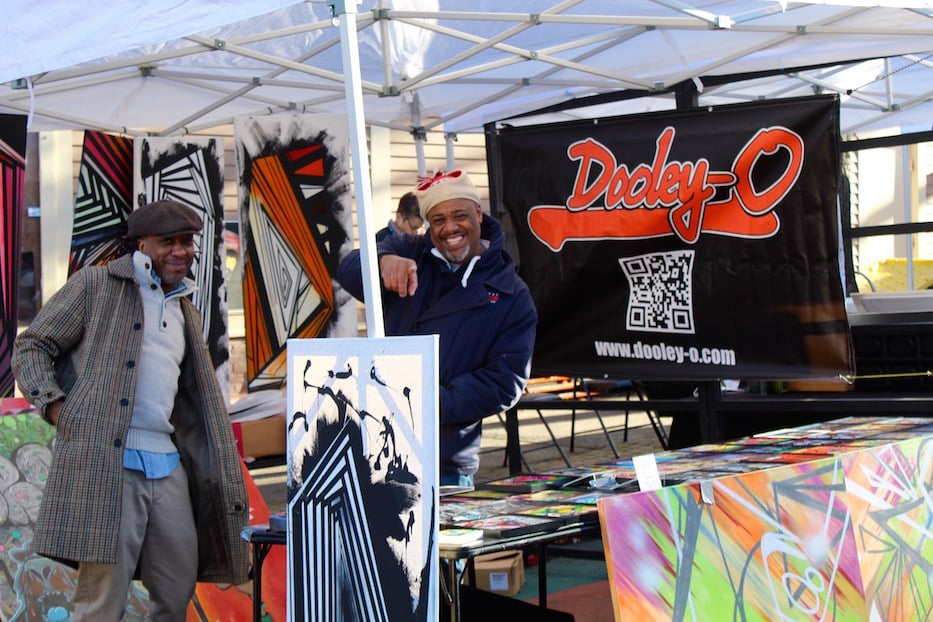 DJ B-Fly and Dooley-O at the Nov. 27 Westville Arts Market. The two have been collaborating for years. Lucy Gellman Photos.
Hailey Jones grabbed a hula hoop wrapped in silver foil and started moving to the beat. Dresha Shaw turned her mask into a mouth warmer between sips of hot apple cider. Bonita Robinson-Fuller found a sliver of sunshine to dip under. And when a steady mix of Prince and The Talking Heads blasted over Central Avenue, vendors and patrons alike danced to stay warm between sales.
Artists braved wintry, windy temps Saturday, as the Westville Arts Market (W.A.M.) welcomed the holiday season on the closed-off section of Central Avenue. After launching the market as a form of small business support earlier this year, co-founders Dooley-O and Kate Stephen have kept it going on a semi-weekly basis. Both are working artists themselves.
For small businesses Saturday, they brought in makers from around the state, from Raspberry Cloud Studio and Coco Lilies Skincare to hometown favorites Smithmade Essentials and Dooley-O himself (artists rotate by design; Stephen said one goal of the market is to mix in old and new faces). As people pulled on their winter coats and perused small-batch goods from soap to wooden spoons, it seemed less likely that corporate supply chain woes would sour their holiday plans.
"It's great," Dooley-O said, surrounded by dozens of paintings, collages, and large-scale, labyrinthine canvases. "I'm really excited. The community has supported Westville artists, and it's been wonderful to work with Kate."
The market's main source of support is the Westville Village Renaissance Alliance (WVRA). Three more iterations are planned for Dec. 5, 12, and 19 on the Central Avenue Patio.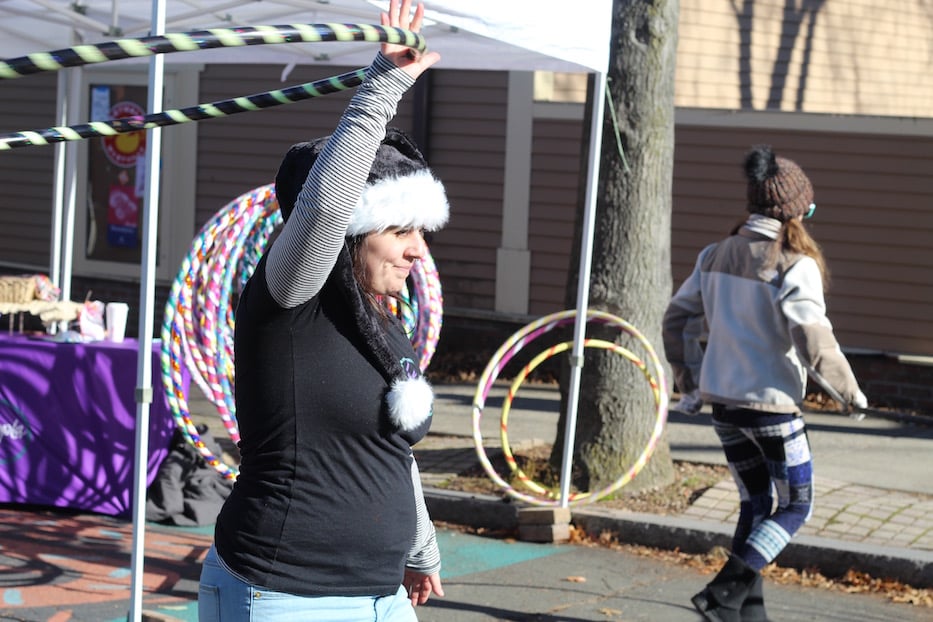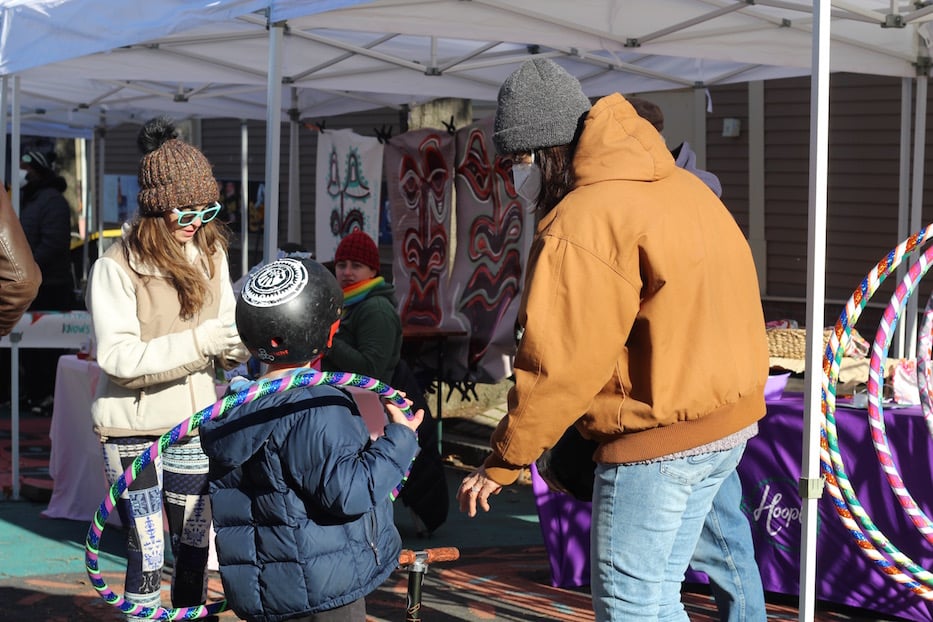 Top: Jones gets into a groove to stay warm. Bottom: Sherine Jamshidian chats with a potential young hula hooper.
Saturday, a mix of new and familiar vendors filled the space, all of them chatting with customers as they donned masks, mittens and winter coats. Off Fountain Street, BringTheHoopla's Jones whirled around an empty section of the patio, a huge painted bird peeking out beneath her shoes. A few feet away, fellow hoop enthusiast Sherine Jamshidian chatted with passers-by about the benefits of hula hooping. She watched closely as one young Westvillian pulled a hoop from the tent, pulled it over his shoulders, and worked on balancing it with his pint-sized razor scooter.
While the company is based out of Seymour, Jones said she likes coming to New Haven, where she lived for several years after growing up in the Naugatuck Valley. During the week, she and several other BringTheHoopla employees teach hula hooping in schools across the state. Since schools reopened, the business has weathered the pandemic surprisingly well—maybe because social distancing is baked into the activity's DNA. In schools, Jamshidian said, students still mask up unless they're outside.
As if on cue, Jones picked up the hoop she'd been working with, and began to roll it from her palm to her wrist, and then onto the inside of her arm. She swayed and bent back as it rolled gently across her chest, then her shoulder, and then into her other palm. A shiny black Santa hat, trimmed with white fur, flopped back in time with the hoop. Then she began the routine all over again.
"It's getting to make somebody's day," she said. "Especially the little ones. You never know what somebody's going through—especially in this day and age."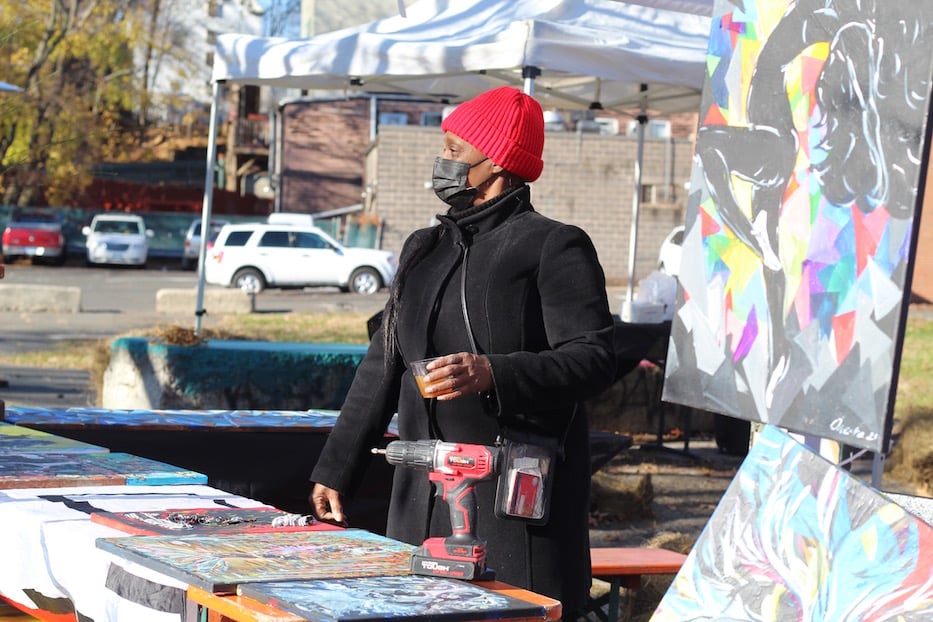 Artist Dresha Shaw, who started painting after receiving an epilepsy diagnosis in 2016.
Nearby, artist Dresha Shaw laid out bright, cacophonous canvases with furry blue dogs, blue and burnt orange starbursts, and dancers in neat coiffures and wispy, rainbow-patterned tutus. Beside her left leg, a figure's voluminous, curly and glittering afro filled the upper register of a streaked blue canvas. A starched, tiny fabric jacket met the sparkles at the collar, a result of Shaw's experiments with collage.
A lifelong New Havener and hairdresser by trade—"I've worked everywhere [in the city]," she said—Shaw first began painting six years ago, after receiving a diagnosis of epilepsy. In 2016, she passed out after seeing bright, flashing lights in an establishment, and woke up in the hospital two days later. When she closes her eyes, she still sees firework-like explosions of color. It is as if her world had tilted on its axis.
"It really did something to me," she said. A few months after the diagnosis, a friend asked Shaw if she was up for a sip n' paint. Shaw said yes. She hasn't stopped painting since. When the W.A.M. put out a call for artists earlier this year, she figured it could be a good place to try selling her work.
As "Take Me To The River" blasted over the street, she chatted with two young women who had stopped on their walk down Fountain, intrigued.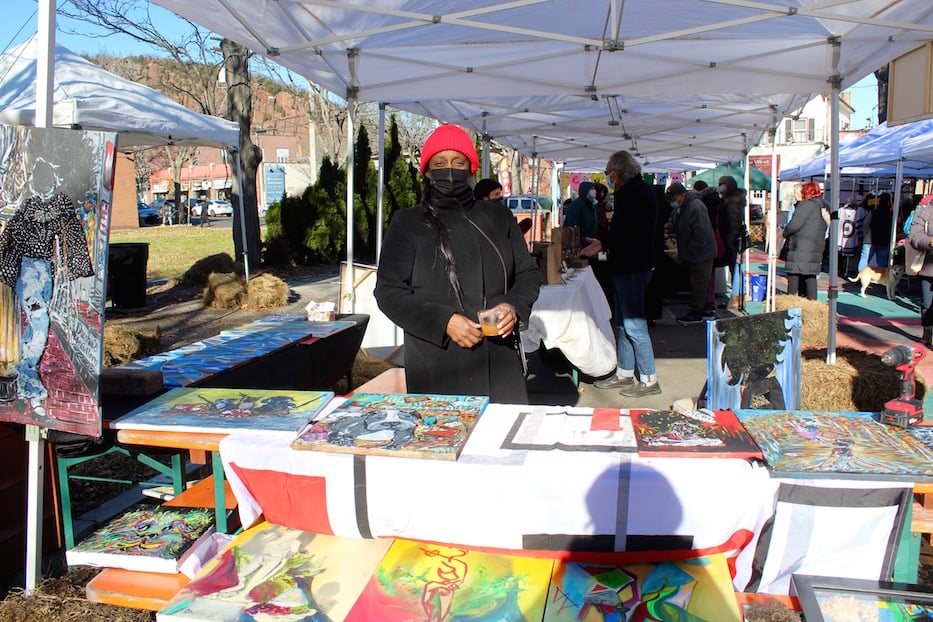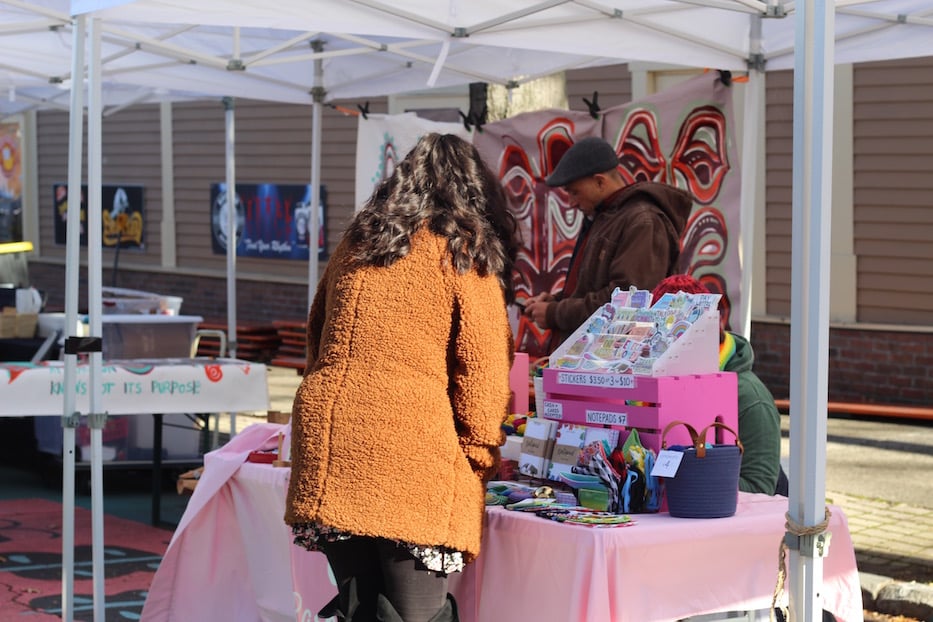 Top: Shaw with her work. Bottom: Natalie Wallington of Raspberry Cloud Studio.
Every so often, a sweet, fruity cloud of steam rolled off a cauldron of hot cider down the block. Shaw held her cup in one hand as she gestured animatedly with the other. At one point, the warm liquid sloshed over, and she rushed to dab it off a canvas. As she checked for any damage, she explained that she leaves many of her figures faceless so they will be open to interpretation.
"I don't like to pass expressions onto my characters," she said, pointing to two Black ballerinas who danced against a background filled with pin-pricks and fractals of light. "I want you to say, 'what the hell is going on with her?"
A few booths down, Hamden-based artist Nancy Nearing walked people through neat, narrow drawers of polymer earrings, pins, and pendants. Beside them, a table beckoned with shallow bowls and vases done in vivid color, the polymer bits small enough to look like petals from afar. Blue-winged owls and masked, sharp-billed clay plague doctors hung from a white wire tree designed for ornaments. Days after the city warned that the pandemic was far from over, they seemed right on time.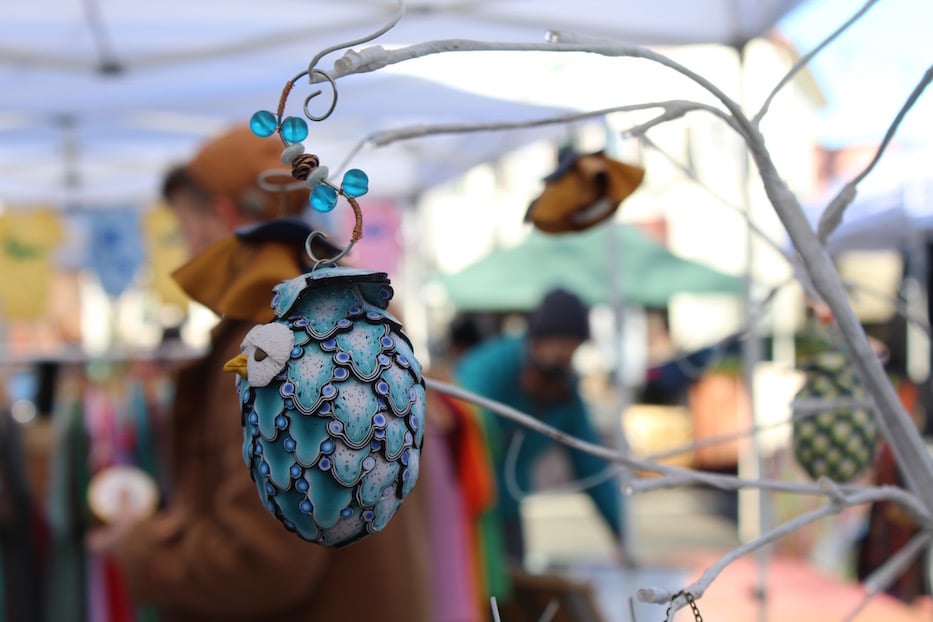 Nancy Nearing's owl ornaments are just a few of the things in her polymer treasure trove.
For Nearing, they're all part of an artist growing her footprint in a new home. After moving to Hamden in June 2020 to be closer to her daughter Elizabeth, the maker experienced a burst of creativity that pushed her to connect with the community. In October of this year, an earlier iteration of the market marked her first in-person craft fair in almost three years.
Among polymer earrings, vases and ornaments, she is now selling a run of pins designed to support The Poderosa Project, which covers the cost of therapy and other postpartum mental health services for Black and Brown women seeking out those resources. Janina Tauro, a fellow Hamdenite and therapist who is herself a mother, founded the organization as a response to a crisis in maternal care that was and continues to be far more pronounced for Black women and non-Black women of color.
Nearing said she chose medicinal herbs to represent knowledge that is passed "from mother to daughter for generations." Beneath her hands, delicate sprigs of lavender sprang up from the face of a pin. Sage and Calendula peeked out from two pins nearby.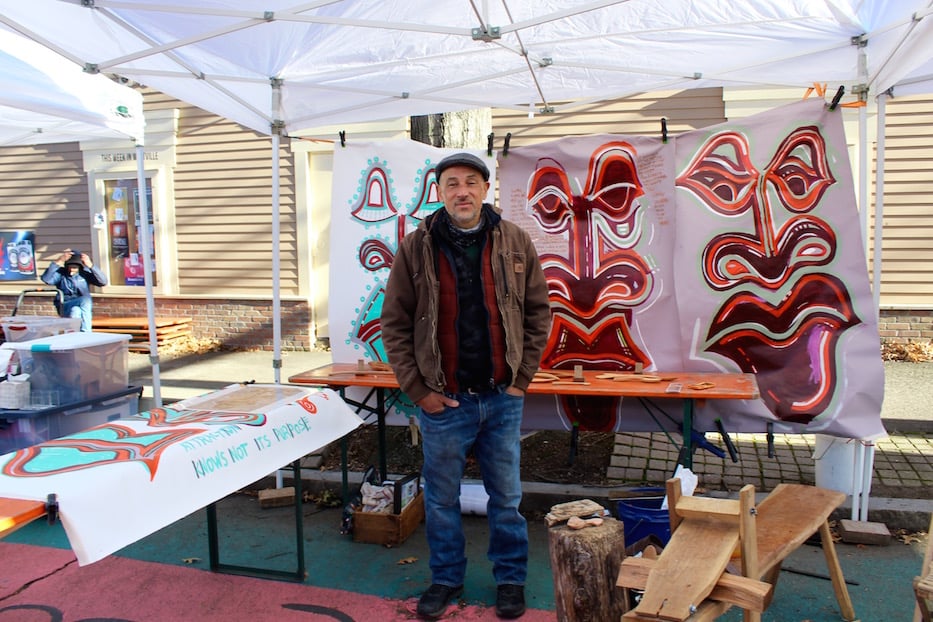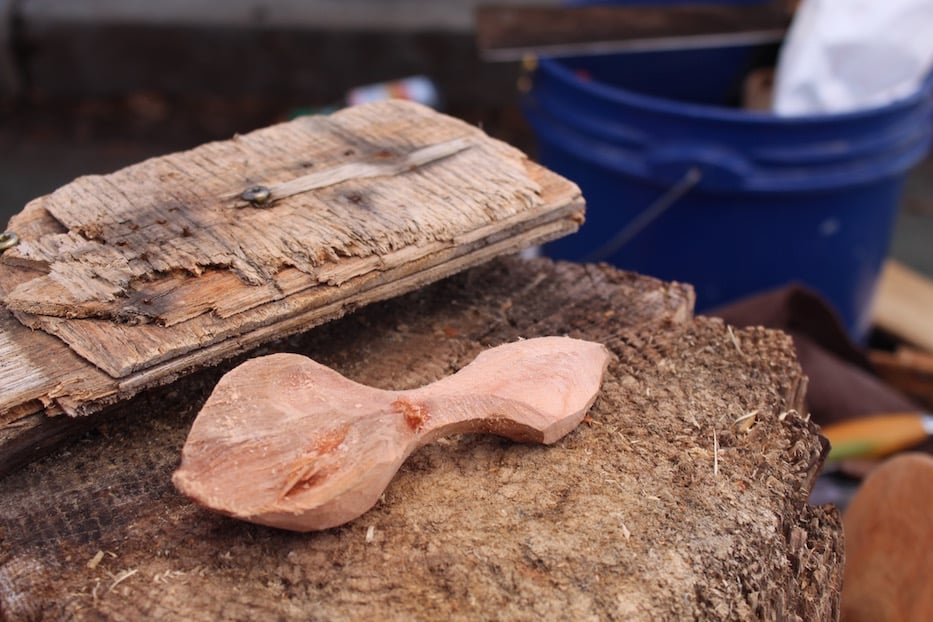 Artist Reinaldo Cruz, who does woodworking in his spare time.
Across the patio, Reinaldo Cruz fielded questions on his woodcarving tools, watching as the market filled with a new batch of afternoon customers on their way through Westville Village. Born in the Bronx and raised between Bridgeport and Waterbury, Cruz started painting when he was in his twenties, and wanted to learn more about his Puerto Rican heritage. Three decades and several moves later, he hasn't stopped expanding his craft.
Growing up in Connecticut, Cruz' parents rarely talked about Puerto Rico, he said Saturday. When he started looking into what it meant to be Puerto Rican himself, he found a rich legacy of Afro-Caribbean and Indigenous Taíno history. He began practicing Santeria. He started painting Indigenous faces and masks, experimenting with "how to create an eye, nose, mouth" in a way that paid homage to a history he'd never learned in school.
"We Latinos are more African than we are white," he said. Several years ago, he moved to Utuado, Puerto Rico to live "off the grid" with his now-ex and two kids. He tried to live off the land and reforest the area, he said. On days that it rained, he taught himself to carve wood as a way to occupy his time. He moved to New Haven almost a decade ago, and now lives in the Westville neighborhood.
Four years ago, he became the director of training and business for EMERGE, which fights recidivism through job placement for formerly incarcerated people. He now thinks of his craft as "something I do on the side," he said—but jumps at opportunities to share his work. Saturday, he came with a woodworking demo and sharp tools, but stopped because it was too cold for his bare hands.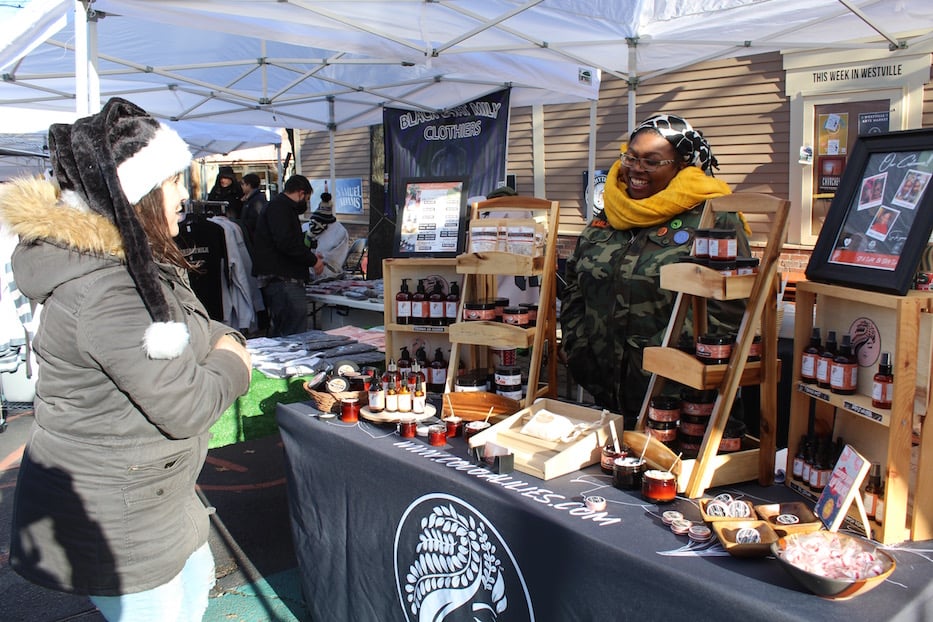 Bonita Robinson-Fuller started Cocoa Lilies skincare during the pandemic.
Other businesses have used the past year to experiment and expand, becoming part of the 4.4 million small businesses that grew directly out of the Covid-19 pandemic last year alone. In August 2020—just five months into the pandemic—Bridgeport's Bonita Robinson-Fuller launched Cocoa Lilies Skincare to get her own eczema under control. Over a year later, she said that business is soaring.
While she works on the business in her limited free time—Robinson-Fuller also holds down a full-time job at St. Vincent's Medical Center and is in school—she said she tries to be as responsive to new and returning customers as she can. This year, she rolled out new products including a pink clay face mask, and a scented foot soak. As a slice of sun fell over her face, she talked to vendor-turned customer Hailey Jones.
Jones, who used to work for LUSH Cosmetics, praised the focus on all-natural and vegan products as she looked over bottles of toning mist, facial cleanser, and small pink and white jars of body butter. One, creamy and cool to the touch, smelled of spun sugar and vanilla. Another brought out hints of sandalwood. Tins of fruit-flavored lip balm winked from across the table. In the herbal foot soak, dried and crushed flower petals added pink pops of color.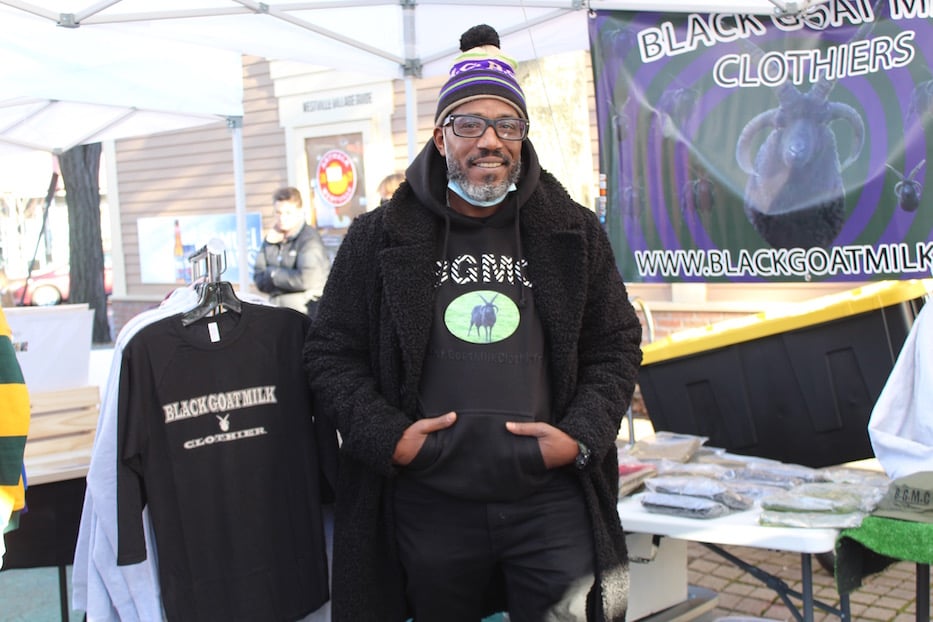 Anthony Murrell of Black GOAT Milk Clothiers.
In the tent next to Cocoa Lilies, Anthony Murrell of Black GOAT Milk Clothiers described the store as "a love story" still in the making. Born and raised in New Haven, Murrell grew up on Quinnipiac Avenue, and fell for fashion during his time at Wilbur Cross High School. As a student, he saw fashion as a way to express his love for hip-hop. The idea for the brand reaches back to those years, using the acronym for Greatest of All Time (G.O.A.T) to telegraph a movement that nourished culture.
"For me, growing up in hip-hop culture, fashion was a way to express yourself," he said. "I couldn't breakdance. I couldn't rap. I didn't do graffiti. But I could express it every time I got dressed."
After marrying his high school sweetheart, Murrell put fashion on the back burner and became a devoted dad and full-time contract specialist for Yale New Haven Hospital. Black GOAT Milk Clothiers was always somewhere in the remote reaches of his mind, he said—but it never seemed like an opportune time to do it. When work went remote during the pandemic, he realized that he could pursue both his day job and his passion project.
In the months since the brand started in May, "it's going great," he said.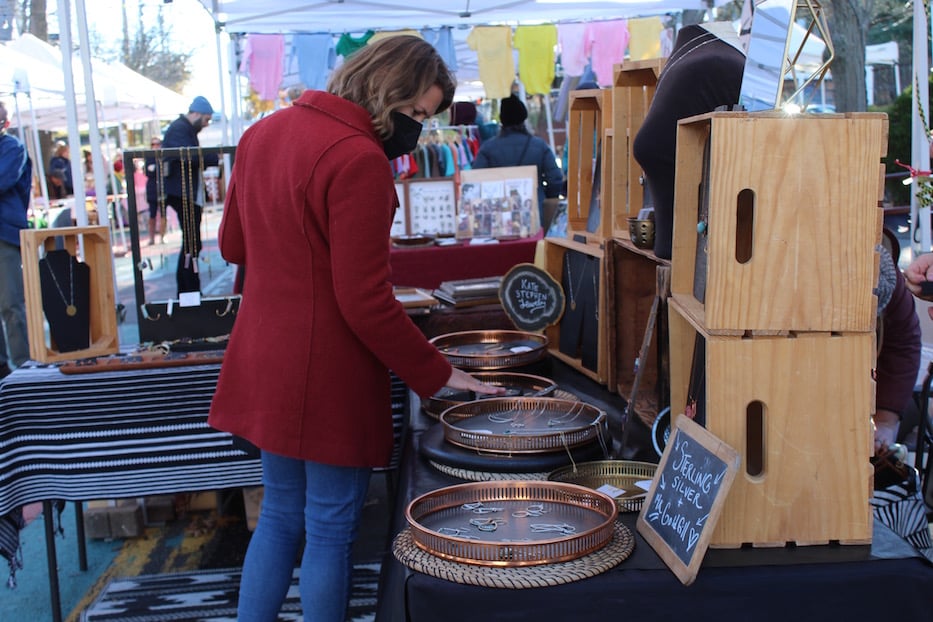 A patron peruses Stephen's jewelry. In addition to her work building the W.A.M. with Dooley-O, Stephen is also a full time working artist.
Buzzing between her own booth and checking in on other artists, Stephen said that the market has felt like a whirlwind since it first started. That's not a bad thing, she added—the regularity of an outdoor market has given Westville repeat customers, who might come to buy a bar of soap one week and leave with a necklace or hand-printed onesie the next.
She and Dooley-O plan to bring it back next year, she said. Until then, she's working to get through the next three weeks. Sessions are planned right up to the Sunday before Christmas, then will go on a short hiatus.
"I'm just taking it one day at a time," she said.