Economic Development | Arts & Culture | Visual Arts | Westville | Sculpture | Westville Renaissance Arts (WRVA)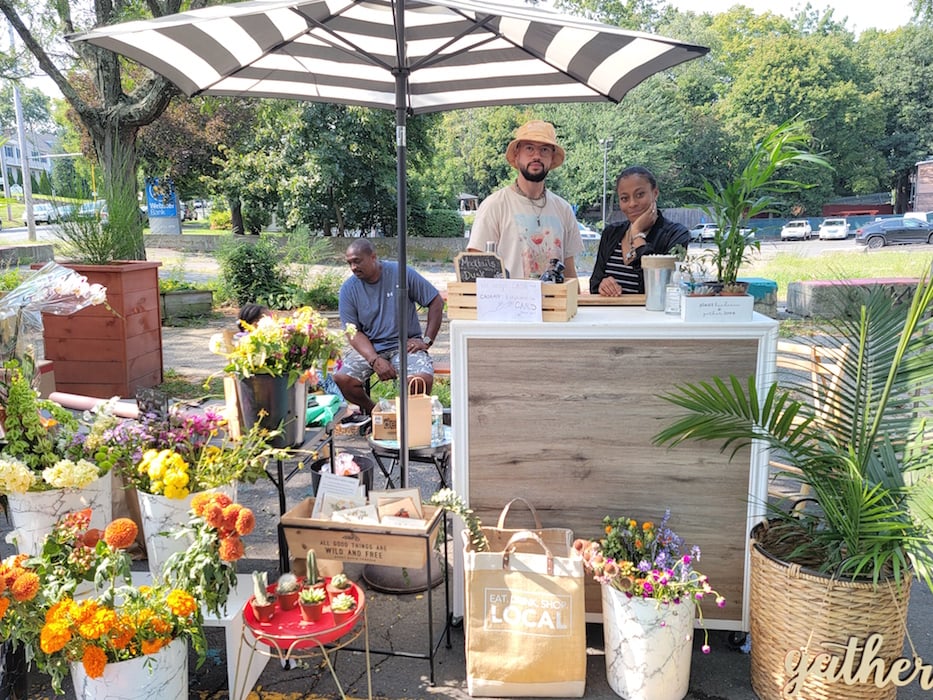 Vijor McCray and Justin Hernandez of BLOOM, a new lifestyle boutique in Westville. Danielle Campbell Photos.
The noontime sun shone brightly as people walked down Whalley Avenue toward the Westville Art Market. On a colorful patio in the middle of Center Street, 13 tents stood waiting for visitors, bathed in midday light and multiple decades of feel-good music. Buckets of flowers peeked out from the street, as if to say hello.
Welcome to the Westville Arts Market (W.A.M.), a semi-weekly pop-up meant to support and celebrate homegrown artists in the city's Westville neighborhood. Last Sunday, it returned for a third iteration on Central Avenue, with goods that ranged from ceramics to jewelry to handmade soap. Bloom, a new lifestyle boutique at Central and Edgewood Avenues, brought flowers and mocktails that turned it into a midday party.
It is the brainchild of longtime Westville artists Dooley-O and Kate Stephen, with support from the Westville Village Renaissance Alliance (WVRA). The idea grew out of a friendship among the artists, both of whom have studios nearby at West River Arts. This and next month, the market will hold sessions on Sept. 26 and October 3.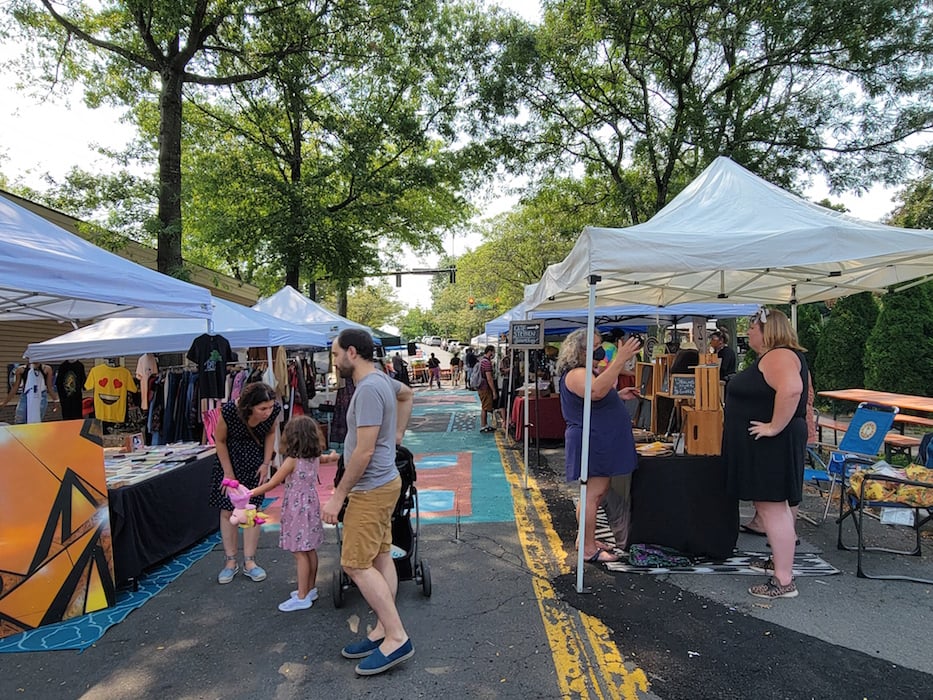 "I think the real reason why we want to do it is just to have a space where the community can engage with artists and where artists have access to the community space to be able to sell their works," Stephen said.
Her tent, as well as Dooley-O's, greeted visitors at the mouth of the market. Stephen creates handcrafted metal and gemstone jewelry pieces, from necklaces to chunky, gnarled brass rings. On the table in front of her, brass, gold and silver hammered into circle and diamond shapes glinted in the sunshine. An array of small gemstones hung across the center of each piece.
"My art is like my meditation, and I'm inspired by the creative process," she said "I find inspiration in life, from like going to the beach and going on walks in the woods and just like community and fashion … the designs themselves are really just like found in the creative process for me,that's what it is. Yeah, that's what I'm inspired by."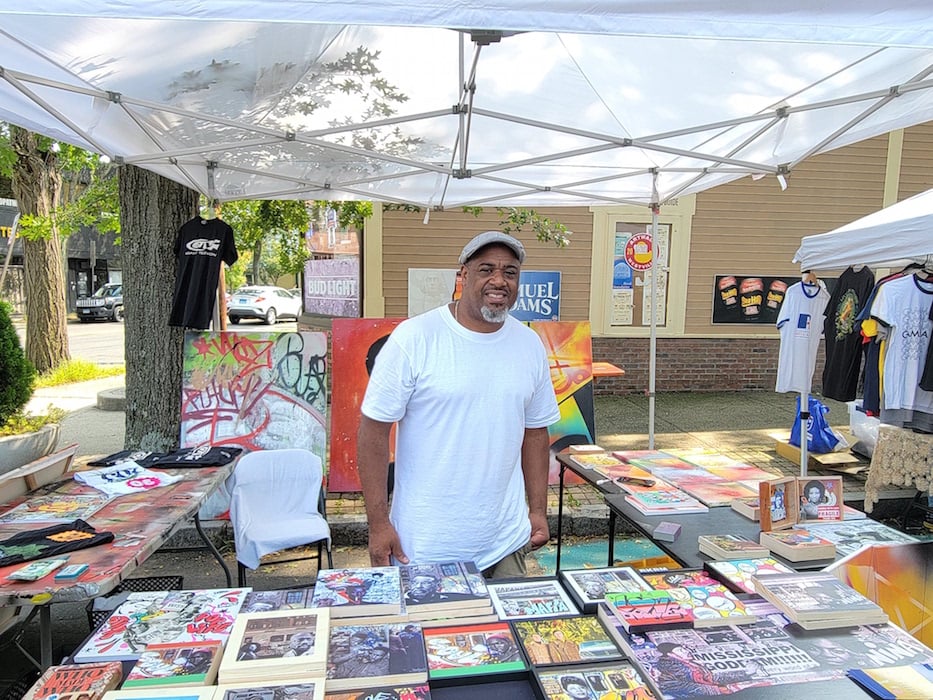 Dooley-O (a.k.a. Allen Jackson) at the event.
As the co-founder of W.A.M., Dooley-O has been an artist his entire life but started creating and selling within the last 15 years. It began with requests to create a shirt or draw for people. Seeing that there was money in art, he decided to start selling his creations. Sunday, he sat surrounded by multimedia collages and paintings that channeled his longtime interest in and love for graffiti. He said that he wants to keep the work affordable with reproductions and smaller-scale pieces.
"Lately I've kind of figured out where I could make it affordable for people to buy my art and I can also reproduce the art instead of me selling you one piece, I could sell millions of smaller pieces, and still have the original copy or still have the rights to that one piece and I could just keep producing as much as it wants to sell," he said.
Across the 13 tents, most of the artists were Westville or New Haven residents coming to bring a new flavor to the art community. All had deep stories and art that represented who they are and what they wish to see in the city.
Artist Evelyn Massey, for instance, has been shopping for vintage clothing since she was 17 years old. With a love for styling, she launched her business Noir Vintage about three years ago.
"I wanted to uplift our Black community," Massey said. "Coming from an African American perspective, doing vintage because we love vintage too."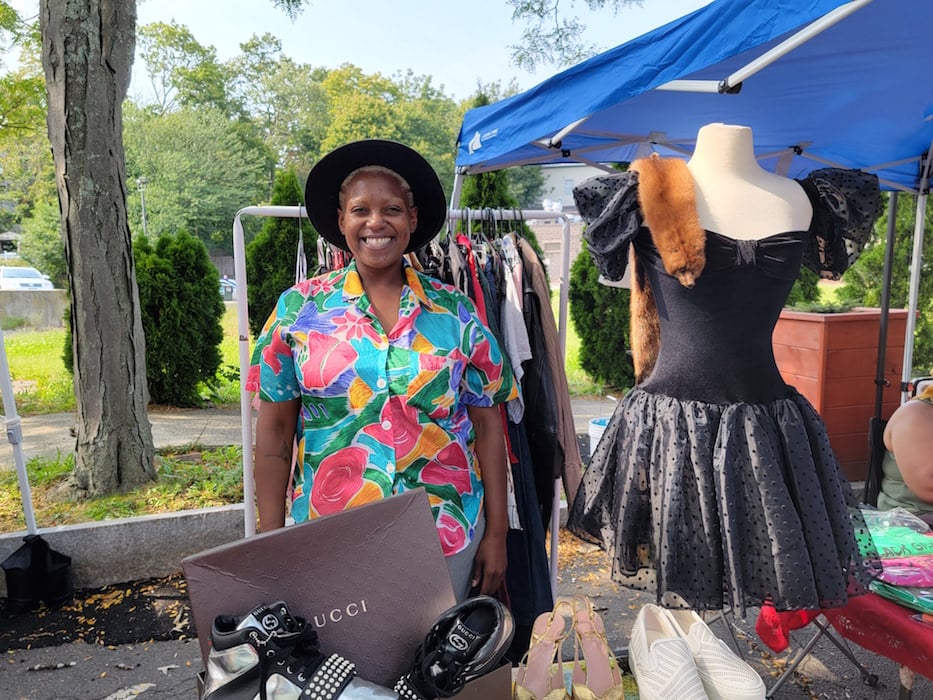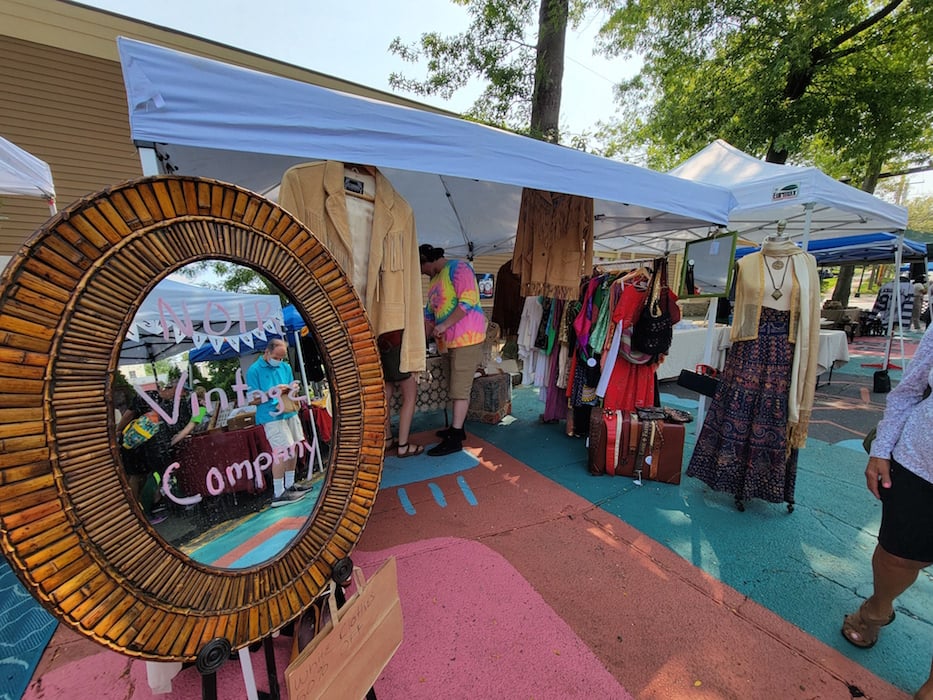 Top: Ashleigh Huckabey of Empath Vintage. Bottom: Some of the goods that Noir Vintage had on display.
She was in good company: Empath Vintage's Ashleigh Huckabey, who lives in Westville, also came out for the event. Born and raised in New Haven, Huckabey said the business is a nod to her family, which ran Unique Boutique in the 1970s and 80s. She called the business "in my DNA," and a way to carry on the Huckabey legacy. She is currently running a GoFundMe to start a storefront for her business.
"Unique Boutique was monumental," she said. "And you know, creating a small business and just providing New Haven with fashion and haircare products. So as someone who's, you know, ancestors set that, you know, just that dream for me, I decided to continue it."
Kiah Smith, who is also a brand designer, showed off soaps and candles from Smithmade Essentials nearby. Started as a hobby, the brand sells sustainably sourced lifestyle products, with an emphasis on care and relaxation. The market is also a chance for her to sell her products very close to home: Smith grew up in Westville and still lives there, close to her family.
"I have an entrepreneurial spirit, so I love learning about that like forming a business, marketing a business," she said. "So that part is like, I know it's like a busy work behind the scenes, but I enjoy it. And luckily, I do have a little experience having worked with other businesses to help me to get my own going."
Some artists let music lead them to their work. New Haven native and hip-hop inspired artist Anthony Murrell created Black Goat Milk Clothiers, the name of which riffs on the acronym G.O.A.T. (greatest of all time). His identity is part of the art, he said Sunday. Nineties Hip-hop inspired pieces like hockey jerseys, rugby shirts and bucket hats lay across his table. He also had Black Goat Milk pins, stickers and patches to represent the brand.
"You know I'm a Black creative on purpose," Murrell said. "Everything that I see through my prism and how I see creativity revolves around a few things. Urban life and Hip-hop. Hip-hop is everything. Hip-hop is my true inspiration. And, you know, the need to be authentic, is what spawned the name, Black Goat Milk."
Other artists sold more traditional arts and crafts. Westvillian Nellie Shevelkin represented her family of artists at their tent, with porcelain and pottery art from herself, her husband Mikhal and their daughter Olga. Shevelkin, who runs Edgewood Art Studio and has taught art for three decades, hails from Moldova but has been living in New Haven for 20 years. She said that her work, which uses acrylics on porcelain, lends itself to her lack of a studio. She does not paint on canvas.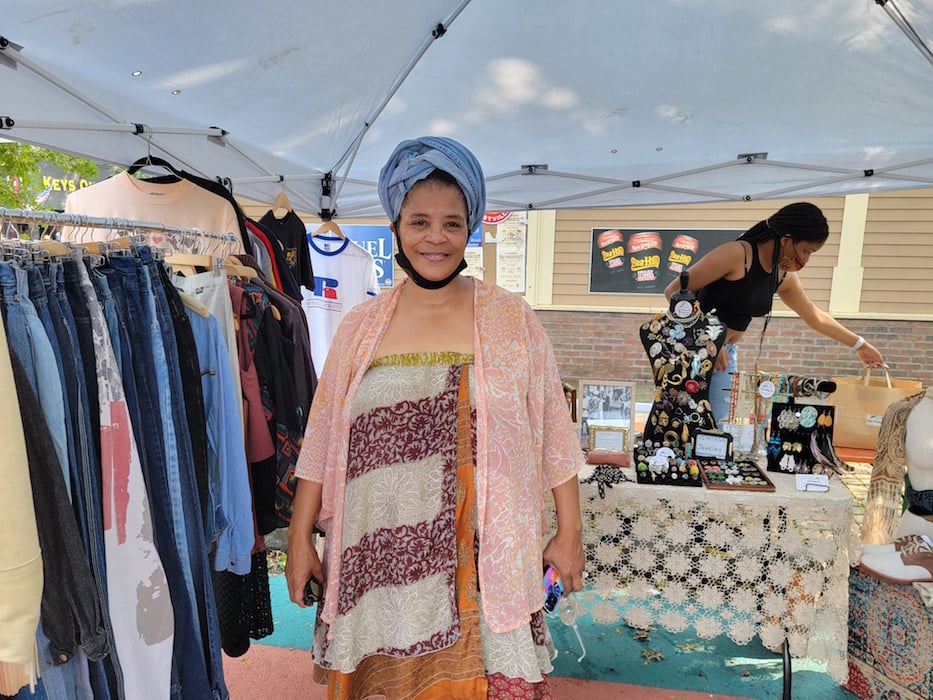 Nearby, New Haven designer, beautician and painter Dresha Shaw stood surrounded by bright canvases, showing her art to passers-by. Shaw said she creates art in any way that she can—through cooking, calligraphy, painting on her walls, and mixed media art on canvases, and hair.
After years working at the House of Elegance and barbershops across the city, she is in school with dreams tof becoming an art therapist. She said she wants to use art to help kids from difficult backgrounds express themselves.
"Kids they go through so much," Shaw said. "Then they tell them, you better not tell nobody, but imagine if you just give them a pen."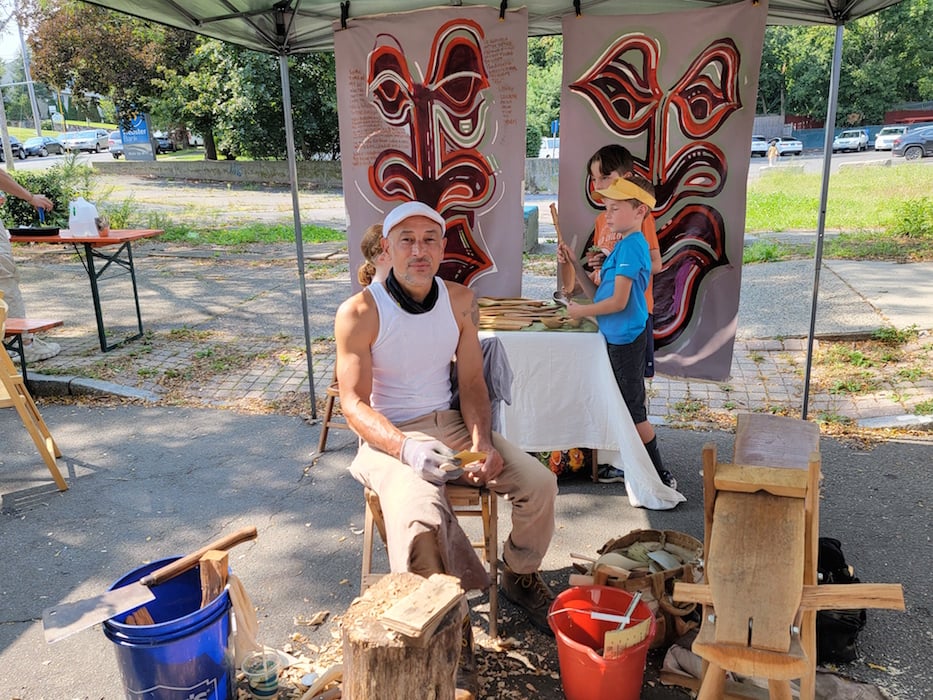 Artist and permaculture designer Reinaldo Cruz.
Some booths revealed themselves like slow secrets, surprising market-goers with new colors, designs, and textures. An artist and permaculture designer, Reinaldo Cruz showed people around his collection of wood carvings, which include dozens of wooden spoons. A lifelong tinkerer with two uncles who are carpenters, he said he has come to love wood carving and even uses it for mindfulness. Sunday, he brought along tools and a block of salvaged wood, so that he could carve in between customers.
"It's been very therapeutic," he said. "I realize it's a moving meditation. I'm in the moment, right. Every step. I don't want to cut myself. I don't want to mess up the piece. So, I constantly got to be focused. So, it's very healing to be in that space and time where nobody can tell me shit. This is my world. Right. There's something that's healing about that for us, where nobody can tell us anything, that we wrong."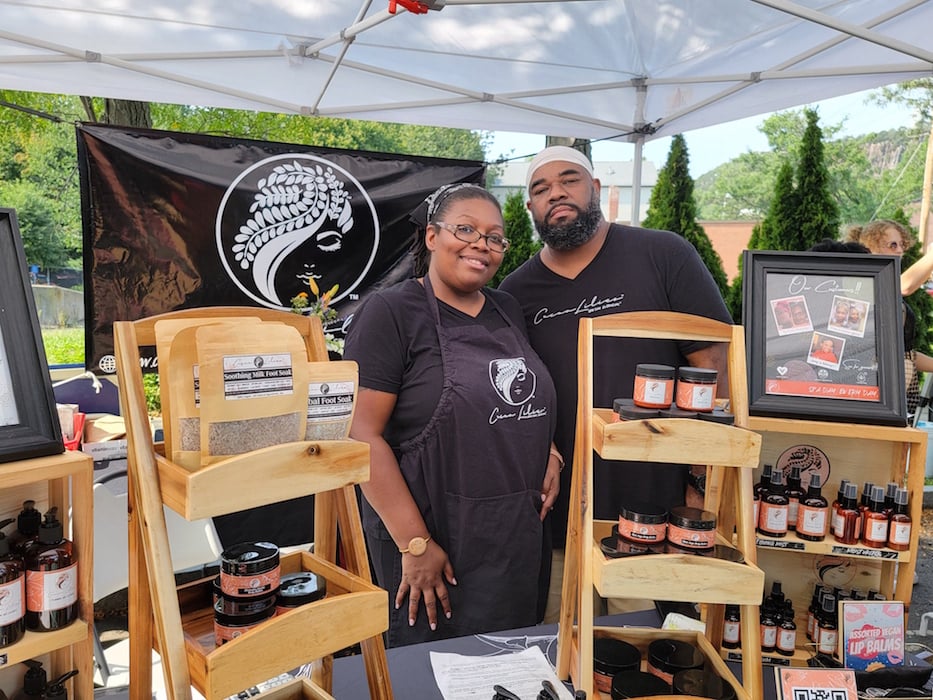 Bonita Robinson-Fuller, who hails from Bridgeport. "You know sometimes we neglect ourselves," she said of her skincare line, Cocoa Lilies Skincare.
Not every artist was from New Haven. Bonita Robinson-Fuller, who first connected with Stephen during this year's Westville Artwalk celebration in May, had the idea for Cocoa Lilies Skincare for two years before creating the business during the pandemic. The only Bridgeport business owner at the event, she said that she created the line to nurture and amplify self-care.
"You know sometimes we neglect ourselves," she said."And then when our health get bad, we just like, okay. Our skin is the first sign to say something's going on. Hey, I need to slow down. So, that's why you need to take care of your skin."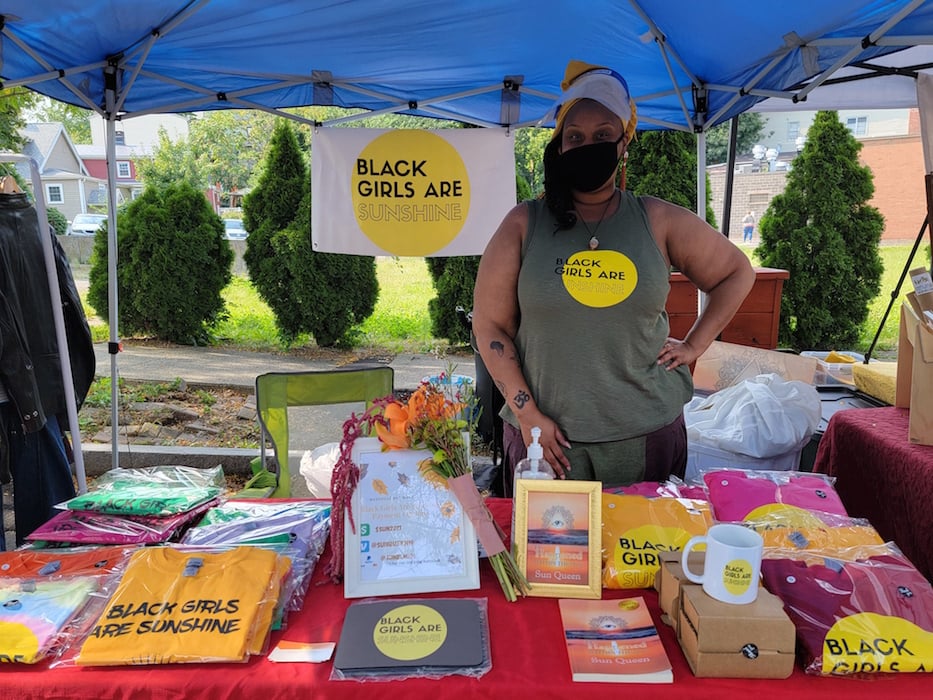 Nearby, local poet, artist-activist and community organizer Sun Queen set out items from her Black Girls Are Sunshine t-shirt collection. While her first love is poetry, Queen said she started the brand "to encourage Black girls and Black women" in a world that often does not.
"Black girls and Black women are often dehumanized, ignored, and all of those things," she said."Right? And so, it's time for the world to, you know, recognize Black girls and Black woman's strength, their motivation, their creativity. And so, everything I do I move in the spirit of love and peace and light and so that's why I created Black Girls are Sunshine."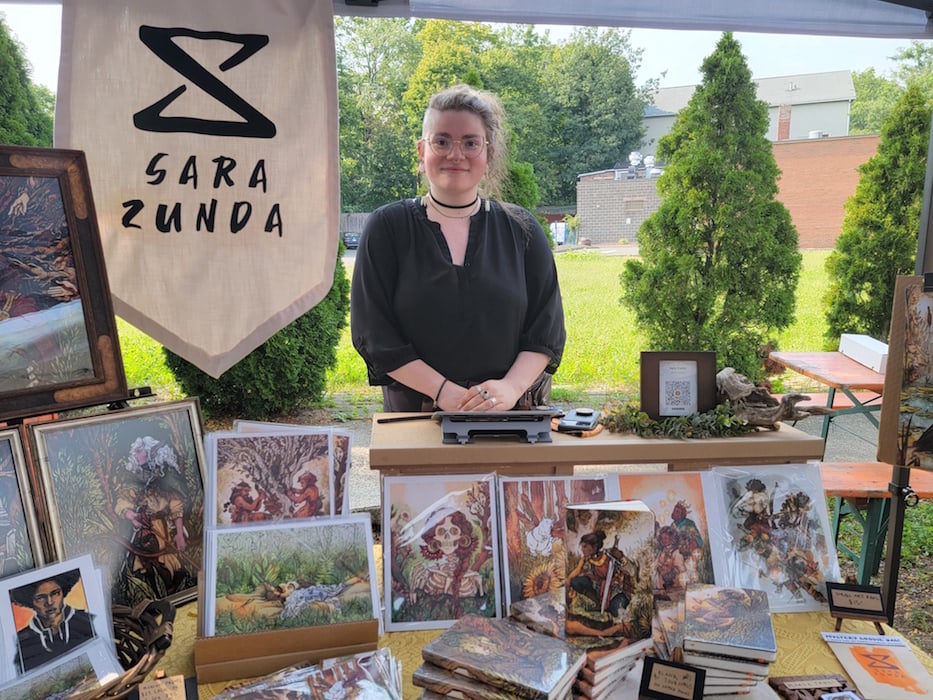 Sarah Zunda, who runs Zunda Illustrations.
Several of the artists present said they are grateful for opportunities like the market, which give them a chance to spread the word about their work. Beneath one tent, artist and illustrator Sara Zunda stood surrounded by whimsical, fantastical images that had sprung straight from her mind onto the page.
Zunda creates characters that tell largely underrepresented stories, from fairytale forest creatures to queer heroes and heroines in fantastical and human form. A graduate of Paier College of Art, the artist has discovered that being one's own boss isn't always easy.
"It taught me that working for yourself, really, you rely on you a lot," Zunda said. "Like, you are everything. You are the artist. You are the drawer. You are the marketing person. You're the Social Media Manager. You're answering emails. It just kind of taught me that you have to rely on yourself so much deeper than just your drawing ability. Which is tough to come to terms with, but you got to do it."
The next Westville Art Market in scheduled for Sunday, Sept. 26. Find out more at the Westville Renaissance Alliance's website.