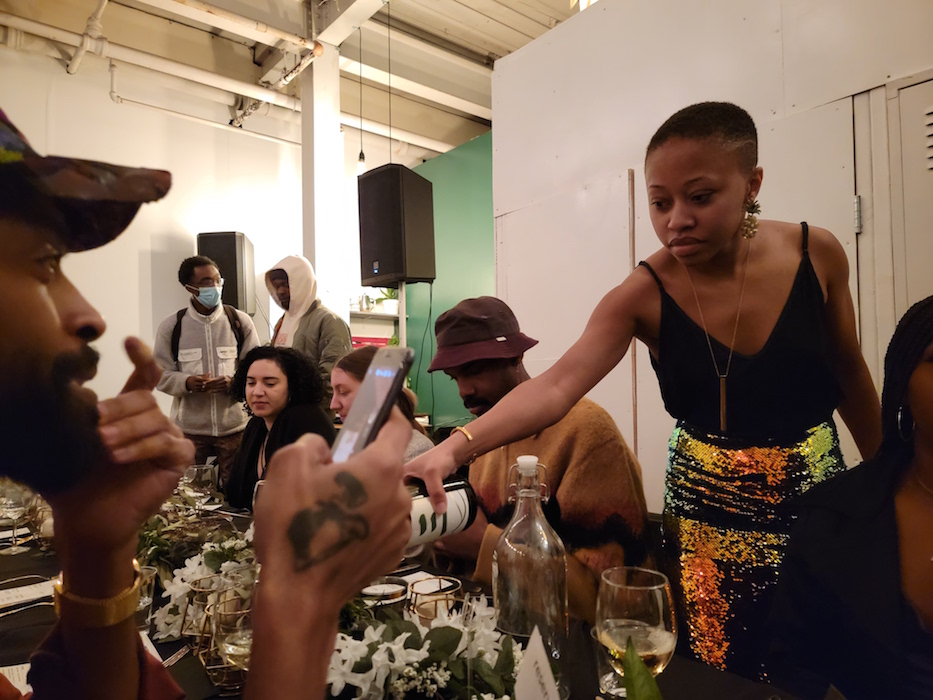 Black History Month | Black-owned businesses | Erector Square | Arts & Culture | Culinary Arts | Studio i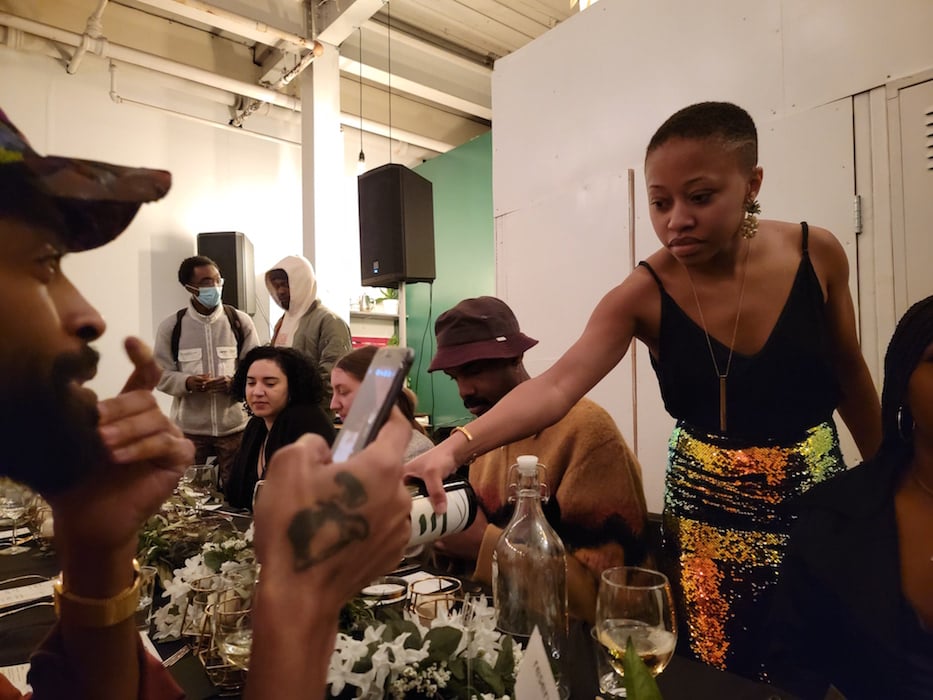 Raven Blake, founder of the Petite Sommelier, pours wine pairings. Danielle Campbell Photos.
Ro Godwynn looked over dozens of faces gathered in Studio i, their smiles soft against white tablecloths and floral arrangements. Behind her, Dee Davis stood ready at the keys. Godwynn moved from serenading them—Everything I need is on its way to me/Everything I need flows like water to me—to a question.
"Is there anybody that needs something? What y'all need today?" she asked. One audience member suggested cash, and suddenly the lyrics were an affirmation: The cash that I need is on its way to be. The cash that I need flows like water to me. Another shouted out rest, then warmth. A collective laugh rippled through the chilly space.
Godwynn, Davis, and several of New Haven's artists brought that vibe to Jubilation, a high- end community dinner curated by Sweets & Sounds to help usher out Black History Month and celebrate Black joy all year round. Angel Dahfay, who founded Sweets & Sounds in 2018, called it a success. About 30 people attended the event, held at Studio i New Haven in Erector Square.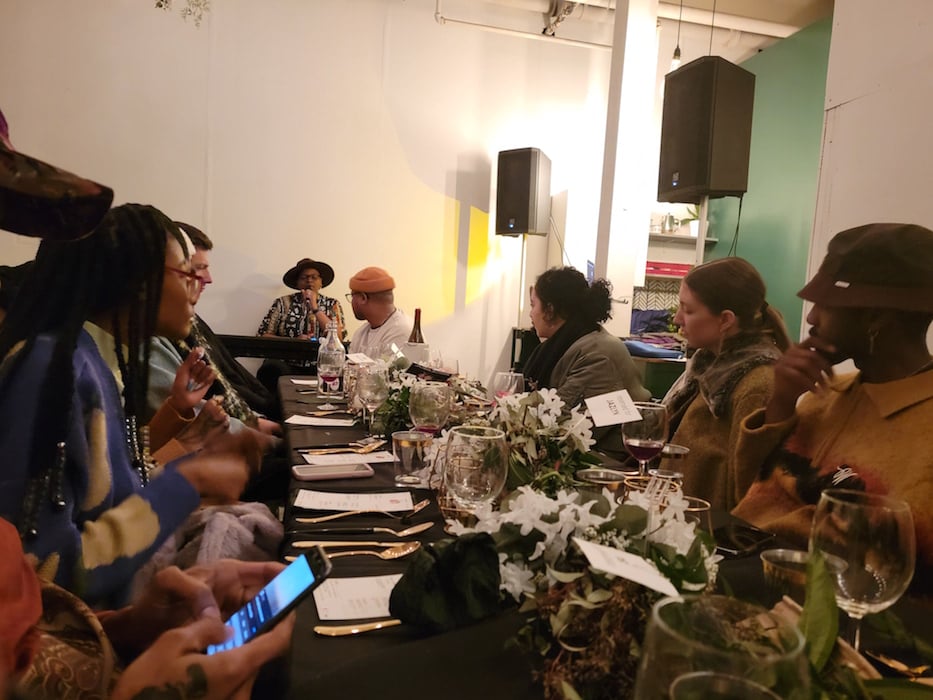 Danielle Campbell Photos.
"I came up with Jubilation simply because I wanted to curate a space for us to be celebrated," Dahfay wrote in an email after the event. "We (BIPOC) don't have too many spaces like this where we can all come together and give love to ourselves. I feel as though my main thought process for Jubilation is for us to be in a space for once with no care or worry in the world. Take a couple hours out of the hectic life of being a BIPOC in America and celebrate yourself and all you have accomplished."
It marked a night of fun, laughter and conversation from the beginning—including for this reporter. Up three flights of stairs in building five at 315 Peck Street, attendees entered a long hallway with light blue painted wooden floors. Down the hall, a dark forest green door beckoned, a sign that folks had made it to the right place. Across from the door sat a red-orange velvet couch and a sink in the hallway, reminding people this they were entering an artist's space.
Inside, Dahfay had worked with fellow Black-owned businesses to lift up New Haven's Black creative landscape. The room was dimly lit, with strings of white lights suspended from the ceiling. A green, white and gold theme emerged across the tables, with floral arrangements from Westville-based business BLOOM. DJ Ch'Varda mixed music on the ones and twos.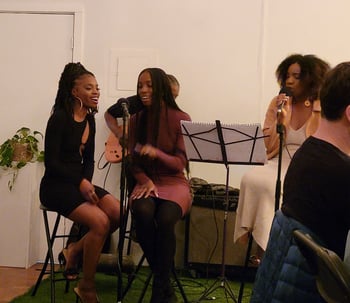 In a makeshift kitchen, chef Steve Roberts of Nappé Roots hustled to turn out plates of charcuterie and black eyed pea fritters, the first in several courses of the night. Raven Blake, who runs the Petite Sommelier, prepared pours from Black-owned vineyards. Musicians including Godwynn, Davis (who performs as KeyOfDee) and Chrystal Dickey trickled in, ready to serenade the crowd. This was a space made specifically for Black folks by Black folks.
As Dahfay buzzed around the space, Blake came around with the first wine, "Three" by Wade Blanc. The wine comes from Wade Cellars, which is owned by NBA star Dwayne Wade. They said that they'd gone with a white for the first two courses because "everything is super light."
"So, it has a nice acidity, and it can go with a variety of different foods," they said. "It also pairs nicely especially with the salad that's going to happen."
As attendees moved on to She crab soup and field greens with spiced pecans, figs and benne seed vinaigrette, Dickey came to a spot Dahfay had designed for artists and made it a family affair. From the tables, her mother sang along. Her father joined as the guitar player. Her cousin and twin sister jumped in as her background singers. Talent flowed through two generations of family.
Dickey told the audience she was singing covers because she hadn't released originals yet, but that didn't seem to phase anyone. Erykah Badu's "Didn't Cha Know," Angie Stone's "Brotha" and Stevie Wonder's "All I Do" all filled the space with passion, leaving attendees wowed.
Around the room, diners celebrated themselves and each other. Designer Tea Montgomery of Threads by Tea chatted about a new fashion collaboration and promotion he is rolling out this year. Jocelyn Ricard, a post-baccalaureate research assistant in psychology at Yale, got to know her seatmates. She later said she was grateful for a safe space for Black people to come and enjoy themselves. Praising the salad, jerk chicken, and cake, she added that she'll be on the lookout for some of the wines Blake introduced her to.
"My experience was wonderful, I really enjoyed getting to know those around me and the food was incredible," she said. "In addition, the live performances were such a highlight to see. Everything came together beautifully."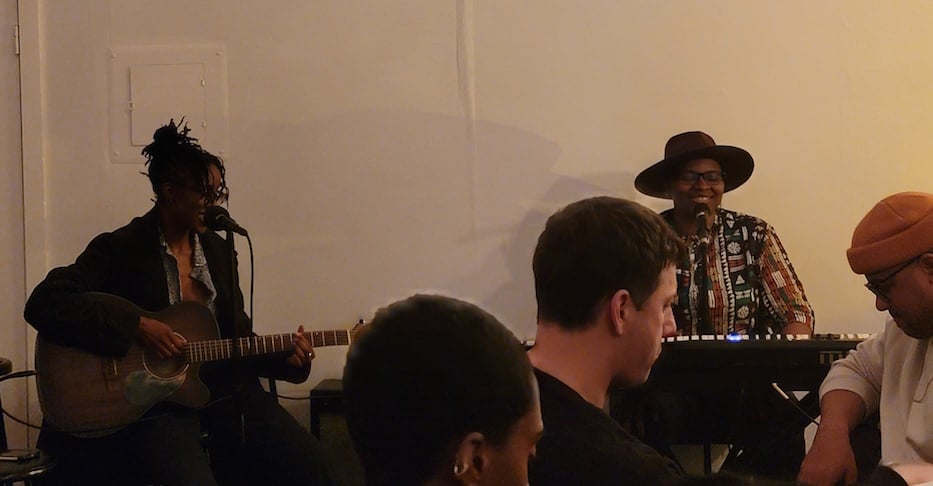 Ro Godwynn and Dee Davis, who performs as KeyOfDee.
On a makeshift stage, performances continued with Godwynn and KeyOfDee, who blended together the jubilant spiritual "Wade In The Water" and Nina Simone's "Four Women" on guitar and keys respectively. As they invited Dickey to join them, their voices rose in a trio of soft, delicate and powerful voices. Godwynn, who has spoken openly about experiencing anti-Black racism as an artist and a performer, moved into affirmations for the crowd.
Meanwhile, Roberts and Blake prepared a food and wine pairing that let people taste flavors across a diaspora, from Ethiopian spicing on a fish curry to fluffed saffron rice and spiced pecans. As waiters brought out dishes of fish curry over tomato saffron rice, jerk chicken with plantain puree and purple cabbage, and trumpet mushroom over tomato saffron rice, Blake introduced Horseshoes and Handgrenades Red Blend by Maison Noir Wines.
The collective symphony of silence mixed with "mmm" was an indication of the respect for the flavors of these dishes.
Before the end of the night, Roberts also came out to give details on how he created each dish and why. He explained that the salad, with pickled figs and candied pecans, was an homage to his South Carolinian grandmother, who recently passed away. So was the She crab soup, which originates in South Carolina and is itself a piece of Black culinary history.
"Kinda like a little bitter, a little sweet," he said of the salad. "It was kind of play on the Black experience. You know it's sweet sometimes but also, you got to remind yourself it is what it is."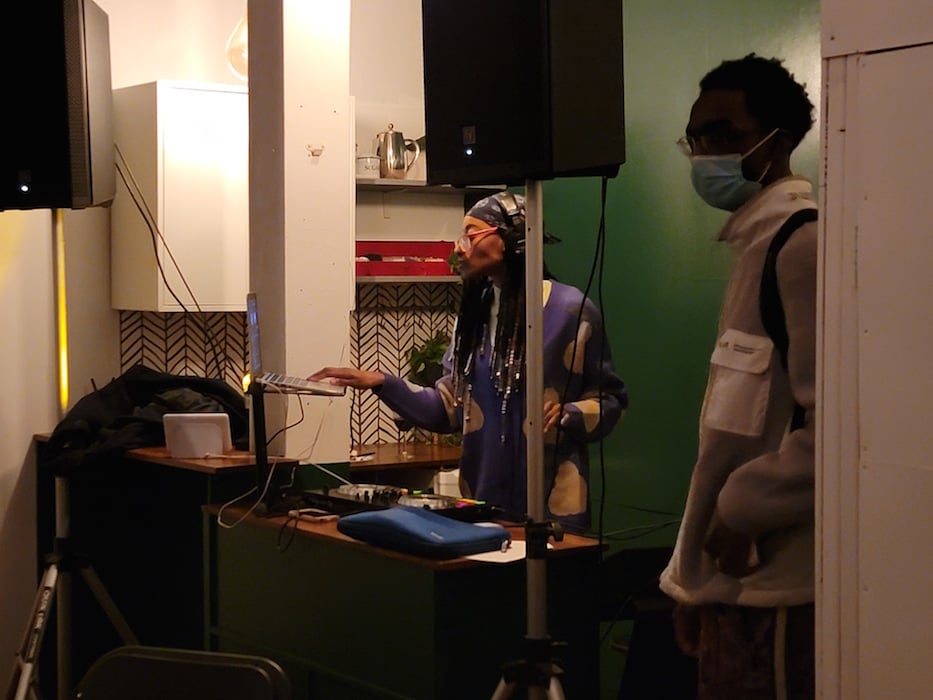 DJ Ch'Varda and Trey Moore at the top of the event.
Ashley Raymond, a digital creator and director of Giraffe Eye's View, said events like these are important to highlight and lift up in the Black community.
"The more we continue to serve ourselves and reject white supremacy as a part of our daily lives and interactions with each other, the closer we are to liberation and unity," Raymond said. "Oftentimes, I still witness white supremacy at work within Black spaces created by Black people, which saddens me but is also a testament to the ways indoctrination has worked within our community.
"It's up to us in the Black community to see each other's humanity and the various ways we're connected to each other, so we need more events like Jubilation to make those connections clearer."
The last wine Blake introduced was "Black Girl Magic" from the McBride Sisters Collection. It was a sweeter, dry wine to pair with the dessert options of fudge brownies with vanilla ice cream and blackcurrant opera cake. And a sweet way to end a night of food, entertainment and laughter.
In an email after the event, Dahfay said that even though she was running around, she made time to savor the evening. She added that she plans to have another Jubilation dinner in August.
"The she crab soup and jerk chicken was BOMB," she said. "Steve Roberts was born to be a chef. He is so amazing at what he does. And don't get me started on the wine experience! I've always been a fan of wine but having someone like the Petite Sommelier (someone that knows so much about wine) there to give a deep dive on each wine was such a beautiful experience. I love seeing Black people in all spaces."
Learn more about Sweets & Sounds here.