Commissioned Projects

New Collaborations Between Past Awardees
In addition to our cohort of honorees this year, we will celebrate this milestone anniversary with all of our awardees over the last 40 years. This summer, we invited our past Arts Awards recipients to submit proposals for collaborative projects that inspired connection and celebrated resiliency. With help from our past Newt Schenck Lifetime Achievement Award recipients and our sponsors, we selected two proposals to support with funding and a world premiere during the Arts Awards.
Emancipation Takes A Knee
Awardee Collaborators: Site Projects (2004), David Sepulveda (2016), Susan Clinard (2015), Jamie Burnett (2005), Travis Carbonella (2016)
Featuring: Kaatje Welsh, Alissa Jones, Zoe Eichler, Jermaine Pugh, Ayo Engel-Halfkenny, Salwa Abdussabur, Patricia Melton, Laura Clarke
Artist Susan Clinard and facilitator Salwa Abdussabur work with high school students to re-imagine and re-pose one of the many monuments under scrutiny amidst our national reckoning with systemic racism. The resulting documentary film by Travis Carbonella captures their process of literally building dignity, resilience, and humanity into the infamous Emancipation Monument.
Sponsored the by MetInteractive
Fountain of Resiliency: Art That Nurtures
Awardee Collaborators: Ann Cowlin (1983) + Helen Kauder (2012)
Featuring: Alexis Highsmith Smith, Leslie Blatteau, Laurie Sweet, Sydney Rubin, Chaz Brackeen, Belinda Legere, Ellen Angus, Rachael Siriani, and Irene Pata Cullaugh with technical assistance from Tiffany Hopkins
This short film will illustrate the resiliency, joyful experience, and long-term productivity of women who coped with the demands of childbearing in the Dancing Thru Pregnancy program. Ann, founder + director, and Helen, former Artspace Executive Director and participant in this program, are collaborating with four decades of mothers who experienced the power of this nurturing community.
Sponsored the by Community Foundation for Greater New Haven
Live Moments

Babz Rawls Ivy
A full minute of fun and inspiration with our fabulous host, Babz Rawls Ivy.
Adriane Jefferson + Kolton Harris
A review of 2020 and look towards 2021 with resiliency features Adriane Jefferson, Director of the Department of Arts, Culture and Tourism at the City of New Haven, and Kolton Harris, Program Associate at the Connecticut Office of the Arts in the Department of Economic + Community Development.
Kolton Harris + The Jam
Local musicians from The Jam perform with New London's Kolton Harris for a special closing performance.
Get Creative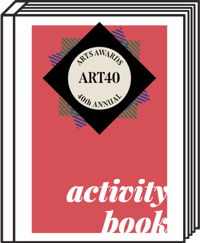 From BINGO to recipes from the awardees, word search to coloring pages ... our ART40 Activity Book has something for everyone
Your Support is Critical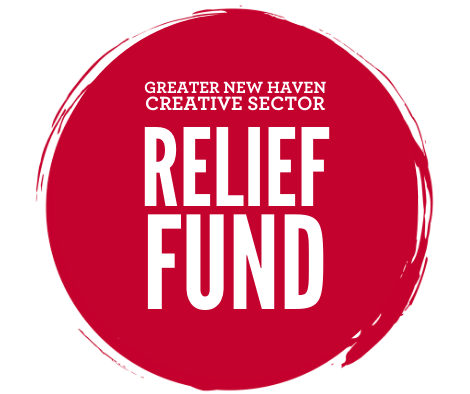 The Creative Sector Relief Fund has provided nearly $200,000 in economic support to creatives + small-budget arts groups since March. With your support, the fund will relaunch in 2021 with a focus on racial justice, directly supporting Black, Brown, and Indigenous creatives.
Sponsors

We give a big thank you to all our wonderful sponsors, whose generosity has allowed for our 40th Annual Arts Awards to be virtual and completely free! Our Sponsors exemplify the mission and vision of the Arts Council to help our diverse and resilient creative community thrive during this unprecedented time.
Hero Sponsors

Special thanks goes to these outstanding individuals for their generous support of our Arts Awards and Awardees this year!
Ruby Melton & Gail McAvay

Eric Ginnish

Robert Parker & David Carter

Wojtek Borowski

Mimsie Coleman

Barbara Lamb

Randall Rode

Roslyn & Jerome Meyer

Bill Graustein

Daisy Abreu & Ike Lasater

Elaine Carroll

Iman Hameen

Elizabeth Monz
Creative Team

Daniel Pizarro, Branding + Graphic Design
Kyle Kearson, Sculpture