Music | Arts & Culture | New Haven Symphony Orchestra | COVID-19
Image courtesy Stephan Fillare.
Stephan Fillare took a fellowship with the New Haven Symphony Orchestra (NHSO) just as COVID-19 hit New Haven. Ten months later, he's working to redefine what the job means when there's still no symphony to conduct.
Fillare, who is based in Queens, is the symphony's inaugural conducting fellow, an opportunity provided through its growing Harmony Fellowship for Underrepresented Musicians. Last year, the symphony offered the two-year fellowship to him in March, as pandemic shutdowns rippled across the country. This year, he is coming into 2021 with a commitment to close listening online instead of on a stage.
"Because I'm the first, there's no job description," he said in a recent interview over Zoom. "There's the job of the traditional assistant conductor, which is to be at all the rehearsals and be ready to step in at any moment. Which, when there's no concerts—that leaves a big gap on what we do."
Fillare grew up in Orlando, and has lived in New York since moving there in 2012 to study conducting at the Aaron Copland School of Music. When he was originally interviewing for the position with the symphony last year, he said he hoped to teach in the city's public schools. He has a soft spot for music education: he became enthralled with the violin in the third grade, while listening to a Mozart concerto.
In previous years, the NHSO's Harmony Fellows have worked with students to compose and perform original works in their schools. Fillare also saw it as a chance to be a semi-local presence: Music Director Alasdair Neale bounces between California and New Haven, and Pops Conductor Chelsea Tipton is in Texas. Fillare is just a train ride away.
That was early 2020. In New Haven, schools were still teaching in person. The symphony had just finished a concert that put composers Florence Price and Antonín Dvořák in conversation with each other. Then COVID-19 hit. Schools closed, for what students and educators initially thought might be a number of weeks. In what has become a familiar story for artists, Fillare watched months of work disappear overnight. In Queens, he tried to settle into the sudden stillness of quarantine. It got old fairly quickly.
"Given how taxing a musicians' career can be, it's good for a certain amount of time," he said. "Everyone always says, 'I wish I had more time to practice. I wish I had more time to do this.' And suddenly we've sort of got it, but then it's extended into 'what are we going to do?'"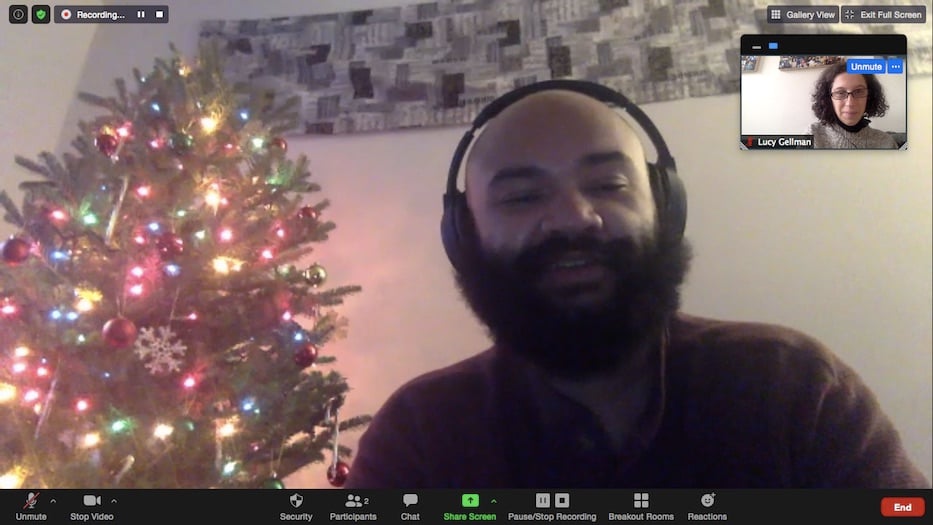 Stephan Fillare during a Zoom interview with the Arts Paper in December. Screenshot from Zoom.
From Astoria, he cobbled, relying heavily on his work as a violinist. He became one of thousands of music teachers to brave the remote pivot and continue lessons online, a format with which he said some of his students have been wildly successful. When outdoor dining reopened, he and a friend shared a violin gig at Oheka Castle, a restaurant and hotel in Long Island. He played socially distanced summer weddings.
Meanwhile, he said, he found himself thinking about what a conducting fellowship entailed without the conducting. While some of his peers in the have continued to work throughout the pandemic—he is particularly close with Kalena Bovell, assistant conductor of the Memphis Symphony Orchestra—most of his conducting work has dried up. While the NHSO originally hoped to return to Woolsey Hall early this year, it announced that concerts would remain on hold following Gov. Ned Lamont's rollback to Phase II guidelines last November.
"We are working hard behind the scenes to reimagine what an orchestra performance can be in our changed world, and are looking forward to sharing our new concert and education program line-up very soon," Neale said in November, when that news was initially announced. "I think that New Haven will have much to be proud of as our musicians perform and innovate in ways we never would have thought possible."
That meant reimagining what his relationship with the symphony could be. While music education may work with online learning, Fillare said the idea doesn't translate well to conducting. He knows he could reach out to a teacher and visit their classroom, he said—but he's not sure exactly what it would accomplish. While the symphony has been doing other education work over Zoom, conducting didn't seem like the right fit.
"So much of it is lost, I feel, just talking about music," he said. "So much of music is doing it. If I was to do it as a violinist, it's like 'here you go, do that.' It's fine to do that as a musician, but as a conductor, it's kind of one arm behind my back. It's like, how do you practice conducting? Well, you need an orchestra. How do you get an orchestra? You need one to do the other, and there's really no substitution."
Instead, he and Neale have pivoted to close listening—both to each other and to the music that they cannot be conducting in person. Each week, the two of them meet virtually to check in. Sometimes, Fillare said, they talk about music. More often they talk about everything else, including how they are caring for themselves in a crisis. He praised Neale as a supportive mentor, despite the thousands of miles that currently separate them.
"It's okay not to study [a work] for ten hours, since you don't know the next time you'll be in front of a symphony," he said. "It's okay to take that 'me' time. Because there's that fear that if I'm not doing something I'm wasting my time. But there's also, I feel, you can give yourself depression if you're working, working toward something and then something doesn't happen. So it's a tough balance."
In the absence of physical concerts, the two have also piloted a listening club for NHSO subscribers and members. Instead of lecturing on a given piece of music, the two discuss their thoughts and reactions to the piece in real time (in other words, "it's not baseball players talking about baseball," Fillare said). The two began with Duke Ellington last fall, and continued with Ludwig van Beethoven on the week of his 250th birthday in December.
Going forward, Fillare said he's excited to expose listeners to musicians, conductors, and composers whose work has moved him, including Bovell and composer Jonathan Bingham, who he met while working at Apple in New York City. He also is in the midst of planning a listening session around the work of Swedish mezzo-soprano Anne Sofie von Otter, whose work spans classical and opera to rock and new wave.
He said that he hopes listeners—in New Haven, but also across the country—don't limit themselves based on what they think they like or categorically don't like. In the meantime, it's a way for the NHSO to continue experimenting.
"You don't want this pandemic to happen, and then people to forget you," he said. "It's like the rare Radio Shack you see. Like 'oh, Radio Shack is still open?' We've got some things that we just have to wait and see how they pan out. I know that everyone's chomping at the bit to do things correctly and safely."
It comes at a strange moment for the classical music field, he added. In the midst of shuttered concert halls, empty stages, and musicians who have been out of work for almost a year, arts organizations have not been exempt from a racial reckoning four centuries in the making. As a Black conductor and musician, he said he's excited to see more musicians and composers of color on programs, but remains wary of tokenism.
He advocated for more equitable representation—for instance, the inclusion of Adolphus Hailstork and Florence Price on a bill advertising great American composers—without a unilateral cancellation of white, male European and American composers.
"The identity of the American orchestra is a strange one," he said. "You go over to Europe, and they're not playing Copland and Bernstein and Ellington. They're playing Bach and Beethoven, and you can walk outside and go see their gravesites. So it's about this sense of self, and maybe we can reimagine an American identity.
"Doing nothing is not an option," he continued. "Doing all of the same is not an option. You tap into your communities. You find the bright stars. You find all of the people that represent the community, and you put them onstage and you make it happen. If it's good, it's good. If it's not, it's not, and you don't do a repeat performance. But there's really no reason not to do more new music, or to get more community engagement in terms of the way music is played."
To find out more about the New Haven Symphony Orchestra, click here. To find out more about Stephan Fillare, visit his website.