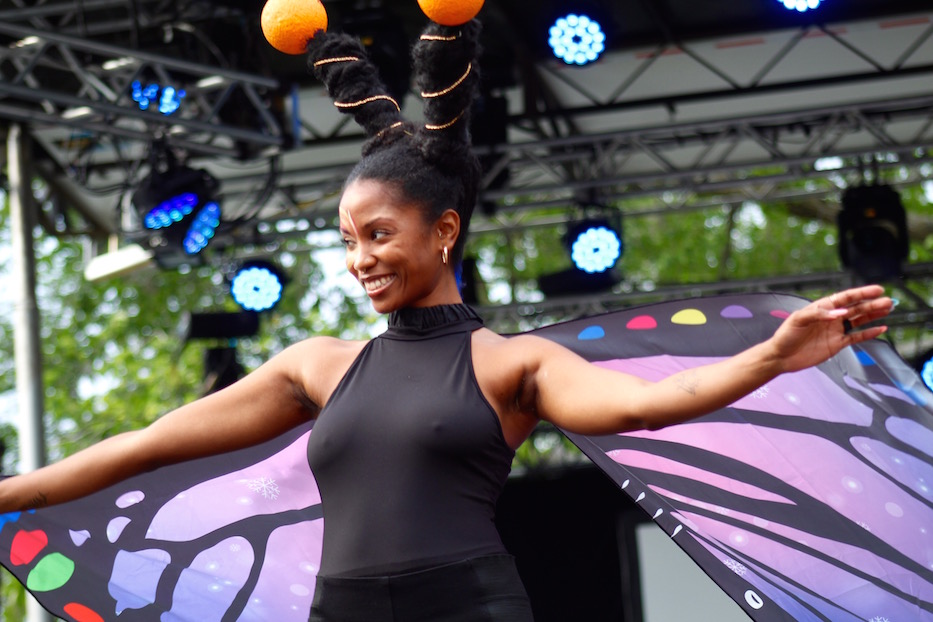 Black-owned businesses | International Festival of Arts & Ideas | Arts & Culture | COVID-19 | Arts & Anti-racism | Hair art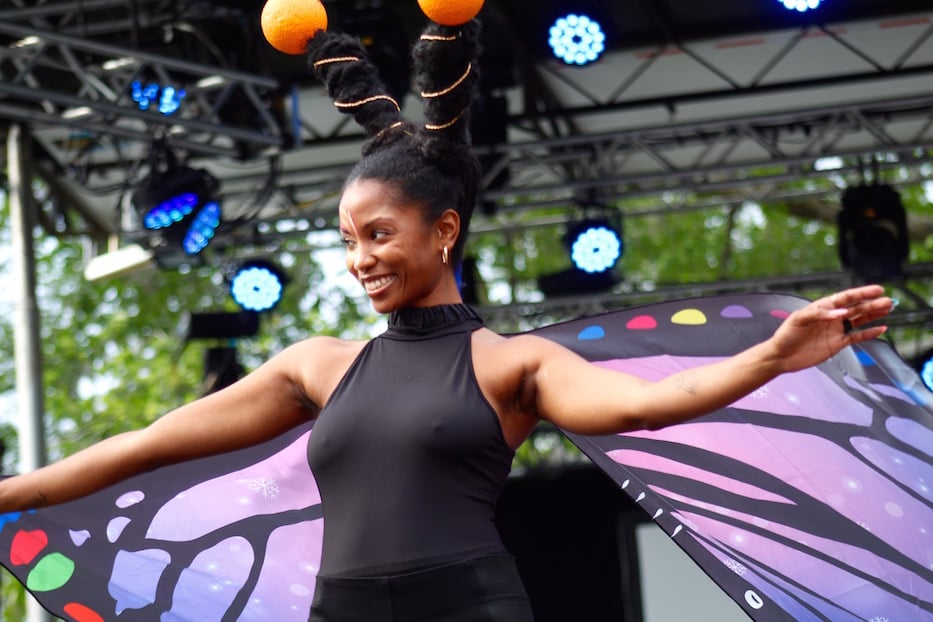 Jamie Belton at the Hair & Art Show. Lucy Gellman Photos.
Jamie Belton spread her wings as a butterfly — and paid homage to a New Havener gone far too soon.
On Juneteenth, Belton joined over 20 models, five professional hair artists, and dozens of stagehands and stylists at the International Festival of Arts & Ideas' inaugural Art & Hair Show on the New Haven Green. It doubled as a tribute to Sharon Clemons, a beloved New Havener who passed away last November at the age of 51.
Clemons ran Sharon Joy Salon on State Street with her sister, Joy Brown. When she died, she left her family, her friends, and four daughters who she referred to as "her butterflies" reeling. In the months since, the festival has worked with her husband Erik Clemons, executive chairman of ConnCORP, to create an annual award supporting a Black woman artist and scholar in her name. Called the Sharon M. Clemons Community Cultivator Award, it launched accompanied by work by New Haven-based artist Marshun Art.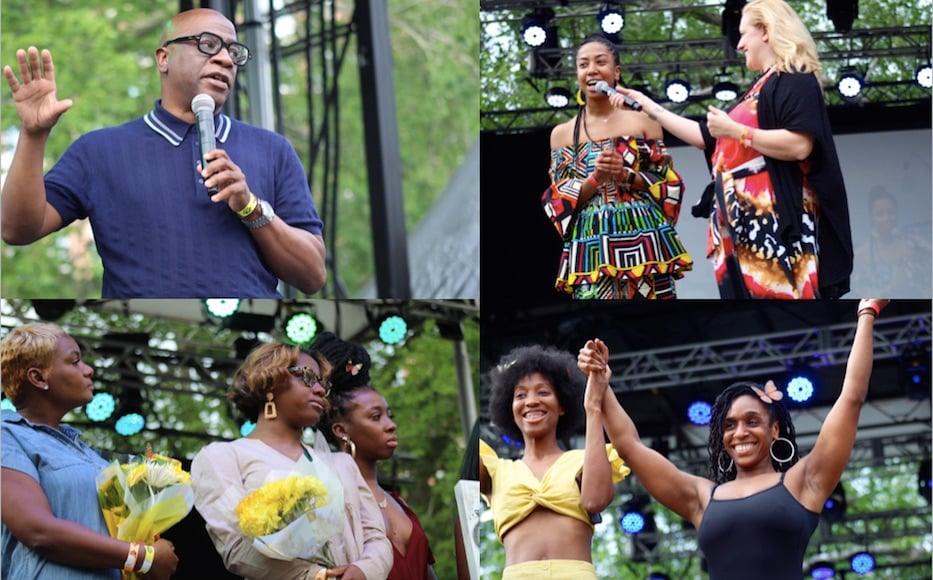 Clockwise from top: Erik Clemons, Shamain McAllister and Shelley Quiala, Jazmi Sanders and Kim Williams, Joy Brown and two of Erik and Sharon Clemons' four daughters. Their daughters include Kiara Osborn, Nyle, Nia and Kai Clemons.
"We are so thankful, again, that you are honoring Sharon," Clemons said Saturday, surrounded by Brown and his daughters Nyle, Nia, and Kai. "And not only honoring her in her passing, but honoring her in the spirit and the power of her humanity. Sharon was the strongest, most beautiful and most thoughtful human being I have ever met in my life."
The award was one of many highlights Saturday afternoon. Before the show began, Mwenso And The Shakes played a soundcheck for a show that was ultimately postponed, some attendees dancing as they settled onto their pandemic pods. In a fleet of trailers backstage, stylists and their models finished hours-long hair designs that ranged from the poetic to the fantastical.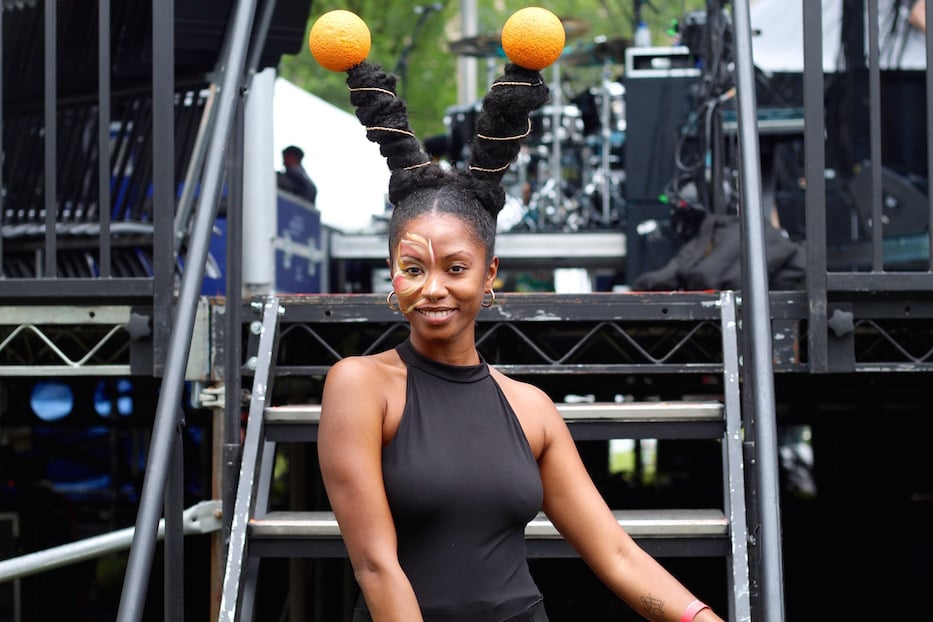 Behind the stage, 31-year-old Belton quickly ate dinner before putting the final touches on a style that Kimberly Williams had spent hours perfecting. Born and raised in West Haven, Belton normally spends the week focused on Black mothers as a birth and postpartum doula, a job in which she works with clients across the Northeast Corridor.
Most of the time, she said, her hair is covered to draw as little attention as possible. When she's working with soon-to-be or new mothers, she wants them to have a clear view of her face at all times. But when Williams called her up and asked if she'd be interested, she said yes. When she lived in West Haven, she was Williams' client. She sees hair as part of her dedication to wellness, including a studio that she hopes to open in New Haven.
"It's an extension of my glory, my essence," she said. She added that she was thinking of the style "like antennas," putting her in touch with every small thing that buzzed and hummed around her.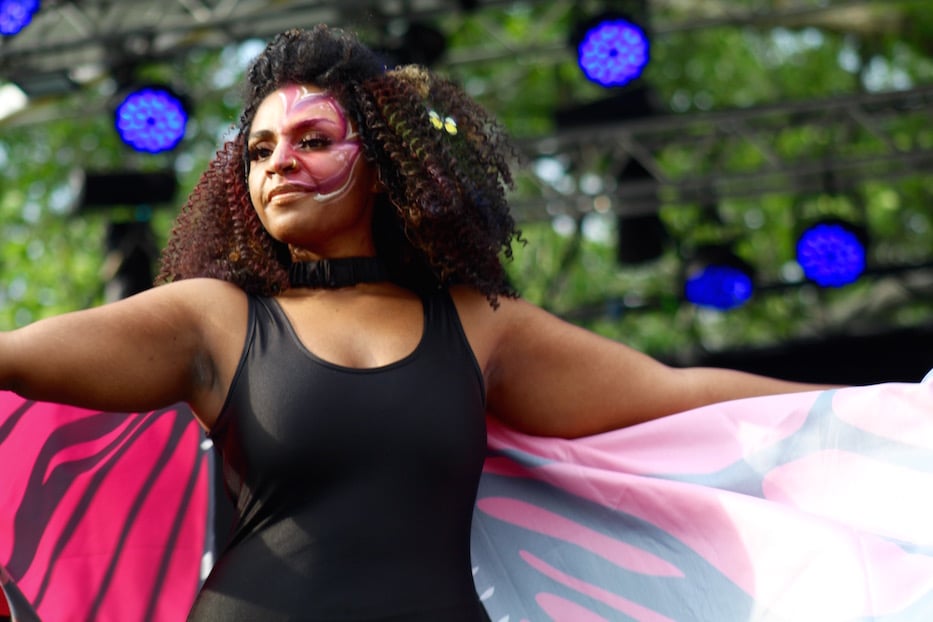 One of Williams and Zanders' models.
Nearby, Williams watched a young model run across the grass, rocking her crown. The owner of Miks Kreations in Milford, Williams grew up in New Haven, moving around the city as a kid. Even then, she knew that hair "was the only thing I ever wanted to do." While she has been a licensed stylist for almost two decades, she said her career goes all the way back to elementary or middle school, when she started experimenting with her own hairstyles.
"I don't know what drew me to it, I just love it," Williams said. "For a woman, hair is the experience of whoever she is. No matter whether she's relaxed or natural, it's just part of who she is."
When Clemons passed away last year, Williams was one of dozens who turned out to a balloon release in her honor. Saturday, she and fellow stylist Jazmi Zanders prepared a tribute with butterfly wings speckled in orange, purple black and green. When models extended them to their full wingspan, it looked like they were flying.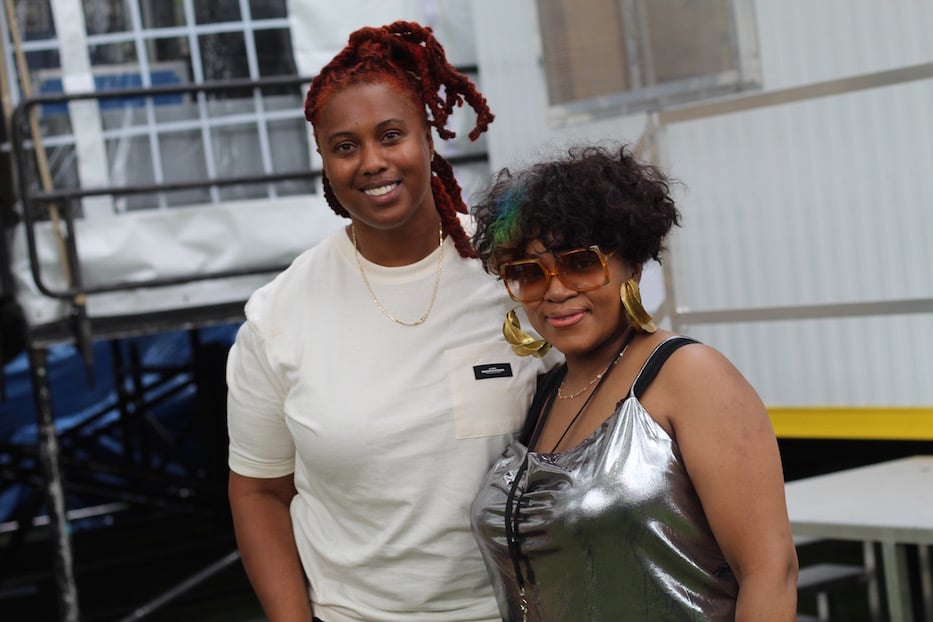 Chalyce Jacobs and Chrissy Culbreath backstage.
Nearby, Chrissy Culbreath of West Haven's Studio Couture took a quick breather before dipping back into her trailer to finish the last of the styles. In the audience, her mother waited with her aunties, young cousins, and friends. Her girlfriend Chalyce Jacobs buzzed around backstage, making sure she had everything she needed.
Culbreath took it all in. Like Williams, she said, she's known that she wanted to do hair for decades. She started dreaming of hairstyles in middle school, using her fork as a stand in for a comb during her lunch break at school. She became emotional as she spoke, something catching in her throat as tears rolled down her cheeks.
"I've waited so long for this moment," she said. "I'm just excited to put on for my city."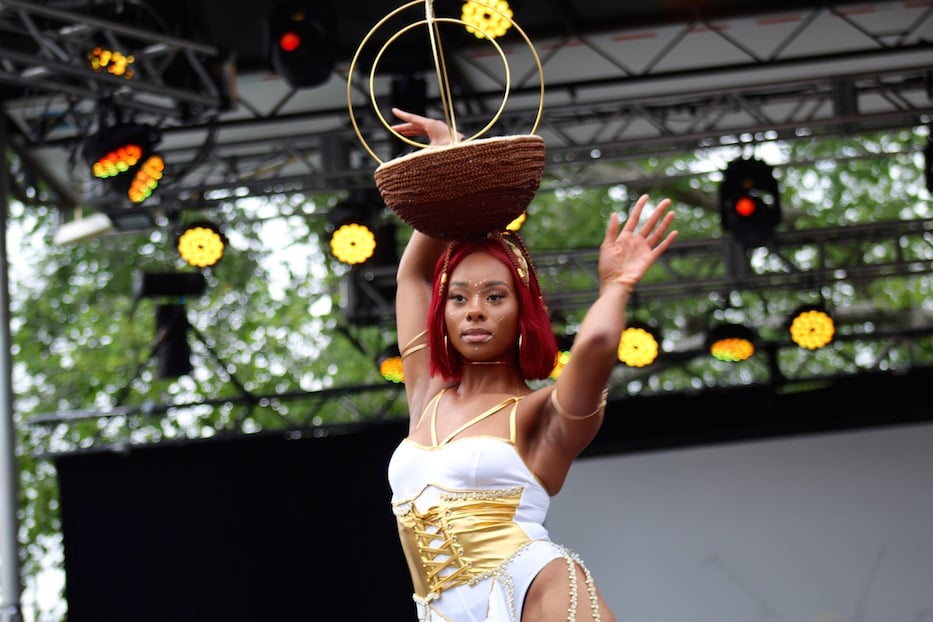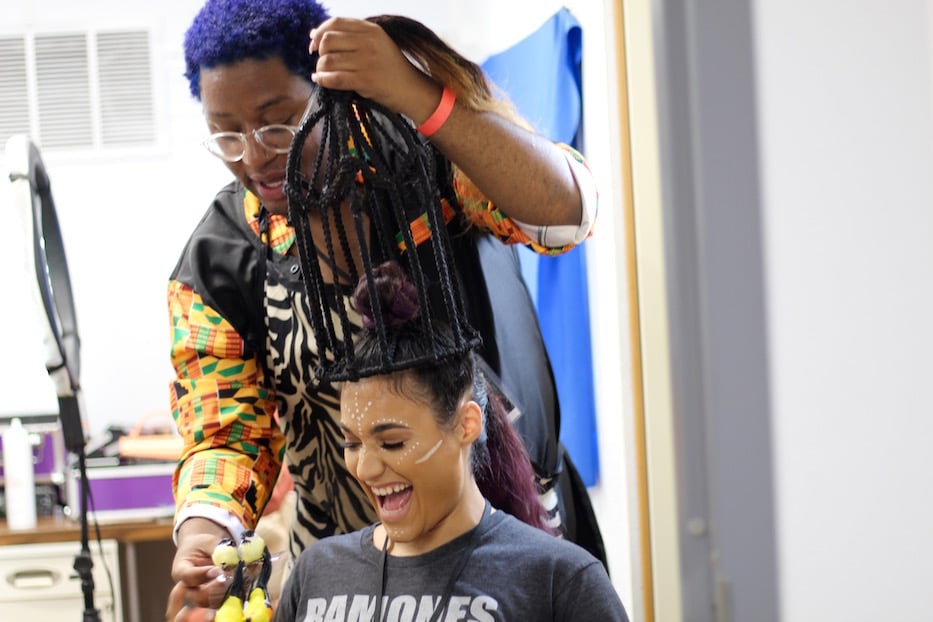 Top: Parker's work during the show. Bottom: Parker with Nikki Ryane, a dancer at Double Up Dance Studio in Fairfield.
Inside Corey Parker's trailer, the air conditioning rattled and hummed. Parker stood over dancer Nikki Ryane, pinning a tall birdcage made of hair onto Ryane's scalp and ponytail. He held out three tiny birds that would soon be inside the cage. As he worked methodically, he said the piece was an homage to literary giant Maya Angelou, whose sweeping body of work includes "I Know Why The Caged Bird Sings."
As the 31-year-old owner of CP Hair Care Solutions and a creative artist at large, Parker has been doing Black hair since he was a kid. His mom, Tammy Parker, is the owner of Beautiful You Salon in Wilton; she was his first inspiration and is still his role model. While he currently lives in Derby, Parker grew up in Bridgeport, and now does hair all over the state. He said that he thinks of hair as an extension of people's identity. Beside him, Tammy worked diligently to help finish designs before the show began.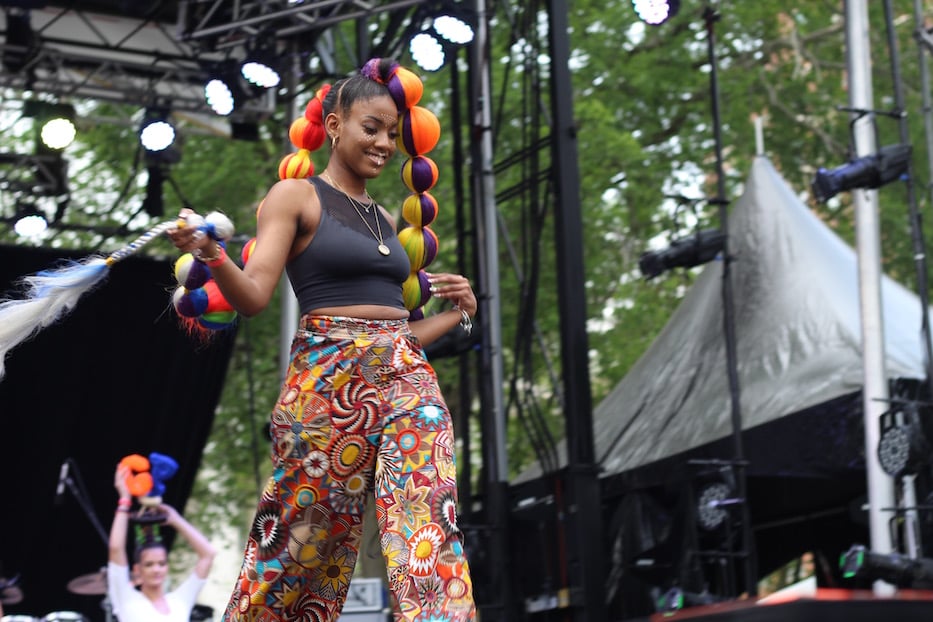 Corey Parker's designs in action.
As he chatted, the trailer transformed into a magical space: models rocked wiry gold baskets, sky-facing braids and buns, and long, trailing braids studded with fabric sunflowers. Checking her phone at the far end of the trailer, one model inspected sleek, multicolored bubble ponytails that glowed green, orange, purple Parker later brought it to life with a mix from Beyoncé, Tiwa Savage, Durand Bernarr, Lil' Kim and Simi as models took the stage in hairstyles, outfits and dance moves that dazzled.
"I want you to dare to be different and love that you are different," he said. "Black hair means power, strength, versatility. It means adversity. It means I got here. It got here. I am strong."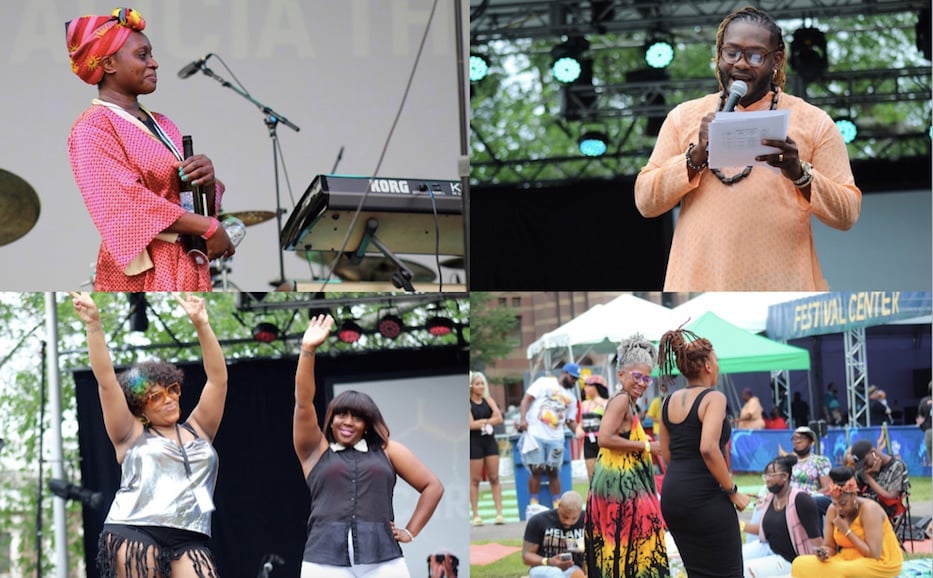 Clockwise, from top: Artistry Is Ministry Founder Alicia Thompson, Festival Director of Programming Malakhi RL Eason II; IfeMichelle Gardin and a friend doing the electric slide; and Culbreath taking a bow.
In the audience, attendees cheered as the show began with a performance from artist Alicia Thompson, founder of the organization Artistry Is Ministry and the writer behind the one-woman show I Am My Hair. Walking out onto a catwalk with a bottle of wine in one hand and a glass in the other, Thompson told the audience that she had a dilemma: she couldn't decide how to wear her hair for an upcoming job interview.
"Do you think I should go to the interview and rock a Wakanda, tight motherland style, maybe a little pinned up style," she said. "Or should I wear my BFF hairpiece wig? Sleek and sassy."
"Wakanda forever!" someone shouted from the audience.
Almost immediately, her ask was familiar—in part from the testimonies that Black women, hairdressers, artists and state legislators have shared about hair discrimination. Before the CROWN (Creating A Respectful and Open World for Natural Hair) Act passed in Connecticut this year, dozens of people came forward to tell their stories. On stage, Thompson kept the conversation going. She pulled off a headscarf to reveal a fully done style beneath.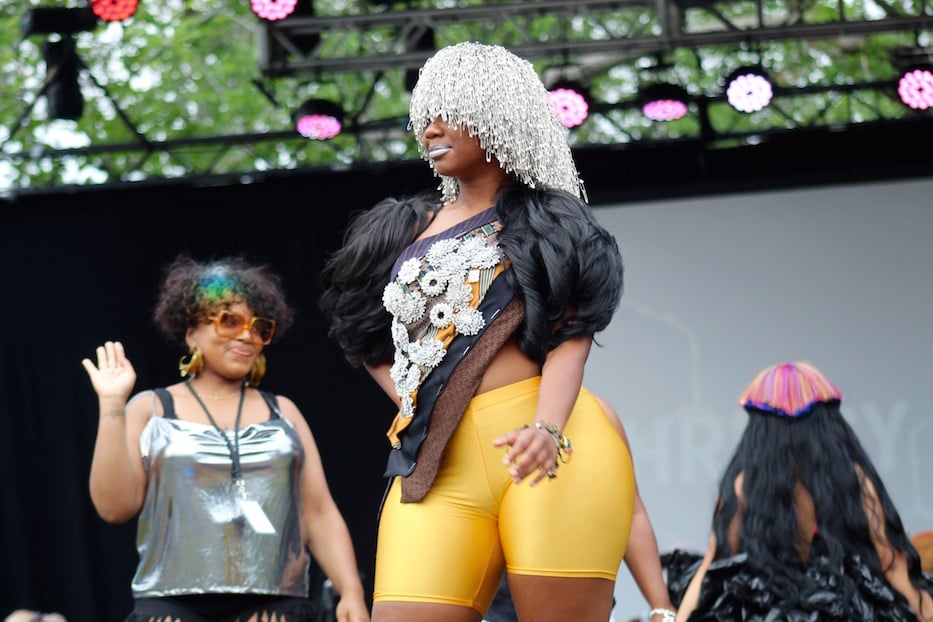 Culbreath's models took the stage to cheers from the audience.
Musician turned emcee Durand Bernarr kept the energy high as Culbreath's models waited in the wings. When a burst of electric guitar exploded over the audience, they walked out one by one, taking time to pause at the front of a catwalk set up for the show. Big poofs joined long, beautiful puffs and shocks of blue hair studded with gold. Models walked out in costumes
One, rocking streaks of pink, let a voluminous skirt bounce as she stepped forward. Another showed off chain mail that caught the boiling afternoon sun. A few rows in, Culbreath's family cheered. She pumped her arms when she came out to take a bow.
The party was just getting started. Beyoncé, Jay Z, and Childish Gambino's "Mood 4 Eva" blasted over the sound system. To the first lyrics, a pint-sized butterfly took the stage, orange flowers woven through her hair. A pair of orange monarch wings fluttered behind her. She put her hands on her hips and struck a pose. Among cheers, a few melty awwww and ohhhh sounds rose from the Green.
Shanice Robinson, who worked with Corey Parker.
As she walked off, fellow butterflies whirled onto the stage, turning around each other. Each brought a different rainbow of color, with spotted and shimmering wings. When it was Belton's turn, she came all the way to the end of the catwalk and extended her wings. She lifted one arm to her face in profile, and then turned. As she walked off, she waved a palm to invite more butterflies onstage.
Williams and Zanders took a bow with butterfly-studded style themselves. It became a seamless transition to a video honoring Clemons, followed by remarks from her friends, former colleagues and family. Shamain McAllister, programming coordinator at the Festival, said she "knew instantly" that the hair show would have to include a tribute to Clemons, who McAllister knew fondly as Ms. Sharon.
"If you knew her, you felt all the love that she radiated," she said. "Talking with her and her family, Ms. Sharon was a prayerful, powerful woman. She was a resource for this community, and anyone she came into contact to."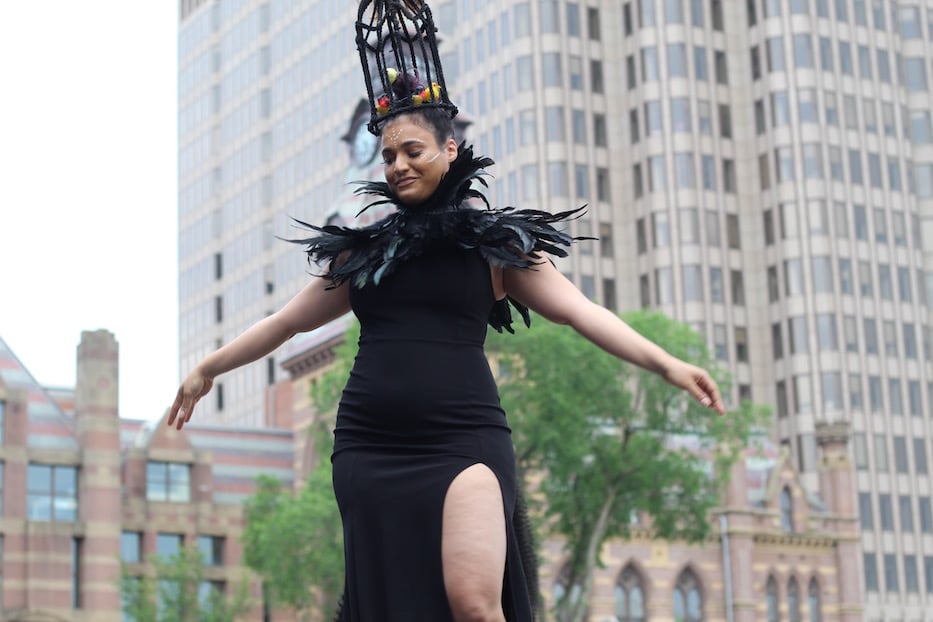 Nikki Ryane post transformation.
The award, now an annual tradition, will be "highlighting those who walked the same walk Ms. Sharon did," McAllister said. "As she has inspired others. Everyone I've talked to has said she has pushed them to be a better person, and to always show up as their better selves."
Erik Clemons thanked the festival for keeping his wife's memory alive. Since last November, he said, his faith has helped pull him through some of the darkest and hardest moments of his life. He called his four daughters "the strongest human beings I've ever seen in my life."
"The passing of my wife and my daughter's mother, our lives were shattered," he said. "Absolutely shattered. And I'm so thankful to God, and to our foundation of faith, that what used to be long bad days and short good moments are now long good days and short bad moments. And I am so thankful for that."
To learn more about the International Festival of Arts & Ideas, click here.