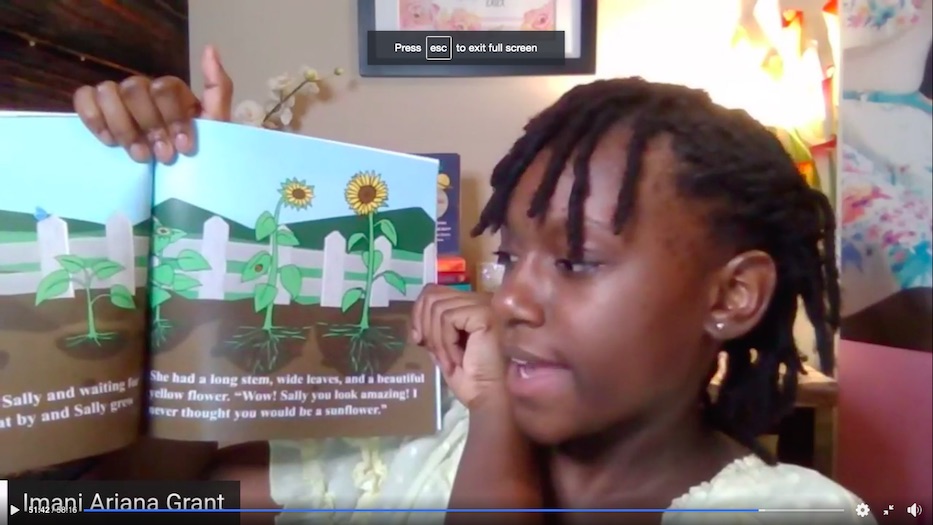 Books | Arts & Culture | COVID-19 | Arts & Anti-racism | Elm City LIT Fest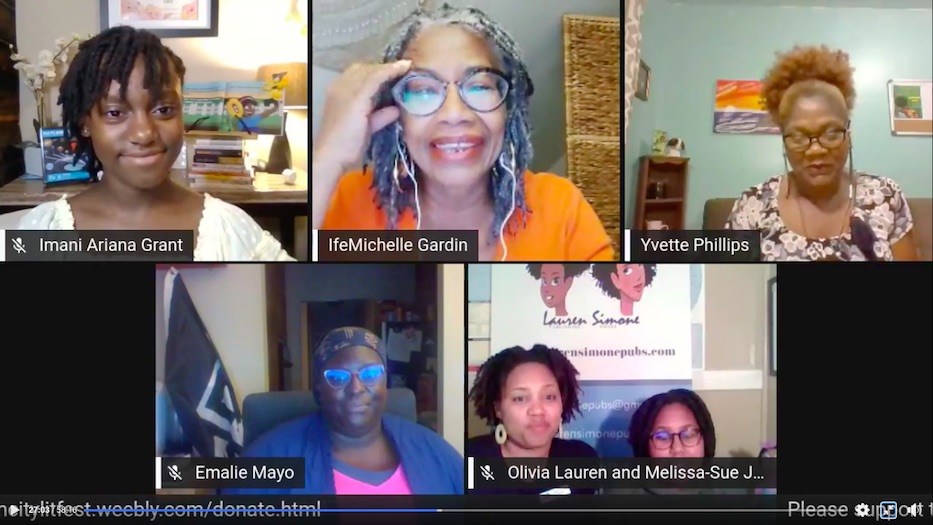 Psychologist Melissa-Sue John and her daughter Olivia Lauren didn't see themselves reflected in the books they were reading together. Neither did Olivia's sister, Alyssa Simone. So they decided to write themselves into the narrative.
The mom-and-daughters team are the founders of Lauren Simone Publishing, a Connecticut-based imprint for young Black authors—mostly girls—telling the stories of characters who look like them. Sunday evening, the two were guests on the latest Elm City Lit Fest podcast, streamed to a few hundred viewers via Facebook live.
The podcast is led by Lit Fest founder IfeMichelle Gardin and co-coordinators Emalie Mayo and Shamain (Sha) McAllister. Sunday's guests included John and Olivia Lauren as well as children's authors Imani Ariana Grant and Yvette Phillips, who are based in Connecticut and New York City respectively. It is the first episode to follow a weekend-long literary festival at the end of September, also held on Zoom due to COVID-19.
"This is so key—for books to be for us and by us," Gardin said at the top of the episode. "Listen, our children … We want them to grow and be confident and learn their stories. The first literacy begins at home."
John and her daughter began with the story of Lauren Simone's genesis and growth, which has continued online and in virtual classrooms despite the spread of COVID-19. John is a psychologist, meaning that she spends the bulk of her days doing research. A few years ago, she was working on a study that tracked how literacy can help teach engineering in young people.
She found herself frustrated with, and then bemoaning, the lack of diversity that she saw in most kids and young adult literature. Either she found books with no Black characters, or the books focused on ceiling-shattering firsts in Black history. There weren't any Black kids just being kids. There weren't characters in wheelchairs. There weren't young people using sign language. And there wasn't a focus on gaps in education, like the fact that women drop out of the sciences in middle and high school.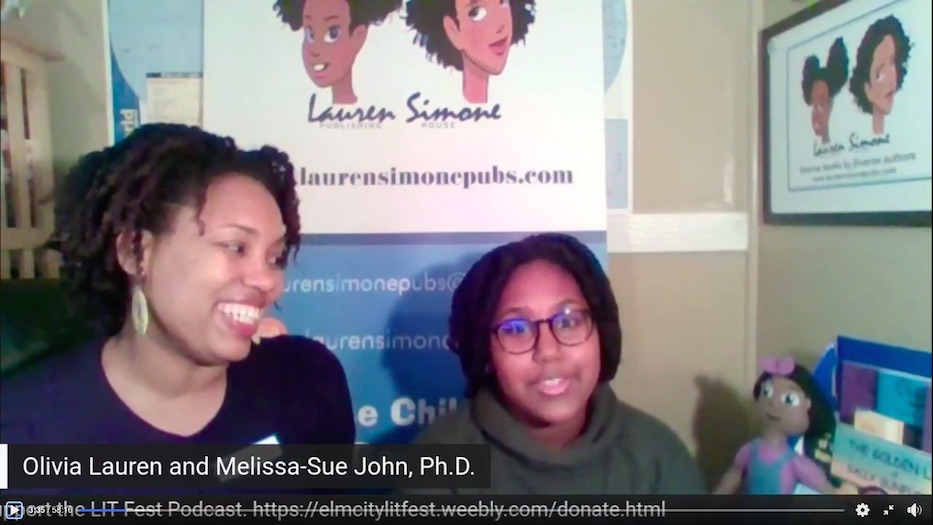 "Like, Amelia Bedelia is a story of this white girl having fun, right?" John said. "There are all these stories of kids living regular lives. So why can't Black characters be seen in the same way and share their experiences?"
Her 12 year old daughter Olivia wasn't having it. She gave her mom a new suggestion: "If you're so upset, instead of complaining about it, solve the problem yourself." She suggested books with characters who looked like her and her friends, that focused on education and the natural world.
John wrote a book. Then she wrote another. She began working with her two daughters—Olivia Lauren and Alyssa Simone, hence the imprint—to co-write manuscripts. They focused on modes of transportation, types of communication from letter-writing to social media, and trends in clothing and fashion.
For John, it spoke to a larger mission. She lives by Rudine Sims Bishop's suggestion that "books should be windows, mirrors and doors"—that they need to give young readers a space for reflection and representation. She stressed that while that representation is important for kids of color, it is also important for their white peers, who may not have ever entertained the notion of a Black protagonist.
"I also like telling my story," Olivia said Sunday. "We look at Black folks and we talk about the history—and yes, that's important to teach—but we have to remember that we're humans too. We have stories. We have fun experiences. So I really wanted to share that."
"I like helping and teaching people," she later added. "When people learn something, they would be excited to read my book, it just made me so happy. That someone was going to learn something while enjoying themselves."
The imprint has since expanded its footprint beyond the family; Lauren Simone Publishing now has 11 authors and six illustrators. After seeing the work her friend was doing, 11-year-old Connecticut author Imani Ariana Grant was one of the first to jump onboard. Her first book was inspired by her younger brother, who loves space travel and wanted to know more about it.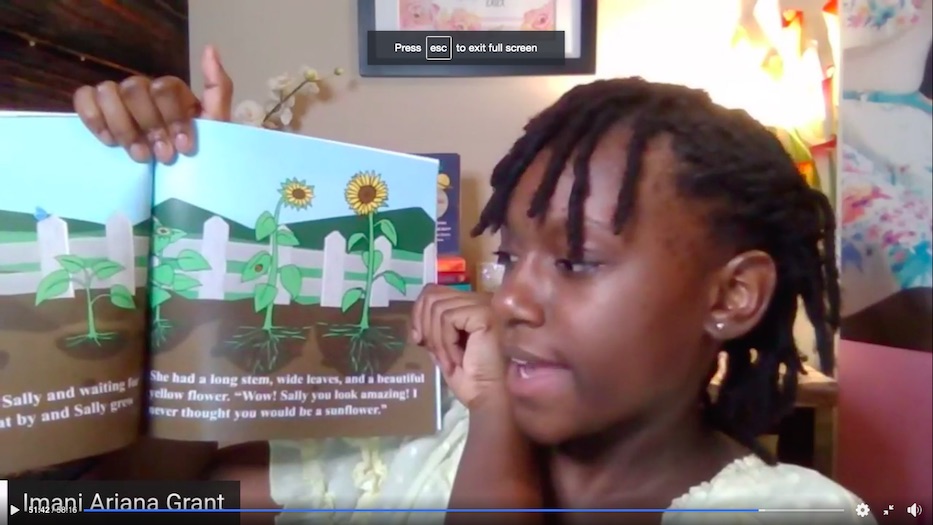 Initially, her younger brother's interest in outer space had inspired her to write a poem. When she finished the poem, she saw that he was still curious and decided to write a book. Her first book, a chronicle of the eight planets called Disco Balls Of The Universe, was born.
"I thought, why not just take it to the next level, and help him to learn more about that topic he was so interested in—along with a lot of other kids who were interested in that same topic," she said. "From there, when I wrote that first book, I just kept going. I like writing because it helps me to inspire others. I want to inspire and teach others with my work."
She now dedicates all of her writing specifically to STEM, focusing on the science element specifically. Her second book, The Golden Life Of Sally Sunflower, focuses on the reproductive life cycles of plants. In addition to being a writer—her goal is 20 educational books—she hopes to go to college to become a pharmaceutical scientist.
In the meantime, she said, she'd dedicated to making sure other Black kids know that they too can navigate outer space, dive into botany, and excel in science. She also leads a book club, of which Olivia is the co-president.
"I learned that your work can really inspire people," she said. "When you put in all this effort and all this waiting into something that you really believe in, people appreciate it! And people are really inspired by your work, which is what motivated me to keep writing. I was inspiring people."
That is also true for author Yvette Phillips, whose entry into the literary world came as she was telling bedtime stories to her young son. Each night, she found herself by his bedside spinning tales as dark rolled in outdoors. At some point, she said, she realized she needed to start writing them down. She began working with Lauren Simone publishing in 2016, after finishing her first children's book.
She is now the author of The Tale Of Princess Alicia, the story of a princess whose love for animals leads her on a search for them when they go missing. Sunday, she read the prologue, listeners leaning into their screens as she spun the story of two siblings whose disagreements threatened an entire kingdom. While her son remains her greatest inspiration, her books are designed for all children.
"It teaches a lot about love, forgiveness, resilience, strength and bravery," she said. "And when I was writing the story, I was focused on having a positive ending to the story. I wanted to teach young kids."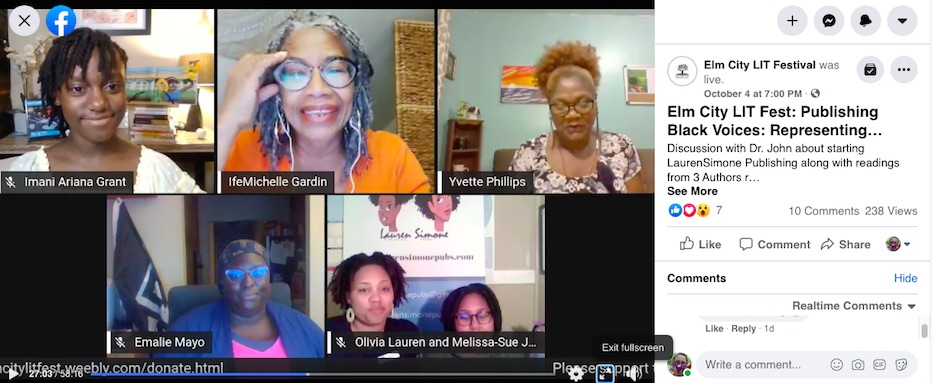 She added that she does the work to inspire other young kids of color, who may not see themselves reflected in other books. She recalled talking to a mom whose daughter read The Tale Of Princess Alicia and insisted that the book had been about her. When the mom asked for proof, the girl pointed to Alicia's appearance—"big poofy hair and brown, beautiful eyes." She had never seen a character described that way.
"For me, knowing that little girls can identify themselves with my book, it is a blessing to me," Phillips said. "To know that it touched lives."
All three of them work closely with local illustrators. When John was starting the imprint, she worked almost exclusively with brother-sister team Simonne-Anais Clarke and Zachary-Michael Clarke, who are 16 and 13 years old respectively. As the number of young authors grew, so too did illustrators, including Niqui (a.k.a. Dominique Ratrray), Lionel Emabat and 11-year-old Zoe Knibb.
John said it remains important to her to hire young illustrators as part of the company's commitment to young people of color. She often sources illustrators just by reaching out to parents and seeing if their children like to draw.
"Our goal is really to nurture young artists," she said. "If we're talking about telling our own stories, and stories are written for children, shouldn't children be authors and the illustrators?"
"The future is bright, despite the political climate right now," Gardin said. " … These young people are so brilliant—I'm so full right now."
To watch and listen to the full podcast, click on the link below.