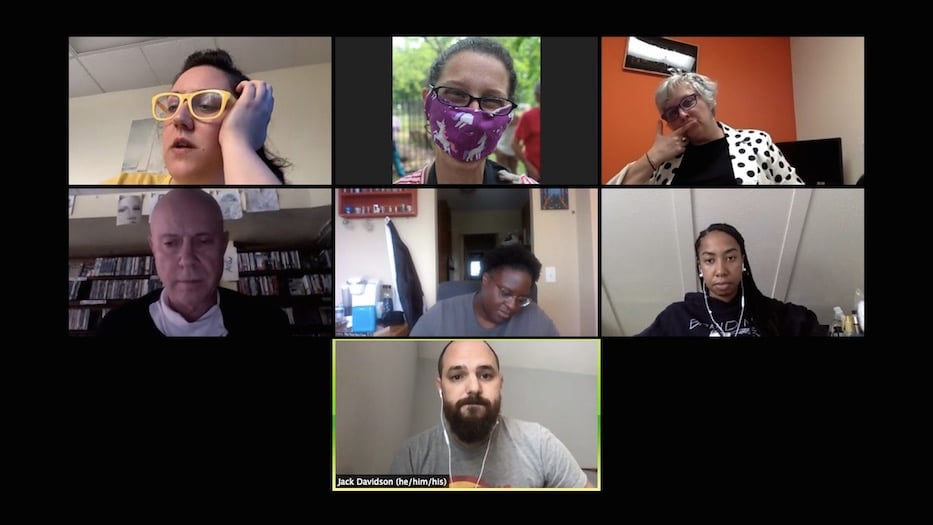 Best Video Film & Cultural Center | Hamden | Arts & Culture | Black Lives Matter | Hamden Department of Arts & Culture | COVID-19 | Arts & Anti-racism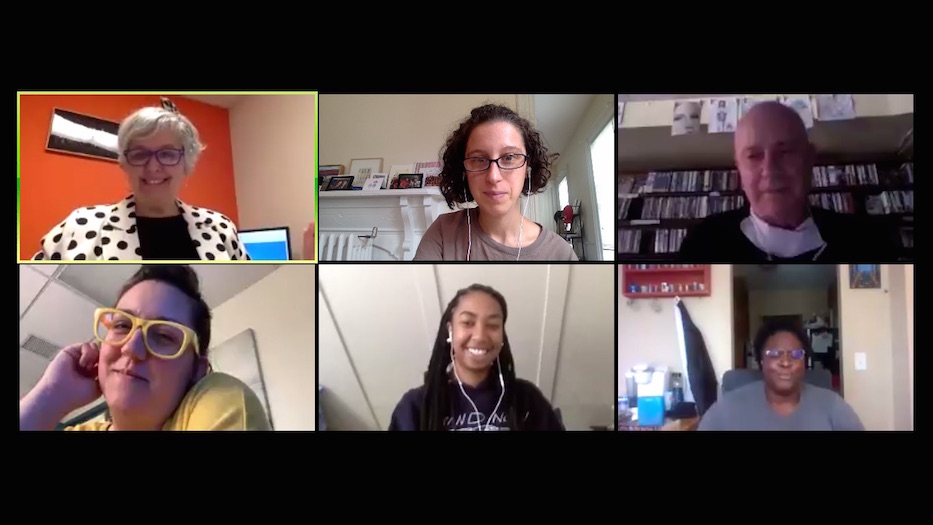 Hamden Department of Arts & Culture Director Julie Smith, Lucy Gellman, Best Video Film & Cultural Center Director Hank Hoffman, Emalie Mayo, Shamain (Sha) McAllister, and Alisha Martindale. Screenshot from Zoom.
The first scene opens on a small town in Southern Connecticut. Kids play in a park. The blue city bus rumbles by. Just under the surface, the town is grappling with its own internalized racism, but doesn't know how to start a community discussion. The mayor hasn't offered to help. The school board can't be bothered. Nobody trusts the police to do it. So a group of film geeks, arts administrators, justice fighters and a pastor step in to fill the gap.
An unchecked global pandemic means that they must do it with careful social distancing, street lighting that doesn't exist, mask wearing, and some setup for bathrooms. Oh, and a screen. The bigger the better.
That's the plot to the inaugural Hamden Black Film Mini-Series, a collaboration starring Ignite The Light Founder Shamain McAllister, Spring Glen Church Pastor Jack Davidson, Best Video Film and Cultural Center, the Hamden Department of Arts & Culture, and Elm City LIT Fest Co-Coordinator Emalie Mayo, who has coordinated the Dwight/Edgewood Project at the Yale School of Drama since 2014.
The series begins Sept. 17 with 42, the 2013 Jackie Robinson biopic starring the late Chadwick Boseman. Boseman passed away on Aug. 28—Jackie Robinson Day—after a four year battle with stage three colon cancer. The other two films include Brown Sugar and Do The Right Thing on Sept. 25 and Oct. 3 respectively. All films are presented outside of Spring Glen Church on Whitney Avenue.
"I think it's really clear that there's work that needs to be done," McAllister said Wednesday in an interview on Zoom. "This may be uncomfortable for some folks, and that's okay. But we have to say something. And this is us saying something."
The collaboration began earlier this summer, as multiple arts groups across Hamden and New Haven crafted a response to the parallel pandemics of COVID-19 and white supremacy. In July, Best Video Director Hank Hoffman reached out to McAllister, who he had met a year ago and run into at The Urban Collective shortly before COVID-19 shutdowns. Calls to defund the police filled the streets. Arts and anti-racism commitments filled inboxes.
Hoffman has "been bothered for a while about the fact that BVFCC is a predominantly white space and it is an issue I wanted to address," he wrote in an email. He told McAllister—with whom he had once discussed Ignite The Light screenings—that he wanted to show several films in Hamden highlighting and celebrating Black filmmakers and actors. She was the right partner for the job.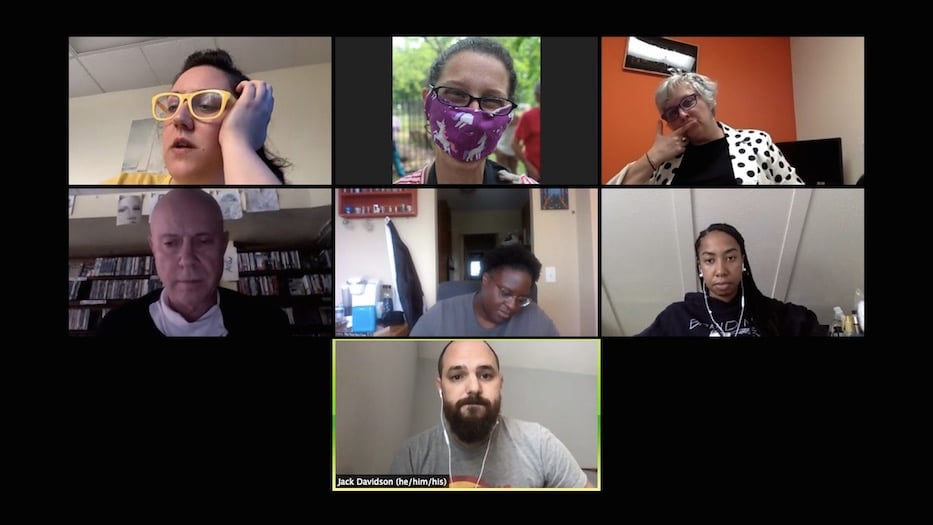 For just over a year, McAllister has run the grassroots group Ignite The Light out of The Urban Collective and The Kitchen in New Haven, hosting film screenings and storytelling events meant to spark dialogue around the Black experience in America. She is also a co-coordinator for the Elm City LIT Fest and helps run biweekly podcasts with IfeMichelle Gardin and Mayo. She said yes and dove in.
"I personally feel that film is one of the best mediums to evoke feelings and get a point across," she said. "It's kind of like music—once your eyes are open to it, you can't not see it. Film might be the best way to bring folks together in Hamden and build those bridges."
Earlier this year, the Hamden Arts Commission also learned it was losing its annual Free Summer Concert Series, which coronavirus rendered untenable. Alisha Martindale, arts and marketing manager for the department, said she challenged commission members to "think outside of the box" as they were planning other events. Since March, the department has taken a wide lens on arts and culture, including a COVID-19 era farmer's market and story hour with the Hamden Police Department. The film festival fit into that work.
"It's important that in this moment, we center some attention on Black lives, in this case through the arts and through film," said Siobhan Carter-David, a member of the Hamden Arts Commission and professor of history at Southern Connecticut State University. "And we carefully and skillfully chose the films that we thought would be relevant to Hamden residents of all backgrounds, but specifically that target issues related to the African-American experience here."
When they needed a space, Hoffman reached out to Davidson, who said he was happy to offer up the lawn outside the church. The congregation, which sits just off Whitney Avenue, is in a predominantly white neighborhood that was subject to redlining for decades. Fifty-two years after the practice was banned, the neighborhood remains overwhelmingly white. Davidson said that's important to talk about during the series: white families need to reckon with and talk about this history too.
He also sees it as mission-aligned. For years, Davidson has been fighting for immigrant and refugee rights and against a uniquely American strain of anti-Black racism. His fight is at the pulpit and in the community; he has become a fixture at protests calling for an end to Immigration and Customs Enforcement (ICE), police transparency, reform, and defunding. Usually, one can find him marching in the middle of a crowd, mindful of the space his body is taking up.
"I loved that this was combining community gathering and social justice all in one go," he said. "It's important that we're doing this in a historically redlined and still very segregated neighborhood. It's important to lift up Black voices in Black communities, but also in white ones. It's important to uplift the importance and vitality of Black art."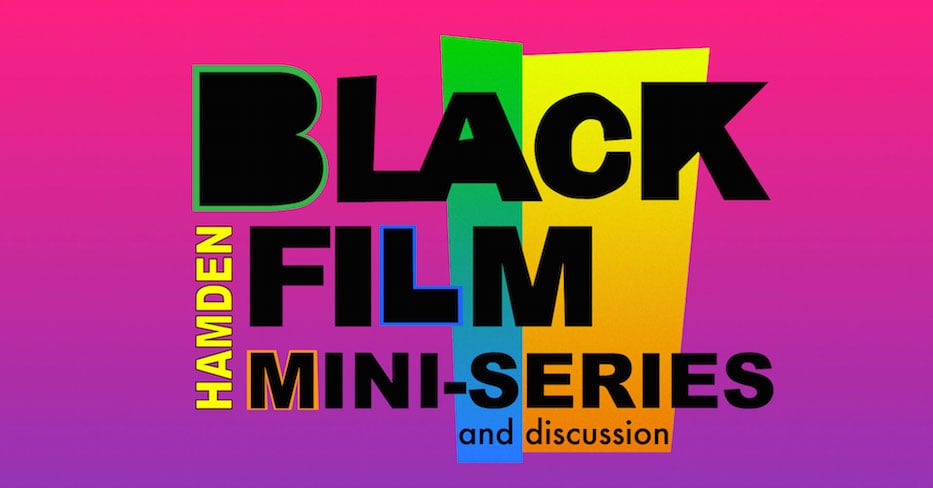 Currently, collaborators are putting the final touches on the first screening, which is set for Sept. 17. Davidson has planned to have circles drawn in chalk, to mark proper social distancing for individuals and families. The church is cautiously opening its restrooms. Hoffman said that Best Video will be paying for the rights. As of Wednesday, team members were still working to secure a larger screen and lighting for the area.
The hope, McAllister and Mayo both said, is to start a conversation that Hamden is desperate to have—and may be desperately in need of having. Last year, Hamden police fired on an unarmed Black couple, injuring Stephanie Washington and Paul Witherspoon and setting off weeks of demands for police accountability. Justin Farmer, who recently ended his first run for state representative, has described being profiled by town police officers while cycling through his own neighborhood. This summer, protests around George Floyd's murder rippled across the town while calls to dismantle white supremacy also simmered online.
It also comes at a moment when calls for equity have seized the town's school system. In January of this year, the Hamden Board of Education came under harsh criticism after a teacher cast a Black student as an enslaved African in a play about the transatlantic slave trade. As schools transitioned online during COVID-19, the board came under fire again after suggesting $2.8 million in cuts to equity initiatives and curricular rewrites that had just been introduced.
In July, the town declared racism a public health emergency—after cutting roughly $2 million and laying off a dozen teachers and administrators from the city's already-underfunded public schools.
When the group was choosing the films, Mayo pushed for something featuring Boseman, whose death has joined a year of loss, trauma, and grief for Americans and specifically Black Americans. Each film is followed by a discussion; the first will be facilitated by Professor William H. Foster, a scholar of film and comic books. Julie Smith, director of the Hamden Department of Arts & Culture, added that it is important to her that any funding the series has goes to the speakers.
After 42, the series will reconvene for Michael Elliott and Rick Famuyiwa's 2002 film Brown Sugar on Sept. 25, and then for Spike Lee's masterful 1989 Do The Right Thing on Oct. 3. Brown Sugar weaves Black love and the crackling bones of New York hip-hop to tell a story of two best friends who are trying to navigate adulthood, and find themselves struggling in the process.
Lee's Do The Right Thing tells the story of Brooklyn's Bed-Stuy neighborhood on the hottest day of the summer, as tensions boil over between white business owners, Black residents, white, racist New York City cops, and a Korean grocer who raises questions around power, racism, and one's proximity to whiteness. In 1990, it was robbed of the Oscar for Best Picture for Driving Miss Daisy, just as Lee's BlacKkKlansman lost out to Green Book three decades later in 2019.
Mayo said she feels ready for the series, and the discussions that it may foster. As a longtime resident of Hamden, she expressed a hope that it will be the beginning of a longer discussion among the town's residents and neighbors.
"For me, this is what Black people do," Mayo said. "We take the resources we have and we make something out of it. I think I'm proud to have the allies, who want to shake the status quo in Hamden. There is such division in this town. It makes me feel so good as a resident to see there's a little pocket of care being taken."