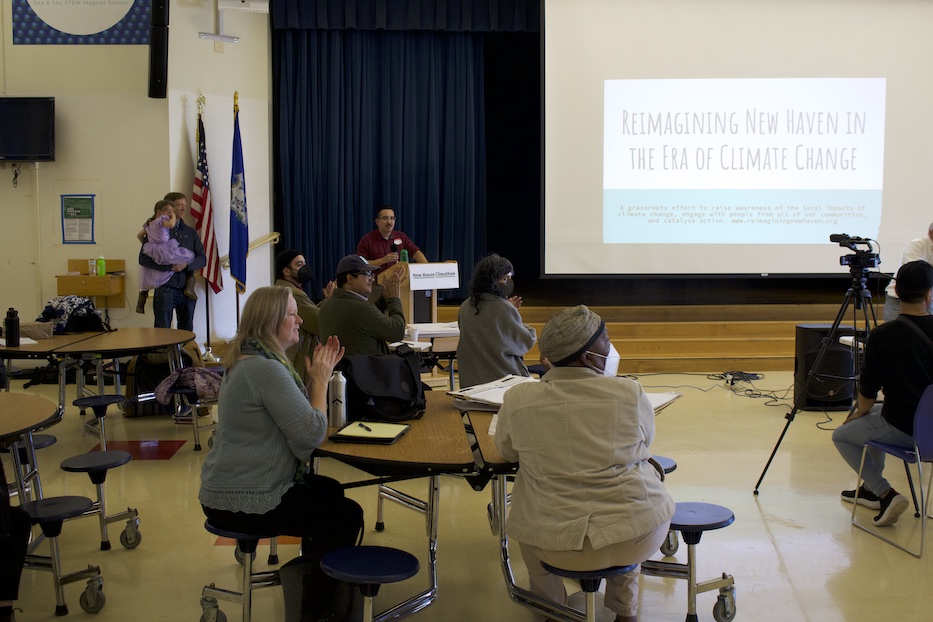 Environment | Fair Haven | John S. Martinez School | Arts & Culture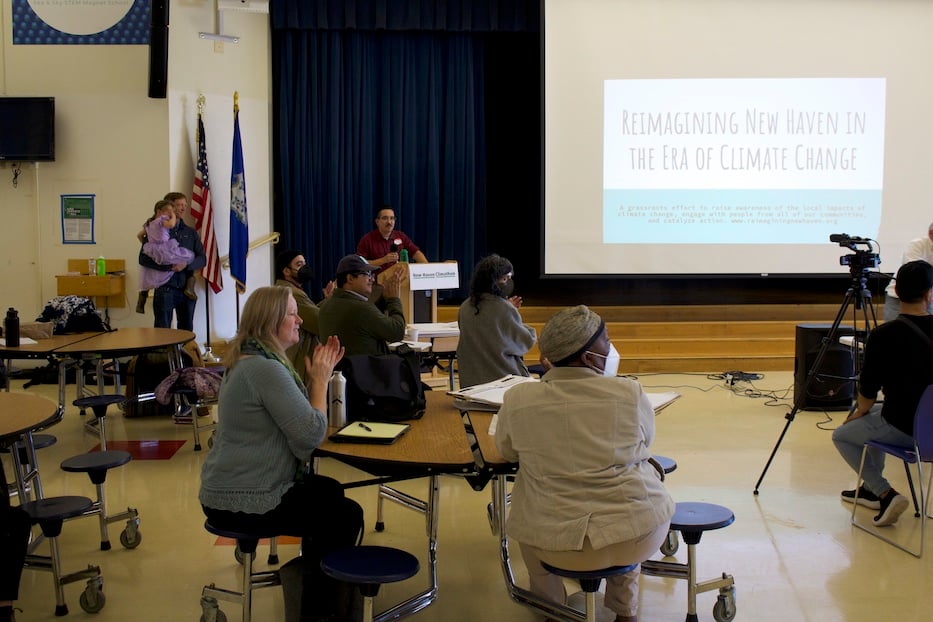 Mauro Diaz-Hernandez of Yale's School of Public Health welcoming attendees to Climathon. Corey Schmidt Photos.
The lunch tables at John S. Martinez School were packed, but not with students. At each, adults watched PowerPoint presentations and jumped into interactive workshops covering art-based activism, environmental entrepreneurship, plant-based foods and New Haven in an era of warmer and more extreme weather.
It was the first-ever New Haven Climathon, held for nearly five hours at Martinez School in the city's Fair Haven neighborhood. Organized by the nascent group Reimagining New Haven in the Era of Climate Change, the event was designed to both boost climate literacy and spur climate activism at the grassroots.
"We truly think that New Haven has both a need and an opportunity to reinvent itself to become a more sustainable, resilient and just place," Climathon organizer Steve Hamm said. "Because [New Haven has] this terrible injustice and inequality that is both economic and racial … the idea is to spark reinvention and you need your artists if you want to reinvent society."
Hamm, himself a filmmaker, includes artists highlighting climate-related issues in that calculation. Among those Saturday was Kwadwo Adae, a muralist and music educator who brings his love for nature into his work as a public artist. In collaboration with the Urban Resources Initiative, a free program of the Yale School for the Environment (YSE), he has helped plant trees at multiple mural sites, including most recently the Hillside Family Shelter on Sylvan Avenue.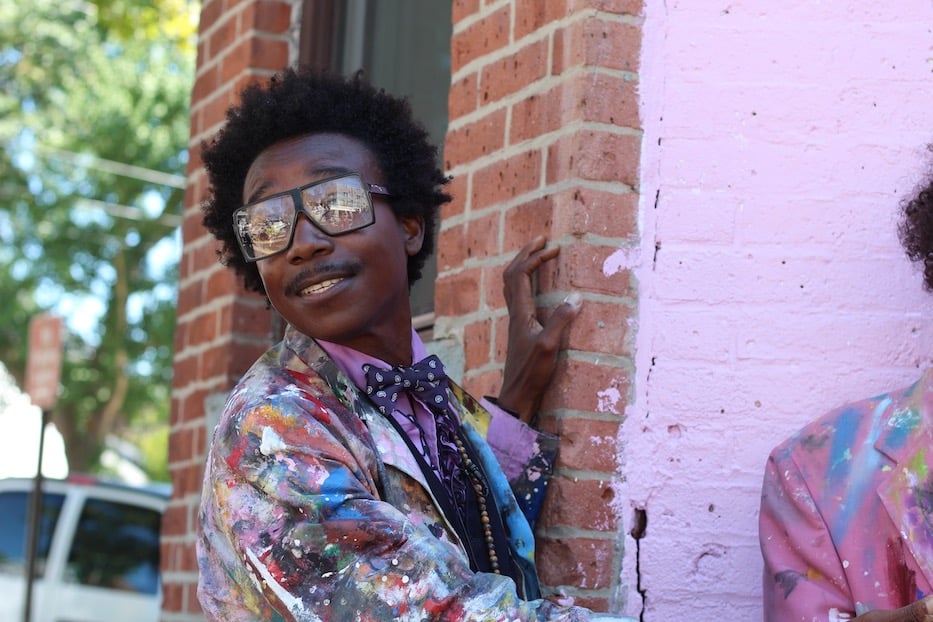 Adae earlier this year at the Hillside Family Shelter. Lucy Gellman File Photo.
He looked to it as an environmentally-friendly approach to highlighting affordable housing, policing, public safety and food security in the city.
"It's really thinking about beautification and activism to draw attention to the homelessness and affordable housing issues we've been experiencing here in New Haven," Adae said. "It's just not easy to afford a place to live. So if that's the content of the mural, I want to make sure that if there is a space available, I can plant a tree as well."
Adae said his mural outside Moe's Market, a convenience store at the corner of Dixwell Avenue and Division Street, is an example of just that. The mural's message dates back to 2019, when Yale University and Hamden police officers opened fire on Stephanie Washington and Paul Witherspoon in New Haven, firing 16 rounds into their car by the intersection of Dixwell Avenue and Argyle Street. Witherspoon and Washington, who almost lost her life, were both unarmed. Adae, who marched in the two weeks of protests that followed the shooting, said it highlights a need for peace through sparrows.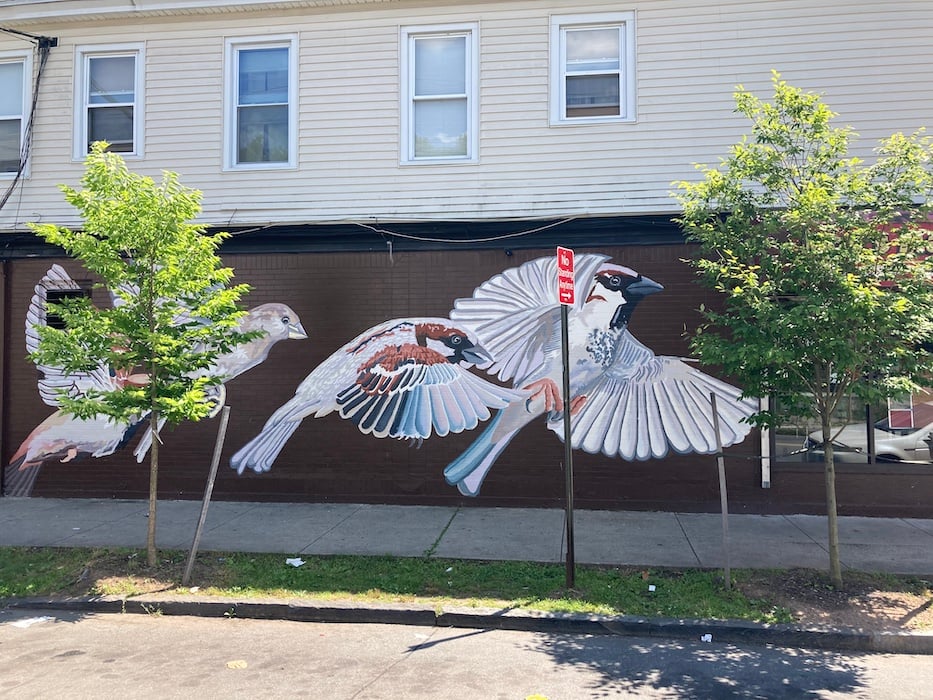 Kwadwo Adae's Sparrows taking flight on Division Street. Kwadwo Adae Photo.
"It was just this outpouring of grief and marching … and the mural's birds were a symbol of peace and freedom, which are two things that are stolen by police violence," he said. "I wanted to make sure that I was painting that piece of freedom back into the community."
Adae's environmental approach enhances his goal of achieving social equity, too, he said. Working with URI at the Sparrow Mural site, he chose to plant Serviceberry and Hackberry trees to provide a food source. He suggested that the berries might make a healthy snack for young people in the neighborhood.
Hamm also pushes environmental and artistic activism through his documentaries, highlighting local environmental issues including water levels and the marine industry. Saturday, he displayed a series of two-minute edits from those to help share the messaging.
One of the documentaries featured New Haven's Sound School, a public school focused on the maritime environment. The film showed a recent project the school did to provide a habitat while also addressing a local concern.
"The school had a program where they built and deployed something called oyster balls, which are concrete balls, put about 40 feet out in the water beyond the beach," Hamm said. "They used the wasted balls to create additional biological habitat, but also to deal with wave action and erosion and storms."
Another clip, pulled from The Oystering Life, displayed how an oysterman had to raise his shed 18 inches to combat the rising sea level.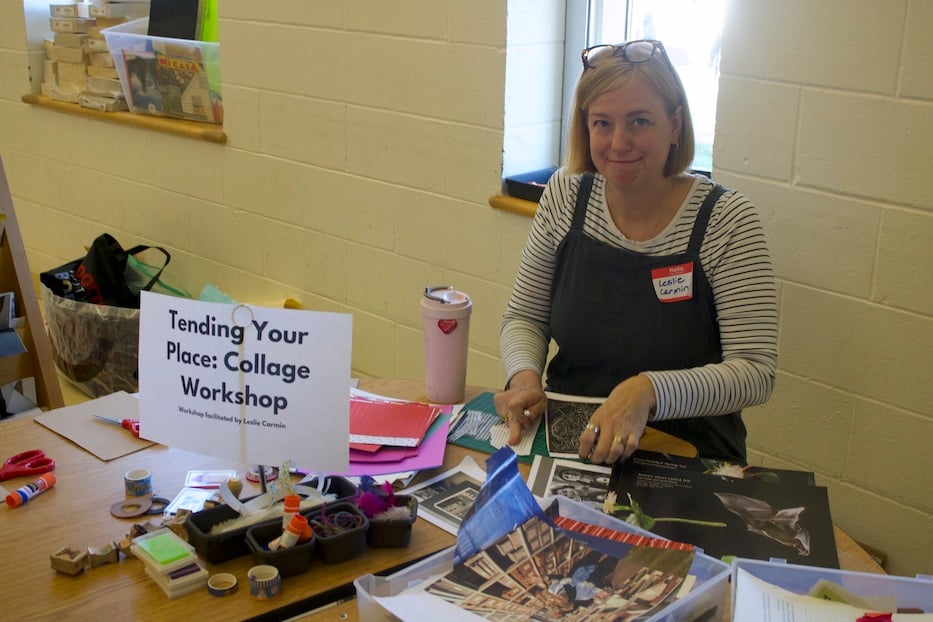 Artist Leslie Carmin with materials for her collage workshop. Corey Schmidt Photo.
While a large portion of Climathon included presentations on climate change and environmental inequality, workshops allowed participants a hands-on way to learn about sustainable lifestyles.
These workshops included plant-based diets, climate entrepreneurship and artistic collages. Hamm said he was particularly excited for artists Leslie Carmin and Martha Lewis, who led two collage workshops focused on sustainability. He praised Lewis' show Waste Management, a curatorial collaboration with the artist Rashmi Talpade currently running at the Institute Library downtown, as pressing on the issue.
"Waste is something that all of us humans can make. And we can do a better job of dealing with it," he said.
The event also called for change while celebrating some recent environmental wins at the legislative level.
Karen Seto, a professor of geography and urbanization at YSE, advocated for local reform to make New Haven more walkable. She discussed how it can be difficult for residents to walk to grocery stores and other high traffic places in the city. Seto said that while New Haven has some beautiful walking paths, it should work toward making New Haven more walk-friendly to limit carbon emissions and to improve public health.
Seto said this could be accomplished by supporting new businesses near current residential areas or by creating new housing near already-established commercial areas. By doing this, more people will feel more comfortable walking and could help address health issues like obesity and blood pressure.
The Climathon crew also celebrated the Connecticut state legislature passing a bill that seeks to lower negative effects produced by greenhouse gas emissions created from supplying residents electricity by 2040.
Alex Rodriquez, an environmental justice specialist at Save the Sound, said that while at times it may seem like all hope is lost when thinking about climate change, that isn't the case. He said change can happen at any rate and any sort of change is worth the effort.
"Don't let anybody undervalue your contribution to the movement," Rodriguez said.