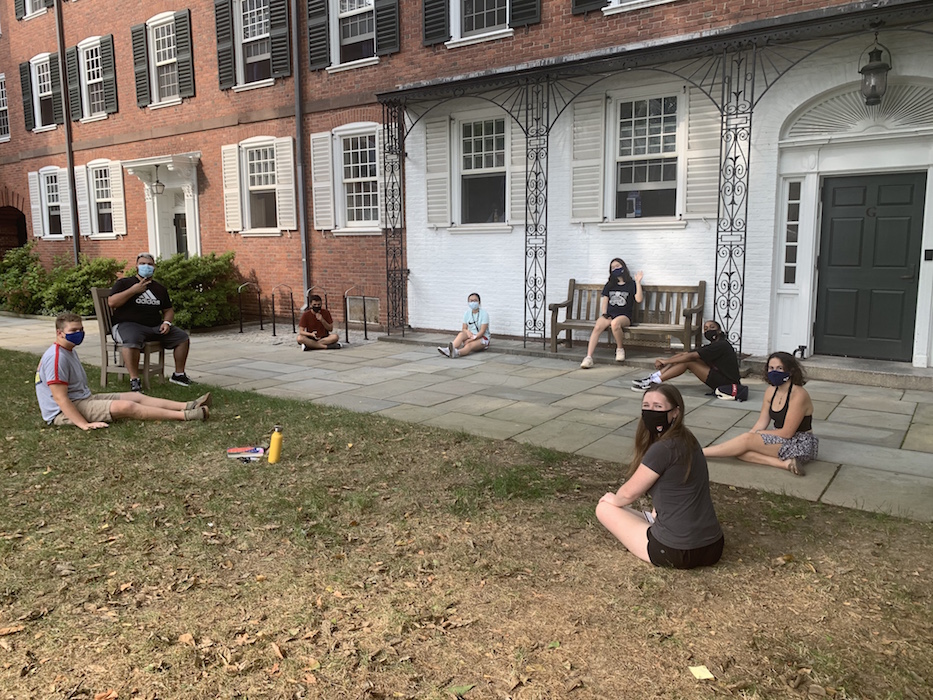 Co-Op High School | Education & Youth | Arts & Culture | Yale University | COVID-19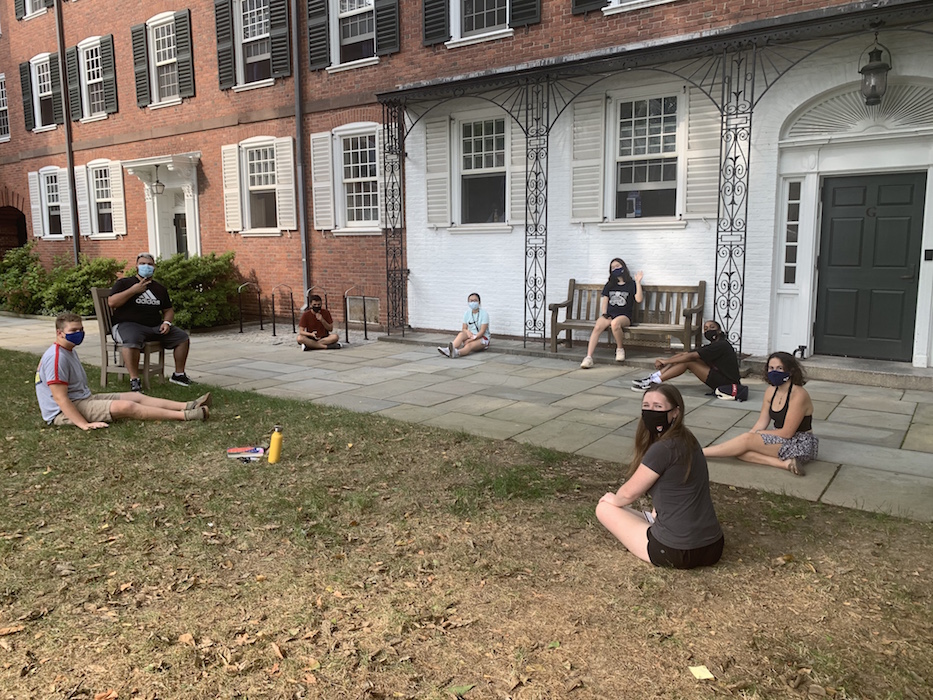 Sims (third in from the right) with fellow freshmen. Contributed Photos.
Samantha Sims grew up with the city of New Haven as her playground. Now, she carefully calculates her every move, after two weeks quarantined inside a building and high-walled courtyard that were once off limits to her.
Sims is a freshman at Yale University, which began its fall semester last week. Three months ago, she graduated from Cooperative Arts & Humanities High School, giving a crackly valedictory address on WYBC after a socially distanced graduation ceremony outdoors. This fall, she's navigating a first semester that is not at all what she imagined it would be.
"I'm not really sure what to hope for during a time like this," she said in a phone call she squeezed between classes and homework. "For the first few days, it was torture. It was a little bit weird, and a bit sad. I felt like I was in jail. Like, this is my city, and I have to stay here for 14 days."
Even after ending quarantine—her 14 days concluded last Sunday—she is one of 1,267 new freshmen to be figuring it out. Yale's first-year class comprises students from all 50 states and 53 countries, including friends Sims has already made from London and the country of Georgia. Each week, she and her peers agree to routine COVID-19 testing and contact tracing as part of COVID-19 campus life. They have also signed on to the Yale Community Compact as a condition of their residence in New Haven.
Since August 1, 10 Yale students have tested positive for COVID-19, including an asymptomatic case that was the school's first undergraduate. Yale reported three of those positives this week. Follow the university's COVID-19 case tracker here.
Sims grew up in New Haven, traversing the city for school and then for work as she got older. As a creative writer at Co-Op, she used her pen to chronicle the New Haven community and the internalized racism she felt in her own life, including a journey to natural hair that ran in the school newspaper just before COVID-19 hit. After graduating in June, she spent the summer months working multiple part-time jobs and choosing her classes.
And then in August, her intimate relationship with the city changed. Her academic world widened as her physical world shrunk. She gained access to buildings that she'd been locked out of as a student attending high school half a mile away. While there are other New Haveners on campus—she did a summer program with fellow writer, freshman and Wilbur Cross grad Ana Paula Padilla Castellanos a few years ago—she's only met one of them, a student from Hopkins with whom she had almost nothing in common.
"It's really empowering to be able to say that I'm going to Yale," she said in an interview before starting school. "I know that I worked for it, and I know it's something to be really proud of."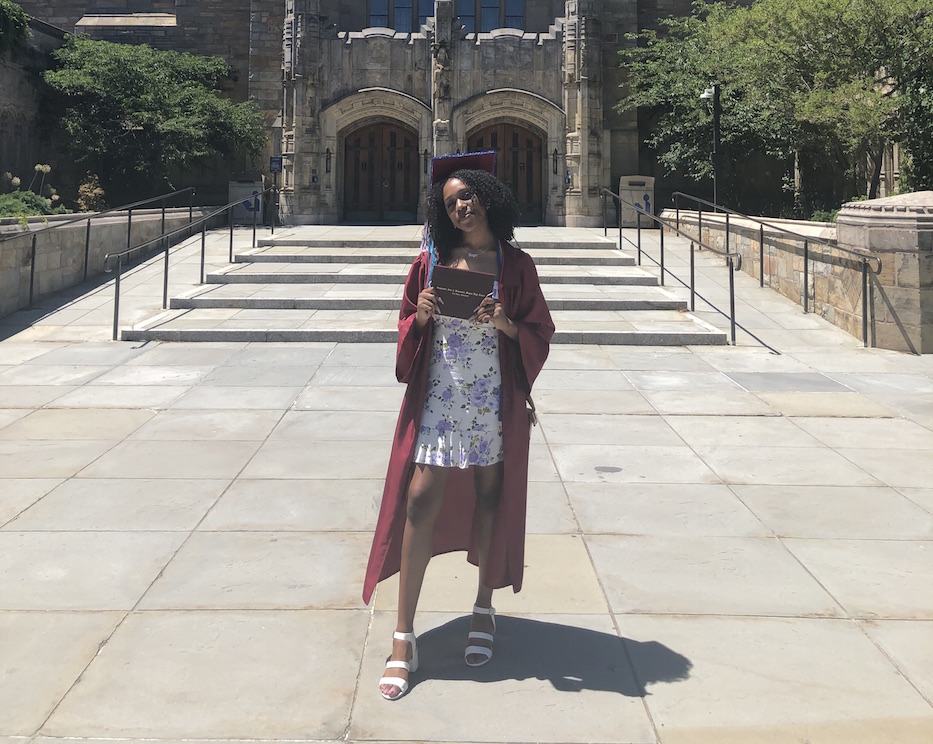 Sims in June, after graduating from Co-Op.
When Sims arrived on campus in August, " I was kind of frustrated because I felt underwhelmed," she recalled. COVID-19 had flipped the idea of her freshman year on its head. Campus move-in was quieter and regimented, cautious rather than celebratory. Masks and social distancing were in; gatherings of more than 10 students were out. After moving into Timothy Dwight College, she was allowed outside of the residential college just once—to get a nasopharyngeal swab across the street at Silliman College. After the swab, which Yale allowed her to self-administer on site, she was told to quarantine inside her dorm room until she got a negative test result.
In her first two weeks on campus, she saw only the grassy courtyard and rooms of the college. Her initial conversations with other freshmen—punctuated by masks and social distancing outdoors—were "kind of meaningless," as peers tiptoed around a reality that seemed strange, in a country where racism and COVID-19 have become parallel pandemics.
And then little by little, students started "going below the surface," she said. A fellow freshman from Long Island recalled how prior to COVID-19, her school received multiple bomb threats and suffered vandalism when someone carved swastikas into the walls.
Her suitemate Clara Lee, who is from a suburb of San Francisco called Walnut Creek, bemoaned the homogeneity of her neighborhood and school, where Asian-American students were hugely outnumbered by their white peers. Others seemed like they hadn't been exposed to people that didn't look like them and didn't know what to do with the new information they were learning.
"I feel so blessed to come from an arts high school where everybody had the freedom to be themselves," she said. "Certain things are being taught there [at Co-Op] that weren't taught in their high schools."
She added that it may not be what she imagined, but she's already trying to make it the best year possible. Even as she was quarantining—she finished last Sunday—she found herself giving classmates tidbits of local information. She suggested La Chalupa, a food truck on Court Street, as a cheap and easy place to find food. She told a friend that the Green could be a nice spot for an outdoor gathering—after they had completed quarantine.
After Lee arrived, the two worked out a schedule to pick up their pre-packaged meals on days when one had a heavier class load than the other. Sims is taking a full course load, including chemistry and lab, an English course on racial capitalism, calculus, and a psychology course on criminal pathology. She is among a small group of students to be braving an in-person lab section, which begins Monday.
She also has a new confidant in Lee. Growing up, Lee was one of the only Chinese-American students in a predominantly white student body. She learned what redlining was while studying the history of her own neighborhood and picking up facts about racial covenants and property deeds. By the time she came to Yale—leaving behind wildfires that have since blotted out the sun—she was ready for a change. She currently plans to go into impact investing, she said.
"It's a little different than what I expected," she said in a recent phone call after Friday classes. "Honestly, I expected everything to be a little bit more posh. I didn't know anything about New Haven. I expected it to be a little bigger."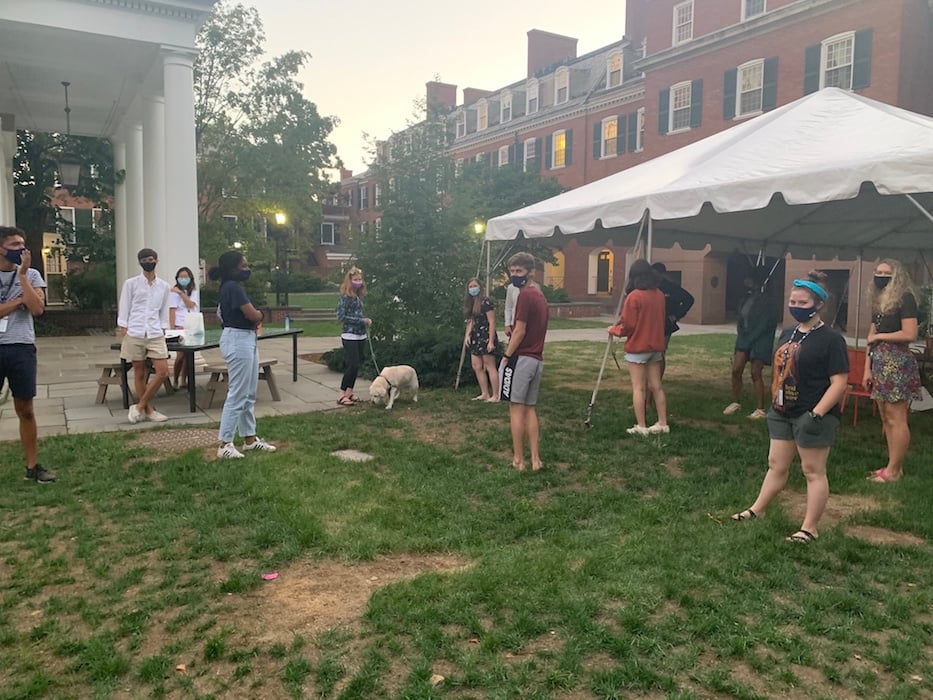 She added that Sims is easy to get along with: she reminds Lee of her two sisters, who are now across the country. To liven things up during quarantine last week, they held an in-suite fashion show for two with pieces from their own wardrobes. Both completed quarantine this week, within 48 hours of each other.
Before this fall, Lee had never visited the East Coast. Sims has still vowed to show her around the city. They aren't sure where they'll be starting first.
"I also wonder what it's going to look like when our quarantine is over and we can explore the city," Sims said. "I'm trying to be a guide to people and let them know what resources there are. It's kind of funny watching people be like 'I don't know where I am.'"