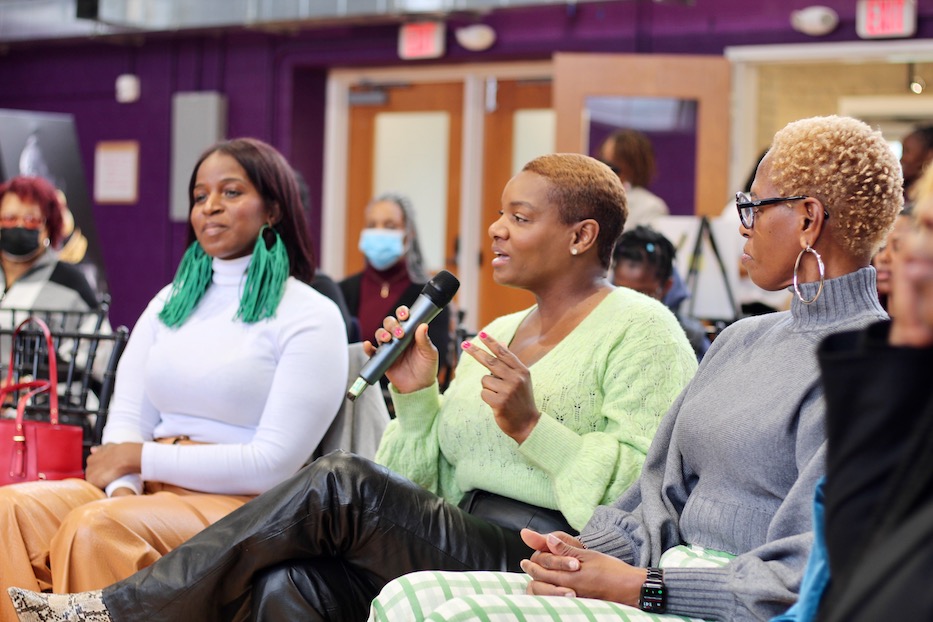 Black-owned businesses | Hamden | Politics | ConnCORP | Hair care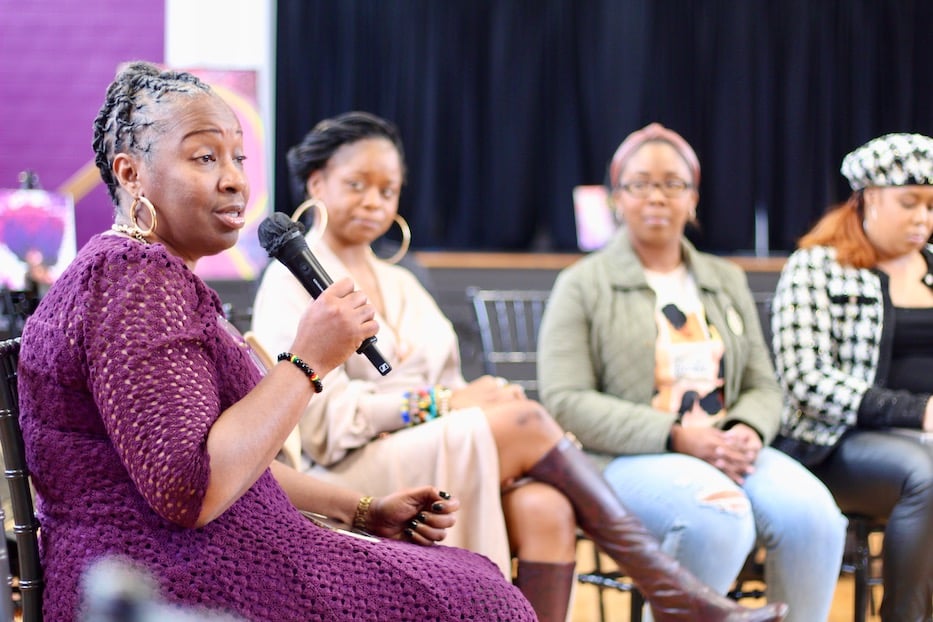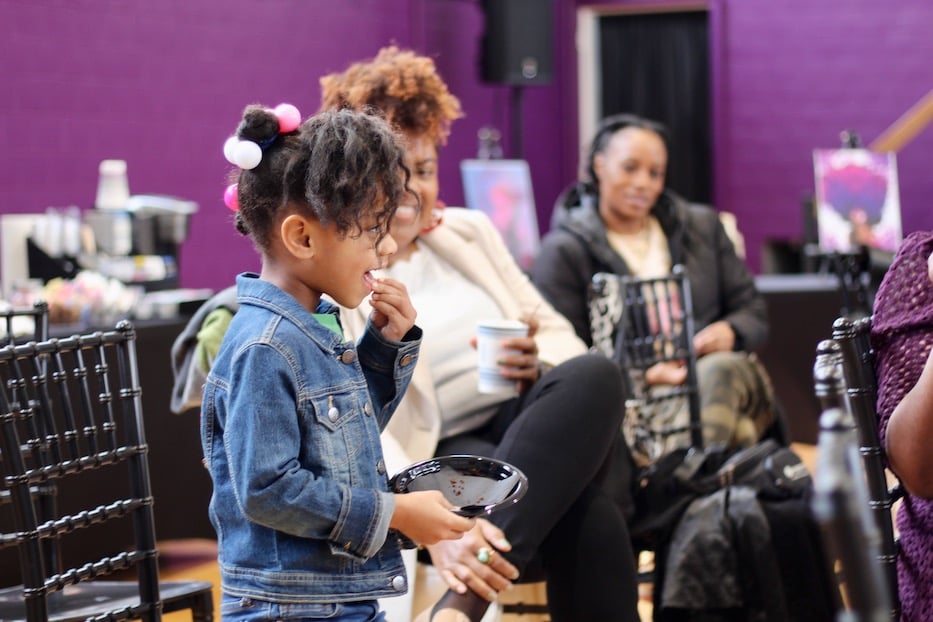 Top: State Rep. Robyn Porter. Bottom: Sienna. Lucy Gellman Photos.
State Rep. Robyn Porter looked into six-year-old Sienna's wide eyes, studying the face of one of her youngest constituents. She paused for just a moment, letting the warmth of the room around her sink in. Two seats away, Sienna's mom, Alisha Crutchfield, listened to every word.
"You are a princess, ok?" Porter said. Applause filled the room. "You're perfect."
That exchange came out of the LAB at ConnCORP last Sunday afternoon during "How Do You Wear and Care for Your Crown," a community conversation celebrating and centering Black hair. For three hours, attendees listened, gathered advice, and told some of their stories at the Hamden space.
It was moderated by Krystal Harris, who founded Free Your Scalp five years ago. Speakers included Blush Beauty and Wellness Founder Winter Carson, Nia Clemons of Capture, barber Rachel "Roqkandy" Graziano, filmmaker Lydia Douglas, and Sharon Joy Salon Owner Joy Brown and stylists Ranada Morrison and Mona Davis.
Many times throughout the afternoon, it doubled as a tribute to the late Sharon Clemons, a beloved community champion and co-owner of Sharon Joy Salon, who passed away in November 2020 of Covid-19. In the months and years since her death, her family has established both an educational fund to support Black women and a "Community Cultivator" award in her honor.
Her husband, ConnCORP CEO and President Erik Clemons, thanked attendees for keeping her memory alive. Multiple times, Brown also remembered her sister fondly, and brought her spirit into the room.
"It's Your Crown. And It Is Sacred."
Brown (with the mic): Respect the chair. On her left is Ranada Morrison, and on her right is ConnCAT's Stephanie Mallard.
Porter, who spearheaded Connecticut C.R.O.W.N. Act legislation in 2021, started the afternoon by talking about her own path to advocacy—and the personal loc journey that has followed. At the time that it passed two years ago, Connecticut was the eighth state to adopt the C.R.O.W.N. Act. Now, the act has passed in 18 states.
Her own excitement around the bill began a year before the Covid-19 pandemic upended the world as she knew it. In 2019, Porter saw a YouTube video of high school wrestler Andrew Johnson, who was forced to cut his locs before competing in a match. The longer Porter watched, the more incensed she became. From her time as a mother, a daughter, and a community member, she knew the love and labor that went into that hair.
"I sat there and watched as a group of white people, and a white woman in particular with a pair of scissors in her hand, stepped to him, got around him, and she commenced to just—I mean, no care at all," she said. A collective, sharp inhale filled the room. "Just cuttin' his locs off."
It sparked her interest in bringing the C.R.O.W.N. Act, a national movement that stands for Creating a Respectful and Open World for Natural Hair, to Connecticut. In 2019, Porter was still the chair of the state's Labor Committee, and was talking and thinking constantly about how to make workplaces more equitable. She realized that adding a bill for protective hairstyles was one way to do it.

Elaine Roper, vice president of Culture and Community Relations at ConnCORP, helped organize the event with Opal Harmon, director of HR and operations at ConnCAT, and ConnCORP Administrator Jeneave Dacres. Both she and Harmon said it grew out of a conversation around their own hair.
As she built momentum around the bill, she thought of her daughter, who was the first Black student in her elementary school class in Wallingford. As a child, she came home and told Porter that her classmates had touched her hair, asking questions about its texture that she didn't want to be answering. She was uncomfortable in class, she said; begged Porter to let her get a perm.
As a mother, Porter said, it was painful to hear the discomfort in her voice—discomfort that her non-Black classmates were creating. For years, the two struggled through debates around perms, chemical relaxers, and different protective styles. It wasn't until high school that her daughter embraced her natural hair. "To God be the glory," Porter added.

As a Black woman, Porter has also lived through hair discrimination herself, including in her work at the State Capitol. When she began working as a state representative nine years ago, she said, her white colleagues complained that she changed up her hair too much. They insisted that people wouldn't recognize her if she didn't wear a single, consistent style. Porter doubted it.
"I'm like, 'Really?!'" she recalled to laughs Sunday. "I don't know about you, but Black folks, we know each other when we show up. It's just who we are, it's cultural. So that struck a chord."
In early 2020, she and State Sen. Julie Kushner proposed the legislation, only to have its first attempt stymied by Covid-19. When she brought it back the next year, hundreds of women gave testimony, even during a virtual session. When it came to the state House and Senate, legislators spoke about the discrimination they had experienced (read about that here and here). It passed in March 2021.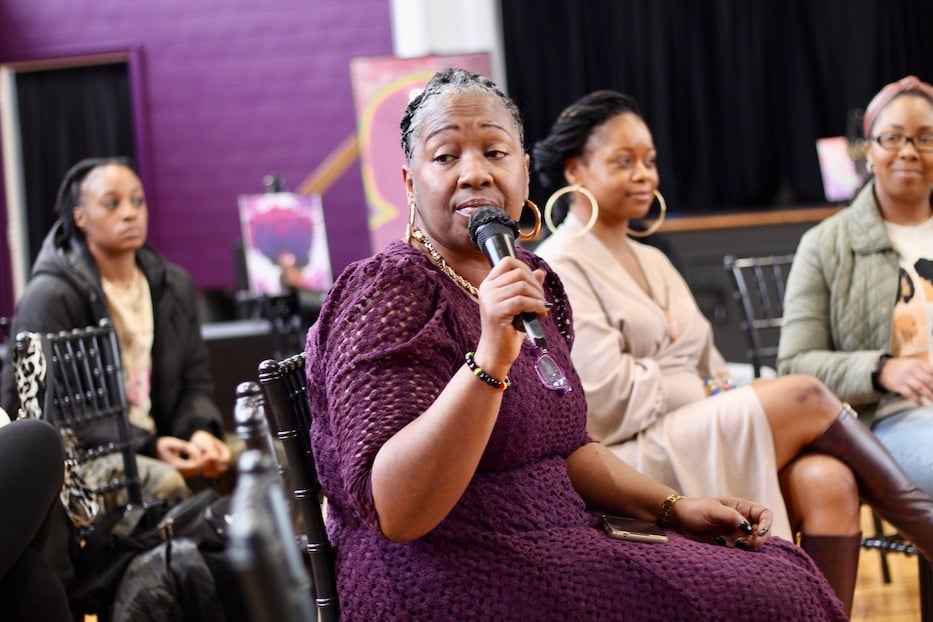 When it passed in March 2021, the C.R.O.W.N. Act had gathered significant bipartisan support.
"This was the first bill that I passed out of my committee," Porter said to cheers and applause. "And I am proud to say that it was passed with bipartisan support, which is really important."
For some of her white colleagues and non-Black colleagues of color, it represented the first time they had heard about hair discrimination in places of employment, job interviews, classrooms, playing fields, and extracurricular activities. She said she was heartened to hear colleagues on both sides of the political aisle say that they were listening and learning. "Not everyone," she added—but many of them.
She asked for a show of hands, counting the number of women who faced hair discrimination before the law passed. A dozen hands went up. When she asked for a count for after the law passed, only one hand went up. Porter gave out the number for the Commission on Human Rights and Opportunities (CHRO), and urged her to take action.
"This is about creating liberating spaces," she said as Alisha Crutchfield and her six-year-old daughter, Sienna, came in and took a seat close to Porter. "We talk about safe spaces, but what about our liberation? What about our children being ready to show up just as they are, and know that that is enough? And that no matter how they wear their hair, they matter."
She added that she wants to live in a state—and a country—where her hairstyle does not ever put into question her professional qualifications. In the moments that followed, hands went up with questions across the room.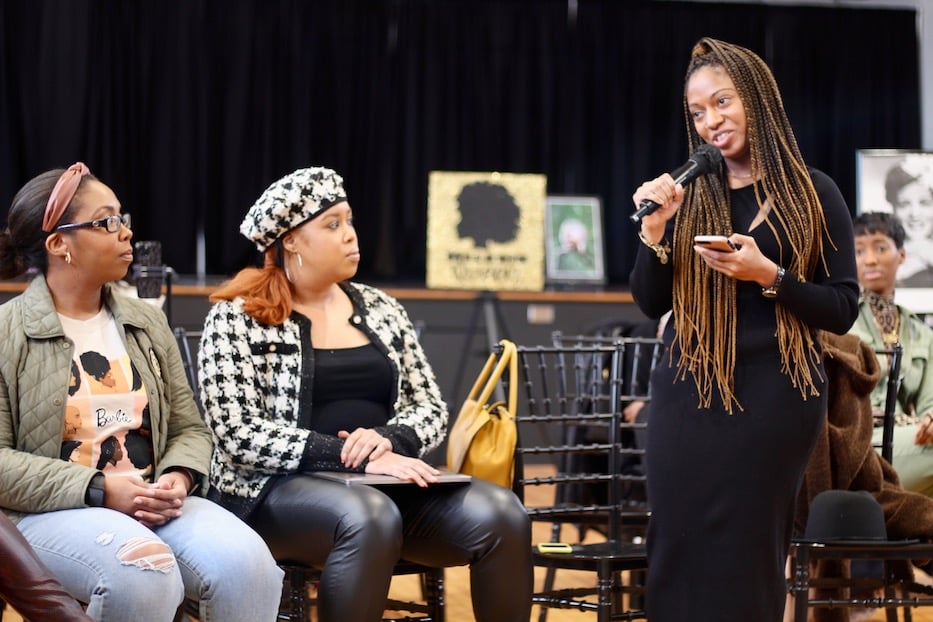 Vanessa Parker, who runs Sunny Days Creative Studio. Harris is seated to her left.
"How do we advocate in schools? How do we educate the younger kids? What can I do as a parent to advocate, foster, introduce activities that sort of deal with hair care at their age?" Crutchfield asked.
"The first thing I would say is, 'Bring me to school!'" Porter started, and more laughs bubbled up through the room. Since the beginning of her advocacy, Porter said, she has loved visiting elementary, middle, and high schools to talk to students about what hair discrimination is, and why protecting people against it is important. She turned to Sienna to address her individually.
"You must know that you are absolutely gorgeous," she said. Your hair is beautiful, and it's your crown. And it is sacred. However you show up. You matter, okay?"
Vanessa Parker, who runs Sunny Days Creative Studio, said she thinks often about women in tech and small business, which has become her sector.
"How can we create a workplace environment that really prevents hair discrimination from the jump?" she asked. It was a point that Candice Dormon, who runs EKOW Body, later expanded when she stressed the importance of women supporting other women.
Porter didn't miss a beat. In addition to education—she still thinks that p is key, even with the law on the books—she suggested the power of personal narrative. Often, she said, a given piece of legislation will pass because of the personal testimony that comes before legislators.
"It is really people outside the building, outside the process … that make us move away from the status quo," she said. "And educate at every chance you get."
Story & Sisterhood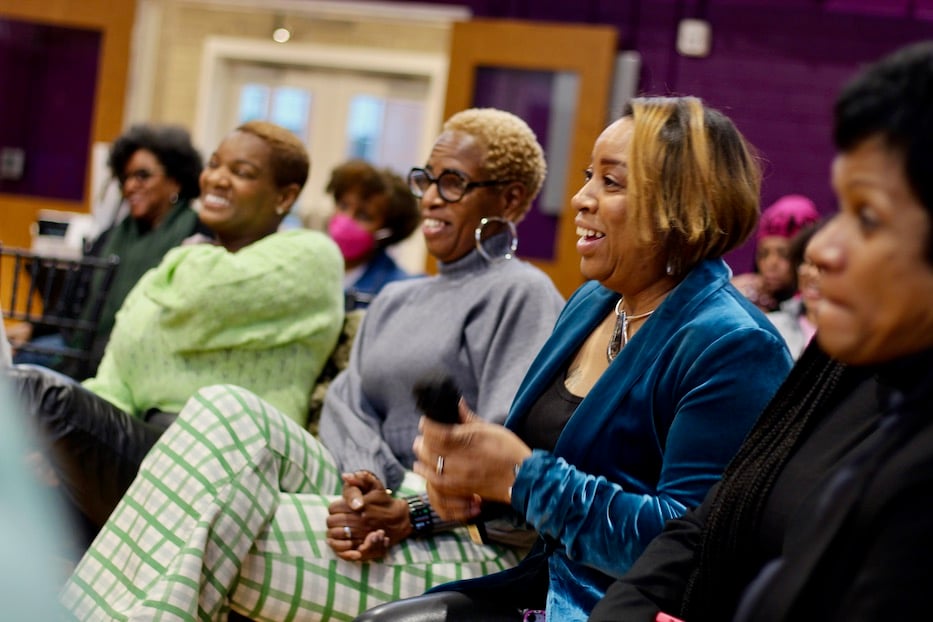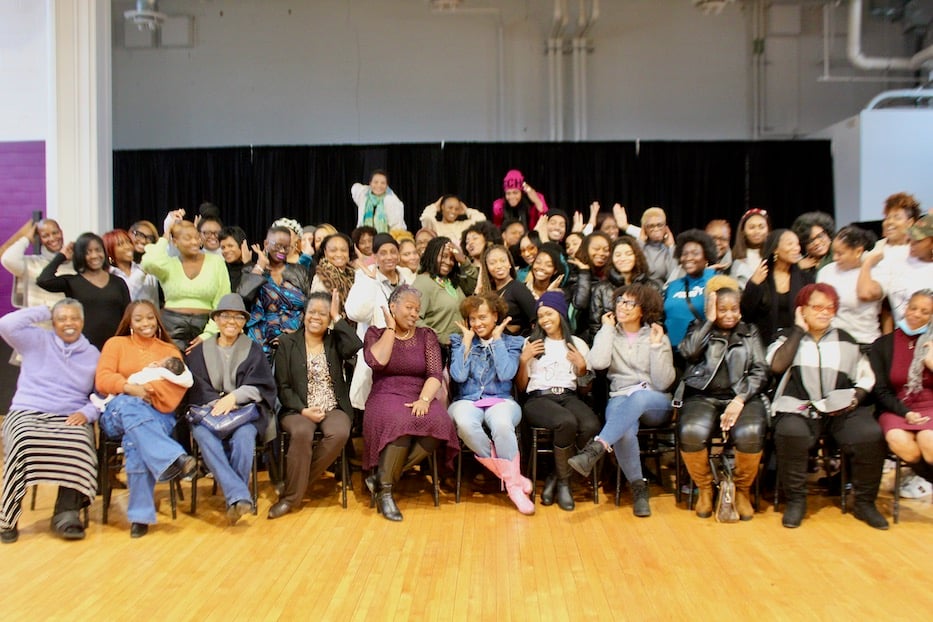 Top: Mona Davis. Bottom: The group.
That focus on story flowed through the remainder of the afternoon, as Harris opened the floor to questions and comments among both the stylists and attendees. In a conversation that ranged from the rise of unsolicited TikTok and Instagram advice to relaxers and ovarian cancer to best moisturizing practices, attendees honed in on the importance and power of sharing knowledge and resources.
That is—sharing trusted knowledge and resources, several of the stylists added. Asked about the impact of social media on the Black beauty industry, Brown took the mic, and fondly remembered her sister's no-nonsense attitude when it came to YouTube. For Clemons, "it was very black and white," Brown remembered. She wasn't thrilled about the effect of social media on small businesses, and on the staff who had trained for years to get to where they were.
"She would call it I-Tube," Brown said. "She would say, 'You're in my chair. Respect the chair.'"
In recent years, Brown's seen young people destroy their follicles because they are getting styling and hair tips online, instead of going to a salon, she said. The advice might be free, she said—but it's not always consistent with a client's individual hair needs.
"It's just not safe to do half of what you're seeing on YouTube," she said.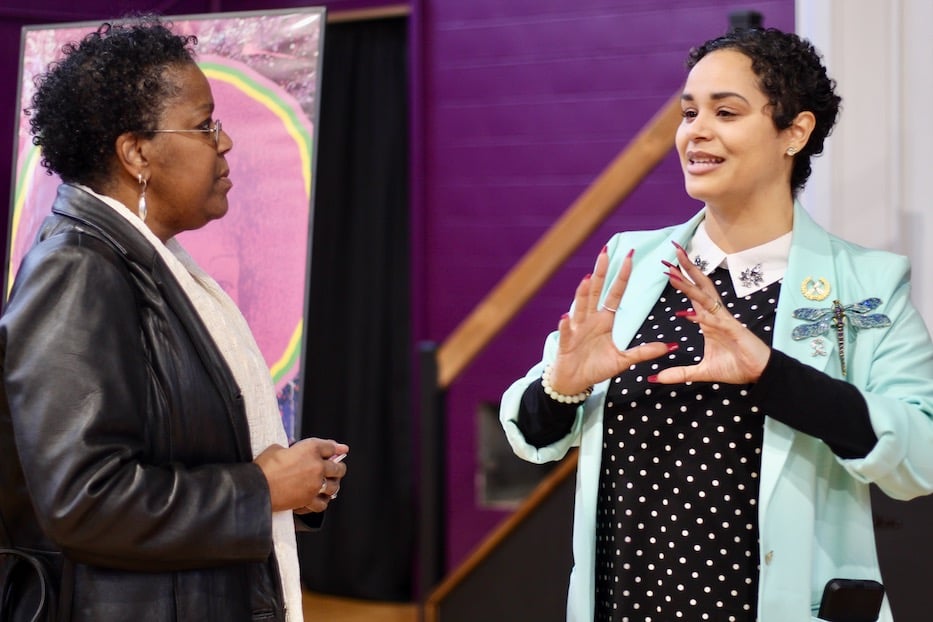 Aleta Staton and Rachel Graziano.
Davis agreed: recently, she's seen clients who take YouTube's braiding advice, and do damage to their hair when they pull the braids too tight. Instead, she said, people should find a stylist who they trust, talk about their hair goals and best maintenance practices, and make a plan to visit them on a consistent schedule.
Graziano, who currently teaches dance in the after-school program at the Connecticut Center for Arts & Technology (ConnCAT), said the antidote is sharing knowledge and skills in a way that is accessible. Growing up, Graziano was alone when it came to caring for her crown. Her mom, who is "a short little Italian woman," didn't know how to do her hair.
Once she was around other young women of color, "I gravitated toward the hair industry," she said. Over a decade ago, she started barbering by doing her son's hair (Sunday was his 12th birthday, she added with a smile). Now, she wants to teach other moms how to do it as a life skill. She isn't interested in YouTube or Instagram, though; she likes the person-to-person connection.
"This feels amazing," she said Sunday, adding that she hopes it's the first of multiple similar conversations. "It's a much-needed event."
When people share those resources, Harris added, there's power. She recalled working in a hair and beauty supply store several years ago, when she was still at the beginning of her career. As she became close with the owner, she learned that the market for Black hair care is not majority Black-owned. In the U.S., over 70 percent of hair stores are Korean-owned, according to the National Federation of Beauty Suppliers.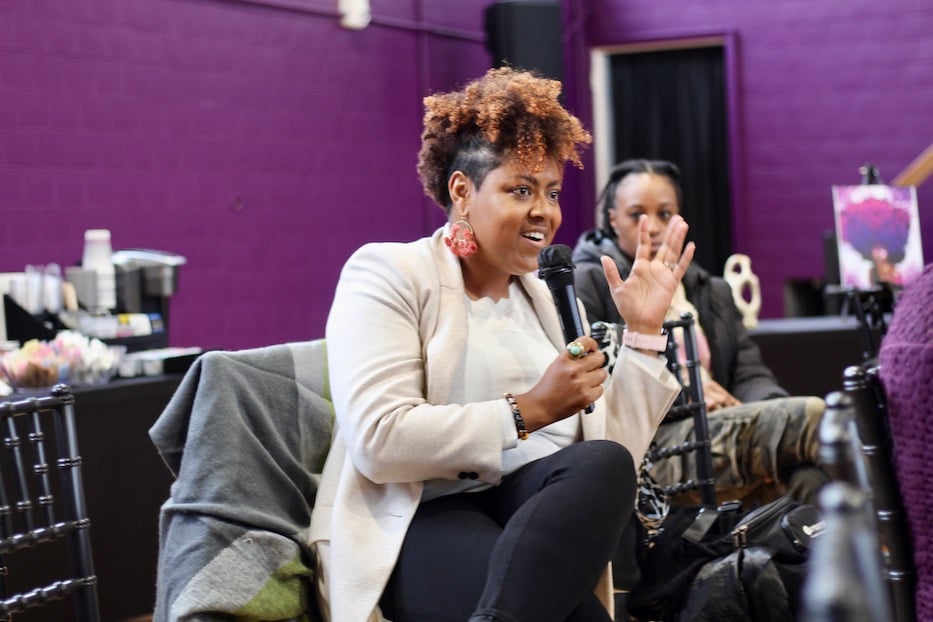 Candice Dormon, who runs the skin care line EKOW Body out of New Haven.
Harris imagined an industry in which Black cosmetologists and consumers more readily pooled their resources to support both each other and create a closed-loop economy. She looked to Beauty Plus, where owner Melvenia Hylton has provided New Haven a Black-owned beauty store on Chapel Street, in the heart of downtown, for decades. From the back, someone shouted out Unique Boutique, a Black-owned beauty supply store that stood on Dixwell Avenue for years.
"Let's just keep it real," Harris said. "Buy Black. We're taking our power back.""
Dormon agreed. As an entrepreneur and small business owner herself, she encouraged fellow attendees to try to lift each other up wherever possible. The brand, named after her son Emery Ekow Dormon, grew out of her interest in treating her son's eczema naturally.
"I just think it's important for us to take care of the Black hair industry," she said.
Many of the women gathered Sunday already are. To cheers and applause from attendees, Brown announced that she would be opening her own cosmetology school in 2023, in part because it was a long-held dream that her sister, Sharon Clemons, never got to see. During her life, "Sharon was really big on education," Brown said. "She was the voice."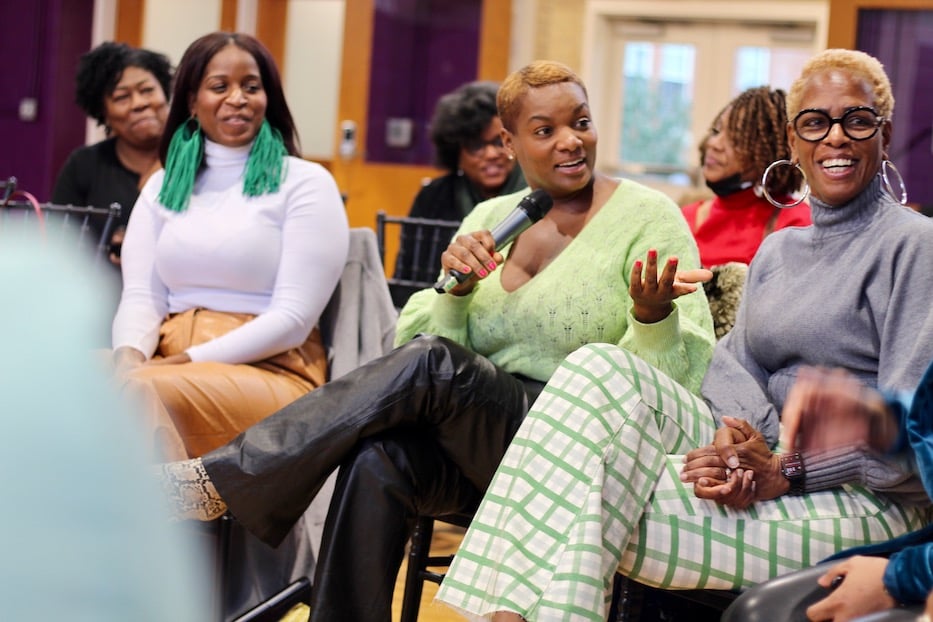 "Right now there's such a need for education in our industry," she added. In Connecticut, many cosmetology schools don't teach their students how to do Black hair, meaning that hundreds of people are graduating with a gap in their education. She expects the school to include both virtual and in-person classes, and said she is working on funding sources.
Jade Staton, who grew up in New Haven and now lives in New York, said that she can feel that momentum in her work, and is excited to watch it grow. Staton works in "vanities" or "looks," the part of the film and television industry that includes hair, makeup, and wardrobe. Sitting beside her mom Aleta, she said that when she arrives on a given set, she usually sees immediate relief from the actors. That's been increasingly true since 2020, as the number of people of color on set and behind the scenes has grown.
For years, she was often "the only"—the only Black stylist, sometimes the only Black person behind the scenes. Now, she's grateful not to be.
Often, she said, people will sit down in the styling chair, look up at her, and say some version of "I'm so glad you're here."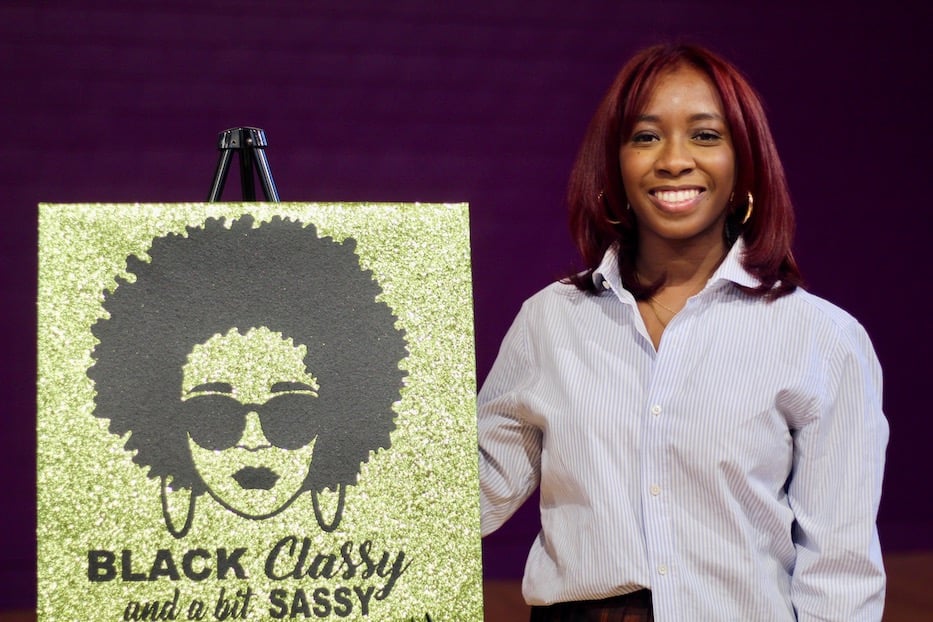 Nia Clemons, who runs the brand Capture.
Nia Clemons added that she's glad to see gatherings like Sunday's. During the early months of the Covid pandemic, she started Capture as a way to celebrate her love for baseball caps—and HBCU culture—without her hair taking a hit. Prior to that time, she found that baseball caps and wool hats would rub her hair and scalp, causing breakage. Each cap is satin-lined, to protect hair.
"I've always been passionate about hair," she said. Her whole life, she was around it thanks to her mom and her aunts, and her own training at the Vanity Studio of Cosmetology in Stamford. "This is very full circle."