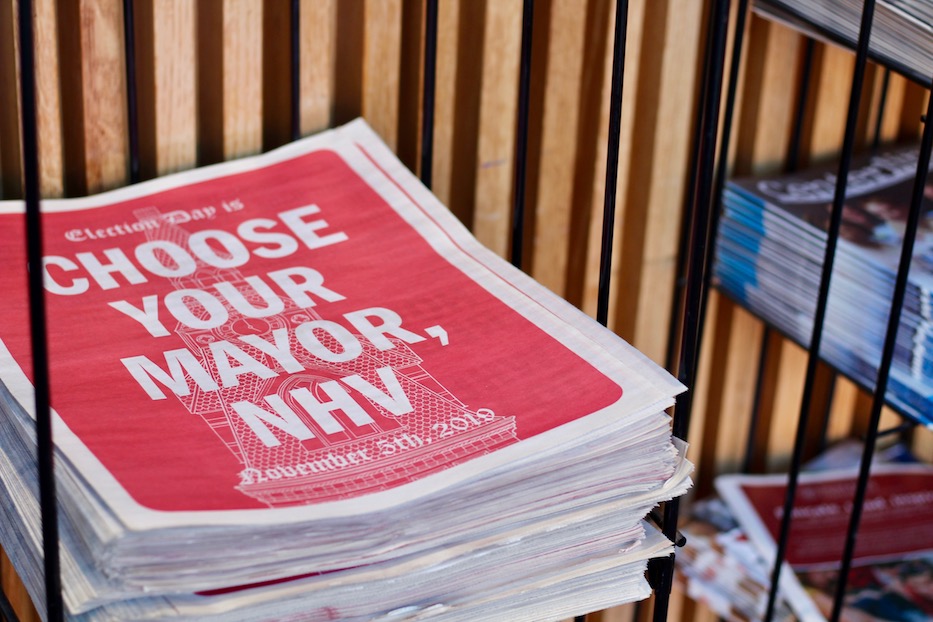 Politics | Arts & Culture | Visual Arts | Mayoral Campaign 2019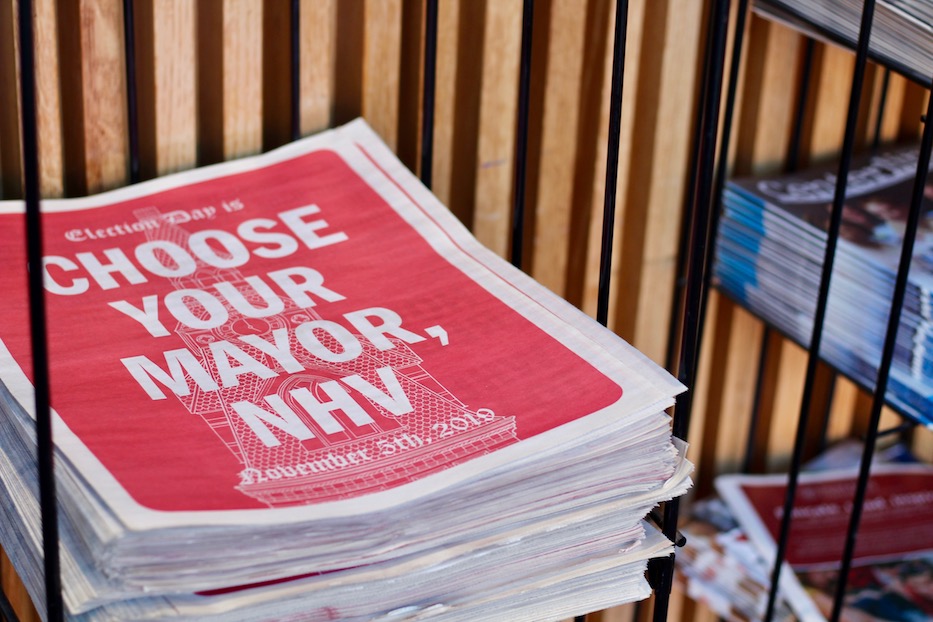 The broadsides by artist Cindy Hwang. Lucy Gellman Photo.
As the clock winds down on New Haven's mayoral election, one last effort to get out the vote doesn't involve knocking on doors and pounding the pavement, but spending hours at a drafting table, scrutinizing images in photoshop, and finding just the right typeface to catch a potential voter's eye.
That's the story for artists Cindy Hwang and Amira Brown, New Haveners who have been trying to increase voter participation with fact-studded broadsides and bright, eye-catching posters that they have distributed around the city in advance of Tuesday's general election. Both artists are sponsored by Create The Vote New Haven, a nonpartisan project of the Arts Council of Greater New Haven inspired by the Connecticut Art Alliance's Create The Vote CT initiative in 2018.
In addition to the city's mayoral race—Democratic nominee Justin Elicker is facing Working Families Party nominee and incumbent Mayor Toni Harp—there are contested aldermanic races in wards one (Yale), five (The Hill), six (The Hill/City Point), 10 (East Rock/Cedar Hill), 21 (Newhallville/Dixwell/Prospect Hill, 25 (Lower Westville) and 26 (Upper Westville). Seth Poole has also qualified as an official write-in candidate.
To view a sample ballot click here.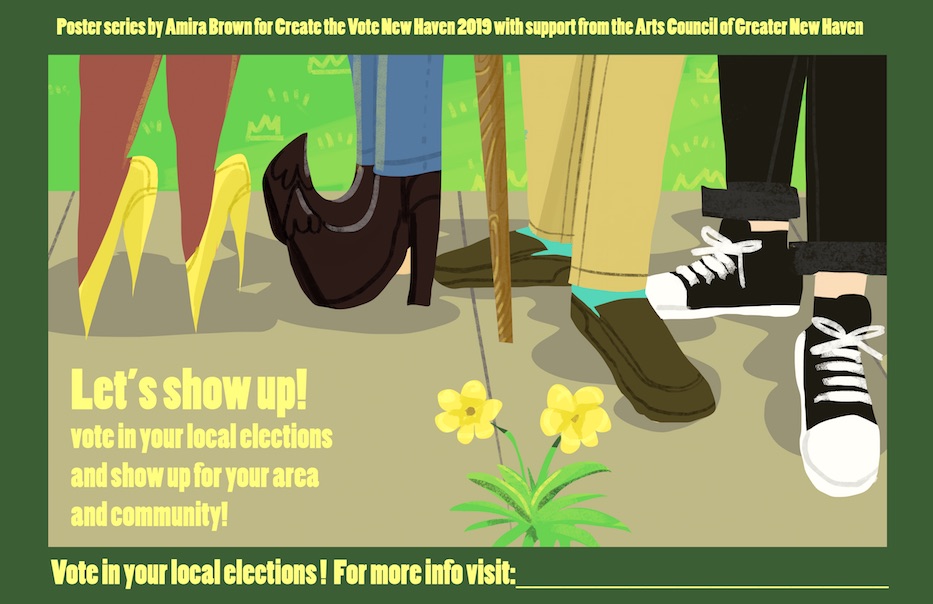 Hwang and Brown both began their designs earlier this year, after hearing about Create The Vote through social media and Artspace New Haven. The two come from different backgrounds: Brown was born and raised in New Haven and Hamden, where she's spent the bulk of her life in the city's Amity neighborhood. Hwang grew up in Phoenix, graduated from Yale in 2015, flexed a graphic muscle working for Hillary for America the following year, then returned to New Haven for her master's degree at the Yale School of Art.
The two have become united in their mission to get New Haveners to the polls Tuesday. On Hwang's tabloid-sized, red-and-blue broadsides—now piled on news racks and in lobbies, organizations and public libraries around town—potential voters get links on how to register to vote online and in person, when and where to cast their ballot on Election Day, and helpful tips on how to call the Registrar of Voters if they are still trying to find more information.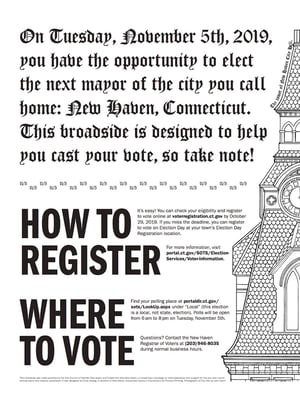 There are blurbs from each candidate, with oft-quoted campaign soundbites from Elicker (his frequent refrain that "New Haven is a tale of two cities") and information on Harp that focuses on her 32-year record. Printed after the primary but before mid-October, they are also a testament to how quickly politics can change: they state that Harp suspended her campaign, which she temporarily did before un-suspending it during a radio appearance in mid-October.
For the artist, the project was a chance to marry interests in political literacy and graphic design. As an undergraduate, Hwang arrived in New Haven during the Occupy Wall Street protests and encampment on the New Haven Green. Even after she graduated, she watched town and gown unite to call for racial equality on campus and change the long-suffering name of Calhoun College. She started canvassing with Unite Here, moving downtown when she returned for graduate school.
"I consider myself an activist, and I try to bring politics into my work," she said in a recent interview at the Arts Council's Audubon Street offices. "I feel like local politics are so under-represented. I voted in the primary, and later at school people were asking me what was happening. So part of the project is trying to engage with the local community."
There's a lot to take in in the final version, in which red and blue pages bookend a black-and-white trove of information. In the middle of the centerfold, like a beacon for those lost at sea, sits a symmetrical cartoon image of Henry Austin's nineteenth-century City Hall, zoomed in on its front windows and skyward-soaring details. A mix of bolded, sans serif type on the bottom of each page meets a paragraph in thick, dripping gothic scroll at the top.
"You have the opportunity to elect the next mayor of the city you call home: New Haven, Connecticut," it reads. "This broadside is designed to help you cast your vote, so take note!"
The broadside is entirely nonpartisan, urging voters to get to the polls without any suggestion of who to vote for. But Hwang said it has given her a chance to reflect—not for the first time—on the pull of local politics in a city she now calls home. As a voter herself, she said she thinks often about what Yale could be doing to better support the community, and will be bringing that with her to the polls on Tuesday.
"I think civic engagement is just paying attention to what's happening and noticing what's around you," she said.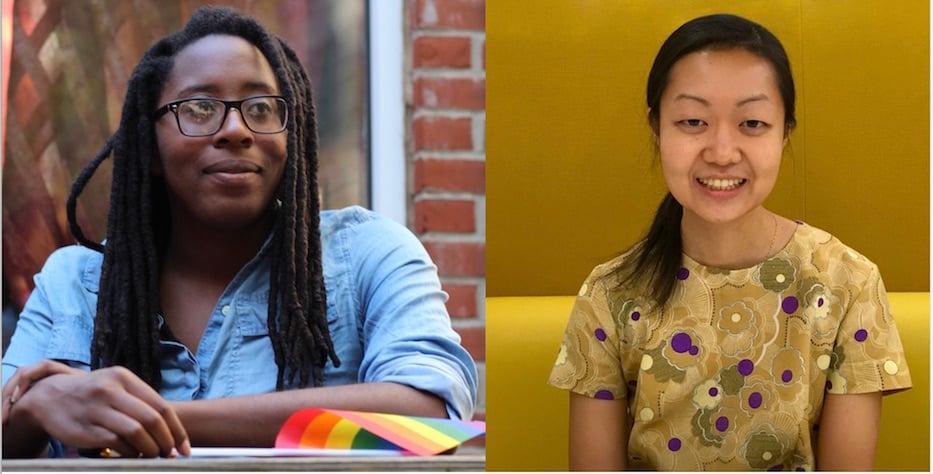 Amira Brown and Cindy Hwang. Lucy Gellman Photo (right) & contributed photo (left).
That's what Brown has also done, pulling from her experience growing up in the city and translating it to images that make one want to look closer. Inspired largely by graphic novels, her posters pull viewers in with popping, electric color and bright, blocky shapes, as if the artist has used a mix of old school photo collage and new school Photoshop.
In one (pictured above), four pairs of feet congregate on a clean sidewalk, grass mowed on one side as flowers bloom on the other. The longer one looks, the more details wink out: the shoes seem to suggest four stages of life, from stiletto heels to loafers accompanied by a cane, to Converses tied neatly at the ankle. In this line, business women of color rub shoulders with octogenarians and first-time voters who still roll their jeans in an effort to look cool.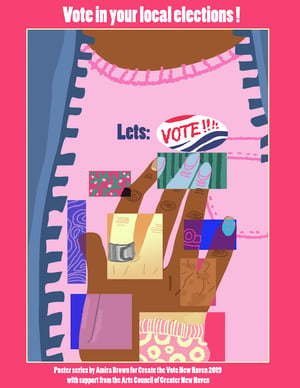 "New Haven is a reflection of the diversity in America, but I don't feel like I see it represented that often," Brown said in a recent interview at Koffee? New Haven. "This is who I see in my neighborhood."
For the artist, who considers herself an anarchist, the personal has become more political since November 2016, when the current occupant of the White House was first elected. On the morning after the presidential election, Brown recalled waking up and "thinking, 'yep. That happened.'"
Since, she has focused some of her work on social justice, activism and civic engagement, including a new work "Looking Homeward" in Sanctuary Cities and the Politics of the American Dream at Creative Arts Workshop. In it, a woman in hijab turns to face the viewer, a patchwork quilt of the American flag covering her face.
In a second poster for Create The Vote, the viewer gets to see some of that at work in action. Emerging out of a cut-and-paste jumble of shapes, a woman's hand floats to her chest, just beneath neat pink stitching on her collar. An unzipped jacket hangs on both sides like a frame. Her fingertips brush a red, white and blue oval sticker, bringing it to life.
"Vote!" it commands, as if shouting from where her breast pocket should be. A hanging "let's" beside it turns the words into a call to action: Let's Vote!
The hand, it seems, is many hands: blocks of color turn it white and blue-green, with flecks of pink and neon blue. One finger sports a thick ring; another suggests wrinkles, with squiggly lines that spread out like a spider
Like Hwang, Brown is also watching the election closely as a local voter. While she declined to say who she would be voting for, she said that education and jobs remain at the top of her list.