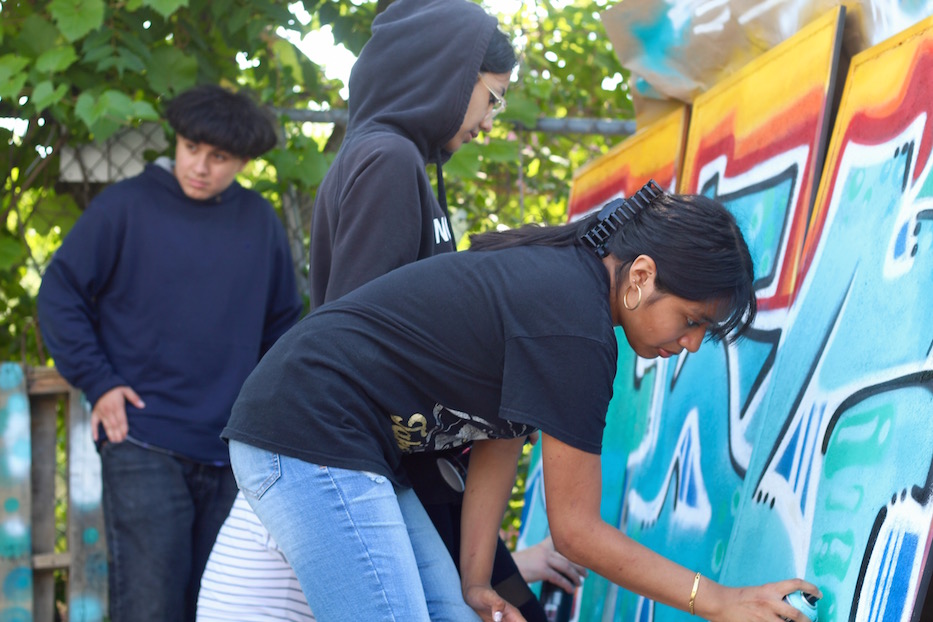 Education & Youth | High School in the Community | Public art | Arts & Culture | New Haven Public Schools | Wooster Square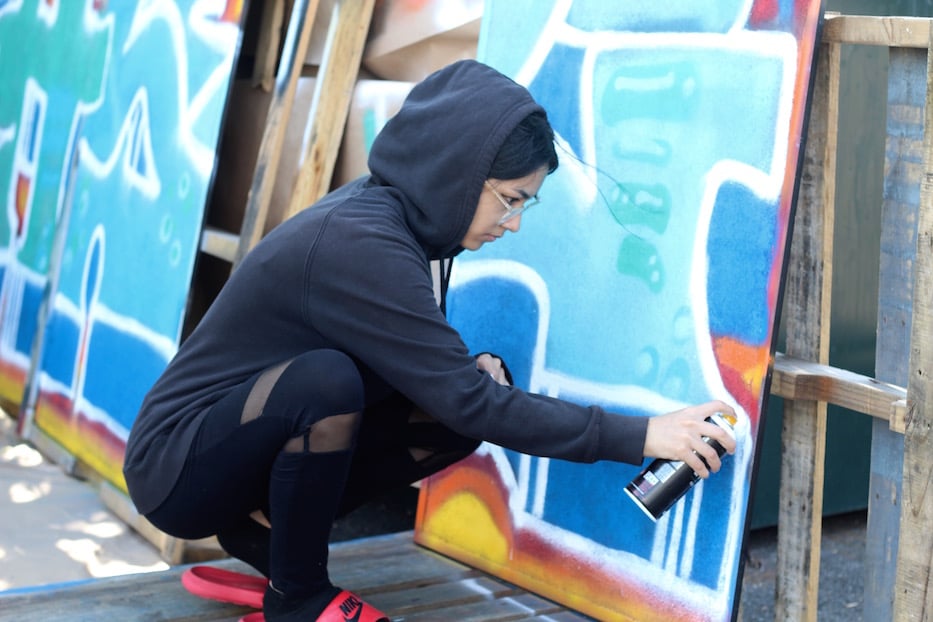 Alani Calderón outside HSC on a recent Thursday. Lucy Gellman Photos.
Alani Calderón crouched down with a can of white spray paint, and cautiously extended her right arm. As she steadied herself, her left knee hovered above a thick, undulating band of red and swipes of orange and yellow. She lifted a finger and pressed down, and a new line of white paint soaked into the cork board in front of her.
The morning's rising heat, the chatter in the distance, the cry of a nearby mockingbird all fell away. It was just her and the wet whisper of the can.
In the steamy, sizzling final weeks of July, Calderón was one of several students at High School in the Community (HSC) to join a new "Visual Leadership" course in murals, graffiti, and street art from artist and educator Win Vitkowsky and HSC visual arts instructor Nicki Vitale. Even as temperatures soared well into the 90s, students headed out to the school's sprawling parking lot to finish a new triptych emblazoned with the letters H-S-C. Once it is dry, the mural will live inside the school for years to come.
"The idea for this is for students who are either coming in or coming back to have a sense of pride and ownership in their school," said Vitkowsky, a co-founder and publisher of the Bridge and Tunnel Crowd newsletter who taught a similar course at Common Ground High School for years. "We talked about how with a mural, it's not always just for you."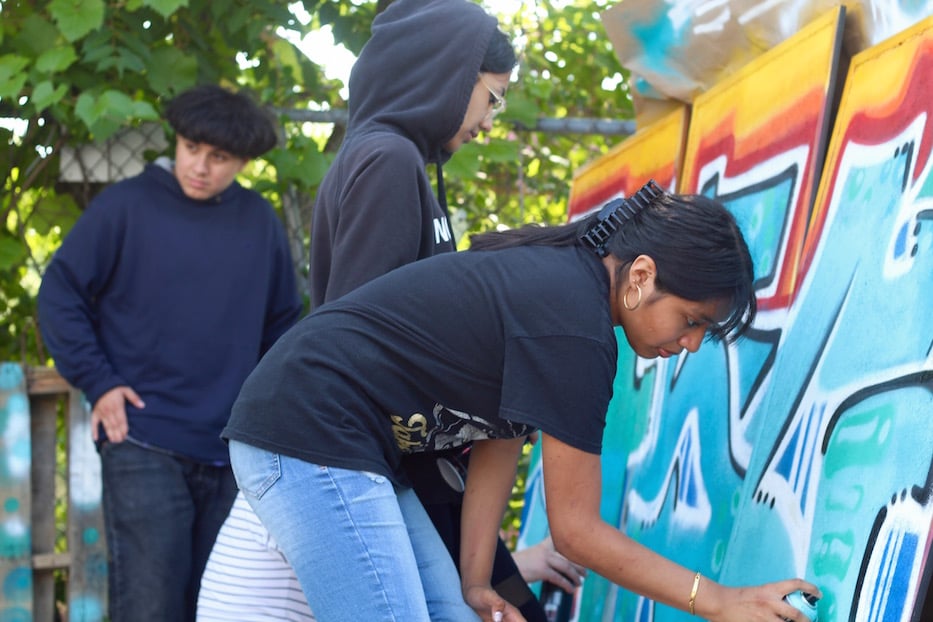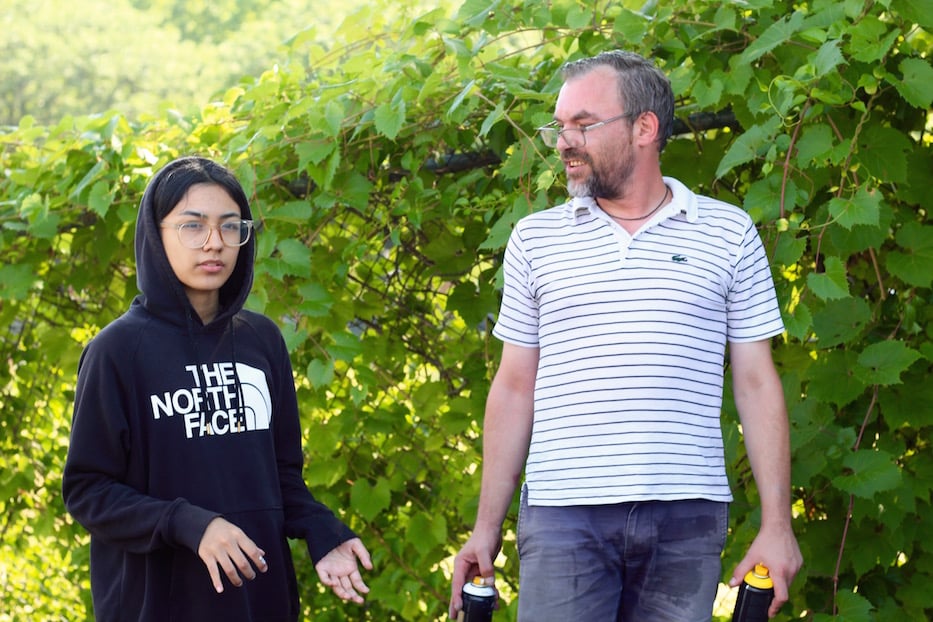 Top from back to front: Students Christopher Lopez, Alani Calderón, and Jhezzy Aguila. Bottom: Alani Calderón and Win Vitkowsky. Lucy Gellman Photos.
For two weeks, students both learned about the history of graffiti and jumped into the practice, painting outdoors on repurposed cork boards and indoors on old murals that needed replacing. Before embarking on a project themselves, they and Vitkowsky visited murals downtown, from homages to William Lanson, Sun Ra and the Asian American Cultural Center at Yale to work by graffiti writers King Bee, James Top, and Two Top outside Soul de Cuba Cafe on High Street. They practiced graffiti writing, talked about censorship in public art and music, and cooled off from the summer heat with screenings of the 1980s documentaries Style Wars and Wild Style.
When it was time to paint (or "write," for students staying true to the language of graffiti), students worked together to find a design that they were excited about, Vitkowsky said. The result is a rendering of HSC's three letters in turquoise, seafoam and night-blue with pops of red, orange, yellow, black and white. Student artists who worked on the project range from rising freshmen to soon-to-be seniors.
On a recent Thursday morning, three students gathered in a thick, nostril-burning aerosol cloud behind the school, finishing their mural before the final afternoon of the program. It was just past 10 a.m., and already New Haven had that kind of heavy, thick humidity that stuck to sun-warmed summer skin. Calderón, a rising senior at the school, pulled down the black sleeves of her sweatshirt, did a final mental calculation, and sank into a crouch. She eyed the mural's final H, sizing it up.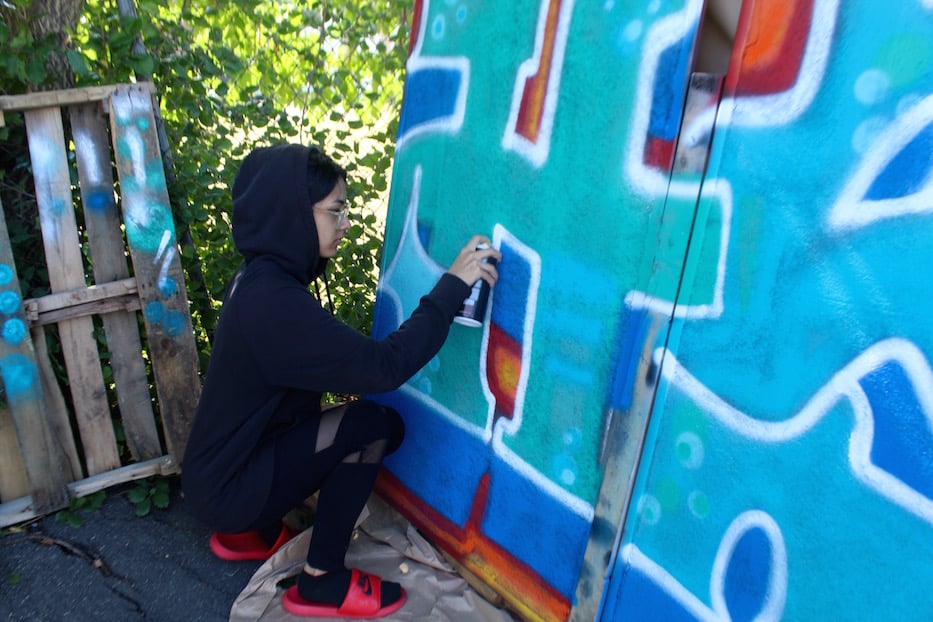 Student Alani Calderón.
"I like to draw because I find it really fun," she said before adding a streak of white that glistened in the sun. "It keeps me busy. I can't wait to see it in the school."
The program seemed like the right way to kick off her senior year, she added. For as long as Calderón can remember, she's been drawing around the house and in school, following in a long line of family artists that also includes her mother and grandmother. For her, the practice of drawing has become a way to relieve stress, particularly as she navigates a high school experience molded by the Covid-19 pandemic.
"It keeps my mind off a lot of stuff," she said.
She's "excited and a bit frightened" for her final year of high school, she said. As she inches toward that final year, the mural "is like a little signature, a mark" that will be there long after she has graduated. The form also comes to her easily; she helped classmates and artist Kwadwo Adae work on a mural of the Three Graces earlier this year on the second floor of the school building. Although the medium was different—aerosol instead of acrylic paint—it felt like a natural extension of the project.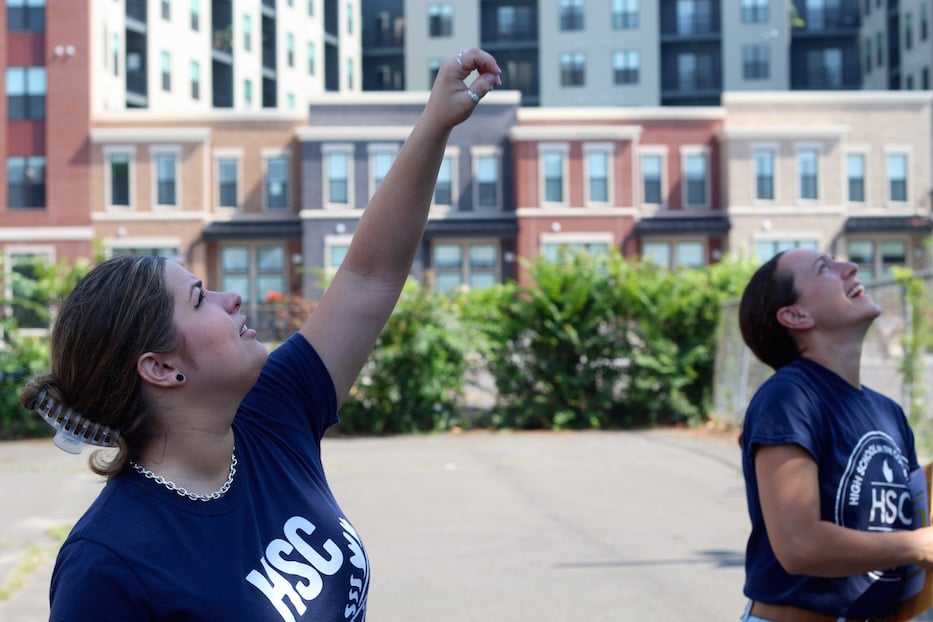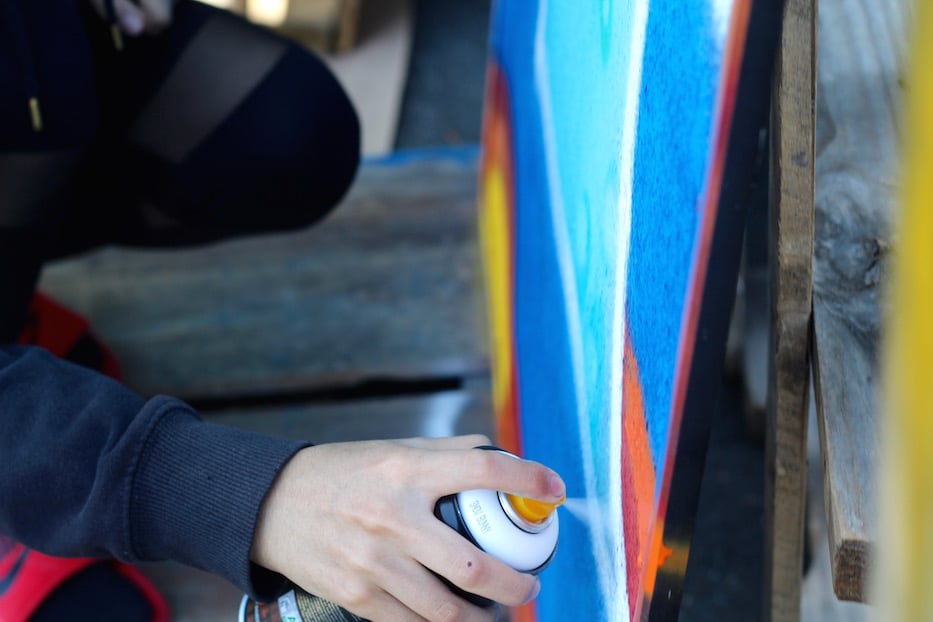 Top: Nicki Vitale and Dianna Carter. Bottom: Alani Calderón in action. Lucy Gellman Photos.
A mockingbird called out overhead, and Vitale looked up to where it was sitting on a branch, taking in the whole scene. Back on the ground, Jhezzy Aguila cocked her head to the side to study the evolving design. An idea worked its way from her brain down her face, where it tugged at the corner of her mouth. A bracelet slipped from side to side as she lifted her wrist with the thought.
"Can we add black?" she asked. "Like a shadow?"
Vitkowsky looked over the three panels, then carefully approached them with an aerosol can of black paint. He crouched close to the S and made a fast, curving movement with his wrist. The can hissed in assent. He took on the C, then added a few dots and flourishes to the H. Students responded in a language of head nods, unmasked smiles and satisfied murmurs of mmmm. Christopher Lopez, a rising freshman who had remained fairly quiet, stepped in to take a closer look.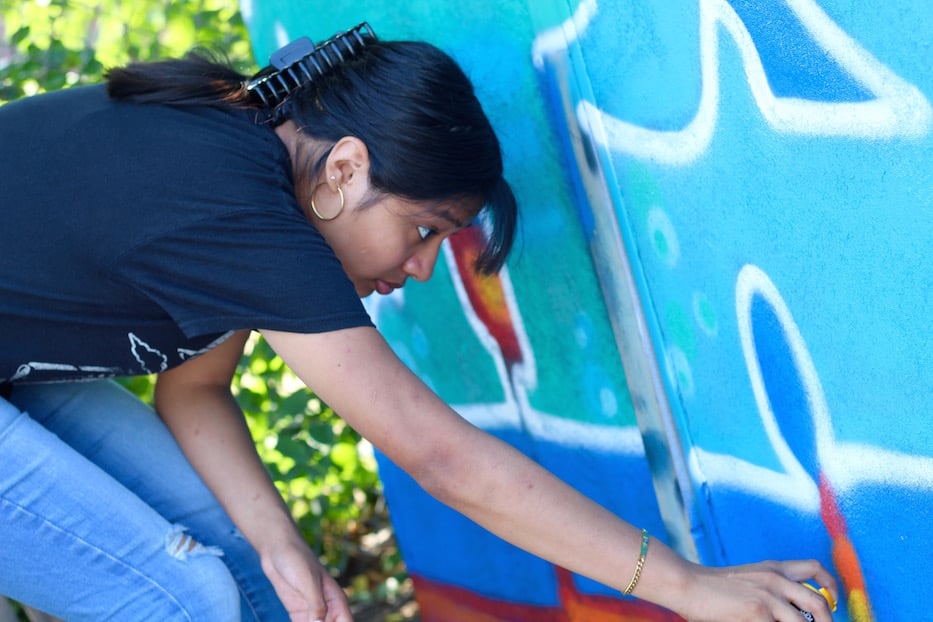 Jhezzy Aguila: "It [HSC] kind of feels boring from the outside, but on the inside it's beautiful."
A rising sophomore at the school, Aguila initially enrolled in the summer program because she didn't know what else might occupy her time during the summer months, she said. She has loved drawing and sketching since elementary school, and jumped at the chance to fill her time with artmaking. The longer she stayed, the more the project became a kind of meditation. Thursday, a can of white aerosol paint made a gentle click-click in her hand as she shook it before she made her final marks on the cork board. The surface, which students primed with a layer of silver paint, greedily drank in the new paint.
"I'm proud of HSC," she said, adding that each new work of art adds more warmth to the school and buoys the tight-knit student body inside it. "It kind of feels boring from the outside, but on the inside it's beautiful."
The program is part of an ongoing and largely student-led effort to beautify the school building, which has been in its current space at 175 Water St. since 1996. In a second floor classroom that The Future Project once occupied, triangles in yellow, teal, turquoise and navy blue now bloom across the walls, making the room feel like the inside of a kaleidoscope. Along the adjoining hallway, student have started painting over a multi-colored pattern of repeating hexagons, with the intention of extending the triangles into the space.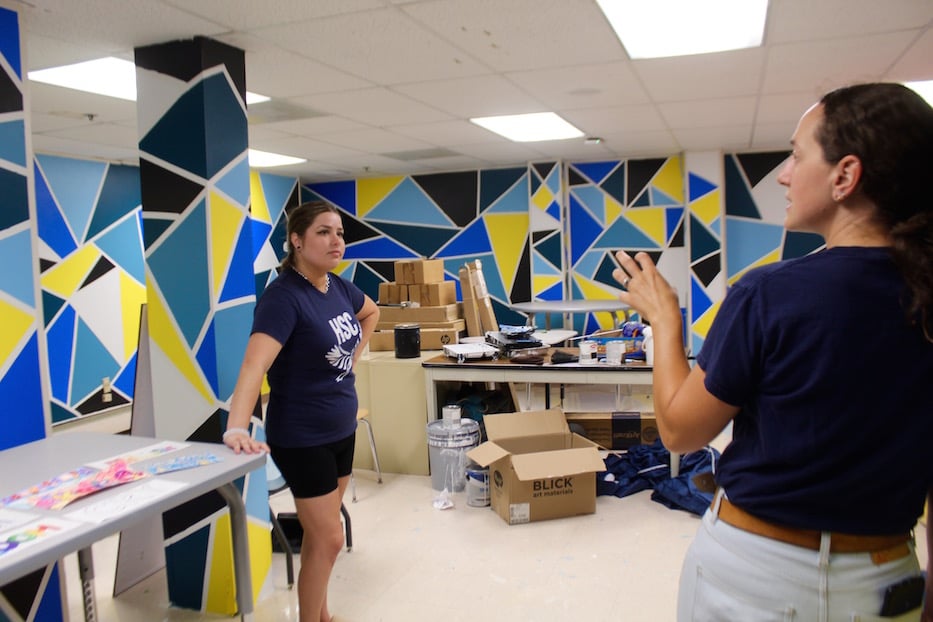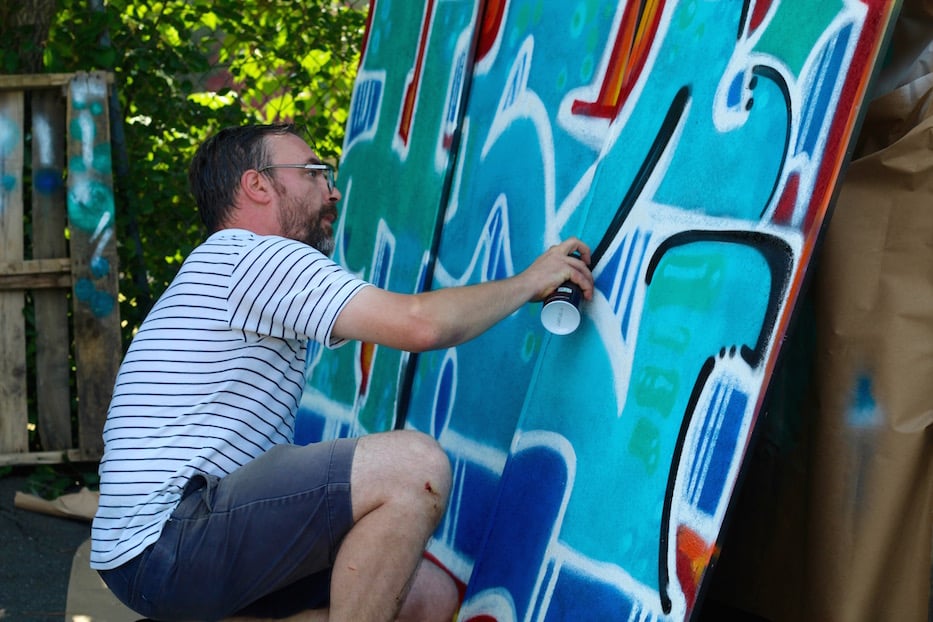 Closer to the school's front office, the nascent Three Graces mural is designed as a space for students to reflect and remember people they've lost, including to gun violence. It has taken on a personal tenor in the last year, following the sudden and unexpected losses of sophomore Will Vasquez and graduate John Tubac, both victims of gun violence. In just the five months that it has been up, Magnet Resource Teacher and AP Coordinator Dianna Carter has watched several students lay down the emotional weight they are carrying at the Graces' feet. When a student is overwhelmed, she counsels them to "give it to the graces," she said.
Even as the end of the year melted into summer, students continued giving their grief to the graces. At the end of July, a green scrawl in student handwriting still sat where it had first appeared in late May, commemorating the 19 students and two adults killed in Uvalde, Tex. Beside it, a grace's shield was emblazoned with tiny, delicate angel wings in the same green, so small they looked like seashells from far away. A third shield had turned into a kind of vigil, with text and photos that crowded the image.
That's part of the hope, said Carter and Vitale. When students leave their mark on the school, they're reminded that HSC will always be part of their academic journey. It is in those walls that friendships are built, lessons of all types are learned, and cultural milestones are celebrated. In other words, Carter said, it's a reminder that they are part of the fabric of the school even after they've moved on.
"The school [building]—it kind of needs some sunshine," Vitale said. "Public art is a way to do that."
To learn more about High School in the Community, click here. For more on public art in the city, click here. For the month of July, fellow HSC students also embarked on summer programs with Sanctuary Kitchen and MakeHaven.