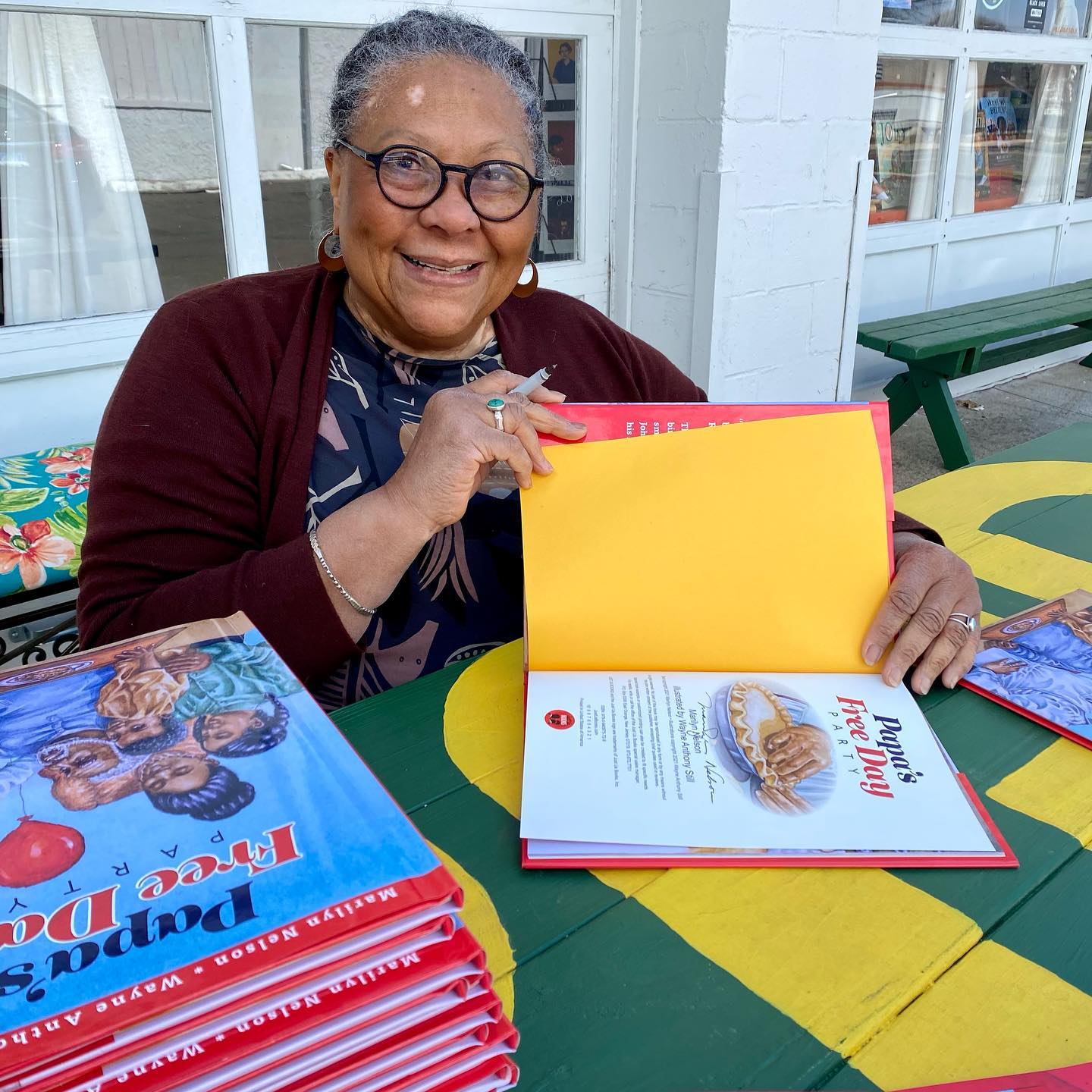 Books | Arts & Culture | Black Lives Matter | COVID-19 | Arts & Anti-racism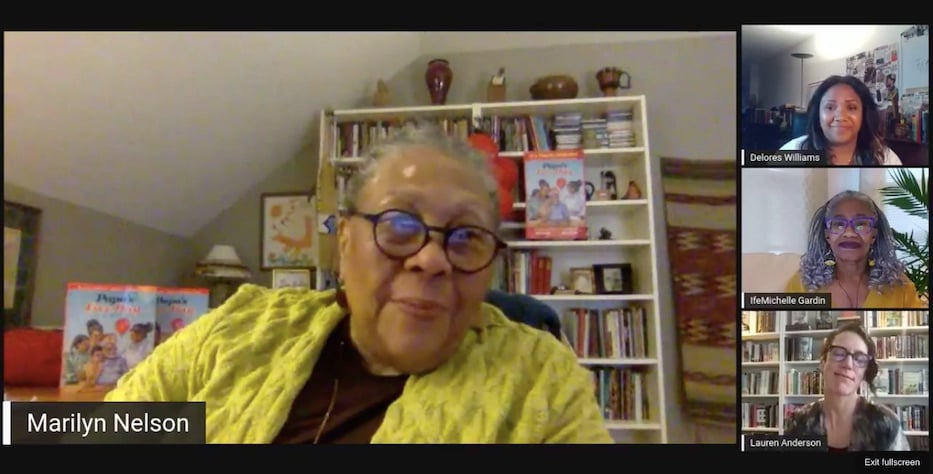 Screenshot via Facebook Live.
The story starts with a little boy running, guided by the light of the North Star. His feet pound the soil, terrified as they carry him forward. Behind him, a house burns against the engulfing black of night. A ghostlike figure rides off in the distance, white flowing from its body. Years later, when the boy is no longer a boy, his family struggles to understand why there are details missing from his past.
That real-life story graced New Haven last Tuesday night, as People Get Ready Books and Elm City Lit Fest welcomed poet and author Marilyn Nelson to discuss her new book Papa's Free Day Party online. Illustrated by Wayne Anthony Still and published by Just Us Books, the children's book tells the story of her grandfather's escape from Night Riders, upbringing in Missouri and move to an Oklahoma town that changed his life. For Nelson, who served as Connecticut's poet laureate from 2001 to 2006, it is a tale woven thickly with trauma, liberation, and legacy.
"It was a story I wanted to write because I think it's just a terrific story—as so many family stories are," she said. "I love family histories, and this is one which I had inherited in little pieces."
For years, those pieces have lived close to Nelson's heart. When the poet's grandfather was a little boy, Night Riders descended on his home, setting it on fire. The riders, a faction of white, militant farmers who terrorized the South, were driven by racism; Nelson's great-grandfather was a landowner who had once been enslaved. Her grandfather's parents shouted at him to run, and so he did. After days of running, a white man found him in their vegetable garden in Missouri—or so Nelson learned when she was growing up—exhausted and looking for something to eat.
The man, named Mr. Bryant, took him home to his wife where they raised him alongside their young son Cullen. During those years, Nelson's grandfather and Cullen became brothers, despite the country's practice of de facto segregation. But Nelson's grandfather's life was upended a second time, while he was working as a ferry operator in the town. After getting "in a disagreement" with white people who were passing through, he was forced to flee again. This time, the Bryants gave him money and put him on a train with livestock that was headed West.
It took him to Boley, Oklahoma, a "miraculous free Black town" that made it into almost every one of Nelson's mother's stories. Once there, he was able to buy and cultivate land, own a home, and start a family. In the book, Still richly illustrates the town's bustling main street, full of faces that look like the narrator's own. There is a joy in the words that is infectious, rising up from the page to meet the reader. Tuesday, Elm City Lit Fest Founder IfeMichelle Gardin held up the book as Nelson read.
"For the first time, I plowed my own land, I grew my own crops, and I slept under my own roof at night," she read in her grandfather's voice, with equal parts grace and wonderment. "I milked my cow every morning."
Because of his upbringing, Nelson's grandfather never knew his own birthday. Instead, his family celebrated the day of his liberation—his "Free Day." When Nelson was writing, she remembered her mother's story of making a pie with molasses instead of sugar, and watching as her father lauded the mess and lifted it into his mouth without hesitation. Tuesday, Gardin came with red balloons to fête both the book and the spirit of resilience behind it.
"Today of all days, we need to have a celebration of a book like this," she said. "There is history in this book, and there is history made today. I would be remiss if we did not recognize the verdict in the George Floyd case in Minneapolis. As we are relieved, we cannot sleep on it."
Nelson praised the Just Us Books team for helping her bring the story to fruition. Growing up, she "had these little pieces of story" that she had to knit together over several years. The Night Riders were one. The pie was another. Each time she sat down to write, the pieces knocked up against each other but never quite fit together. Then she met Cheryl Willis Hudson, one of the founders of Just Us Books.
Nelson explained her predicament to Hudson, who studied the manuscript. With a sharp eye, she began to move anecdotes around. She left some of the writing on the cutting room floor. She and Nelson enlisted Still, who worked collaboratively on a series of rich, detailed illustrations. While "there's still a missing piece" that never made it into the book—her grandfather's attempt to reconnect with Cullen later in life—Nelson watched the story take shape.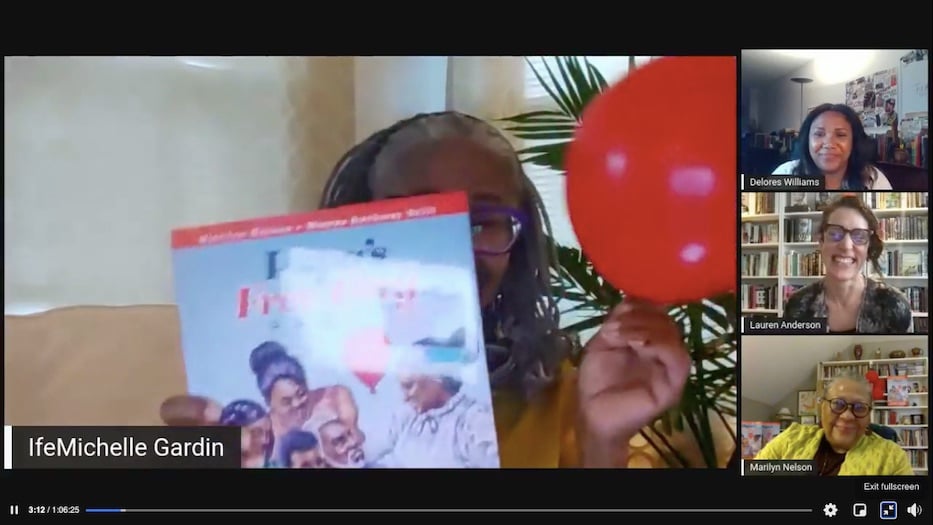 Papa's Free Day Party entered the world on April 20, the same day Derek Chauvin was convicted of murdering George Floyd in an act of state-sanctioned brutality, and the same day police murdered 16-year-old Ma'Khia Bryant in Ohio. As activists held a moment of silence for Floyd's family downtown, attendees at Nelson's talk pointed to how timely the story still is today.
"This is your grandfather, but your grandfather was a child at some point," said People Get Ready Co-Founder Delores Williams. "And we don't always think of our elders that way, and so it's just so important."
"There is so much trauma in the world that children are living with," Nelson responded. "I was starting to say, this is African-American history. Our history is so full of trauma. But it's not just our history. There are histories everywhere you look, that are so traumatizing it makes you wonder how people go on."
Writing the book also propelled her to dig deeper into her grandfather's history. She contacted the Missouri Historical Society in search of the Bryant family, and tracked down an obituary through which she was able to connect with living relatives. It was there that she learned that Bryant actually found her grandfather crying on the banks of the Mississippi River, and brought him home.
As she read excerpts from the story Tuesday, she flowed between the book and her family's history in Boley, which is a frequent presence in her poetry. As she read from her book The Homeplace, which is dedicated to her mother, she painted an image of Boley that rose up to meet listeners through their screens and in their homes. By the end of the talk, she had transported the audience far away from New Haven, to a little town in Oklahoma drenched in history.
Then she brought them back to Connecticut. Nelson is currently working on a series of poems for a chapter of the Witness Stones Project in Old Lyme. The project focuses on the lives, legacies, and untold stories of people who were enslaved in Connecticut in the eighteenth and nineteenth centuries. She is working with fellow poets Antoinette Brim-Bell, New London poet laureate Rhonda Ward and Kate Rushin, as well as historian Carolyn Wakeman, to tell some of those stories in lyrical form.
She ended Tuesday's reading with a new poem "Sorrow Food," dedicated to a woman who was "tricked into selling her freedom" and her children by a white slave owner. As she read, history coursed through the words, tracing a line from white terrorism in the South to enslavement in Connecticut to police brutality today.
"There's so many stories like that, of so many slaves throughout New England," Gardin said afterwards. "So many places throughout New England that slaves were or ran to, that right now no Black people live in or have property in. We're not there. And the Black people that are within, the African-American people that grew up in Connecticut, don't even know or realize. So this project that you're working on … is so very, very important."
Listen to the full conversation, including a reading of "Sorrow Food," above.