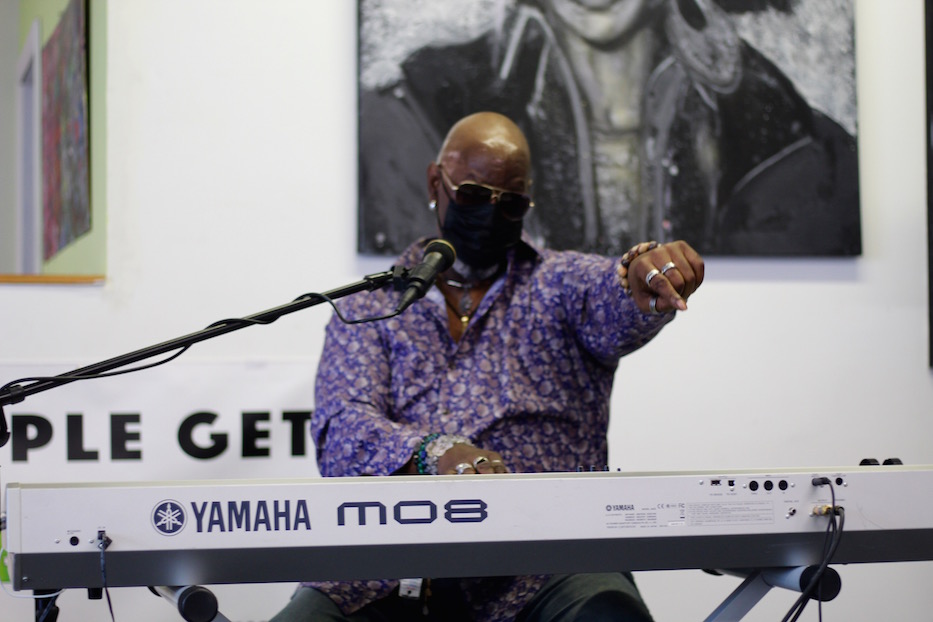 Books | Music | Arts & Culture | New Haven Free Public Library | Whalley/Edgewood/Beaver Hills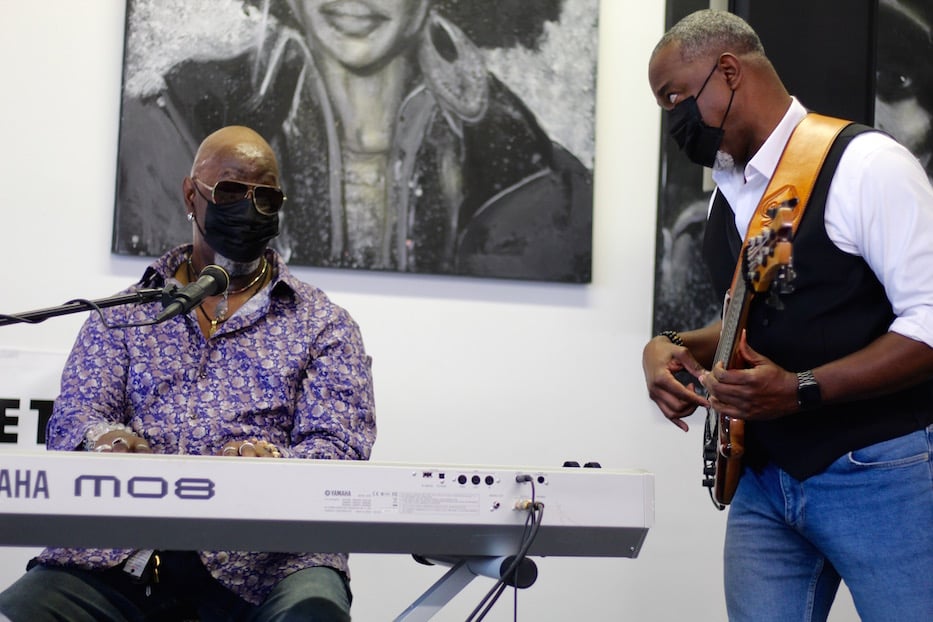 Lucy Gellman Photos.
Chris "Big Dog" Davis was radiating light against the low-hanging grey sky and threat of afternoon rain outside. He rocked back and forth, his fingers taking their time on the keys. On one side of him, Dawn Tallman released a songbird from her throat, and turned an old building into a low-lit jazz club. On the other, Ace Livingston leaned in, and filled the room with undulating bass. He smiled at Davis, eyes crinkling at the corners of a black medical mask.
Sunday afternoon, Davis joined forces with People Get Ready Books and Stetson Library for a Covid-cautious performance of his new single, "Heal The World" at an extension of the Whalley Avenue business. Performing for a handful of friends, family, and fans, he banished the wet weather with Tallman and Livingston, both of whom appear on the single.
The song is meant to be a balm and a call-to-action for the world that the musicians—and by extension, their listeners—are currently living in. Sunday's show featured two performances, to control for audience size.
"I can't heal the world, but I can bring music to it," Davis said. "That's what we really are all here for. Is to heal the world. And after we finish healing the world, we gonna change the world."
Davis wrote the song last year, during a recovery from stage four lymphoma that was also the inspiration for his 2020 album Focus. As he watched a divided country battle twin pandemics of Covid-19 and systemic racism—all during his own cancer treatment—he thought about "what we need right now," he said. His answer always came back to healing. His love for the piano, long production history, and mental rolodex of musicians were his tools.
In the finished track, a staggered, punchy and echoing drumbeat brings a listener in, immediately asking them to move their body in time with the music. Davis tickles the keys, then takes a deep dive, fingers lingering on some notes and resting just seconds on others. Livingston responds, his bass ready for a conversation. Tallman's vocals are buttery, slipping over keys and bass. Heal the wooo-r-ld, she sings, and it becomes a meditation and a prayer all at once.
Sunday, the audience welcomed musicians from chairs that had been placed several feet apart before a makeshift stage. In an adjoining room, titles on Trombone Shorty, Tina Turner, Lil Nas X and Nipsey Hussle sat out on tables, waiting for readers who might bring them home. Stetson Branch Manager Diane Brown and People Get Ready Co-Owners Lauren Anderson and Delores Williams buzzed around answering questions. When they introduced Davis, the room burst into applause and a few cheers. Phones came out one by one, waiting to press record.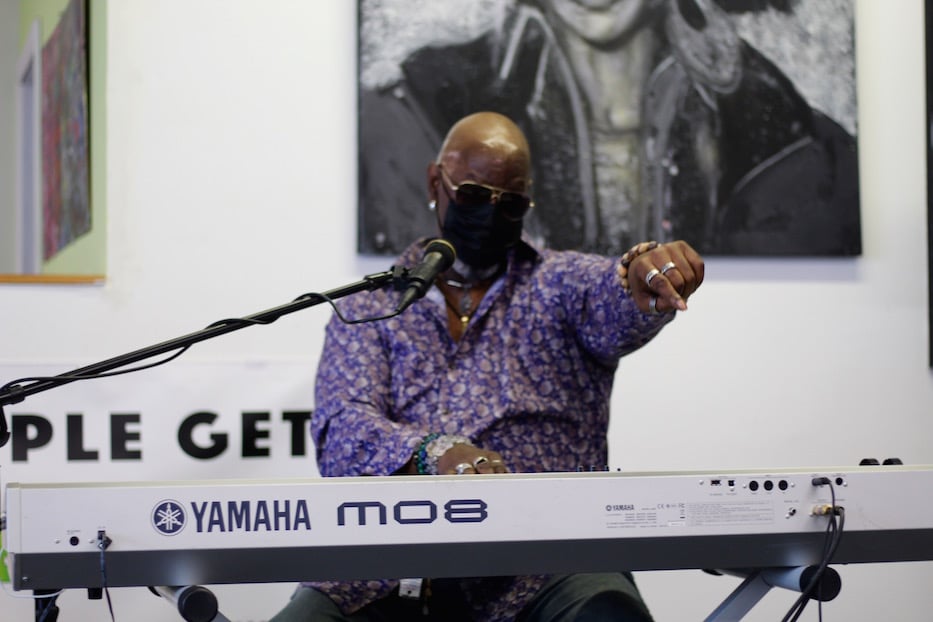 "I like this kind of vibe," Davis said to the intimate, masked audience as he introduced musicians. His fingers hovered over the keys, charting a well-worn map. A starburst in green and blue paint exploded dramatically behind Tallman's head. Livingston nodded to Davis, his eyes wide. To a shoulder shrug and raised eyebrow, Davis responded with a flurry of notes.
From the moment the three launched into The Stylistics' "People Make The World Go Round," they set a tone dedicated to healing, one note at a time. Davis melted right into the piano, as if the instrument were suddenly an extension of his body. On bass, Livingston sprang into motion, leaning in toward Davis and nodding to shouts of "yes, yes!" as he played. On the mic, Tallman eased into the song—But that's what makes the world go round/The ups and downs, the car-o-usel—then made it her own.
The longer musicians played, the more audience members slipped back into the familiar crosstalk of live performance. Cries of "Yes!" and "C'mon!" "Go 'head now!" floated through the air during each piece. In Davis' large, ring-adorned hands, the space—once an auto-body shop and garage, and later home to the nonprofit Music Haven and the experimental school Beacon Self-Directed Learning—became a fully fledged DIY music venue.
As the musicians flowed from The Stylistics to silky, circa 2010 Walter Beasley, audience members swayed in their seats. When Davis introduced "Heal The World," many clapped at the mere mention of the song. Since its formal release earlier this year, it has received tens of thousands of plays across the globe.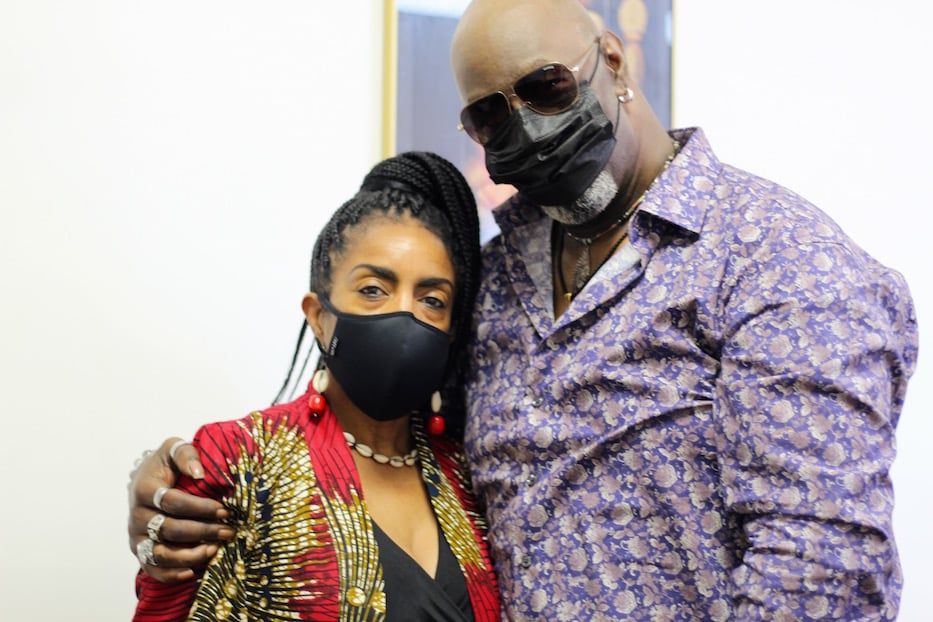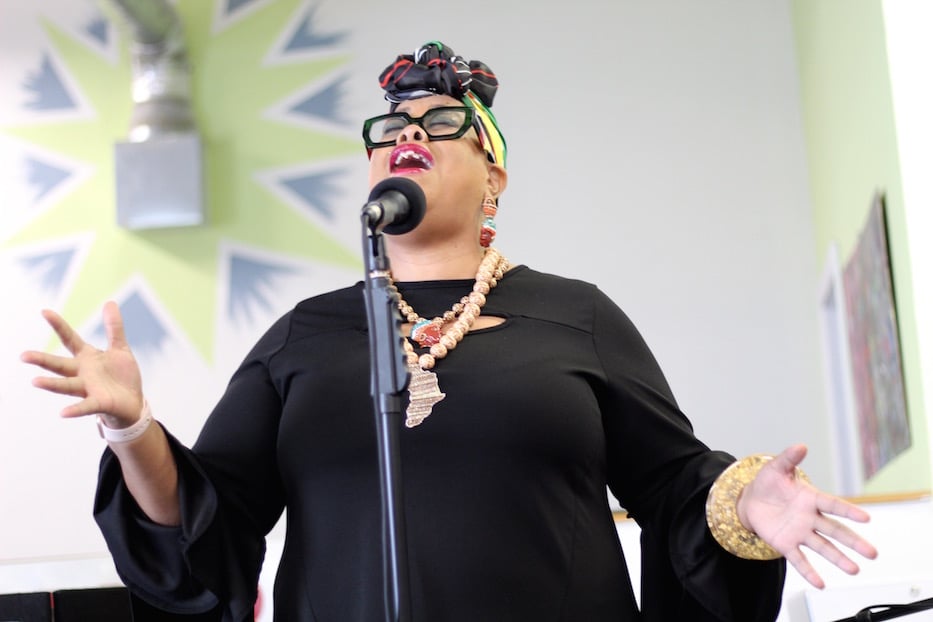 Top: Davis and Stetson Branch Manager Diane Brown. Bottom: Tallman takes the audience to church with her cover of "True Colors."
Sunday, the musicians performed as though it were their first time with the finished piece, their excitement crackling in the air. No sooner had Davis flipped on the backing track on his computer than the whole group was in motion. Behind the mic, Tallman let the music electrify her whole body. She rolled her shoulders, arms and hands in time with the beat. At an explosion of synth, Davis cocked his head at Livingston like an invitation. Livingston answered with his whole body, the instrument twanging as he locked eyes and played on.
When they weren't looking at each other, they looked out into the group, where a handful of New Haveners smiled back beneath their single and double masks. Attendees moved to the music from their chairs and spots standing against a back wall. Williams, who has two young kids, danced at a social distance with her son's arms wrapped in hers. By the end of the song, they were cheering along. A few stood, not for the last time in the hour-long performance.
While joking that "it gets lonely up here" during some of his solo work, Davis also gave fellow musicians time to shine. Towards the end of the set, Tallman returned to the mic with Billy Steinberg and Tom Kelly "True Colors," a song that she covered on her 2019 album For Me. Before taking the audience to church, she said that the song hits differently after 13 months of fear and isolation during the pandemic. Multiple times during the piece, she lifted her face to the sky and belted as tears rolled down her cheeks.
"Chris is an amazing producer, friend, and person," she said. "This song, it's me letting you know I'm here. I'm a phone call away. I see you."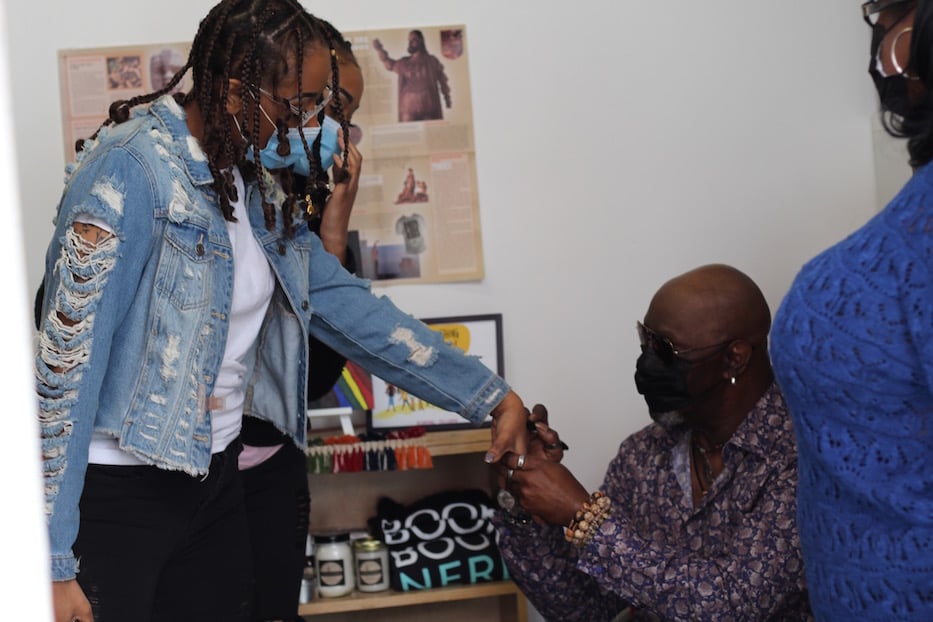 Davis with his granddaughters after the show.
The release comes as the musical world is starting to open up around him. Davis, who has been producing and writing throughout the pandemic, said he's excited to get back to live performance. Before he was sidelined by both cancer and Covid-19, he was used to touring for much of the year. He spent whole portions of 2020 in a hospital bed, and later convalescing at home. During his set, he dedicated his song "Caregiver" to his sister Carolyn Ellison, who cared for him when he was too weak to care for himself.
"A year ago, I was fighting for my life," he recalled, adding that it was the second time he has battled lymphoma in less than a decade. "I was like, I'm good. My sister, she was like 'Nah. You're gonna have to fight.' They've got this chemo that is out of this world. It's too heavy for human beings. It takes a special kind of person to be fussing at you all day."
He's not the only one ready to welcome people back to a new normal, even if it includes masks, elbow bumps, and several feet of distance. This summer, Stetson plans to open its doors at the new Dixwell Avenue Q House with a new, 23,000-book collection dedicated to the African Diaspora. Branch Manager Diane Brown, who has hosted Davis' Christmas concerts at the library since 2016, said that she's ready to bring music back to the library. Last December, Davis performed virtually for the International Festival of Arts & Ideas because performing in the library or in person was not an option.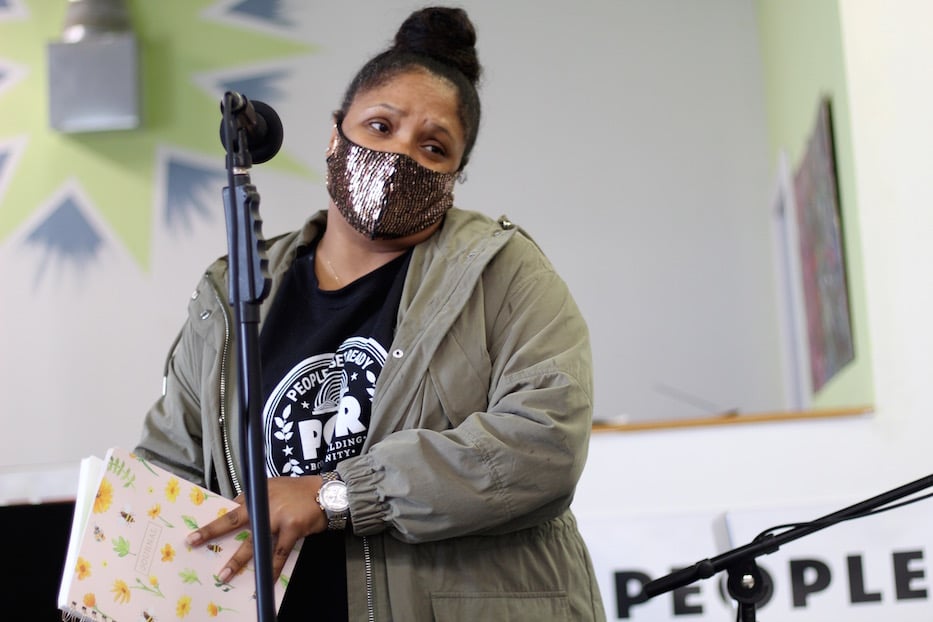 Williams.
After a year of online ordering and book delivery by bike, People Get Ready is also looking at reopening for limited browsing in its warm, bookshelf-lined pocket of Whalley Avenue. Sunday, Williams praised the power of community coming together, which was the initial vision for the bookspace when it opened two years ago. Even during Covid-19, People Get Ready has continued its work through a virtual read aloud program, online book club meetings, and an affinity group for moms of color that Williams leads.
Williams added that she saw the concert as a full circle sort of healing moment. Since childhood, she has known Brown as "Auntie Diane," a term of endearment that Brown picked up after Williams' mother mentored her at the Connecticut School of Broadcasting. Sunday's concert may be the first of many collaborations that Stetson and People Get Ready embark on this year, and in the years to come.
"That's the beauty of New Haven," Williams said. "The relationships that perpetuate legacy and build community."