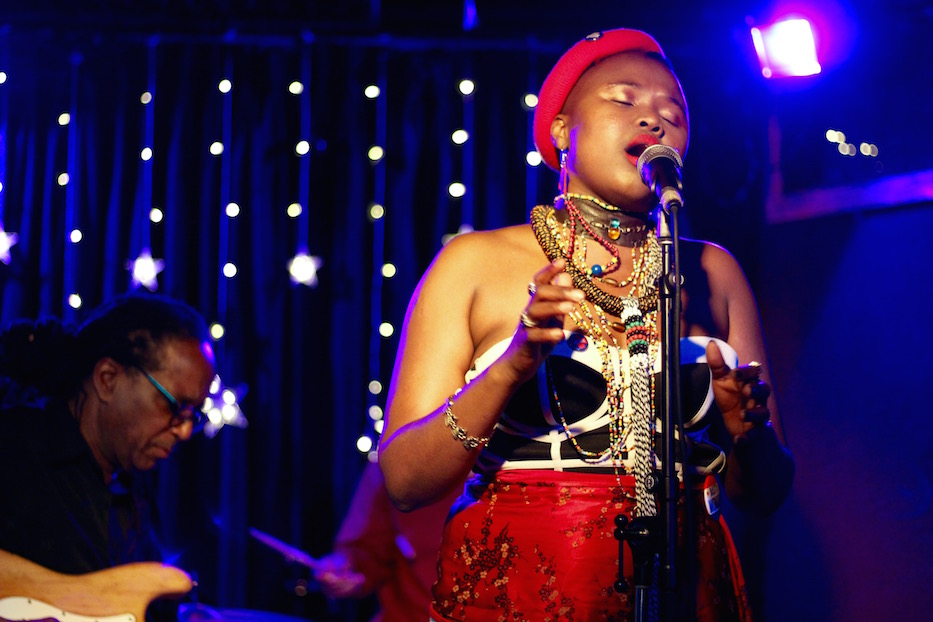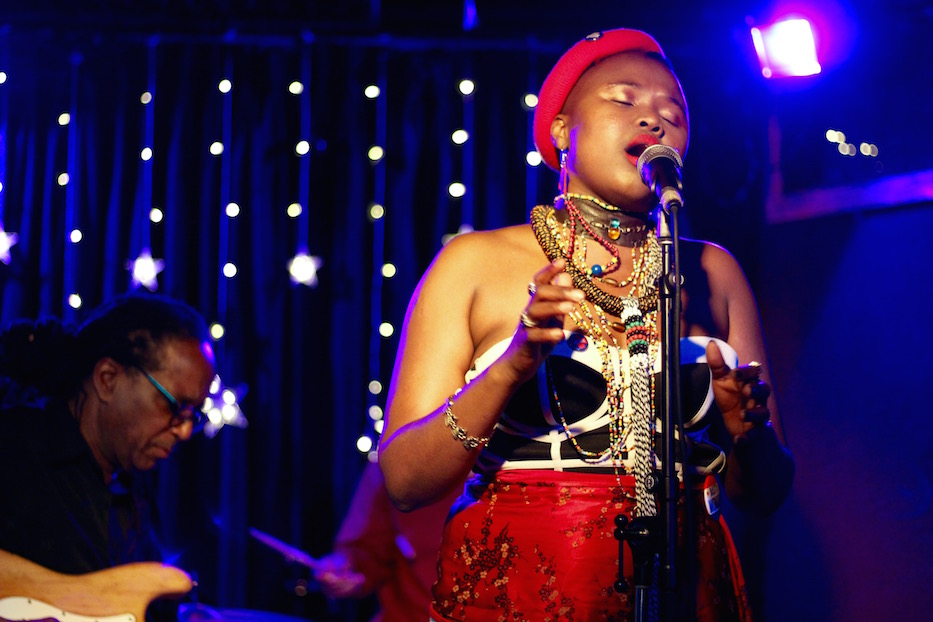 The musician Thabisa, who is based in Westville, has been awarded $4,000 for a musical project around immigration. Lucy Gellman File Photo.
Six New Haven artists, several New Haven arts organizations and at least one public art project will be bringing new work to the city, thanks to the most recent round of arts funding from the state.
That news came Tuesday afternoon from the Connecticut Office of the Arts, in a major announcement of 193 Fiscal Year 2020 grantees. This year, the Office of the Arts awarded four specific types of grants: their unrestricted supporting arts grants, regional initiative or REGI grants, project-based arts project grants, and arts learning presentation grants. This year, all applications followed the state's READI framework, which evaluates a project on relevance, equity, access, diversity and inclusion.
"We made the application shorter this year, put it in layman's terms and really tried to break the language barrier," said Adriane Jefferson, arts program associate and special programs coordinator with the Office of the Arts. "I think what's amazing is it really allows for people who are not the usual applicants."
"This year was one of the most diverse years for young people, particularly young people of color, for first-time applicants, and smaller organizations," she added. "I saw the increase and I thought it was a beautiful thing."
Among recipients across the state, grantees include small museums and creative incubator spaces, workshops and theaters, symphonies and music collectives, and individual teaching artists in music, visual arts, theater, and public health.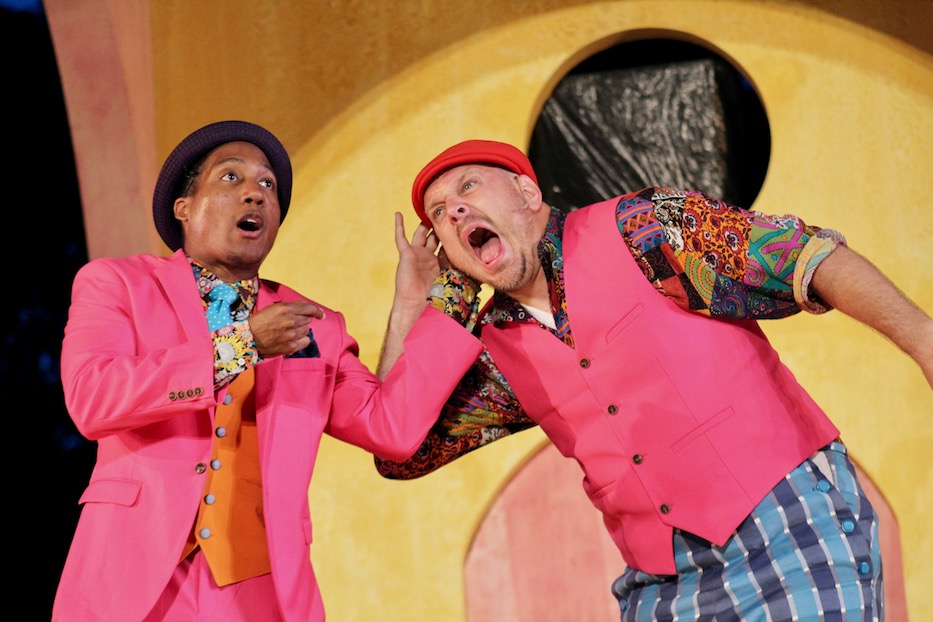 KP Powell and Benjamin Curns in Elm Shakeseare's The Comedy of Errors earlier this year. Elm Shakespeare Company has been awarded $5,950 in supporting grant funds. Lucy Gellman File Photo.
In New Haven, ten supporting grants will provide funding to the Amity Teen Center, Architecture Resource Center, Artspace New Haven, Creative Arts Workshop, Elm Shakespeare Company, New Haven Ballet, New Haven Chorale, New Haven Folk, Orchestra New England, and Style Tinalia, an artisan Co-Op run out of the MakeHaven space at 770 Chapel St. An eleventh will also go to Arts For Learning Connecticut, which has jumped on several public art projects in New Haven but is based in nearby Hamden.
Four project grants (read about all 28 here) will fund specific initiatives and exhibitions at the Ely Center of Contemporary Art, Cornell Scott-Hill Health Center, New Haven Pride Center and Yale Undergraduate Jazz Collective, with awards of $12,000 to the first three and $4,000 to the third.
In a phone call Wednesday afternoon, New Haven Pride Center Executive Director Patrick Dunn called the grant, which will go toward programming for PRIDE New Haven, "a significant investment in New Haven's queer community."
And it is: for what appears to be the first time in the state's history, an Office of the Arts grant has gone to an exclusively LGBTQ+ organization for cultural programming.
"Above and beyond, it's the recognition that an LGBTQ+ Pride event is on par with other cultural and heritage festivals around the state," Dunn said Wednesday, "It's a confirmation that we are just as valid and have as much right to exist."
Another project grant will go toward building out "The Collision Room," a months-long installation, multimedia studio, and rotating gallery up during the exhibitions Extra (March 2020) and Almost Human (May 2020) at the Ely Center of Contemporary Art. In a phone call Wednesday afternoon, board member Valerie Garlick called the room a "central connecting point" that mirrors the center's long history and current role in the arts community.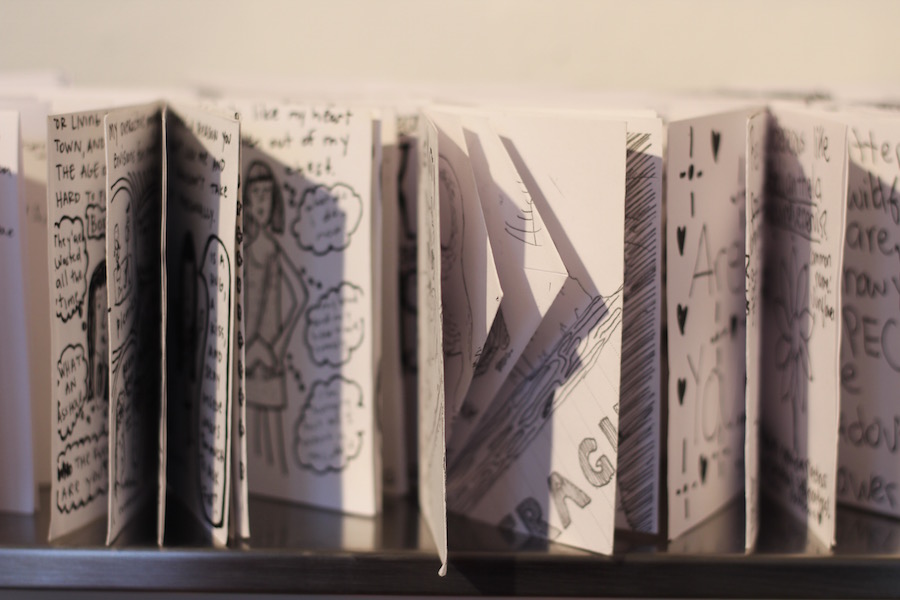 A still from the Our Bodies Ourselves exhibition at the Ely Center earlier this year. Lucy Gellman File Photo.
"Two terms that came up in our brainstorming sessions were 'node' and 'cross-pollination,'" Garlick said in a conference call that also included artist and Gallery Director Debbie Hesse. "We see artists, viewers, community members using the space … that's the work of being a node and inviting everybody in."
"The Collision Room will create synergy between artists and communities, fundamentally taking shape as an opportunity for dialogue between diverse creative interests speaking from a variety of social-political backgrounds," reads the initial grant proposal for the project.
In addition, seven New Haven-area REGI grants have been awarded, with six in New Haven and one in Hamden (read about all 46, totaling $155,850, here). Among awardees are educator and New Haven Academy co-founder Meredith Gavrin, theatermaker and public health advocate Taiga Christia, musician and producer Aaron Rogers of The Breed Entertainment, musician Thabisa, and social action groups Junta For Progressive Action and the Mill River Trail Advocates.
Many of this year's REGI recepients expand existing arts programming. In the coming months, Junta will be putting the $4,000 toward their annual Fiesta Latina, held in conjunction with the Peabody Museum of Natural History. Members of the Mill River Trail Advocates plan to use the funding for their ongoing Brilliant Underpass Project on Humphrey Street. Christie and a creative team will be revising and restaging Counting Pebbles, a play at the intersection of mental health, social justice, and the American healthcare system that ran in New Haven earlier this year.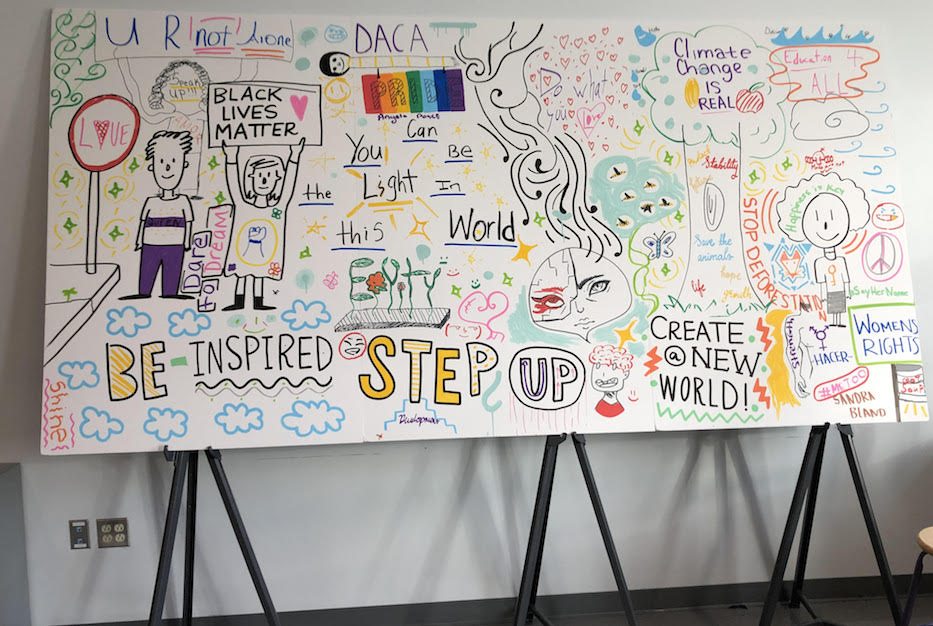 An Art + Activism drawing students at New Haven Academy did with the artist Constanza Segovia earlier this year. Meredith Gavrin Photo.
At New Haven Academy, Gavrin will be using $1,780 to expand "Art + Activism," an after-school program intended "to connect the arts with the civic engagement and social justice theme of school," she said. After piloting the program with after-school sessions and studio visits last spring, she said that the funds will allow Art + Activism to grow with a dedicated budget for travel, supplies, and a part-time facilitator.
She pointed to the program as especially salient after the state's 2018 decision that students could not attend two magnet schools at the same time, making it untenable for students who wanted to attend both New Haven Academy and the Educational Center for the Arts. For those who chose to stay on at NHA, she said she wanted to provide an interdisciplinary look at the arts that went beyond the school's arts electives.
Even in the program's beta phase, students visited artists Titus Kaphar, Susan Clinard, and Kwadwo Adae among others.
"There are projects that kids do that are driven by exploring some skill and some social issue, and we try to use the opportunity to expose them to artists in the community," said Gavrin. "Artists who do have those themes in their work."
Other artists plan to use the funding to give back to the community that has nurtured them. Rogers (pictured at left), who co-founded The Breed Entertainment in 2009 with Rashad Johnson, is currently working toward nonprofit status for The Breed Academy Music Production and Music Business Program, a teaching program in arts, entertainment and production designed for young New Haveners.
Raised in the city's West Hills neighborhood, Rogers has gone on to hold a career as a Grammy-nominated producer. With the Breed Academy, he said he wants to bring what he has learned back to the city's kids.
While the $4,000 from the grant is not enough to establish a brick and mortar space (he does already have recording studios in Amity and Hamden), he called it a huge step forward for the nonprofit.
"As you know, New Haven is a lot of minority kids," he said. "Knowledge gives people confidence. When you don't know what's going on, what to do, people write you off ... I want to put these kids in positions where they can know that they're talented."
"This gives me the opportunity to give kids a spark," he added.
Church Street School, in nearby Hamden, will be using an awarded $4,000 to work on a mural project on the building.
Wednesday afternoon, Director of Arts, Preservation and Museums Elizabeth Shapiro said that the Office of the Arts was, and remains, excited to see the work that comes out of all of the grants.
"The Office of the Arts is so proud of the community of artists, educators, arts service organizations and art-makers and presenters," she wrote in an email Wednesday afternoon. "Your range of creativity and dedication is an inspiration. You love what you do, and you make every dollar (every dime!) count."
"And thank you to our partners across the state, and to every creative who served on a grant panel. Your preparation, expertise and thoughtful evaluation is critical to the grant-making process," she added. "Let's go arts!"