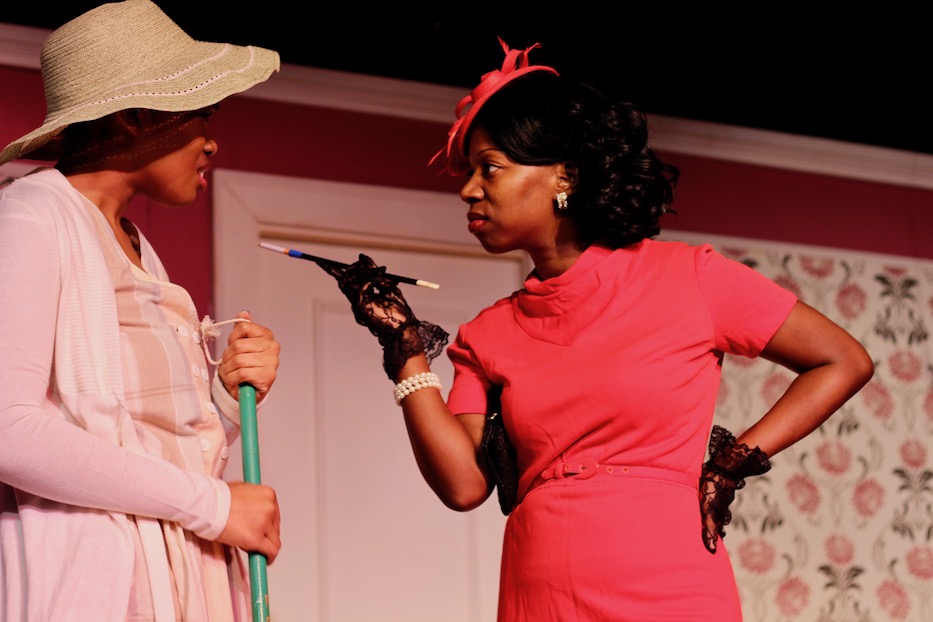 Reporting from the road | Arts & Culture | Theater | Sharece Sellem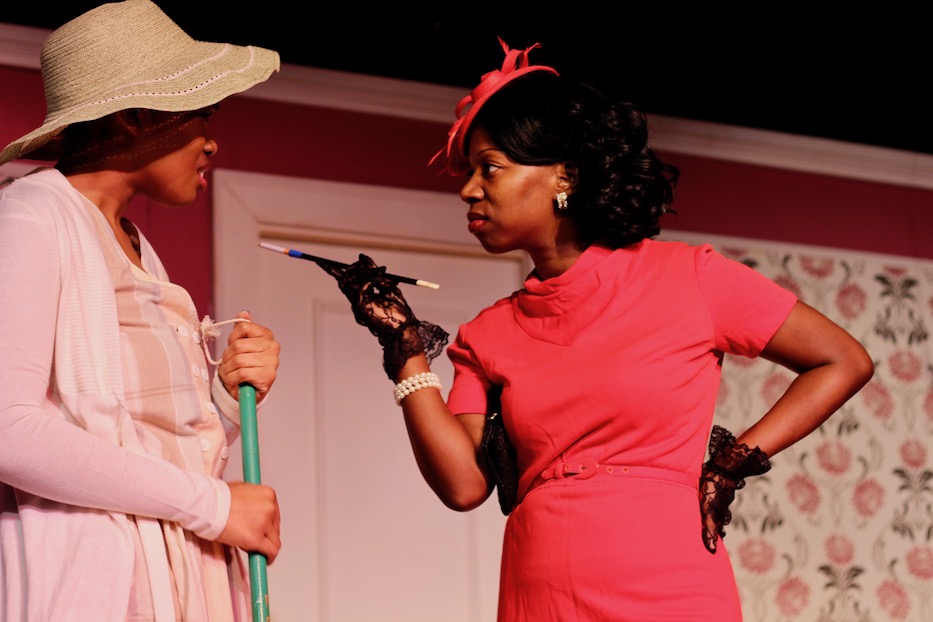 Jacque Simone Brown and Valerie Brookshire in Daisies On Harlem's Doorstep. Lucy Gellman Photos.
Can and Charlie come barreling through the door, bubbling with laughter. Charlie is smooth, with wit and spice at her edges; she hardly notices the Southern belle standing in the corner. Can, dressed in suspenders and a jacket, begins to unbutton her shirt and unbind her breasts. Daisy looks on. Her eyes are huge and soft.
Outside, the twenties are roaring. Inside, Charlie and Can try to figure out what this girl is doing in their space. And she, in return, has to get a lay of the land before it gets the best of her.
This is the world of Daisies on Harlem's Doorstep, a new work from New Haven playwright Sharece Sellem that premieres at the Norwich Arts Center this weekend. Written by Sellem and directed by Rob Esposito and Briana Dawson, the play runs Friday through Sunday in Norwich. The cast has been rehearsing each week at Bregamos Community Theater in Fair Haven.
The premiere is a collaboration between the Norwich Arts Center and Sellem's company Vintage Soul Productions. She is still looking for a New Haven home for the work, which comprises a majority New Haven cast and crew.
"I'm excited for the show," she said after a recent rehearsal, driving over an hour to get home to New Haven. "I just want people to come and have a good time."
Sharece Sellem, who has been working on the play since 2018.
Daisies on Harlem's Doorstep tells the story of Daisy (Jacque Simone Brown) as she lands in Harlem with her baby sister Chrys (short for Chrysanthemum) with a single shirtdress and accent that sounds like sweet tea. She has come all the way from Atlanta in search of her older sister Rose, who left home when she was still young. All she has is an old letter from Rose, a handful of dreams, and a name that conjures the sweet, silk-colored petals of a flower that is surprisingly complex.
When the audience meets her, she has been scooped up by Gilly (Jeanika Browne-Springer), a woman who is deaf and mute, and also happens to be an alchemist. As Daisy eases into the house, Gilly creates prohibition-era elixirs and warm, fresh baked goods that make magic in this cold, uncertain world of twentieth-century New York.
Where she goes, magic always seems to follow—Browne-Springer doesn't need to speak a single word for the audience to know exactly what her character is thinking.
Around the two of them, a whole universe blooms. The audience meets Charlie (a fiery Toneill Watkis) and Can (Versatile Poetiq), who wear their survival like a second skin. Both contain multitudes: Charlie trusts her agency and her body, but also seems afraid of what both are capable of. Can is navigating her way in the world as a queer Black woman, with a sense of code switching and non-binary gender identity that tears the capital H clear off of the history that's taught in most classrooms.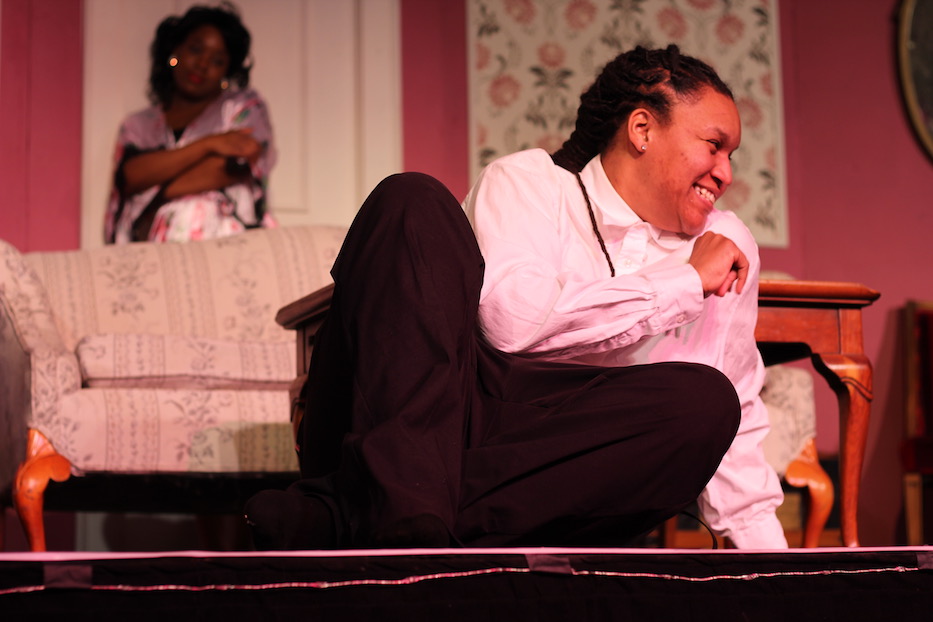 Versatile Poetiq as Can in Dasies On Harlem's Doorstep.
She is, from the moment we meet her, an indication of the queerer, more vibrant, more rounded version of the Harlem Renaissance that is still not fully taught in schools. Her voice—which is a poet's voice, and also a rich alto—rolls over the audience, and they are hooked.
There's also Red (Valerie Brookshire), a fast-talking, fierce madam who makes sure that the women who work for her have complete control of their bodies—even if she has partial control of their checkbooks. Every word that comes out of her mouth has pull, so much so that the audience starts wondering how she got that way. She's the final piece to this puzzle, setting into motion the wild, humor-flecked and sometimes fantastical machinations world that Daisy tumbles through.
"My girls don't ever need to lie down, silly," she says to Daisy early in the show, as she explains her business model to the sweet Atlanta transplant. But it doesn't sound like a proposition. It sounds just like a promise.
As it comes to life, Sellem has succeeded in telling a story that marries noir fiction, magical realism, rich artistic history, womanism and surprising, sometimes saucy time-hopping humor. She has a reliable narrator in Stephen Gritz King, who has blessed the play by adding live music. When he is not at a well-loved piano bench, he is looking out on the audience, dropping flower factoids that make the play very meta. He doubles as a gentleman client, who uses Red's services and ultimately learns firsthand what it means for a woman to have agency.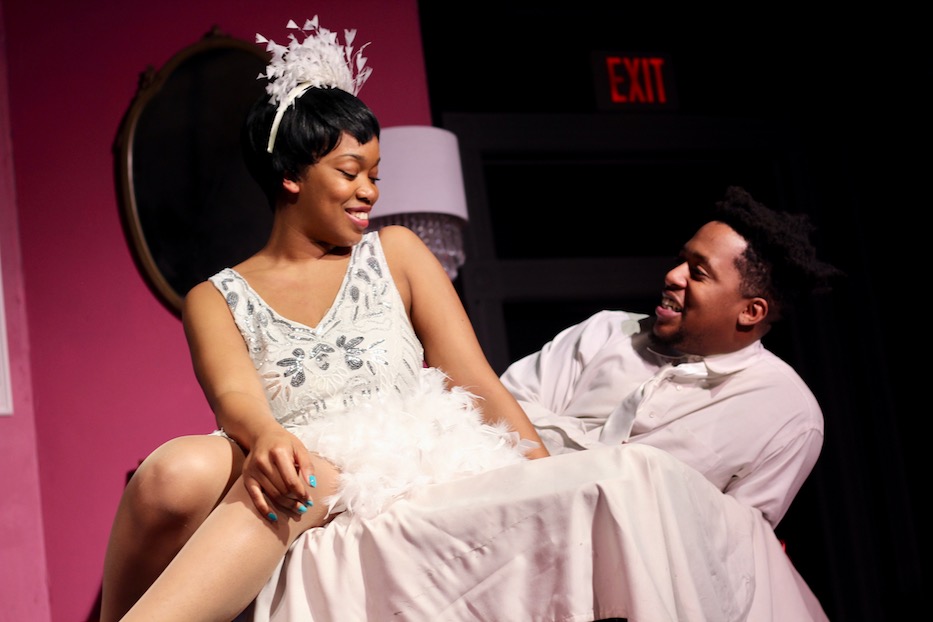 Jacque Simone Brown and Stephen King in Daisies On Harlem's Doorstep.
The story is gentle, maybe, but Sellem does not pull punches either. She is interested in the secrets that characters keep, and the sheer drama and allure of Harlem in the early twentieth century. The Harlem she has envisioned glitters, not because it isn't dirty and tumultuous and complicated (it is also all of those things), but because her characters add so much soul to it. They believe in its power and its pulse, and create that soul in the process.
More than that, Sellem is interested in how these Black women lean on each other to both survive and flourish. She gives everyone a backstory, making it clear that they are as kind and resilient as they are tough, like the hardiest of flowers coming up after a frost. While this is not a world scrubbed of sexual and racial and violence, it also isn't a trauma: she brings the drama and the joy, and the audience is better for it.
While Brown may not be the loudest character in the show—that honor goes to Versatile Poetiq, who is heart-burstingly fun to watch as Can—she is the wildly beating heart of it. From the moment she enters, holding Chrys gingerly in a wicker basket, she's thoughtful and fully present, eyes fixed right on the future.
The fiercer, worldlier, and more independent she becomes, the more propulsive she is to watch. She has found the laugh lines and easy moments in Daisy's story: the wobbly, uncertain walk in silver heels, the realization that she'll be economically okay the moment she realizes she has the upper hand and doesn't let go.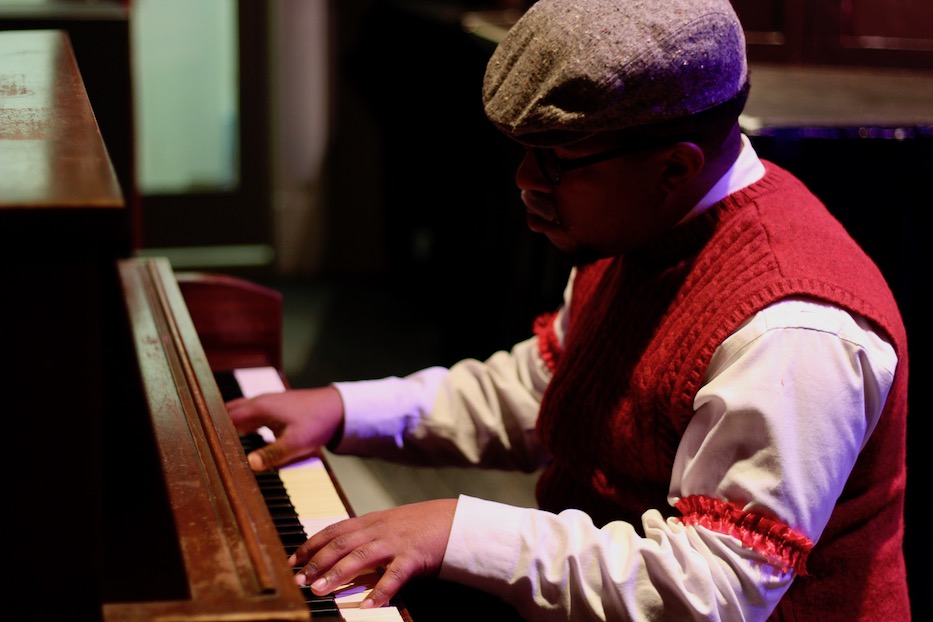 In this world, which seems real enough to touch at times, the other characters make Harlem shine. From the moment she steps on stage—dressed from head to toe in a bright, smoldering red dress and pinned cap—Brookshire is magnetic. She speaks, and the whole room stops to listen. She moves, and it is impossible not to feel the power she wields. Browne-Springer is a sort of mirror, most dynamic when the two are coming to barbs.
And yet, it's Can that steals much of the show. Throughout, the audience can feel her obsession with being with beautiful women, including white women, walking on the edge of something that society doesn't want her to experience. She is brave not just by 1920 standards but also by 2020 ones.
Sellem has a sharp eye: characters sweep in in day dresses, flapper outfits, high and chunky heels and men's suits. In a choice that is as visually delicious as it is meaningful, Red spends the first act in the color that is her namesake, sweeping in like a bright stop light in the middle of chaos. But in the second, she wears black, as if something has gone dark in her life, and the lives of the women who work for her.
With minimal set changes, they make magic happen. Sellem has gotten an assist from artist and writer David Sepulveda, whose pro-bono set design features rose-colored paint, William Morris-esque floral wallpaper, and red and cream upholstery. Lamps and rows of flowers flank the stage, set partners to the potions Gilly makes. It's like the artist Kehinde Wiley has met Vagina Monologues creator Eve Ensler in an early twentieth century Harlem townhouse, and they are getting on fabulously.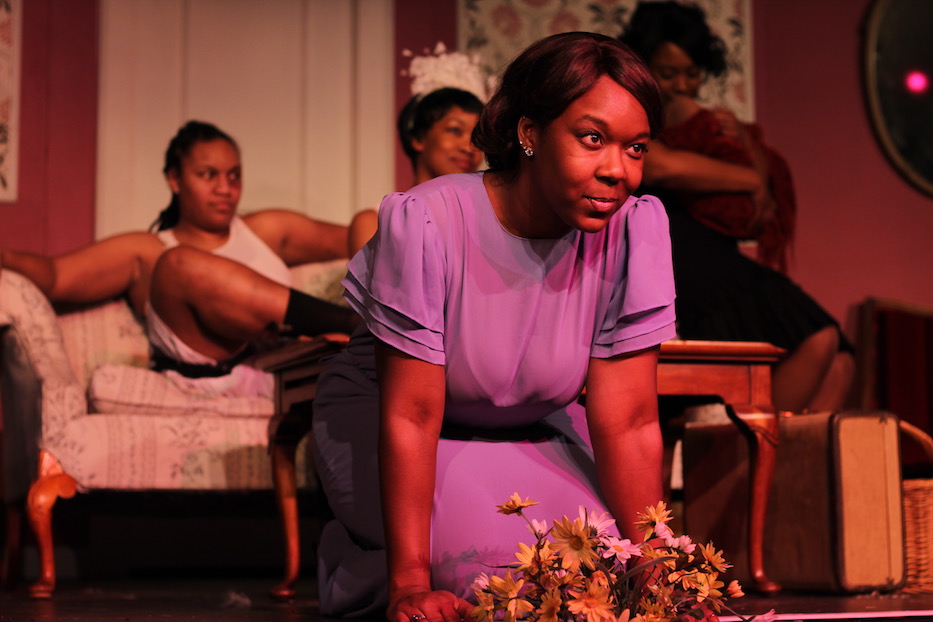 Jeanika Browne-Springer as Gilly.
What results, over two acts, is a story of history, of self-sufficiency, and of immense girl power. In this sense, the title is twofold. There is, of course, the literal interpretation of Daisies On Harlem's Doorstep: a pot of flowers deposited in front of a townhouse, waiting to be scooped up in the right pair of hands. Or maybe they're out there draining and catching some sun.
But there is also an image that Sellem conjures instantly, and doesn't let go of : the concept that Daisy, the person, is standing on the lip of a neighborhood, in a new city, figuring out how she's going to make it. That Daisy's on Harlem's Doorstep.
That this, she's realizing gradually, is very much her world. She can do as she chooses with it.
Sharece Sellem's Daisies On Harlem's Doorstep runs Feb. 21-23 at the Norwich Arts Center. For tickets and more information click here.