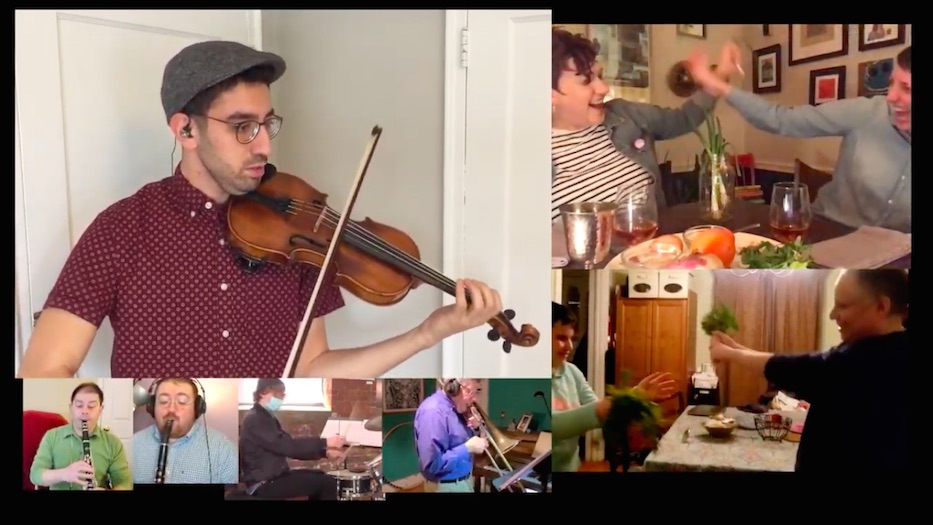 Faith & Spirituality | Nu Haven Kapelye | Arts & Culture | COVID-19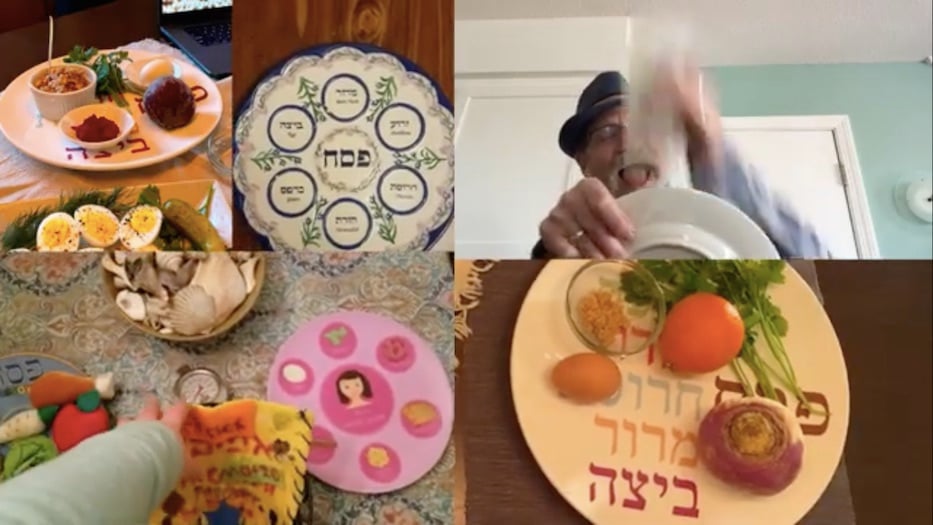 Screenshots from YouTube.
The seder plates fill the frame one by one, until they are nearly dancing to the melody themselves. At the top left, a table is set, everything exactly where it should be. Someone throws an orange into the mix at the lower right. Just centimeters away, a little hand reaches into the frame, and rummages around for a bright square of felt.
For a moment, the joyful cacophony is enough: enough to dance along to, enough to sing from memory, enough to celebrate another Passover across the distance.
So unfolds Nu Haven Kapelye's "Dayenu," the video for which dropped just in time for Passover this year. With recordings from 37 musicians across multiple countries, the song includes a new arrangement from bassist David Chevan, audio editing from his son Noah Chevan, and video editing and production from Jay Miles. It marks the Kapelye's second pandemic Passover.
"Dayenu," which first appeared in the ninth century, translates to "it would have been enough." It is a core part of the Haggadah, the text of which tells the story of the Jews' Exodus from Egypt. This year, the holiday runs from March 27 through April 4.
"It's the Covid theme, isn't it?" said David Chevan in a phone call Saturday morning. "I'm not having a seder with my mom and dad at the table. Dayenu. We have to wear masks this year. Dayenu. Some of us have lost friends and family to Covid, but we're still here. Dayenu. In spite of all that, it's lively, it's joyous, it's celebratory. When you sing it at the seder, it's just full of life."
The recording was born earlier this year, as Chevan and Miles brainstormed a new number that they could roll out in time for Passover. By the end of 2020, the Kapelye had exhausted everything in its repertoire, Chevan said. After recording a live music video for Hanukkah last year, Miles "really didn't want to do another people in boxes video," he said. So the group churned out a new piece, that Chevan tried to make both cheery and accessible. It's anchored by a track that Chevan, accordion player Dana Astmann, and drummer Logan Sidle laid down at Music Haven's Erector Square space in February. Music Haven Executive Director Mandi Jackson is a saxophonist in the group.
In the finished video, there's a sense of rich, musical narrative that mirrors a holiday centered around storytelling. Early in the piece, there's a solo from Yoni Battat, who started playing in the Kapelye when he was just a kid. Max and Eli Jackson, who are now the group's youngest members, bookend the song with solos near the end. In addition to Kapelye members, world-renowned klezmer musicians including Adrianne Greenbaum, Zisl Slepovitch, Frank London, Ilana Cravitz, and Jordan Hirsch sent in parts, meaning that they appear beside both professional and amateur musicians.
In between, a listener gets to see string, brass, and woodwind sections that Miles has knitted together, as if people are playing side by side instead of their homes, earbuds snugly fitted and recording devices set. So too in several vignettes of Passover tables across New Haven, as members of the group show off their seder plates, try to juggle plates and drinkware, hide the afikomen, trot out their different Passover traditions, and include cameos from their dogs, cats, and young children.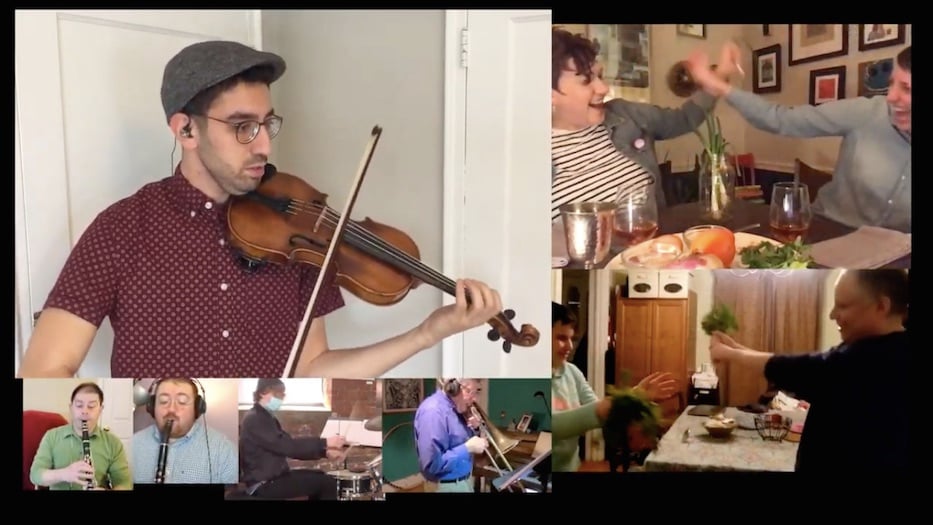 While the pandemic is always lurking in the background—in the table settings for just one or two people, the single egg fried on the stove, the dog eating leftover matzo because there aren't as many extra mouths this year—it's never overpowering. The rising tide of the music simply doesn't allow it to be.
"I think it's bringing a little joy in the face of all of the frustrations," Miles said. "People just needed a fun video with all these silly little things, and then there are all these musicians playing this tune that's so upbeat."
The choice feels like a fitting one in a world beset by modern-day plagues, where such an effervescent tune can live alongside a year of unending grief. Dayenu is a refrain that celebrates a creator who delivered the Jews from bondage in Egypt, led them through the desert for 40 years, came up with a heaven-sent food distribution system, gave them the 10 commandments, and then led them into Israel. But it is also a song about a people using their own oppression to justify violence and tribalism.
Dayenu puts the 10 plagues visited on the Egyptians into a palatable key. It praises God for killing the firstborn son of every Egyptian and swallowing up soldiers in the Red Sea. It fêtes a modern-day apartheid state that was, for centuries, just a construct. In a timely story of liberation—enabled not only by the guy who got credit, but the five radical women who worked together to ensure his survival and safety—there is the bittersweet reminder that plenty of innocent people suffered in the midst of an entirely man-made and mishandled plague.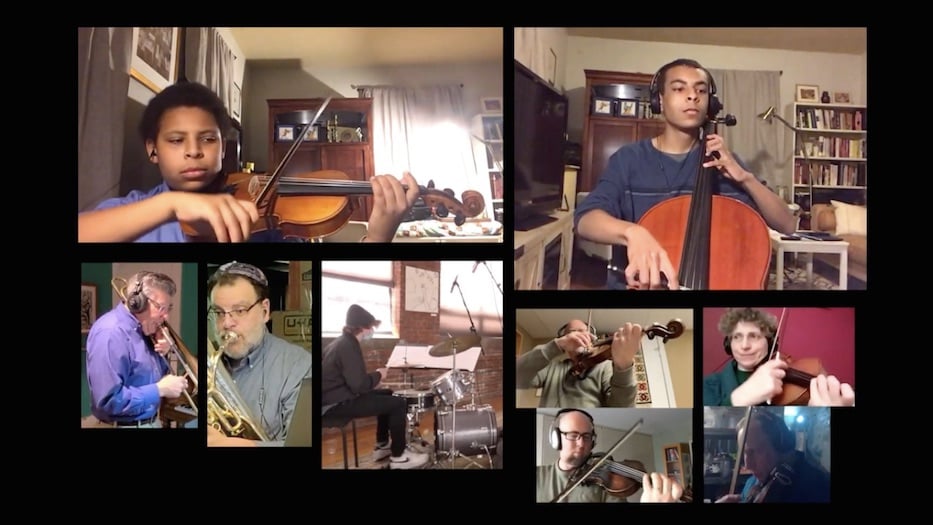 That sense of "dayenu" coming into the present also lives in the piece. As he was putting the video together, Miles said that he thought back to Dr. Deborah Birx's admission earlier this year that her silence under former President Donald Trump likely cost hundreds of thousands of Americans their lives. A year ago, Miles' mom was in the hospital, recovering from what appeared to be pneumonia. From several states away, he was able to send her the Kapelye's first pandemic Passover recording of "Eliyahu Hanavi." This year, she's gone. When Birx suggested that she could have said more, Miles lost it.
"I was like 'Yeah! That would have been enough!'" he recalled. "And you stayed silent? For what? Your reputation is shot. You have zero credibility. And you could have saved lives ... that would have been enough."
He is not the only member reeling from a year upended by the Covid-19 pandemic. In November, Chevan and his wife Julie lost her father to Covid-19. He's not able to celebrate in person with his own parents, both of whom are in their 90s. Meanwhile, he is trying to figure out a way to get back to live performance safely, as a twinkling light appears at the end of a long tunnel.
"When I was driving in my car and I heard that analogy of the empty chair at the table, that really, really hit me hard," he said. "So many of us have empty chairs at the table … he was at our seder last year, albeit online. I know if we're hurting, there are half a million other people who are hurting too. And almost 8,000 families in this state."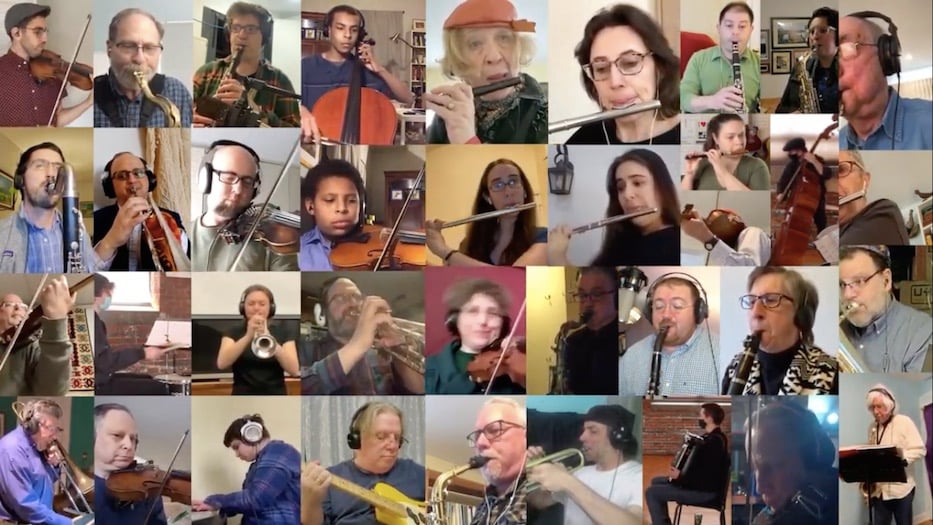 To it, the piece is an anecdote. Battat's solo is virtuosic, but made better because it shares a screen with Cynthia and Dana Astmann slapping each other with spring onions. There's no visual hierarchy between klezmer superheroes and members of the group who are still honing their technique. David, Noah, and Julie Chevan sway side to side with their glasses of wine, as if they are circus mimes working on a coordinated routine. Someone plays toss with a hard boiled egg. It's hard not to watch it all the way through and not smile.
"I think the thing is, everyone is suffering from Covid fatigue in different ways," Chevan said. "I just wanted something that would make everyone smile and feel warm inside and feel like it's Pesach."
Miles added he can feel a sense of rounding a corner, and tried to channel that into the song. He received his first dose of the Moderna vaccine earlier this month, which he described as "little bits of plague crushing." He also looked to Vice President Kamala Harris' visit Friday as a sign of "better days, I think, to come." Miles' mother was in childcare for most of her life. It felt like something small coming full circle.
"Our version, it's such a clap along, upbeat, whistle while you work kind of vibe," he said. "And these bubbles of joy are really what's needed right now. I hope that the music is enough to bring a smile to these folks as they celebrate the holiday."
Find out more about the Nu Haven Kapelye on Facebook or at its website.