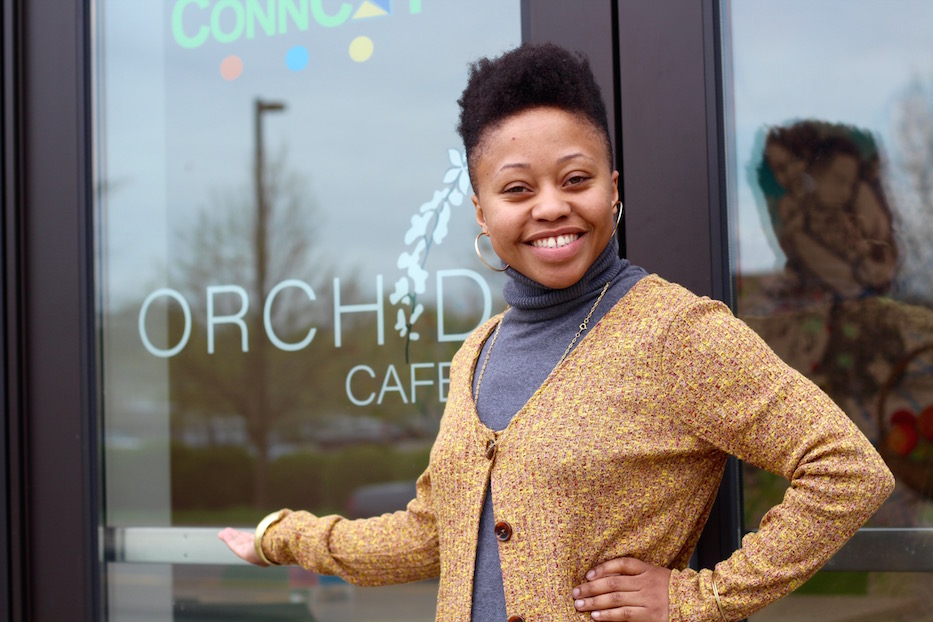 Food & Drink | Food Justice | Science Park | Newhallville | Arts, Culture & Community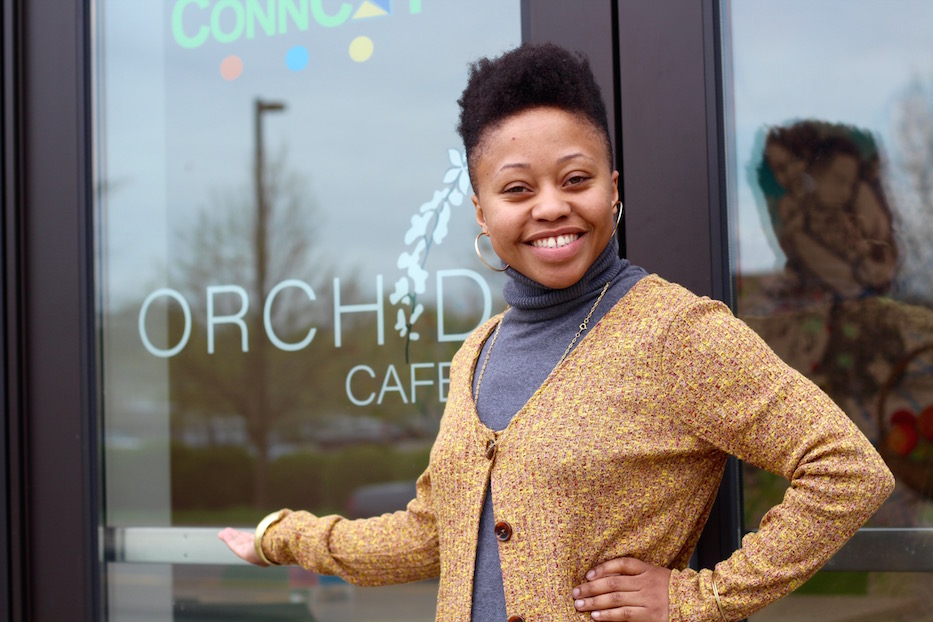 Raven Amandla Blake, the new manager of food operations at Orchid Café. Lucy Gellman Photos.
The kitchens at the Connecticut Center for Arts & Technology (ConnCAT) were bustling. A culinary student mixed kale, spinach, almond milk and oats in one blender, motor revving. At a nearby fryer, another prepared a bundle of hand-cut Idaho potatoes still fringed with peel. Another pulled out two matching spinach wraps, and reached for the tomatoes and glistening sliced turkey. At the front, Chef Jovon Alston studied a new round of orders, then got back to work.
This month, that hustle and bustle is becoming routine as ConnCAT implements new changes at its first-floor Orchid Café. After starting its culinary program in 2015 and opening the cafe in 2017, the space has now extended its hours, rolled out a new menu, and moved its operations under the ConnCAT subsidiary ConnCORP (Connecticut Community Outreach Revitalization Program). A patio at the cafe's Winchester Avenue entrance is expected to open this summer.
The rebranded cafe has placed a new focus on catering, with vendor contracts from Yale University, Southern Connecticut State University (SCSU) and others.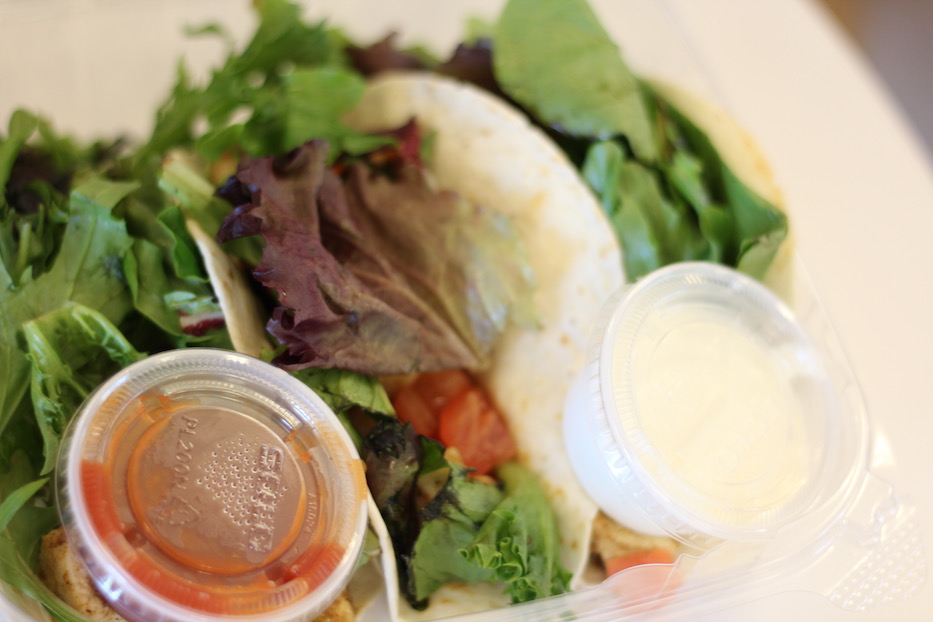 Chicken tacos, which Blake said have become a favorite.
The change comes as ConnCORP also prepares to open an outpost at 100 Ashmun St., which will be selling the cafe's food as well as pizza and fresh produce in a market called Petals. Petals is slated to open in July.
That overhaul started earlier this year, when ConnCORP hired LoveFed Initiative Co-founder and Director Raven Blake as its full-time manager of food operations. In the past several months, Blake has worked to create a new, separate website and social media accounts for the cafe, manage requests for catering, up community engagement in the cafe, and rebuild the menu with both new options and old favorites with ConnCAT's Chef Jenna Martin and others.
She has also overseen new catering contracts with Yale, the Community Alliance for Research and Engagement (CARE) at SCSU, the New Haven Public Schools and the Elm City Freddy Fixer Parade.
"Now that we're igniting the space in a different way, we're hoping for more engagement with the community," Blake said in an interview Wednesday. "It's really exciting to witness the experiences people have been having with the dining, and with Orchid Café. It was born from ConnCAT, and it's a great business that really supports and holds community in a special way."
"The thing about the cafe is that it's still very physically connected to the culinary program," she added. "This isn't necessarily a change in mission, so much as mission fulfillment."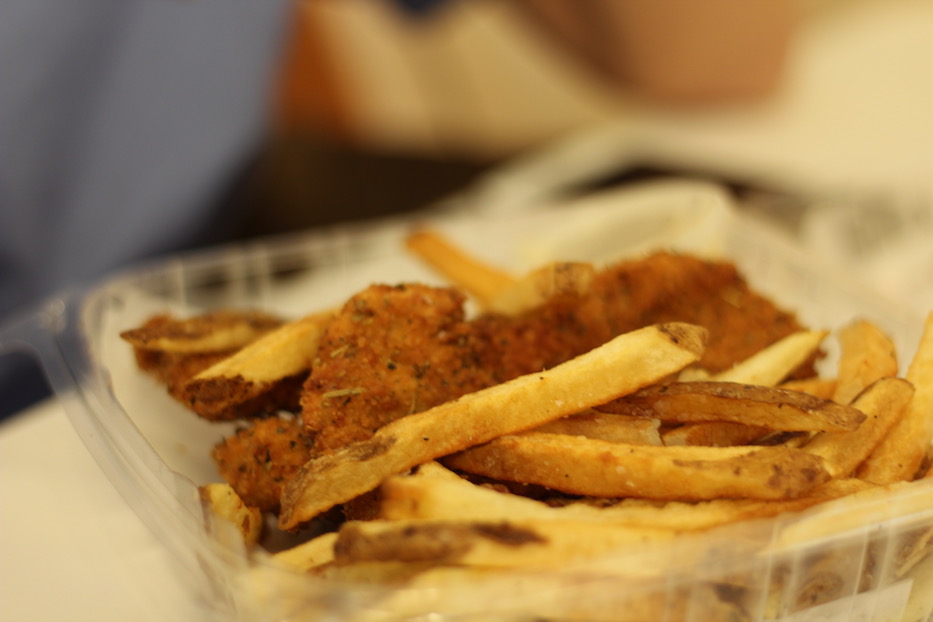 When it opened in early 2017, the cafe's goal was primarily job training and creation for unemployed and underemployed New Haveners. In its first year, it was run and staffed by current students and graduates of the organization's culinary program, which has continued to grow with a youth component and increased enrollment this year.
As Blake worked on the new menu, she also brought in a server and two line cooks, with another three to four set to join the team when Petals opens this summer. She said she aims to hire local talent: one new employee is a graduate of ConnCAT, while the other two are graduates of Lincoln Technical Institute and Albertus Magnus College.
On the new menu, time-tested favorites include hand-cut french fries, chicken tenders, a cheeseburger, and salmon burger with grilled pineapple and a fresh aioli, served on a brioche bun. There are also new veggie-friendly options, including a portabella mushroom grinder and fresh smoothies with berries, leafy greens and oats. Wraps, made fresh each day, sit in a refrigerated deli case for diners who may be short on time.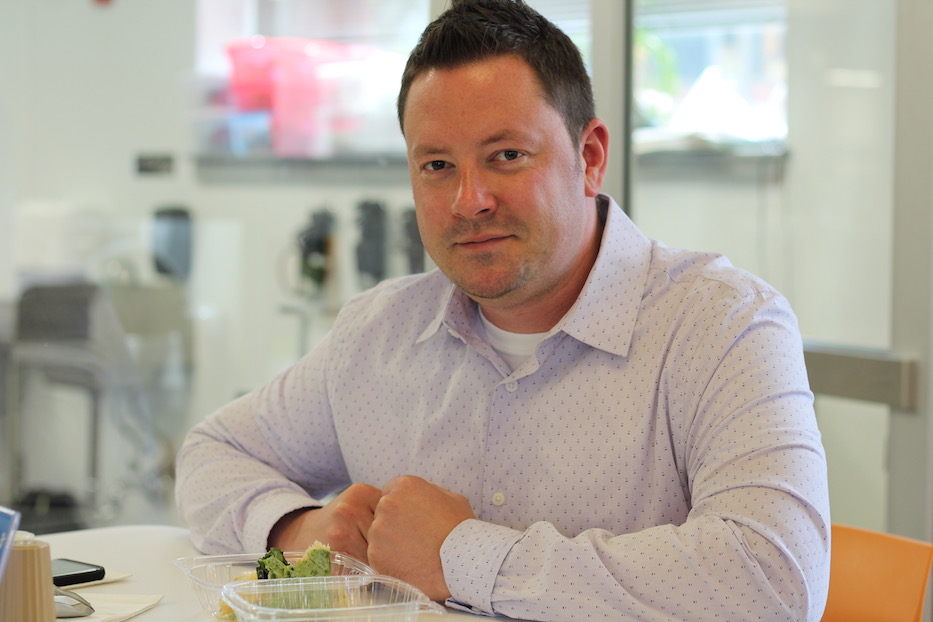 First-timer Todd Andrews, who said he would definitely be back to try some of the made-to-order options from the grill.
There will also be specials: Blake has gotten requests for more vegetarian and vegan options, as well as a rotating door of foods that Science Park regulars and ConnCAT employees remember from culinary cohorts past. She said she wants to bring back a recent Caribbean soup that one culinary student perfected with dumplings and Scotch Bonnet peppers, and waxed poetic over mac-and-cheese tacos that another rolled out as a tasty experiment.
As she walked through the cafe earlier this month, ConnCAT Human Resources Manager Opal Harmon also recalled a nutty, just-sweet-enough pistachio cheesecake that "if you were vegan, it was enough to change your mind."
At noon on Wednesday every table at the cafe was full, the smells of roasted chicken, beef and vegetables, fish and herbed rice floating through the air. The volume level rose and fell with laughter as a cohort of Yale President's Public Service fellows finished their catered food and prepared to continue a tour of New Haven. Others flowed in and out, some staying to eat while others picked up their orders and headed out the door.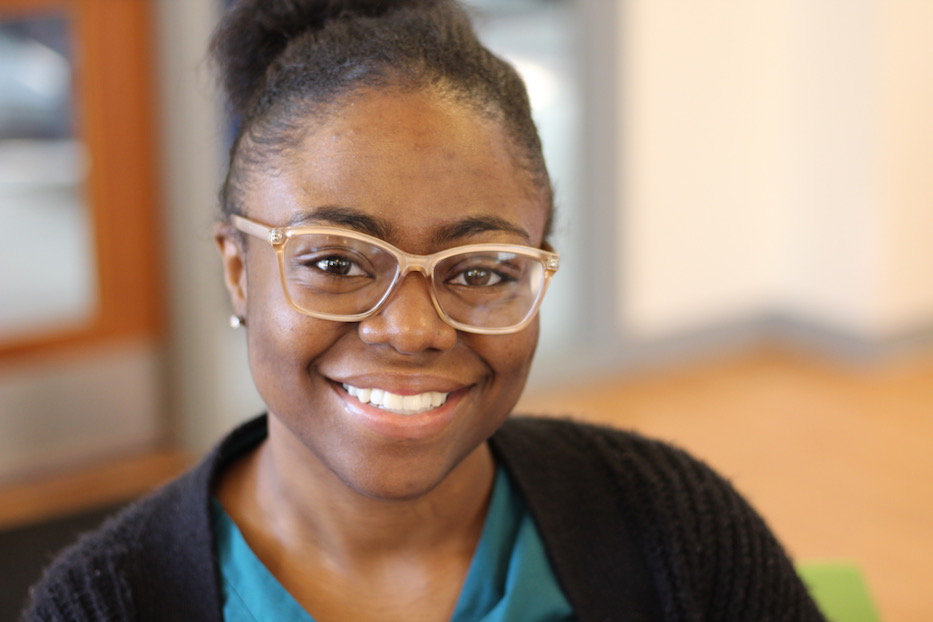 At the far end of the room, friends Precious Hines and Taylor Munson opened up their tacos, scents of beef and chicken billowing up from the table. While the two, both students in ConnCAT's phlebotomy tech program, said they try to bring their own lunch from home, they agreed that they like having the cafe downstairs as a quick and convenient option.
While Hines has come enough times to know her order—beef tacos with a berry blast smoothie—Munson said it was her first time in the space, and definitely not her last. Her chicken tacos beckoned as she spoke.
"It seems like a really nice place," she said.
Back toward the kitchen, Todd Andrews was finishing a turkey wrap with potato chips. A portfolio and grant analyst for Yale, Andrews works in the Science Park area, where his office is a few blocks away from ConnCAT.
He described himself as still new to the area, where he's only been in the position for a few months. Once or twice a week, he goes for lunch when he hasn't had time to pack something at home. On Wednesday morning, he decided to check the cafe when it showed up on Google.
"It's good!" he said. "Quick. It was close by, but gave me a chance to walk a little. Next time, I'd try something from the grill."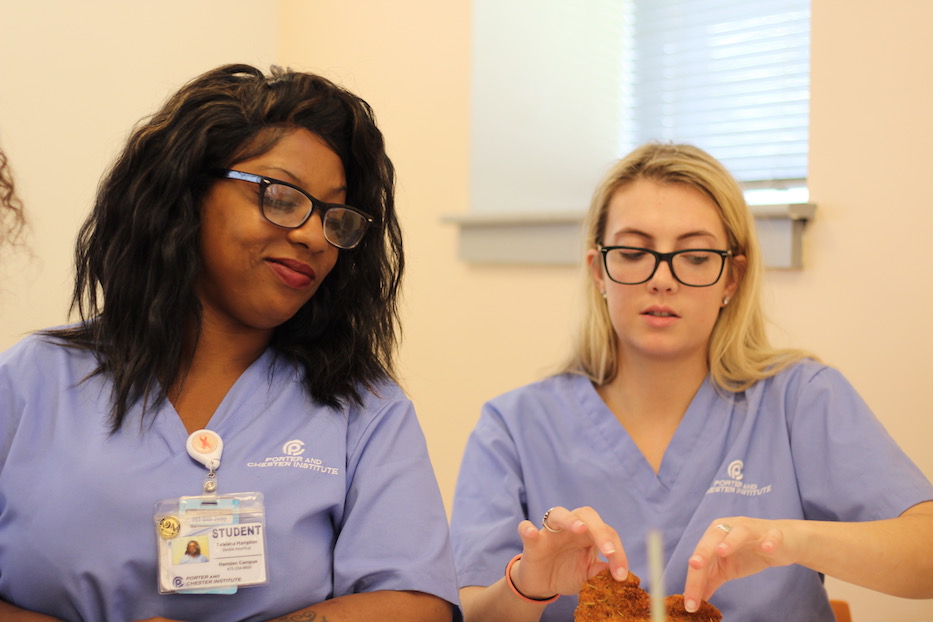 Kisha Hampton and Kate Elliott, classmates in the dental assistant program at Porter and Chester Institute.
Across the room from Andrews, classmates from the Porter and Chester Institute nibbled on turkey wraps, piping hot chicken tenders and hand-cut fries, sharing the last around the table.
As peers in the dental assistant program, they said they don't get much time for lunch, and headed to ConnCAT at the suggestion of server Annie Hardy, whose cousin Phylicia Smith is in the program. Kate Elliott, who squealed with delight as she opened her chicken tenders, said the fries were some of the freshest she had ever tasted.
"I'm so happy right now," she said as she peeled apart a white meat tender covered in gold-brown breading. "I love this so much. The atmosphere in here is amazing."
The Orchid Café at ConnCAT is now open Monday through Friday from 8 a.m. to 3 p.m. Follow it on Facebook, Twitter, Yelp or Instagram for more information. For catering requests, fill out a catering request form on the new website.