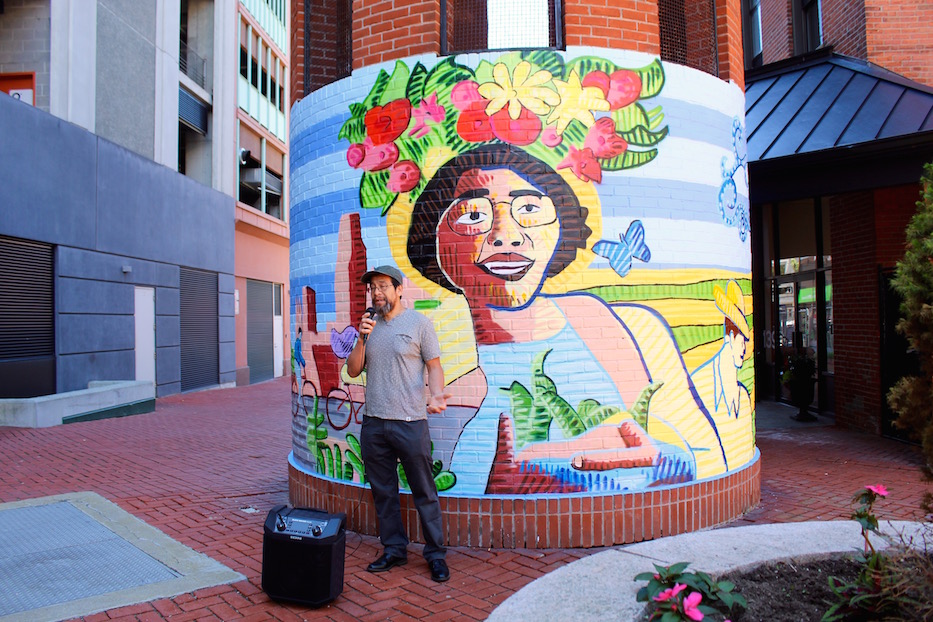 Downtown | Public art | Arts & Culture | Town Green Special Services District | COVID-19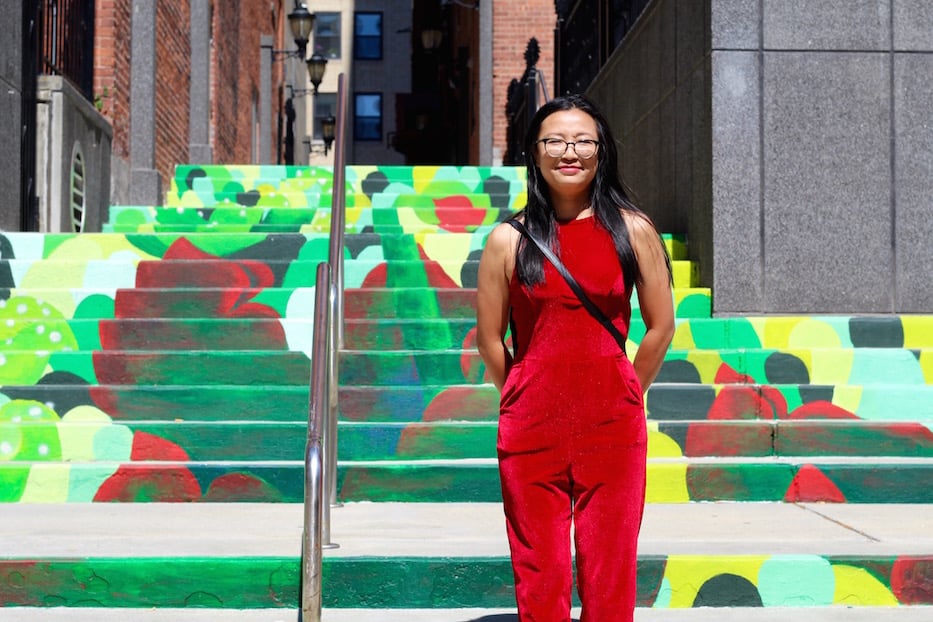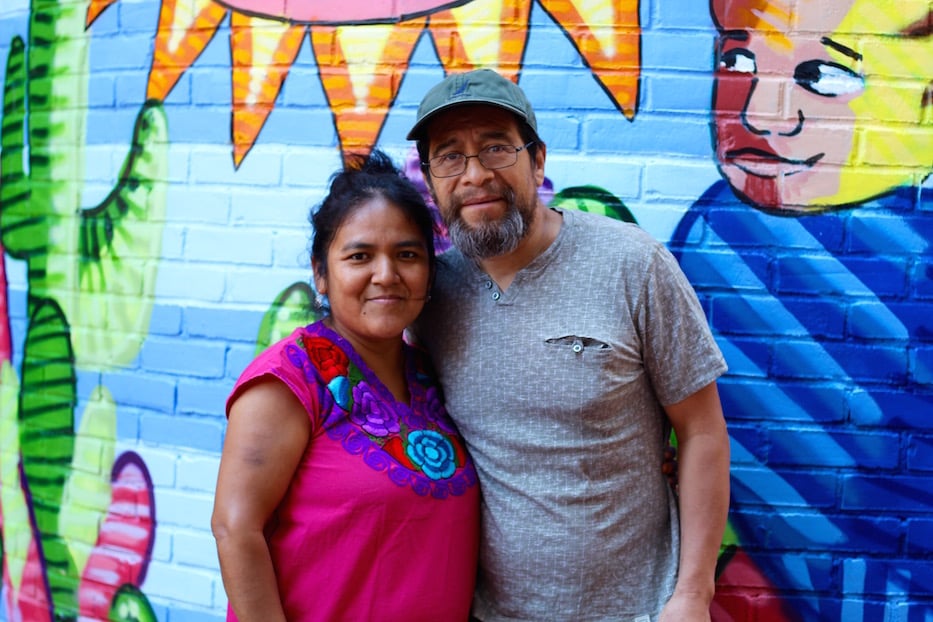 Top: The artist Bu Lei Tu in Temple Plaza. Bottom: Luisa and Miguel Angel Mendoza in Pitkin Plaza. The artist Sam Weinberger was unable to make the event. Lucy Gellman Photos.
The painting wraps all the way around the squat column, an explosion of color against the red brick. From Chapel Street, a viewer can see a smiling sun, expanding its warm arms into the sky. On the other side, a woman holds crops in her arms and looks straight out at the viewer.
The mural is one of two new public art projects downtown, spread between Temple and Pitkin Plazas. Last Thursday, artists gathered with downtown residents, business owners, and members of Town Green Special Services District to celebrate the works, which were completed earlier this spring. Both are part of Straight Up Art, a public art program from Town Green that is now in its second year.
"We prize making site-specific art, allowing the creativity of the artists to show that uniqueness," said Elizabeth Bickley, who concluded her tenure as Town Green's manager of public space planning and development on Friday. "I have the most gratitude for the hearts, hands and minds who have made this possible."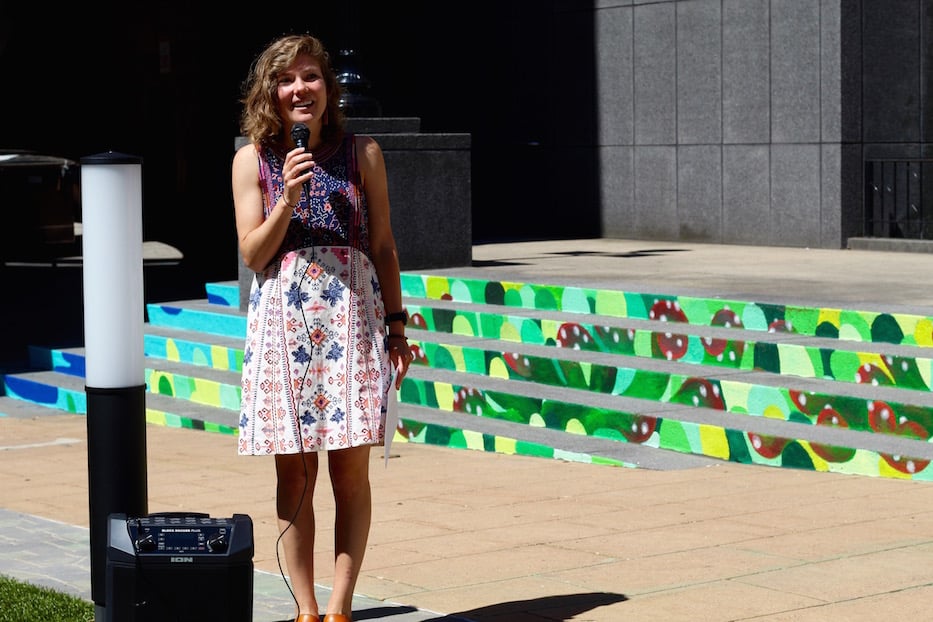 Elizabeth Bickley, who concluded her tenure as Town Green's manager of public space planning and development on Friday. She is headed to Los Angeles.
In the first, artist Bu Lei Tu has covered the Temple Plaza steps with a design that celebrates Connecticut's 14 native plants, and brings attention to the man-made destruction of swamps and wetlands in the state. In the second, artists Sam Weinberger and Miguel Angel Mendoza have brought two columns to life with The Sanctuary City of Past, Present and Future, meant to honor New Haven's sanctuary city status and its vibrant immigrant history.
Presenting the work in Temple Plaza, Tu said that she was inspired by not only her love for nature—she propagates many of Connecticut's known native plants in her home—but also by watching developers destroy New Haven's natural ecosystem in real time. In her work for the Yale School of Public Health, Tu used to drive by construction work for City Crossing before detours cropped up earlier this spring.
One day, she heard the low mating call of a single bullfrog while driving by the site. She also saw a construction crane barreling forward and knew that the frog would probably be squashed to death in a number of minutes. She started wondering where he had come from, and who he had left behind. The next time she painted in the plaza, she thought about the former wetlands she was likely standing on top of.
"It really motivated me," she said. "I thought about that frog a lot. There are lots of swamps and bogs up north [Northern Connecticut], and they take thousands of years to form. There are old ponds that take hundreds of years to form."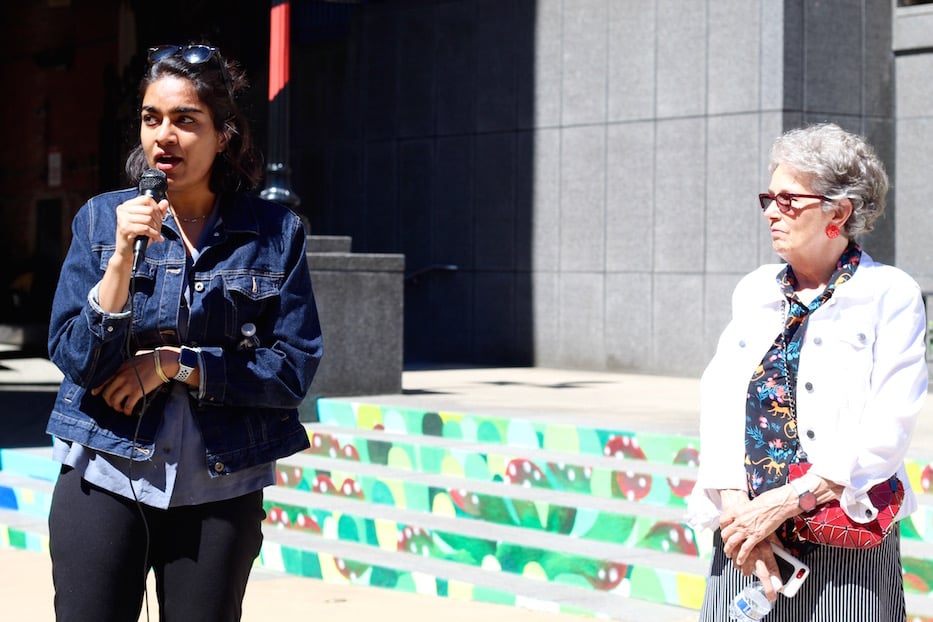 Neighbors Shambhavi Tiwari and Lindsay Matthews, who live near the mural in the Taft Apartments.
The plants in the mural include the red-eared Sarracenia purpurea or purple pitcher plant; Drosera filiformis or thread-leaved sundew; the round and spoon-leaf sundew; and several varieties of Utricularia, or hearty bladderworts that bloom in water across the state. In the plaza, they burst as big, bright leaves and flowering fronds across the steps. Tu has used the built environment to her advantage: the plants take shape over multiple stairs, as if they are rising out of the earth.
Thursday, neighbors Shambhavi Tiwari and Lindsay Matthews said they are both incredibly excited to have the work downtown. The two live next door to each other in the Taft Apartments building on College Street, which is just a few minutes from the mural. Matthews called it " a sheer joy" in the space.
"I can see how much more beautiful and homey the city has become," added Tiwari, a postgraduate associate at the Yale School of Public Health.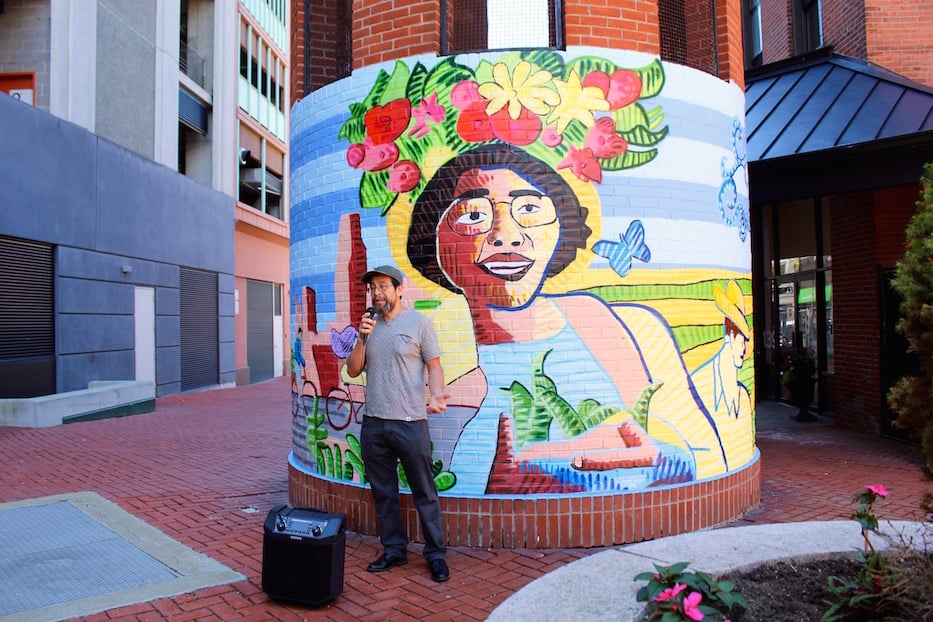 Mendoza with The Sanctuary City of Past, Present and Future.
A four-block walk away, Weinberger and Mendoza's The Sanctuary City of Past, Present and Future greets viewers in vibrant color in Pitkin Plaza. Joking that Weinberger did not need so much as a ladder—he is seven feet tall and goes by the sobriquet "Big Sam"—Bickley introduced the piece to applause from a small crowd that had gathered. Weinberger, who was finishing a mural in Boston, was unable to be at the event.
The work, which is meant to be viewed in the round, tells a story of migration and of New Haven in multiple parts. On one side, a sun spreads its orange and yellow rays over a bright landscape, as pink flowers bloom from a thicket of green cacti. To the sun's left, fields stretch out toward the horizon and a smiling woman looks out onto the plaza, her hands to her chest. To her right, a mother and child walk towards New Haven. In the last chapter, two cyclists pedal forward towards New Haven's blocky skyline.
As a Mexican immigrant who now lives in New Haven, Mendoza said the project was personal to him. When he first came to Bridgeport from the town of Villa de Zaachila in 1988, "I tried to open doors at every museum and every gallery." No one wanted his art, he said—a trend he attributes to his status as an immigrant. Meanwhile, and his wife Luisa made a life in Connecticut for themselves and their three sons.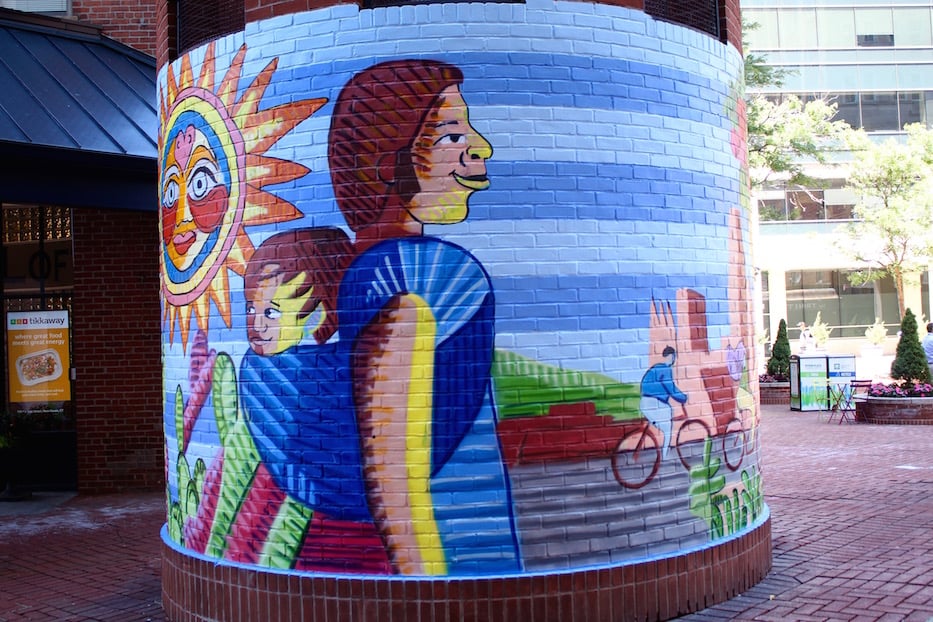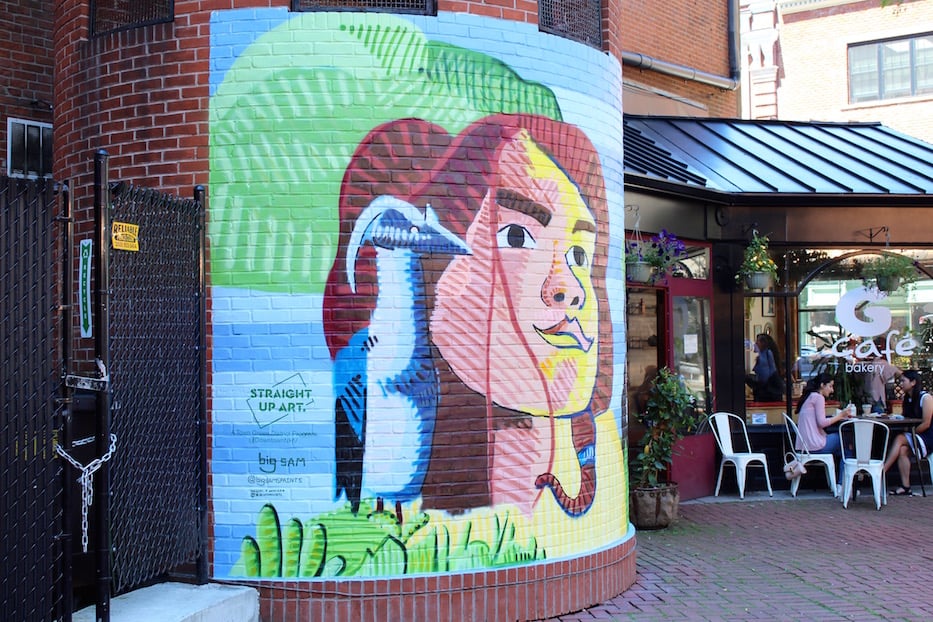 "For the people that came from different countries—when they leave their different countries, they think, maybe they'll come back," he said. "That if they travel, maybe they won't survive. If we are here, we try to change our lives and try to do the best."
Because he must work multiple jobs to support his family, he said he has little to no time to dedicate to his art. When Bickley approached him about the mural, he initially hesitated because he was already stretched so thin, and recovering from an illness that meant extra shifts at work to make up for lost revenue. Bickley insisted she wanted his voice—and his vision—to be part of it. He said he was ultimately glad to have joined the project.
Now, he is hopeful that the mural will lead to more solo public art commissions in the city and across the state. In both the mother and the child depicted, he sees two different versions of himself. He sees the woman, modeled on his niece, as looking forward toward her new life in Connecticut.
The baby, based on his youngest son Cosijopii, is scared as he turns around and takes in the life he is leaving behind. Mendoza said that while Weinberger's style is very different from his own, he enjoyed the collaboration.
"When I came over here, everything was so beautiful," he said. "Doing my art in this town, it's like a dream come true."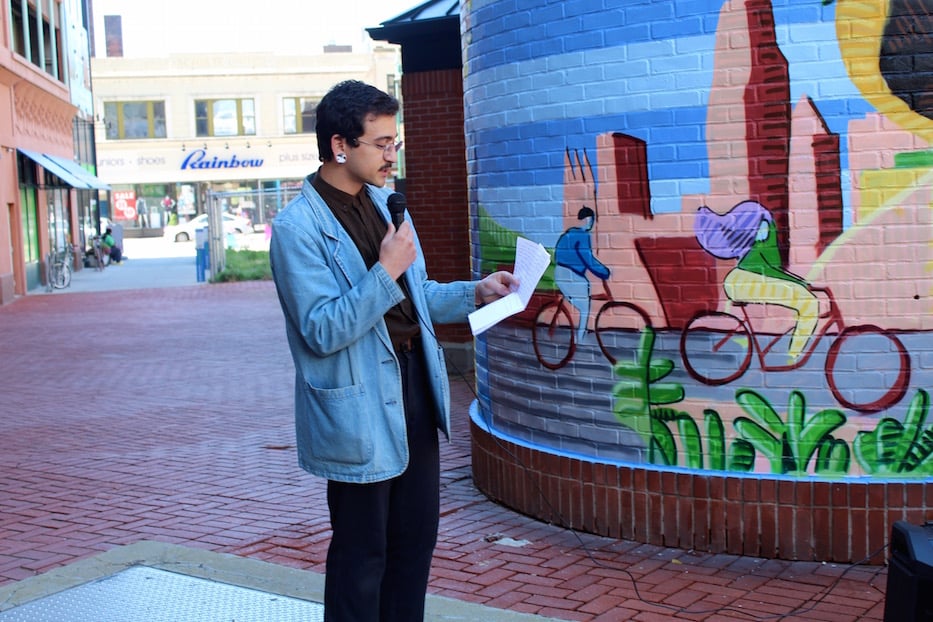 Artist Daniel Santiago.
Both projects are part of a wider flourishing of public art downtown, including five new murals in the nearby Ninth Square neighborhood and the first phase of the long-awaited "Intersection To Connection" project between Downtown and Wooster Square.
In August of last year, artist Michael Deangelo painted a mural of Sun Ra on the side of Cafe Nine. Then in September, three more Ninth Square murals sprang up from Straight Up Art. In November, artist David de la Mano installed an abstract tribute to William Lanson through the group Site Projects. Bickley said that she hopes to see the program grow as it continues under new leadership.
Artist Daniel Santiago, who served on the jury, thanked both Town Green and Bickley for making an effort to include New Haven voices that are often excluded or marginalized in the process. Born and raised in Waterbury, Santiago moved to New Haven when they became a studio art student at Gateway Community College two years ago.
They said that not many people from their background—working-class, queer, Italian and Puerto Rican—are often called on for their thoughts on public art in the city.
"In an ever-evolving landscape, these murals will continue to be interpreted through lenses of various lived experiences and walks of life," they said.
To find out more about the Straight Up Art program, visit Town Green's website.