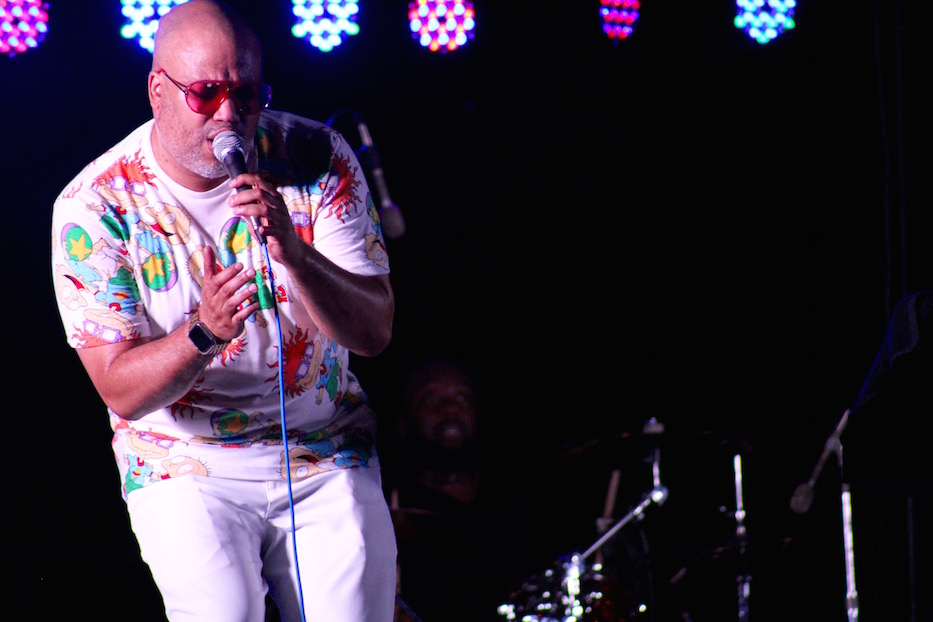 Hamden | Music | Arts & Culture | Hamden Department of Arts & Culture | COVID-19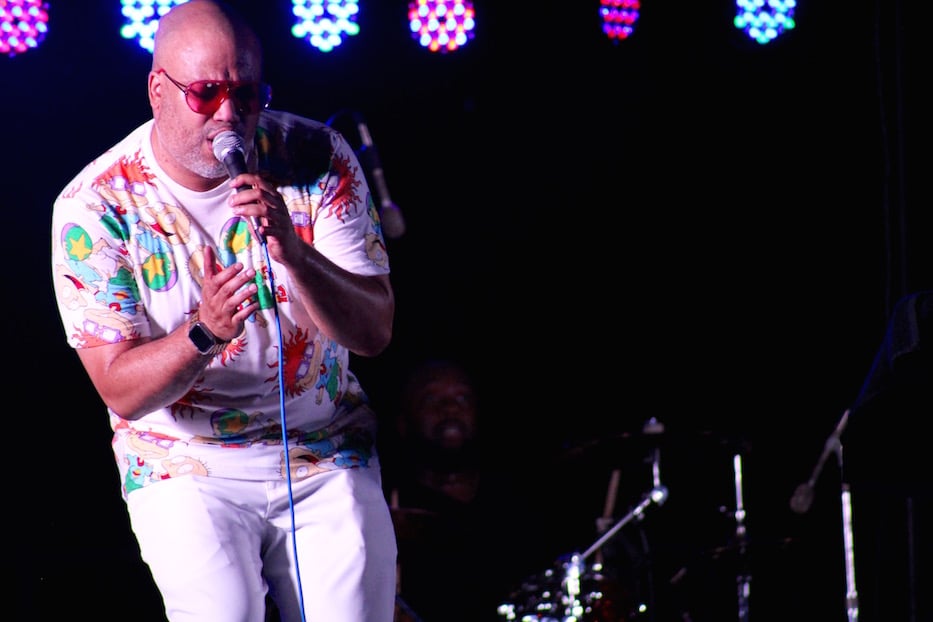 Rahsaan Langley, who helms the Rahsaan Langley Project. Lucy Gellman Photos.
Rahsaan Langley grew up sledding in Hamden's Town Center Park. Friday, he returned to sing away an evening rainstorm, and bring a party to the place he still calls home.
Members of The Rahsaan Langley Project got hundreds on their feet and dancing Friday night, during the second week of Hamden's reborn Free Summer Concert Series. For almost two hours, the beloved musician and members of his band brought a pre-Henri vibe to the park, where attendees gathered on the grass, lined up for food trucks and vaccine information, and fit in picnics, birthday parties, and Covid-cautious reunions.
Roughly 200 people came out for the event. The series is sponsored by the Hamden Department of Arts & Culture and the Hamden Arts Commission. It returns this Friday with Sean Nelson's New London Big Band.
"I've been getting goosebumps all day long," Langley said Friday, as a few raindrops began to fall beside the stage. "This last year, it was tough, it was tough. You know, we live through our creativity, and not to be able to have that was tough. But we figured it out, and we made it through to today."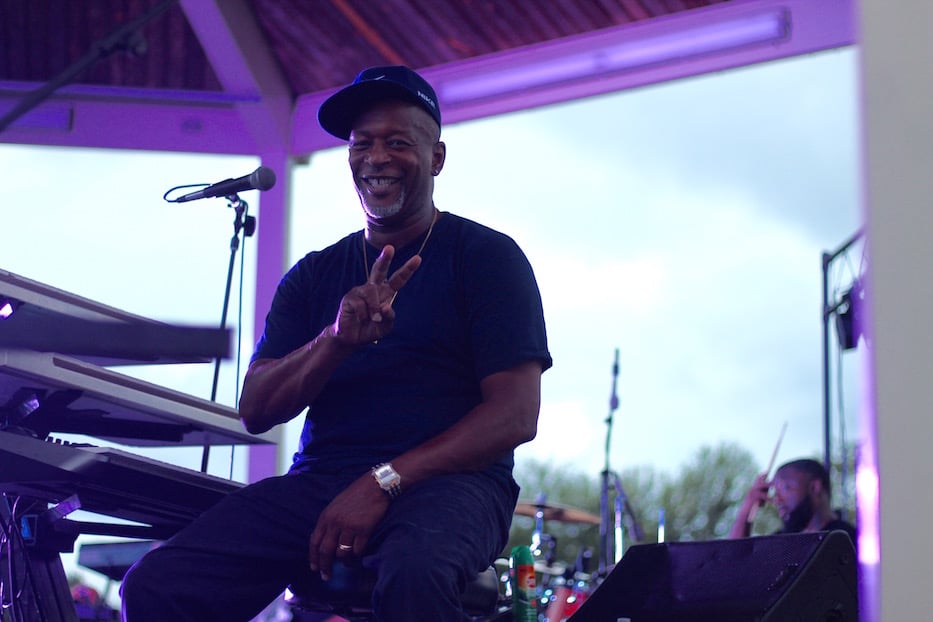 Mike Childs at Friday's event.
Friday's musical configuration included Mike Childs and David Jmaul on keys, ​​Smokey Ivory on drums, Stephen "Gritz" King on sax and Rohn Lawrence on guitar. As the group warmed up, friends and families spread out across the grass, catching up after months apart.
Some settled close to the stage, fitting their belongings into wide chalk circles meant for social distancing. Others set up atop the park's hill with tiki torches, full picnics and flickering Citronella candles to keep the bugs away. In the front row, a cluster of green and pink patterned umbrellas stood at the ready where a group of sorors from the Theta Epsilon Omega chapter of the Alpha Kappa Alpha sorority had gathered.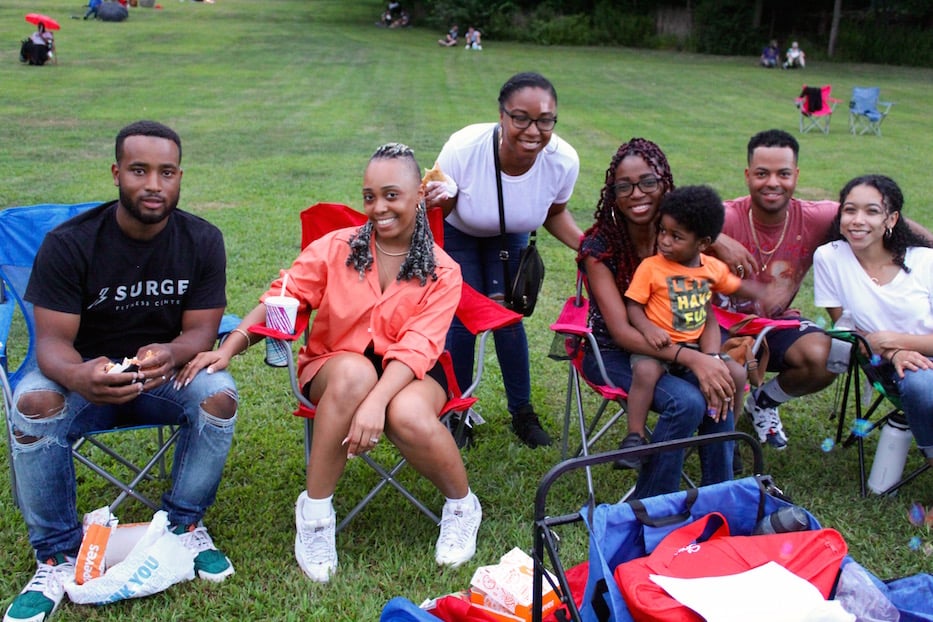 From left to right: Perry and Zuleka Sims, Timeka Floyd, Dominique Dawkins and her son Shazier, and Kendall and Charlette Jones.
Nearby, Meriden resident Dominique Dawkins set up a bubble machine for her young son Shazier. As he jumped through the rainbow-tinted bubbles, she caught up with friends who had come from Waterbury and Hamden to hear Langley sing. As the machine whirred to life, Shazier's delighted, sometimes reverent cries of "Wow!" and "Woah" mingled with their laughter.
"It feels so good to be out here and finally come outside and see people," Dawkins said. She added that it was also healing for her as a mom: the first year of Shazier's life was spent largely in isolation because of the pandemic. Friday, the two were able to spend time with friends in what felt like a safe setting.
At a table for the Hamden Department of Arts & Culture a few yards away, Md Ariful Islam checked in to see if he could do anything to help. After moving from Virginia earlier this year, he was looking for ways to get involved in town life and found the department. He started attending its events, from outdoor poetry to the concerts. With work experience in public access television, he has offered to do videography and shuttle around supplies as a volunteer for the department.
"I'm trying to engage myself," he said. Friday, he bobbed around the park while waiting for a friend. The light from food trucks glowed behind him as dusk fell.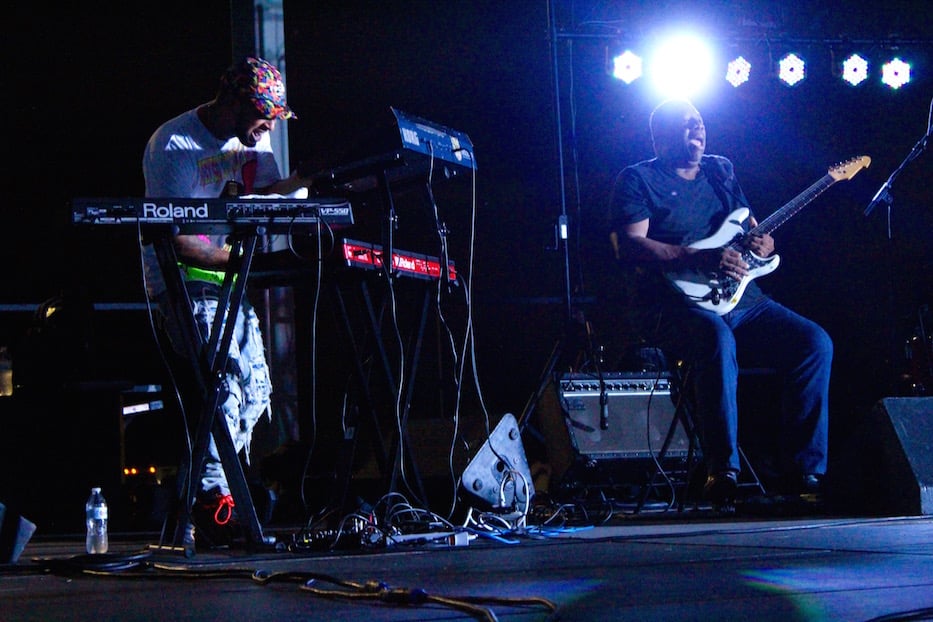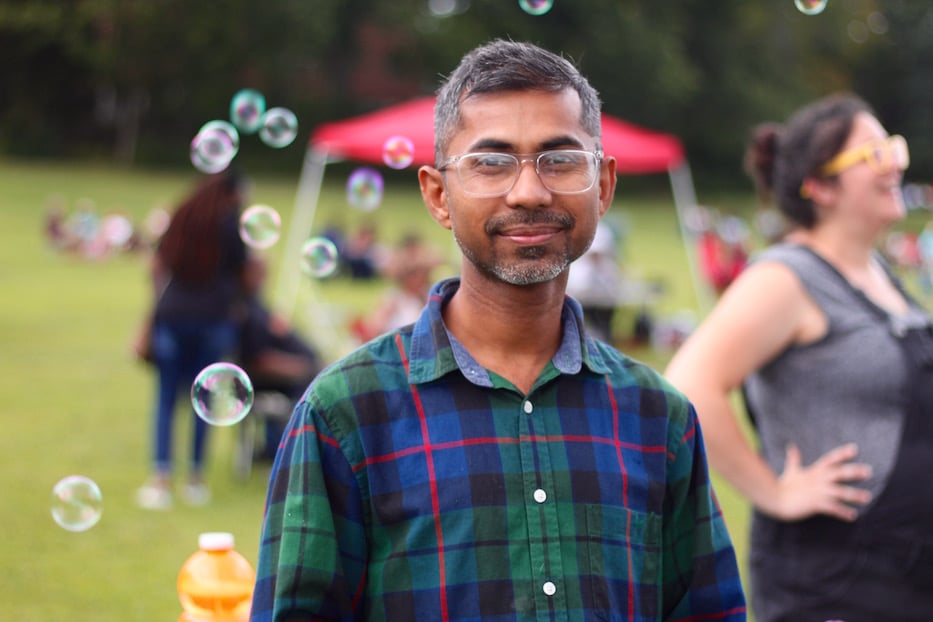 Top: David Jmaul and Rohn Lawrence. Bottom: Md Ariful Islam.
This year, the series has been a celebration of homegrown talent in every sense of the word. Amidst its move to the M.L. Keefe Community Center, the Hamden Department of Arts & Culture did not know whether it could host the series until June. Then, it was a scramble to coordinate three bands, secure vendors and emergency personnel, and gather arts commissioners virtually to vote on the acts.
"It's been a whirlwind of a month," Arts and Marketing Manager Alisha Martindale said. "I think with this concert series, we had the opportunity to showcase the actual talent that was in the area. We were glad to be able to bring the best of what is here."
Along the way, Martindale found that town residents were eager to help. Boogie Chillun, which opened the series in early August, jumped to fill a slot that they never got to play back in 2019. Fire inspector Ray Pouncey, a former bodyguard for Whitney Houston and Bobby Brown, recommended Langley.
Artist Alex Mickens, a Hamden High School grad and one of the winners of Hamden's 2019 Salute to Young Artists, designed bright, color-blocked posters for the event. Mickens is also an arts commissioner for the town.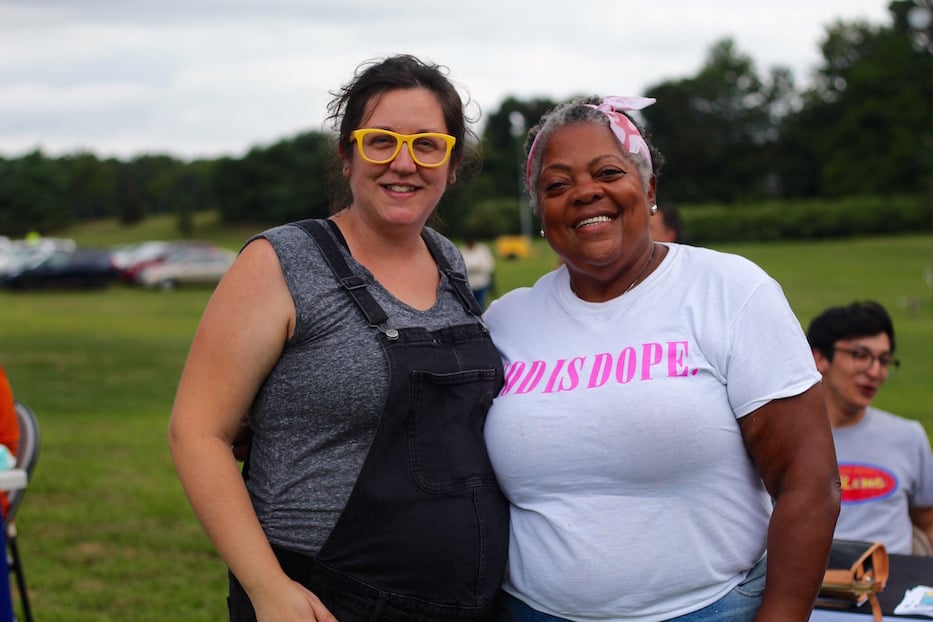 Alisha Martinale and Sharon Jones. Both work for the Town of Hamden out of the Keefe Community Center.
Friday, Martindale gave out cautious hugs and elbow bumps with friends and fellow Hamden Town employees. She greeted New Havener Sharon Jones, program manager for Hamden's Department of Community Services, who arrived at the event decked out in AKA salmon pink. For her, the evening was a chance to unwind from a stressful work week—she has been working to relocate residents of a Mix Avenue fire that displaced almost 100 people—with music she has loved for years.
"I love this band," she said. She added that she was also there as a proud aunt: Gritz is her nephew. Later, she cheered loudly as he took the stage and brought the spirits of Frank Sinatra, Bill Withers, Earth, Wind & Fire, George Benson and over a dozen other artists to life.
As the two chatted, people lined up behind them for sweet and savory treats from Szabo's Seafood, Cakesss Kitchen and SweetHeart Ice Cream. Beside the stage, a sound crew made a last-minute decision to cover the equipment as band members walked on and began to play. Even as the first cool raindrops fell, attendees kept arriving, setting up anywhere they could find a free space.
Langley warmed up the home crowd by throwing it back to Kool and the Gang as patterned umbrellas sprang up across the park. He walked the length of the stage, getting a few shoulder shakes by the chorus of "Get Down On It." Behind him, Childs and Jmaul rocked back and forth, grooving in place. Ivory hammered out percussion, giving the song a sort of heartbeat.
"How you doing tonight, Hamden?" he said. The audience cheered back.
Langley, who fell in love with music as a kid in Hamden, talked to the hundreds of people in front of him as if they were old friends (many, in fact, were). As he dipped into Journey's "Faithfully," he told attendees that he grew up dreaming about performing the song for a crowd someday. He counts Steve Perry, who left Journey in 1987, among his top five favorite singers of all time.
"I always said, when I get older and I have a band, I'm gonna play this with my band," he said as Childs and Jmaul turned the clock to a steamy evening circa 1983. At the far side of the stage, Gritz took on a smoldering sax solo As if on cue, the rain subsided.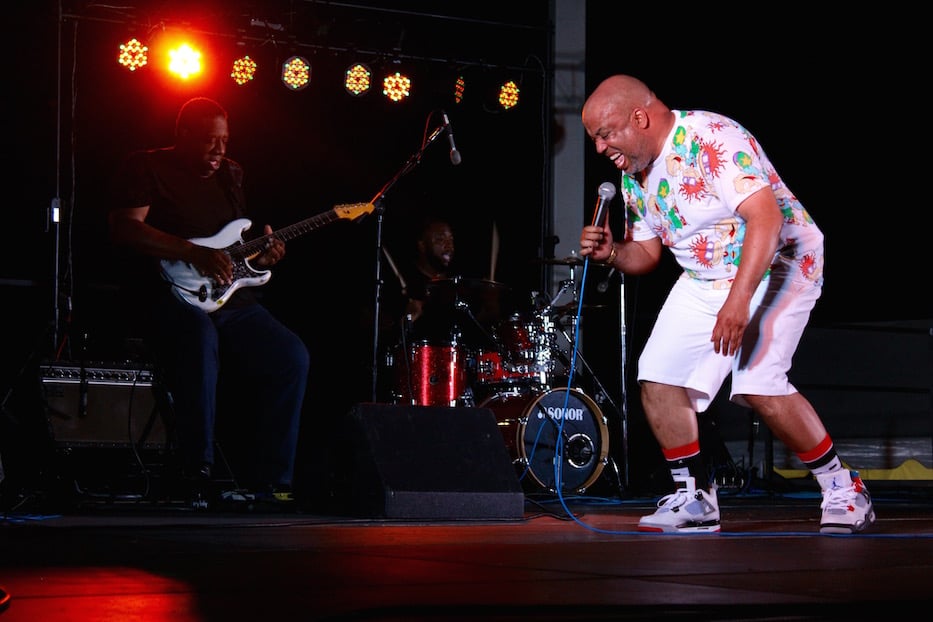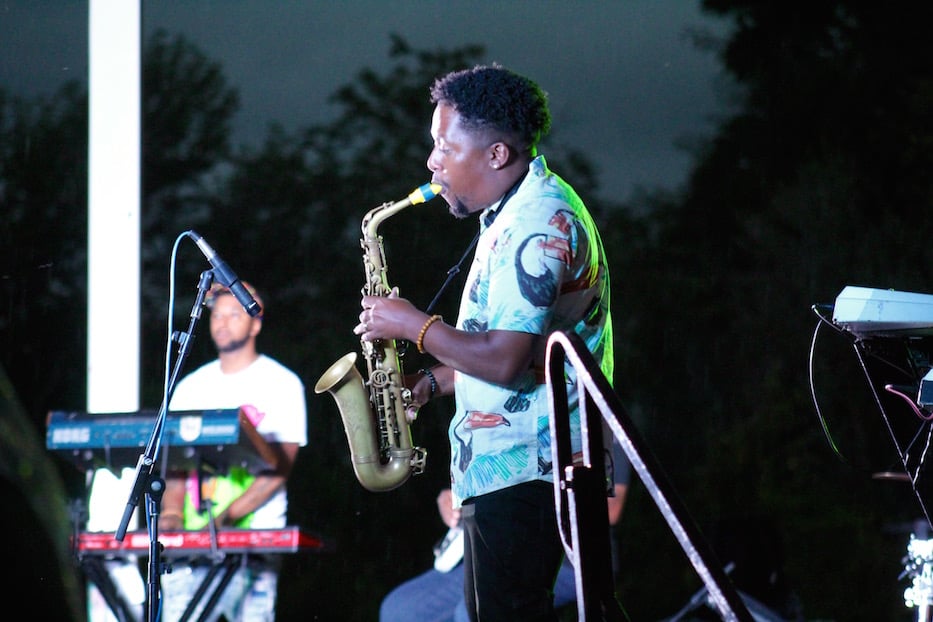 Top: Langley later in the evening. Bottom: Gritz slows it down on sax.
No sooner had a dry, cool dusk fallen than the concert grew legs, and a dance party popped up near the stage. With the first strains of Bill Withers' "Lovely Day"—"We're gonna try to make it a lovely night too," Langley said to applause—a few people stood, and started rocking moves in their circles. Kids found their hips and knees and tested them out. On stage, band members matched Langley's energy, turning out solos that made it impossible not to move.
"Ladies and gentlemen, you're beautiful tonight," Langley said before pulling out a smooth, buttery version of Frank Sinatra's "Fly Me To The Moon" with a guitar solo folded in. "Especially the ladies. You look gorgeous."
The artist paused and told the audience that it was time to start moving, in that familiar summer way. Listening as Ivory played him in on drums, he jumped into Maze and Frankie Beverly's "Before I Let Go." As he crooned the words, a line of dancers materialized by the stage. At one end, Gail "Starfire, Queen of the Sock Hop" Chapman broke it down alone, a voluminous skirt swishing as she turned. At the other, Jones led a group of dancers bathed in white and blue light as they lifted their arms in unison.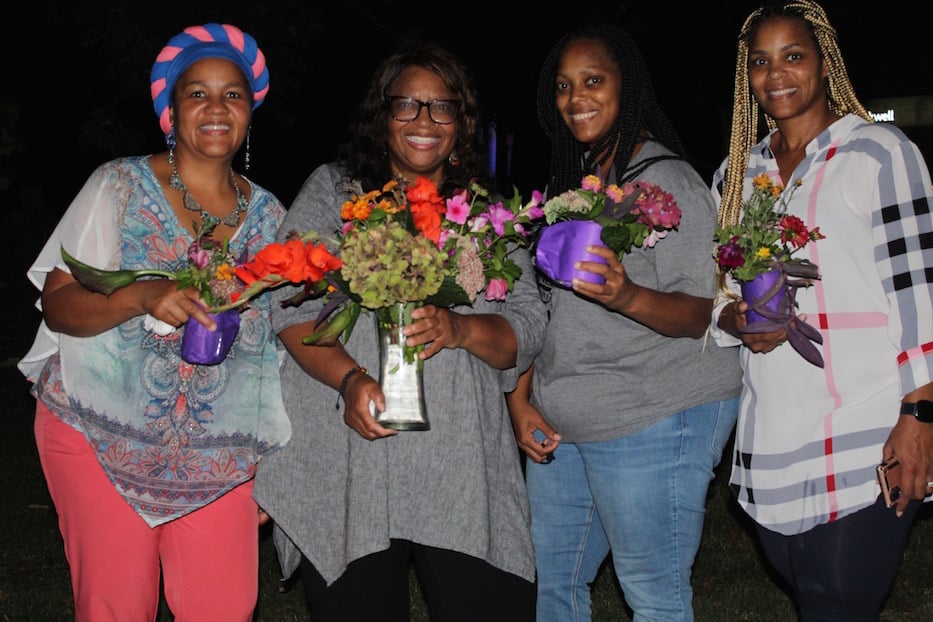 Happy birthday Joyce Blandon! Friend Shawn Buskey, who provided fresh flowers from her garden, Blandon, goddaughter Karen Williams and niece Kelly Moore.
Trying to get Langley's attention, New Havener Donna Roberts buzzed around in a pool of light, determined to tell the musician that there was a birthday in the house. From a setup on the hill above—the same one Langley learned to sled on—her friend Joyce Blandon was celebrating her 69th year of life. Roberts wasn't going to let her go home without hearing a little Stevie Wonder.
Blandon, a lifelong Hamden resident, partied at a table dressed with cheese and crackers, cookies and birthday cake, and at least four kinds of salad. The chair of Hamden's ​​Community Development Citizens Advisory Commission, she said she knew that the concert would double as her birthday party as soon as it was announced. She hasn't heard Langley perform since the Waterbury Jazz Festival in summer 2019.
"I said, I'm gonna have a party in the park!" she recalled. "I had a stressful day, and can think of no better way to celebrate. This music is healing."
Below, Langley crouched at the edge of the stage and listened to Roberts, nodding as she spoke. When he stood, it was to cue the band into the chorus of Stevie Wonder's "Happy Birthday," with a cheer that echoed all the way back to Blandon's table. He crossed the stage, sinking into the words as he belted.
Then he stood, reading the crowd. He transitioned into Montell Jordan's "This Is How We Do It," and kept the party going.
The Hamden Free Summer Concert Series returns to Town Center Park Friday August 27 with Sean Nelson's New London Big Band. Click here for more info.