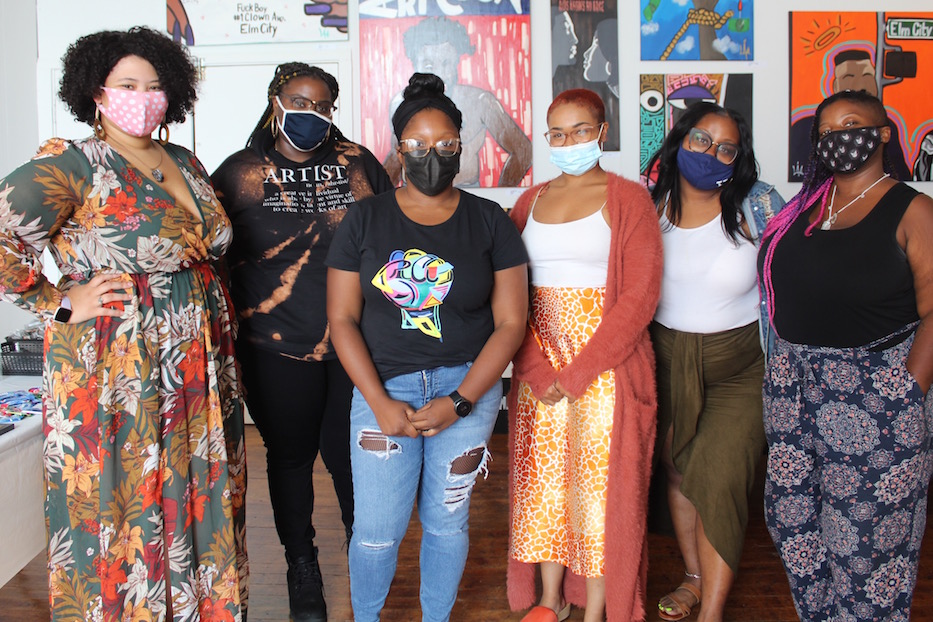 Erector Square | Fair Haven | Painting | Photography | Arts & Culture | Visual Arts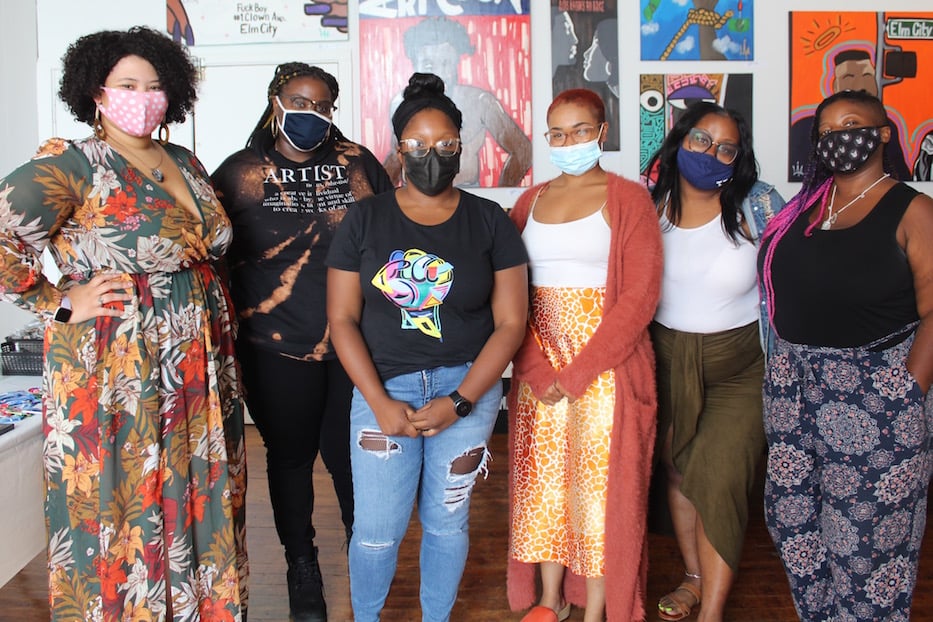 From left to right: Carin Bernard, Venita Bledsoe, D. Douglas, Aliya Stevenson, Annissa Carter, and Jade Streater on Saturday. Artist Quentesa Pierce was only able to make it on Sunday. Lucy Gellman Photos.
Framed photographs stretched out around Venita Bledsoe, each with a story to tell. By her right arm, a crystal ball floated between two cupped palms, bands of pink, orange and blue stretching across its base. Behind her, a friend surrounded by a sea of pink balloons looked up from her book. In a frame beside it, high school students were all limbs and smiles, their arms lifted jubilantly as they did the cha-cha-slide.
For the 30-year-old artist, putting them on public display marked a first.
This weekend, Bledsoe was one of the artists to show work at Make It Melanin, a two day pop-up exhibition from six Black women makers at Studio i in Erector Square. Curated by Hill-based painter and multimedia artist Demeree or D. Douglas, the show featured work from Bledsoe, Carin Bernard, Annissa Carter, Aliya Stevenson, Jade Streater and Quentesa Pierce. All are small business owners in the greater New Haven and tristate area.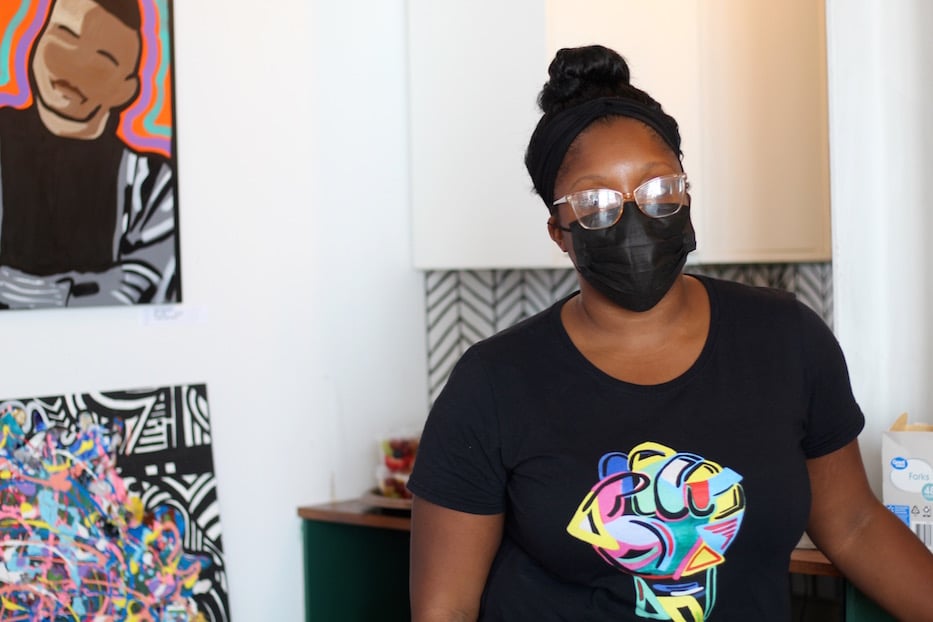 D. Douglas saw how artists often run up against space constraints when trying to make and show their work. So she did something about it.
"I'm so excited that all of these beautiful women came through to showcase their talents," said Douglas, surrounded by grab-and-go cups of rose, sparkling cider, fruit and cheese and crackers she and her mother had assembled before the show. "We are capable of doing this, but we often don't have the space to do it."
The pop-up is the product of Douglas' longtime desire to amplify the voices of fellow Black women, including many who practice out of their homes and hold down one or multiple jobs in addition to artmaking. After she displayed her own work at Poetic Haven in June, "I started asking, what's next?" she recalled. She began looking around for space online, and connected with Studio i's Jennifer Rae. She recruited artists through a call on social media.
Saturday, early fall light flooded the studio as artists set up their displays against the walls, creating a U shape in a gallery that has hosted photo shoots, tap performances, and short exhibitions since launching in 2017.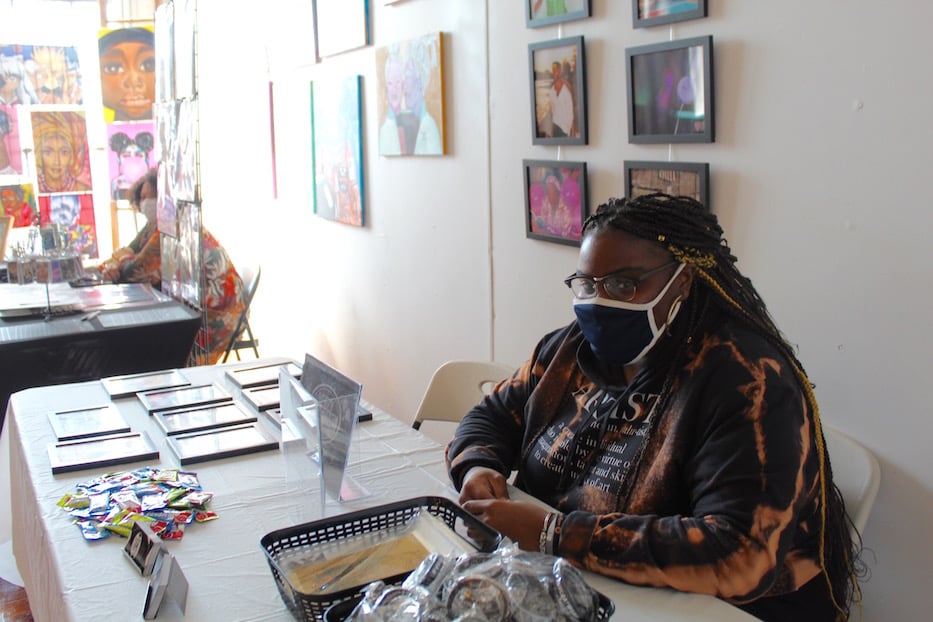 Venita Bledsoe, who runs Veezy Vibetime Creations.
By the entrance, Bledsoe set out photographs, rubber wristbands and digital art prints for her small business, Veezy Vibetime Creations. Eleven years into her work as an artist, she said that Make It Melanin was her first opportunity to sell work in person. When she's not making art, she's working in hospitality in Stratford.
Her initial jitters around vending at the event had dissolved by the early hours of Saturday afternoon, as a steady trickle of visitors came through the door and hovered over her table. In her work, Bledsoe captures a mix of candid shots and posed portraits, from a friend's roller skating practice in Norwalk to a pajama line that is just getting off the ground. In addition to photography, she has been experimenting with digital design and watercolor painting.
"I think people just think art is easy, but it's not at all," she said as visitors looked over a mix of digital art and photography."I like how it feels when I'm creating."
Saturday, she put some of her favorite works on display to keep her company. In one framed photograph, a friend skated through Norwalk's Ryan Park, where a huge mural stretches out across the basketball court. In another, a daughter leaned over to her dad and whispered the magic of a secret into his ear. In a third, a masked barber leaned lovingly over their pint-sized client and gave him a fresh fade, maybe just in time for the school year. It seemed like there were dozens of narratives folded into each image, waiting to be unspooled and retold.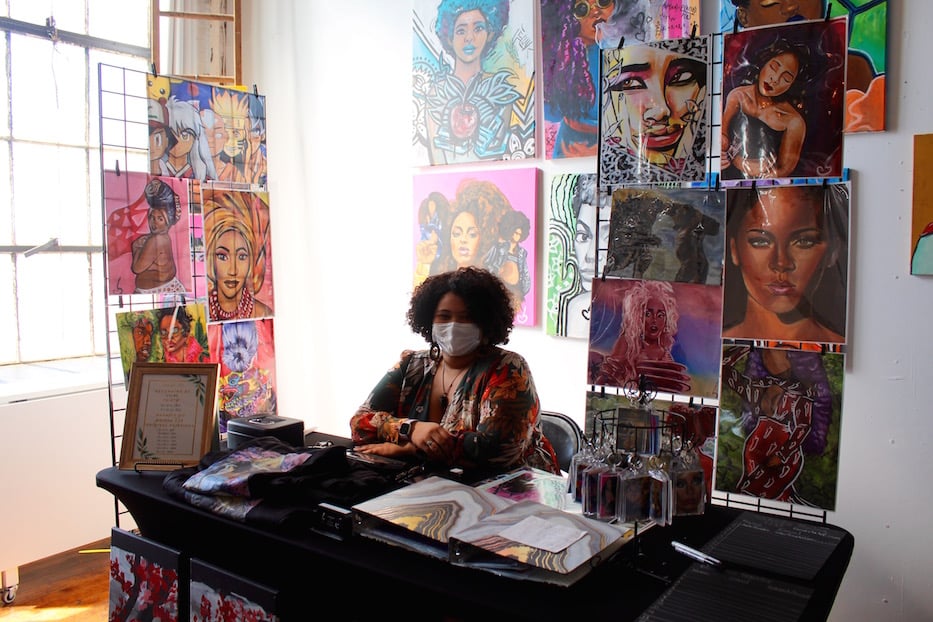 Carin Bernard.
That was also true for Bernard, a 29-year-old artist and self-described nerd (she wears the title proudly) who runs Carinista Art out of her home in Rocky Hill. Born and raised in Waterbury, Bernard has loved art for almost three decades—she was especially enamored of drawing eyes as a kid—but put it on the back burner following her mother's death in 2010. Then several years ago, she found herself battling severe depression. She turned back to the blank page with her artmaking supplies in hand.
"It became a way of processing emotion," she said. After working largely in pencil, charcoal, and pastel, she began painting a few years ago and discovered that she had a knack for it. Because paint can be expensive, she "started small" and grew Carinista Art from there. Many of her canvases pay homage to her twin loves of math and music, the first of which she minored in during her time at the University of Connecticut. A degree in economics from the school helps her run her business.
"It's almost like I stumbled back into it," she said of her artwork. "If I don't at least try, I'm wasting this gift."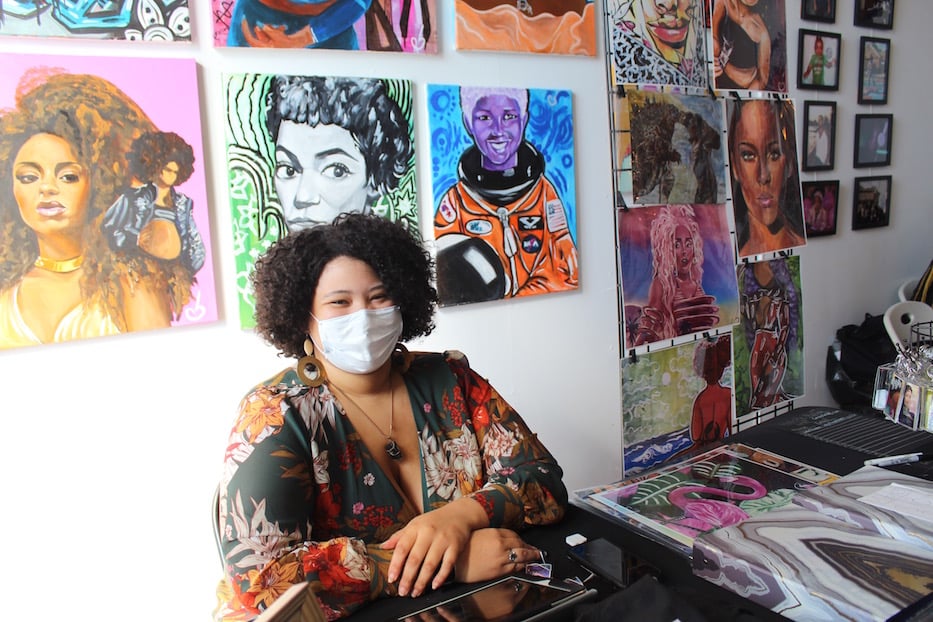 Carin Bernard.
Now that she has stumbled back, she is sprinting ahead. In one painting perched above her head Saturday, her subject looked out at the viewer, eyes wide behind thick lenses and round, goggle-like frames. Equations danced around her arms; a super-sized pencil and compass floated at her waist. Curly pink and purple hair poured past her shoulders as she blew a wispy stream of smoke.
Another canvas nearby was dedicated to Mae Jemison, who became the first Black woman to go to space when she boarded the Endeavour in 1992. In smaller canvases propped up before Bernard, Lizzo and Rhianna both made appearances. Bernard said the breadth of her work is so broad because she's not interested in fitting into any sort of box.
"We need more things like this," she said of the pop-up, adding that she was feeling inspired to branch out beyond painting. "I feel like the arts are becoming more and more important in the community, and it's up to us to keep them alive."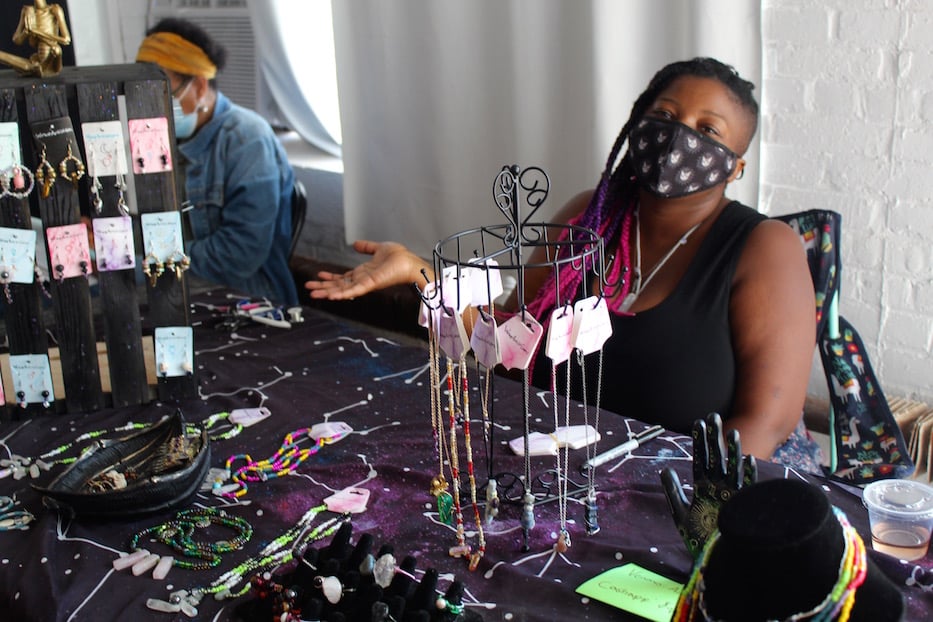 Annissa Carter, who runs Wrap Artist Gems.
Across the show's five tables, several of the works also held stories of a cautiously reopening New Haven. At Carter's booth for Wrap Artist Gems, a pair of pink and purple earrings waited for the right owner to find them. A month ago, the artist was at Partner's Cafe when a drag queen deposited one of the pieces, a shiny pink bead, in her hand as a thank you for a tip. After the show, Carter asked if she could have a matching one for a set of earrings. The queen obliged.
She thought back to that interaction this week, after selling out at PRIDE festivities and pulling several late nights to make new work for the pop-up ("I worked hard to pull this off!" she laughed from behind a mask printed with cats). Carter, who works as a program assistant for Artspace New Haven, makes her work in a home studio in what little free time she has. She said the pop-up had her thinking about how different it will be to be back at the building in October, for Artspace's Open Source Festival.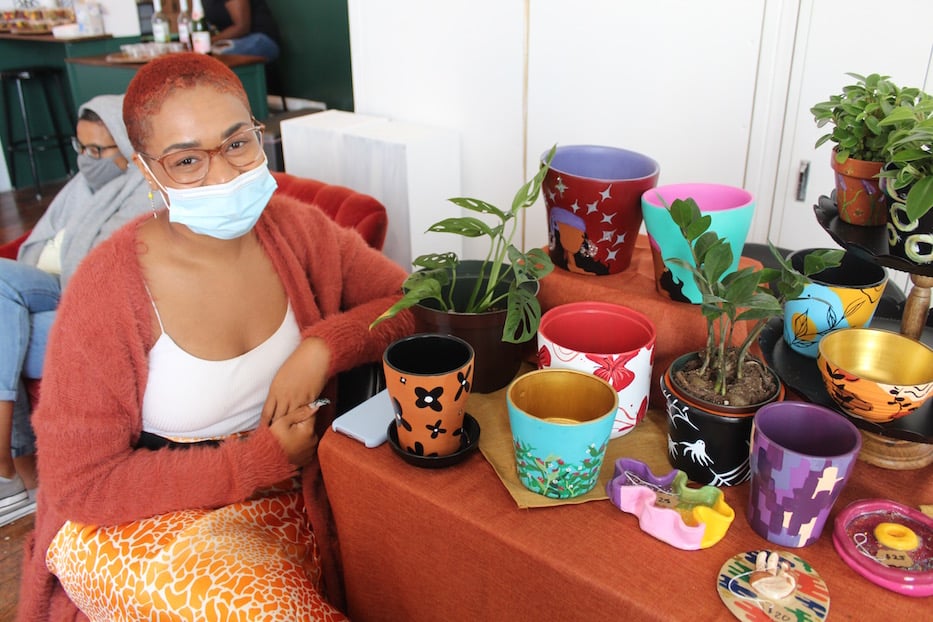 Aliya Stevenson.
Next to her, Aliya Stevenson showed people around her display of painted terracotta pots and clay sculptures. A student in architecture at Springfield Technical Community College, Stevenson has had a long loved houseplants, and began decorating pots a few years ago as a way to unwind.
Then"a lot of friends were like, hey, I need a pot for my cousin," and she realized she could turn it into a relaxing side hustle while she was also in school. She connected with Douglas through a friend of her brother's. As she spoke, pots burst into color with designs of big red flowers, dainty climbing vines, orange and gold leaf, and black-and-white ghouls in time for Halloween.
"I never thought I could make a business out of it," she said. "As long as I can inspire someone with one piece, that would literally make my day."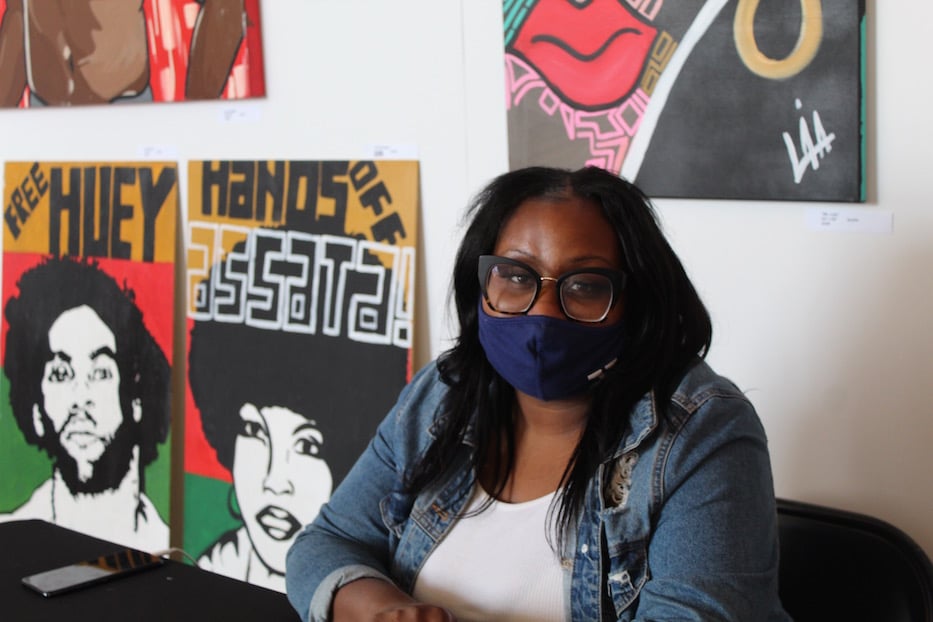 Jade Streater, who runs Lady J The Artist. Through her small business, she runs several Sip & Paint nights.
To the right of the studio's door, Jade Streater sat among nine bright canvases. A single mom and graduate of Cooperative Arts & Humanities High School, Streater paints and runs her small art business Lady J The Artist in between raising her son and working multiple jobs between Yale University and Bridgeport Hospital. As she spoke, an eye painted thickly with purple eyeshadow and surrounded by cubist squiggly shapes blinked above her head.
Her work celebrates both Black history and New Haven, the city in which she was born and raised. On a vibrant canvas over her left shoulder, her late father and uncle gathered at a street sign that read "Elm City." A halo floated over her father's head. Both of them sported Keith Haring-esque technicolor outlines as they looked out into the place that they called home.
To her right, viewers studied side-by-side canvases of Huey Newton and Assata Shakur. Above them, Childish Gambino was depicted mid-movement, one eye closed as the other squinted skeptically at the studio. Nearby, an oil-on-board portrait used old paint to make a woman's afro into a raised, textured cacophony of color.
"Painting what I paint, it's giving me a voice without speaking," she said. "This is Black history, Black culture."
Going forward, Douglas said she's interested in making the Make It Melanin pop-up a more frequent event, but needs to find available space to do it. No sooner had she announced the dates for the pop-up than she had artists asking her about the next iteration. After using Poetic Haven and Studio i, she doesn't know what other spaces exist in the city.
"I'm feeling around," she said.