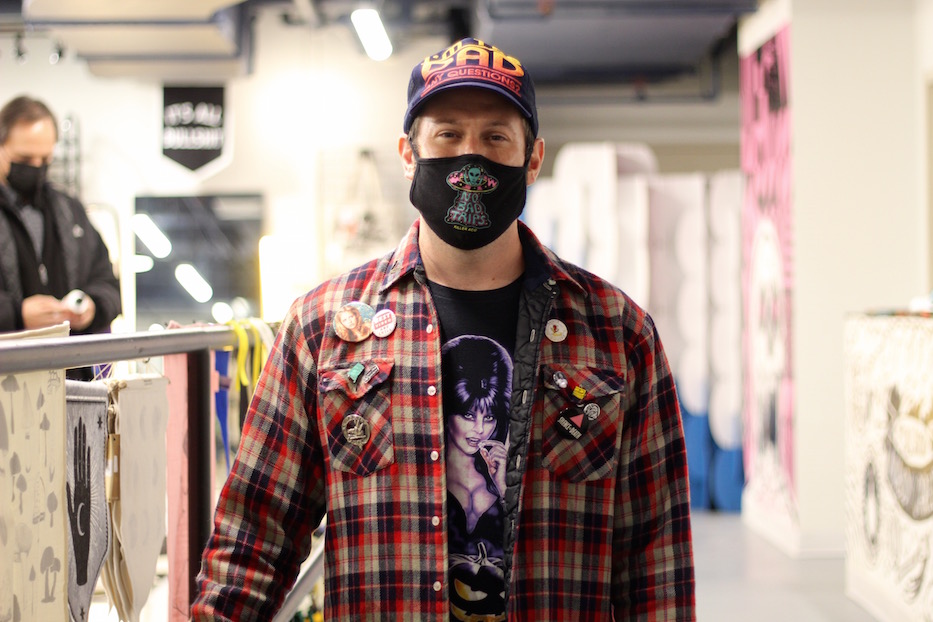 Economic Development | LGBTQ | Arts & Culture | Ninth Square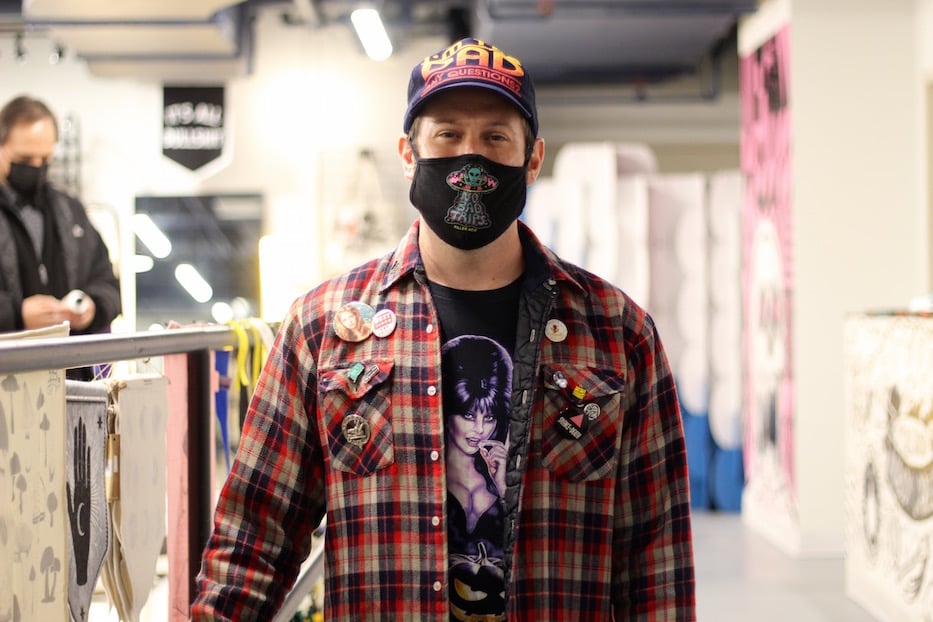 Owner Alex Dakoulas Thursday night. "This spot just spoke to us," he said. Lucy Gellman Photos.
Strange Ways was in full form. An extra witchy Winifred Sanderson glided across the floor, inspecting pronoun pins, felt flags and small-batch soy candles scented with sandalwood and sage. A shopper perused dad hats and handcrafted soaps, her pumpkin-shaped earrings gleaming with rhinestones. Light poured from the doorway of the shop onto the plaza, where people had started to gather in front of a movie screen.
Outside, the temperature continued to drop. Inside, the night felt like it was just heating up.
Strange Ways, the quirky flair and oddities shop that lived for years in Westville, has found its new home downtown, at the lip of the city's Ninth Square neighborhood. Seven years after launching online and six after opening a store on Whalley Avenue, owner Alex Dakoulas has taken the business to Pitkin Plaza to expand his offerings. The new location is four times the size of his first storefront and includes four new murals and a studio space for pop-ups and in-house photography.
"This spot just spoke to us," he said Thursday night, at a grand opening timed with a screening of Hocus Pocus from Town Green Special Services District. "It's a little weird in itself, a little strange in itself, and so it fit. Now we have room to display everything—also grow, grow for the future. You know, I want to have this for years to come and this is growth."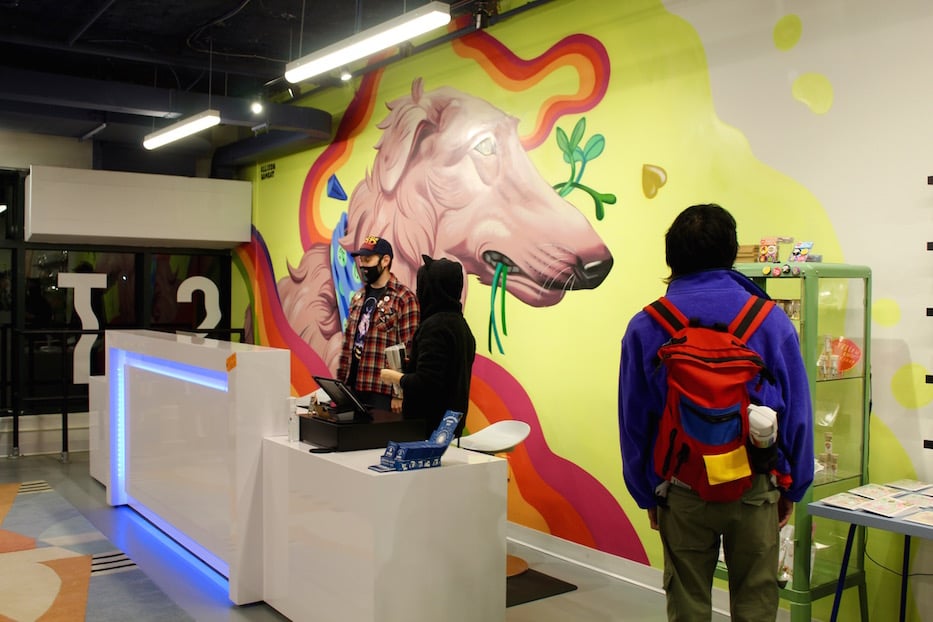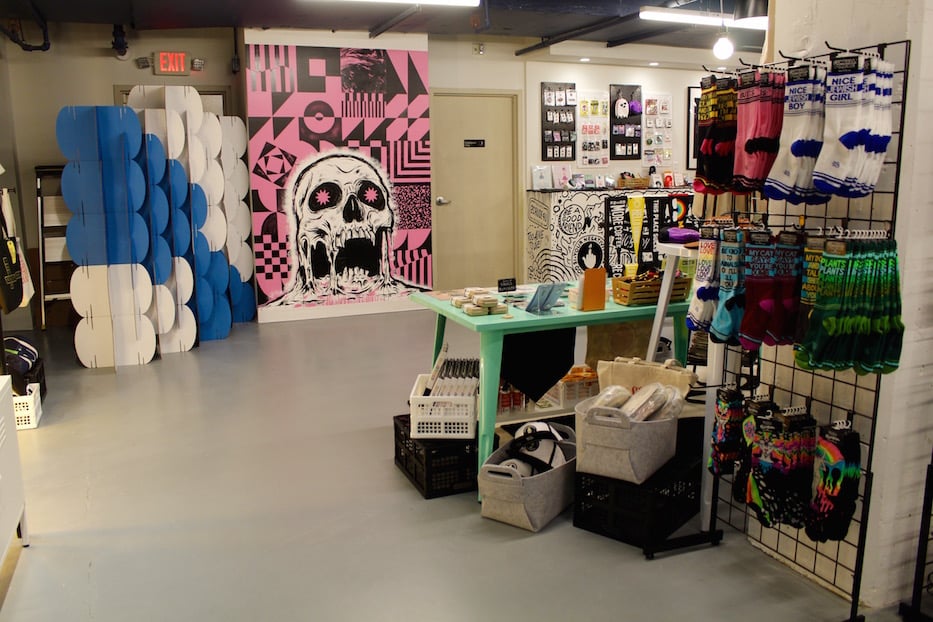 Top: Allison Bamcat's mural, which stretches against one back wall. Bottom: Michael Crigler is another one of the artists that Dakoulas worked with before opening.
Dakoulas has felt the need to expand for some time now, he said. For years, Strange Ways used every nook and cranny of its brick-and-mortar shop, selling certain items exclusively online as storage became an issue. Originally, he looked for a space in Westville that could sustain the business model because he loved the neighborhood. When he didn't find it, he began to look in other parts of the city.
During the pandemic, he approached the landlord who runs 360 State about the first-floor space, which has been vacant since The Devil's Gear Bike Shop moved six years ago. He got the keys earlier this year. Before setting up the store, he commissioned artists Allison Bamcat, Michael Crigler, Josh LaFayette and Chris Piascik to do huge, bright murals in the store. He has worked with all of them before, and "wanted to have their good vibes in the space."
Those works—think goth meets Xanadu, on mushrooms—now greet viewers in a cacophony of color when they enter the store. Behind the checkout counter, Bamcat has painted a huge, floppy-eared dog with a smiley-face bandana around its neck, carrying a sprig of green in his mouth. Her furry friend stands between two bands of rainbow, bright yellow sunlight spreading out in front of its nose. Across the shop floor, Crigler's skull mural melts against a backdrop of pink and black. Just on time for Halloween, Piascik's rendition of a ghoulish, technicolor New Haven peeked out from the studio space.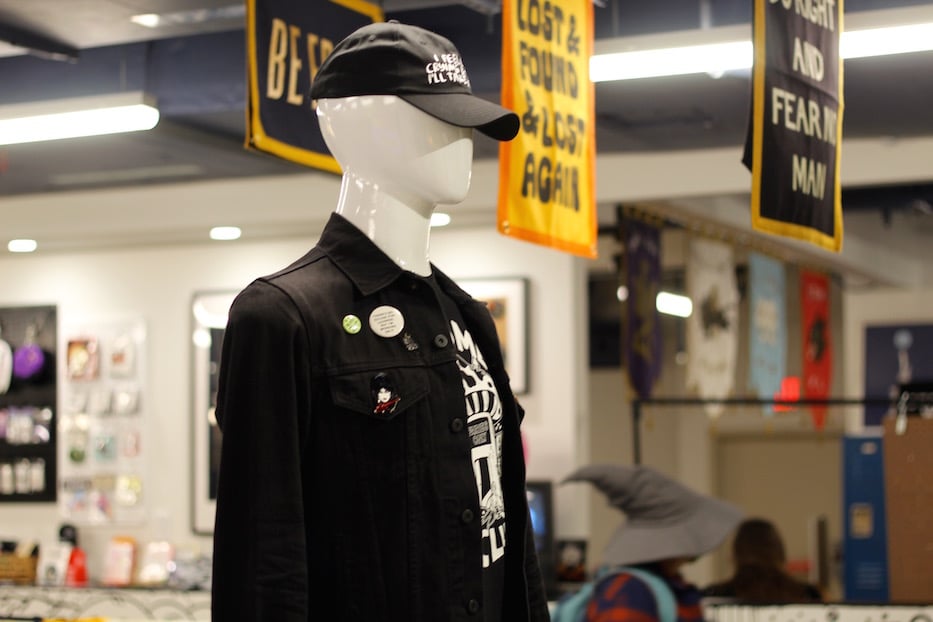 Sometimes "it feels just surreal," Dakoulas said. When he started the business seven years ago, Strange Ways was a website and a few pop-ups, including the well-loved flair fair events that he used to hold in Lyric Hall. His first store, nestled between a salsa studio and a racquet shop on Whalley Avenue, was itself a pop-up until he signed a lease in 2015. When he started planning the move, he didn't know if any neighborhood would feel as artsy and tightly knit as Westville.
He found that the Ninth Square was a surprisingly welcoming business district, he said. In addition to Strange Ways, queer-owned businesses in the neighborhood include Blue Orchid, Bark and Vine, Barcade, and Gotham Citi nightclub. The New Haven Pride Center, with a gallery dedicated specifically to LGBTQ+ art, is also down the street.
Now, he's able to give fellow artists a space to show their work. He is not shy about the fact that the inventory is pro-queer, pro-Black, pro-witch, pro-weird, pro-goth, pro-indie and pro-small business. If it defies all the obias and isms, it's doing its job.
"We've always been pretty vocal in supporting marginalized communities," he said. "I'm gay, I'm queer, and so I think I was naturally drawn to just carrying that work, because I thought it was cool myself. I think it just turned into 'How do we support people who might get care in other stores?'"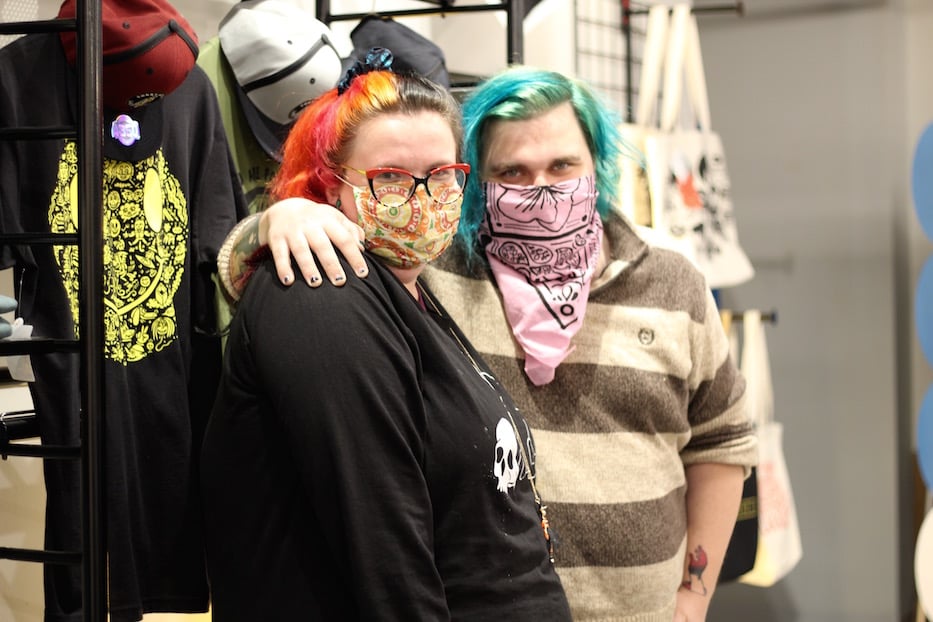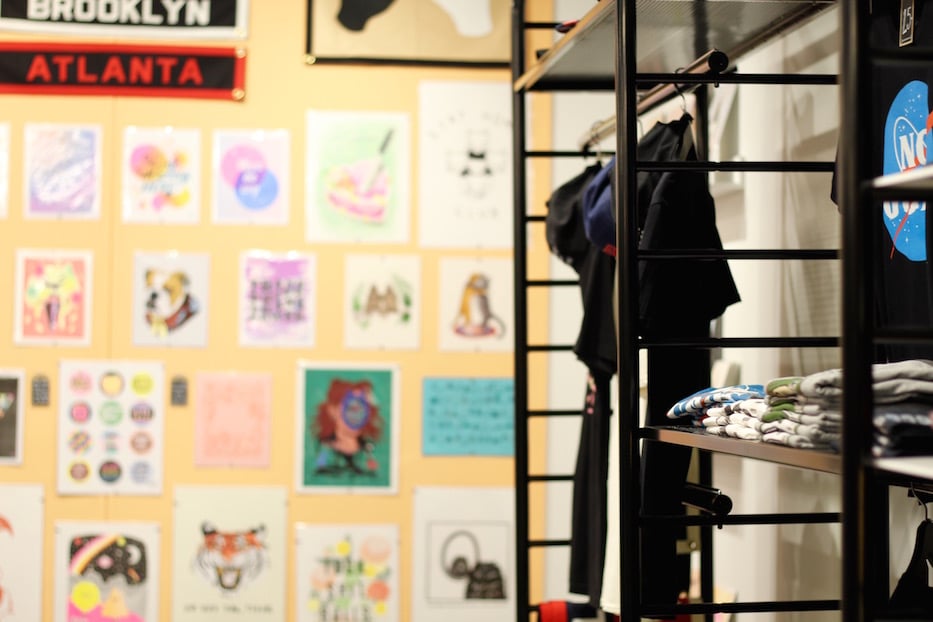 Top: Val and Dee Ruby-Omen, who were married earlier this month. Bottom: A detail from a corner of the store. Fine art prints, pins, and pennants are all par for the course within the store.
As the night grew chilly outside, newlyweds Val and Dee Ruby-Omen gave off that cozy, good love sort of vibe as they chatted in front of a rack of black and green t-shirts. Both artists—Val is one half of The Frankenstein Twins and Dee is a poet and writer—said they'd come out to support Queerly Departed, one of two small businesses popping up in the space Thursday night.
While the two live in Naugatuck, Val has gotten to know Queerly Departed owners Andy Mincey, Mortimer Darcy and Jack Walters at spooky pop-ups around the state. She said that she also likes to get an early start to her holiday shopping, and looks to small, independent businesses like Strange Ways as a place to do it.
"I'm really feeling the spooky energy," she said. "It [Strange Ways] is queer, it's all sorts of inclusive …"
"It defies the monoculture," Dee Ruby-Omen said, finishing her sentence.
"Yes!" Val jumped back in. "You gotta support it." As if on cue, Walters came over with Chestnut, Queerly Departed's four-year-old Spaniel mix. A pair of thick black bat wings bobbed from his collar, making him look like he might take flight.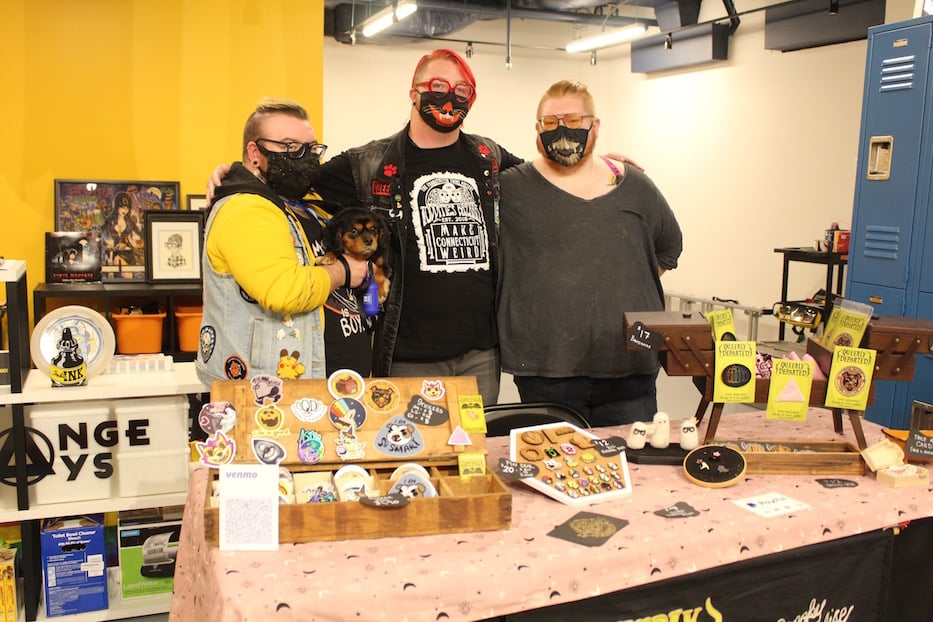 Queerly Departed's Jack Walters, Mortimer Darcy, and Andy Mincey. All three are queer and neurodivergent, which has become part of the business.
Down a ramp, Mincey and Darcy greeted customers with an array of laser-cut and enamel pins, tiny felted ghosts with black glasses, and bright patches with neon-tinted ghouls and pink triangles emblazoned with the word "Queer." The two, with Walters, are partners in life and work, with matching ghost tattoos on their ring fingers to celebrate their union.
After starting the business in 2019, they've watched it grow through pop-ups and online sales. Mincey, who describes themselves as "the witchy one," said it's been powerful to see the impact that it has on younger queer and neurodivergent people, who are able to see a 30-year-old version of themselves in the brand's leadership and swag.
"Our business is for queer and spooky people," Darcy said. "We put out the kind of stuff we want to see more of in the world."
At a table beside them, The Pulp Girls cofounders Cailie and Brianna Mitchell pointed out funky socks, colorful sweatshirts, and earrings that ranged from tiny painting palettes to ghosts, goblins and bats. Born and raised in Cheshire, the sisters launched the business roughly a decade ago, when they were in their 20s and working multiple jobs. They now dedicate themselves full-time to the shop, which operates almost exclusively online and through pop-ups.
"This has been a dream of ours to have a brand," said Callie, who worked as an art teacher for five years before going full time with The Pulp Girls this year. A few feet away, a smiling sunflower exploded across a yellow sweatshirt. "It's a beautiful day to leave me alone," read big text that surrounded it.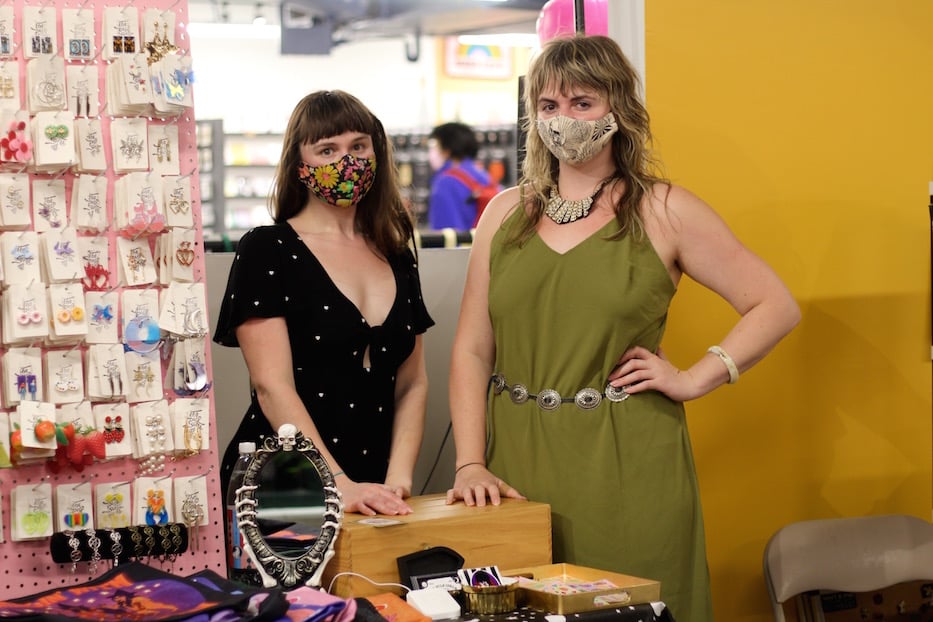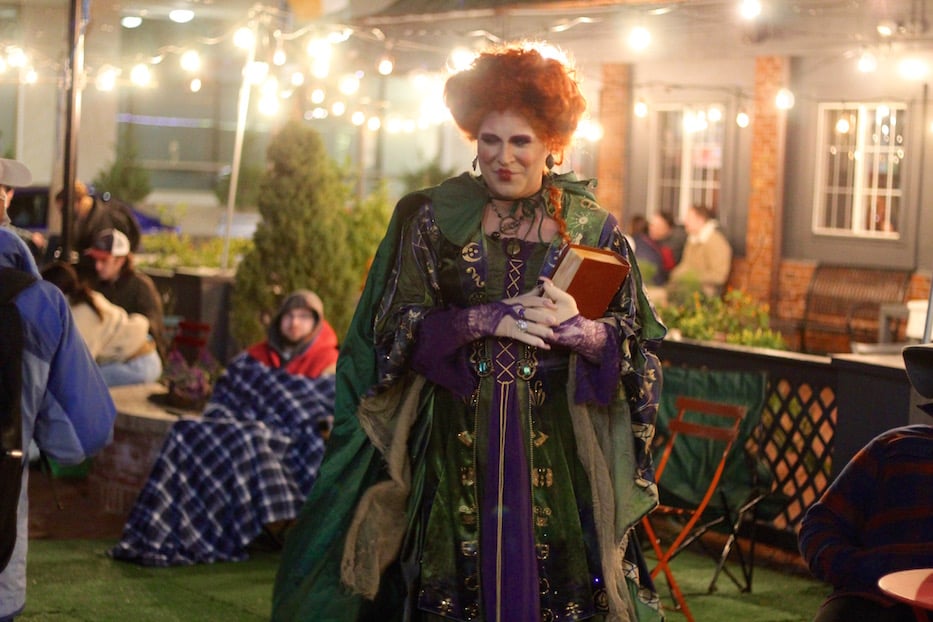 Top: Brianna and Cailie Mitchell, sisters who run The Pulp Girls out of their shared home in Cheshire. Bottom: Summer Orlando as Winifred Sanderson.
As the witching hour drew near, drag queen Summer Orlando swished through the doorway, fully inhabited by Winifred Sanderson. Years ago, Orlando started doing Halloween drag as Sanderson in homage to Bette Midler, who originated the role in 1993. The queen, who refers to her as "the divine Miss M, and everything she does is gold," wrote an entire show titled Hocus Pocus Live in 2014.
She now produces it from Salem, Mass. to New York for the entire month of October—or in her words, "booked and blessed." Thursday, she floated from table to table outdoors, letting bundled movie goers know that the screening was about to begin. Around her, a spooky soundtrack flipped to the "Time Warp" from the Rocky Horror Picture Show. Attendees snagged candy from a table that Town Green had set up on the side of the plaza.
Orlando said that she was excited to be at Strange Ways' new location, which she's hoping will attract more foot traffic. In 2017, she collaborated with Dakoulas to do a limited-edition drag pin celebrating her work. Queens Kiki Lucia and Sylvia Heart are also part of that series.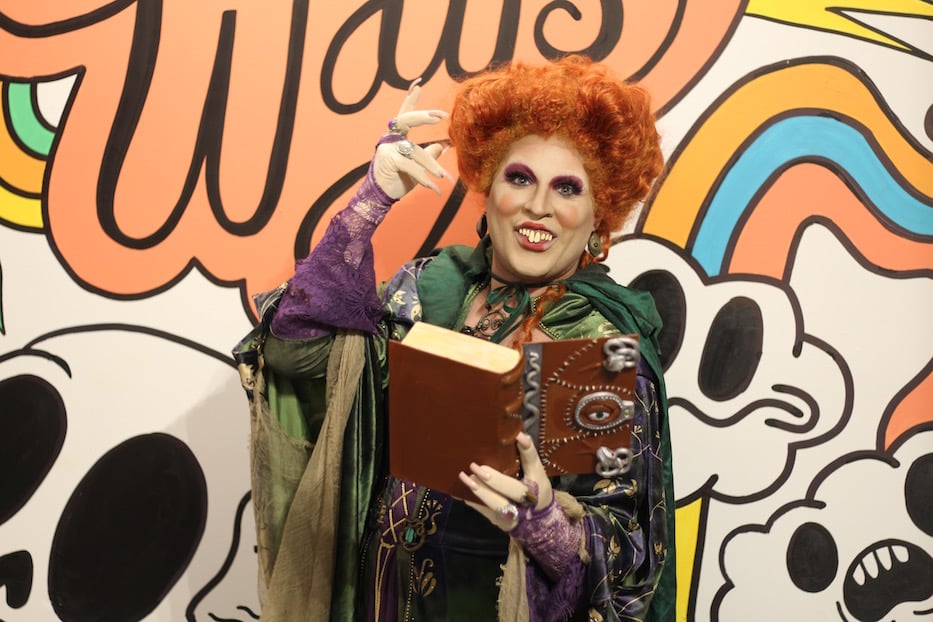 Summer Orlando as Winifred Sanderson. A detail of Chris Piascik's mural is behind her.
She has watched the store evolve since, sometimes from afar. For the last year, she and fellow queen Barbara Joan Streetsand have been criss-crossing the Northeast to perform drag, largely in South Carolina and Florida. She was glad to be home Thursday.
​​"It's very important," she said of having queer representation downtown. "Honestly, I don' think New Haven would be as colorful as it is, and as unique, and have all the culture if it wasn't for the queer minds. All of the vendors here … all their wares are amazing, and I love that it's by queer artists. It's coming from their queer minds. They're producing it. We just have to keep queer art alive in New Haven."
"And I promise," she added as she prepared to do another turn around the plaza, "It ain't going anywhere! So long as I live here, it ain't going anywhere."
Strange Ways is located at 151 Orange Street. For hours and more information, visit its website.