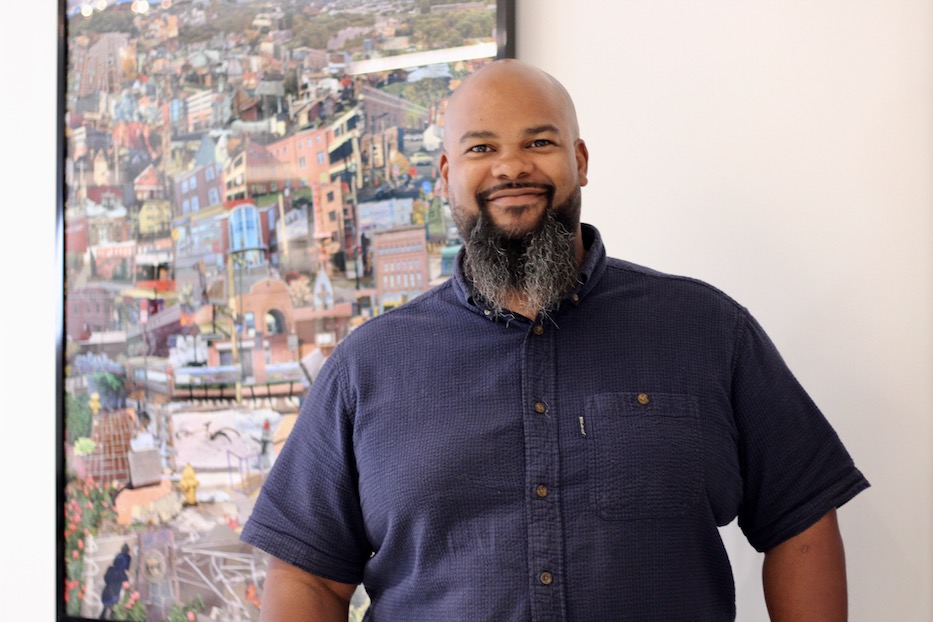 Arts & Culture | New Haven Free Public Library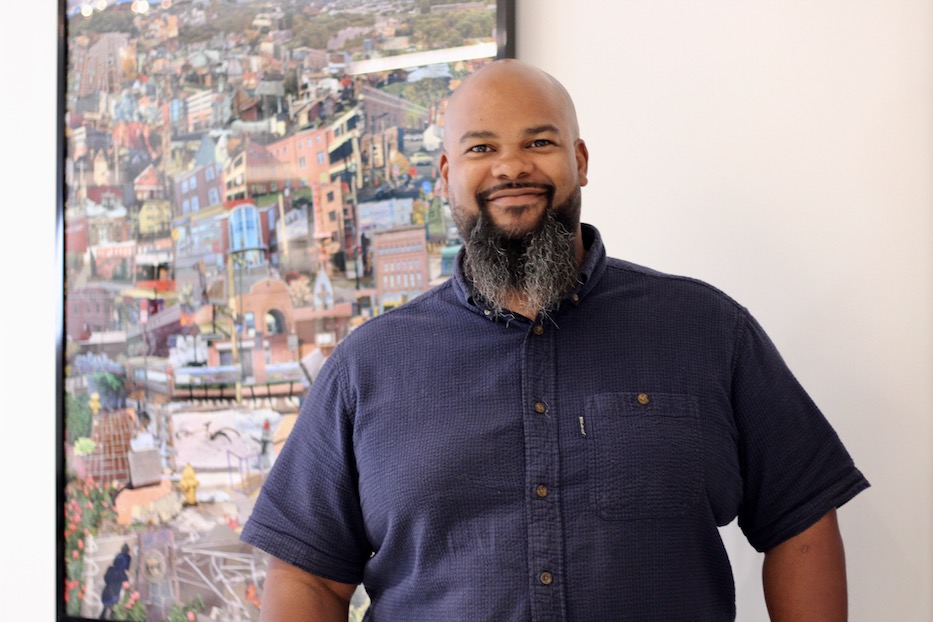 Eric Rey: "There is something very special to me about being able to give back to the place I grew up." Lucy Gellman Photos.
New Haveners who want to make money in music—or learn to edit their own music videos—can now try those skills out in the New Haven Free Public Library. So can artists who are just trying to get their craft off the ground. And photographers who want to learn how to make magic with a cell phone or starter camera, while learning a little more about how to frame New Haven.
This month, the library welcomed New Havener Eric Rey and Hamdenite Chris Ward as its third Entrepreneur- and Creative-in-Residence, part-time positions that they will hold from September 2019 through January 2020. Based out of Ives Squared at the library's downtown branch, both are rolling out courses and office hours this month, some starting as early as this week. The courses are free and open to members of the public.
Rey is a life coach, musician, lifelong New Havener and co-founder of the small soup business Sopa! New Haven with his brother Alejandro Pabon-Rey. Ward is a filmmaker and photographer who moved to the city from California and now teaches film and media studies full time at Quinnipiac University. The positions were most recently filled by Krative Founder Rick Callahan artist-tinkerers Jacquelyn Gleisner and Ryan Paxton until earlier this year.
"There is something very special to me about being able to give back to the place I grew up," said Rey in a recent interview at Orchid Cafe on the Green. "I grew up in this library. This is the kind of stuff that I love … helping people find their way forward. There's something exciting about the energy that comes from a person when they realize 'oh, I can do that.'"
During his time in the position, Rey will offer weekly office hours and one-on-one coaching, as well as a series of entrepreneurship-themed workshops with a focus on the creative economy. On Sept. 12, spoken word artist Puma Simone will kick things off by talking about her own career, and what she has done to balance art-making and living in New Haven.
Those continue Sept. 27 with musician Manny James, and a third on women in entrepreneurship, the lineup for which has yet to be announced.
"It was like they wrote it [the position] for me," he said. "The focus on programs spoke to the coach in me. And then the second part on entrepreneurship it was like, this is my gig."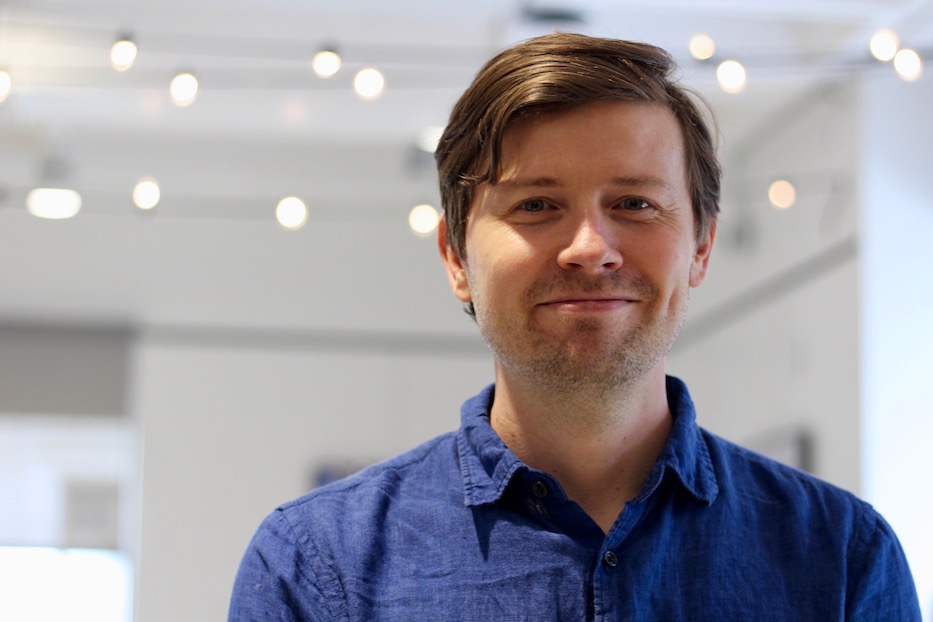 Chris Ward: "Empowering people to be able to tell their own stories is what really energizes me."
Ward, meanwhile, will be offering a series of photo and video editing workshops with a particular focus on Adobe Premiere and Lightroom, as well as basic photography concepts including diffusion, composition, and exposure. In September, those begin with several introductory courses, as well as semi-weekly photo tours of New Haven that are still in the works. He said that the classes are structured to accommodate both returning and drop-in students, to allow for the most flexibility in what New Haveners want to learn.
Both he and library staff said they are also interested in a podcasting or audio aspect of the residency, but have not yet figured it out. Ward suggested holding a workshop in which attendees record each other with their phones, and then do a quick audio edit to learn basic techniques.
As a fairly new transplant to the city, he said that he's most excited for the teaching aspect of the job, through which he hopes to both meet people from around the city and encourage greater civic engagement from his own students at Quinnipiac. When he moved to New Haven several months ago with his girlfriend, an archivist at the Beinecke Library, he got to know the library while volunteering with the New Haven Documentary Film Festival (NH Docs). Two library staffers mentioned the position to him, and encouraged him to apply.
In the coming months, he'll be inviting several of his QU students to join him as teaching assistants, to help them grow their relationship with the city as he also grows his.
"I really do love New Haven," he said in an interview at Orchid Cafe on the Green. "It's a mid-sized city, there's a lot going on, and everyone is so giving of their time. I really love how you can jump right in … people are very open to realizing projects."
He added that the position is very much in his wheelhouse: after working as an instructor in two-year accredited programs at Ventura College, Diablo Valley College, and UCLA Extension, he's found that "empowering people to be able to tell their own stories is what really energizes me."
Business Outreach Librarian Gina Bingham, who is helping the two get acclimated, said that it's exciting to have the new round of positions.
"New Haven—the library and the community in general—is extraordinarily fortunate to have at their fingertips these experts who are willing to share what they know, and who are these down to earth people," she said. "That's true of New Haven in general, and we're just bringing it in."
Eric Rey holds weekly office hours on Wednesdays 10 a.m. to 12 p.m. and Thursdays from 3 to 5 p.m. Chris Ward holds office hours on Wednesdays from 5:30 to 7:30 p.m. and 6 to 8 p.m. on the first Wednesday of the month. To find out more about classes and workshops in Ives Squared, click here.