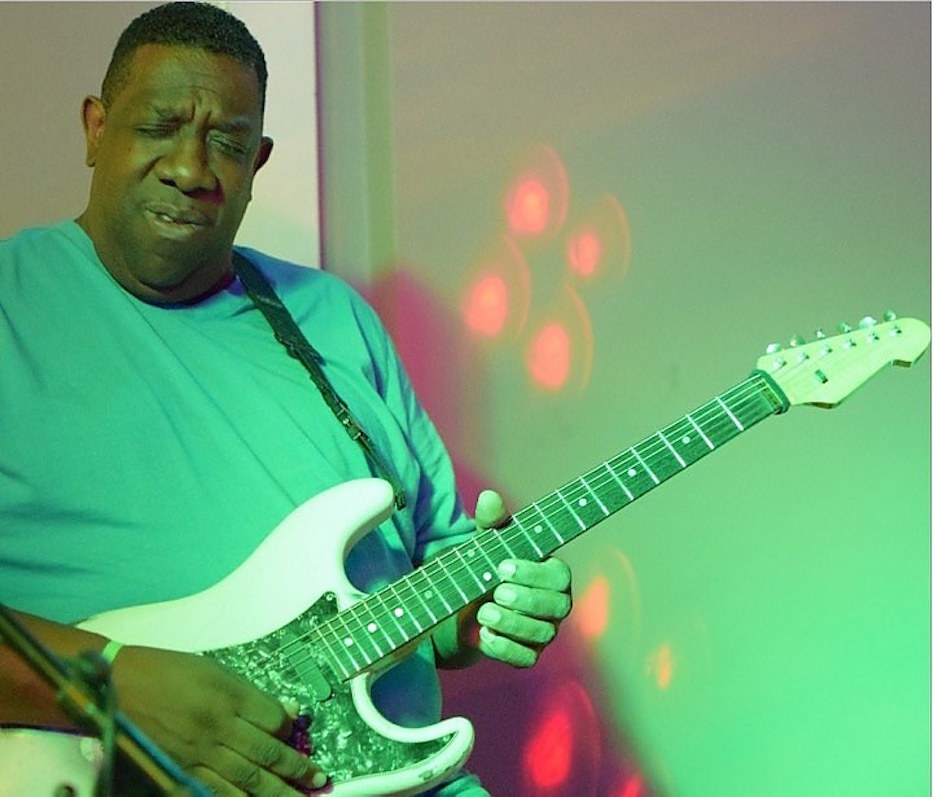 Music | Arts & Culture | Musicians | New Haveners | Community Heroes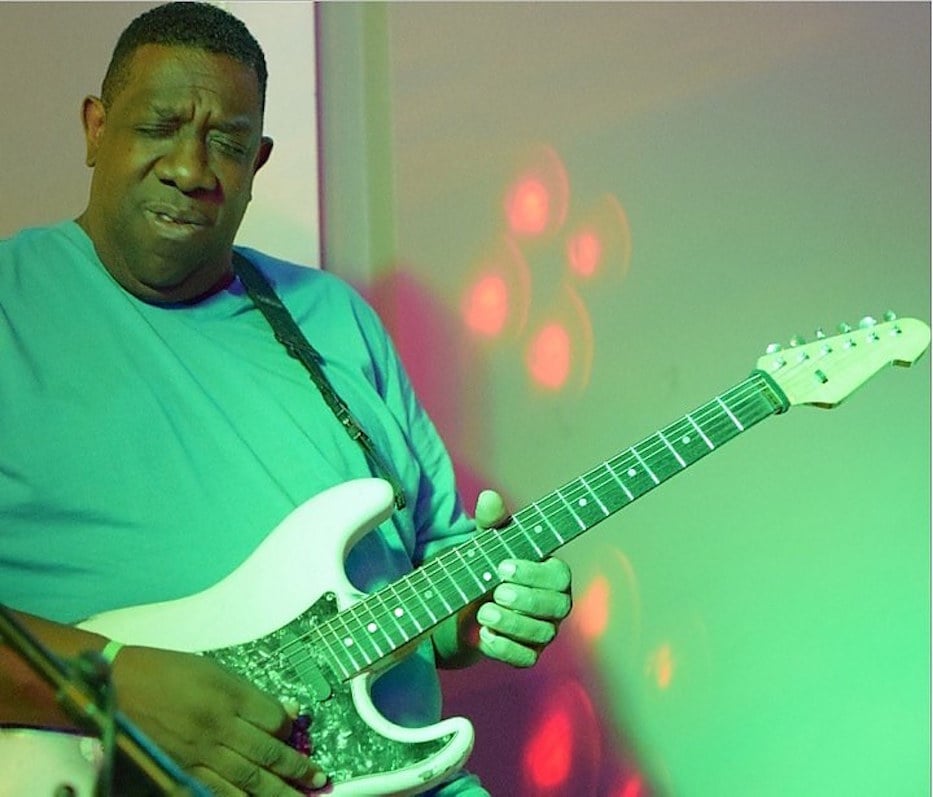 Rohn Lawrence plays Toad's Place in 2015. New Haven Independent File Photo.
Rohn Lawrence brought the party, and then some. From the Foundry Cafe to Toad's Place, he turned the city's stages into polyphonic temples, gracing them with the first joke and the last ringing guitar riff of the evening. He could be gruff, but melted at the mention of someone's young son or need for new equipment. And when he started to play, every ear in the room turned to the stage, and took note.
Now, a community is reeling in his absence. Lawrence died last Thursday at the age of 61. His family does not have a confirmed cause of death, but suspects that it was Covid-19. Several bandmates, as well as his older brother and former wife, confirmed that the musician had developed a cough and had been struggling to breathe for weeks.
Thursday night and into the weekend, an outpouring of grief flooded social media as musicians, friends, bandmates and family members received the news. Lawrence's son, Rahni Lawrence, has set up a GoFundMe campaign to help with funeral expenses.
"There's not a group of musicians who can fill that void," said local musician Paul Bryant Hudson, who met Lawrence after sneaking into his shows as a high schooler, in a phone call with the Arts Paper Sunday night. "There's gonna be a void. There's nothing like a Rohn Lawrence out there at all … nothing about Rohn feels replaceable. It's easy to lose an icon and everyone's sad, but we're all sad in our silos too. It's not just a communal grief, these are all personal losses that we're experiencing."
Lawrence was born in Westville and raised in West Haven, the youngest of three children in a house that was filled with music. As a kid, he was musically inclined from the time his parents slid a plastic, Mickey Mouse-festooned guitar into his small hands and gave him the space to play with it. His older brother Rocky Lawrence, himself a renowned blues guitarist who lives in Westville, estimated that he was playing seriously by the time he was three years old.
Even then, "he was a complete natural," Rocky said in a phone call Tuesday morning. While Rocky took weekly lessons, his baby brother was completely self-taught. He estimated that Rohn may have taken 10 formal lessons in his life, and learned the rest through performance.
"He started playing a little before he was three years old, and he carried on like that from that time up until the end," Rocky Lawrence said. "He basically had 10 lessons in his lifetime. Trial and error, practice practice practice, and listening to things and absorbing it."
Once he started, there was no stopping him. By his teenage years, Lawrence was well on his way to the mastery for which he became internationally recognized, particularly when it came to improvisation and a smooth, effortless kind of R&B. By the 1980s he was a fixture in New Haven's bars and performance venues, from the Foundry Cafe, Sidebar and Rip's to Cafe Nine, the Knickerbocker, and Rudy's former home on Elm Street.
The longer he played, the longer his list of eager collaborators became. On the city and state's stages, it included longtime friends and colleagues Marion Meadows, Jay Rowe, Timmy Maia, Trever Somerville and Rahsaan Langley. Nationally, it encompassed Miles Davis, Zhane, Earth, Wind, & Fire, Taj Mahal and dozens of artists who wanted to work specifically with him. No gig was too small for Lawrence to look down on; no amount of touring the world ever made him forget the place he came from.
He was known not only for his range—he could slide from buttery Sinatra to an electrified take on Carlos Santana, with minutes of smoldering R&B or synapse-tingling rock in the middle—but also a radical, sometimes rough-edged generosity that seemed bigger than his body. In conversation after conversation for this story, musicians recalled how it wasn't uncommon for Lawrence to help them find work, book them for gigs, or cover the cost of their equipment, and fuss over their children, asking only that they challenge themselves in return. As bandmate Wayne Patrick Brown said, "if he was hard on you, that means he really loved you and he really believed in you."
It was that big-heartedness that drew Jackie Buster to him on a summer day in 1989, as she was building a summer concert series with Michael Jefferson and Kermit Carolina. Lawrence had just returned from a tour with Najee, and Buster wanted to book him for a home crowd in Edgewood Park. After a day of calling Lawrence with no answer, she was crossing Whitney Avenue and spotted him outside of the old Foundry Cafe, where Koffee? on Audubon now stands. She didn't know that the chance encounter would crescendo to decades of love and friendship.
"I slapped him in the chest and I said, 'I've been trying to catch you and you're not calling me back!'" she recalled in a phone call Saturday evening. "He says, 'Come on in here and have a drink.' I went inside and that was it."
Buster stayed to watch him play and was mesmerized. Three weeks later, they moved in together. For years, they made their relationship work around a schedule that had them both on the road—she for the Planned Parenthood Federation of America, and he on tour with Najee, Jonathan Butler, Diane Reeves, Freddie Jackson among dozens of others. When the two had a son, Rahni Alexander Lawrence, in 1994, he hit the road with them. As if the universe was in sync with their plans, Buster would get a work assignment in Los Angeles or Seattle or St. Louis, and learn that Lawrence was slated to play there the same night.
The two were married in 1997, almost exactly eight years after she booked him for that show in Edgewood Park. By then, New Haven bar owners knew Rahni's name, because Lawrence provided childcare during the day and would take him to gigs as he played around town. Despite cautionary tales from other parents—even the family pediatrician cautioned Lawrence that "you can't be his friend," Buster remembered with a laugh—the father and son became best friends and later roommates. They were living in the same Fair Haven house when Lawrence passed last week.
"My son has been the most fortunate person on earth, because nobody could ever love him as much as his father," Buster said. "It's bittersweet. It's bittersweet. We don't want him to be gone. We want him to have grandchildren who can sit on his lap and play guitar with him. That's the sad part. My son said yesterday, 'Ma, I'm never gonna hear him whistle again.'"
With the phone cradled in one hand Saturday, Buster padded down to her basement and sifted through old posters from Lawrence's touring days. She reminisced on his independent music, including his 1994 release ​​Hangin' on a String and album See Ya Around four years later. She found photos from an early album shoot, in which Rahni was just an infant, holding a plastic guitar like the one that started it all for his dad decades earlier.
"I encourage people if they've never really listened to Rohn's independent music, the music is just the best," she said. "I've talked to friends, producers, writers from the last few days, and his interpretations of the songs … it's magical. It really is. Rohn will always be one of the greatest guitar players. He was able to take something and make something shine in so many different ways."
Inner-City News Editor Babz Rawls-Ivy met Lawrence around that time, and remembered catching his shows whenever she could. Wherever he was, she said, "he was ours"—a distinction that made her feel proud to be from New Haven. In a phone call last Friday, she said she's still processing the news.
"So everybody would say, if Rohn is playing tonight, we'd just go," she said, a laugh at the edges of her voice. "We know it's gonna be a good-ass time, and he is majestic. This hurts. That we won't be able to go to another concert and see him onstage. It's gonna be odd not seeing him part of the musical landscape going forward. We'll just feel it."
Many across the city's cultural landscape are already feeling that loss acutely. Now a salsera and professional brewer, Alisa Bowens-Mercado met Lawrence when she was just nine or 10 through a family member. Growing up, Lawrence was always a presence in her life, whether it was busting out a guitar riff or a fierce joke. The first time she walked into a bar where he was playing and ordered a drink, he feigned surprise, like he might fall out of his chair, guitar and all.
"Are you old enough to be in here!?" she remembered him asking. "Are you old enough to drink now?!"
In his friendship, she found someone who she could talk to candidly about the entertainment industry, sometimes for hours. In his music, she knew there was a genius in her midst. Even if she had gone out to unwind from her job as a dance teacher, Lawrence could get her to teach impromptu salsa lessons with the first hints of Santana's "Maria Maria." It didn't matter if she was technically off duty, Bowens-Mercado said—no one said no to Rohn Lawrence.
"It was an honor to be in his presence and to dance to him and the band's music," she said. Two years ago, he played her birthday at The State House. She still remembers approaching him, and asking if he could throw in Journey's "Foolish Heart"—one of her favorites—as he was halfway through another piece. He folded it in without so much as blinking. The last time she worked with him, the two had been hired on the same gig during the pandemic. Even through their masks, they recognized each other.
"We were so blessed in New Haven to actually have a talent like that in our presence," she said. "We were around greatness, and I don't know if people appreciated it. It's a blessing, because we were able to have those memories and moments with him. He got people through some times in their lives—you just knew, go see Ronnie, and the joy will fill your heart."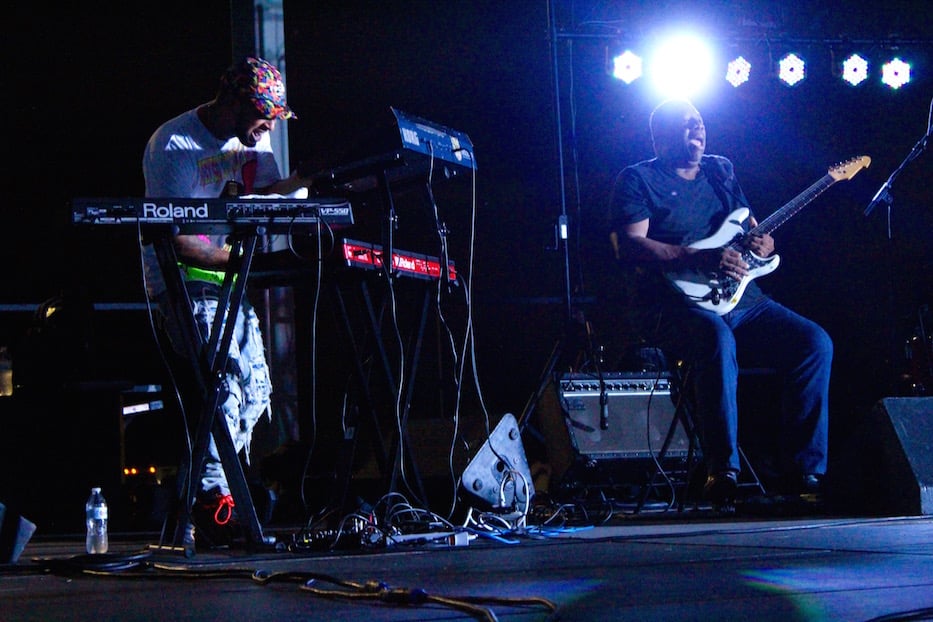 David Jmaul and Rohn Lawrence playing in Hamden last summer. Lucy Gellman File Photo.
Musician Rahsaan Langley also met Lawrence when he was still a kid. Growing up in Hamden, Langley absorbed music through the members of his family; the drummer Paul Mills, who played at the Foundry with Lawrence, is his cousin. As a young artist, he looked up to Mills and Lawrence, listening to details about upcoming tour dates and local shows that he could slip into. As he honed his craft, Lawrence and Mills were there to root him on. He soon learned that Lawrence spoke directly from the heart, whether he was giving constructive feedback or telling a joke that got big, belly laughs and several retellings.
"Rohn was family," he said. "He knew me before I even knew myself. And he was one of the greatest guitar players ever. One of the greatest. He played so effortlessly, he just does it with such style and poise. It's gritty and at the same time it's like, melodic with these strings of heavenly chords. He definitely has his own unique style that everyone is playing with."
Langley considers himself lucky, he added: Lawrence was always excited to share a stage with him, and the two often performed together with Boogie Chillun and the Rahsaan Langley Project. When work slowed to a trickle during the pandemic, the two often booked each other for gigs. Last summer, the two played in Hamden as part of the town's summer concert series, and got the whole crowd on its feet by the end of the night.
The last time they saw each other was December 15, at a show at Miss Thelma's Soul Food Restaurant & Bar in Bridgeport. By then, Lawrence had been complaining about a cough for weeks, Buster said. He had trouble catching his breath. None of that showed when he was onstage. Langley thought that there would be another show soon. The loss feels particularly raw because he is also mourning his uncle, the musician Allen Thomas.
"There's no such thing as a low-key night for Rohn," Langley said. "When he strikes, he strikes, and everyone's gonna feel it. And they're gonna feel it—like 'Oh shit, this guy's fucking incredible.' I just ... it's still surreal. It's so surreal and it's extremely tender. I'm still in disbelief and I'm still processing and I'm still dealing."
Onstage and off, Lawrence often found himself in that role of mentor and teacher—not out of a sense of necessity or obligation, but because it was how he lived his life. Hudson, a graduate of Cooperative Arts & Humanities High School who turned 30 last year, recalled sneaking into his Monday night shows at Lilly's Pad when he still was a baby-faced junior in high school. There, Lawrence played a weekly show with Rowe and Somerville for over a decade.
To those who didn't know the space, Lilly's Pad was a loft with perennially sticky floors and low lighting over Toad's Place. To Hudson and classmates Tommy Carter, Jr. and Stephen "Gritz" King—all still practicing musicians—it was magical. Mondays, the three would wait until the venue stopped charging a cover, when they were less likely to get checked for ID. They would clamber up the stairs, sip water and Shirley Temples, and listen to the music that surrounded them. Once Lawrence started vouching for them—"it was clear we were teenagers," and the three raised a few eyebrows, Hudson laughed—it became a weekly ritual.
"That was the beginning of our understanding of live music," Husdon said in a phone call Sunday night. "It was just like, this holy grail of Black musicianship, of R&B and soul. And we just had unlimited access to it, and had access to the teaching and the schooling. Rohn was like, actively touching lives, actively teaching and mentoring. Not just in his own way, but in the richest and most meaningful way."
He last saw Lawrence in March 2021, when the musician played on a project that Hudson was working on. The two texted over the summer. For Lawrence, who spoke openly about the difficulty the pandemic posed to working artists—"the whole situation just sucks," he said in a phone call with this reporter in August 2020—it seemed like gigs were picking up again. By the time Hudson mentioned a gig in summer 2021, Lawrence was already fully booked through the end of the year.
King, who remembered those foundational shows at Lilly's Pad, fulfilled a longtime dream last summer when he and Lawrence shared a stage in Hamden. As a sophomore in high school, he was shy and nervous around Lawrence, aware that he was in the presence of something masterful. As he took the stage with Lawrence, Langley, Mike Childs, David Jmaul, and ​​Smokey Ivory last year, he looked around and realized that he was playing with one of his longtime role models.
Monday, a smile tugged at his voice as he recalled receiving praise from Lawrence after the show. "I was like, 'I gotta come shred with you,'" King said. "Ever since I met him, he was just good people. It was just always cool. He was just always solid."
Brown, a teacher, musician and producer who met Lawrence through Timmy Maia 15 years ago, was one of the last musicians to play with Lawrence last month. In the decade and a half that they knew each other, "he became a mentor to me, not just for musicianship, but in life," Brown said, fondly referring to him as an uncle multiple times during the conversation. Lawrence taught him how to be a better friend, bandmate, and dad, sometimes asking after his young son as the band's first order of business.
He remembered feeling awed by Lawrence's gift of improvisation and ear training, which he always seemed eager to share with anyone who would listen. For his 40th birthday last year, Lawrence surprised him with a visit to his home studio, hauling in his amp to lay down guitar track after guitar track. For Brown, who was recovering from his first bout with Covid-19, it was the best gift he could have asked for. He was equally touched by how tough Lawrence could be on his playing, a sort of coarse love that made him into a better and more attuned musician.
In early December, Brown noticed that Lawrence was sick, with "a crazy cough" that pushed him to cancel a gig at the beginning of the month. After the two played a show together on December 11, Brown said that everyone in the band contracted Covid-19. It was his second time with the virus, the effects of which he's still feeling weeks later. But he was texting with Lawrence as recently as last Wednesday, before a New Year's Eve gig the two were slated to play together out of town.
When he got the call Thursday that Lawrence had passed, he was stunned. He said that he still is. When he played a show last Friday—a show that Lawrence was supposed to be at—he was acutely aware of his gaping absence onstage. There are going to be hundreds of moments like that going forward, musicians said in interview after interview.
"His dynamic, his personality, his wit, his jokes, his humor, him cutting off someone in the audience—it just wasn't there," Brown said. "He was the coolest uncle and the coolest friend in the world."
Donate to a GoFundMe to help with funeral expenses here.