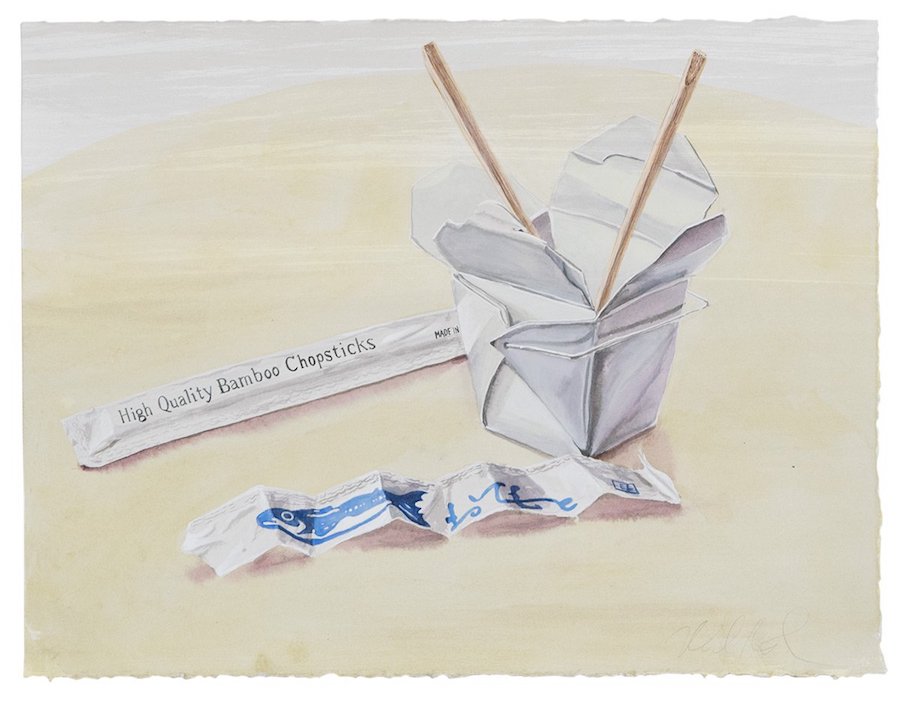 Downtown | Arts & Culture | Visual Arts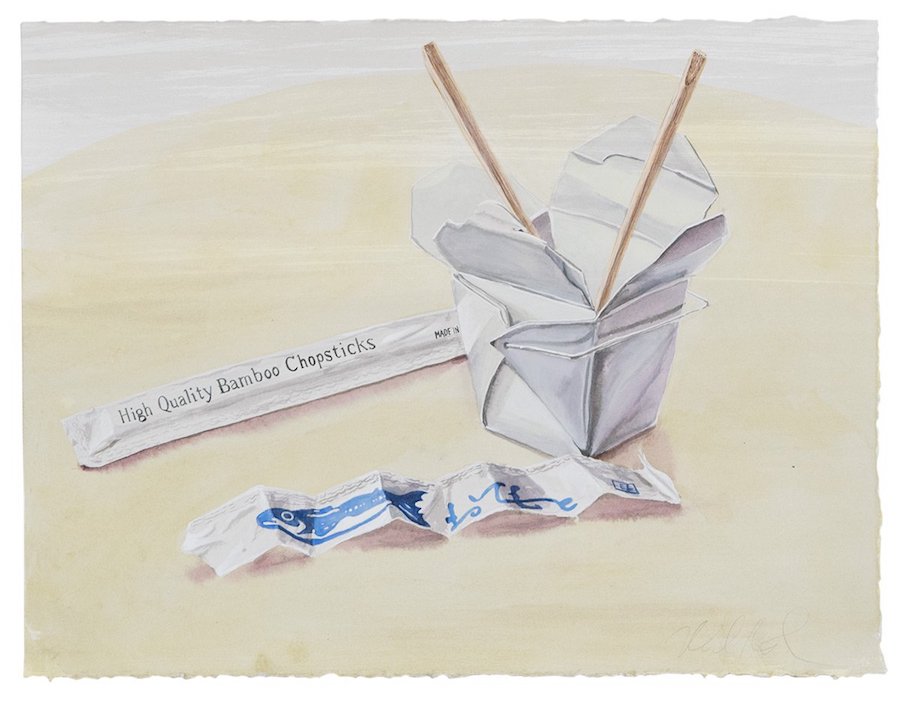 Michael Angelis, Take Out Night, 2018. Watercolor with gouache. Lunch Money Print Photo.
The container is just like one you've seen a hundred times before. Bone white, with glossy and bendable cardboard, flaps open to the sky. Dead center, two chopsticks spill halfway out, anchored in something hidden and delicious. A sleeve beside them reads "High Quality Bamboo Chopsticks," their manufacturing location cut off by the takeout container. A second rumpled wrapper with a blue-and-white fish and swooping calligraphy sits nearby.
Maybe at some point you start to wonder—how much effort did this meal take to make, and how quickly was it consumed? Why hasn't anyone thrown it away yet? Will this decompose quickly, or spend years in a garbage dump somewhere, leaking dribs of sauce? And how much of this resembles anything remotely Chinese?
Those questions—and several more—come to a head in Disposable|Aesthetics, a pop-up exhibition from Lunch Money Print co-founders Christopher O'Flaherty and Mark Donne and artist Michael Angelis. The show runs Nov. 30 through Dec. 2 at Hull's second-story art gallery, and kicks off with an opening reception at 6 p.m. on Friday night.
"It's all having to do with the seduction of consumerism," O'Flaherty said earlier this week, while installing the exhibition. "This show is a kind of over the top version of excess."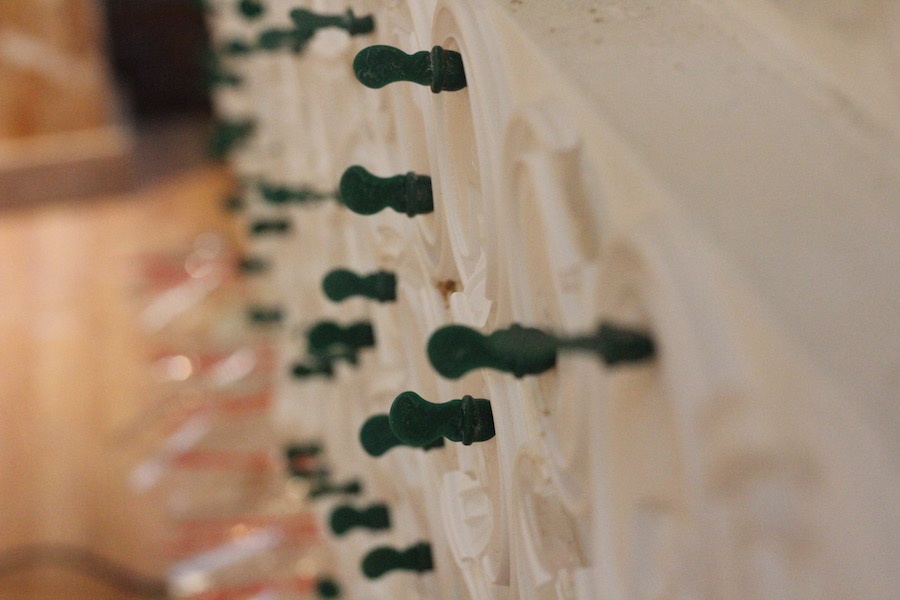 For the show, fellow artist and MakeHaven member Manuela Artla has created a lightbox with the show's title, surrounded by a sea of plastic coffee cup lids and stirrers and straws. Lucy Gellman Photo.
Disposable|Aesthetics is split into two sections: a poppy, bright cluster of rooms titled "Manufactured Flavors," and a large back room with abstracted multimedia called "Stimulation." Walking into the first, viewers encounter Angelis' series of the same name as the exhibition, chronicling the casualties of Americanized Chinese takeout and used Anthora cups flecked with equal parts nostalgia and waste.
The original catalyst for Disposable|Aesthetics, the works have a certain sort of weight in the show. In September, the artist held a pop-up of new work at his East Street studio, after which he and O'Flaherty planned to have a larger show at Hull's this month. But when Angelis sold more of his work than he was expecting, he and O'Flaherty decided to open the show to other artists. In this new chapter, Angelis has also included plastic molds of the materials he's painting, cardboard oyster pails, big gulps, and used cups displayed on pedestals in the center of the gallery.
"People talk about how food and art have a lot of overlap," Angelis said earlier this week, hanging his works at the entry of the gallery. "Especially in terms of spending time making things."
In his images, that slow, loving culinary care is quickly undone, a darker truth exposed through shiny packets of duck sauce, crumpled plastic bags, and half-read fortunes with a jumble of numbers on the back. It's a tour through waste, inadequate compensation for labor in New Haven's kitchens, the death of home cooking, and the creation of trash. Literal tons and tons of trash.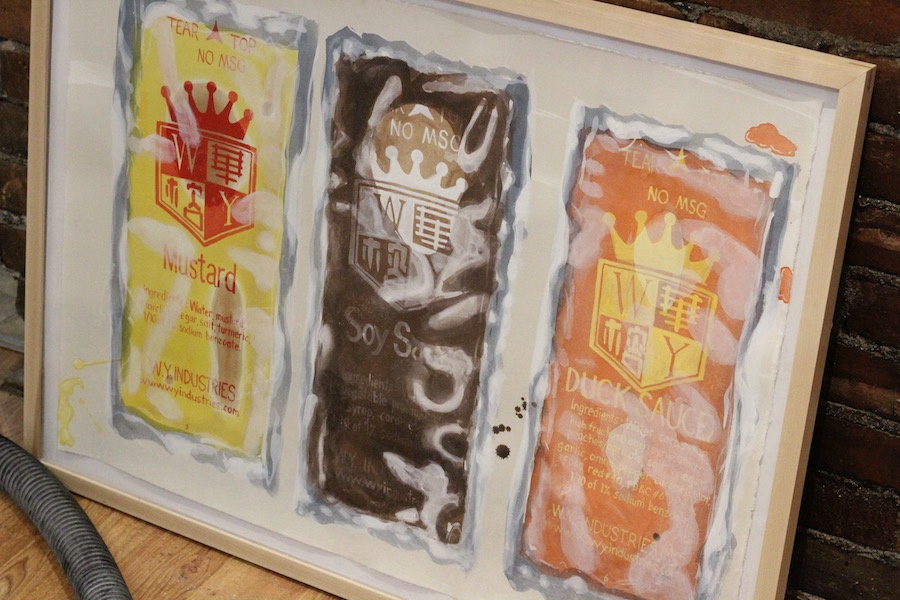 Michael Angelis, Mustard, Soy Sauce, Duck Sauce, 2018. Watercolor with gouache. Lucy Gellman Photo.
Viewers may be aware of how beautiful the works are—Angelis did several color tests to get his sauces and surfaces right, for instance, and they're quite beautiful—but it's hard not to think about the pounds of physical waste they represent.
As he and O'Flaherty put the show up this week, Angelis said they decided to keep the trash from the install—hundreds of pre-made vinyl designs, huge balls of crumpled up brown paper, plastic wrapping and tape—and create a "museum of trash" in that first room, where it will live on shelving units by the window.
"The environment—that's always a running loop in my head," Angelis said. He noted friends who will fuss over recycling red solo cups, long after they've made the decision to use plastic for five or six hours out of convenience. "Our larger habits are so wasteful … it's kind of a backwards logic."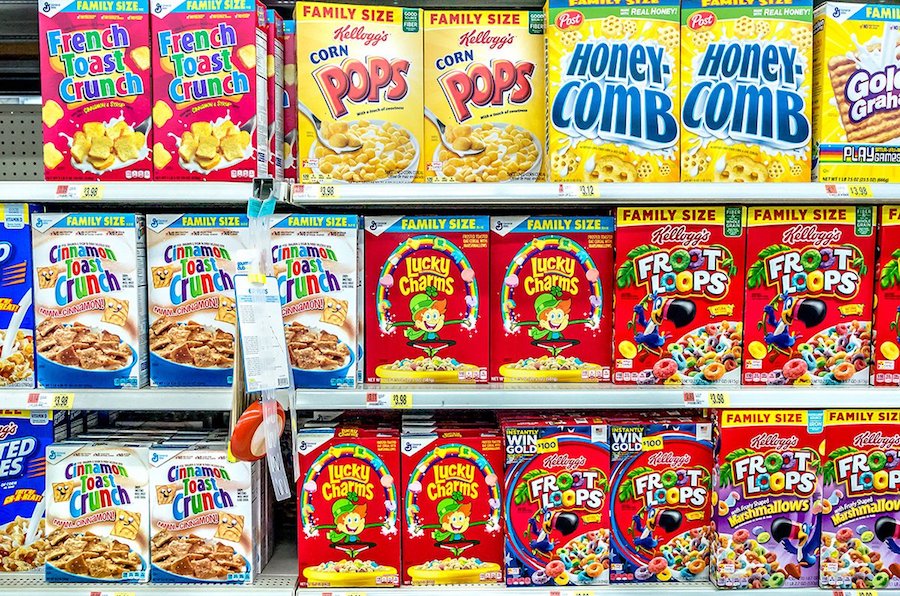 Daniel Eugene, Walmart Cereal, 2018. Archival pigment print. Lunch Money Print Photo.
Through a doorway and into the next room, photographer Daniel Eugene has taken that backwards logic and run with it, documenting shelves at Walmart packed with bags of cane sugar, over-the-counter painkillers, and cereal that is more corn syrup and food dye than anything else. The adjoining bathroom, painted bright red, beckons with a Warholized portrait of Walt Disney, made to look like Marilyn Monroe. O'Flaherty said the portrait is in part an homage to Eugene's still-evolving drag persona, Sorcia Warhol.
Around the photographs, Eugene has wallpapered the room with printouts of Walmart's shelves, crammed with Christmas-themed soda cans and boxes of Lucky Charms, Fruit Loops, and Corn Pops coated in a thin sheen of sugar. It's a sea of excess that takes our eyes a second to adjust—we make sure we're not having a seizure or panic attack, and steady ourselves—and then comes down with a crushing weight.
Here is the sugar that came from the Canary Islands to the Caribbean, and unleashed centuries of wage theft, hard labor and human bondage on the Dominican Republic. Here are he boxes and boxes of breakfast food packed in a plant in Battle Creek, Michigan, and fed to families who have bought all-in to the sugar lobby. Here is the secret ingredient that will turn you milk sweet and pink. And here is the Advil that you take when you've digested all of it, and it's too much to bear.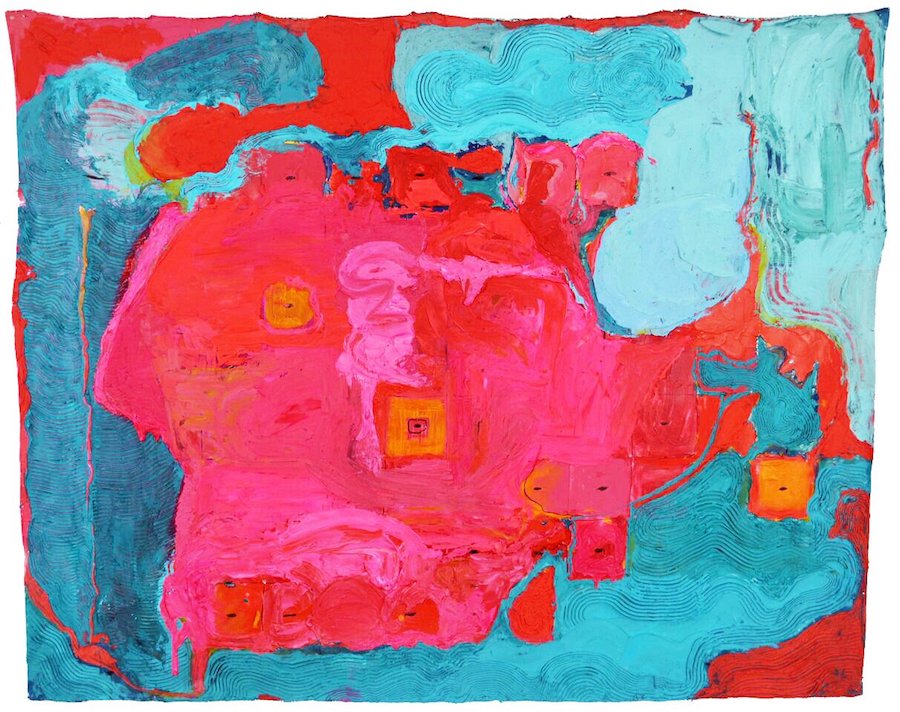 Kerryanne Celona, Pompeii, 2017. Acrylic on unstretched canvas. Lunch Money Print Photo.
But in "Stimulation," the latter part of the show, it's a different kind of excess—more diffused, and more abstracted. On one wall, Rebecca Aloisio's Untitled ROY winks out, a busy mix of colors and textures that seems to reach in four different directions at once. There's too much for your eye to stay in one place: a streak of thick, almost bloody red cuts through one side of the work, while fat orange and black lines intersect on the other. Nearby, a wall has been turned into what looks like a shuttered bodega, slats of plywood layered so that the dark still peeks out.
It has good company—Kerryanne Celona's pink, red and blue Pompeii, so bright that you almost think it's neon instead of acrylic, and just might start to glow in the dark. Or Alexander Puz's maze-like canvases, a series of geometric lines and bright, intrusive colors that both channel Josef Albers, and turn him a little bit on his head.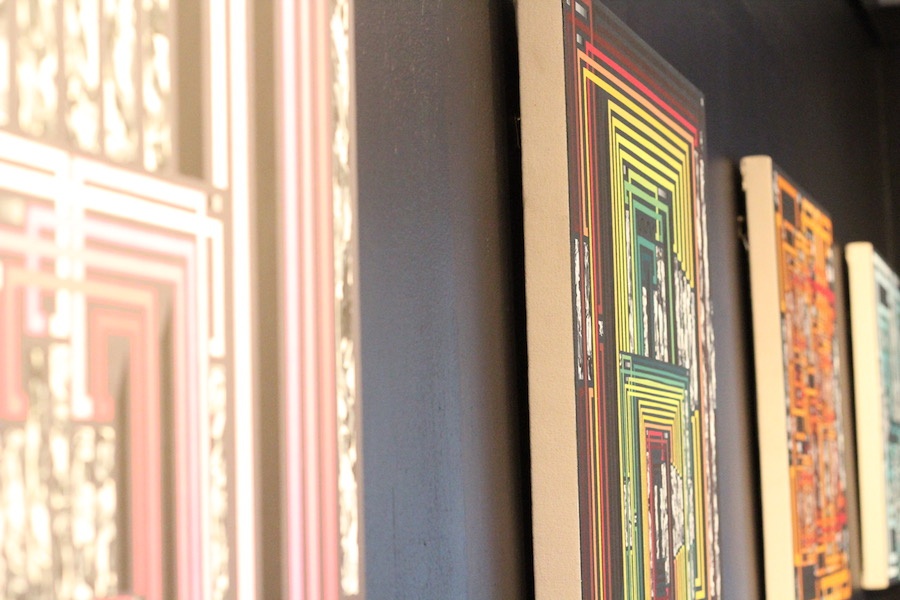 On another wall that's been installed just for the show, Nick McNight's clouds float as a sea of neon tubing and bright white light over a bed of flat, anemic-looking plastic grass. It's calming, until the superficiality of it all is too much to ignore.
When the show closes on Sunday, O'Flaherty said that the team will take down everything that isn't art, sift through to see what's recyclable, and throw the rest away. While he is planning to make Disposable|Aesthetics a traveling exhibition as part of a new
"It's gotta go," he said, looking around the room at garbage that had begun to pile up. "That's just the nature of our culture."
Disposable|Aesthetics runs at Hull's second-story art gallery, 1144 Chapel St., from Nov. 30 through Dec. 2. For more on the exhibition, check out the Facebook invite.