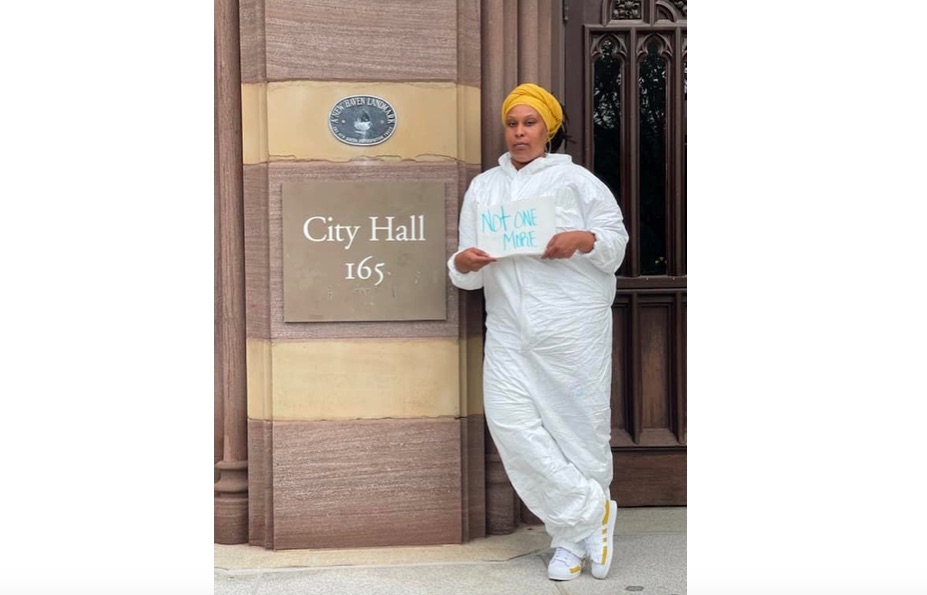 Downtown | Poetry & Spoken Word | Arts & Culture | Black Lives Matter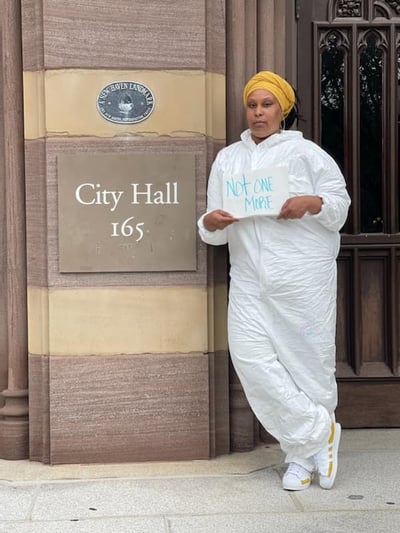 The poet Sun Queen sits on the steps of City Hall, dressed in white with pops of yellow at her crown and feet. The pages, drawn in electric blue lettering, flap in the wind. She begins to flip through them, revealing a deconstructed poem that is also a prayer.
Not one more, the first panel reads. Keep us healthy and safe. By investing in our city. We need action! We need resources. She lifts her arms and looks right into the camera. Fund New Haven. Move with urgency. It is your city.
Queen, an artist, activist and organizer who is also the co-founder of Black Lives Matter New Haven, has turned to poetry as protest as she grapples with a wave of citywide gun violence that has left 22 people dead in the first nine months of the year. Wednesday afternoon, she appeared outside New Haven's City Hall with a message for elected officials and poem for citywide healing.
"People say they are waiting for the clergy to do something," she said in a phone call Thursday morning. "People say they are waiting for us [Black Lives Matter New Haven] to do something. I'm not waiting for nobody. I'm an artist, an artivist, and I think that there are other ways to do this. We have to reimagine what public safety looks like. It's not just the mayor. It's not just the city. We have to do this work together."
Wednesday, Queen let her words do the talking. During the first part of her art-as-protest, she remained silent, revealing her message page by page as the sign for City Hall peeked out behind her right shoulder. She said that the message was intended for city officials, who have remained fairly tight-lipped when providing specifics on gun violence in the city.
In particular, Mayor Justin Elicker and New Haven Police Department Chief Renee Dominguez have received criticism from statewide elected officials, city residents, and organizers for how little information they share in the wake of shootings. As she looked from the camera to City Hall and back to the camera, Queen held up a sheet reading We Deserve To Live/We Deserve To Thrive.
"New Haven has all this money," she said, referring to over $90 million that is coming into the city from the $1.9 trillion federal American Rescue Plan. "I know that Elicker has said that some of the money has gone to outreach workers. Who are the outreach workers? What resources are there for the community? What is being done for the families?"
She added that does not envision a New Haven with more law enforcement, but one with more well-resourced healing and affinity spaces and cultural opportunities, particularly for Black and Brown people. As a poet and organizer who is also a queer Black woman, she has struggled to secure funding for her own events, including a new series focused on healing through the fine and performing arts. She's watched as fellow organizers are also closed out of funding. Police don't make her feel safer, she said—but adequately funded communities do.
This week, she proposed a series based on Kingian Nonviolence Trainings from herself and Pastor John Lewis, her mentor through the CT Center for Nonviolence, to Elicker. She said that those types of programs, which seek to address violence holistically and before it escalates, can help end the cycle by giving people different social and emotional tools to work with. She hopes to see more American Rescue Plan funding going toward similar healing, nonviolence, and trauma-informed programs for city residents. Earlier this year, several city residents also advocated for expanded youth and family programming from those federal dollars.
"We need to know what the community wants and needs," she said. "I'm tired of the community saying 'this needs to stop,' and it's always a Facebook post and that's it. You can send an email, you can set up art in the park with folks, it's things that get us back to being a village. We have to really invest in ourselves and invest in our community."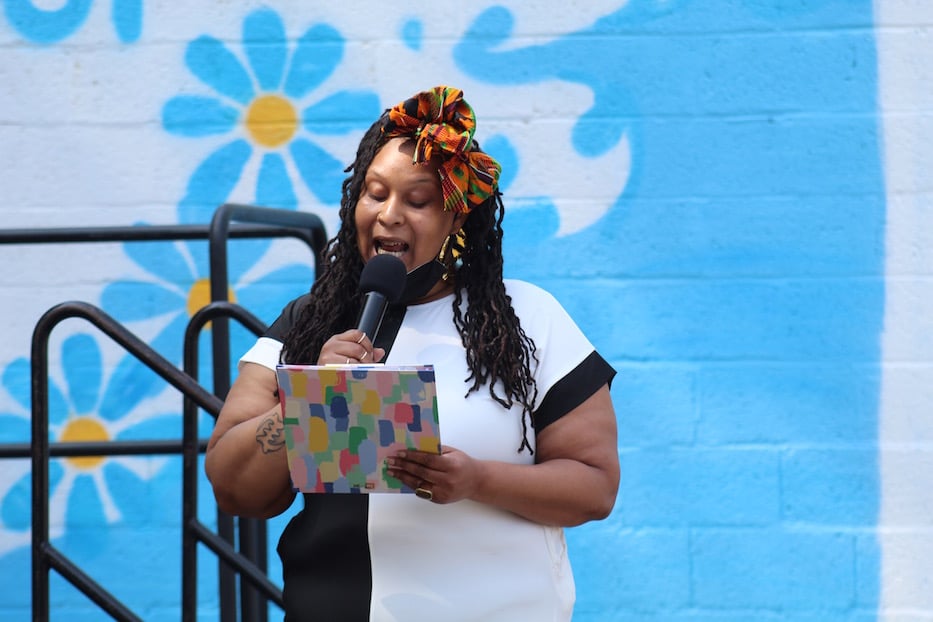 Sun Queen, performing at the unveiling of a mural in the Hill on Juneteenth 2021. Lucy Gellman File Photo.
During a second part of her performance, she performed a crisp, still-stinging poem meant to speak directly to city residents. The totality of gun violence is deeply personal to her: her brother Christopher Fain was shot and killed while riding his bicycle on Dixwell Avenue in December 2012. He was 19, with a big smile and bright eyes. Eight years later, New Haven Police still have not identified a shooter.
While her first words were directed at city officials and particularly Elicker, she said the second poem was "for the hood." In the piece, she weaves together a plea for community members to put down guns with chilling imagery from a war zone, and a reminder to protect the earth instead of chiseling it into turf wars. She said that she considers the city in a state of total emergency, and that gun violence is a public health crisis.
Why are we at war with each other/Don't we bear enough?/Don't we? she read.
Are we no longer deserving of thriving and making it home?
We should be choosing love over hate/We should be choosing love over hate
… We strayed away from being a village/Treating each other like strangers
Aren't we neighbors in the hood?/Isn't it my/Isn't it your/Isn't it our neighborhood?
She and her partner-turned-videographer Ashleigh Huckabey (who also took the photograph at the top of the story) chose City Hall not only because it is where New Haven's legislative body resides, but also because the building offers a glimmer of artistic hope. Isaac Bloodworth's huge, bright work Black Kid Joy is installed just outside the first-floor offices. ​​Ed Hamilton's Amistad Memorial sits at the center of that installation.
It comes in a year of deep grief and exhaustion for the artist and for the city. This month, New Haven eclipsed the total number of murders that it saw in 2020. Those killed, who have left behind grieving families, elders, parents, and oftentimes young children, range from baby-faced teenagers with big basketball dreams to victims of partner violence to young adults who were at cookouts in public parks.
This week alone, that number includes the murders of Trequon Lawrence, Luis Fernando Gonzalez-Sandoz, and Zaire Luciano in four days of extreme violence. The city has also seen a high number of nonfatal shootings this year, including two that have been reported in the past three days.
Each one is a weight on her heart, said Queen. She struggles to sleep thinking about the way gun violence rips through families. Each shooting brings her back to her own trauma, and reminds her of a city that is "definitely in a state of emergency." This week alone, she has taken videos to capture the constant sound of sirens in Westville, where she lives. In late August, the sudden murder of 14-year-old Tyshaun "Ty Ty" Hargrove hit her particularly hard.
"Ty Ty was 14," she said. "Fourteen! That just, that was a lot to process. 14. You're still really figuring out if yellow is still your favorite color. I don't know. Probably some religious folks, they would be like 'we are living in the last of days.' I don't want to live in the last of days."
Going forward, she said, she plans to continue poetry as a form of protest—and to make space for fellow artists, activists, and organizers who are also working to help heal a grieving city. On Thursday morning, she was working on a poem for Elm City Lit Fest when she picked up the phone. On Sept. 18, she plans to hold an affinity space in Westville behind Mitchell Library.
"I feel like I can't rest until we are able to experience real joy and real peace," she said. "I want peace and light and joy in my city."
Watch the full video here. Photo at the top by Ashleigh Huckabey.