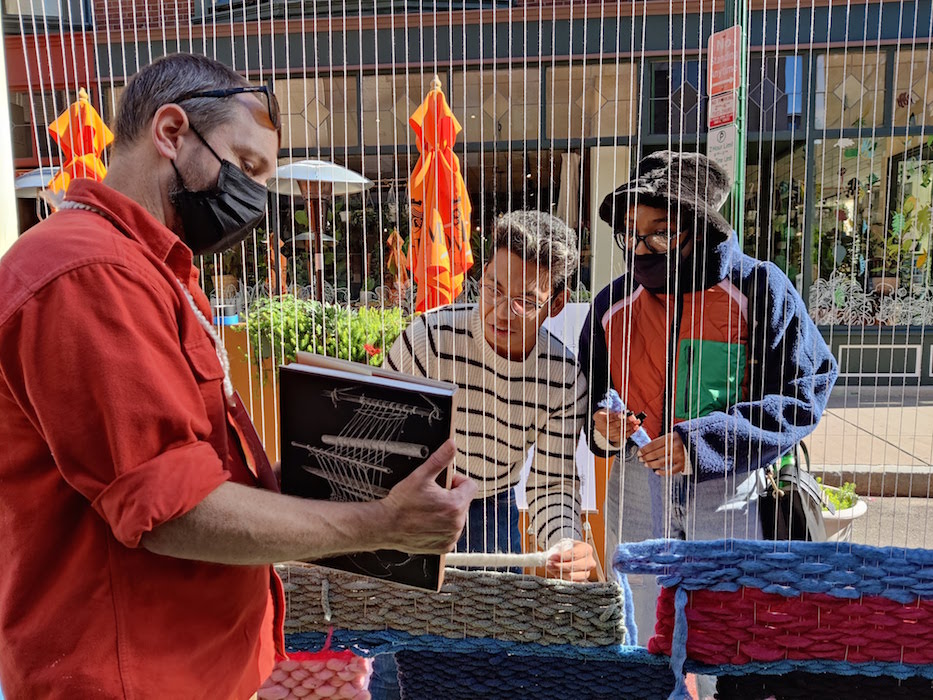 Arts & Culture | Artspace New Haven | Ninth Square | Visual Arts | Weaving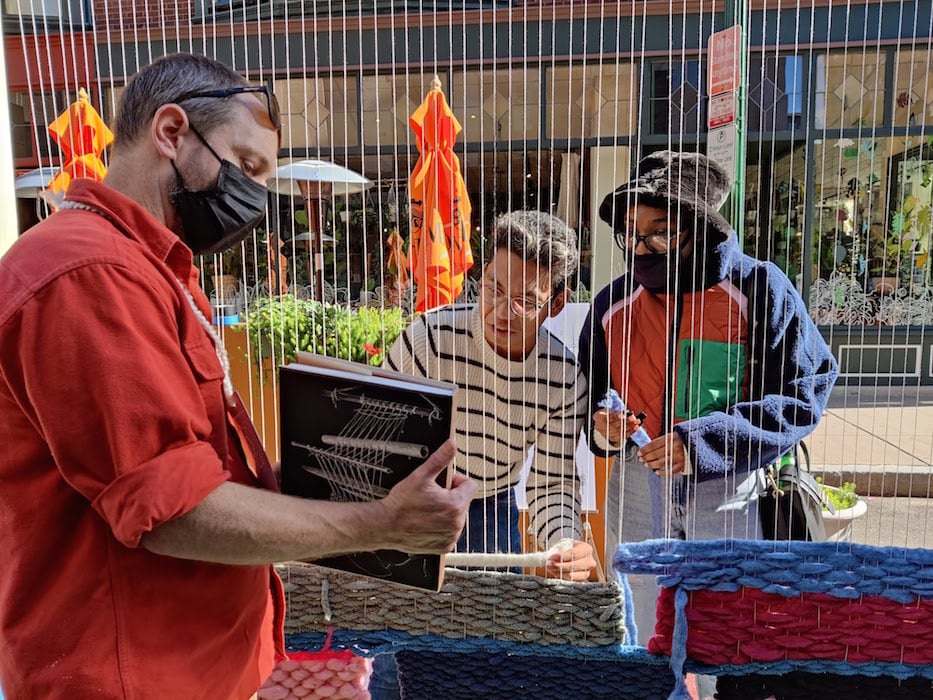 Fritz Horstman displaying one of the books about Anni Albers to some visitors who stayed to learn how to weave. Jadan Anderson Photos.
Common Ground High School freshman Stephanie Hernandez-Perez wrapped chunky cerulean blue yarn around the length of a two-ply strip of cardboard. It shone brightly against her black-and-white striped shirt "This is how you start it," she said, weaving the yarn-bound cardboard in and out of spaces between the warp strings.
As she taught, she worked on a seven-foot-tall loom that stood in the center of Orange Street outside Artspace New Haven.
Hernandez-Perez is one of many Common Ground students who participated in an after-school weaving program with The Josef and Anni Albers Foundation this year. Saturday, the program culminated in "Hands-on: Weaving Culture," one of the events during Artspace New Haven's 2021 Open Source Festival. Fellow students Rhiannon Anoh, Ibrahim Al Hraaki, and Giovanni Diaz also helped lead the Saturday workshop.
That same Saturday afternoon, other Open Source events unfolded in Edgewood Park, the Eli Whitney Barn, and the Center for Collaborative Arts & Media (CCAM) at Yale.
The weaving workshop took place just in front of Artspace's Orange Street home, where the exhibition Everywhere and Here—a collaboration between Artspace New Haven and the Yale Peabody Museum of Natural History—was the backdrop of the 2021 Open Source Festival.
Shannon Biencowe, the development assistant at Artspace New Haven, said Everywhere and Here "mirrors the idea behind Open Source. Like artists who contributed to the exhibition are responding to these global artifacts with art that in some ways represents their local context, Open Source activates the whole city and nearby places for artists who are willing to share their art to the people here in New Haven who are ready to respond."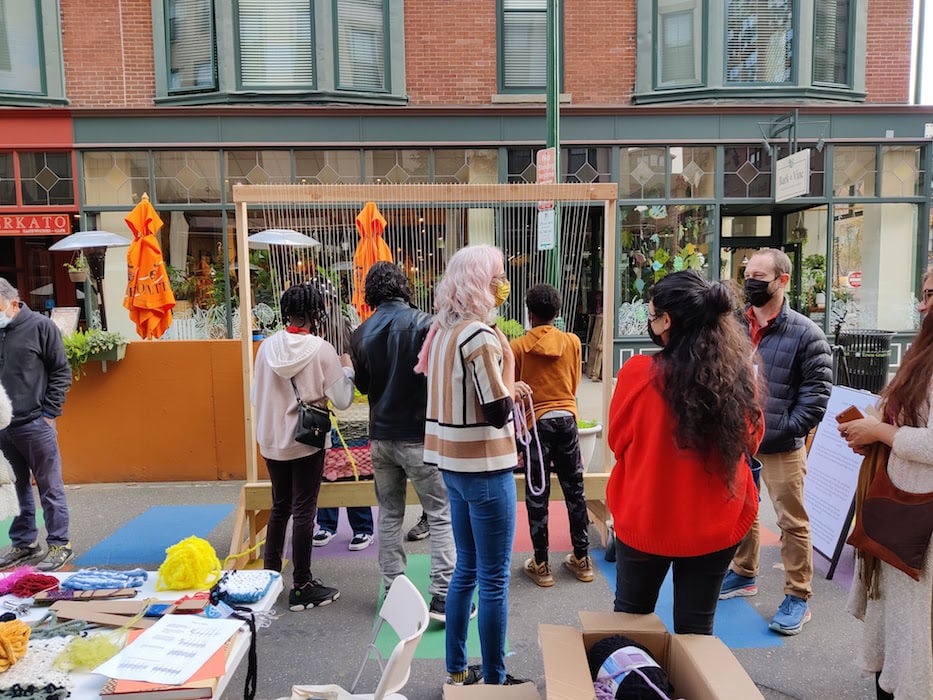 Amy Jean Porter (with pink hair), Karis Medina, and Fritz Horstman.
Outside passers-by stopped to ask questions about the seven-foot loom and the two giant boxes of colorful yarn out in the sunlight. An elderly woman on her way to Elm City market asked, "Are you making a rug?"
The colors of the yarn laced in through the loom caught the eye of a seventh-grade student running errands with her guardian through Orange Street. She stayed at the hands-on event, weaving at a table that was set up with looms up to one square foot in size for smaller, individual weaving projects. A toddler trotting around Orange Street skipped questions altogether and headed straight for the boxes of yarn.
Many of them stayed to learn the basics of the craft from Hernandez-Perez and Albers Foundation staff. Fritz Horstman, education director at the Foundation, planned and headed this event—then stayed to teach.
"Much of weaving is improvisation," he laughed while helping a young man understand how to add a new string of yarn to the loom. "When you weave the yarn this way"—he moved the cardboard in alternating patterns between the spaces of the warp—"there's no need to tie knots or anything. Nothing will come apart."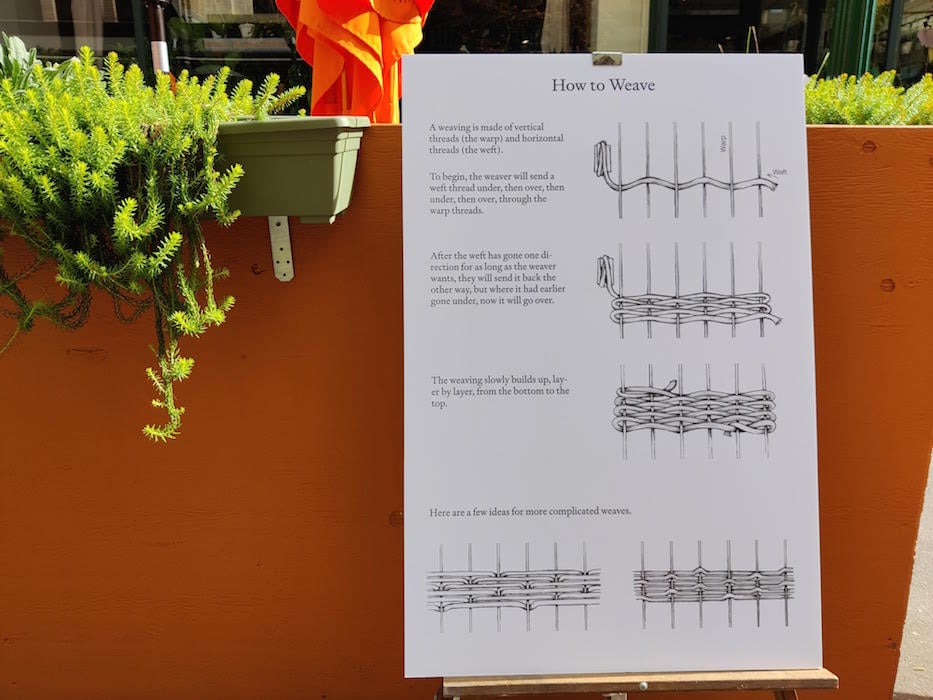 At the weaving station, Amy Jean Porter's pastel pink hair matched the pink wool she wore around her neck as a lanyard. As the Albers Foundation's website and digital media manager, Porter lingered around the station, happily watching a few new weavers create the first projects. She praised their choice of brightly-colored and frilly yarn.
"Our mission statement is 'the revelation and evocation of vision through art,'" she said of the Foundation. She breathed in the air, and continued on the out. "I love it. It's vague—it's broad. We can do almost anything for it. We can hold events like this one. We hold our own exhibitions. We even have an artist residency program, where artists come to stay at the property to work on their art."
The Albers Foundation is a not-for-profit organization named after Josef and Anni Albers, who were married in 1925 and lived part of their life in New Haven. Josef, a former head of Yale's Department of Design, is remembered for his work as an abstract painter and color theorist. His name often carries more weight than his wife's in the art world.
But at this event, the staff's admiration for Anni's textile and print genius was clear. After failing to be admitted to a glass workshop that her future husband was admitted to, Anni deferred to the only workshop available to women: weaving. She eventually learned to love the craft, writing, "In my case it was the threads that caught me, really against my will."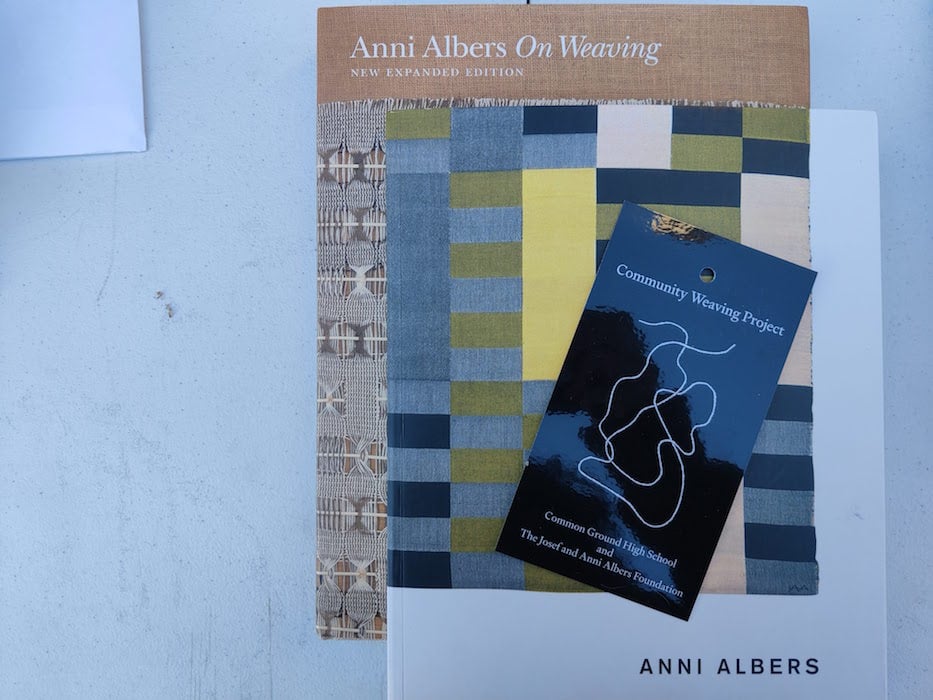 Flipping fondly through one of the many books about her work, Porter said that although Josef is better known, "I knew Anni first."
For Albers Foundation Associate Curator Karis Medina, the brilliance of weaving and other textile work is that it teaches the craftsperson to see "structure in art." New weavers pay attention to the weft—the yarn being strung between the warp.
"But this technique," she said, twisting two adjacent warp strings around each other twice, then threading the yarn through the space between the now-intertwined strings, "shows that the warp is just as important as the weft."
A new mother, Medina and her partner work from home, in the peace of their daughter's slumber. She said her job, which is to curate exhibitions of the Albers' and local artists' textile art, has been difficult. "We don't have an exhibition space." She looked at the loom sitting in the open street. At this point in the day, the workshop was seeing its highest volume of curious visitors learning how to weave. "So, this is nice."
Behind the weaving workshop, Artspace Executive Director Lisa Den gestured to a piece created by Anina Major that is now part of Everywhere and Here. Dent helped curate the show, which was already in progress when she began her tenure at Artspace last year.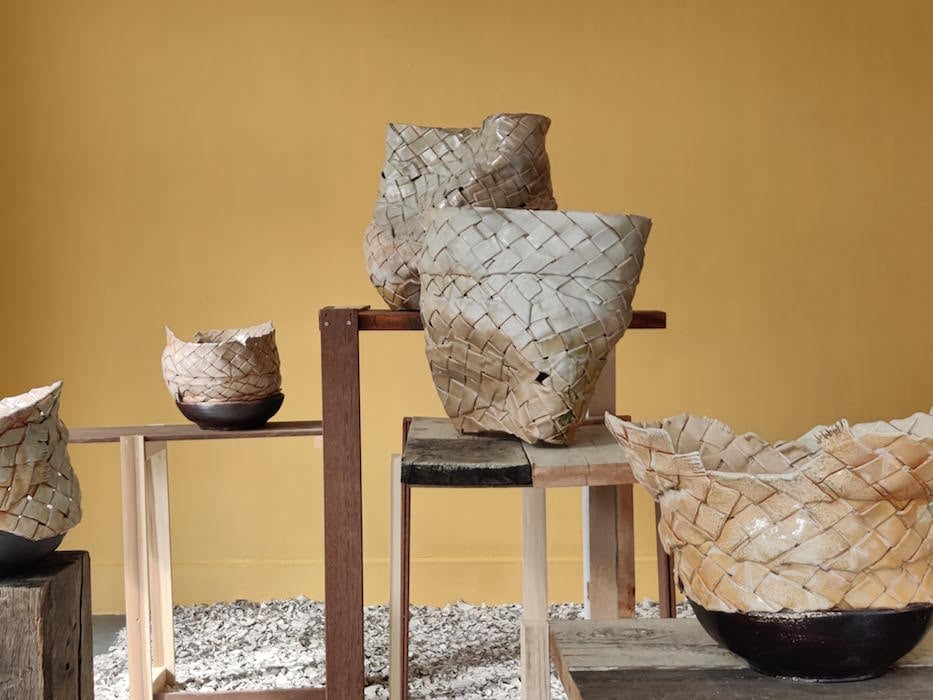 Detail, Anina Major's work in Everywhere and Here.
On a floor of seashells, wooden platforms displayed stoneware formed to look like weaved baskets. Major's piece was in a yellow-walled room, which in the sun highlighted the golden tones in the piece's stoneware, with a window facing the weaving workshop just outside.
"I let the artists see the layout of the studio, so they can choose their space," Dent said. "Curation is often understood as the curator telling a story using artists' pieces. I give artists space to create something for the exhibition instead. That way, their story is being told, and they have a place to display their work."
Covid-19 exacerbated the loneliness that artists often feel. Saturday, the Albers Foundation and Artspace New Haven created are more than places consecrated to creativity for local artists. Instead of creating distance, these spaces connect artists—seasoned and uncovered—with their work, with each other, and with the greater New Haven community.