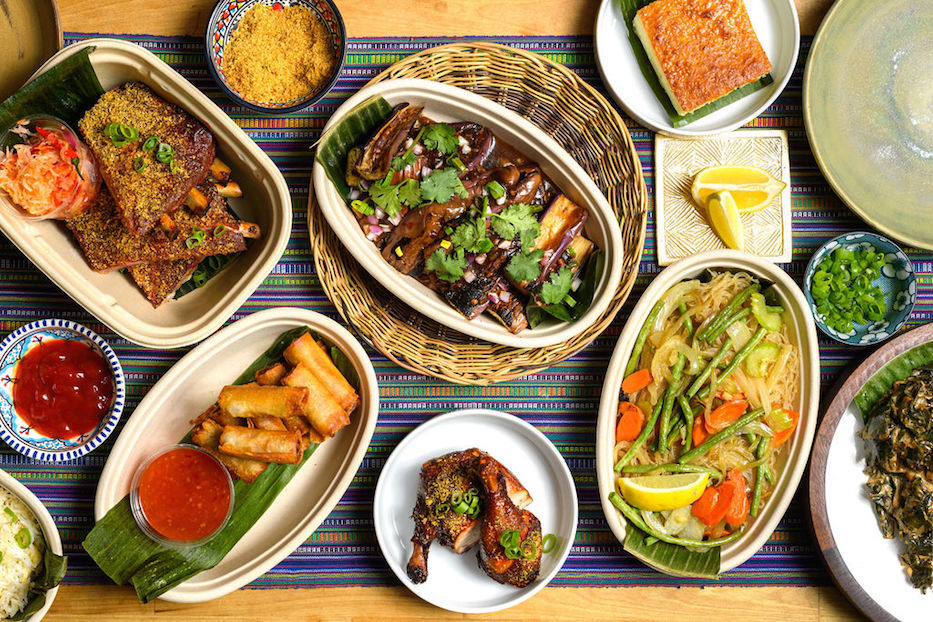 Arts & Culture | Wooster Square | Culinary Arts | COVID-19 | Ghost kitchens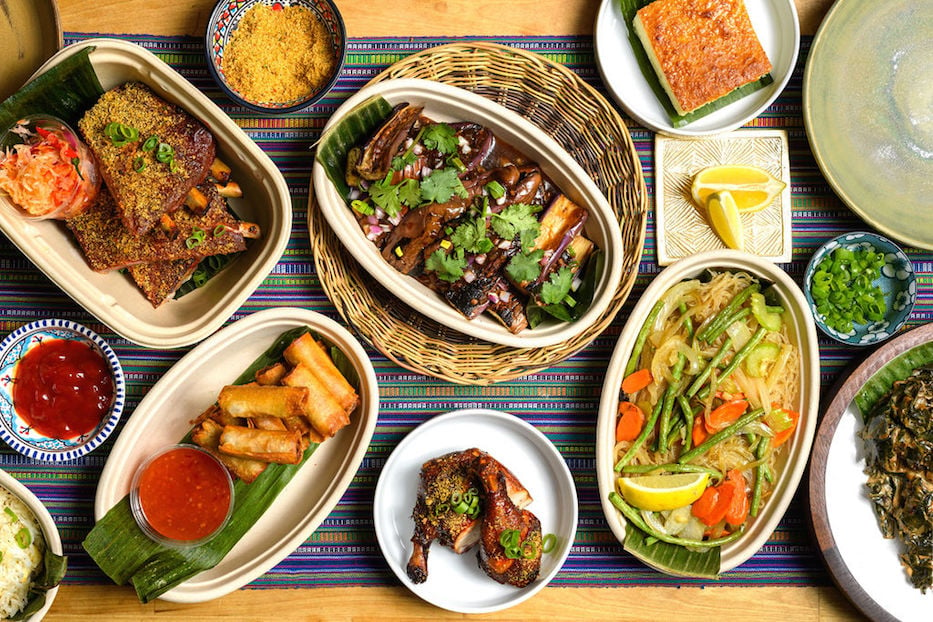 Winter Caplanson Photos.
The collards are sweet and soft to the tongue, with a bright, peppered buzz that comes on slowly. The chicharrones dissolve in one's mouth, just as a dusting of tomato cuts through. The eggplant releases whole blooms of flavor, with a fermenty, vinegar-flecked kick at the end. On the glistening pancit bihon, fresh cilantro and carrots that are blackened at the edges make it savory and sweet at the same time.
All of those are part of the next chapter of Kawit!, the beloved culinary venture from husbands Kevin McGuire and Seth Wallace that has served Filipino food across New Haven as a pop up for the last three years. On Monday afternoon, the business officially opened its first ghost kitchen and takeout operation in Wooster Square. Two days a week, four chefs now prepare meals out of the Church of St. Paul and St. James.
The two were among the first to take advantage of New Haven's nascent Micro-Food Business Ordinance earlier this year. Their food is currently available on Mondays and Tuesdays by delivery only. The two, who operate as co-owners, are hoping to roll out an option for pickup at the church in the next few weeks. The kitchen is a home base in more ways than one: McGuire and Wallace also live in the Wooster Square neighborhood.
"We were wanting to take the next step and considered pursuing a full-service restaurant, but that [the pandemic] humbled me a bit," McGuire said Friday, sitting with Wallace outside of P&M Market on Orange Street. "I wanted to just pull back and offer something that was easily transportable and easy to get to people."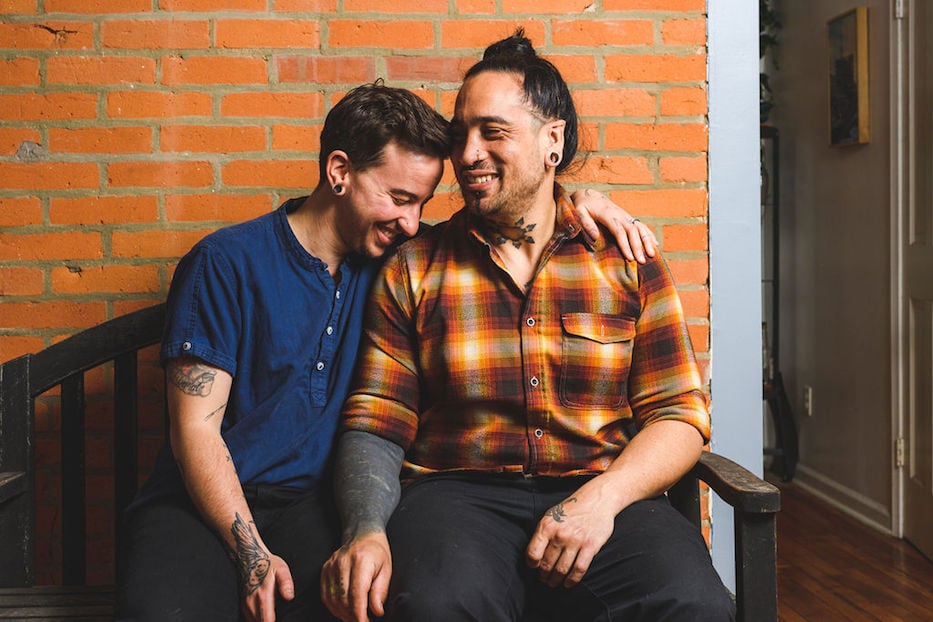 Seth Wallace and Kevin McGuire. Winter Caplanson Photos.
The decision to start a ghost kitchen came directly out of the pandemic. Prior to Covid-19, McGuire and Wallace were at something of a crossroads with Kawit!, which has grown a steady and devoted following since it first burst onto the scene in 2018. The food puts a twist on cuisine McGuire ate during his childhood, growing up with a Filipino mom and Irish-Polish dad in California. After several successful pop up events and participation in Cityseed and Collab's 2019 Food Business Accelerator, he and Wallace could see the appeal of opening a restaurant.
But as a chef, McGuire also saw an industry plagued by long hours, unfair wages, few to no benefits and no paid vacation time. In the 15 years that he and Wallace have been together, he can't remember getting paid time off. He became used to working weekends. No job afforded him sick time. In the kitchens, bosses were often verbally abusive and grating for wages that their chefs couldn't live on. That wasn't the life he wanted for himself or for his employees.
And in a way, Covid-19 made the decision for him.
When the pandemic hit New Haven last year, McGuire was working as chef at High George, the restaurant at the top of the Blake Hotel. In a story that has become strikingly common, he was laid off with no return date. The couple's two-income household became a single-earner household. Wallace, who is the assistant director of the Office of LGBTQ Resources at Yale, continued working remotely. He has been able to hold teletherapy sessions from home, where he intends to stay remote for the foreseeable future.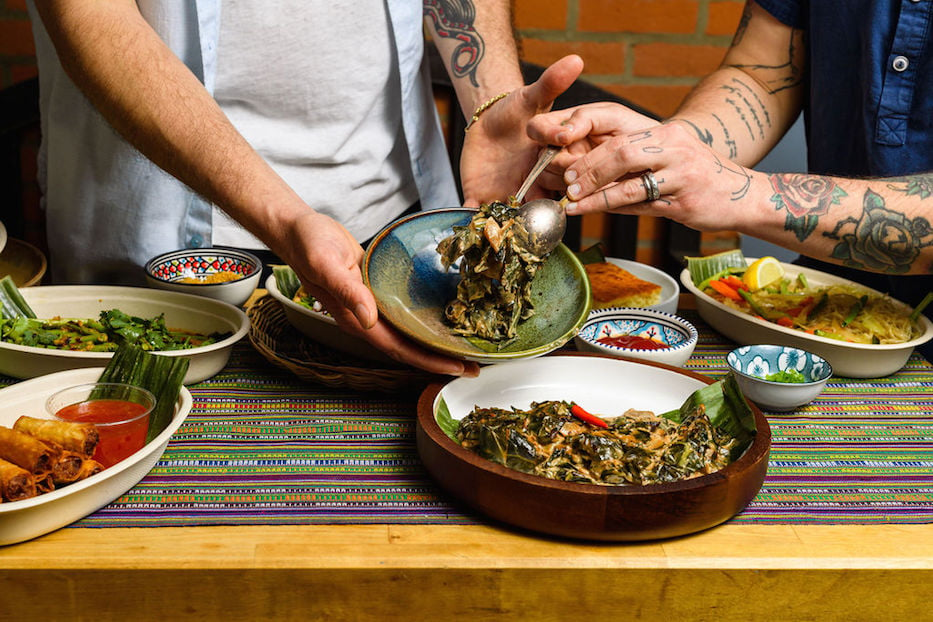 Winter Caplanson Photos.
McGuire turned to the kitchen, and started cooking. While Wallace was upstairs taking back-to-back teletherapy sessions, McGuire began to rethink his menu. He played with dishes that he'd been making for years, tweaking sauces and adding new ingredients for vegan and gluten free eaters. In his laing, for instance, collard greens now replace taro leaves, and fermented black beans take the place of fermented shrimp paste. A long simmer in coconut milk and chili flakes breaks them down to a soft consistency that still has teeth.
Wallace recalled jogging downstairs between clients to pots simmering on the stove and dishes lining the countertops. Some days, there were adobo smoked ribs and half roasted chickens waiting beside ribboned, pickled papaya the color of the sun. Others, rice noodles that burst into flavor as he mixed them with green beans and whole cilantro. He said it often nourished him after spending an entire day looking at a Zoom screen.
"We would sit down to a plate of the food we were going to sell to people, and it almost brought tears to our eyes," Wallace said. "I'm almost crying over this plate of ribs and rice and collards, basically. It looked beautiful, it tasted amazing, these were recipes that he made from the memories and experiences that he had as a child … It's truly an emblem of what it means to be a Filipino-American chef in America today."
The experimentation kept McGuire focused as the world turned on its head. He perfected a vegan equivalent of chicharrones, the crispy, salty fried pork skins that puff up with air as they cook (how he devised a vegan recipe "is secret, but the ingredients are locally sourced and natural," he said). He came up with a sweet, sticky cake with grated cassava and coconut milk. He experimented with a new sauce for his sawsawan eggplant, which comes coated in a mix of soy sauce, vinegar, and fresh sliced green scallions.
"I really wanted to change the concept to something that adapted to the new market conditions," he said. "This lets me grow step by step, incrementally."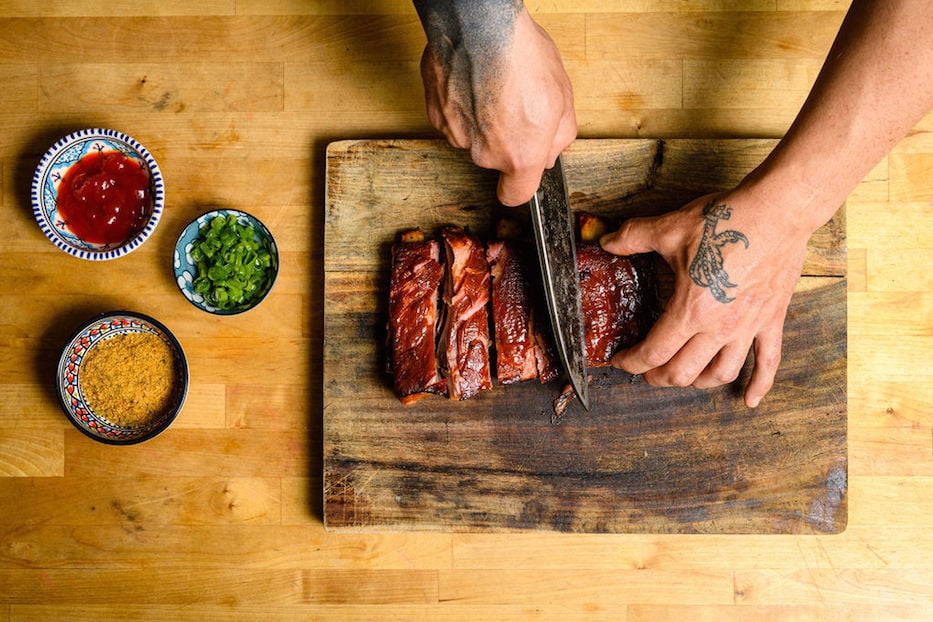 Winter Caplanson Photos.
Meanwhile, he and Wallace were also focused on getting a business off the ground. The two talked to friends and community members, including Ordinary Co-Owner Tim Cabral and the team at Haven Hot Chicken, which opened a brick-and-mortar spot last year. They looked for biodegradable takeout containers that meant there would be little to no plastic waste as part of the business. They daydreamed about a rotating space that the city could offer as a step between offering a pop up and opening a restaurant or food truck.
Then they found their spot. While searching for kitchens, CitySeed referred Wallace and McGuire to the Whitneyville Cultural Commons, which rents out spaces at the Church of St. Paul and St. James. The church, which charged lower fees than a restaurant kitchen and still had a grease trap, fit the bill. They started a long, labyrinthine process of getting sign offs from city officials, during which Covid-19 closures often made everything run more slowly. While the Micro-Food Business Ordinance passed in April 2019, they are some of the first business owners to use it.
"We were knocking in any door that we could get a hold of," Wallace said. "We're really proud to be helping blaze the trail."
By the end of the process, Wallace joked that city health inspector Brian Wnek had become his new best friend. He also praised city Communications Director Gage Frank, who once picked up the phone and ran to another part of City Hall to help because the building was closed, and McGuire and Wallace needed information. He and McGuire dug deep into their industry connections, asking to see biodegradable food containers, double-checking ingredients, and making sure every sign off was in order.
As an opening date approached, McGuire hired three fellow chefs to help him in the kitchen. Since last year, he has since left High George and made Kawit! his full time job.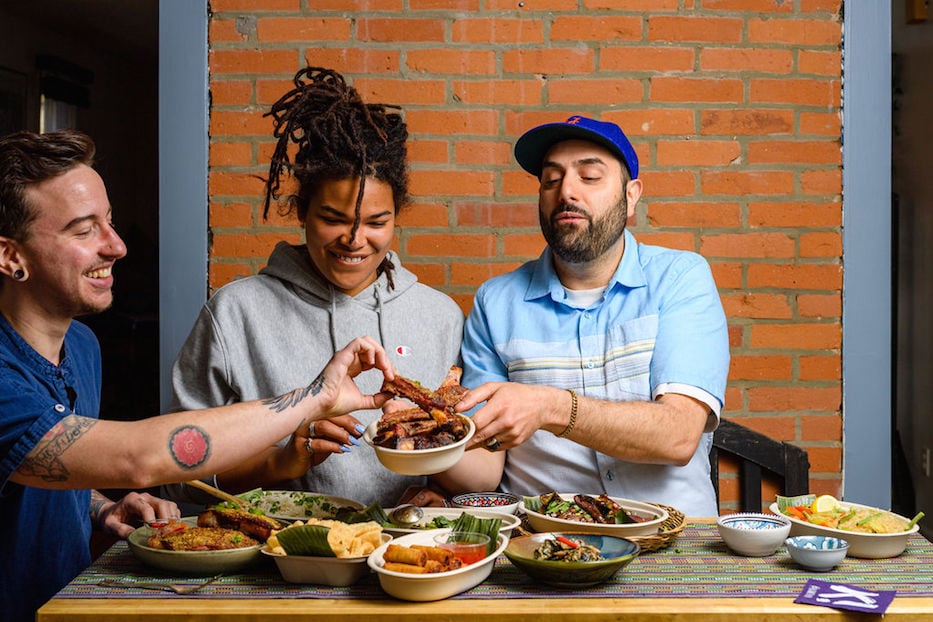 Seth Wallace with taste-testers Zoe Jade Phillips and Travis Carbonella. Winter Caplanson Photos.
On Monday, Kawit! opened to its first customers and sold out within hours. Both Wallace and McGuire said that the focus on shareable dishes is intentional—it's how they experience and serve food to people they love, and to members of their blood and chosen families. While they currently use GrubHub, they ask customers to order through their website because it eliminates about 30 percent of the third-party provider fees.
"I think that this will be the first of many steps, and we're excited about the ways that we can grow," Wallace said. "It means so much to be able to share food that means something to us with people. To be visible as a queer couple doing that is very important. And to be doing things differently as far as creating an affirming and supportive workplace climate. We're relying on the support that we've gotten from our community members, our local businesses. It really does feel like a homegrown New Haven story. We're so proud to be opening here."
Kawit! Filipino Barbecue is open Mondays and Tuesdays from 4 p.m. to 9 p.m., or until it sells out. Order here.