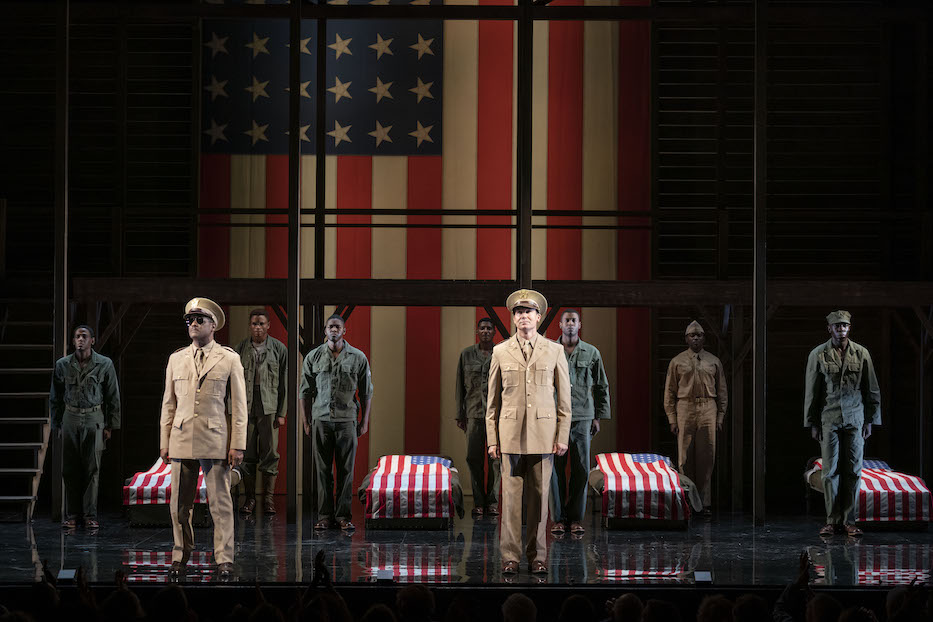 Culture & Community | Downtown | Arts & Culture | Theater | Arts & Anti-racism | Shubert Theatre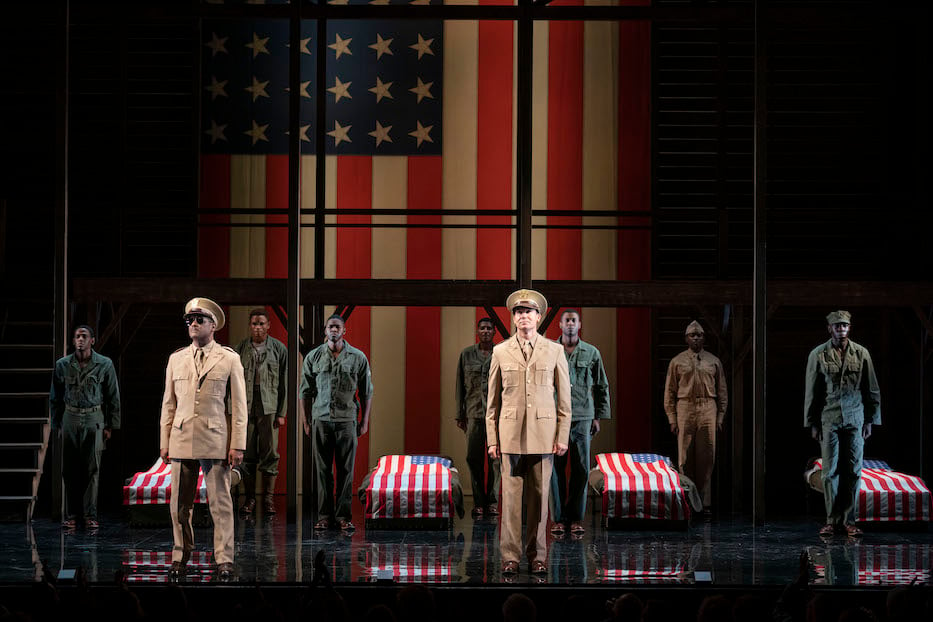 The 2019 Broadway Revival Company of A Soldier's Play. Joan Marcus Photo.
The round, resonant chords of "Early in the Morning" are still hanging in the air when Sgt. Waters stumbles out onto the road, his cap already removed. His mouth twists; a force brings him to his knees. Before two shots ring out, he utters the same sentence twice: "They still hate you!" His voice is a whistle. Then he is gone.
What happened? Could it still happen now, all those years later?
That question, and the sharp and violent edge of white supremacy beneath it, undergirds the 2022 revival of A Soldier's Play, running at the Shubert Theatre downtown Dec. 8 through 11. Produced by the Roundabout Theatre Company and teched at the Shubert, the work will go from New Haven to the Kennedy Center in Washington D.C., and then on to a national tour.
As its first stop, New Haven gets a front seat to history. Four decades after it was first written by the late Charles Fuller, A Soldier's Play is still a damning and masterful critique of race and racism, fragile masculinity, the conflation of whiteness and power, and the project of America itself. The play runs Friday at 8 p.m., Saturday at 2 p.m. and 8 p.m., and Sunday at 2 p.m. Tickets and more information are available here.
"It's a really amazing piece of storytelling," said Shubert Executive Director Anthony McDonald, who saw a 2020 revival in New York shortly before the pandemic shut down Broadway. "In many ways, it's the continuation of what this theater has been known for. Bringing some of the best artists from Broadway, from New York, from around the world, from New Haven onto this stage."
Set at Louisiana's fictitious Fort Neal army base in 1944, A Soldier's Play opens on the murder of Sgt. Vernon C. Waters (a standout Eugene Lee), who has for months commanded an all-Black regiment eager to enter the theater of war. This is the segregated South, and conjecture is everywhere—was it the Klan? White soldiers? Could he have been lynched?
Outside Fort Neal, it is the penultimate year of World War II—the same year that Black soldiers in the 92nd Infantry Division and 761st Tank Battalion entered combat in Europe and made real-life history—and these young men are ready to ship off and fight. Or at least they think they are, exposing how young they really are in a series of conversations and jokes that lift the play up, even in its heavy moments.
Inside the base, Capt. Richard Davenport (Norm Lewis) is brought in to investigate Waters' murder, a direction from his superiors with which Capt. Charles Taylor (William Connell) immediately takes umbrage. Taylor is a white graduate of West Point; Davenport is a Black graduate of Howard, and the first Black equal Taylor has ever had. He doesn't take to it gracefully: the audience can see his mind smoldering onstage.
It's not personal, he insists: he just doesn't think a Black captain is up to the job. Which means, of course, that it's entirely personal. There are 403 years of history in every barb they exchange; how could it not feel radioactive?
But Davenport is not interested in Taylor's hangups, and the investigation continues. As it unfolds, it allows for a series of flashbacks through which Waters reveals himself, first bit by bit, and then in a quick, heavy unraveling that is whole layers of devastating. At the center of it is his relationship with Private C.J. Memphis (Sheldon D. Brown), a soldier from Mississippi whose love for the blues, for wide-open spaces, for what some might label "folk" or ritual tradition, all gnaw at something deep and decaying in Waters' gut.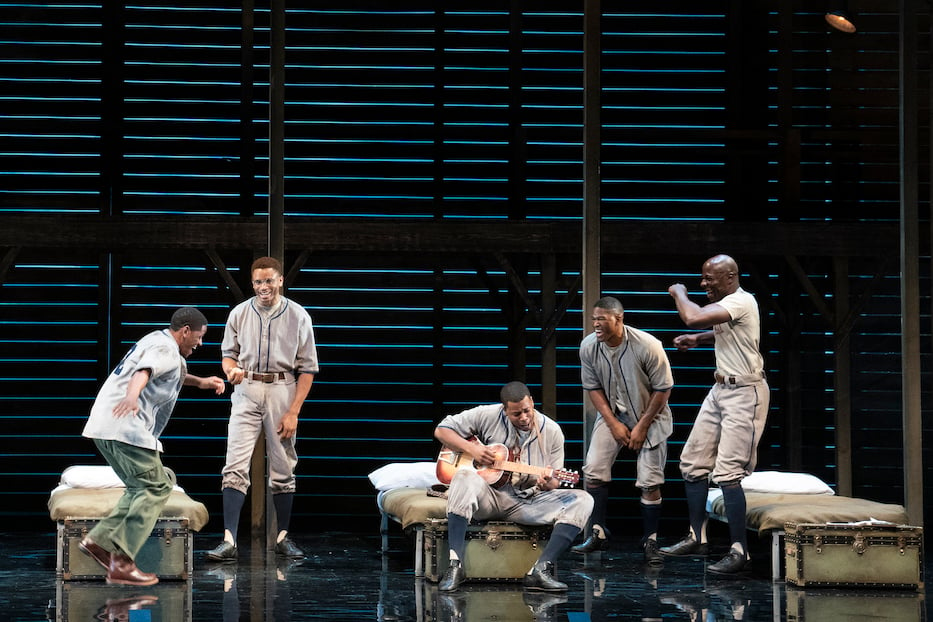 The 2019 Broadway Revival Company of A Soldier's Play. Joan Marcus Photo.
In the tension between the two, the audience gets a window into the collapsing of, and aspiration to, whiteness as a form of power. Waters is angry at everything; he speaks in rushed, staccato streams of respectability politics that verge on eugenics, and then topple right on over into them. As his simmer of internalized anti-Blackness becomes a rolling, sprawling boil, it spreads across the stage and through the theater. It touches everything in its path, melting down the barrier between 1944 and 2022 in the process.
In that sense, the show is so much more than a gorgeous and gut-wrenching whodunit, although if someone wants that, there are plenty of twists, turns, and foils. It is a lasting indictment of this country—and a reminder that it can do better. Fuller, who spoke about the influence of Amiri Baraka, Arthur Miller, Ralph Ellison, and James Baldwin on his work, has done the most patriotic thing he can possibly do. He has criticized America because he knows how much more it is capable of.
In bringing the work to life, both Leon and company members look to the show's decades-old roots, but add something entirely of their own. As C.J., Brown knows how to occupy space and make himself surprisingly small at the same time. Even in silence, there's a presence there that he conveys with his eyes, facial expressions, and slight, almost imperceptible movements.
His voice, meanwhile, is at once a blessing and a ghost, yoking together the histories of forced labor, imprisonment, racism and the U.S. military. His asides, as unexpected as they are rich, stay with the audience. Unlike Waters, he never has to name the irony of the army, where a Black person can die honorably abroad and still be treated as less than human at home. He sings and speaks through it instead.
In his orbit—and often in song and synchronized movement—fellow soldiers become full, rounded characters. Audience members may find themselves rooting for Wilkie (Overshown), who has lost his stripes after drinking on duty, until they are suddenly not. There's a quiet anger and anxiety that Malik Esoj Childs brings to Private Tony Smalls, as if a whole third act could revolve around his afterstory. The audience can see how Waters' verbal rampages get to Tarik Lowe, who plays Private Melvin Peterson, until he can't take it anymore.
But this play is also about the way white supremacy poisons everyone, including and especially white people. As Lt. Byrd, Chattan Mayes Johnson is so evil that it becomes hard to peel the actor from the character long after the show has ended. Captain Wilcox (Matthew Goodrich) walks a line in which he believes he's being virtuous, but really just shows the audience how low the bar can be. Even Connell reveals that Captain Taylor is more complex than he first appears, although Fuller spares his audience from a Pollyanna fantasy of racial reconciliation.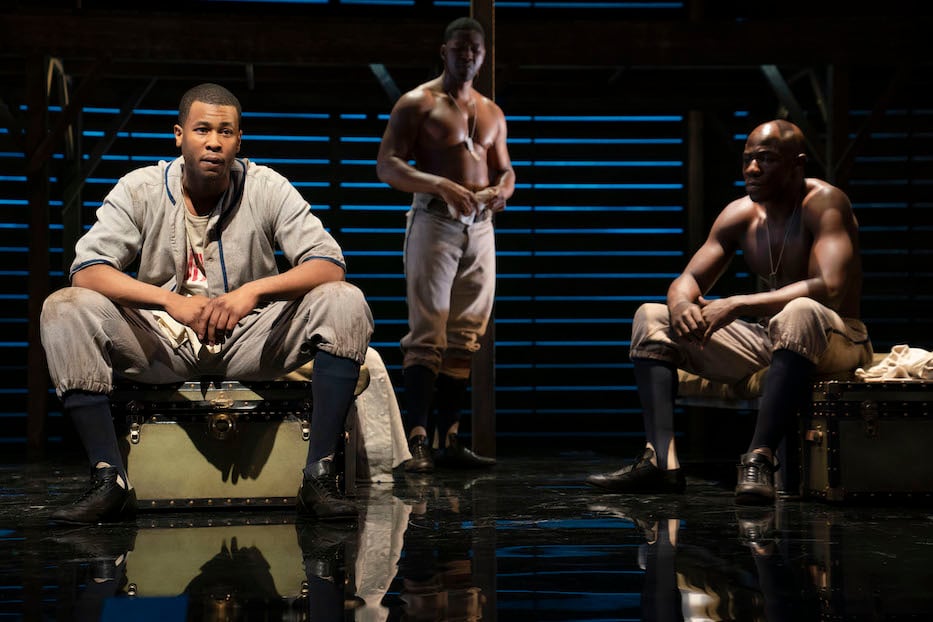 The 2019 Broadway Revival Company of A Soldier's Play. Joan Marcus Photo.
No pair is more interesting to watch than Lewis and Lee, who cross paths only through Fuller's bending of time. As Davenport, Lewis is suave, sharp, deeply thoughtful and even funny, both amused and angered by how deeply he is underestimated. Even as he remains process-oriented, it's clear that he loves these boys, and sees in each of them some version of himself. In a sort of postscript describing their entrance into Nazi Europe, he finally lets his guard down, and the audience can see the exhaustion in his whole body.
But while the playbill may prominently feature Lewis—who is indeed the conventional hero of the show—the play belongs to Lee. As Waters, Lee has mined the character for every ounce of its depth, giving a performance that is at once nuanced and intense, in which even the most horrific and maniacal decisions appear as an act of love. It is not just his ability to master the script, but the fact that he puts every part of himself into the character, adopting a physical and psychological take on Waters that may leave the audience slack jawed.
Around him, a set of army barracks becomes a constant, unspoken presence, the set working to fill the space but not overpower it. A catwalk above the stage works as a time-hopping device, allowing the audience to step into multiple pasts all at once.
It showcases Fuller's brilliance, becoming a fitting sendoff to the playwright after his death at 83 earlier this year. As a writer whose work has very much stood the test of time, Fuller is not concerned with the lyrics or poetry of language so much as with words, what they mean, and how they have sprouted from the country's soft and rotting core. In his hands, Even humor is an outgrowth of the absurdity and horror of racism itself.
Towards the beginning of the show, for instance, Taylor pauses midway through his attempted takedown of Davenport, whose upbringing, college education, and rank he has already brought into question.
"May I speak freely?" he asks. It's clear from a mile away that Taylor, who has no problem commanding the Black officers under him, cannot see that he has already spewed enough prejudiced garbage to fill a dumpster.
"You haven't stopped yet, Captain," Davenport replies, his aviator glasses still on, and it's an instant laugh line that Taylor isn't in on, warming the gears on which the play is going to run.
There's a sense that the work is fully complete, meanwhile, because of the music that fills it. A stunning homage to the blues weaves through the play, placing it solidly on a historical timeline that lives alongside incisive writing and a sense of being trapped in a system. The selections are work songs, recorded in the first half of the twentieth century at segregated prisons in Mississippi and Louisiana. A listener has to square the beauty of the music with its intimate relationship with confinement and a resiliency no person should have to summon.
"These songs belong to the musical tradition which Africans brought to the New World, but they are also as American as the Mississippi River," the ethnographer Alan Lomax said of the music, of which he made recordings of in the late 1940s. It echoes in this work, which is steeped in an understanding of the very American disenfranchisement of Black people, of the snail's pace of social change, of the hypocrisy baked into America's DNA itself.
Building Toward The Future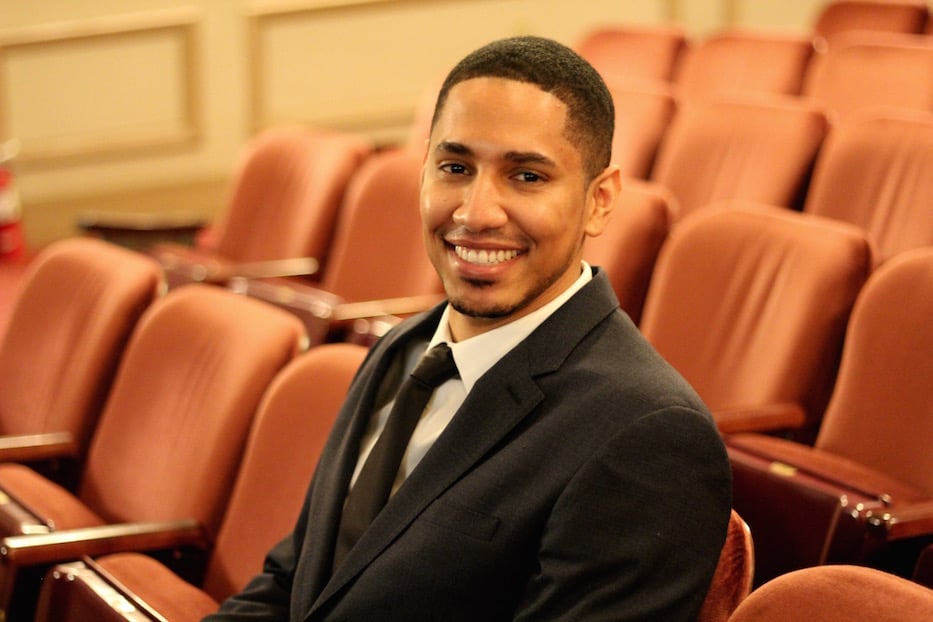 Anthony McDonald in April 2021. Lucy Gellman File Photo.
In many ways, A Soldier's Play marks the end of a year in which the Shubert's reimagined mission has come sharply into focus. When he came onboard last year, McDonald spoke openly about making sure programming more genuinely reflected New Haven. Even before the theater had reopened to the public, he turned it into a vaccination site and invited public debates around how to spend American Rescue Plan Act (ARPA) funding.
Meanwhile, he continued to work behind the scenes. He strengthened partnerships with Long Wharf Theatre, the Jamaican-American Connection, Gateway Community College and the International Festival of Arts & Ideas. He started listening to what community members wanted to see. He and the theater's team grew educational programming, building on an existing footprint at Cooperative Arts & Humanities High School and the Stetson Branch of the New Haven Free Public Library.
In the past year, he has brought in work by artists including Monty Alexander, Toshi Reagon, and several of the Elm City's Finest among many others, often collaborating with fellow arts organizations instead of competing with them. He has also worked to make the Shubert into a viable venue for teching shows, which gave students the chance to get a first look at two productions of SIX before they toured earlier this year. This month, it is what brought A Soldier's Play into the space.
"We're the perfect size for these kinds of occasions, where they can make sure that the show can fit," he said. "Once they can fit it in our theater, it can probably fit anywhere on the road. So our community benefits, the show benefits, and our crew here has been amazing."
On opening night Thursday, he took a moment in the lobby to look over the theater as patrons streamed in through the front doors. When he started this job over a year ago, McDonald acknowledged that there was a heavy weight of expectation on his shoulders: he is the son of Jamaican immigrants, a proud graduate of Howard University, and the first Black person to step into his role at the Shubert. Almost two years later, he said, he's hit his stride.
"I've always said, 'I don't want to live in my past,'" he said. "I want to continue to build upon it. We should be doing that. Yes, we should always recognize our history. We should always be thankful that we have that history that we can lean on. But what's the new history that we are creating?"
Written by Charles Fuller and directed by Kenny Leon, A Soldier's Play runs at the Shubert Theatre, 247 College St., through Sunday. Tickets and more information are available here.