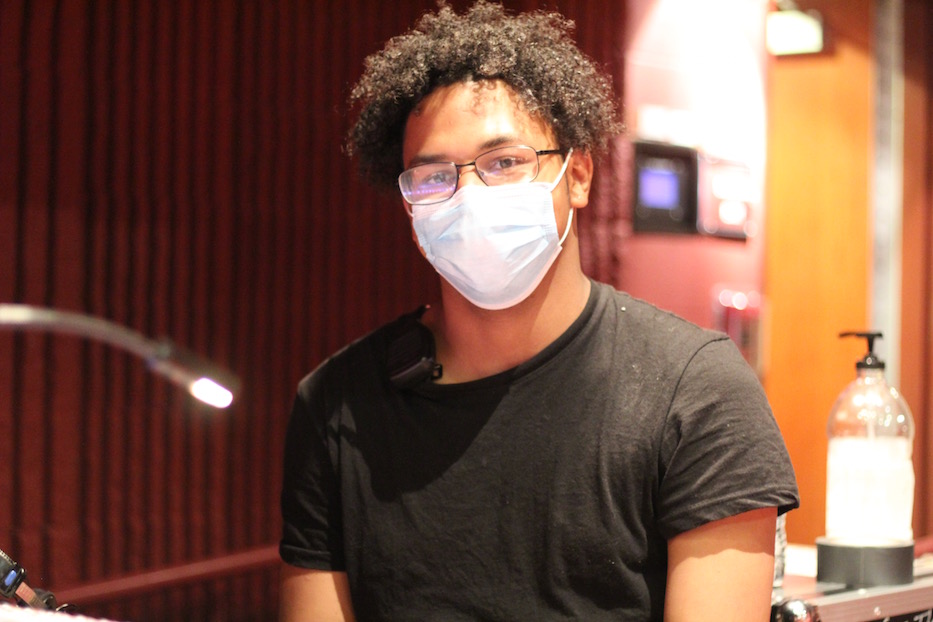 Co-Op High School | Downtown | Politics | Arts & Culture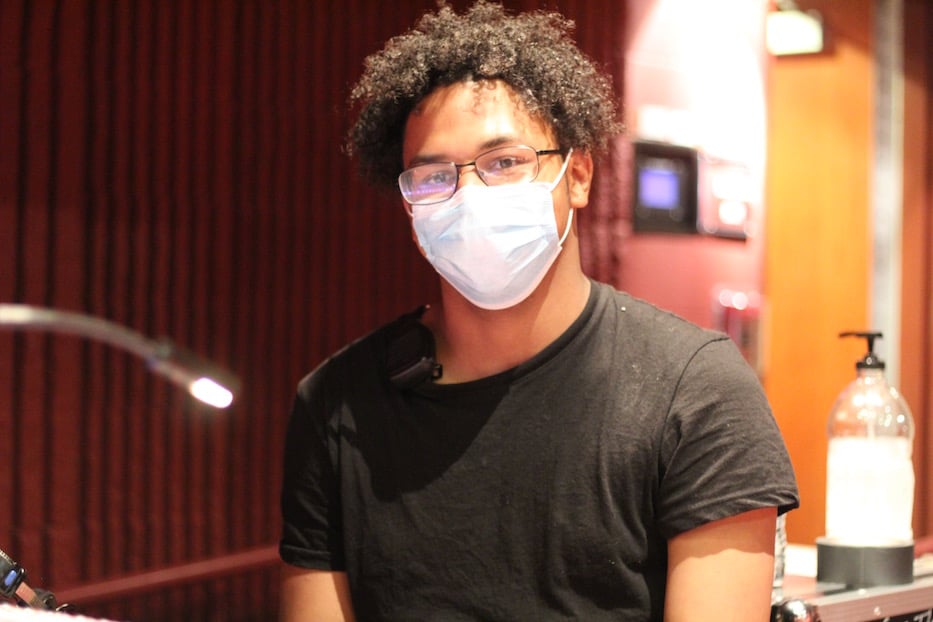 Sharric James. Lucy Gellman Photos.
One moment he was mending a feedback loop that crackled and hummed from a reporter's earbuds. Another, he was hustling around the auditorium, cool and concentrated with a roll of black electrical tape in one hand. Another, he pushed a control, and suddenly a fleet of microphones boomed to life.
Nineteenth-year-old Sharric James was the glue of New Haven's first and only mayoral debate Tuesday night, held at Cooperative Arts & Humanities High School in downtown New Haven. A 2020 graduate of the school who put college on hold in the pandemic, James returned to his alma mater this year as a technical apprentice. He may not have been onstage. But the debate, the first public event at the school in over 18 months, couldn't have happened without him.
The hour-long event, which featured incumbent and Democratic Mayor Justin Elicker and Republican challenger John Carlson, was sponsored by the New Haven Democracy Fund, La Voz Hispana, and the New Haven Independent. Panelists included Paul Bass, editor of the New Haven Independent; Jodi Latina, chief political correspondent at WTNH; Hearst Media reporter Mary O'Leary; longtime radio host Michelle Turner; and Norma Rodriguez-Reyes, publisher of La Voz Hispana. Fewer than 30 attended in-person; many more watched online.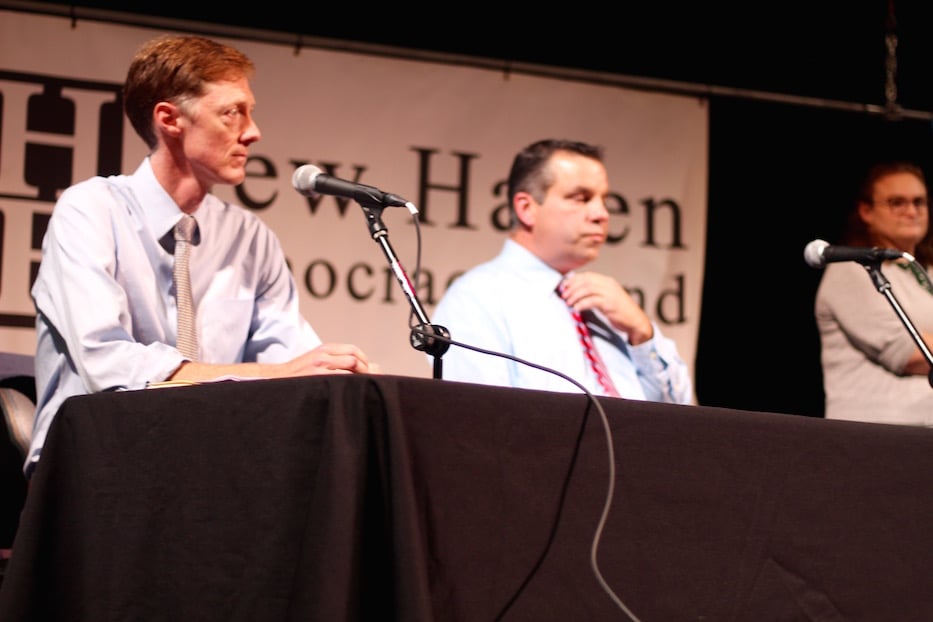 Mayor Justin Elicker and Republican challenger John Carlson.
In his behind-the-scenes work, James told a story of the unspoken—and often unseen—labor and artistry that goes into making performances run smoothly. Well before candidates had ever arrived at the school, he and Co-Op theater teacher Janie Alexander began setting up for the event, arranging chairs on the stage, checking the sound levels and stage lights, and directing cameramen to their positions. At any given gig, he might install and adjust mics, set up the stage, screw in lightbulbs that have gone out and control lighting.
It's a choreographed technical ballet that makes him buzz with energy, he said.
"I've been dying to get back into doing technical theater," James said as he watched someone from WFSB clap his hands theatrically in front of the mics to make sure the sound traveled. "I've always loved it a little bit more than acting on a stage. I love it. I'm a light person, but I love sound ... I just want to make sure that everything goes well."
The debate sat at the juncture of his personal and professional lives, he added. James was born and raised in the city's Hill neighborhood, where he still lives close to Hill Regional Career High School with his parents. He caught the theater bug as a student at Edgewood Magnet School, then deepened his craft when he got into Co-Op. He thinks of politics as "kind of fun," and follows it on both the local and national level.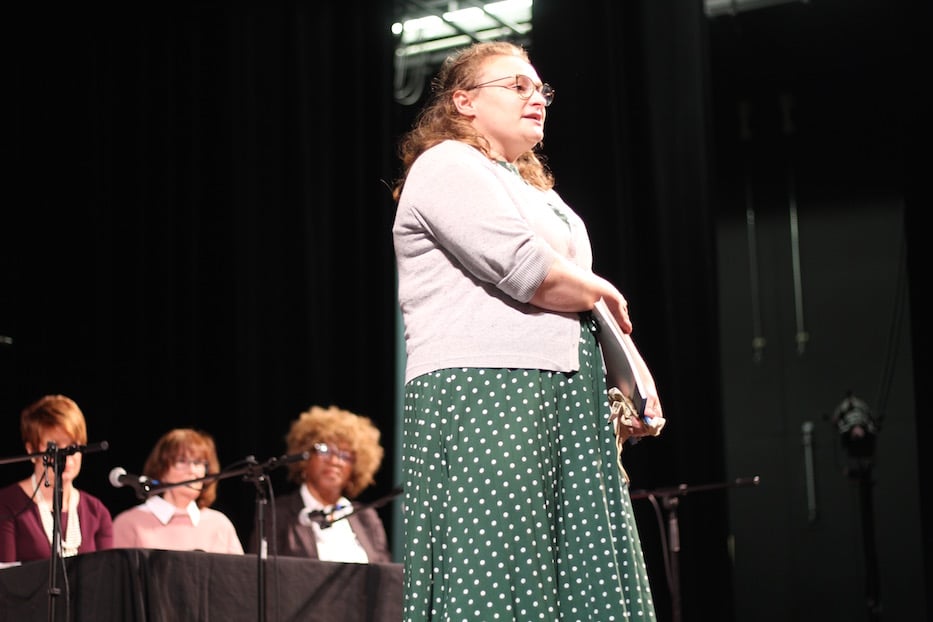 New Haven Democracy Fund Administrator Alyson Heimer.
As a New Havener and a voter, he said he worries about the city's rise in crime, particularly in his neighborhood. He wants to see job growth and a stronger education system for students like his younger brother, now a sophomore studying theater at the school. He said he wants him to have more opportunities than he did during his time at the school, which was upended by the pandemic.
Last year, James was a senior at Co-Op studying theater with plans to head to Western Connecticut State University in the fall. Outside of the classroom, he worked as an usher at the Shubert Theatre and a growing entrepreneur at the New Haven Land Trust, now recognized at Gather New Haven. He was used to spending hours on Co-Op's stage as an ensemble member in RENT, which became an early casualty of the pandemic.
When schools shuttered, it threw him for a loop. First the play was postponed. Then it was cancelled. Then prom disappeared. Graduation became a masked affair. A final blow came when he realized that he would need to put college temporarily on the back burner. He is currently living at home and working between Co-Op and the Shubert, where he helps on shows under Alexander's guidance.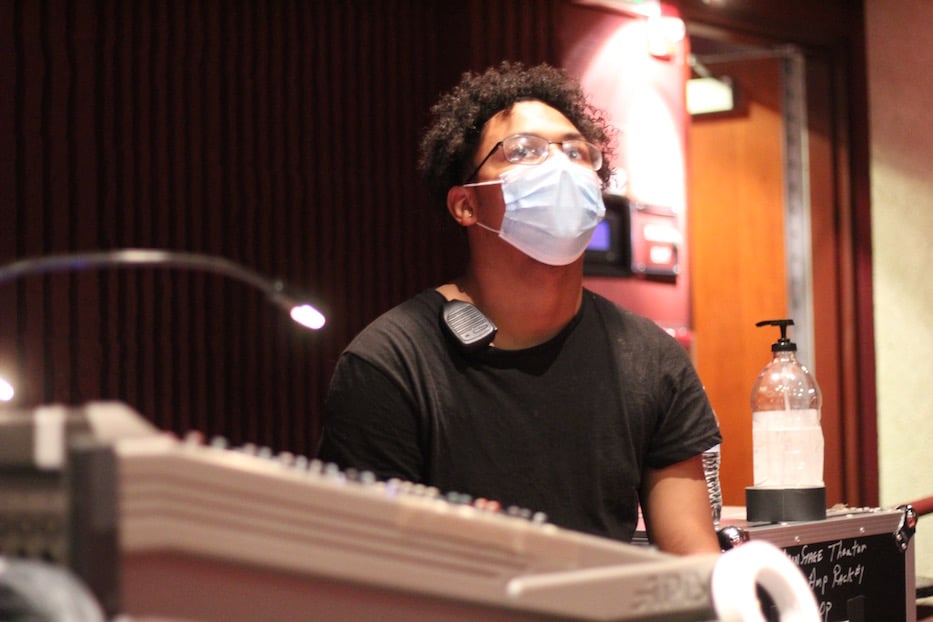 "I felt devastated," he said. "I had everything set up. I seen all my friends doing stuff with their dorm rooms. Sometimes I think about it, but then other times, it's like, what I did is good for my family. "
While James voted in his first presidential election last year, this will mark his first mayoral election. As a resident of the Hill, he's most worried about crime—the citywide rise in which he doesn't specifically blame Elicker for, he said. Of 23 homicides that the city has seen this year, several have taken place in his neighborhood. From where he lives on Sylvan Avenue, he hears and sees nightly drag racing, which he described as "a lot of mess in the street."
During the debate, he listened as candidates sparred over law enforcement, affordable housing, mask and vaccine mandates, public education, and environmental issues—particularly the recently signed 43-year lease between the city and Tweed New Haven Airport Authority. While he plans to vote for Elicker—"I like the guy" and feels like he knows him from his time at the Land Trust, he said—he said he tried to hear out both of the candidates.
Just minutes in, he was receptive to what Elicker described as a "multi-pronged strategy" to bring down citywide crime, including increasing walking beat officers, surveillance cameras, outreach and youth engagement workers. Minutes later, he was mulling over what it meant for no Black or Latinx people to hold what Bass called "the top five jobs at City Hall" for the first time in five decades.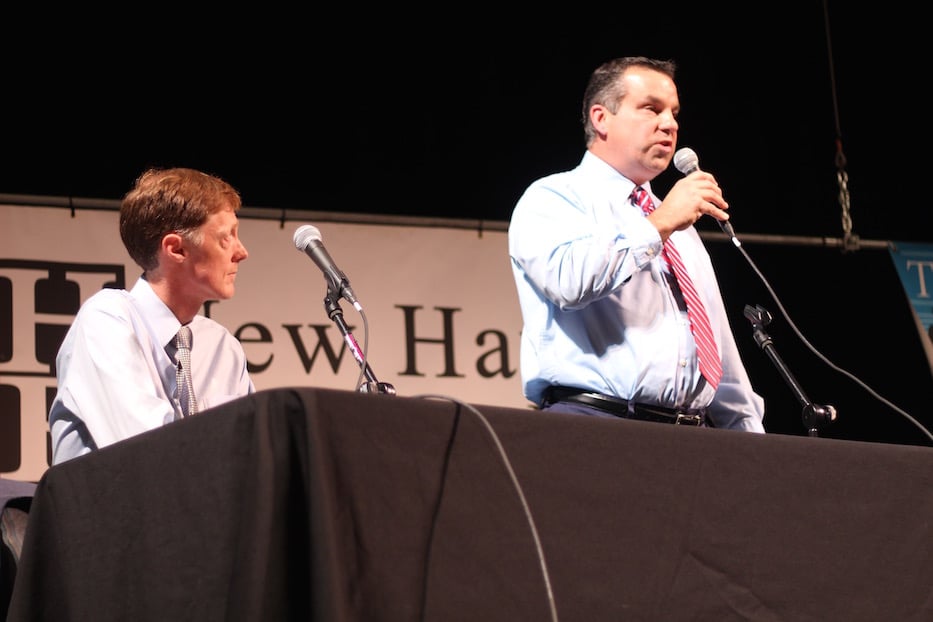 Carlson.
He listened closely when the discussion turned to speed humps and safe streets. Last year, James was in a fender bender close to his home, when a speeding driver slammed into the back of his car. The potholes on Howard Avenue plague him constantly. He said he approves of Elicker's record, and can get behind his promise for better infrastructure and an attention to "Vision Zero"—the goal of zero pedestrian and cyclist fatalities—in a second term.
He said he was also excited by the discussion around education. During his time in the city's public schools, James was often aware of how few educators reflected the student body (​​in 2019, the New Haven Independent reported that 72.5 percent of New Haven's teachers identified as white, while that number was only 12.9 percent for students).
He listened as Carlson, himself a fourth grade teacher in the Bridgeport Public Schools, suggested "cutting costs at the top"—like the district's recently hired communications director—and Elicker shot back that those costs weren't the problem. The Mayor pointed to New Cannan, which spends roughly $19,000 per child to New Haven's $16,000. Then he pointed to the city's recent investment in youth programming, enabled largely by funds from the American Rescue Plan.
"We are not spending enough on our children as a systemic problem as a state," Elicker said. "We, as a state, do not invest enough in our children. So I'm unapologetic about saying that we need to invest more in our children. That is just what we have begun to do."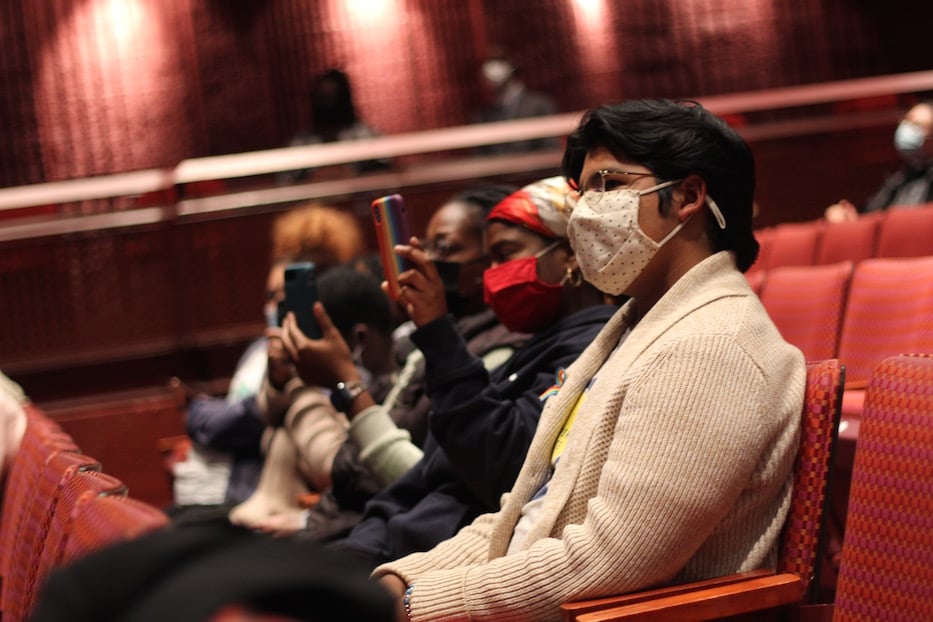 Members of City Wide Youth Coalition in the second row. Wilbur Cross Sophomore Dave John Cruz-Bustamante (in ribbed sweater) stood up at the end of the debate, challenging Elicker on the climate crisis.
Every so often, a cameraman would bring James back to the task at hand, asking him to adjust the volume or check a setting in hushed tones. Seventeen minutes in, Bass asked for higher mic levels, and soon the candidates' voices were booming from the stage. He kept the mics on and clear to capture an exchange after the debate had technically ended, as Wilbur Cross High School sophomore Dave John Cruz-Bustamante stood up to challenge Elicker on climate policy in the wake of the Tweed Airport deal.
No one saw him performing alchemy—which was part of the magic.
"It's been a while since I've been back here," James said. "I believe I wasn't done yet. You know, because we had to leave a couple months early for the school year. I felt like my time here wasn't done yet. I still had stuff to do."
At the end of the night, it was him and Alexander who returned to the stage as candidates went off to talk to reporters and then head out into the balmy evening. From the second row, members of City Wide Youth Coalition hustled toward the auditorium's door, eager to continue a discussion on the environment with Elicker. James jogged back up to the stage, and started preparing it for the next school day. The goal was to make it look like nothing had happened at all. As he worked, James played the debate over in his head.
"It really opened my mind," he said.
To listen to the debate in full, check out the video above.