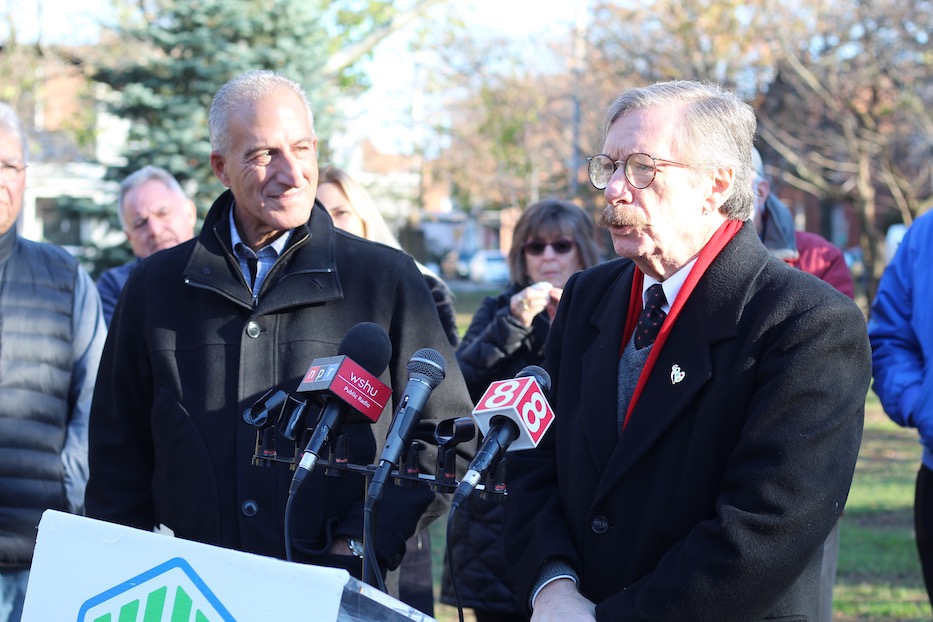 Culture & Community | Public art | Arts & Culture | Wooster Square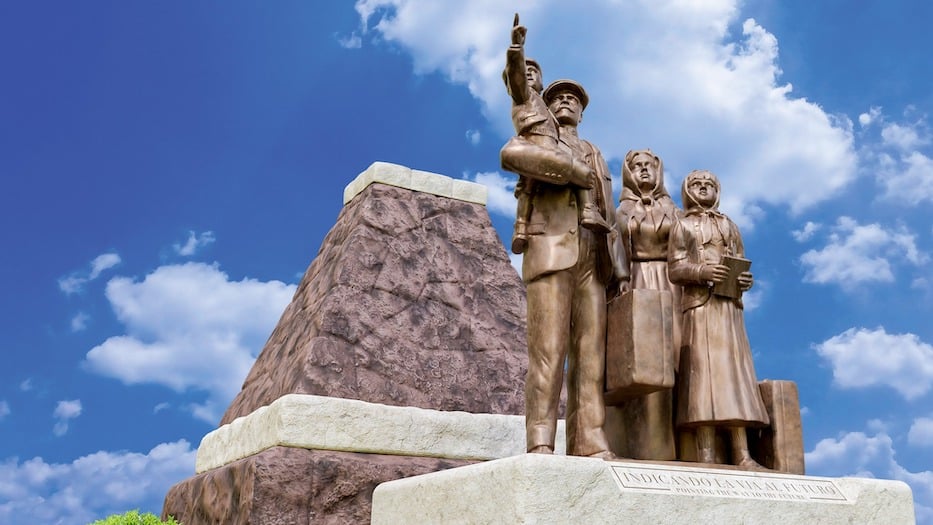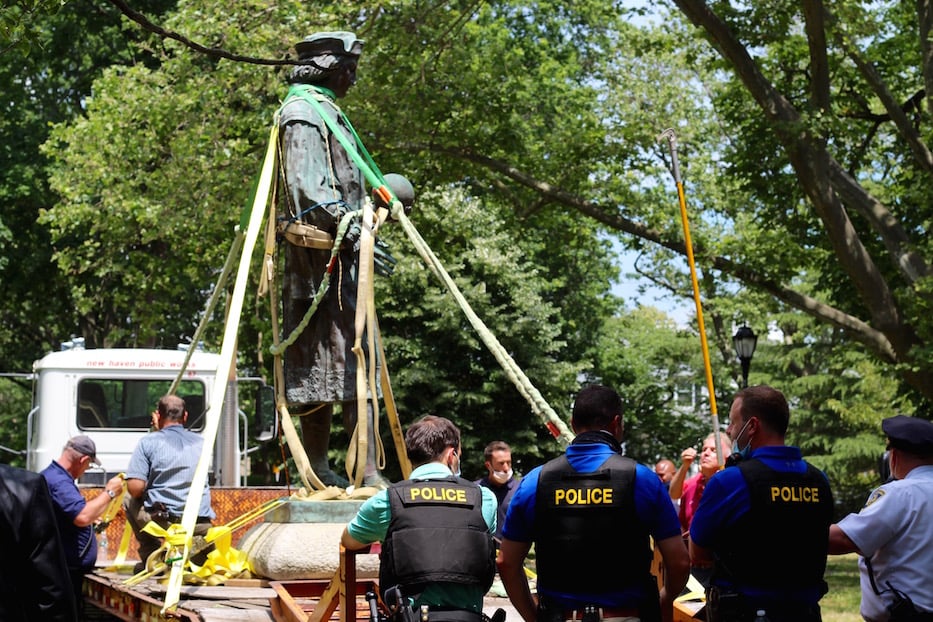 Top: Indicando la via al futuro (Pointing the Way to the Future). Marc-Anthony Massaro Rendering. Bottom: Columbus, after seven hours of waiting in Wooster Square, comes down. Lucy Gellman File Photo.
A new Italian American monument for Wooster Square has passed the final hurdle before building and installation can officially begin. Now that it's gotten past a municipal finish line, its biggest champion is focused on raising the $300,000 to make it a reality.
Bill Iovanne, Jr. sketched out that vision Tuesday afternoon, as members of the Wooster Square Monument Committee (WSMC) gathered with Mayor Justin Elicker, Alders Sal DeCola and Sal Punzo, and city officials to celebrate the launch of the Wooster Square Monument Project (WSMP). Two and a half years in the making, the launch follows an unanimous vote from the New Haven Board of Alders Monday night to "accept" the monument.
The new monument will replace a statue of Christopher Columbus that stood in the park for 128 years, and came down in June 2020. Monday's final vote follows over two years of meetings and long-awaited approvals from the city's Historic District Commission, Parks Commission, and Cultural Affairs Commission. Iovanne said the WSMP team hopes to raise $300,000 in the next 18 months.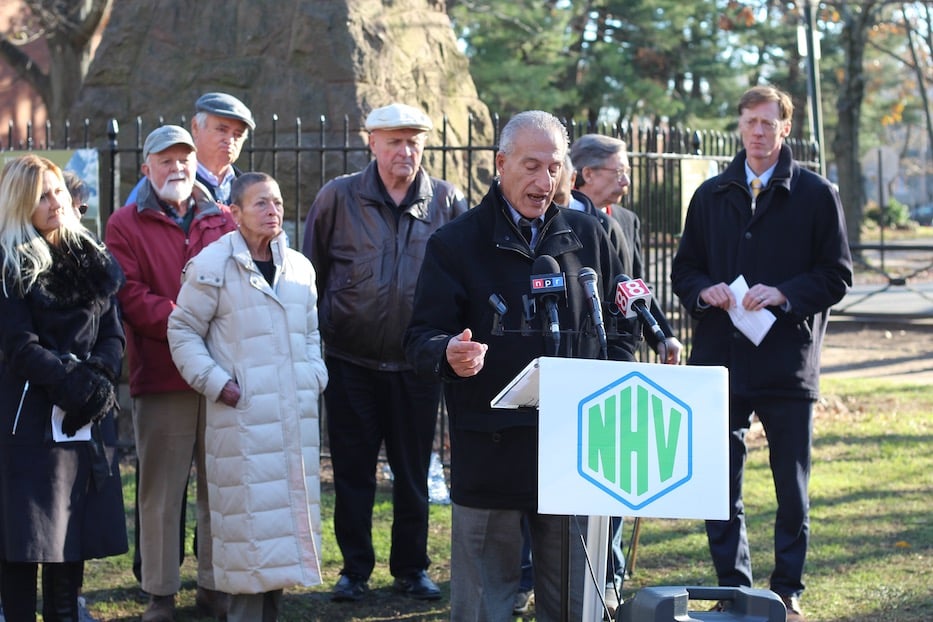 Iovanne: "We owe so much to these pioneers for laying a strong foundation for future generations to build on."
"There is symbolism throughout the beautiful sculpture that speaks to every viewer," Iovanne said Tuesday afternoon. "This public work of art tells the story of the hopes, dreams, and aspirations of the many immigrants who have made the same journey to America. We owe so much to these pioneers for laying a strong foundation for future generations to build on."
Titled Indicando la via al futuro (Pointing the Way to the Future), the sculpture is an 1,800-pound bronze by Branford-based sculptor Marc-Anthony Massaro, positioned behind the historic plinth that once held Columbus. Intended to be life sized, it will stand at eight feet and nine inches, including a two foot granite foundation.
When asked, Massaro joked that "my intention is to not sleep for the next year," as he finalizes the sculpture in clay, and then transfers the work to a foundry to be cast in bronze.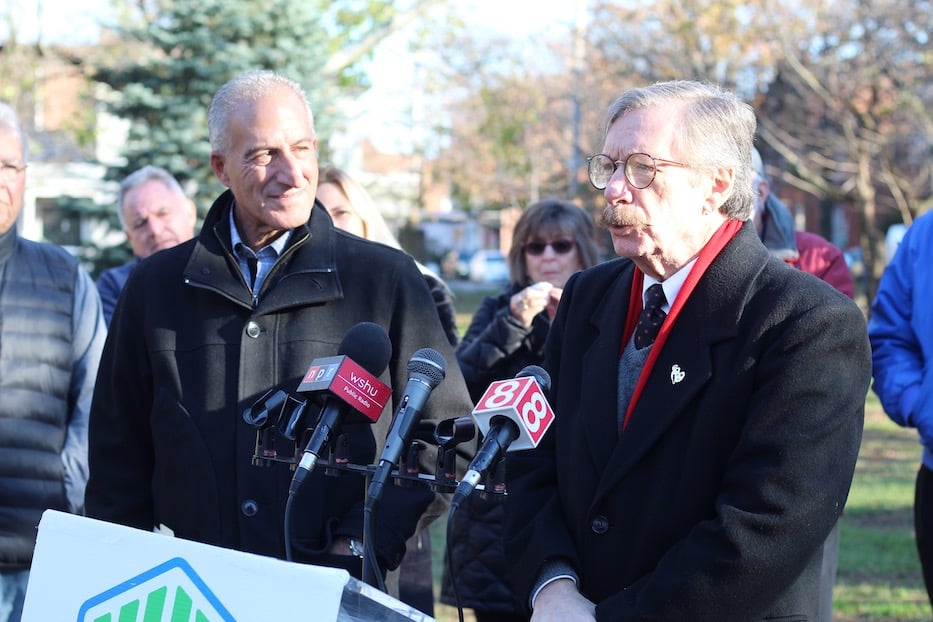 Bill Iovanne, Jr. and Marc-Anthony Massaro. Lucy Gellman Photo.
The sculpture is intended to tell a larger story of immigration, he added Tuesday. Indicando la via al futuro depicts a father and mother with two young children, all of them looking towards something in the distance. From his father's arms, the young boy extends one arm and points toward the horizon line. His sister holds a heavy book, which Massaro sees as a symbol of her education in the U.S. (read more about that here and here). A crucifix hangs on the mother's neck.
To prior criticism that a white, heterosexual, Christian family of four does not represent a changing Wooster Square, Massaro has maintained that the sculpture's message is universal.
"Our stories are similar," Iovanne said Tuesday. "Our hopes and dreams are similar. And we share the same feelings of what family means. Family is not the only thing. Family is everything."
As the committee works toward raising funds for the monument, the campaign will include a social media page, website, and donation platform. The committee has partnered with the Wooster Square Conservancy as its fiscal agent. U.S. Rep. Rosa DeLauro, who grew up in the neighborhood, will serve as the committee's honorary chair. Tuesday afternoon, DeLauro released a statement celebrating the alders' vote and fundraising goal of $300,000.
"I was so pleased to be asked to serve as the Honorary Chair of the Wooster Square Monument Fundraising Committee, and I will work hard over the coming months to bring the reality that symbolizes the Italian American immigrant experience and an America that welcomes all immigrants," she wrote. "So, let us rally around this new monument, and continue honoring the contributions of Italian immigrants, Wooster Square, and America's rich immigrant history. Thank you."
"We're All One Community"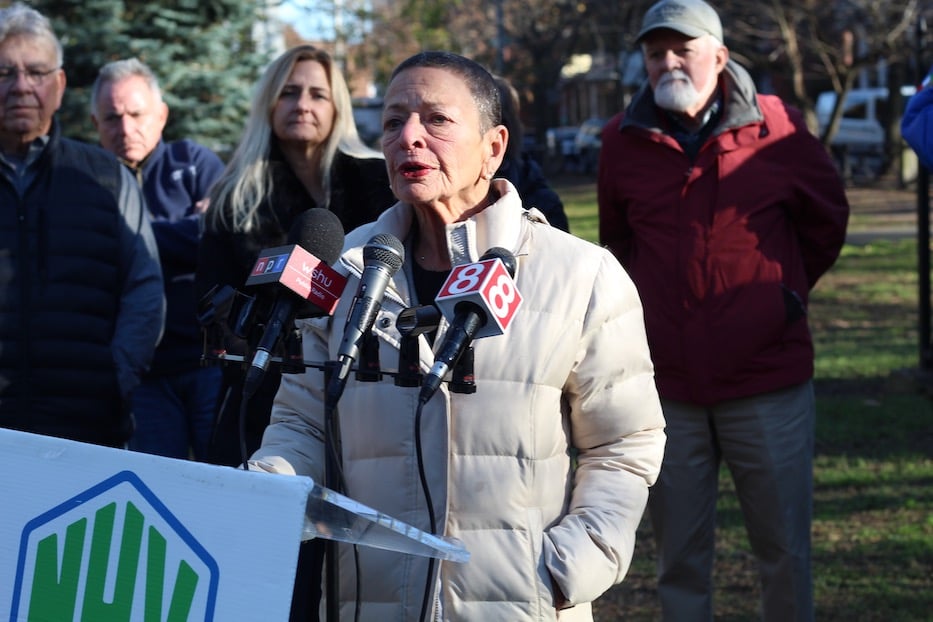 State Senior Development Specialist Lindy Lee Gold. Lucy Gellman Photo.
Thursday, Iovanne acknowledged the hurt and harm that still exists around the first statue's removal—during which two people of color were injured—and the long and sometimes contentious process of choosing a replacement. He took a moment to remember the grit and dedication of WSMC co-chair Laura Luzzi, who lost a long battle with cancer earlier this year.
With a catch in his throat, he praised Luzzi for her work, and said that she will remain co-chair posthumously in recognition of her service.
He added that he hopes the neighborhood and the greater New Haven community can use the new monument as a reason to come together. After hearing from multiple community members who do not see themselves reflected in the work, he said that he intends to keep the conversation open as the monument moves forward.
He added that he is open to adding narrative context around the sculpture, "which is why I wanted to stay engaged with [the] community throughout the process." Wooster Square and the surrounding area are on the unceded lands of the Quinnipiac and the Wappinger Peoples.
"This neighborhood is very diverse, and this project needs to represent the diversity not only of the Wooster Square neighborhood, but of the city of New Haven," he said. "That's what makes this the great city that it is … We intend to move forward being as engaged [as possible] with community—all forms, all cultures, all nationalities."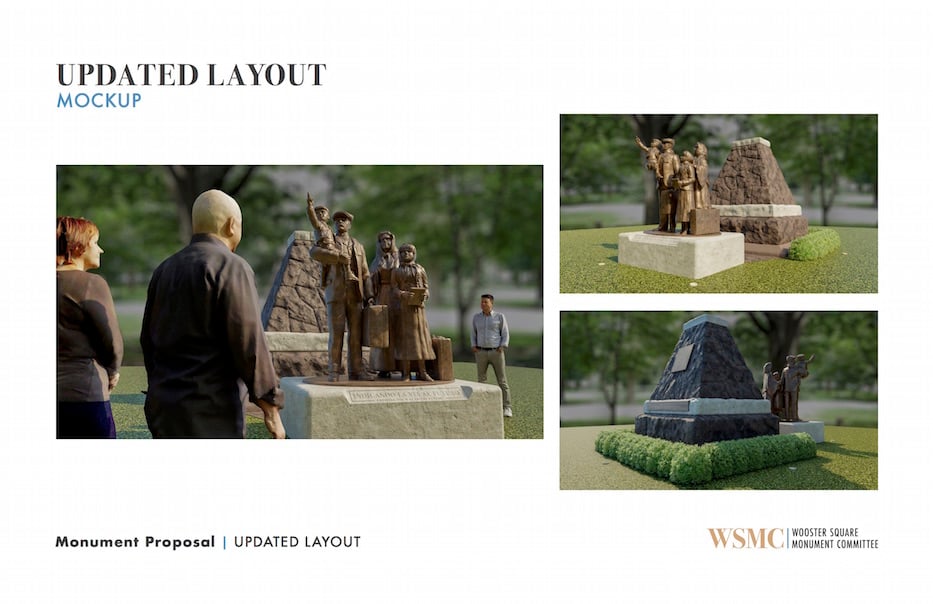 Renderings that the WSMC brought to a meeting of the city's Historic District Commission in July.
Keeping his remarks brief, Massaro said he is honored to be working on the sculpture. While he now lives and works in Branford, the artist grew up in the heart of New Haven's Italian American community. He is the great-grandson of Frank Consiglio, a fisherman from Amalfi who moved to Wooster Square in 1918. His mom's cousin was Salvatore Consiglio, who went on to found Sally's Pizza in 1938.
In 1971, a scholarship from the family of Wooster Square artist Gabriel Luchetti sent him to college. Without Wooster Square, he would not have received the same training.
"They still have a great deal of work ahead of them, but the turning point in this is where my work begins," he said Tuesday, as two dirt bikes cut down Chapel Street. "Now I must complete the sculpture that will be placed behind me. As I was the day that I was picked to do this, as I am today, immensely proud to be a part of this."
Multiple Alders and appointed city officials alike praised the new monument as a chance to make right a history that for so long went untold, or only partially told, in Wooster Square. Annex Alder Sal Punzo suggested that the work "can teach lessons of the past," including the full history of Christopher Columbus.
Lindy Lee Gold, a member of the city's Cultural Affairs Commission, called the monument a nod toward the city's burgeoning commitment to social and cultural equity. She thanked Elicker, WSMC members, the Board of Alders, and "all of the city folks who helped to make this possible, and to make this statue reflect the values of our community."
In response to a question from New Haven Register reporter Mark Zaretsky, Iovanne also looked at the statue as a chance to reckon with history—and heal from it. He took listeners back to June 24, 2020, when what was supposed to be an early morning removal turned into an hours-long standoff between violent pro-Columbus protesters, activists from Black Lives Matter New Haven and their supporters, and almost a dozen police officers.
"Do you think that the process that you all have been through has taken this to sort of a better place?" Zaretsky asked. "The process was to choose what's to go here, but it's also sort of part of a greater process."
Iovanne noted that June 2020 marked a specific moment in the world—one that extended to New Haven. The globe was three months into a global pandemic. People were out in the streets, protesting the state-sanctioned murders of George Floyd, Breonna Taylor, and Ahmaud Arbery. And in the midst of it, for many Italian Americans, "there is a strong emotional tie to the statue of Columbus that stood here for almost 130 years," he said.
"I felt it myself," he said. "I grew up just across the street. So yes, seeing that sculpture be taken down hurt. And it did cause pain and anguish for a lot of people. And we understand that. That's emotion. That's what we're all about. Over the last two years, we've had the opportunity to sit and talk with a lot of these people. So … I think, there has been so much more good that has come out of this, and we are in a much better place two years later than we were two years ago."
"The main thing is to communicate and to stay connected with each other," he added. "We're all one community. There's no one that's really any different or any better than anyone else. So, our role in this life is to figure out how to get along. And it's really not that difficult. You just have to be willing to try."