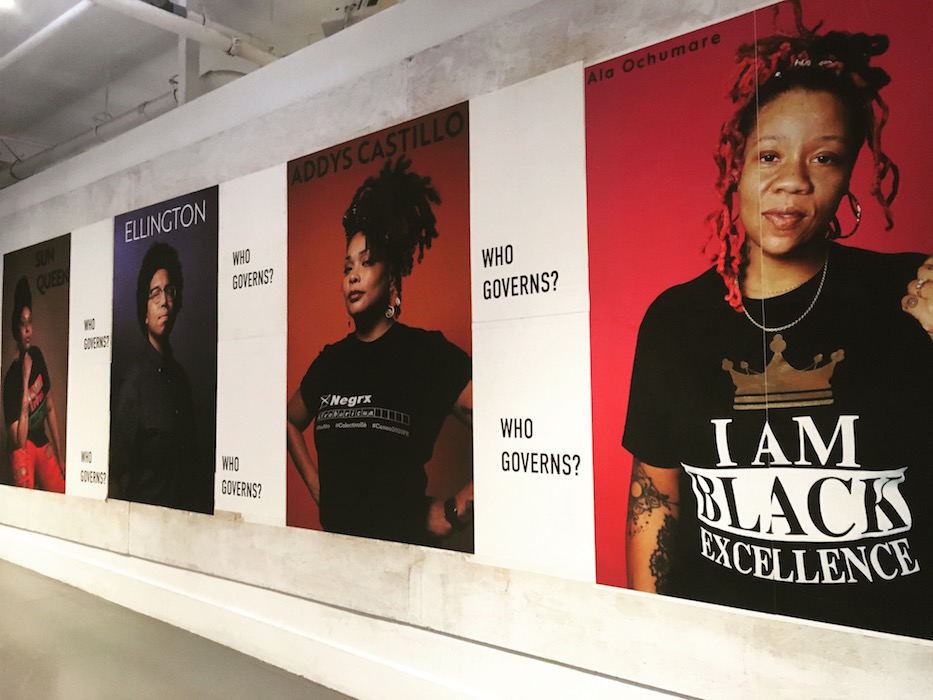 International Festival of Arts & Ideas | Arts & Culture | Artspace New Haven | New Haven Museum | COVID-19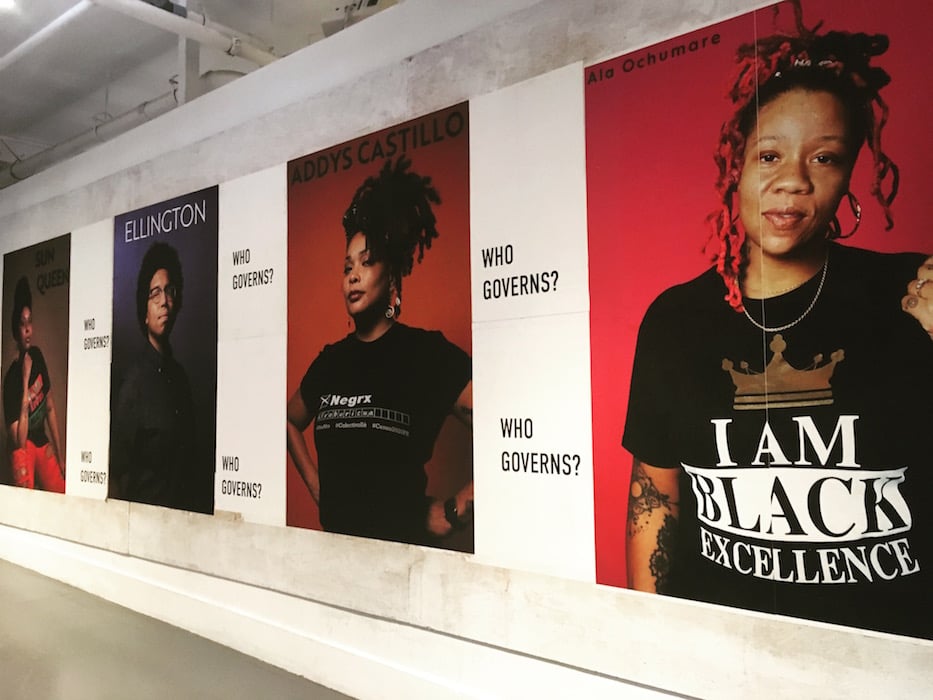 A detail from Bek Andersen's Power Portraits at Artspace New Haven last year. Pictured (left to right) are the activists Sun Queen, Kerry Ellington, Addys Maria Castillo and Ala Ochumare. The work was part of Who Governs? Lucy Gellman Photo.
A history museum will use the funding to stave off pandemic layoffs. An arts incubator will direct it towards the personnel and installers who make its walls come alive. And a festival is now certain that it won't have to pull from its 2021 programming budget to pay artists who performed virtually in 2020.
Three New Haven organizations are among 50 Connecticut museums, art galleries, film archives and research centers that have been awarded $1.5 million from Connecticut Humanities, in a late December distribution of federal CARES Act funding that came to the state in April 2020. They include the New Haven Museum, International Festival of Arts & Ideas, and Artspace New Haven.
The three received $22,727.25, $45,454.50 and $22,727.25 respectively. The funding comes from the $1.3 billion that the state received from the CARES Act in April 2020. It is not related to an earlier 2020 Humanities Relief Grant, in which CT Humanities distributed $478,467 from the National Endowment for the Humanities among 70 Connecticut organizations. Nor is it related to earlier 2020 COVID relief grants, of which several New Haven organizations were recipients.
"There was a constellation of organizations that needed help, and we're thrilled we were able to get it out to as many organizations as we did," said Jason Mancini, executive director of Connecticut Humanities, in a phone call Tuesday afternoon. "We saw a problem and tried to address it."
This fall, Mancini helped launch advocacy efforts after seeing how many museums did not qualify for Gov. Ned Lamont's $9 million COVID Relief Fund for the Arts In December, those organizations were also not part of $15 billion earmarked for performing arts venues in a $900 billion federal relief package. At the same time, he learned that they were sustaining some of the same financial losses that have plagued theaters throughout the pandemic.
While Mancini acknowledged that the funding formula may not have been ideal—the grants went to organizations with budgets above $450,000, which skew disproportionately white—he praised the Department of Economic and Community Development (DECD) for allocating funding at the eleventh hour.
He added that he does not see the $1.5 million as a panacea, but as a lifeline to what may be more funding after a new presidential administration has taken office. Going forward, he said that Connecticut Humanities does plan to expand its equity efforts, including in grants to organizations that are led by and serve primarily BIPOC (Black, Indigenous, and People of Color) communities.
For several of the organizations, it came as a source of unexpected relief at the end of a year turned on its head. At the New Haven Museum, Executive Director Margaret Anne Tockarshewsky said that the funding has helped the museum keep all of its staff members on payroll, something it has managed to do since the museum closed to the public in March. It was the second grant that the New Haven Museum received from Connecticut Humanities in 2020.
While it was able to reopen its doors for a brief period in September, climbing cases forced it to shut down a second time this fall. This year, it has expanded free online programming with daily micro-histories, mini video presentations from its exhibition Factory, and a growing archive of local pandemic stories. While the museum's membership program has held steady, it has lost revenue from class tours, gift shop closure, individual admission, and would-have-been building rentals. Meanwhile, it has invested in air purification filters and a new HVAC system per COVID-19 public health guidelines. It all adds up, Tockarshewsky said.
"What we were able to do is really use that money for salaries," she said in a phone call Tuesday night, as she worked from her office in an empty and quiet museum. "It's general operating support, and those are often the hardest dollars to get. I can't say enough about CT Humanities advocating for us, and for the arts. It's essential."
She added that she has a difficult task ahead of her—she's trying to plan for economic stability as the pandemic nears a full year, with several more months of COVID-19 in sight. The dollars from Connecticut Humanities make it easier to do.
"Of course it's disappointing to make a decision to close temporarily," she said. "But I think it's in everybody's best interest. It has given us an opportunity to focus on projects that we didn't really have a time to do before, and look inwardly on how we make collections available to the public. At some point, it will be really great to have our audiences back with us. I think it's been good for us to focus on what we can do in the meantime."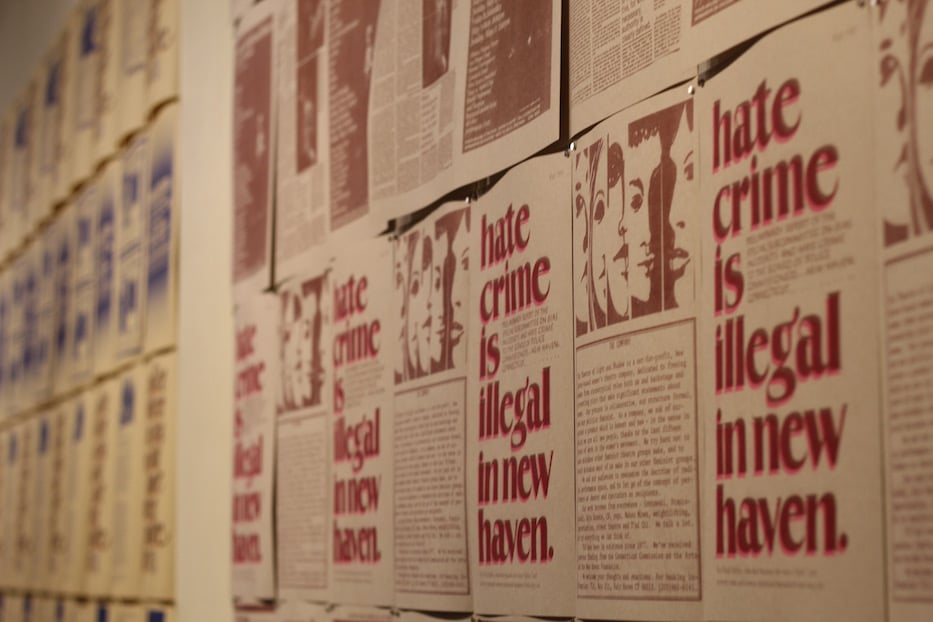 Detail, Police Others As You Would Have Others Police You at Artspace New Haven.
Lisa Dent, executive director at Artspace New Haven, praised the grant as "a lifeline." Dent began her tenure at Artspace in April, in the midst of stay-at-home orders from Gov. Ned Lamont. Over the summer, she helped the incubator reopen for an exhibition on the 50th anniversary of the Black Panther Trials in New Haven. During that time, the organization secured an initial grant from Connecticut Humanities for its Summer Apprenticeship Program. It has remained open, with a steady trickle of one to two visitors per hour.
During that time, she said she's struggled with the lack of organic, in-person connections that usually make it easier to keep the lights on. Normally, she would meet people by interacting with viewers, artists and arts enthusiasts, and donors at gallery openings, open houses, and galas. When the organization began its annual appeal last November, she hoped that it could raise 25 percent of its $492,000 budget by the end of the year. In the absence of physical events, she started making calls and talking to donors. Her target fell short.
"While I had connected with so many wonderful people, the inability to bump into someone at an opening, or meet someone at a party and learn that they were interested in supporting Artspace, was a disadvantage," she said in a phone call Tuesday night. "Some of the word of mouth or casual connections hadn't really been happening."
The dollars from Connecticut Humanities helped Artspace fill the gap. She said that the funding will go towards staffing and installation costs as the gallery works towards its exhibition Modicum, the work of curator Sara Maria Salamone that is slated to open at the end of the month. Like Tockarshewsky, she said she is grateful for the unrestricted nature of the grant.
"I have so many thoughts in the way we separate operating costs and program costs," she said. "Because I can't operate a program without people. rent, salary, and overhead. I think that good funders understand that. I think that funders understand that it needs to be happening in an equitable way and an inclusive way."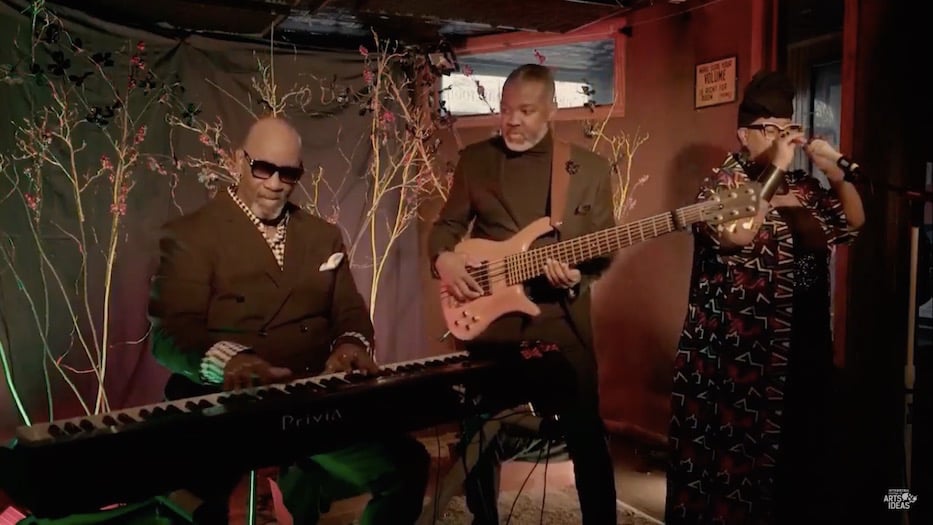 Chris "Big Dog" Davis with Ace Livingston on bass and Dawn Tallman in a holiday event for the International Festival of Arts & Ideas last month. YouTube Screenshot.
As it experiments with year-round programming, the International Festival of Arts & Ideas has been able to use the grant to compensate artists who appeared in its "Beyond The Vote" fall 2020 miniseries and holiday events in December. Had the grant not come through, Executive Director Shelley Quiala said that payment would have come out of the festival's summer 2021 programming budget.
"It was a chance to serve the community and bring joy to people," said Institutional Giving Manager Shannon Mykins. "It's a great relief. It's exciting. I'm feeling gratitude for this opportunity and for the other opportunities that have come in during this time."
In the past year, the festival has made a pivot to online programming and focused on supporting local performing and culinary artists. Much of the programming has been free, meaning that the organization has seen a significant dip in earned revenue. Quiala said that attendance at events that do charge, including a recent virtual holiday concert and cooking demo, has still been lower than the festival hoped.
"I think that as arts organizations, one of the things we do and are supposed to do is pay artists and take on the risks," she said."We have been experimenting with programming outside of the summer … we're trying to figure out, 'what happens if we put them [events] here?' How can it help the community?"