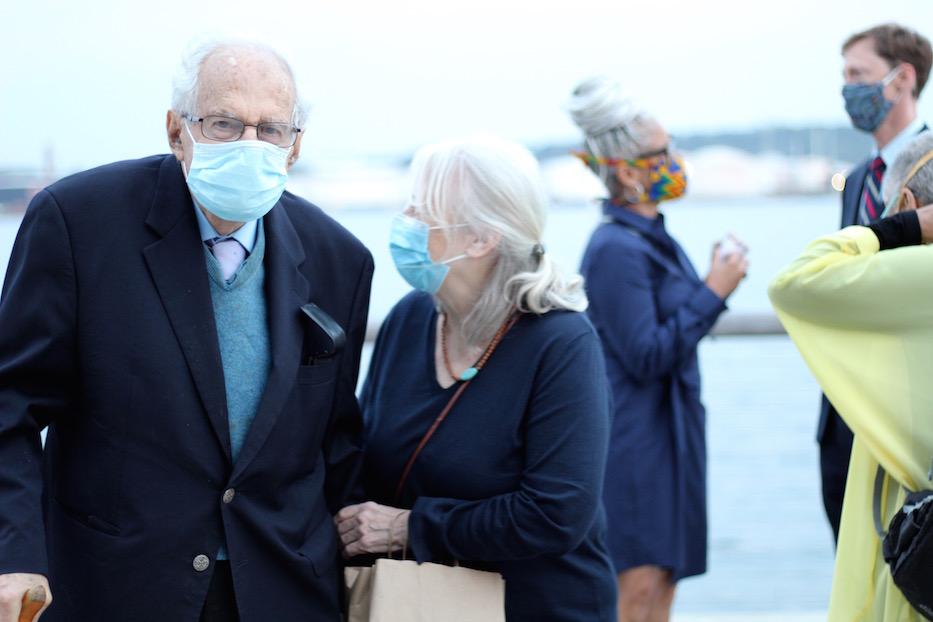 Culture & Community | Arts & Culture | Arts & Anti-racism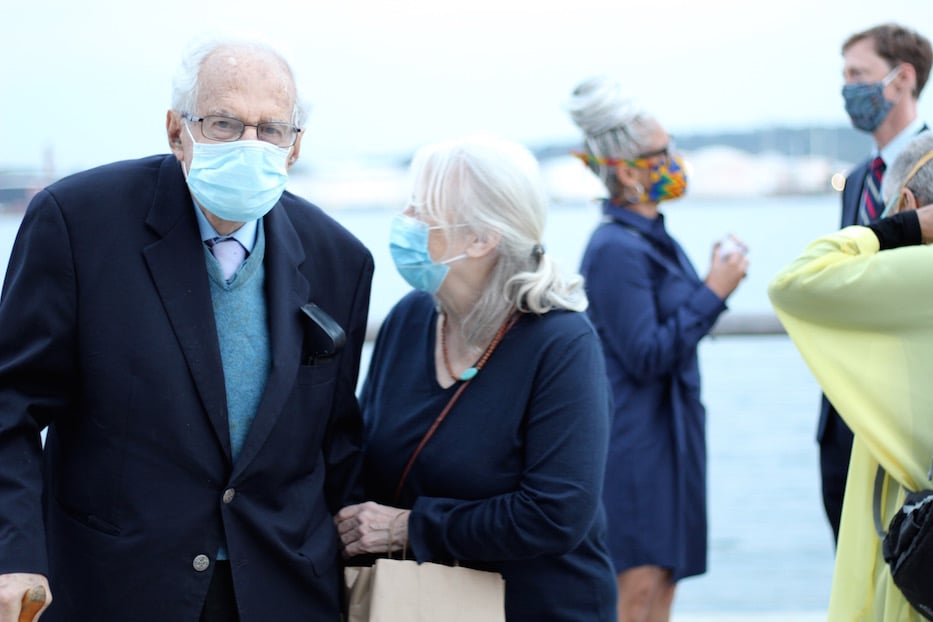 Al Marder in September 2020, at the kickoff of a weekend celebrating the William Lanson statue dedication in New Haven. Lucy Gellman File Photo.
Al Marder listened from the corner of the screen, his head bobbing as Millie Grenough lifted her hands and began to conduct the impromptu New Haven Peace Commission choir. A cacophonous chorus of "happy birthday" rang out over the screen, voices lifted to give a centenarian his due.
Marder—a lifelong champion of worker rights, disarmament, anti-racism and literally keeping the peace in New Haven—turned 100 Tuesday evening with a clear call to do good in the face of climate disaster, economic depravity, global precarity and violence that has gripped both New Haven and the country. Speaking at a meeting of the New Haven Peace Commission, of which he is a founding and current member, he showed no sign of stopping as he entered his second century of life.
"I'm grateful for the opportunity to spend the evening with you," he said as commissioners kicked off the night with birthday wishes and a musical interlude. "The struggle for peace is not easy. We're living in a society that's built on guns and killing and we're trying, you and I, to educate young people that there's another way of living. A peaceful way, a just way, to treat each other as individuals without hatred, without killing."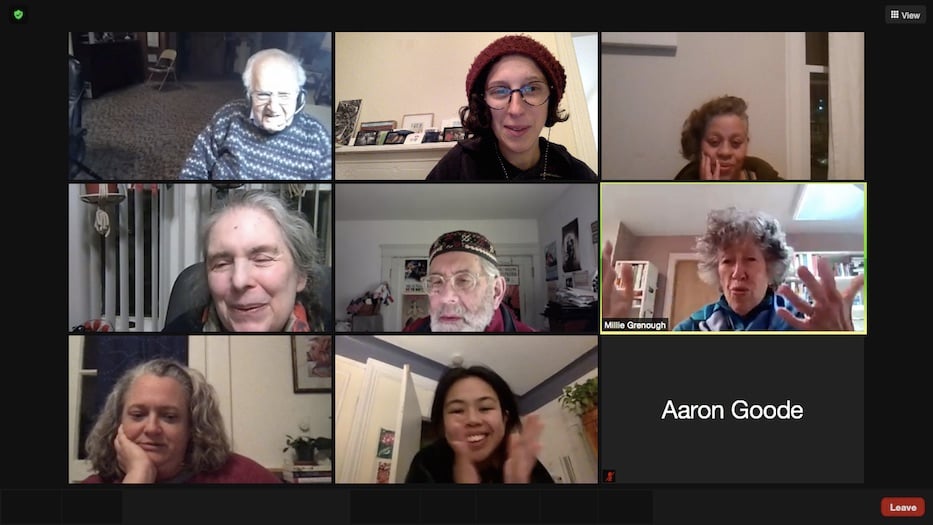 Top row: Al Marder, this reporter, Suzan Henriquez-Whitted. Middle row: Joelle Fishman, Greater New Haven Peace Council Chair Henry Lowerdorf, Millie Grenough. Bottom: Erica Holahan, Vy Tran, and Aaron Goode.
Marder has made peace—particularly labor rights, demilitarization, and a fervid commitment to anti-racism—his life's work. Born in 1922 to Ukrainian immigrants in the city's Hill neighborhood, Marder started growing his roots as an organizer before his 10th birthday. Some of his earliest memories are of an economically hard-hit New Haven as the city headed into the Great Depression. In an interview with Mary Donahue of Connecticut Explored in 2016, he recalled watching unemployed men come from the rail yard to his parents' Oak Street grocery store, looking for something to eat.
Even at a very young age, Marder became committed to fighting for the wellbeing of his fellow New Haveners, and saw it as a struggle tied to the rights of workers and to the end of the military industrial complex. At 16, he became the chairman of the Connecticut Young Communist League, publicly declaring a lifetime commitment to the cause that later made him a victim of invasive FBI surveillance. His years as a student at James Hillhouse High School were formative in and outside the classroom, as he spent organizing with a fire he still carries every time he speaks today (read more about his tremendous life of activism, on which he's still building, here and here).
As commissioner Aaron Goode pointed out Tuesday night—"I want to congratulate Al on being 100 years young," he beamed through the camera—much of the advocacy for which he is known has taken place since his 70th birthday. In 1988, Marder became the first president of the Amistad Committee, Inc. during efforts to commemorate the 150th anniversary of the Amistad rebellion. At the time, he and a small group of activists began advocating for a public way to remember and honor Sengbe Pieh and the Amistad captives. Four years in, he got his wish when the city unveiled Ed Hamilton's 1992 Amistad memorial in front of City Hall.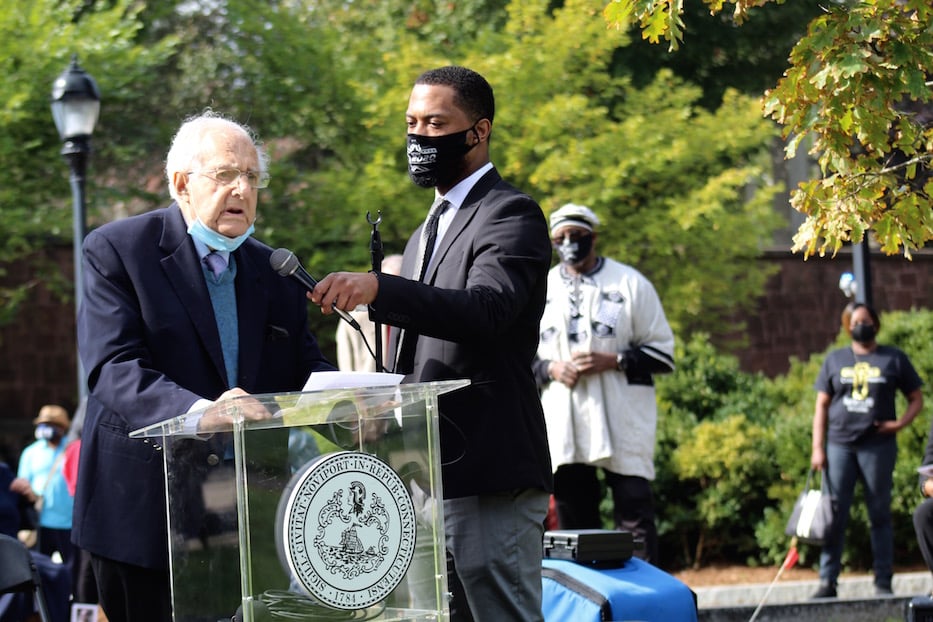 Marder and Amistad Committee, Inc. member Charles Warner in September 2020. Lucy Gellman File Photo.
Four years after that, Marder oversaw the launch of the Connecticut Freedom Trail, with stops including previously unmarked burial grounds and graves, historic churches, and sites that would have been otherwise lost to collective memory. Four years after that, Amistad Committee members welcomed a replica of the Schooner Amistad back to New Haven. Education around that history, including semi-annual visits of the ship to New Haven, has continued through today.
During Mayor Toni Harp's administration, Marder and fellow members of the Amistad Committee worked closely with New Haven's City Plan Department and sculptor Dana King to begin work on a sculpture of William Lanson, the nineteenth-century genius and Black engineer who gave birth to the city's Long Wharf and holding walls of the Farmington Canal Heritage Trail. After carrying that work into administration of Mayor Justin Elicker, Marder and committee members watched as the city installed and unveiled the piece in September 2020. Last October, he passed the title of Amistad Committee president to longtime member Kai Perry.
"Our streets have been the scene of so much killing," Marder said Tuesday. He looked at the amount of city, state and federal funding that goes toward the military industrial complex. "We have a lot to do, you and I. I must say, I don't regret one day of my life, I wish we could have achieved more, but the American people have to be awakened to the dangers that exist. And in a small way, this peace commission is playing a small role, an exemplary role, to show young people that there's another way."
1988 also marked the beginning of Marder's work on the New Haven Peace Commission, of which former alder and lifelong activist Tom Holahan was the co-founder and first chair. Over three decades later, Holahan's daughter Erica is now part of the commission. Her daughter, Elsa, is a Hillhouse Student and vocal advocate for Students for Educational Justice and the recent "Students Over SROs" campaign (she has also appeared as a youth arts journalist in these pages). Tuesday night, Erica Holahan remembered growing up knowing Marder's name and outsized footprint.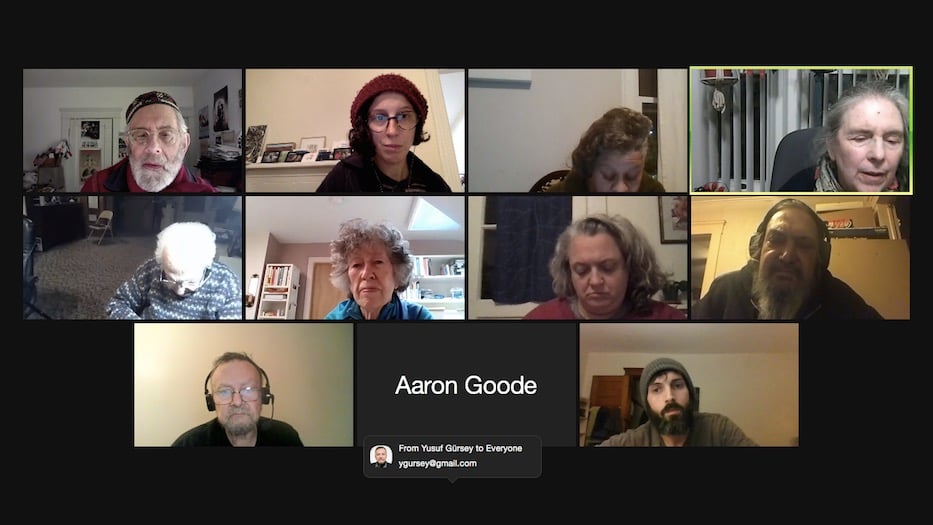 So too acting commission chair Joelle Fishman, a longtime colleague and friend of Marder's who currently chairs the Connecticut Communist Party USA. In Fishman's years of activism in New Haven, Marder has often been right there alongside her, advocating fiercely for the same causes, often under the banner of Communist ideals and teachings. In 2020, both were vocal as the commission brought a referendum on military spending before the city's Board of Alders.
"It's a fantastic thing to celebrate 100 years of life, but it's what you've done in those years to celebrate," she said. "And Al Marder has done what perhaps 10 people would have done in 10 lives, always in the name of peace and justice. We want to say the happiest of 100 years and many more, actually."
At 100, Marder said, he is focused on a more just and peaceful future. It was fitting, then, that the commission spent the better part of its 90-minute meeting discussing priorities for the next calendar year, from new aldermanic membership to a peace garden blooming in the city's West River neighborhood. Alder Devin Avshalom-Smith, who represents Newhallville's Ward 20, will be stepping onto the commission to replace Hill Alder Dolores Colon; he was not present Tuesday due to a conflicting meeting.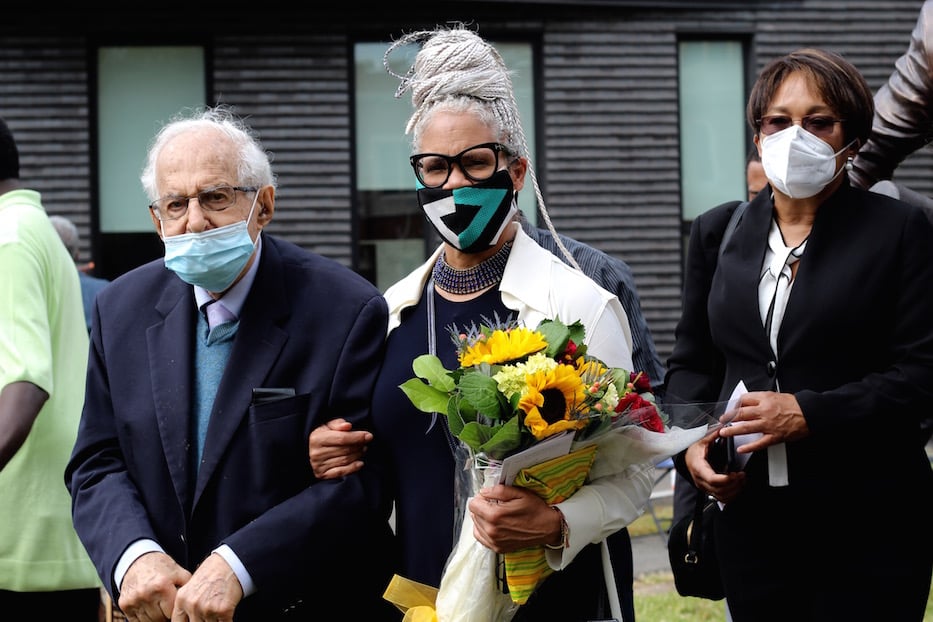 Al Marder with the sculptor Dana King and Mayor Toni Harp. Lucy Gellman File Photo.
In addition to its annual slate of events—Earth Day collaborations in April, commemorations of the bombings of Hiroshima and Nagasaki in August, tree plantings in September and an ongoing relationship with the New Haven Free Public Library to name a few—members endeavored to work on new activities, from a celebration of Bishop Desmond Tutu at his eponymously named corner downtown to more intentional collaborations with young people. They listened intently as Vy Tran, an organizer with Students for Educational Justice, appeared to talk about SEJ's work and vision in the community.
"Did we introduce a resolution on Cuba to the Board of Alders?" Marder asked before the end of the night. He was referring to a resolution, which made it as far as the alders' Health and Human Services Committee last year, in favor of ending sanctions on Cuba.
Fishman explained that commissioners had been moved to submit it last year, as a shortage of syringes spelled out unnecessary Covid-19 infections and death among Cubans. She asked for volunteers to jumpstart work on it again.
Marder, along with Fishman, Grenough, Holahan, and several other commissioners, also stressed the importance of working with youth, from new partnerships to the student members on board. Last year, the commission included High School In The Community (HSC) student Johanyx Rodriguez, who has since gone on to study at the University of Rhode Island. The commission is now working to fill one student vacancy; Cooperative Arts & Humanities High School student Jailene Resto is the other student member. She was not present Tuesday.
"One of the most exciting things about this past year was working with the young people," said Grenough, who was part of an intergenerational project for peace last July. "They educated me so much. They broadened my knowledge of climate change and what the military is doing to it. And their energy was incredible ... and they came through in so many ways."