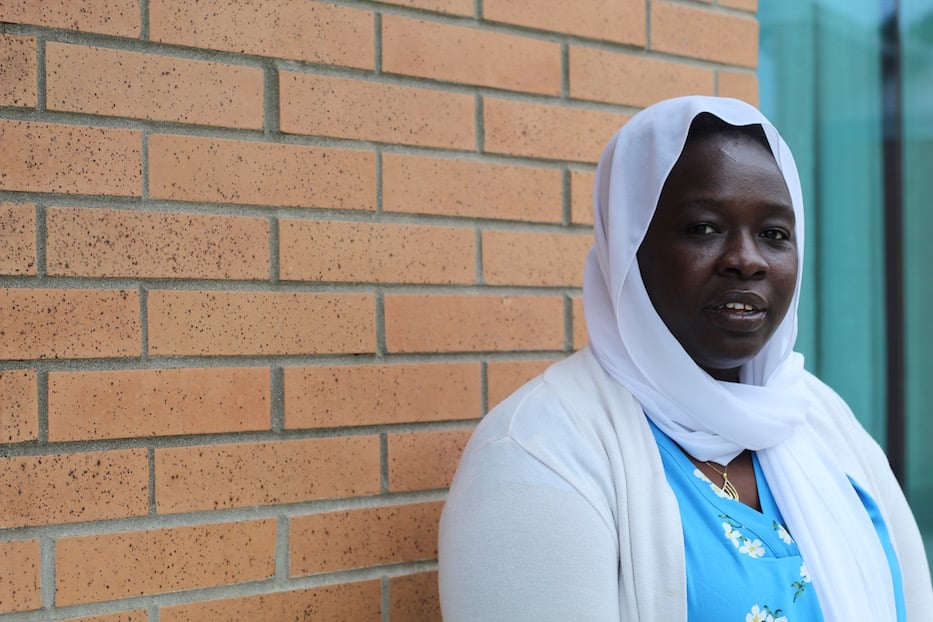 Integrated Refugee & Immigrant Services (IRIS) | Refugees | Sanctuary Kitchen | Arts & Culture | Food Business | Arts & Anti-racism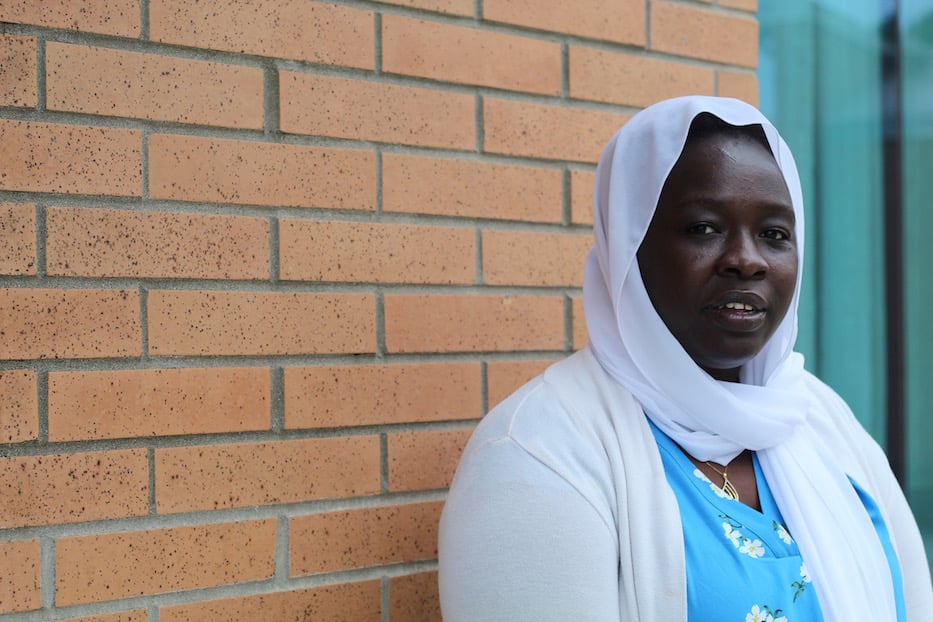 Azhar Ahmed: "The people, they can know us and I can share my culture." Lucy Gellman Photo.
Azhar Ahmed came to the U.S. with recipes from home in one hand, and a dream of fighting for social justice in the other. Now, she is bridging the two with a lesson in Sudanese culture, taught through its cuisine.
A Sudanese refugee who fled to Egypt and then to the U.S., Ahmed is a chef at Sanctuary Kitchen and the brain behind Kandaka, a new Sudanese food pop-up that she hopes to grow into a brick-and-mortar cafe in New Haven. The name, derived from the Nubi language she and her parents grew up speaking, is shorthand for both a Nubian female monarch and the women who marched in the Sudanese revolution of 2019.
While she was raised in Sudan's capital city of Khartoum, Ahmed describes herself as a daughter of the Nuba mountains, where her parents were born. With her husband Fouad and children Kutti and Lames, she recently celebrated her seventh anniversary in Connecticut, to which she first arrived in late June 2015. Prior to that time, she spent a decade as a law student, teacher and refugee in Egypt.
"Here in New Haven, we have Sudanese communities, but other communities, Americans or other cultures—they don't know about us," she said in a recent interview at Sanctuary Kitchen's 109 Legion Ave. hub, as refugee chefs stopped cooking operations for a lunch break. "I thought the food would be a good idea. The people, they can know us and I can share my culture."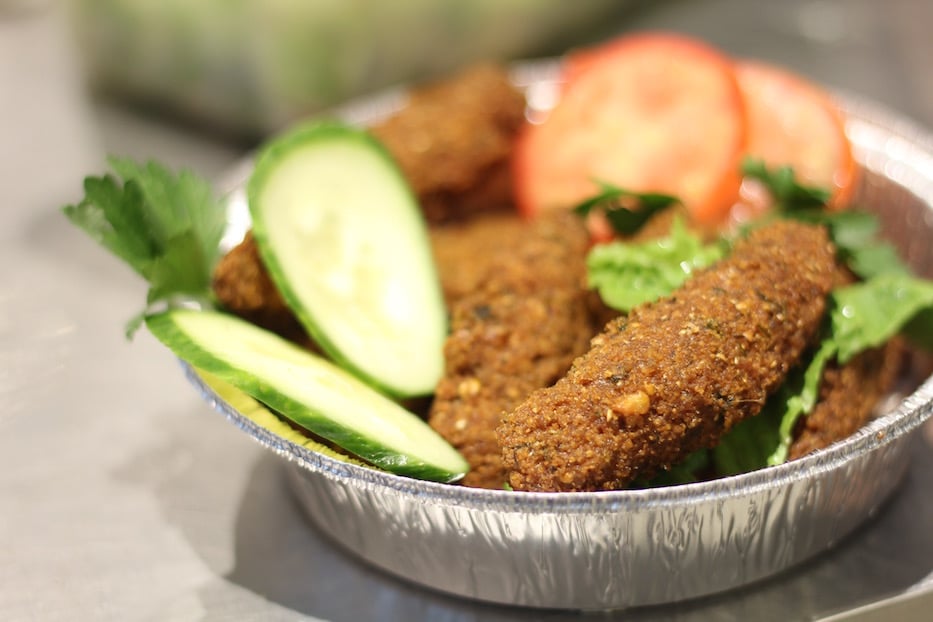 Ahmed's falafel. Lucy Gellman Photo.
Ahmed's culinary journey began decades ago in Khartoum, a bustling city where the White and Blue Nile Rivers come together. The fifth of seven children and the only girl, she grew up watching both of her parents cook, from hand-pressed, golden brown phyllo dough and fresh fish to warm flatbread. In the family's kitchen, she studied her mother's skill as she fried tilapia caught in the Nile, layered coconut and peanut basta with a sugared syrup, and rolled out chickpea and black-eyed pea ta'amiya, a North African take on falafel with shorter, elongated patties.
For years, her late father Kumi also ran a bakery attached to their home, selling fresh bread to their neighbors. Every time she smells a fragrant disc of Homa Assadi's naan rising in the oven at Sanctuary Kitchen, it brings her back to the warm, comforting scent bread filling their house. In 2021, his memory inspired her to start Kumi's Dream, an initiative with the Downtown Evening Soup Kitchen to provide fresh, nourishing and completely free Sudanese meals to people experiencing hunger and food insecurity.
And yet, Ahmed's plan was never cooking. As a child and later as a young adult, she dreamed of studying and practicing law. "I never showed them [my parents] my skills in the kitchen," she said, because she knew that the odds were stacked against her as a woman in the country. Ahmed was still young during Omar al-Bashir's rise to political power, a 30-year tenure that sought to tightly control and roll back women's rights across the country.
"Even though I was curious to watch my mom, I didn't want to spend my childhood in the kitchen," she said. "I preferred to be outside."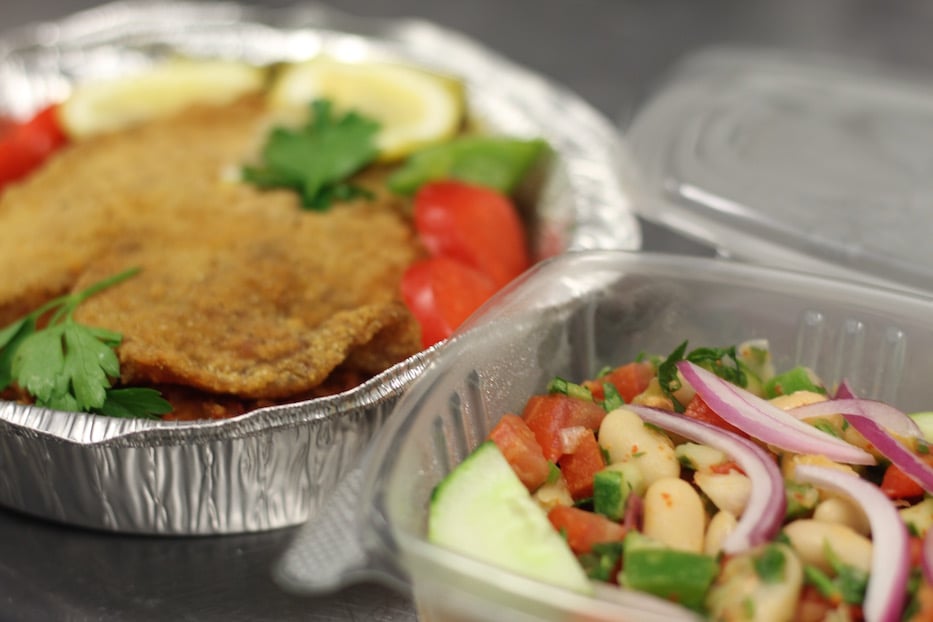 Azhar Ahmed's tilapia and tomato rice served alongside her white bean salad. Lucy Gellman Photos.
Then in the early 2000s, she left the country, fleeing the violence of the Second Sudanese Civil War. During her years as a refugee in Egypt, she pursued and finished a bachelor's degree in law at Cairo University, and worked as a teacher in Egypt. She planned to continue her studies in law in the U.S., she said. But when she, Fouad and Lames arrived in Connecticut in 2015—just over a year before Donald Trump became president, and instituted a ban on majority-Muslim countries including hers—she discovered that the language barrier was a problem.
Ahmed speaks Arabic and Nubi, but had limited English at the time. As Integrated Refugee and Immigrant Services (IRIS) helped resettle her family, she began to explore other avenues for work. After Trump became president in 2017, she also took a role in speaking out against new limits on refugees, taking her message to both the streets and the stage.
In 2018, she began working with Sanctuary Kitchen, a then-nascent arm of CitySeed that provides a pathway to employment for refugee chefs (she also became a mom a second time over to her son, Kutti). She fell in love with the work, which entailed making food from both her own cultural background and learning recipes from other refugee chefs. For her, Sanctuary Kitchen became a family of women, bound not just by their culinary craft but their stories of migration.
"We share everything here in the kitchen," she said. "If you are sad, or if you have something bothering you, you will find the support. I feel like we are like one family. We support each other."
"I saw how you can communicate a message by the food," she continued. "That's why I just want to bring the Sudanese cuisine here. The people can know more about Sudan, more about me."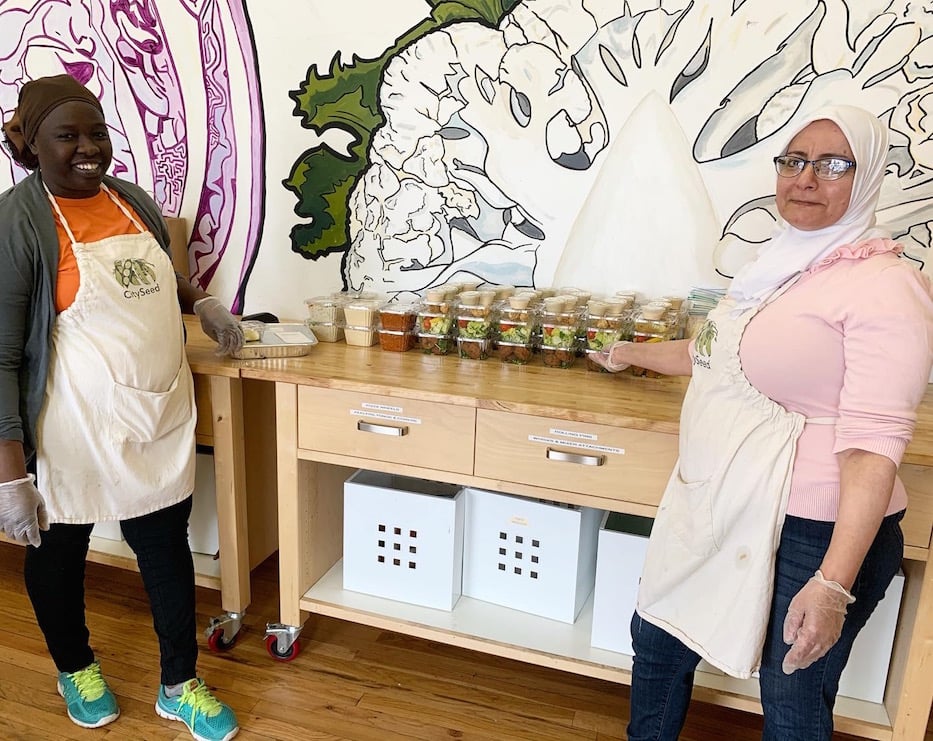 Sanctuary Kitchen Chefs Azhar Ahmed and Mona Asweid in 2020, as Sanctuary Kitchen offered curbside service during the early months of the pandemic. Sumiya Khan File Photo.
That realization—that the culinary arts can start a wider dialogue—was the launchpad for Kandaka. Prior to her work with Sanctuary Kitchen, Ahmed didn't know that Mauritius was a country. She associated Afghanistan with the Taliban and extreme violence against women, she said. Now, she knows Chef Parvine Toorawa's history, which she can recite between bites of Mauritian date chutney and mango salad. When she thinks of Afghanistan, her mind jumps to how Assadi gently mixes milk into her dough for naan to make it rich and tender, and sprinkles Nigella seeds on top. A recent Wednesday found Ahmed herself hunched over a large bowl of hummus, summoning the flavors of Syria as she worked.
In Kandaka, "each recipe tells a story," she said. When she makes Rousse Samak—corn-fried tilapia with tomato-studded rice—she thinks of her childhood, when heavy rains would flood the streets and she and her siblings had to wade through parts of the city, joking about eating the small creatures that suddenly swam among them. Each time she prepares carefully layered basta, she remembers the first time she tried the treat, the syrup still fresh and hot in her mouth as night fell outside, and her mother urged her to let it cool until morning (she found the recipe years later, from a fellow Sudanese refugee in New Haven).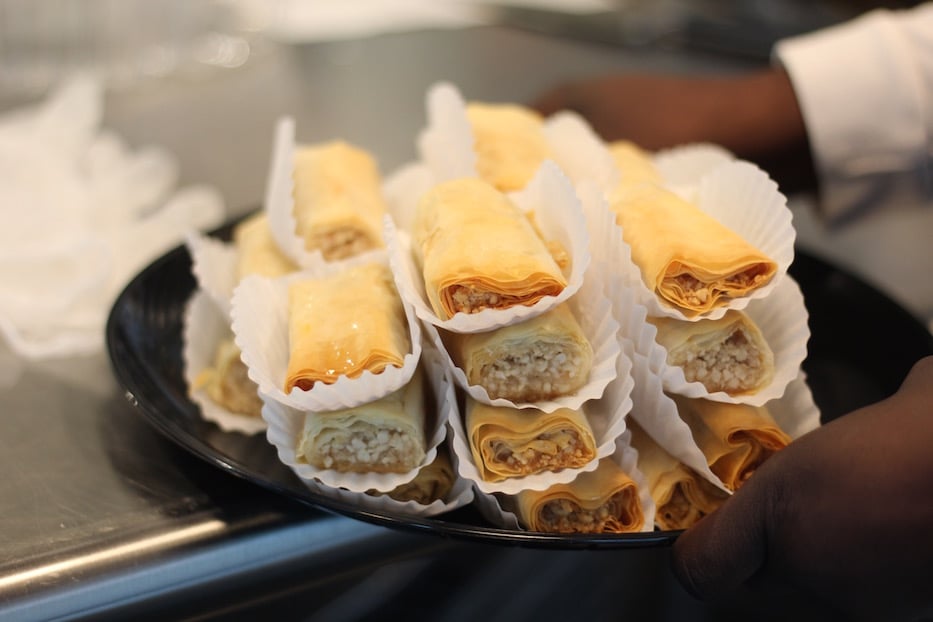 Basta, a Sudanese dessert that has syrup-soaked, sweet layers of peanuts and coconut wrapped in a golden phyllo shell. Lucy Gellman Photo.
Her falafel is made with dill and cardamom, the way she ate it growing up. In her Koshary, a popular Egyptian street food with pasta, rice, beans, garlic, tomato and vinegar, she pays tribute to the years she spent in Cairo with her family. She's also constantly rolling out new dishes, like her savory lentils and an eggplant and peanut salad (Salata Aswad) that she tests with Sanctuary Kitchen's weekly menus. She said she is also grateful for the Food Business Accelerator from CitySeed and Collab, from which she graduated earlier this year.
Currently, Kandaka operates only as a pop-up, which allows Ahmed the flexibility to experiment with menu items without the overwhelming cost of overhead. In June, she was able to beta test some of the recipes with a sold out, pick-up-only debut at Sanctuary Kitchen, serving a white bean salad called fasuliya, cardamom-scented, perfectly crisped falafel, tilapia and tomato rice. She praised Toorawa for jumping in as a second pair of hands on the day of, helping her meet higher demand than she had expected.
She plans to host another pop-up in late August or September, she said. This month, she and her family are returning to Khartoum for six weeks, for a long overdue trip to reconnect with family. "It's not safe," she said, but it will allow her husband to see his family for the first time in 24 years. Ahmed said she hopes to see her brothers, many of whom still live in Sudan.
Eventually, she wants to open Kandaka as a brick-and-mortar storefront in New Haven where people can come, share a meal, and learn about both Sudanese history and culture and about each other. She also hopes to fold in the work she began last year with Kumi's Dream, providing extra meals to New Haveners experiencing hunger and food insecurity.
The name, meanwhile, will never change. Each time she hears the word Kandaka, she said, it reminds her of her own strength and the strength of the women around her.
"In my tribe, they respect the woman," she said. "The woman, she has a power, she has her own voice, she can lead everything. Most of my tribe, the women, they can decide what they do for themselves—there is no man in control of them. I get the name from the past."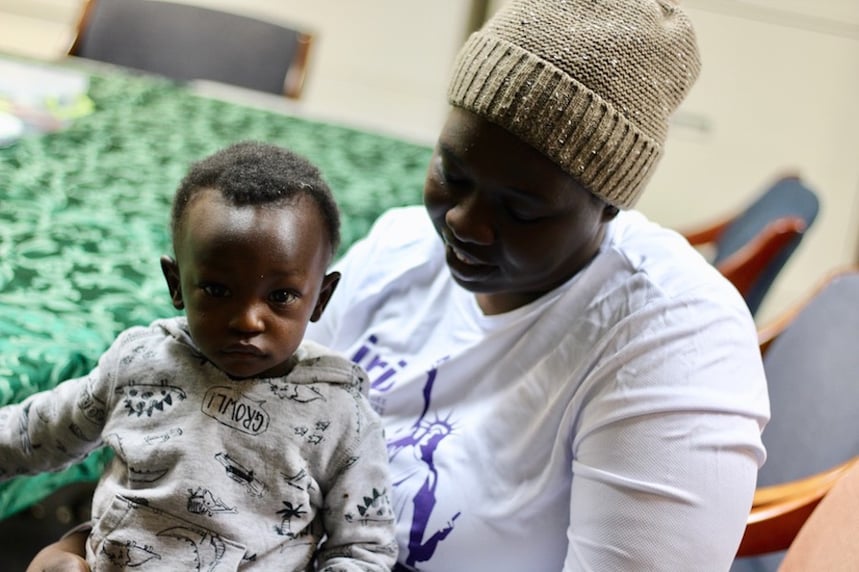 Ahmed with Kutti, who was then 13 months old, in January 2019. Lucy Gellman File Photo.
Cara Santino, food entrepreneurship program manager at CitySeed, said they are excited to see how the pop-up continues to grow. In June, they watched as Kandaka soared with an inaugural pop-up. With Azhar, they have pictured something that is ultimately more like the Westville cafe Pistachio, which Syrian immigrant and artist Mohamad Hafez founded in August 2020. They added that "this is the goal" of programs like CitySeed Incubates, which works to better connect early stage food businesses, budding culinary entrepreneurs, CitySeed's Farmers Markets, and Sanctuary Kitchen.
"She's very warm and welcoming, and she just loves feeding people," Santino said. "I love love love working with really strong women who show their care through food, and I​​'m just excited to see where this journey takes Azhar."
"The world is crazy right now," they added. "It's always been, and it's never been a fair country for immigrants. To see her thrive has been incredible. I'm just so excited to see what the next pop-up brings."
The next pop-up is planned for August or September 2022. For updates, visit Sanctuary Kitchen on Facebook Sanctuary and Instagram or visit its website.