Economic Development | Fair Haven | Arts & Culture | Film & Video | Jaigantic Studios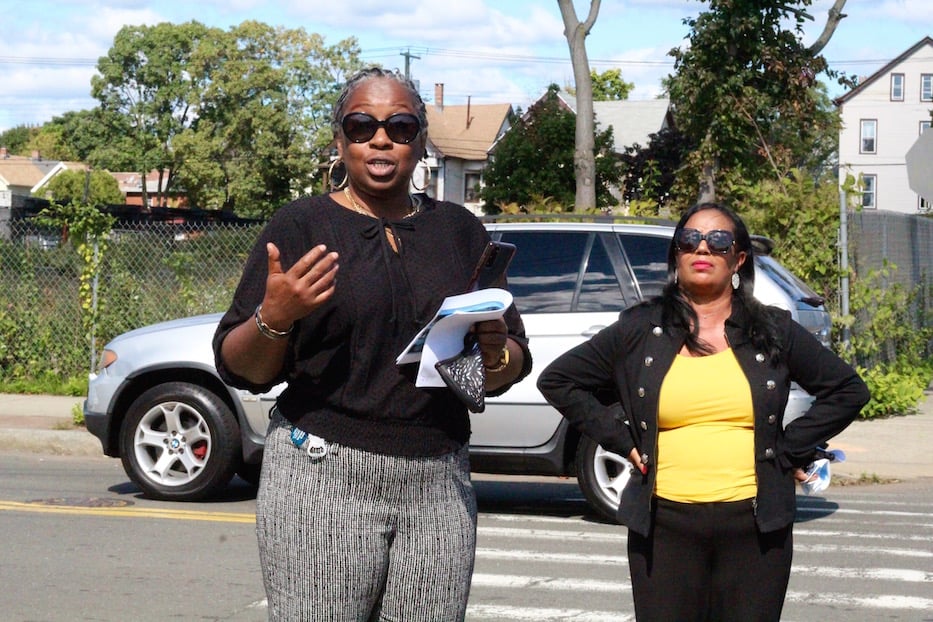 State Rep. Robyn Porter at Friday's press conference. "Black and Brown people, what do we talk about?" she asked aloud Friday. "We lift as we climb. And we got a brother, Michael Jai White, who is doing that. This is his vision. From where he came from. He's coming back to his community and lifting as he climbs." Lucy Gellman Photos.

Jaigantic Studios isn't going anywhere. Its employees are ready to get to work in Fair Haven—as soon as it has finalized its agreement with the city.
Representatives of the movie studio delivered that message Friday afternoon, in a small, sun-dappled press conference outside Jaigantic's proposed development at 46/56 River Street. The event followed a contentious Board of Zoning Appeals meeting Wednesday night, in which supporters of the studio spoke in opposition to Armada Brewing's proposed brewery and taproom at 190 River St.
Jaigantic, which currently has a memorandum of understanding (MOU) with the city for 46/56 River St. and 112 Chapel St., has laid out a vision for a contiguous "Studio Creator District" that stretches from 46 River St. to Criscuolo Park. Armada, which received a special exception to build a 1,500 square foot brewery and taproom at 190 River St., interrupts that.
In the days since, Jaigantic Chief Impact Officer Jackie Buster said the studio feels that its messaging has been turned upside down, including concerns that Jaigantic will pull out of New Haven if the brewery doesn't move.
​​"We're committed. We're gonna do it," Buster said Friday, looking over the post-industrial sprawl that is set to become Jaigantic's first seven of 25 sound stages. "We're not leaving here because of the brewery. Let's get that straight. We're gonna start here, and we're gonna see what happens."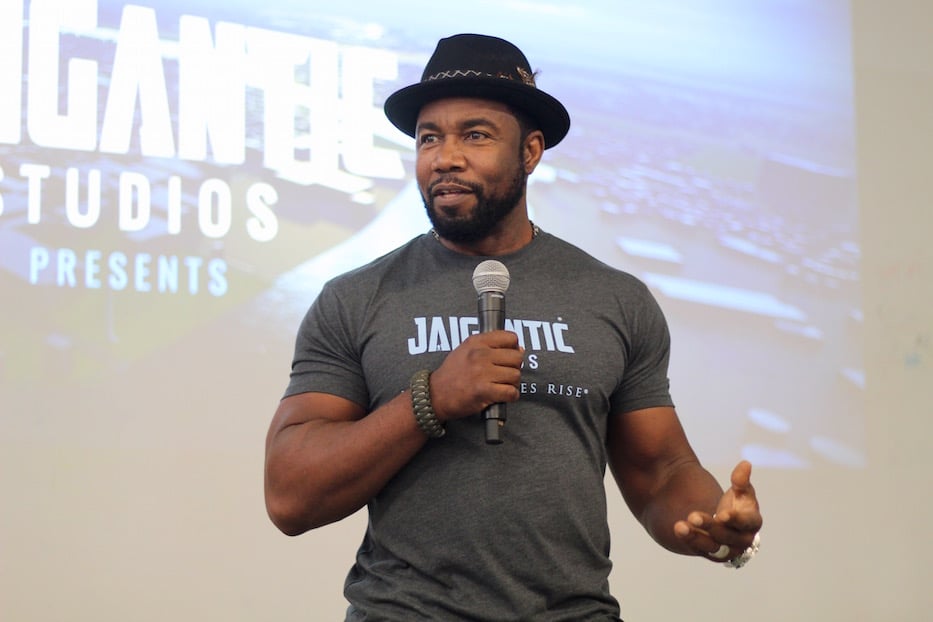 Founder Michael Jai White at a community Q&A at District in September. Lucy Gellman File Photo.
Jaigantic's clash with the brewery has been fermenting since August, when the two entities went head to head at a meeting of the Fair Haven Community Management Team. In a phone call Monday morning, Deputy Economic Development Director Steve Fontana confirmed that the Jaigantic MOU does not cover any other properties on River Street—meaning that the city sees them as fair game for other potential businesses.
John Kraszewski, who helms Armada, described the brewery Monday afternoon as "full steam ahead," pending finalized documents from the BZA and New Haven City Plan Commission. To Buster's claim that the studio offered him "product placement, exclusivity within our cafes, posters, and digital billboards" in exchange for the space at 190 River St., he said he never heard from Jaigantic after that August meeting of the Fair Haven Community Management Team.
In New Haven, Buster said, Jaigantic staff and leadership are prepared to get to work. Last Monday, the movie studio received a draft of its Development and Land Disposition Agreement (DLDA) from the city, which will require the studio to provide a traffic study, detailed site plan, LEED (Leadership in Energy and Environmental Design) framework, and statements of financial commitment from its project fund manager and the studio itself.
Buster confirmed that Jaigantic's legal representatives are reviewing the agreement and "feel very confident" about the process. Once that is finalized, she said, the studio will begin its first phase of development in Fair Haven, a three-year plan for 12 sound stages on River Street. Jaigantic estimates that those stages will create over 1,000 jobs and train 1,500 paid apprentices during that time, according to documents Buster circulated during Friday's press conference.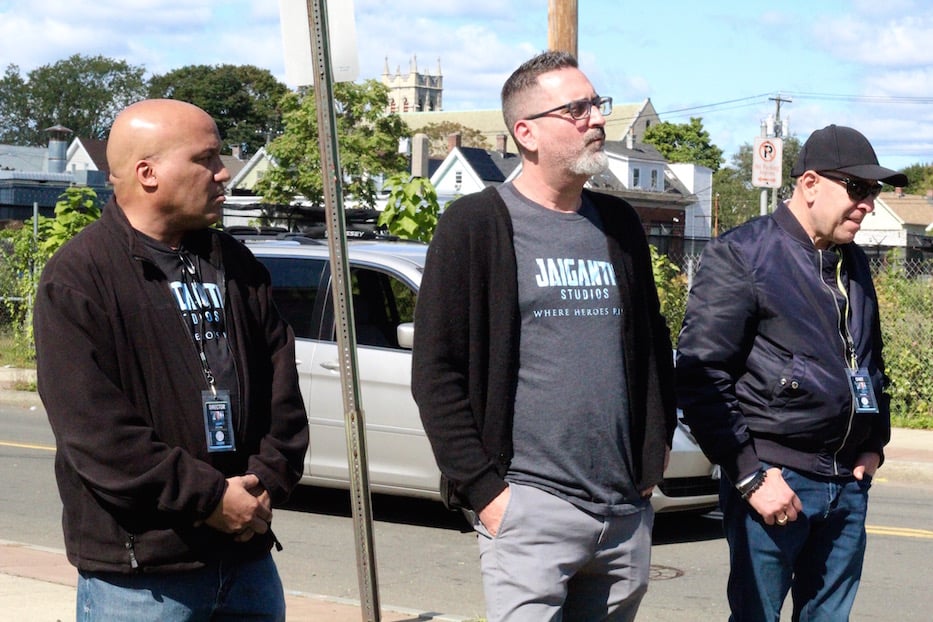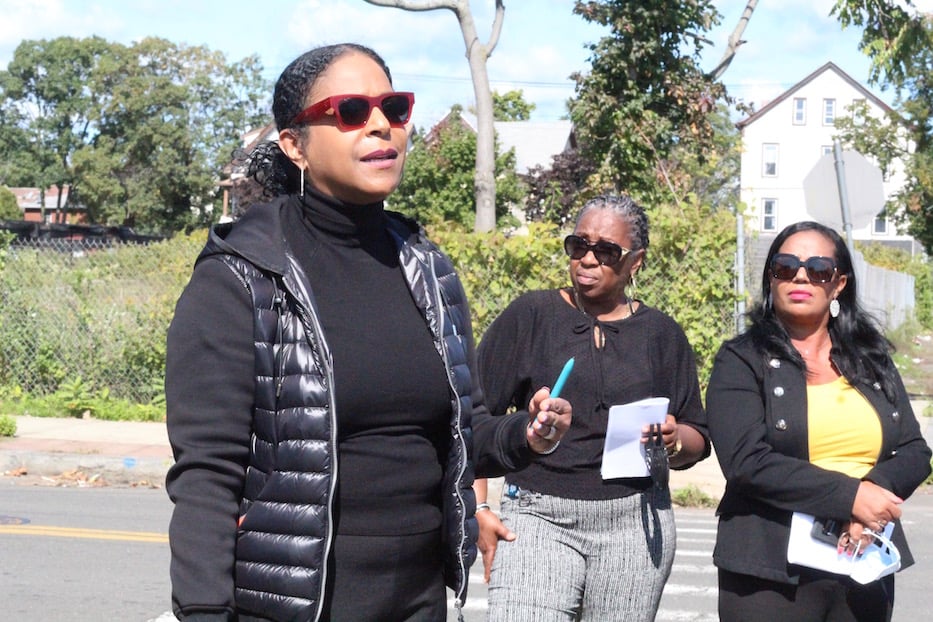 Top: De Boer (at center) said that Jaigantic is working to eliminate barriers to entry. Bottom: Buster at Friday's press conference: "We're committed."
Jaigantic lists the cost of phase one developments as between $80 to $100 million. Studio representatives have declined to comment on funding sources, beyond listing $14 million already raised in "company founders, executive team, private equity" in documents distributed Friday. Buster added that current employees have pledged part of their salaries in Jaigantic, with the intention of making it an employee-owned company.
Friday, both she and several supporters painted the studio as a pathway to city and statewide economic growth, job development, and generational wealth building for many of New Haven's Black and Latinx residents. Buster emphasized that many of Jaigantic's jobs will fall under a union umbrella; tens of thousands of positions in film and television are governed by the International Alliance of Theatrical Stage Employees. In the coming months, the studio is also planning to open an office in Fair Haven. She declined to share specifics or the location, noting that the studio is still waiting on the lease.
She pointed to Jaigantic's current job creation at its Shelton studio, which received over 300 applications after a call for production assistants went out in mid-September. For months, the studio has been growing its team and plans to include local talent wherever possible, she said. Most recently, it has worked to bring on activist Los Fidel, a current resident of Fair Haven, to spearhead outreach efforts in the community.
"[It's] this whole idea of having a 'Creator District' up and down the street for all types of creators," she said. "And also just having regular job opportunities … we're hiring accountants, lawyers. We need HR people, we need maintenance, we need landscapers, we need food service folks. We need everybody. We need security. We need I.T. We're creating a small city within the city of New Haven. That's the goal. So when we say Creators' District, we don't want anyone to feel as though we're leaving you out … this is an opportunity for all."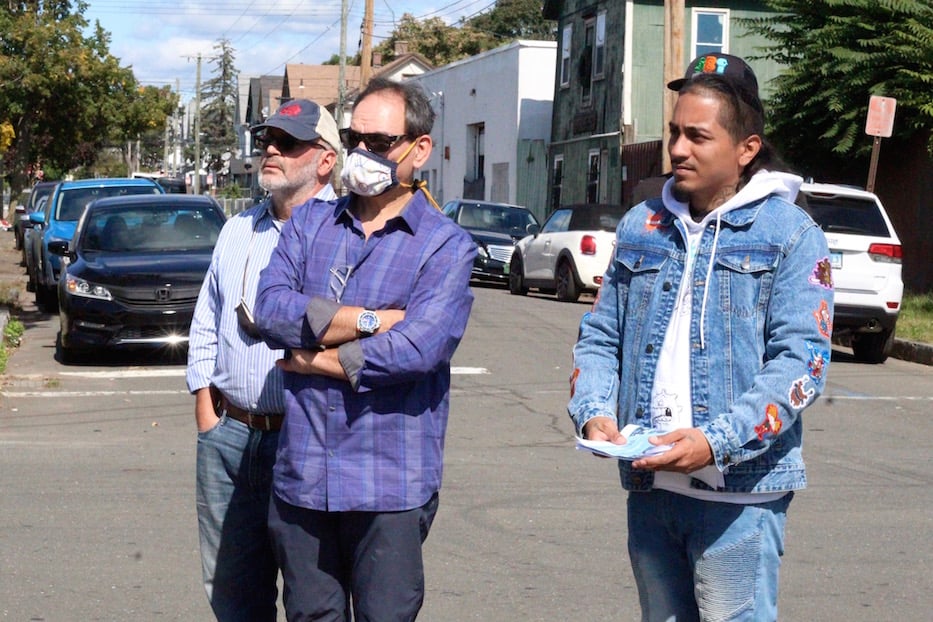 Lee Cruz, Martin Torresquintero, and Los Fidel at Friday's press conference.
State Rep. Robyn Porter, who said she has been talking to Jaigantic for months, praised the studio for its plan to create hundreds, and ultimately thousands, of jobs. Even before Covid-19 hit New Haven, she saw a city hobbled by high unemployment and a jobs crisis. As the pandemic spread, she said, so too did an existing racial wealth gap. She called investing in Jaigantic one of the ways that New Haven can get "back to the village."
"We know that we're in a pandemic," she said. "We have so many people that have been laid off, that are still unemployed, right, and looking for jobs. And they're saying there is a worker shortage. I disagree. It's a wage shortage. Let's be real. They want to bring people back and they want to play plantation politics, and I'm not a part of that. I believe that if you're gonna go to work, an honest day's work deserves an honest day's pay."
Speaking amidst snaps and applause, she lauded Jaigantic Founder Michael Jai White, who grew up in Bridgeport and ran a karate studio on Grand Avenue in the 1990s and early 2000s, for coming back to city where he had his first business. Now, she said, he's "coming back to his community and lifting as he climbs." She called on fellow New Haveners to support his vision, as a way to both build wealth and directly fight economic racism in the city.
Dori Dumas, president of the Greater New Haven NAACP, remembered picking her own son up from those karate classes a decade ago, and feeling grateful that White had returned to reinvest in Connecticut. She said that she, and other members of the Greater New Haven NAACP, see the studio as an economic catalyst by and for people of color.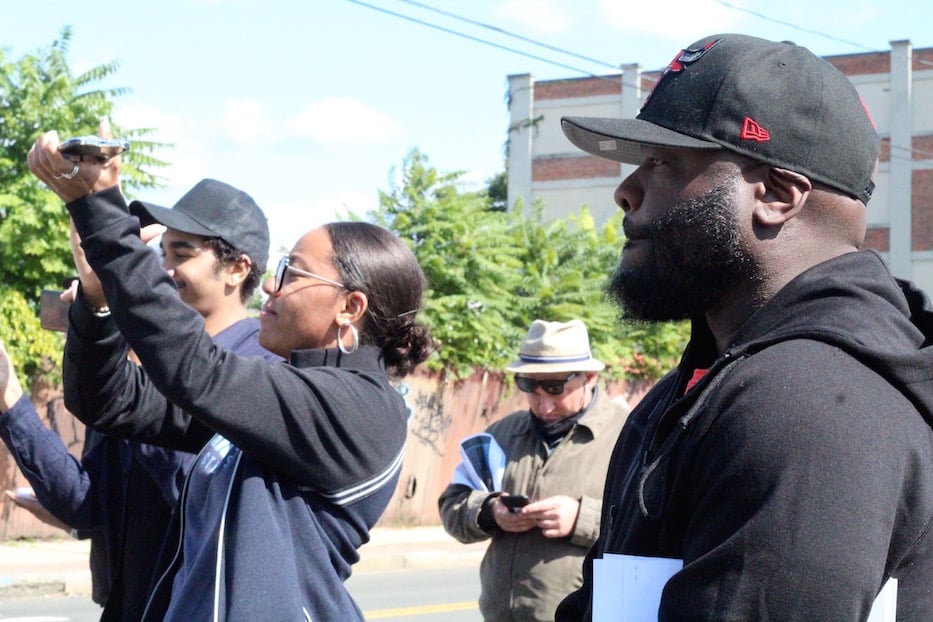 "Everything we work towards, advocate for, fight for, Jaigantic Studios is making it happen," she said. "We are talking about economic equity. We are talking about giving something back to the community. We're talking about uplifting our community."
"We are hoping that this [tension in and following the BZA meeting] has nothing to do with the fact that he is a successful Black man coming back to the community to uplift the community, because that would be absurd," she added. "And that's unacceptable."
During a question-and-answer session after the press conference, a handful of community members and Fair Haven neighbors expressed their excitement for the project, and also urged the studio to factor in barriers to entry, from visibility in the community to public transportation.
Stetson Library Branch Manager Diane Brown encouraged Jaigantic representatives to take the message across the city, from Fair Haven all the way to West Rock. She noted that the approach is one that worked for her: Stetson is now a community hub for parents and families in Dixwell and Newhallville. When Buster forms a street outreach team, Brown said, she'll be the first to join.
"This has to go to the streets," she said. "They [city residents] just don't need to read it. They need to see it and feel it and buy it."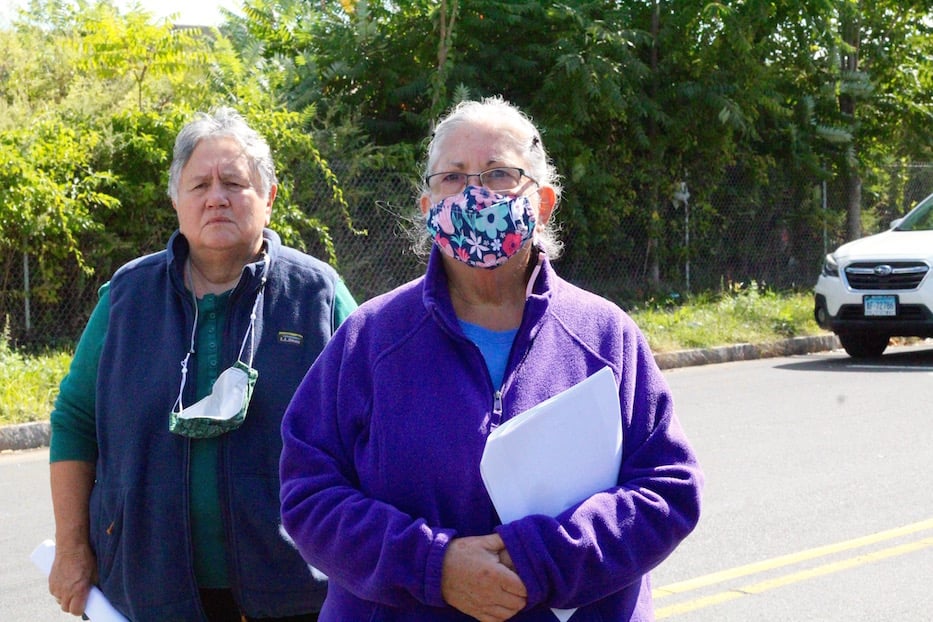 Mary Ann Moran and Sally Esposito.
Lisa Dent, executive director at Artspace New Haven, said that three of the high schoolers in this year's Student Apprentice Program (SAP) saw the posting for a production assistant in Shelton, but hesitated to apply because they don't have cars. One lives right up the street in Fair Haven, but doesn't have reliable access to transportation.
Sally Esposito, who lives in Fair Haven and is a regular at Community Management Team meetings, nodded as she listened.
"Getting from Fair Haven to Shelton—has anyone done that trip on Connecticut transit?" Esposito asked.
"We do it all the time—" Buster started.
"Do you take public transit?" Esposito pressed.

"Oh, on the bus you mean? We have not done it on the bus," Buster said.
In a car, the commute from 46 River Street to 10 Constitution Boulevard is roughly 31 minutes on Interstate 95. On public transit, the most direct version runs about 90 minutes, and entails three buses and two transfers between Fair Haven, downtown New Haven, and Derby. A longer route asks pedestrians to start in Fair Haven, transfer downtown, get on a Metro North train, and then catch a bus from Stratford's Main Street to Shelton. If commuters were to miss any of those transfers, they could be over an hour late to work.
Buster said that Jaigantic, which estimates $150 million in tax revenue in its first three years, is working on both shuttles and with the Connecticut Department of Transportation to try to build a more contiguous route. In the meantime, she offered to be the "guinea pig" in testing bus routes from River Street out to Jaigantic's temporary home in Shelton.
"Part of our apprenticeship initiative, the biggest thing with us was to make sure that we just kicked down all the barriers to entry, transportation being one of them," said Partner and Chief Executive Officer Donovan de Boer. We're buying shuttles. We're going to be picking people [up], dropping them off at the train station as this ramps up. Everything from daycare to shuttles to uber vouchers."
Monday morning, the city's Economic Development Administration confirmed that it was waiting on Jaigantic to review and submit the DLDA. Fontana said that the city "continue[s] to make good progress with Jaigantic" and "we are looking forward to working with" the studio as it becomes part of the long-awaited plan to revitalize River Street.
Read more about Jaigantic Studios in previous articles here, here, and here.