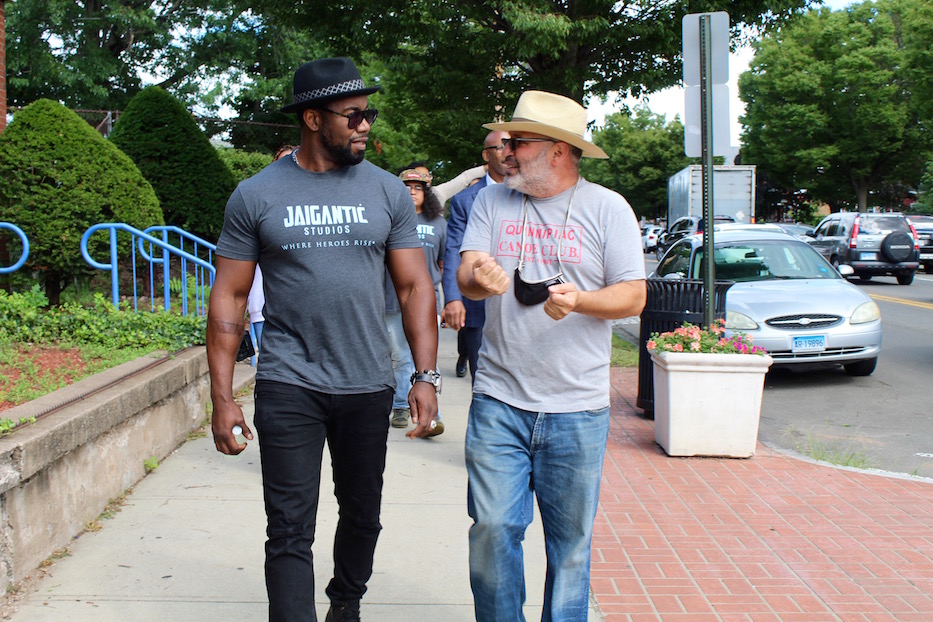 Economic Development | Fair Haven | Arts & Culture | Film & Video | Jaigantic Studios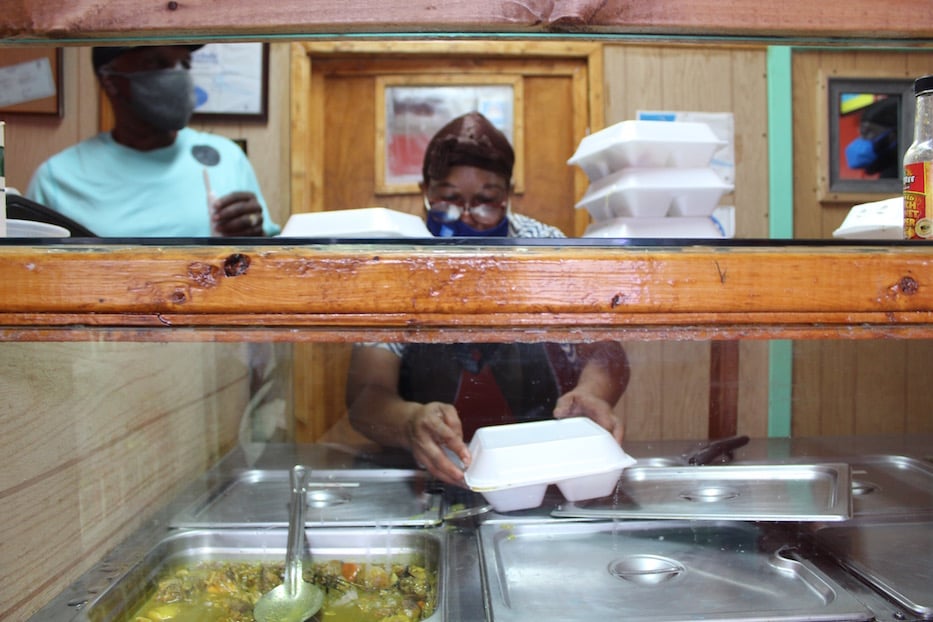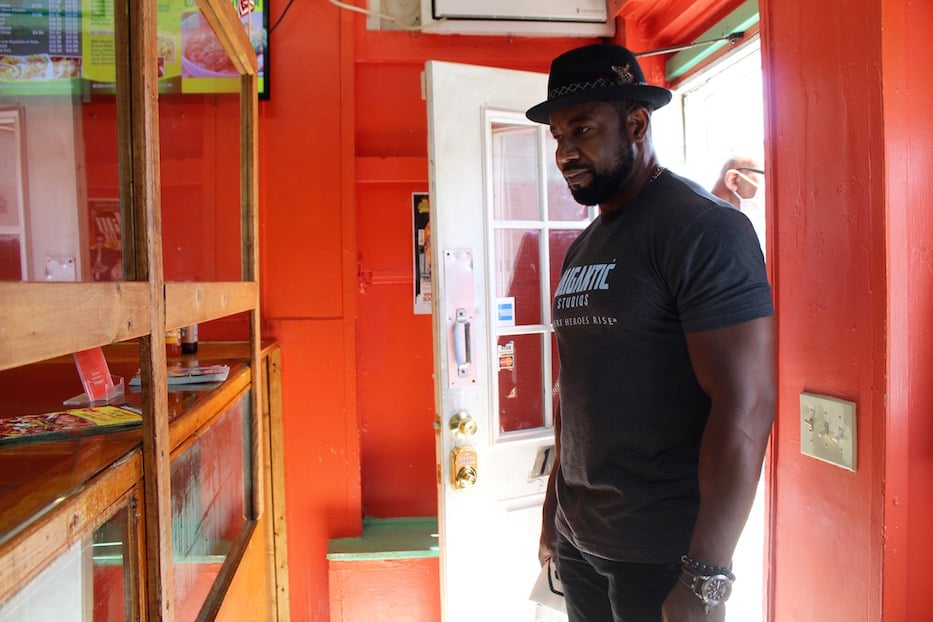 Top: Silvelena Martin. Bottom: Michael Jai White inside Smooth's Creative Cuisine on Chapel Street. Lucy Gellman Photos.
Silvelena Martin danced between dishes, pointing out brown stew chicken, rice and peas, oxtail and curried vegetables as her hands sailed through the warm air of her restaurant. Every so often, she looked back through the plexiglass barrier to make sure her unexpected Friday customer, the actor and martial artist Michael Jai White, was still standing there.
"I love your movies, man!" exclaimed her husband Trevor as the kitchen door swung open, releasing a burst of steamy air.
Friday afternoon, White spent almost four hours touring Grand Avenue businesses and talking to Fair Haven neighbors about Jaigantic Studios, the new multi-phase movie venture that he and a growing team have proposed for River Street. Currently, Jaigantic has a memorandum of understanding with the city for the land at 46/56River St. and 112 Chapel St. It ultimately wants to develop almost all of River Street between Poplar Street and Criscuolo Park. Read more about Jaigantic's plans here and here.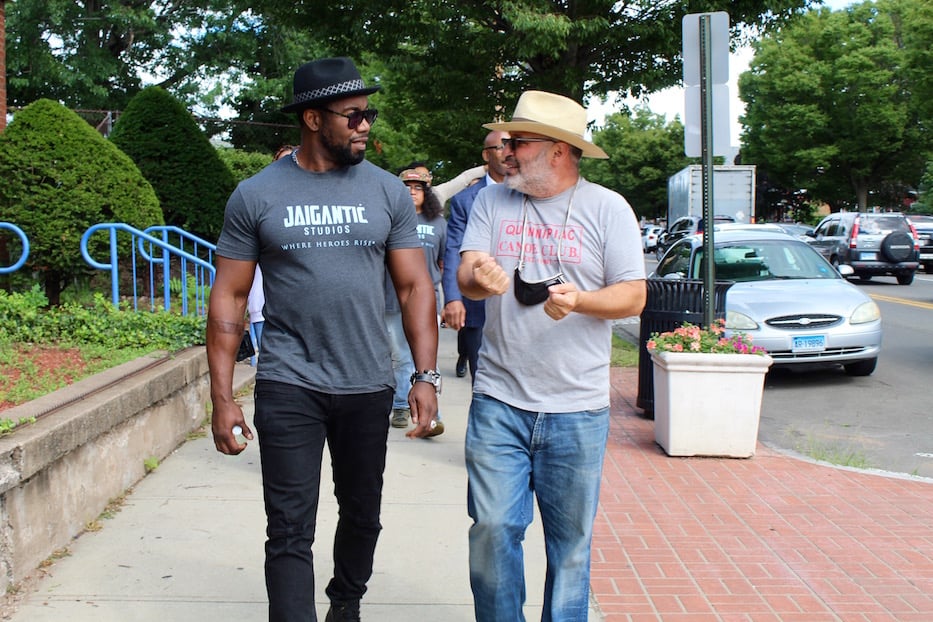 Michael Jai White with Lee Cruz. Members of the Jaigantic Team are behind him.
The tour, led by Fair Haven Community Management Team Co-Chair Lee Cruz, criss-crossed Chapel Street and Grand Avenue, dipping into restaurants, corner stores, barbershops, smoothie joints and White's old karate studio at 230 Grand Ave. By the time he finished, White had met over two dozen business owners and artists—and pitched his vision for economic development, job creation and neighborhood growth through the movie industry.
It comes as White begins to look for a home in the greater New Haven area, which he said will be highly dependent on schools for his two teenage kids. It also followed two hour-long question-and-answer sessions with community members at District New Haven last Wednesday. (See more on that below.)
"It's just a respect thing," White said during a pause for shrimp and chicken fajitas at Salsa's Authentic Mexican Restaurant on Grand Avenue. "I've always had the mentality of a blue-collar worker, even in this industry. Coming back to this community, the same community where I started a business, it's just reconnecting with the neighborhood."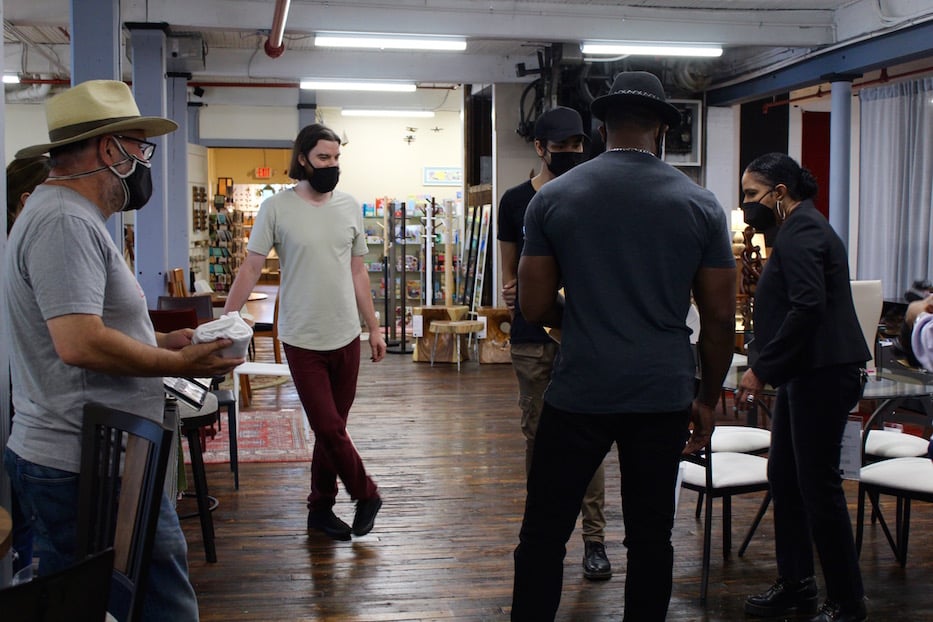 Fairhaven Furniture: ready for more development in the area.
Cruz and White began the tour at Fairhaven Furniture, which has run a business at Chapel Street and Blatchley Avenue since the 1980s. Inside, plush couches and glass-top coffee tables stretched out across the shop floor, waiting for visitors. White strode through the space, taking in its sprawling wood floors and cozy furniture. Co-Owner Colleen Gala handed a large, hand-carved wooden bowl to Jackie Buster, a 13th-generation New Havener who is the chief impact officer for Jaigantic. Buster studied its veined bands of brown color.
"We're definitely interested in this area and welcoming new energy and businesses to it, so it's exciting to us," Gala later said, pointing to the abandoned, post-industrial land on River Street. "We've been waiting a long time for this."
At Smooth's Creative Cuisine across the street, owner Silvelena Martin shrieked with delight when White opened the door and walked in. In the midst of the pandemic, Martin opened the restaurant in July 2020 to celebrate the food of her native Jamaica, from which she immigrated over three decades ago. A longtime resident of Fair Haven, she runs the restaurant with her husband Trevor and 30-year-old son Chevoughn.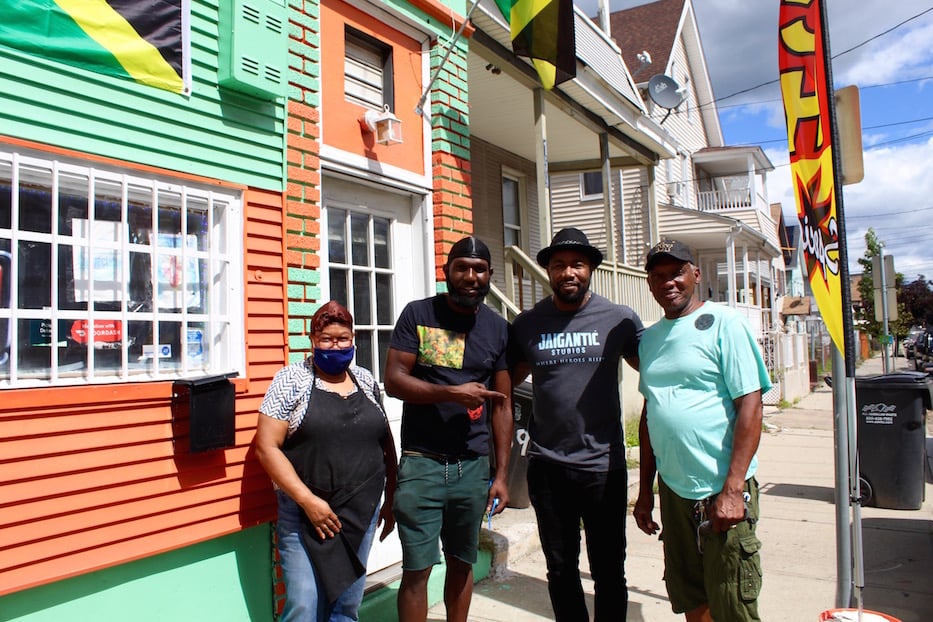 Smooth's Creative Cuisine Matriarch Silvelena Martin, Chevoughn Martin, Michael Jai White, and Trevor Martin.
As White looked over warming trays of oxtail, brown stew chicken, curried vegetables and rice and peas, Chevoughn peppered him with questions about both his movies and the River Street development. A graduate of Wilbur Cross High School who stayed in the city, Chevoughn said he'd love to see more economic development in the area. White eyed rows of crisped, just-golden beef patties at the far end of the counter.
"So you're gonna open a studio right here?" he asked.
"That's the plan," White replied. "We're meeting people in the community to talk about it."
Chevoughn was sold. As a kid growing up in Fair Haven, he said, the neighborhood became his playground. He sees Criscuolo Park—or as locals call it, Chapel Street Park—as a place where magic can happen. He likes the studio's idea of turning River Street into a creator district, with improvements to the park at the end of the street. Plus, he's a super-fan of White's: Spawn and Blood and Bone are both movies "I could watch over and over again," he said.
"This shows that he's not interested in coming in and taking over without talking to the community," Chevoughn said after White stepped outside to wait for his order. "And it's like coming here? Oh my God. It's a blessing. This is the biggest opportunity that we can have. This little small town, it can have a lot of potential. I'm praying it goes well."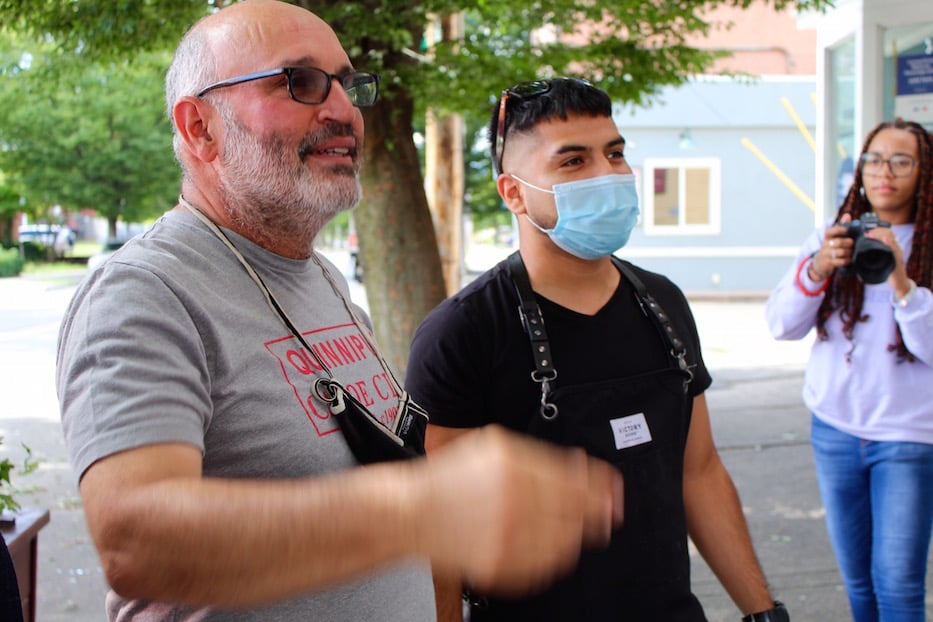 Lee Cruz and Brian Palomino.
A few streets over at Salsa's, 29-year-old barber Brian Palomino greeted White and his entourage with a huge smile, his apron crisp and tied back beneath a blue medical mask. Thirteen years ago, Palomino's mom, Juana Ramirez, founded the Grand Avenue restaurant after living over the space for years. In the space, Ramirez still cooks her grandmother's recipes, including a mole that has become legendary in Cruz' culinary landscape of New Haven.
Palomino, who is a graduate of Hill Regional Career High School and Southern Connecticut State University, welcomed White with excitement. For years, he worked for his mother at the restaurant before starting a barbering business next door, in a building that the family also owns.
He still mixes drinks for the restaurant, including a spicy, chili-flecked michelada with osmotic fruit that has become famous for curing hangovers in the neighborhood. On Saturday and Sunday mornings, he estimated that the drinks are one of the most in-demand items on the menu.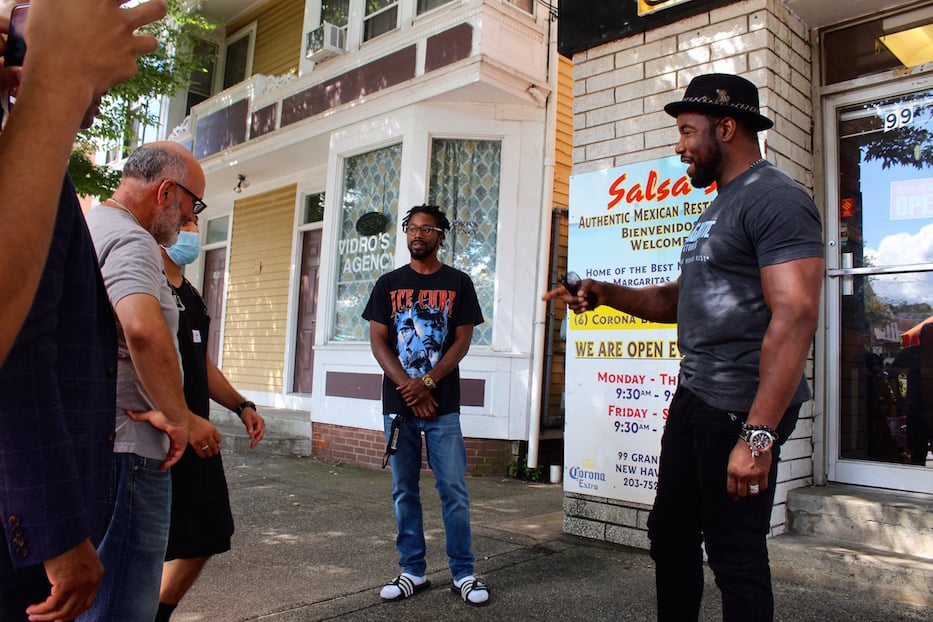 Videographer Davon Sullivan: Can Jaigantic change what opportunity looks like in New Haven for creatives like him?
Beside him, videographer Davon Sullivan listened intently as White described his vision for River Street. Sullivan grew up in New Haven, and went to Career high school with Palomino. A few years ago, he moved away from the city to Atlanta because "I didn't see opportunity here … I felt like it was a dead end." In Atlanta, meanwhile, he saw a movie industry that was booming, and needed labor.
He said that Jaigantic could be a game changer for creatives like him. Sullivan's family and friends still live in New Haven, and "there's a lot of untapped talent here," he said. He moved away not because he wanted to, but because he had to make a living, he said. If the new studio brought in hundreds of jobs—as it has promised to do—he can see moving back.
In barbershops and corner stores, White often got instant recognition—more frequent as the afternoon sun heated up the street and the avenue filled up with school dismissals, groaning city buses, and early Labor Day traffic.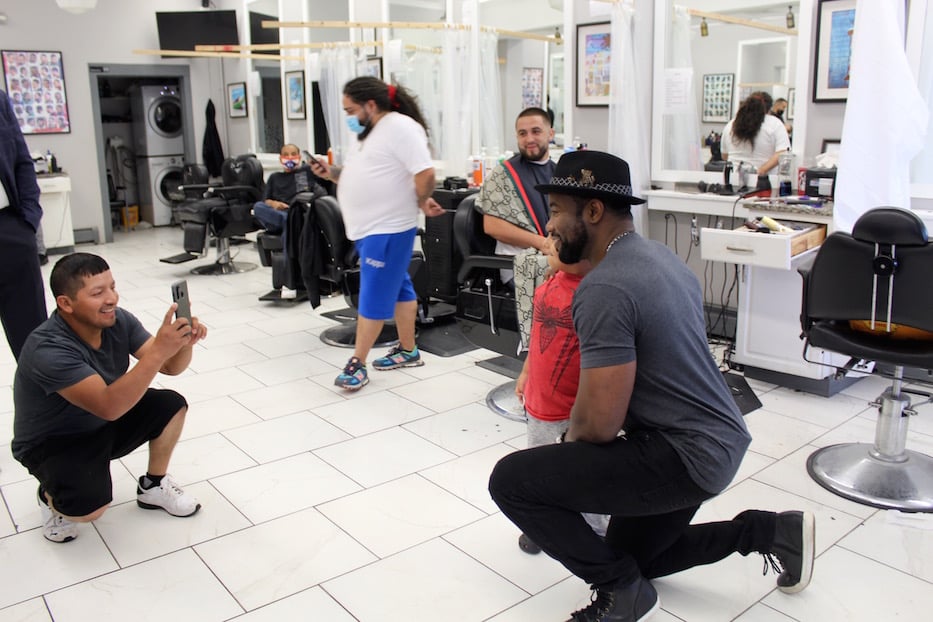 William Loja takes a picture of White and his son, William Loja Jr.
In Gil's Barber Shop, father William Loja stopped what he was doing to make sure that his son, William Loja Jr., could get a picture with his newly fresh haircut and longtime martial arts hero. Other customers, who asked not to be photographed, pulled out their phones, swiveled around in their chairs and started taking photographs mid-haircut.
Owner Gil Luciano, who has run the shop from 85 Grand Ave. since 2015, said he's very optimistic about Jaigantic's proposal for River Street. As a Fair Haven business owner, he thinks that economic development in the neighborhood is a fundamentally good thing—it brings in foot and car traffic and reduces crime, he said.
"That's great," he said. "I love it. I love it."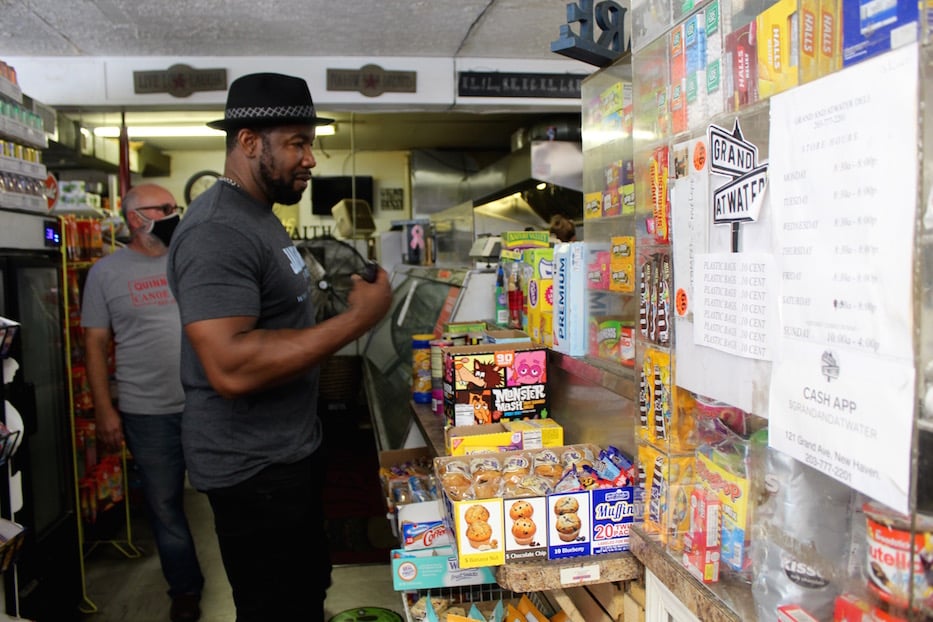 White inside Grand and Atwater Deli.
At the Grand and Atwater Deli, White squeezed himself between narrow rows of pre-packaged snacks, masks, candy and a humming fridge filled with cool drinks to meet owner Cody Roach, a lifelong Fair Havener who has run the spot for nine and a half years. A fan of White's oeuvre, Roach stepped out from behind a thick layer of plexiglass for a photo.
As he walked through the space, White asked if there was a place for neighborhood kids to get fresh produce. Cruz described a pilot program for "Healthy Corner Stores" that rippled through the city almost 10 years ago. After that pilot, he said, it wasn't uncommon to see apples and bananas in the store for a while. Now, it's less frequent.
White is hoping that Jaigantic can bring some fresh food back to that section of the city, he said. In her work as CIO, Buster has spoken about plans for an affordable green grocer at meetings of the Fair Haven Community Management Team. C-Town, which sells fresh produce, is also located just a few blocks away at Grand Avenue and Ferry Street. He said that he also envisions a nutrition education component to that work.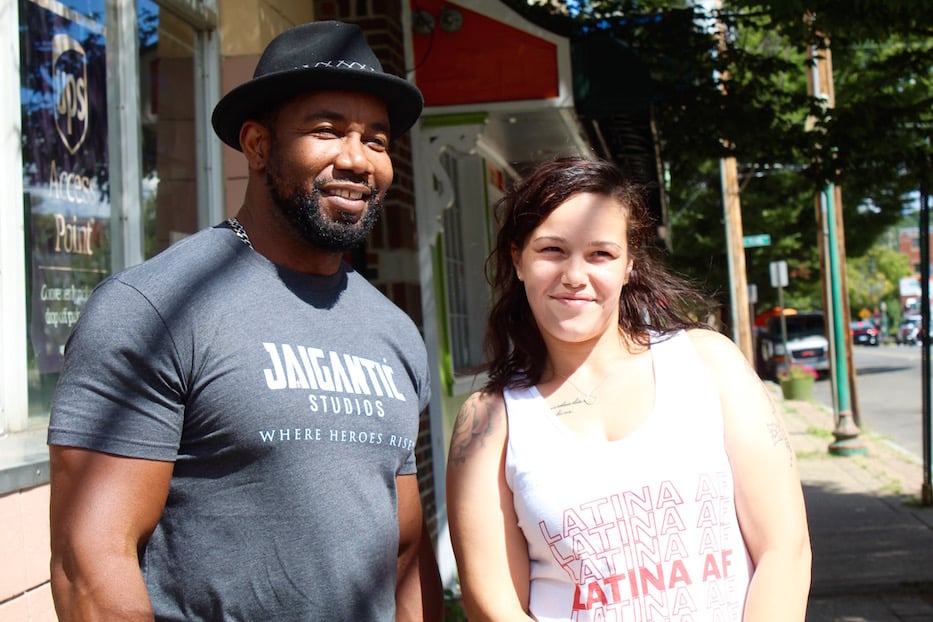 White and Fair Havener Michelle Martinez. She said she is interested in learning more about the studio.
"I'm more focused and excited about changing the mindset of those kids, so that they desire fresh food first," he said. "There are generations that haven't been educated about their health."
Outside the deli, passers-by stopped to say hello, a few posing for quick selfies and heaping praise on White's work, from Spawn to Triple Threat. White chatted with Mary Wade President and Chief Executive Officer David Hunter, finding space for a gentle aging joke when he couldn't remember the name of one of his own films. When three-year-old Saadig Thompson came over for a cautious high-five, he was ready with an open palm.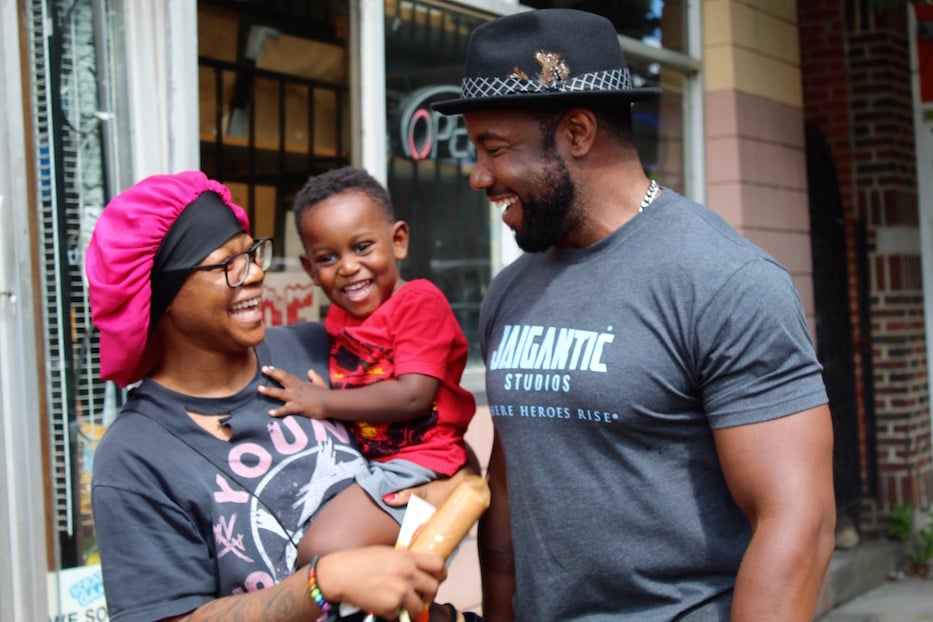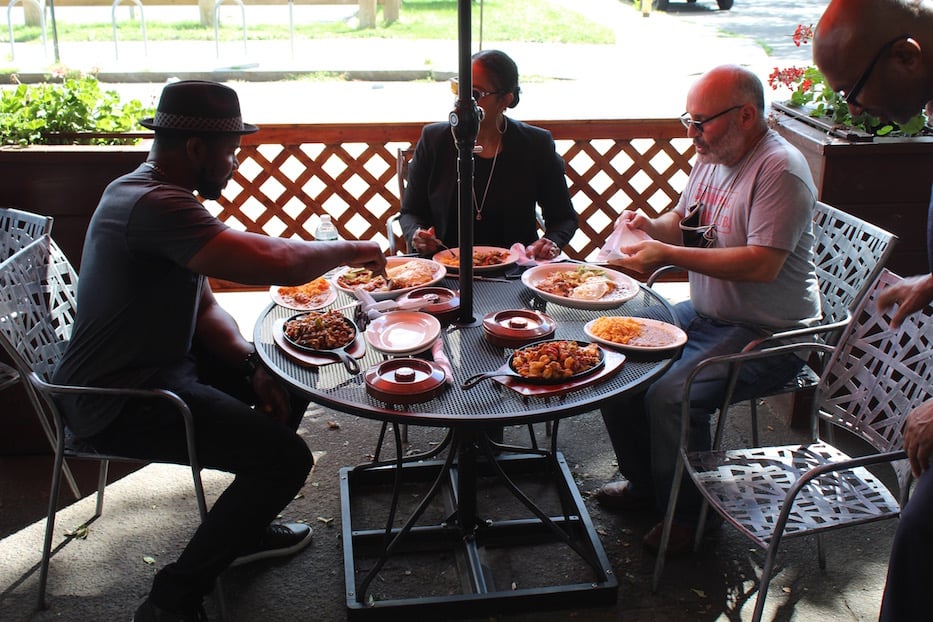 Top: Tasheka Thompson with her three year old Saadig, and White. Bottom: White, Jackie Buster and Cruz at Salsa's.
Cruz kept Fair Haven neighbors coming even as White paused for a bite to eat. Over shrimp and chicken fajitas as Salsa's—"I wasn't even hungry, but I became hungry after the first bite"—White met Fair Haven top cop Lt. Michael Fumiatti and talked with Cruz about the neighborhood, from access to the nearby marina to Cruz' Clinton Avenue home.
When he thinks of Jaigantic's potential impact on the area, "I'm looking into the future," he said. "I see people riding their bikes and walking to work in a profession that I don't think could be more fun."
As the group walked down Grand Avenue, cars honked at White, some drivers and passengers sticking out their hands for a quick shake or fist bump. Cruz ran through the history of the neighborhood, from the transformation of Cathedral of Higher Praise to impromptu plaudits for the sandwich cart that has made C-Town's parking lot its home. White's son, Devin Michael White, interjected to ask questions about botanicas dotting the avenue.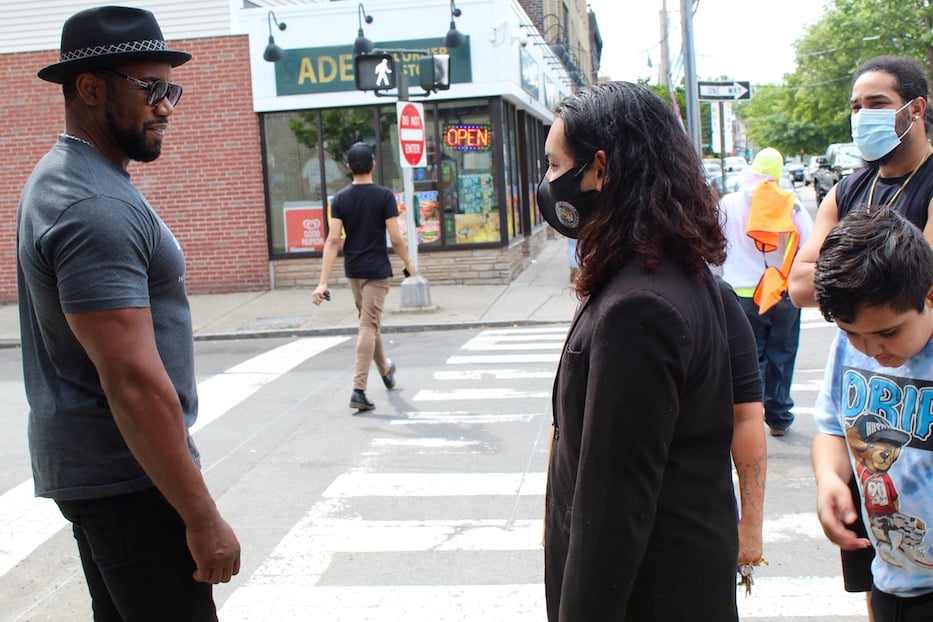 White with Natasha Neron and Manuel Camacho.
Outside White's old karate studio—now a Dominican Restaurant—Natasha Neron and her kids greeted White with laughter and a few warm Friday afternoon handshakes. Neron, whose son Manuel Camacho is now the Latino Caucus President for Ice The Beef, grew up taking lessons at the studio before it closed.
"This was like, the community spot," she said.
Camacho, who grew up watching White's movies and just started his junior year at James Hillhouse High School, added that he was excited to learn more about Jaigantic. For over two years, he has been vocal about the need for local jobs in New Haven, and specifically the Fair Haven neighborhood.
As the team hustled across the street, Cruz brought them into ​​Cositas Deliciosas, ordering fresh fruit juices with strawberry, mango, and banana. Outside, Fair Havener Davante Mallard said he's looking forward to seeing Jaigantic's plan move forward. Born and raised in New Haven, Mallard temporarily moved away from the city when he was in his 20s, and then moved back before his kids were born.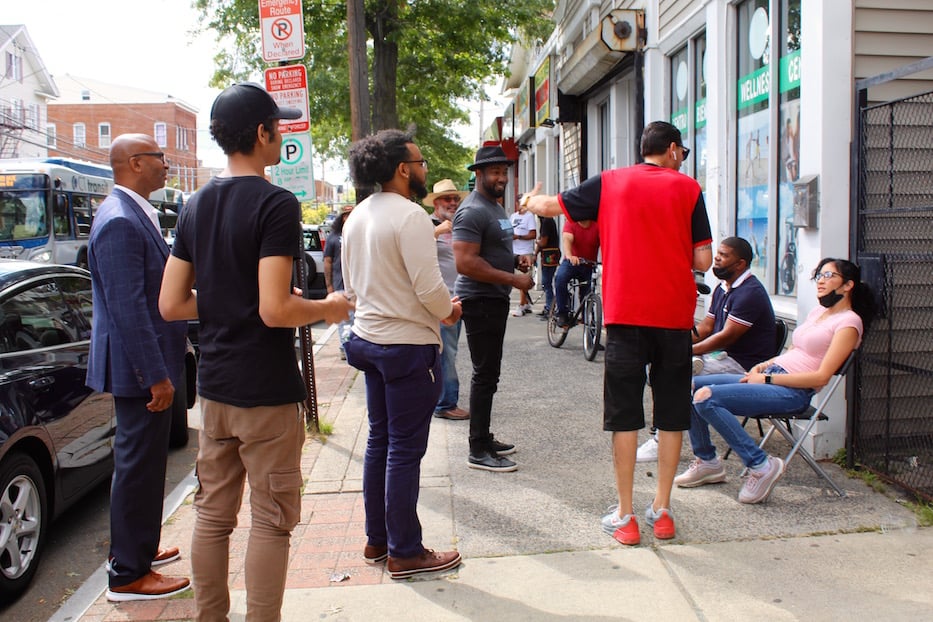 As a parent and a real estate agent, Mallard described Jaigantic's proposal for River Street as "what we need in New Haven." He lives close to the area, in a home on Front Street with his wife and two young kids.
"In this community, it feels like there's a lot of talent," he said. After attending a Jaigantic meet-and-greet at District New Haven, he was impressed with what he saw and wanted to learn more.
Cruz had one more stop on the tour. Walking past a sign for the newly-christened Family Academy of Multilingual Exploration (FAME), he pointed to a bust of the explorer ​​Rodrigo de Triana that still sits atop the school. He said that de Triana, rather than Christopher Columbus, was the first to point out land on Columbus' voyage of discovery. But he was stripped of credit, ostensibly because he was Black and had embraced Islam.
"That's been happening for quite some time," White said.
"A Community Agreement"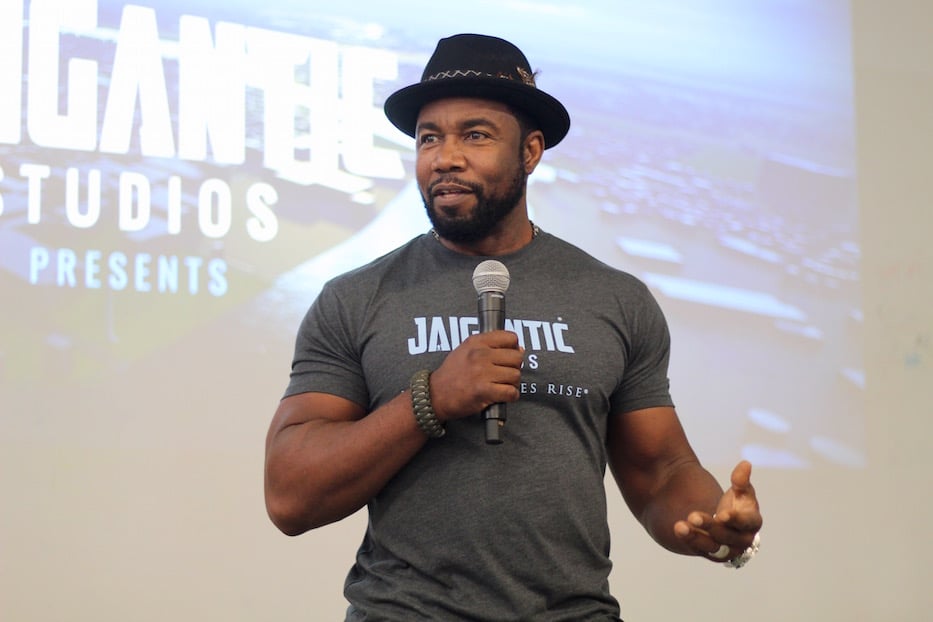 White at District New Haven.
Last Wednesday night, White and fellow Jaigantic team members filled a room at District New Haven, the James Street tech hub that is also home to the Holberton School and Space Studios. In addition to White, attendees met Buster, Jaigantic Chief Operating Officer Mayne Berke, Chief Executive Officer Donovan de Boer, and President of Operations Keith Shaw.
"Any questions you might have, feel free," White said, his voice rumbling through the room.
Over a dozen hands rose in the space. Among questions about environmental remediation, energy efficiency and traffic calming, several attendees asked to learn more about an apprenticeship program the studio has hinted at in video materials, but not yet provided significant information on. In the second row, actor Valerie Brookshire listened carefully, taking mental notes on a search for local talent.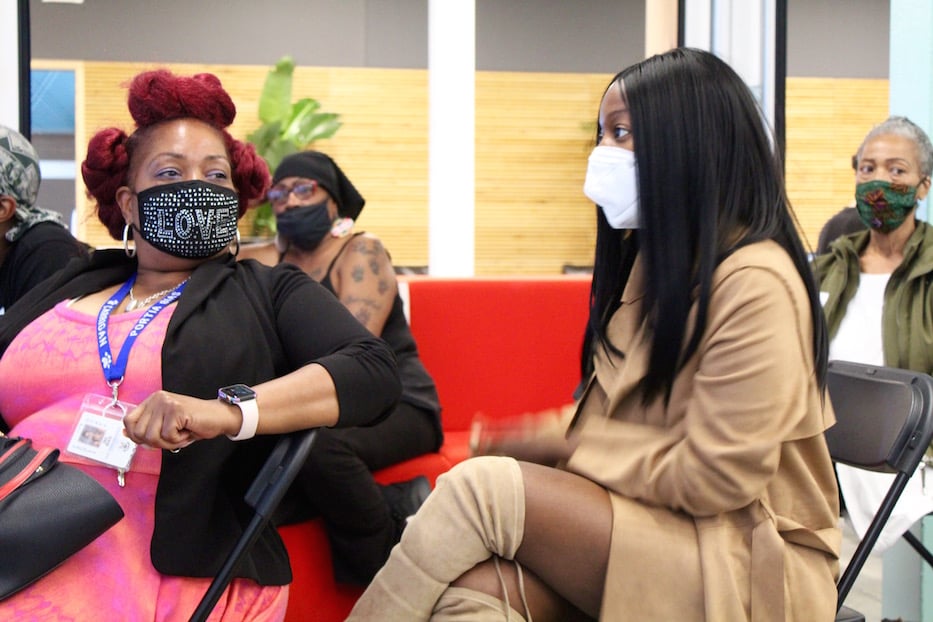 Portia Bias, who asked White why the studio was not in West Haven ("Space!" Buster declared) and the actor Valerie Brookshire.
Currently, Buster said, Jaigantic is working with the Connecticut Department of Labor to mold a paid apprenticeship program for young people who can take a full year to "pursue a long-term project." As the program is currently set up, apprentices follow a six-month rotation through departments, followed by a six-month intensive in a single area. Each apprentice will work on a union feature film with the studio.
Students, from high schoolers to last semester seniors at Southern Connecticut State University, hung on to each word. In the front row, Cooperative Arts & Humanities High School senior Christopher Cazarin shook his foot anxiously, formulating a question in his head.
"It's competitive," Buster said. "You gotta have drive, you gotta have will, you gotta be a team player—you have to have talent. But talent might not be the number one thing. It really is a will to wanna be able to succeed."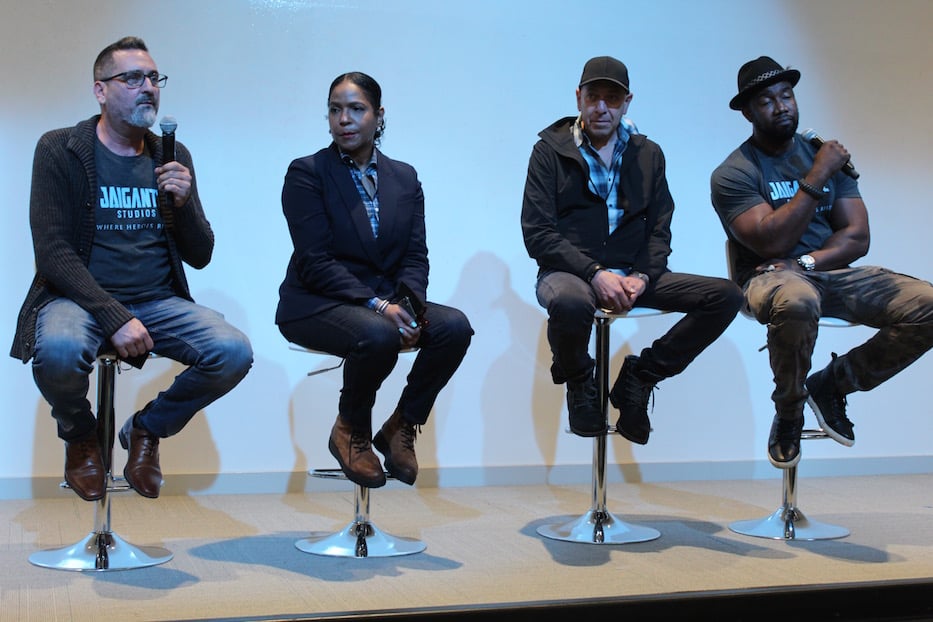 Jaigantic Partner and CEO Donovan de Boer, Chief Impact Officer Jackie Buster, COO Mayne Berke, and Michael Jai White.
Buster said the program will open to roughly 60 people at a time. Because it already has offices in Shelton, Jaigantic will be opening an apprenticeship portal "as soon as we get approved," she said. While there is not a high school apprenticeship equivalent, she said that Jaigantic is interested in partnering on youth mentorship programs further down the line.
"There's no age group, at all," de Boer added. "The opportunity is across the board. We're working really hard for removing a lot of barriers to entry. So things like daycare and transportation and internet service and things like that—we're addressing all of those things. Cause we want to make sure that the opportunity is out there for everyone."
Urban Professionals Network Founder Jason Watts, who is opening Jazzy's Soul Kitchen and Lounge in the Ninth Square this fall, asked White if Jaigantic will be shooting in the community—and supporting its small businesses owners and culinary artists. When he and colleague Stephen Ross open their restaurant this fall, he said, they'd love to see him there.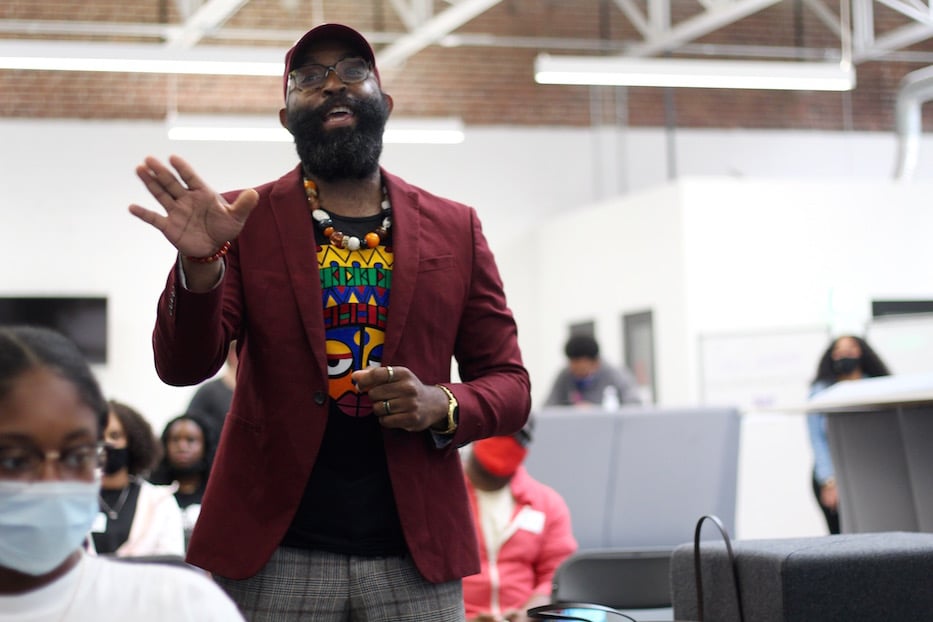 Jason V. Watts, who will be running Jazzy's Soul Kitchen and Lounge with his colleague Stephen Ross.
"I'd like to know if we can be one of your actual places for scenes, where it's a restaurant, nightclub, lounge," Watts said. "There's gonna be a lot of character in there, and we want to help."
White beamed as de Boer explained that the studios would have an entire department dedicated to on-location shooting.
"Just so you know man, I'd love to have bragging rights to show up in Hollywood," White said. "Since I left Connecticut, and went to Hollywood and everything … I got a whole lot of pride in where I'm from."
White noted that he is almost always wearing some sort of gear that pays homage to Connecticut, whether it's a shirt that advertises his local gym, or a graphic that reads "Straight Outta Bridgeport."
"To bring it back here?" he said. "That's a win-win situation. You don't gotta sell me that."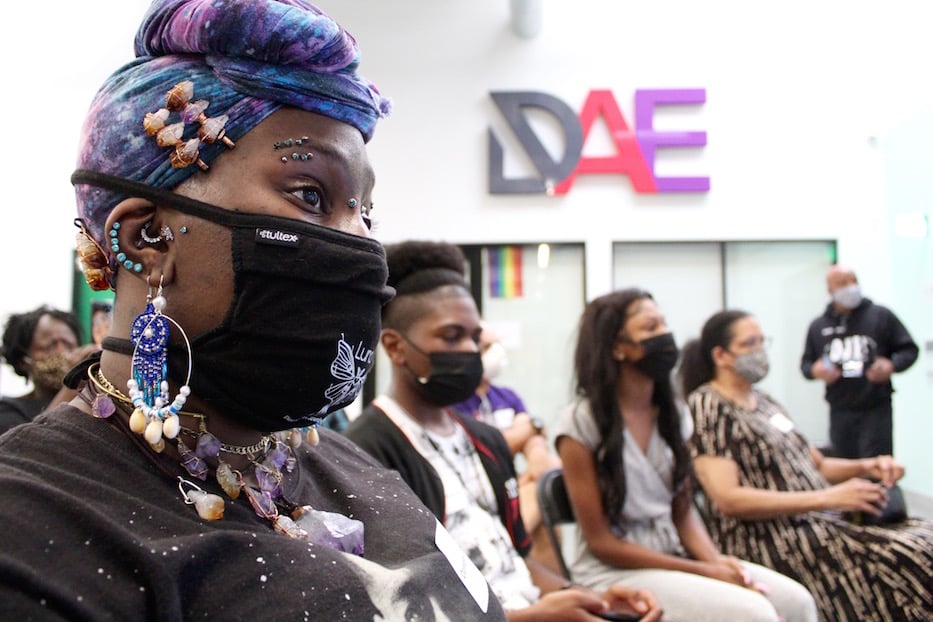 Danielle Campbell, a senior studying journalism at Southern Connecticut State University, wanted to know what community outreach would look like.
Several other attendees asked the team how deliberate Jaigantic would be in hiring locally. Rafael Fuentes, who runs an auto body shop on Poplar Street, said that he wants to "find a way of notifying everybody" in the Fair Haven neighborhood of Jaigantic's proposal.
Cruz, who attended as both a Fair Havener and on behalf of the Community Management Team, said that he worries that the studio will endanger affordable housing in the neighborhood.
De Boer looked to Los Angeles' implementation of a tax shield that freezes property taxes at their original value, effectively suspending them in amber instead of allowing inflation. He pointed to Landis Technologies, a young startup built on the rent-to-own model.
"We want to create generational wealth," Buster said as the room exploded in applause. "We want our employees to have ownership of the project. One of things that Michael [Jai White] directed us to do when we started this project was that we needed to be able to create opportunities for Black and Brown people who would never have any sort of entree to move into this industry … we want to make it easier for people to recognize that these opportunities exist."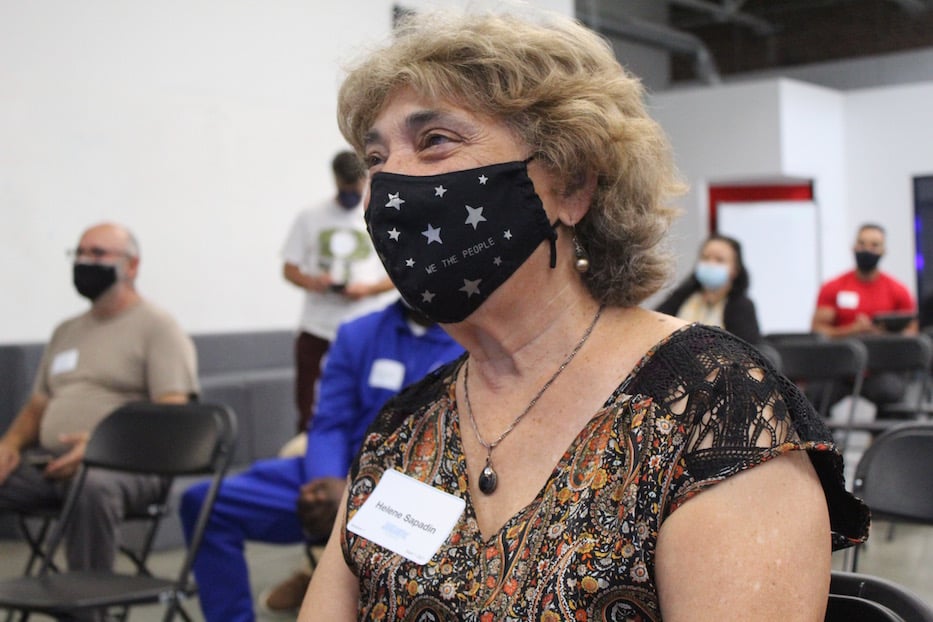 Fair Havener Helene Sapadin, who asked if there were plans for environmental sustainability in the works. De Boer and Buster said that Jaigantic will be a green and energy efficient campus.
Both Buster and De Boer added that Jaigantic is invested in hiring locally. Currently, he said, the studio is in the midst of looking at the logistics of having a Jaigantic shuttle pick people up at Union Station, and ferry them to the River Street campus. To local producers, videographers, writers and actors in the audience, he said that the team was also committed to having "as many people as we can train and hire in Fair Haven and New Haven."
"We want people to walk to work, you know?" he said. "When you think about that area of Fair Haven ... the heyday of the factories, that's what people did. They lived in Fair Haven. They walked to work every day. That's what we want to do. It's like a factory. People walk to work and they make movies, instead of making boilers."
"We want to make a community agreement with you that clearly maps out what we're doing, what we're providing, how we work together, and that we're all included in this," he later added. "That's what we want."
Learn more about Jaigantic here.