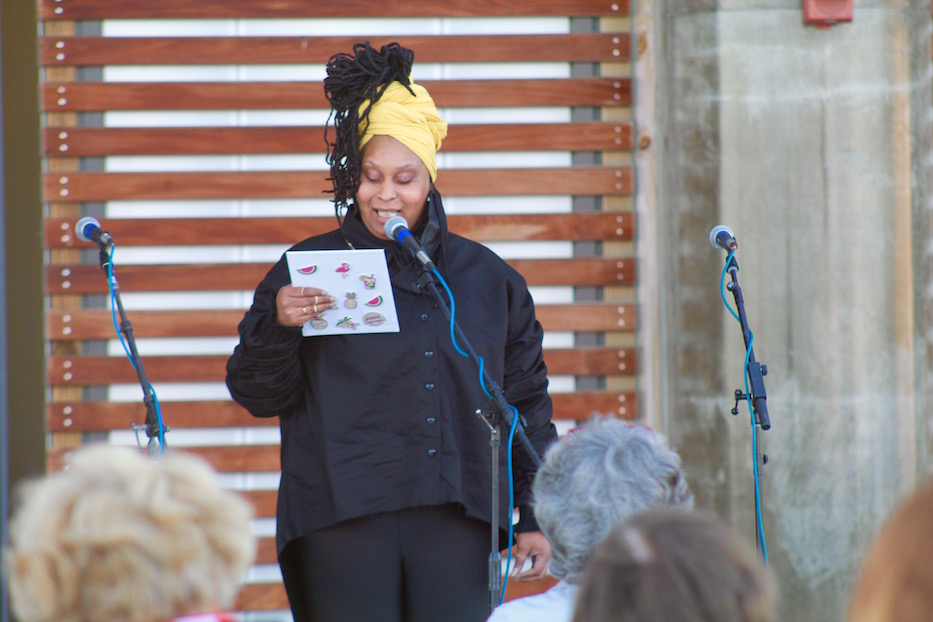 Long Wharf | Arts & Culture | New Haven Symphony Orchestra | COVID-19 | Arts & Anti-racism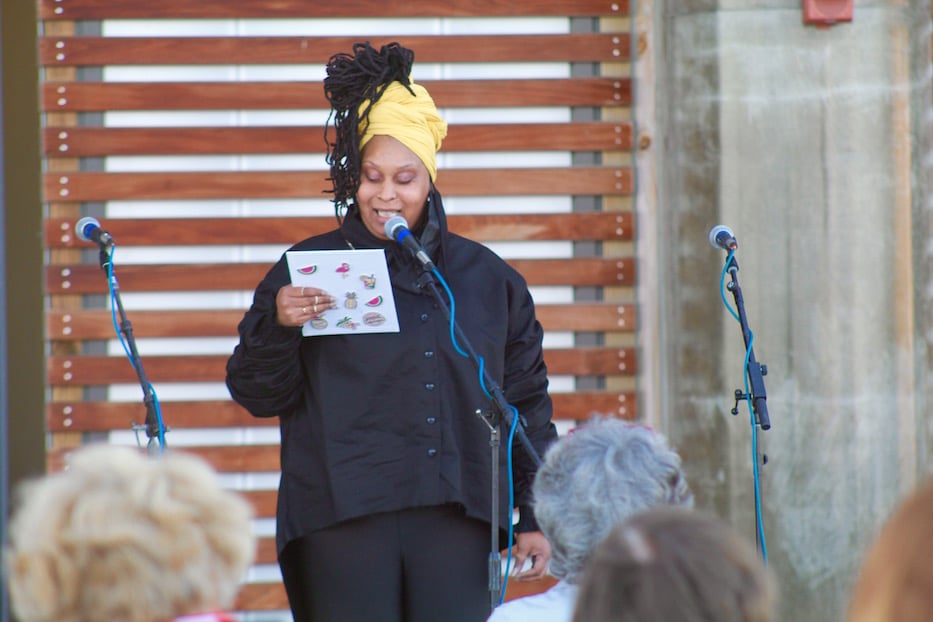 The poet Sun Queen, who is a co-founder of Black Lives Matter New Haven and the author of It Happened Within The Sun. Lucy Gellman Photos.
Sun Queen stood at the mic, her eyes half-closed. Waves lapped rhythmically against a concrete holding wall nearby. Her skin glowed in the evening sunlight. She imagined a summer of waterfront vacations and warm sand, where Black bodies were able to unwind without the fear of violence and grief. She summoned sunflowers, blooming big and bright as they pressed their faces toward the sky. Behind her, nine musicians held their instruments completely still, ready to play in that vision.
And I'm walkin' into the summer honoring the sun, she read.
This year I ask for the path to lead us closer to liberation
The summer breeze to produce justice
Victory and divine protection, from sunrise to sunset
Monday evening, Queen joined poets Draya Wilbur, Aaron Jafferis, Brother Bear and members of the New Haven Symphony Orchestra (NHSO) for Antonio Vivaldi's The Four Seasons, performed outside the Canal Dock Boathouse on the city's Long Wharf. In the space of an hour, poets and musicians cracked open the work, making it entirely Vivaldi's and entirely their own.
The NHSO plans to repeat the concert on June 26 at the International Festival of Arts & Ideas. More information is available here.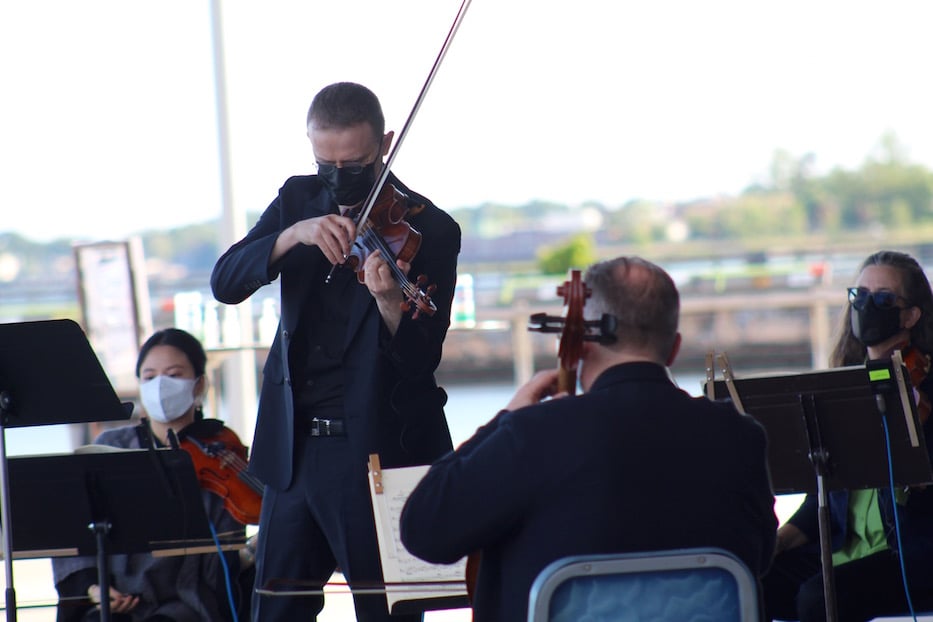 "I am so proud of what we've done with this program," said Conducting Fellow Stephan Fillare, who joined the NHSO early in the pandemic and is still marvelling at the return to live performance. "Earlier, I was trying to figure out what makes this so different, and it was the applause."
The idea to commission four artists goes back to the work's origin. When Vivaldi premiered The Four Seasons in 1723, four sonnets accompanied the piece. This year, the NHSO worked with artists who had read and performed with Elm City Lit Fest, which runs a weekly podcast dedicated to poets and writers. The four come from different backgrounds: Sun Queen and Jafferis are both poets and activists based in New Haven; Brother Bear is based in Hartford; and Wilbur is a writer and director of The Writer's Block, InK in New London.
Monday, their words pulled Vivaldi's centuries-old work into the present. When Wilbur stepped up to the mic in a long, floral-print dress, time seemed to stop around her. Low, humming conversations came to a halt. Kids sat down beside their parents; a few laid all the way out across knees or stood listening. Even the gulls circling overhead flew in closer, some leaving seashell offerings out on the cracked concrete pier.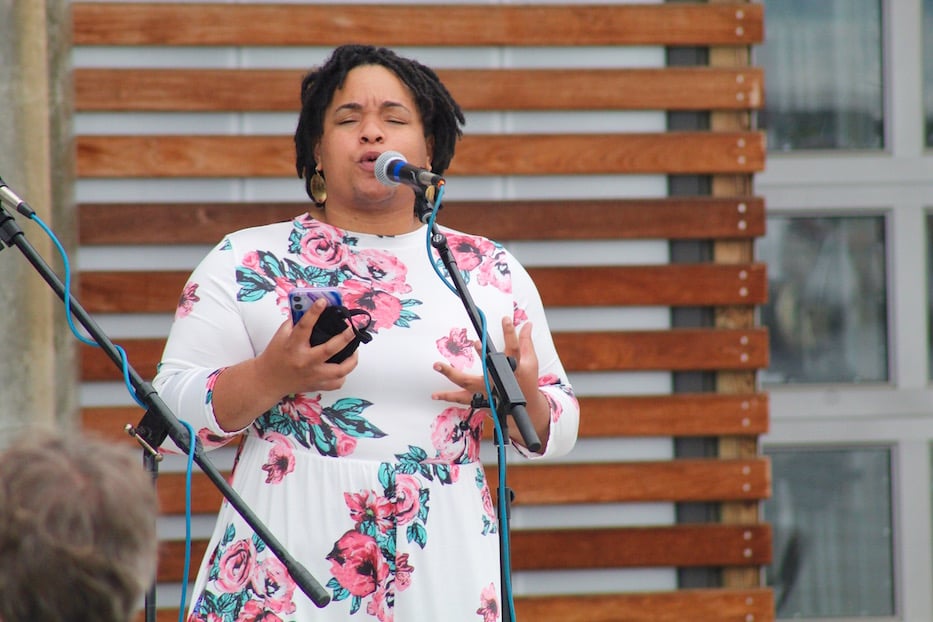 As she read, she painted a sobering scene: young flowers pulled from their soft and fertile ground too soon, torn violently from their roots. It was as if she had turned Vivaldi's concerto inside out, focusing on the spring thunderstorms to which the composer once alluded. She later said that she was moved to write on flowers because their innocence reminds her of young kids. Ending the mistreatment and abuse of children, which has seen a spike during the pandemic, is one of the issues closest to her heart.
If you had thorns, would the hands have been more cautious?, she read.
If poison pumped through your veins, would the hands hesitate on touching you?
Her voice rose, pushing out past rows of masked listeners and out to the water. It swelled, fury at the edges of each word. She told listeners to pull back from the flowers, to allow them to grow heavenward without meddling or rude, premature harvest.
"They sprout towards the sun because they are the light of this world," she cried, and it would have been possible to hear a pin drop.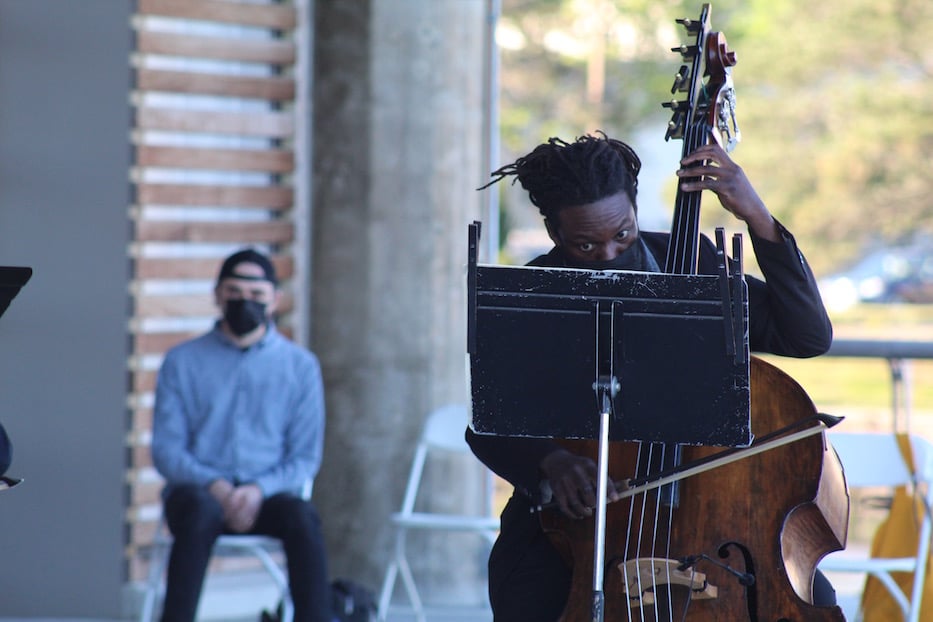 Bass player Christopher Johnson. Aaron Jafferis is in the background.
It gave the opening to "Spring"—an allegro that is impossibly bright and even-keeled until suddenly it is not—a new, steely kind of underbelly. Beneath the violins' bird-like cross-talk, it became easy to wonder what listeners were missing in the short silences. In the tittering of instruments, light kept the upper hand.
Then the violins trembled and heaved. Christopher Johnson leaned over his bass and offered a long ribbon of sound. Standing at the front of the group, violinist David Southorn leaned in, and released a stream of notes so fast and furious they nearly fell on top of each other. As his instrument sang out, violin and keyboard responded urgently. On any other stage, it would have been classified as shredding.
It gave the audience a reason to listen to the piece more closely—perhaps for the first time, and perhaps for the hundredth—and draw new meaning from the music. While Vivaldi was composing the work in the first quarter of the eighteenth century, The Four Seasons isn't a tame or tired piece of music. There's a moment near the end of the "Spring" concerto that swells in one's chest as if it is a protest cry hurled skyward. The end of "Summer," which Vivaldi once penned as "the heavens roar and great hailstones beat down upon the proudly standing corn," is tremulous and fiery enough to leave a knot in one's stomach.
Other concerti dance and dip with a smooth, boundless sort of movement, reminding a listener that joy and pause are integral to the whole work. It may not be the heartbeat-like drums New Haven is used to, but it occupies a space. Monday, the sound broke over the pier in crystalline bursts.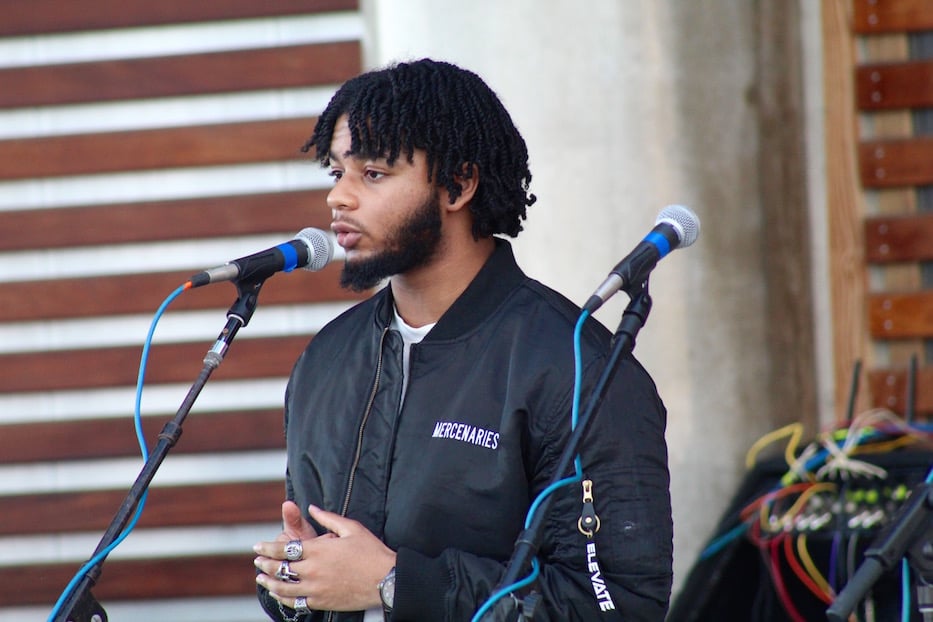 Brother Bear, who read a new poem for Autumn. After the concert, he said that the season fit—he was born at the tail end of November, which he thinks of as the last gasp of fall.
Between movements, poets urged a largely white, middle-aged audience to imagine Black joy and liberation, a world without child abuse, a new road to climate activism. When Brother Bear stepped up to the microphone, he unraveled an intricate portrait of Hartford in autumn, his cadence musical as it rose and fell. He spoke of a cold wind, and listeners could almost feel it coming in on a single icy blast.
But you know how it is/The sun don't forgive
So we celebrate life or death whispers in our ears
He raised an imaginary glass, and with it an image of a beloved and complicated city on the lip of the darkest, longest season. He used a form that mirrored Vivaldi's concerto, pivoting from fall itself to the memory of a woman he had met during the fall. As he read, attendees leaned in, listening closely. The poem wrapped around the crowd, its bare trees and long shadows vivid enough to see.
So too Jafferis, whose storytelling style brought audience members into winter slowly, then dropped the weight of its importance on them all at once, like a heavy snowdrift. After rocking in his seat to the first three movements, shoulders sometimes undulating with the violin, he opened with the story of a previous student of his, who had started missing snow as the New England winters became less wintery.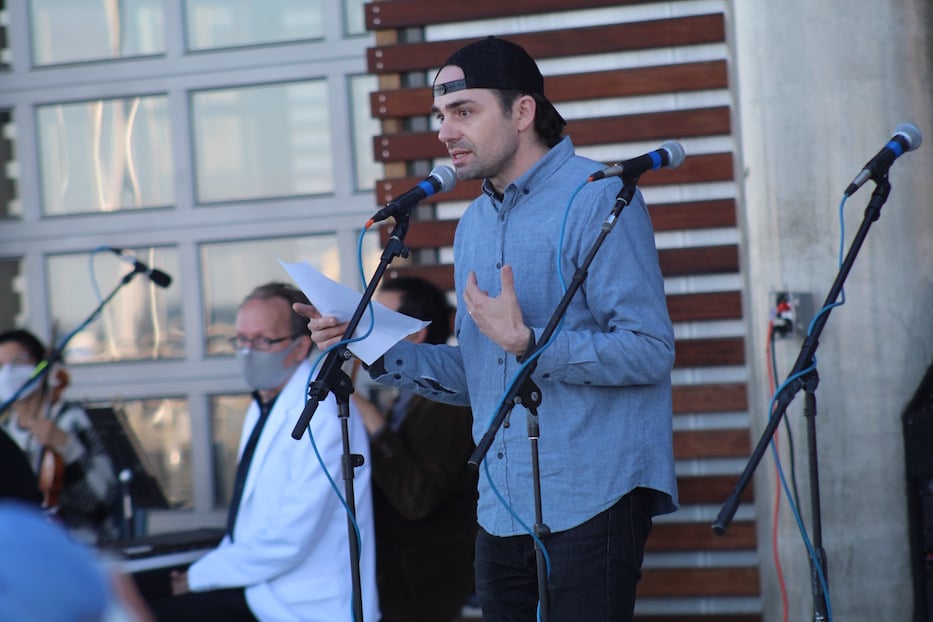 Aaron Jafferis, who is based in New Haven.
Maybe Vivaldi did not anticipate climate change, Jafferis said—but it's here. He knitted together Vivaldi's work and the reality of an earth veering towards disaster—Is the violin we're about to hear/The cry confused plants make when they bud early and then die?. He gave a poetic appeal for cutting carbon emissions and dismantling the fossil fuel economy as he described a world without snow. He told the audience that he was still hopeful, but cautious.
If we humans can't get our act together now
There will come a time when the seasons will so melt and splinter
What you're about to hear will be a requiem, an elegy, a memory,
of when there used to be winter
As musicians played through "Winter," that warning took a different shape. The concerto began with a sort of slow, methodical march of strings, before a dizzying violin rose and cried over it, in a shape like billowing whiteout conditions. An army of voices swelled around it, rigid and economical. As he played, Southorn listened closely to the violins around him, his response tender and tempered. Then, just as quickly as that softness had appeared, it hardened and sped up.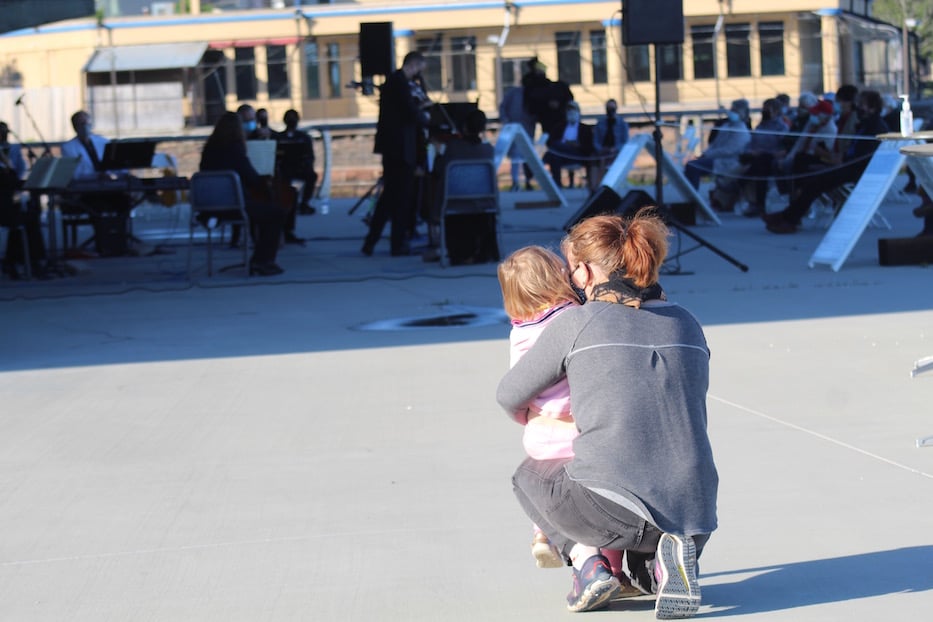 It felt timely—maybe because Vivaldi holds up for a few centuries, and so does standing on the right side of history. Exactly a year ago from Monday, protesters were blocking the highway as they mourned the state-sanctioned murders of George Floyd, Breonna Taylor, and Ahmaud Arbery. A year later, the performance comes in a spring that has seen a rise in citywide gun violence, and a week of nightly protests outside of the Hamden Police Department. There, staff are ostensibly considering hiring James Boulay, the officer who shot and killed 15-year-old Jayson Negron in Bridgeport in 2017. The earth, meanwhile, is veering towards climate disaster even as scientists, composers and poets sound the alarm.
There was an ask there, however subtle: for audience members to step up as listeners with more open ears, and accomplices in the fight against the white supremacy. The outdoor setting, backed by a city symphony of seagulls, motorcycles, sirens and taco trucks, bested the inaudible grandeur of Woolsey Hall. When many of the attendees clapped between movements and nobody shushed them, it felt like a small start.
"I pray the summer is bold enough to warm us with peace," Queen read as she ushered in the season for every ear in the space. "I pray the summer is bold enough to warm us with peace."
For updates, follow the New Haven Symphony Orchestra on Facebook, Twitter, Instagram, or at their website.