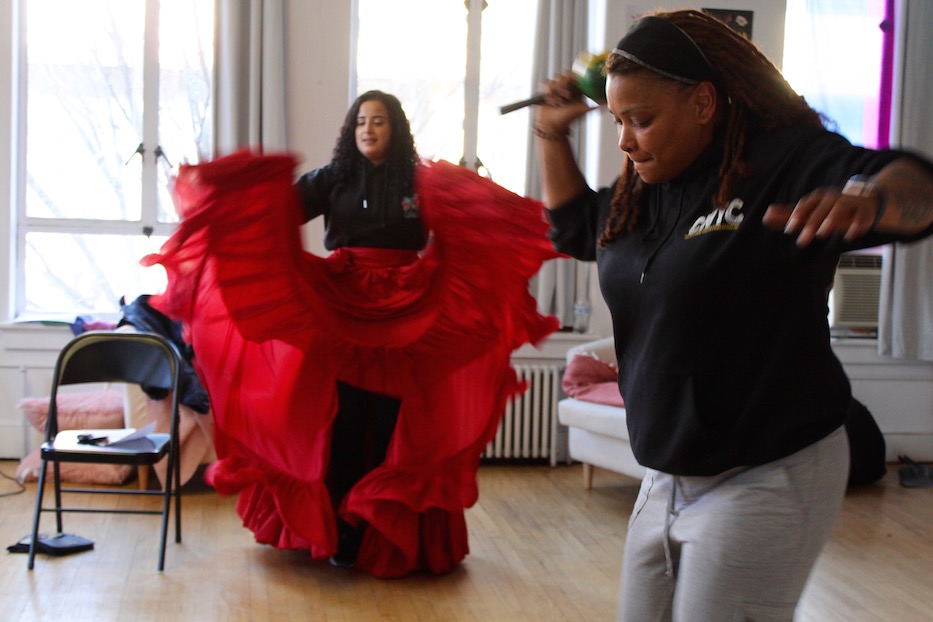 Downtown | Music | Politics | Arts & Culture | Citywide Youth Coalition | Arts & Anti-racism | Proyecto Cimarrón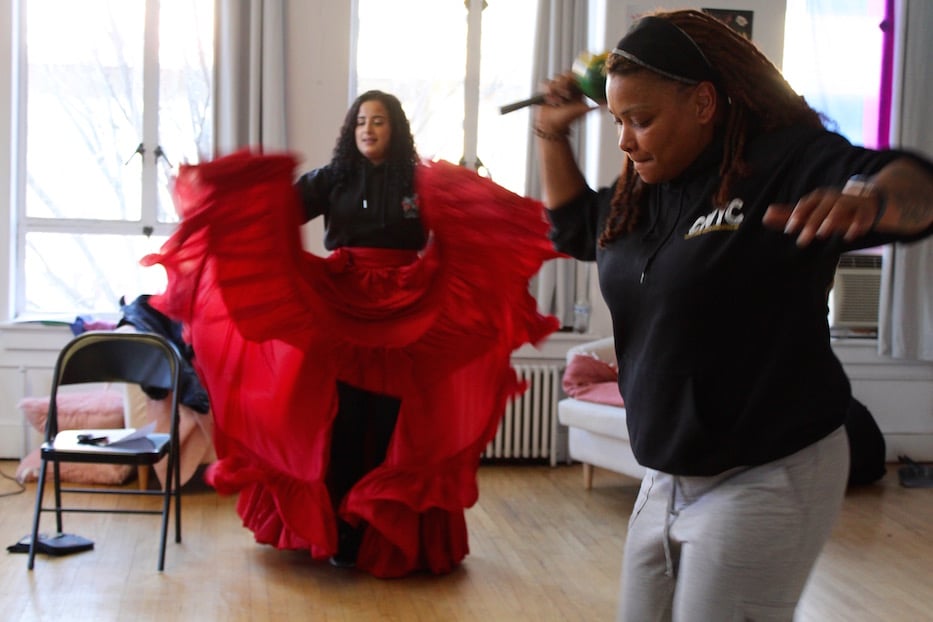 Addys Castillo. Naomy Velez is pictured in the background. Lucy Gellman Photos.
Addys Castillo's voice rang through the Black and Brown Power Center on Chapel Street, clear as a bell as maraca whispered beneath it.
Mama yo voy para la central/Mama yo voy para la central!
In each downbeat, the words told a story of liberation one breath at a time.
Estan gritando alla en la hacienda, los negros congo estan de fiesta.
Beside her, Kica Matos and Carlos Cruz locked eyes for just a moment. It was a pact. Matos led the barriles into song, her hands airborne. Instantly, musicians were a single heart, beating together.
The scene is a normal one for the members of Proyecto Cimarrón, a new collective dedicated to the history, radical legacy, teaching, and liberatory work of Puerto Rican Bomba. Formed in late 2021, the group both celebrates the breadth of a diaspora and amplifies the alive-ness of the art form, particularly its roots in social justice. The group will hold its inaugural Bombazo or concert this Saturday at 6 p.m. at 928 Chapel St. in downtown New Haven.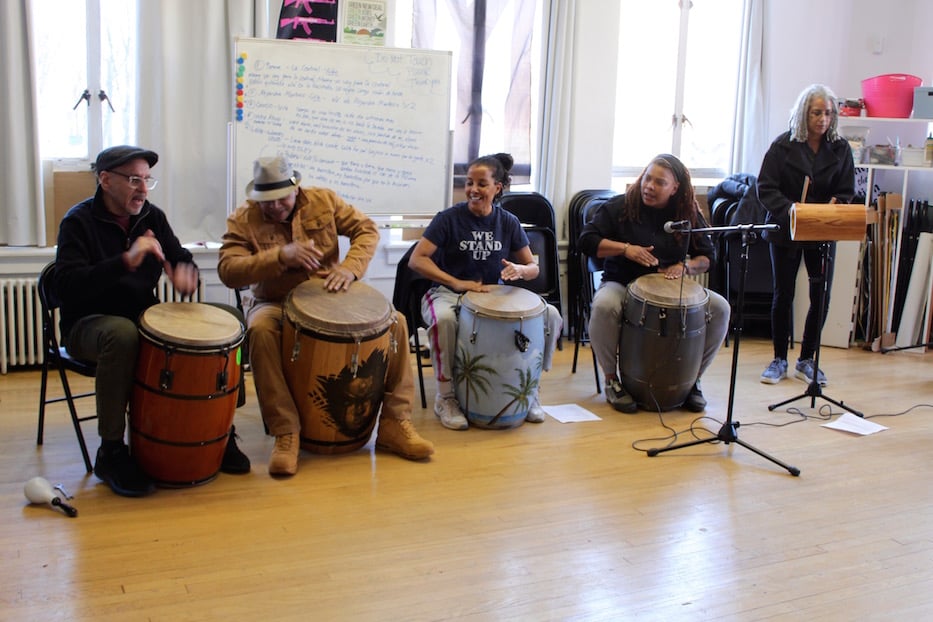 Asher Delerme, Carlos Cruz, Kica Matos, Addys Castillo, and Monica Matos.
Members currently include Castillo, Carlos Cruz, Asher Delerme, sisters Kica and Monica Matos, and sisters Naomy and Natasha Velez. While most members have been practicing for decades, they are intensely collaborative: drummers also sing, encourage each other to lead, and take turns dancing. Only Monica Matos, who plays a custom-made cuá from Cruz, is relatively new to bomba.
"Just so we're clear, this is not a performance troupe," Castillo said at a recent rehearsal. "This is a liberatory space. This is a chance for us to get free."
The project was born last year, after Matos, Castillo, Cruz and the Velez twins left the group Movimiento Cultural Afro-Continental and needed a space "to just play," Matos said. The large, sun-dappled Black and Brown Power Center, from which Castillo runs Citywide Youth Coalition, made sense: it is already a home for social justice in New Haven, from which several robust youth-led movements have taken root and flourished in the city. In the past two years, bomba has played a role in many of their protests, rallies, and teach-ins.
There was, at first, no formal sort of group. The four simply gathered as a way to keep the music going, and practice an art of liberation in the process. At some point, Matos said, Cruz started calling musicians "los cimarrónes," a term for runaway or fugitive slaves that comes directly out of a history of enslavement, resistance, and the Afro-Caribbean diaspora.
In his 1989 work Los guerrilleros negros: esclavos fugitivos y cimarrones en Santo Domingo—which the collective uses as a foundational text on its website—Carlos Esteban Deive defines a cimarrón as an "Indian or Black slave who, individually or collectively, rebelled against the state of servitude and oppression to which he was subjected by his master."
The name was initially a term of endearment and a joke, Matos said—but it stuck. Musicians are all artist-activists in their own right, from immigrant rights advocates and fierce educational mentors to poets (Cruz, for instance, has been heralded as the "Prince of the Black Verse" by the Puerto Rican Institute of Culture), lifelong dancers, healers, and artisans. Inside and beyond the room, they are all storytellers and champions of a music of resistance that has been used as a way to communicate for 400 years.
All were also excited to slip back into the rhythms—yubá, sicá, cuembé, seis corridos, told through vocals, barrel drums, cuá and maraca—that felt like home. When Delarme came onboard and started drumming a few months ago, "it was like he was a piece of a jigsaw puzzle," Matos said. The collective formally launched after a friend of Cruz' told him that they liked his "project."
What sets them apart from a traditional ensemble is "the basis of social justice in our work," Matos said. "We center Blackness in the work that we do. We're not afraid of revolutionary themes."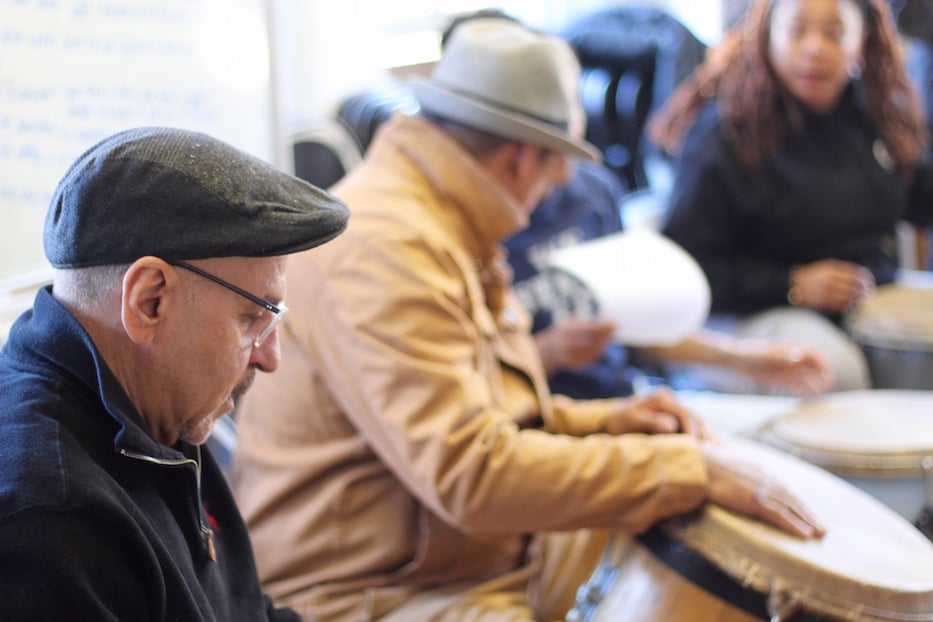 On a recent Tuesday, the space felt as if it had been waiting for them to return. In the place of curtains, a black-and-white version of the Puerto Rican flag covered one window; a rainbow Pride flag that read "Not My President" in large, scrawling black marker covered another. A dry erase board with the group's setlist peeked out from the back wall. As members trickled in, they set up a line of chairs, slipping into their seats. One by one, four drums appeared, catching in the sunlight. Outside, rush hour traffic beeped and trundled down Chapel Street, unaware.
As members set up, they compared notes on a recent trip to Puerto Rico, during which they performed as members of a "Diaspora Delegation" at the tenth annual Gathering of the Drums in late March. Chatter filled the room, wrapping it in warm Spanish.
Then just as quickly, it fell to a hush. Naomy Velez lifted her maraca, and eased into "La Central," ready to tell a story of freedom and celebration. Just feet away, Cruz—who is the group's primo or principal drummer—glanced at Matos and softly played four beats, passing her the song's yubá rhythm with no words at all. As Castillo's voice soared through the room, she brought listeners back to La Central, the term used to indicate a sugar mill or sugar cane factory in nineteenth-century Puerto Rico (there are ruins, for instance, of La Central Aguirre, La Central Guánica and La Central Coloso among others). One verse in, Matos hammered out a call to other drummers, and they hummed and sang out beneath her in unison.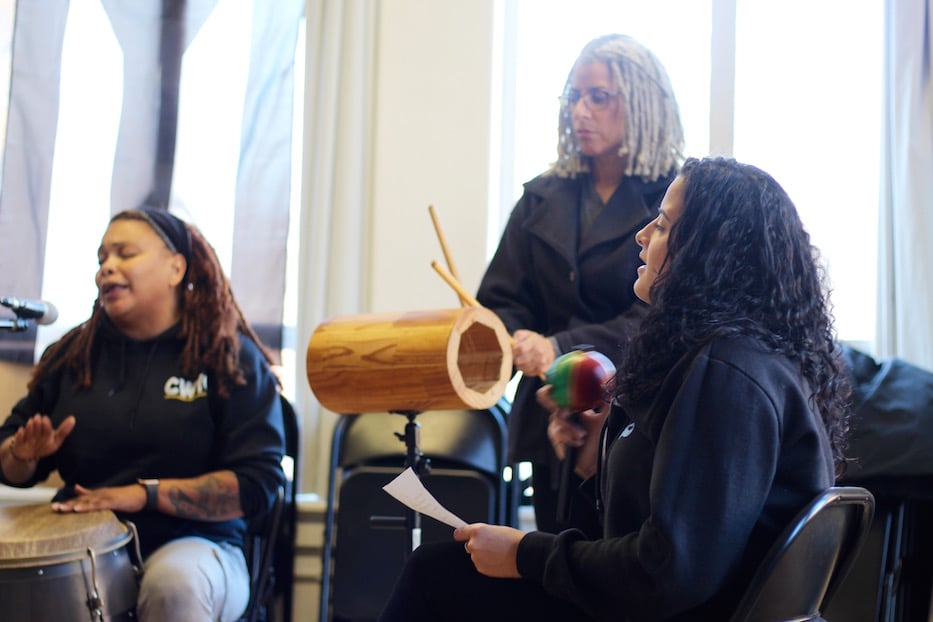 The lyrics tie Los Cimarrónes back to March 1873, when the Spanish National Assembly formally abolished slavery in Puerto Rico (because the island is now a territory of the U.S., Puerto Ricans are still fighting for independence). When she sings the words, which announce that the narrator is going to the sugar mill, and can already hear their comrades partying, Castillo is speaking a Black, formerly enslaved person's right to celebrate back into being. Almost 150 years later, the song is still thick with meaning, from cries of "​​Ricky Renuncia!" to "Whose streets/Our streets?"
In under an hour, musicians drummed through a mix of familiar bomba pieces and adaptations that Castillo has rewritten to honor the long history of Puerto Rico's fight for freedom. In one, voices swelled around a take on "Usted Abuso" ("You Abuse"), all six members joining in on the chorus that Celia Cruz made famous 45 years ago.
In another, Castillo sang the praises of the Puerto Rican Nationalist Lolita Lebrón, whose fight for Puerto Rican independence led her to Congress with Rafael Cancel Miranda, Andres Figueroa Cordero, and Irvin Flores Rodríguez in 1954. On March 1 of that year, Lebrón and the three others entered the U.S. House of Representatives and opened fire from the spectator's gallery, wounding five. Lebrón, who spent the next 25 years in prison, later became an advocate of nonviolent protest, although she never renounced the shooting and believed the action justified until her death in 2010.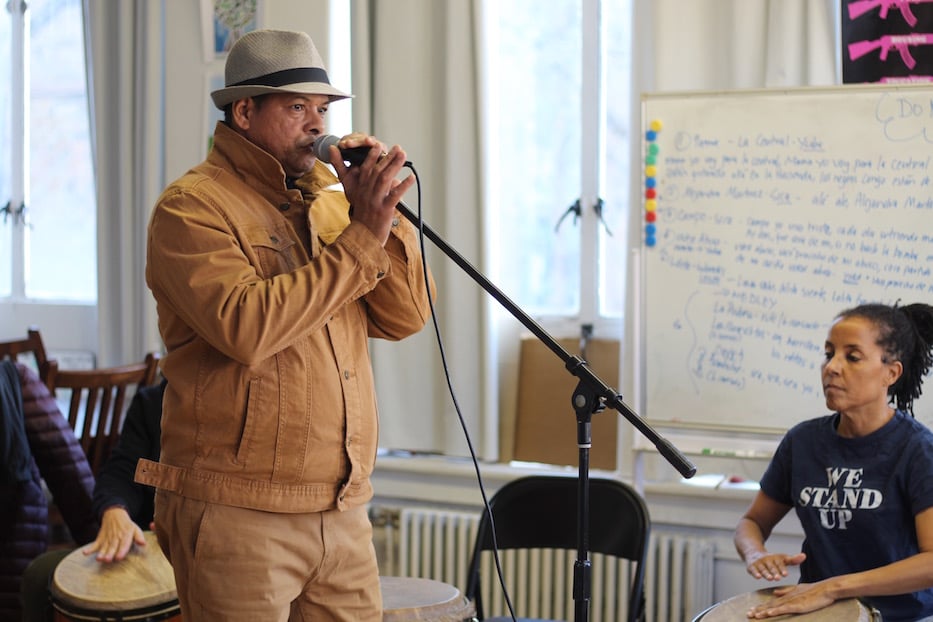 As Cruz introduced the work in a deep, rolling baritone, Naomy Velez wrapped a long, voluminous red skirt around her waist, making sure it was tight enough.
When Castillo began to sing—Lolita sabe, Lolita siente, Lolita fue pal congreso a morir por su gente (Lolita knows, Lolita feels, Lolita went to Congress to die for her people)—Velez lifted the skirt up and down, its ruffles flying toward the ceiling. Cruz watched her carefully, the drums in time with arms. There was such ease to her movements that it took a moment to notice her feet, working back and forth beneath bright, heavy folds of fabric.
By "Bambulae," musicians' joy felt contagious and electric; it skirted across the floorboards and pressed up against the windowpanes and wove beneath open palms and tightly held cuá sticks. It slipped out of one window that Castillo had opened to cool off and drifted right back into the center of the floor, where the movement of dancers' hip bones and the insistent, staccato beat of Cruz' drum felt interchangeable. The intermittent cry of a siren or squeal of a bus outside did nothing to dampen it. In members' beating hands and raised voices, a listener could hear ventricles pumping, each sustaining a life force larger than themselves.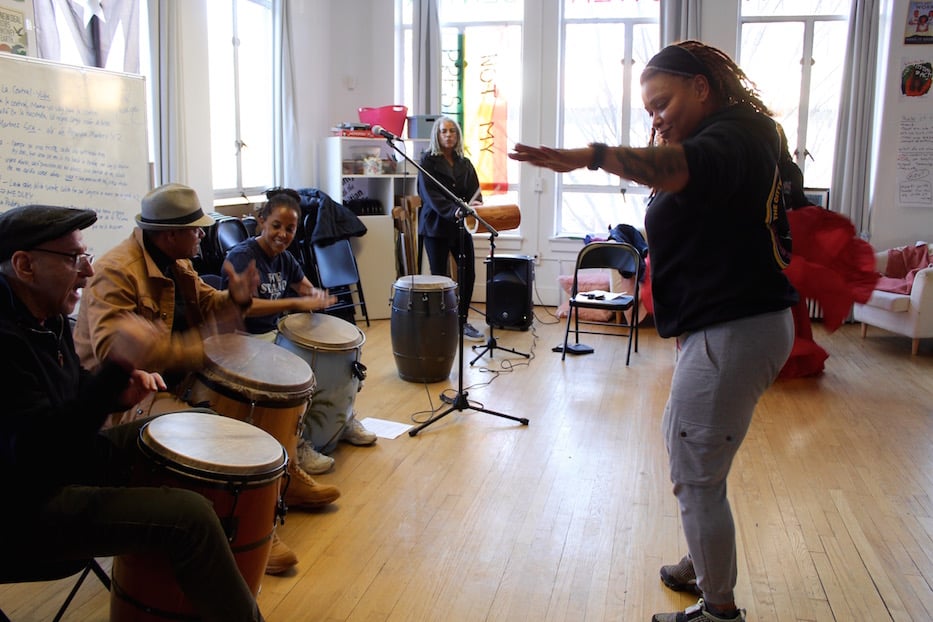 As members packed up, both Matos and Castillo said that the collective has given them a space to feel free at a time when the outside world hasn't. Both described the collective as a sort of cultural refuge: Cruz often nudges other drummers to take over as the primo, so that it's a shared role rather than one frozen in rigid, strict hierarchies ("You have to have a lot of love and respect for each other to do that," Matos said). A maraca may start in Naomy Velez' hand, travel to Natasha or to Castillo as one or more of them takes the floor, and end up back with Velez at the end of the song. Students from Citywide often listen to the music, and are free to join in.
Ultimately, Matos said, they want to open the space to those also looking for a site of collective liberation—particularly Black and Brown people. She added that she is looking forward to warmer weather, when the collective can play across the street on the New Haven Green. Next month, the group plans to welcome May Day with its drums. This summer, Proyecto Cimarrón will open for Las Cafeteras as part of the International Festival of Arts & Ideas. Members make every decision—including when, where, and whether to perform—as a group.
"This is our church, to be honest," Castillo said as she headed back out into the cool evening. "This is our sanctuary."
Proyecto Cimarrón performs Saturday April 9 at 6 p.m. at 928 Chapel St. in New Haven. To learn more, visit the collective's website. To listen to an interview on "Kica's Corner," a program of our friends at WNHH Community Radio, click the embed above.