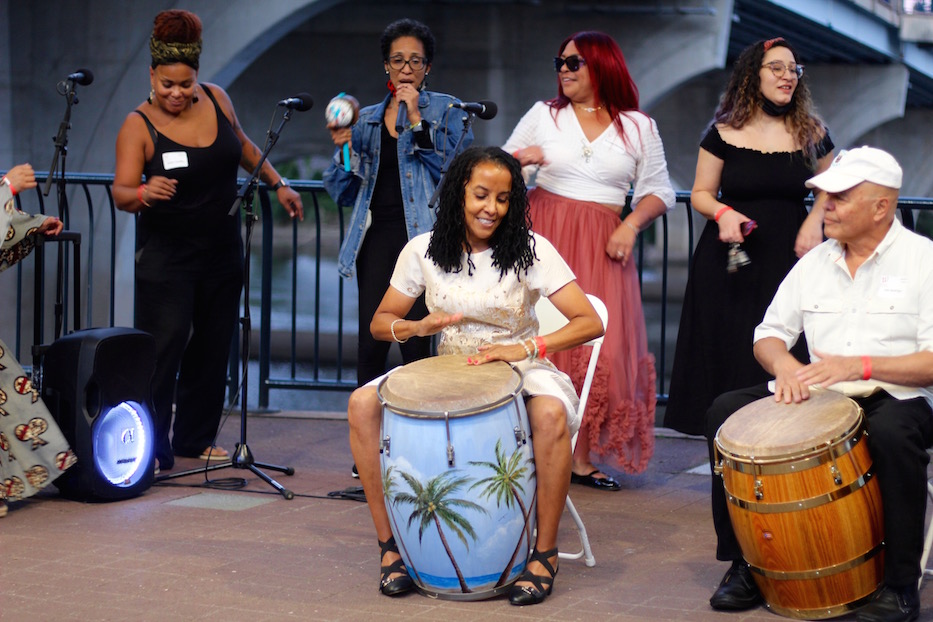 Hartford | Immigration | Arts & Culture | New Haven | Arts & Anti-racism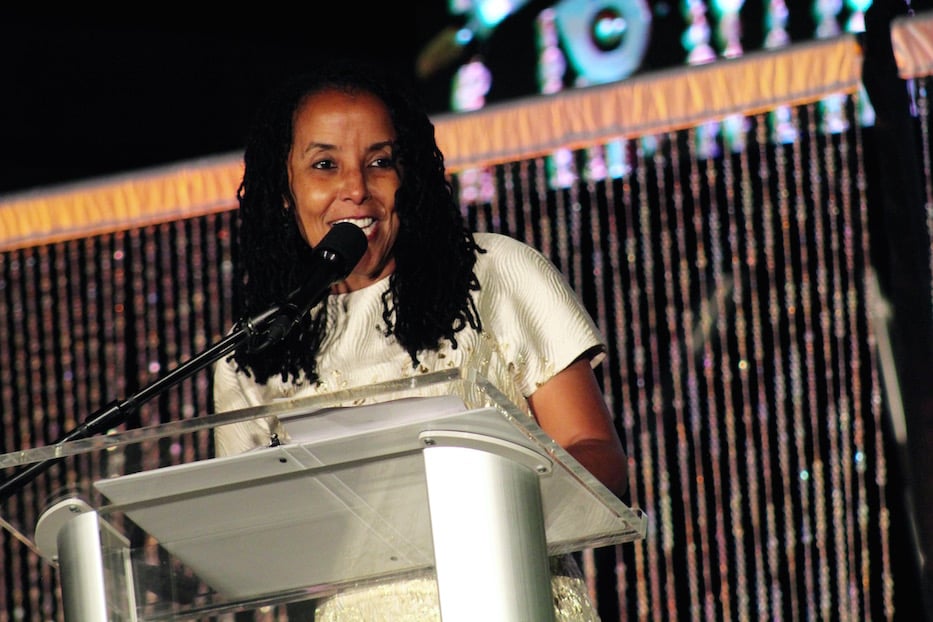 New Havener Kica Matos: The truth is that justice almost always comes through fierce, and sometimes lengthy battles." Lucy Gellman Photos.
Find your fellow activists, accidental and otherwise. Look for them in the streets, in the state legislature, in college dining halls and sanctuary congregations. Once you know who they are, get to work.
New Haven organizer, activist, death penalty abolitionist and immigrant rights crusader Kica Matos delivered that message Wednesday night in Hartford, as she became a 2021 inductee into the Connecticut Women's Hall of Fame. Over 200 people attended the event, held outdoors along the city's Mortensen Riverfront Plaza. In a testament to her huge and often intersectional footprint, Matos' cheering section hailed from New Haven, Hartford, New York City, and as far as the Fiji Islands. She is currently the vice president of initiatives at the Vera Institute of Justice.
Matos received the honor alongside Teresa Younger, president and CEO of the Ms. Foundation for Women, and trans rights trailblazer Jeirmarie Liesegang, who died of cancer last November. Spotlight recipients included Enola Aird, Pat Baker, ​​Rabbi Donna Berman, Glynda Carr, Callie Heilmann, Lady Pamela Selders, Marilyn Ondrasik and New Haven's own Khalilah Brown Dean. The President's Award went to The Campaign School at Yale, helmed by New Havener Patti Russo.
"Tonight, as we elevate the cause of social justice, let us recognize that there are still many freedoms and struggles to fight for," Matos said as she took the stage. "Let us also remember that we must remain eternally vigilant, because some of the freedoms that we have taken for granted are not yet set in stone."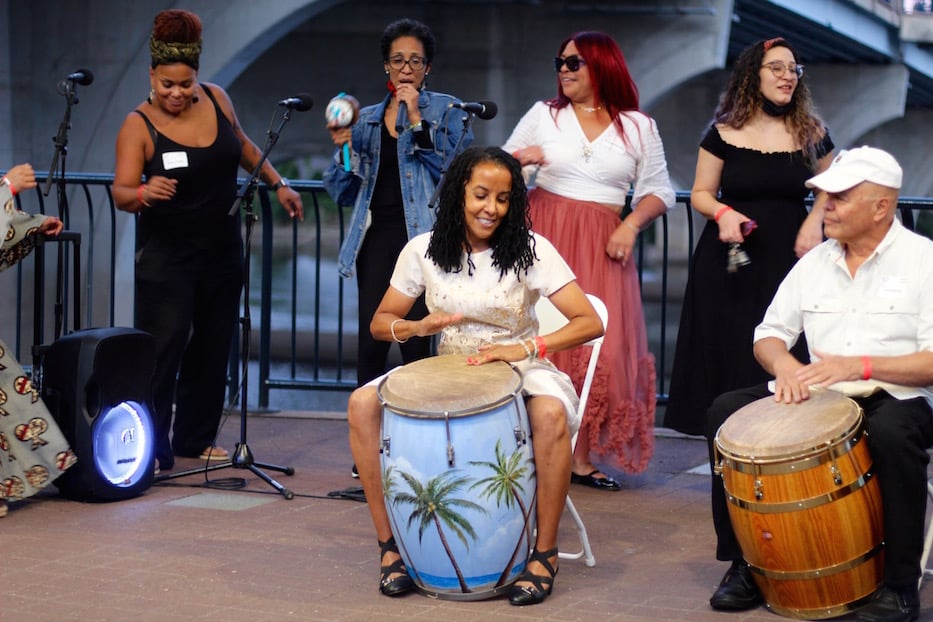 Kica Matos with members of, as Addys Castillo writes in the comments below, members of her "'Junte,' a gathering of folks from the bomba community, including folks from Bomba Works NYC." Norka Nadal is pictured on the mic. Joe Santiago, the drummer beside her, is from Bomba Works NYC.
Born in Puerto Rico in 1966, Matos has spent decades fighting for immigrant justice, carceral reform and an end to capital punishment across the country, including in New Haven. After growing up between Puerto Rico, Trinidad and Tobago, and the Fiji Islands, she moved to New York for graduate school—first in political science at the New School, and later law at Cornell University.
For four years in between her degrees, she worked for the NAACP Legal Defense and Education Fund, largely organizing with Black communities in the American South. Before her move to New Haven in 2001, she was an assistant federal defender in Philadelphia, where she represented prisoners on death row. By then, she had realized "that I was going to dedicate my life to fighting for the abolition of the death penalty," she said in a film that preceded her remarks Wednesday night.
After moving to New Haven—city residents can thank her now-husband, LEAP Executive Director Henry Fernandez, for brokering that deal—Matos became the first woman to lead JUNTA for Progressive Action, where she instituted programming meant to meet the community's changing needs. During her tenure, Matos built out after-school and summer programs for kids, spearheaded English language learning and legal assistance, and added driver's education classes. Where she saw a need in the community, she worked to meet it.
She brought that same approach to City Hall in 2007, where she argued for "Ban the Box" legislation and was instrumental in creating the Elm City Resident ID Card as deputy mayor for community services under Mayor John DeStefano. Paul Bass, then in the very early years of editing the New Haven Independent, remembered seeing a line of residents wrapped around the block by City Hall in the hours before it opened, eager to sign up. Almost 15 years later, dozens of U.S. cities have adopted similar municipal ID programs.
Those who came out to cheer Matos on included Gini King, Glenn and Megan Formica, John Lugo, Barbara Fair, Catherine John, Charla Nich, as well as law professors, old friends, policy nerds and advocates for youth.
"I don't know anybody else who has made such a great impact on New Haven," he said in a short film before Matos' remarks. "Who has inspired us to work together to tackle our big challenges in such a constructive way."
Matos did it while becoming a mom to Henry Fernandez IV, now a junior at Engineering and Science University Magnet School (and budding journalist in the pages of this publication) who blew at least one kiss to her from the audience as she uttered the words "te quiero mucho" Wednesday night.
She did it while arguing for an end to the death penalty, which Connecticut voted to abolish in 2012. She did it while challenging city, state, and national governments on the treatment of immigrants, working (and often marching) hand in hand with activists, organizers, and people living at the margins, who came out of the shadows as a matter of necessity.
And she did it while getting arrested—in front of the White House to protest President Barack Obama's aggressive deportation of migrants, in front of Trump Tower in New York as the Trump Administration attacked Deferred Action for Childhood Arrivals (DACA), in downtown New Haven as protesters blocked an intersection where Yale University had named a college for avowed white supremacist John C. Calhoun.
In New Haven, her footprint has touched every part of the city. Five years ago, she and activists rallied to give Corey Menafee, a Black dining hall employee at Yale, his job back after he smashed a panel depicting enslaved people carrying bales of hay on their heads. When they were successful—a win she credits not to herself, but to fellow activists and to Menafee's own tenacity—she escalated the campaign, moving to change the name of Calhoun College.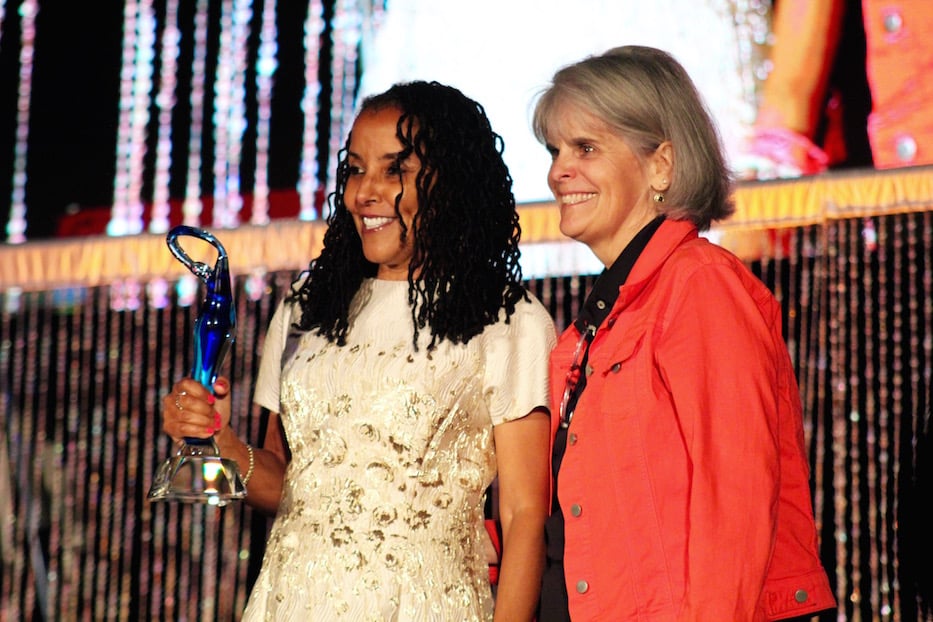 She has been a frequent and steady voice in the city's sanctuary movement, working with a kaleidoscopic coalition of organizers to advocate for Nury Chavarria, Marco Reyes, Nelly Cumbicos, Nelson Pinos, and dozens of other immigrants who have faced deportation orders from Immigrations and Customs Enforcement. She helped steer Mayor Justin Elicker's transition team in the months before he took office in 2020. In between, she has folded the arts into protest movements, from healing drums on the New Haven Green to bomba in the name of Black liberation and neighborhood safety.
"The truth is that justice almost always comes through fierce, and sometimes lengthy battles," she said Wednesday, strings of lights twinkling behind her. "Battles fought by women, men and young people, many of whom are directly impacted by injustice."
On a plaza overlooking the Connecticut River, she found her usual rhythm of resistance long before ever taking the stage. Close friends and members of several groups, including Movimiento Cultural Afro-Continental and Bomba Works NYC, surprised her at the event, walking out to greet her in song and percussive movement before the ceremony. In just moments, she had joined them, donning a white skirt to dance before orbiting a Barrille, then laying her palms to its surface. Kevin Diaz, who founded Movimiento in 2016, later gifted her a drum painted with palm trees, ocean, and low-hanging white clouds. It was made by Joe Santiago, a member of BombaWorksNYC
On stage, she urged attendees to continue fighting, quoting the late Civil Rights icon Ella Baker. She looked to the U.S. Supreme Court, where a decision in Dobbs v. Jackson Women's Health Organization could overturn the 1973 precedent set by Roe v. Wade this December. She noted voter suppression efforts in 18 states, including 30 pieces of proposed and signed legislation that are meant to keep Black and Brown people, queer people, and women from the polls.
She turned her eyes to the U.S.-Mexico border, where horrific violence against Haitian migrants has amplified a much deeper, more entrenched racist divide built into the U.S. immigration system.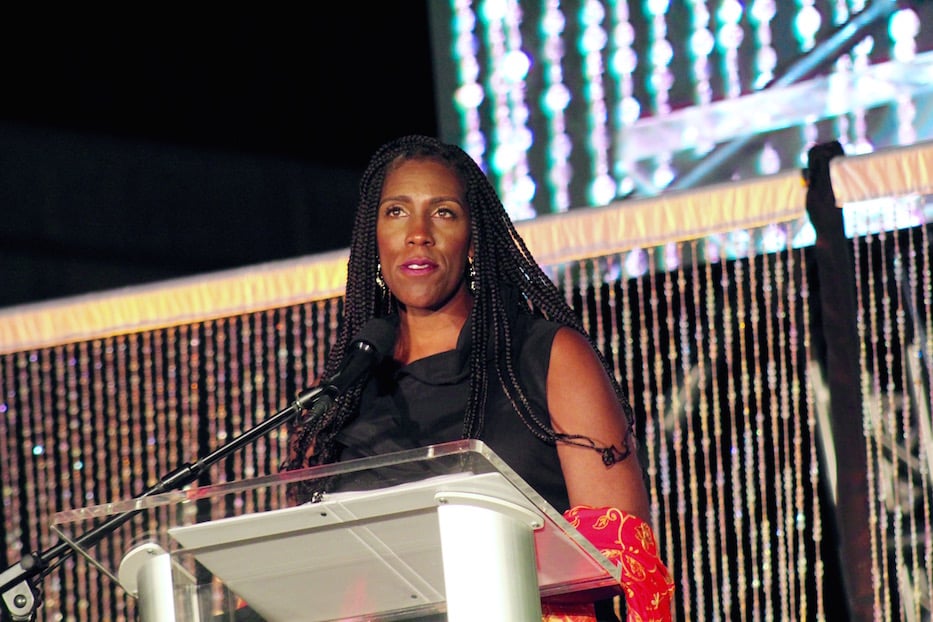 Younger: "If we each do something, it means we will get so much more done."
In the thick of it, Matos said, she thinks of the activists. The longtime organizers, and also the "accidental" activists, who have parlayed their own lived experience into advocacy. She shouted out Menafee, Chavarria, and Chavarria's young daughter Hayley, whose activism came out of simply wanting her mom to stay in the United States.
"I look forward to continuing with all of you on this journey," she said to loud cheers, whoops, and two standing ovations. "Dreaming big. Fighting hard. And memorializing, in our hearts and in our minds, the kind of world that we seek to live in."
Younger, whose previous work as executive director of the Permanent Commission on the Status of Women and president of the Connecticut ACLU frequently brought her into New Haven, also advocated for that kind of forward momentum. When she wakes up each morning, she said, "I challenge myself to do something every day."
"You see, if we each do something, it means we will get so much more done," she continued. "A fight for social justice isn't about sitting in places of comfort. So what will you do, like my fellow honorees, to make yourself uncomfortable? To make others uncomfortable? So that we can change the systems that are out there."
To learn more about the Connecticut Women's Hall of Fame, visit their website.