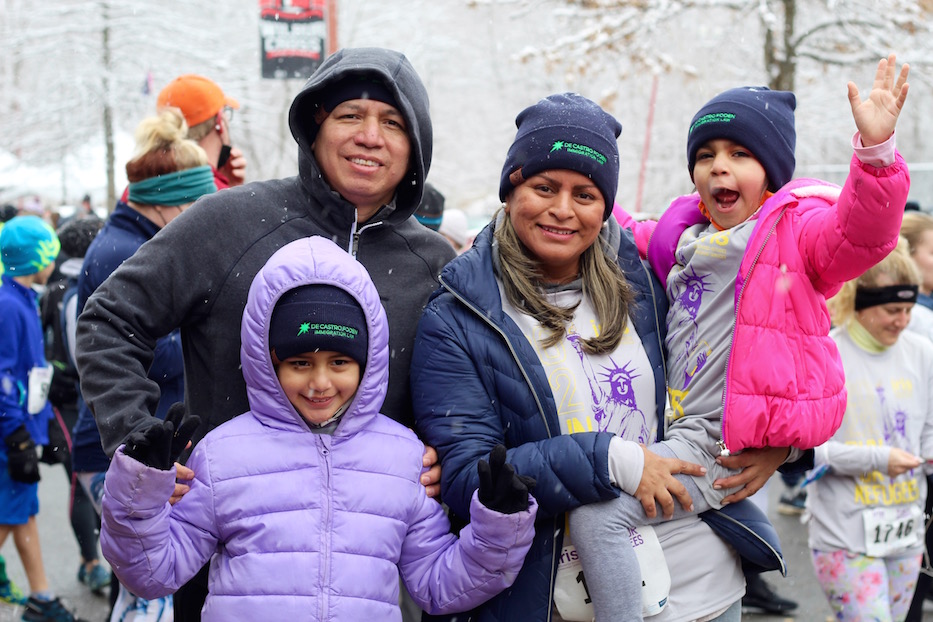 Culture & Community | East Rock | Immigration | Integrated Refugee & Immigrant Services (IRIS) | Refugees | Arts & Culture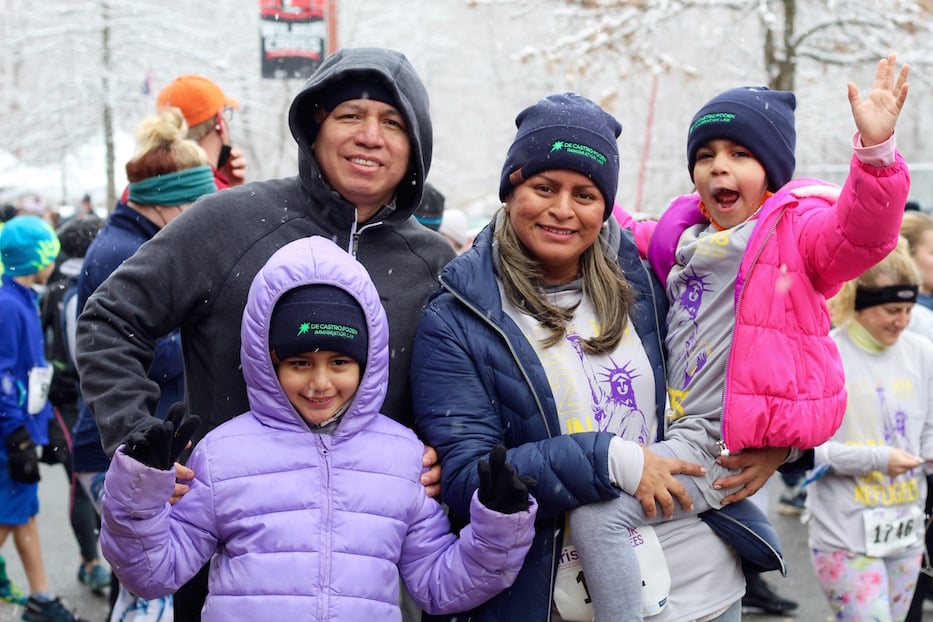 Paul and Evelyn Navarro with their daughters Emilia and Paula. Lucy Gellman Photos.
Evelyn Navarro looked out over a crowd of runners, watching large flakes of snow swirl above their heads and settle on shoulders, hands, already-chilled cheeks. She gave her daughters Emilia and Paula a little squeeze, and headed toward the starting line. With every step, she remained hopeful that America could give as much to immigrants and refugees today as it gave to her 23 years ago.
Sunday morning, a wintry chill was no match for over 1,385 in-person runners at Integrated Refugee and Immigrant Services' (IRIS) 15th annual "Run for Refugees," a 5K run and walk to support the organization's work to resettle immigrants, refugees, and asylum seekers in New Haven, Hartford, and across Connecticut. Held each year on Superbowl Sunday, the race raised over $100,000 for the organization. A total of 2,705 runners registered for both in-person and virtual options.
First place went to 37-year-old Will McDonough, who hails from New Canaan. For the entirety of the morning, emcees Andrea Sanchez and Syed Ahmed, both new employment services specialists for IRIS, kept the energy up in the snow.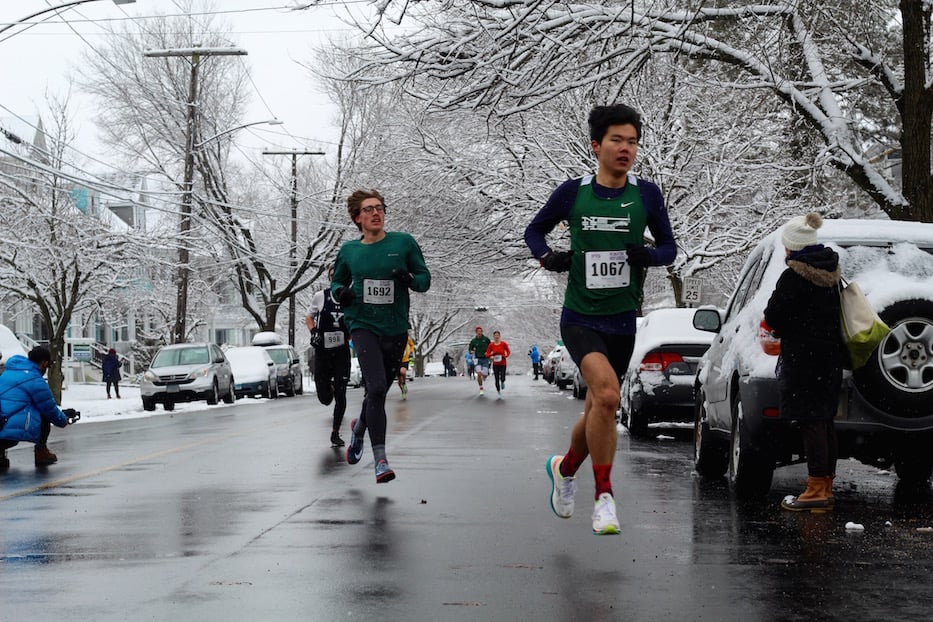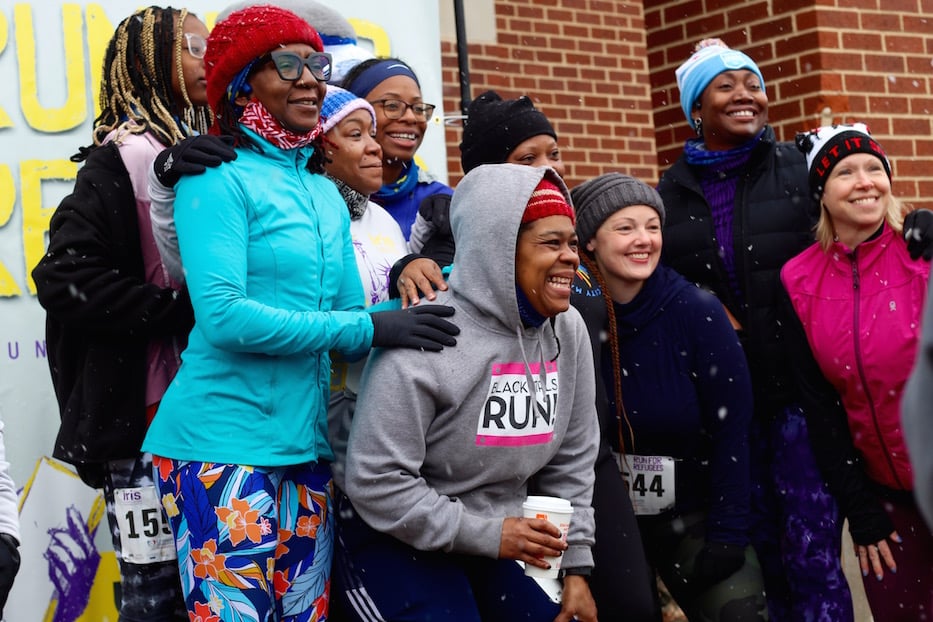 Top: Runners Tiger Lu (foreground) and Matthew Cooper lead the pack as they round the bend from Orange Street back onto Mitchell Drive. Bottom: Flake (in the "Black Girls Run" sweatshirt) and Napoleon (behind her in the pink and blue knit cap) were among a group of friends who came out for the run.
"We were just ecstatic to be back," IRIS Director of Community Engagement Ann O'Brien said. "The sense of support that our most recent arrivals feel at a place like this, it's irreplaceable. To be out there, and to see that thousands of people are showing up, and showing up with joy, to do this … it's a show of support that you just can't emulate any other way."
The route began at Wilbur Cross High School, then wound through East Rock Park and surrounding neighborhood. Despite the snow, falling windchill, and pandemic-era planning that kept the entire event outside, O'Brien said that registration had the organization close to 2018 attendance levels. A total of 2,234 people participated in a virtual run last year.
In the hour before the race, runners jogged in place, jumped up and down, and belted back last-minute cups of coffee and tea to stay warm. Keeping her daughters and husband close, Navarro arrived from the Hartford area, where she works as a paralegal at an immigration law firm. During the week, her job brings her in touch with families who have come to the U.S. "looking for better lives—for security, for safety."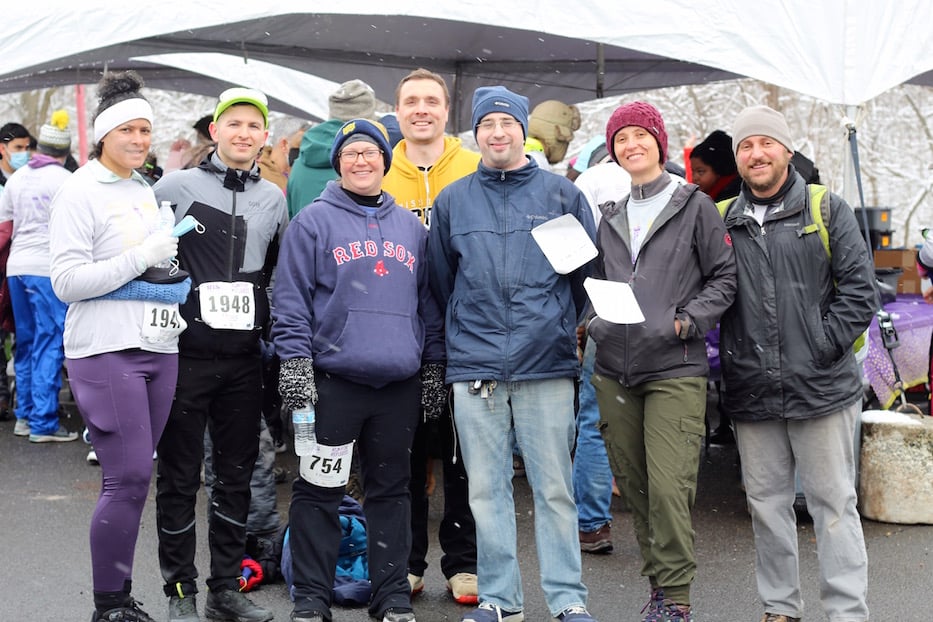 A team from the Wilson Branch of the New Haven Free Public Library, complete with spouses and significant others, came out to support the run.
When she found out about the race, she knew that she wanted to run for them, and for herself. In 1999, Navarro came to the United States from Peru. She went on to pursue paralegal studies at the University of Hartford, find and excel in a job at a law firm, and start a family. Sunday, she enlisted her husband Paul and kids to run with her. Bundled in matching hats and puffy coats, no one seemed to mind the snow. Paula looked up in wonder at the snow-dusted Soldiers and Sailors Monument on East Rock behind them.
"Because I do that kind of work, I had to be here," Navarro said, giving Emilia a hug to keep her warm. "This country gave me great things, including my beautiful family and a wonderful career. I want to give back to my community."
As she chatted, she looked around at the flurry of activity. Runners dotted the snow-speckled lot in all manner of spandex and sneakers, some wrapped in the flags of their home countries. Dogs in doggie jackets padded around empty parking spaces. Volunteers and chefs from Sanctuary Kitchen arranged snacks beneath a huge tent in the back. Close to the school, a pint-sized runner walked by in a green, spotted dinosaur onesie. "I love the energy," Navarro said.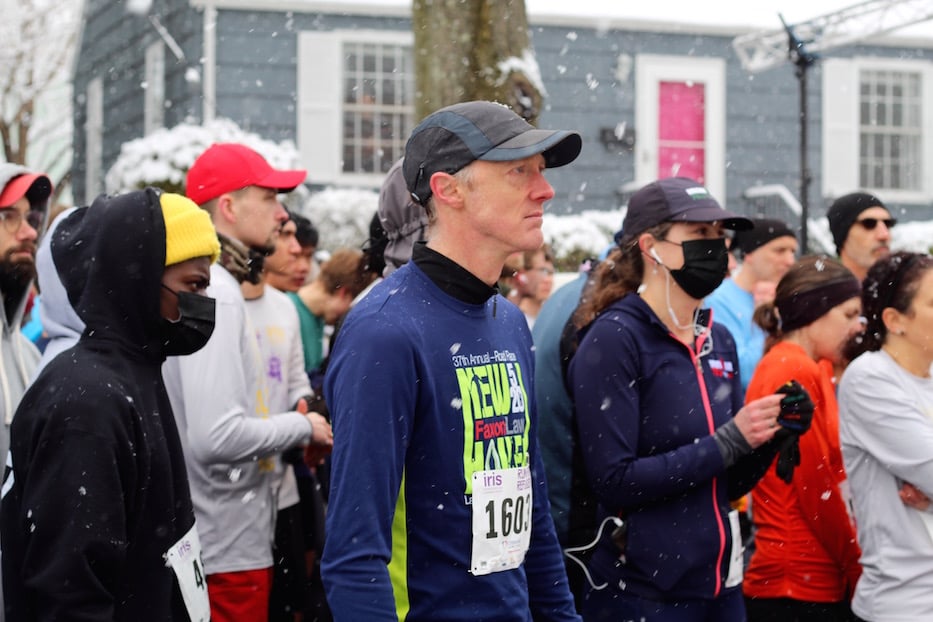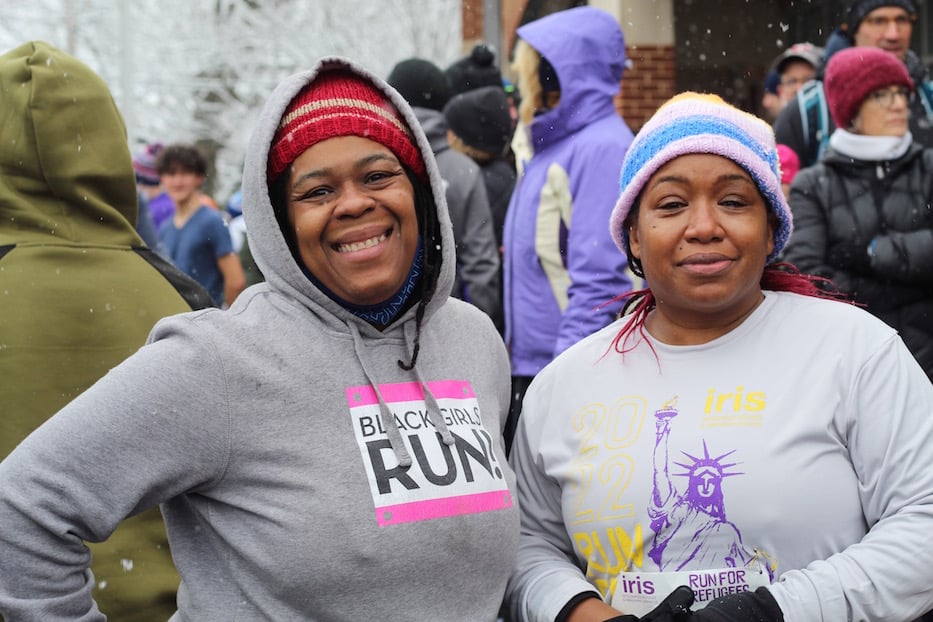 Top: Mayor Justin Elicker, who joked that a big pancake breakfast would slow him down before thanking IRIS for its work. He ultimately ran a 20:09 race, finishing third in his age group and 31st overall. Bottom: LaTanya Flake and Desiree Napoleon before the run.
So did friends LaTanya Flake and Desiree Napoleon, there with a group who had braved the slushy Sunday morning drive from Hartford for the cause. A first grade teacher in Hartford, Napoleon hadn't heard about IRIS before a friend encouraged her to sign up for the run, and she started reading about the organization's work. As the child of once-undocumented Jamaican immigrants, "things like this speak to me," she said.
Decades before she was born, her maternal grandmother sent her mother to the United States "so that she could have a better chance." Napoleon grew up believing that education was the key to her success, a lesson she now instills in her 19 students every time she walks into the classroom. She sees running for IRIS as a small way to say thank you.
"I'm a granddaughter of immigrant women," she said. "There is so much that wasn't in place back then, and I saw how they struggled and fought and caught up to get things. And I see that struggle as being similar now. But I do see more agencies that are able to help."
A medical supervisor by day, Flake said she was also excited to come out to show her support for immigrants and refugees—including those she serves at a community health center in Hartford. When the objective is access to care, she said, things like documentation don't matter. "We just want everybody to be treated fairly," she said. "That's pretty much also why I'm running. We all deserve to be treated equally and fairly."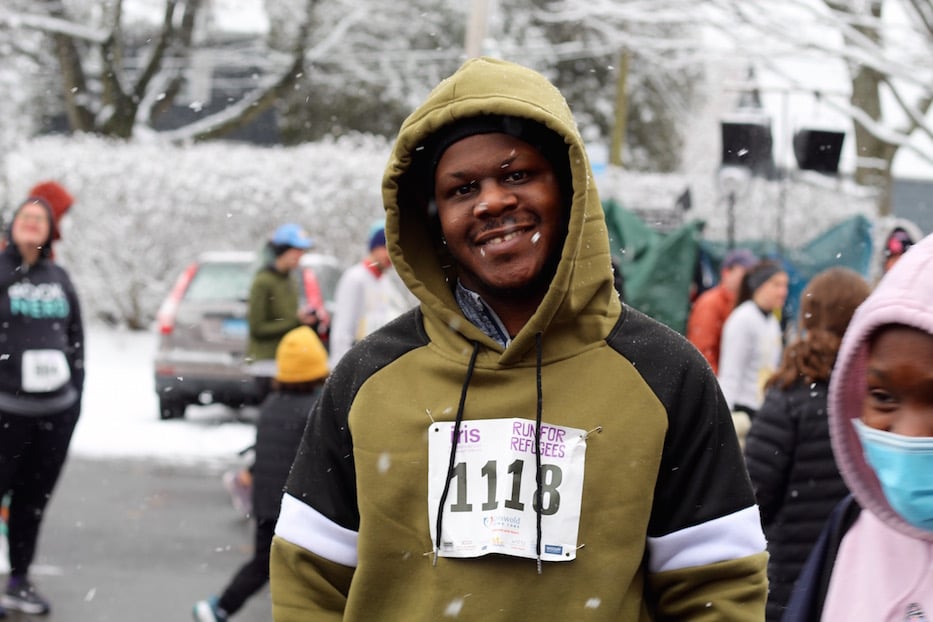 Runner Eric Johnson, Jr.
As runners began heading toward the starting line, Eric Johnson, Jr. hopped from foot to foot and flipped up his hood to stay warm. Born and raised in Bridgeport, Johnson had come out to both beat back the February blues and celebrate his roommate, who received his Green Card this month. He was cold, he admitted—snow had gathered on the hood and shoulders of his sweatshirt—but he was also thinking about the run as an obligation.
"We're running to provide opportunities that people don't have," he said. "This is something that as citizens, we were born with and we were blessed with. It's the least we can do for them."
On a snow-soaked podium at the starting line, a mix of elected officials, longtime race supporters, and immigrant and refugee artists cut their remarks short in the freezing temperatures. Gladys Mwilelo, whose family escaped violence in Democratic Republic of Congo and spent several years in a refugee camp in Burundi, channeled her own story into a poem. As she read, her breath a white cloud, the refrain "I ran/then/I ran" seemed to keep the cold at bay.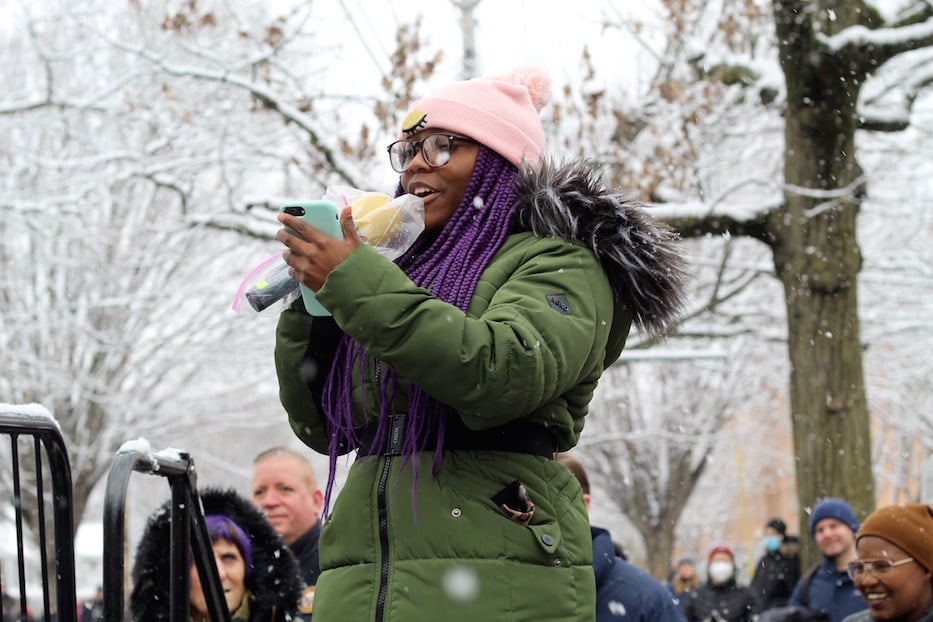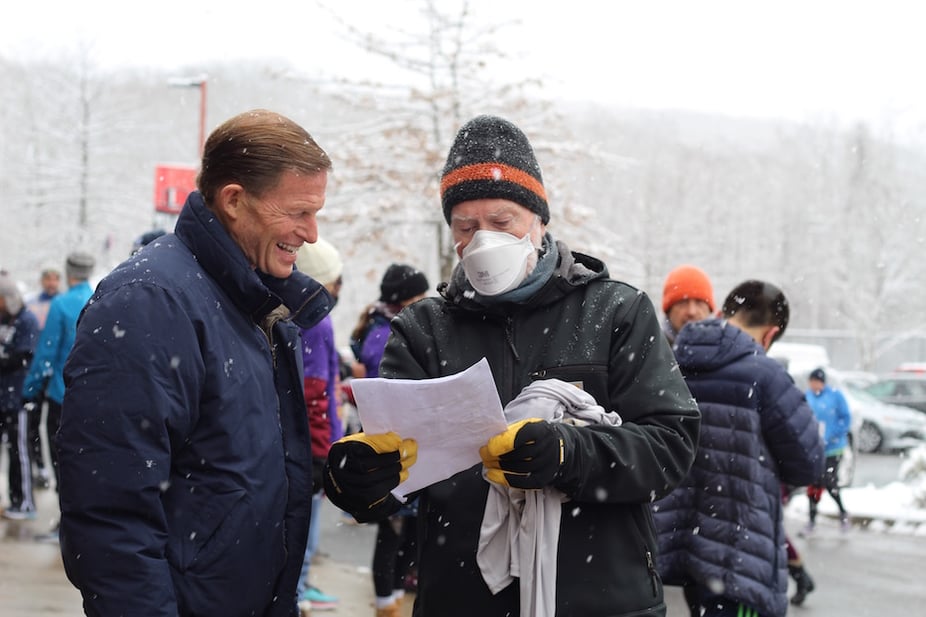 Top: Gladys Mwilelo. Bottom: U.S. Sen. Richard Blumenthal. "This is what America looks like. This is what the best in America looks like. People from all over the world, different races, religions, backgrounds—we are a nation of refugees and immigrants, and that's what makes us great. You are continuing that great tradition of opening our arms, opening our hearts, opening our homes to people who come from other lands and make our country the best in the world," he said.
For years, Mwilelo did not know if her family would make it beyond the camp. She ultimately arrived with them in New Haven in 2013, where "sometimes safety was as dark as the color as midnight," she read. In the years since, she has become a literal runner, a high school and now college graduate, a fiery voice for refugees like herself, and a published author.
"Like a strong wind, this time, I ran away with my family," she read, her purple braids spilling over her shoulders as thousands of faces stared back. "I ran with little to carry. I ran with no memory of home. Then, with no time to think, I ran, then I ran."
Other speakers praised IRIS for making the state a welcoming place for immigrants and refugees—including 400 Afghan arrivals who came to Connecticut through IRIS last fall, as the Afghan government collapsed in just days and resettlement agencies went into a months-long state of triage. Mayor Justin Elicker, who later clocked a 20-minute race, said he sees the organization as totally aligned with New Haven's values.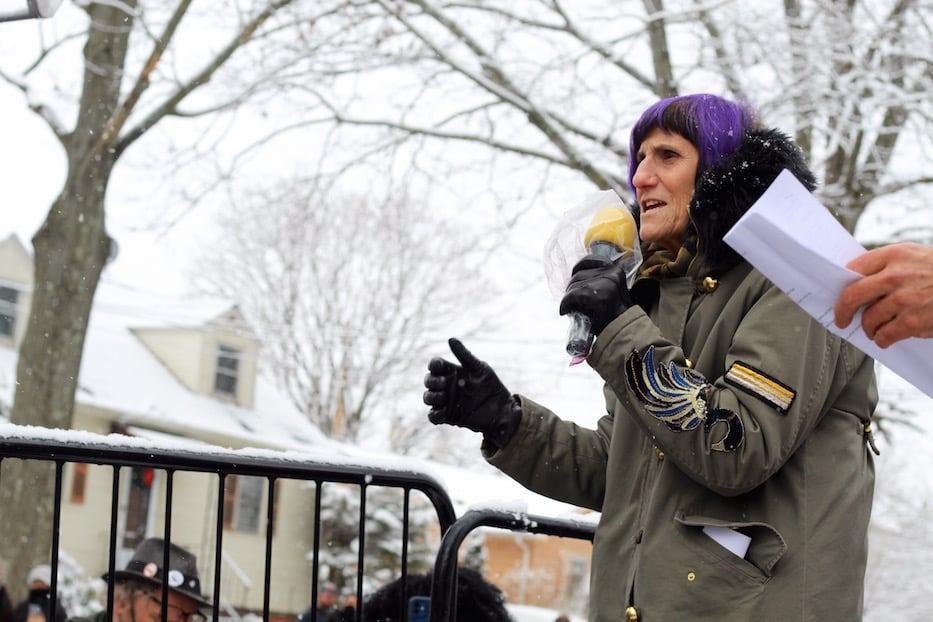 U.S. Rep. Rosa DeLauro.
To cheers, U.S. Rep. Rosa DeLauro told runners that it was "my honor" to petition the U.S. State Department to get hundreds of evacuees out of Afghanistan and into Connecticut. She added that she is excited to welcome hundreds more new arrivals this year.
"There is no nobler cause, no greater tradition, than for us to be a safe haven for those who are persecuted, those who have human rights violations committed against them, those who suffer violence than to welcome them in our community," DeLauro said. "We will continue our efforts to make sure we stand side by side with IRIS and with all of you to make sure that we accept and embrace refugees."
Those cheers grew louder as U.S. Sen. Richard Blumenthal took the microphone, looked over a street dotted with beanies, braids, hijabs, afros, and a few pride flags, and declared it a reflection of "the best in America."
He also thanked veterans in the crowd for their service, noting the role that many former military have played in getting Special Immigrant Visa holders—Afghan citizens who contracted with U.S. troops, and now risk retaliation from the Taliban—out of the country.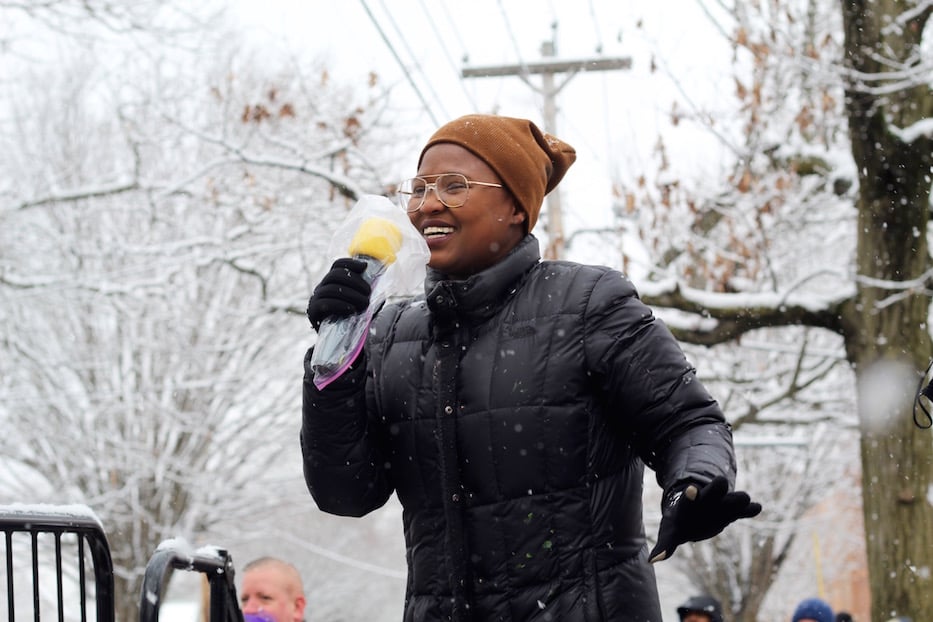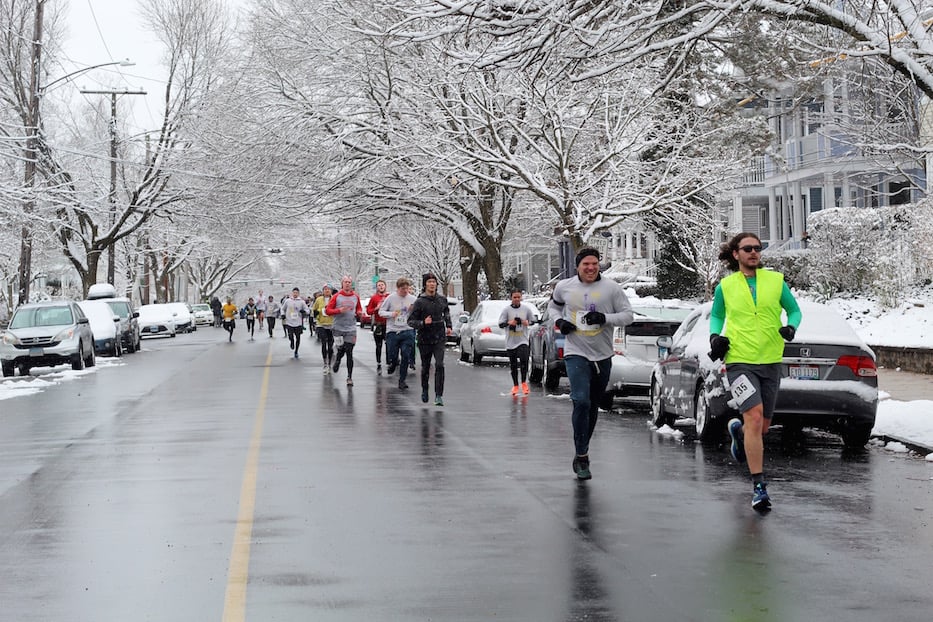 Top: Vocalist Thabisa Rich. Bottom: Runners.
Ten minutes into speeches, runners were cold; many blew on their hands and fidgeted. Singer Thabisa Rich, who has told her own immigration story across the city, bounded up the stairs and jumped up and down, airborne in a pair of light pink sneakers and gray-and-black yoga pants. She pulled the mic to her mouth, ready to belt the first verse to her song "Imagine."
"Are you READYYYYYYYYYY!?!," she said to whoops from the crowd that rivaled Sunday morning church services unfolding across the city. As she sang, a growl growing at the edges of her voice, attendees raised their arms and cheered. Moments later, as Ahmed and IRIS Director Chris George rang a "liberty bell," runners were off.
As they ran down Mitchell Drive, snow-dusted cheering sections materialized on the sidewalk, some with handmade signs and others bearing instruments, bright pom-poms, and streamers. At the corner of Mitchell and Orange Street, teacher Eric Teichman struck up the Wilbur Cross High School marching band as Cross cheerleaders materialized on the snow-caked curb.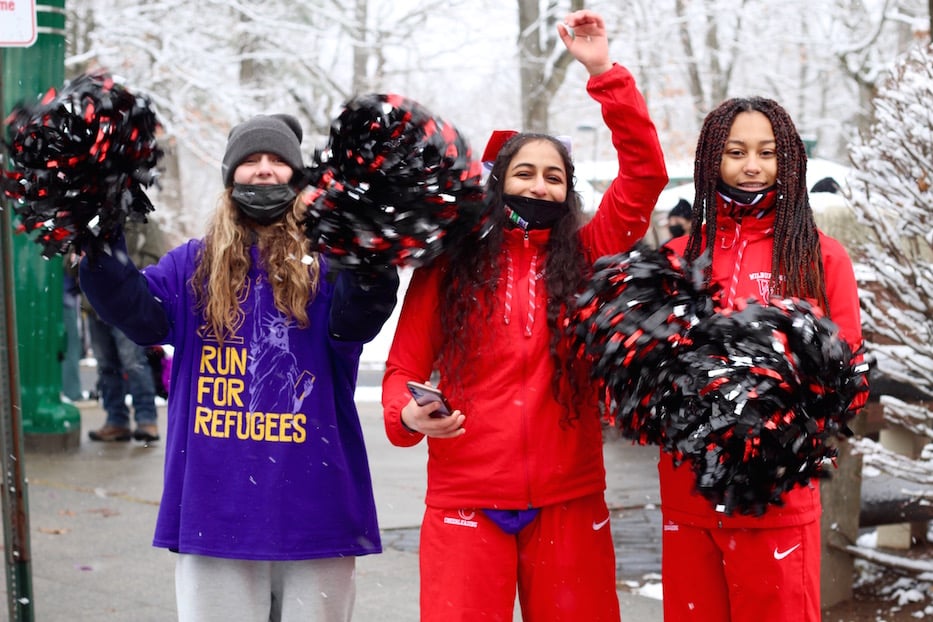 Wilbur Cross High School cheerleadersLeah Trachten, Nora Altameemi and Ai Ling Chow-Yen.
Within seconds, Cross junior Ai Ling Chow-Yen had staked her claim as "biggest hype man out there." Beside her, Leah Trachten and Nora Altameemi waved their red, silver and black poms, thick ribbons of mylar sparkling in the snow.
The drumline hit a steady beat, mingling with spirited hurrahs and cries of "30 seconds!" and "Let's go! Last 10!" A wooly-hatted dancer rocked it from beneath a street sign, waving a purple shirt as they figured out how to cross the street. At the other corner, a trickle of runners had turned into a steady stream, as the days' winners sprinted ahead, and left a pack of early finishers who would come in within seconds of each other.
Hype-people kept popping up across the race course. At the corner of Mitchell Drive and Cold Spring Street, African drumming returned after a year away. In a snow-kissed East Rock Park, five-year-old Tashtego Williams doled out high-fives with a huge smile and handmade sign that read "Thank You" as his sister kept it cozy in a snowsuit. And back on Orange Street, at least one runner used the Encanto soundtrack to get her daughter through the end of the race. Around them, a few runners picked up the strains of "The Family Madrigal" and jogged along, beaming.
At the finish line, Flake and Napoleon were catching their breath. With smiles on their faces, both said the run had been well worth it.
"A Burst Of Normalcy"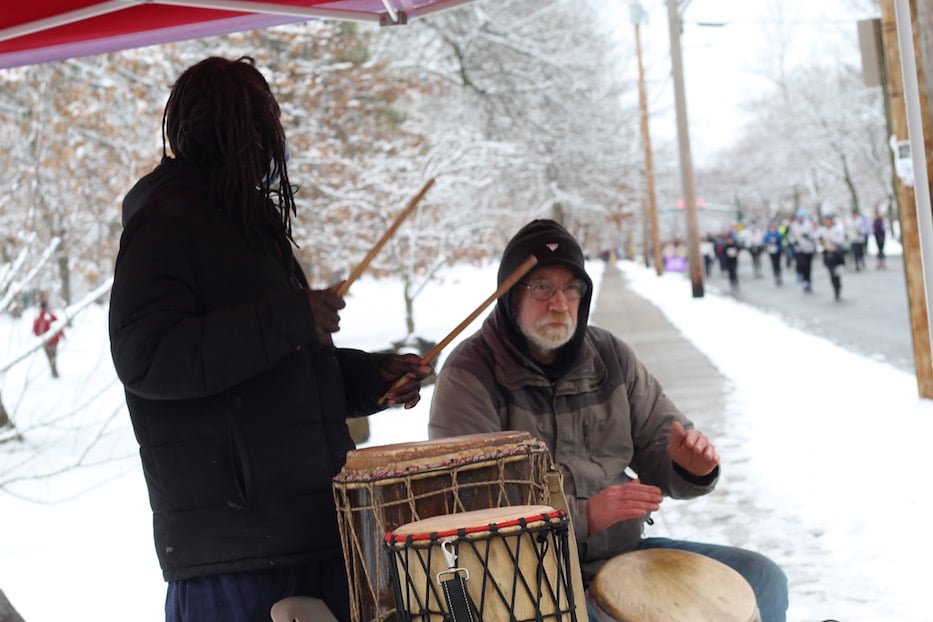 African drumming greeted runners at the corner of Mitchell Drive and Cold Spring Street.
The race comes as IRIS continues to work around the clock to resettle Afghan refugees, many of them Special Immigrant Visa (SIV) holders, who are still arriving in Connecticut months after the last U.S. military flight left Afghanistan. As the Taliban rose to power in Afghanistan last summer, the organization faced an unprecedented number of Afghan arrivals that totaled 400 people before the end of the calendar year.
Often, families were coming so fast that IRIS employees had less than 72 hours to find and secure housing and begin helping a family build a new life in the U.S. Sometimes, the organization didn't receive flight details until midnight or 2 a.m. the night before, O'Brien said. Documents with which people were supposed to arrive, like employment and social security forms, didn't always come with them. She estimated that 100 of last year's arrivals have been unable to work for six months because of missing federal forms.
"There's gonna be ramifications of this that we live through for the next two years," she said.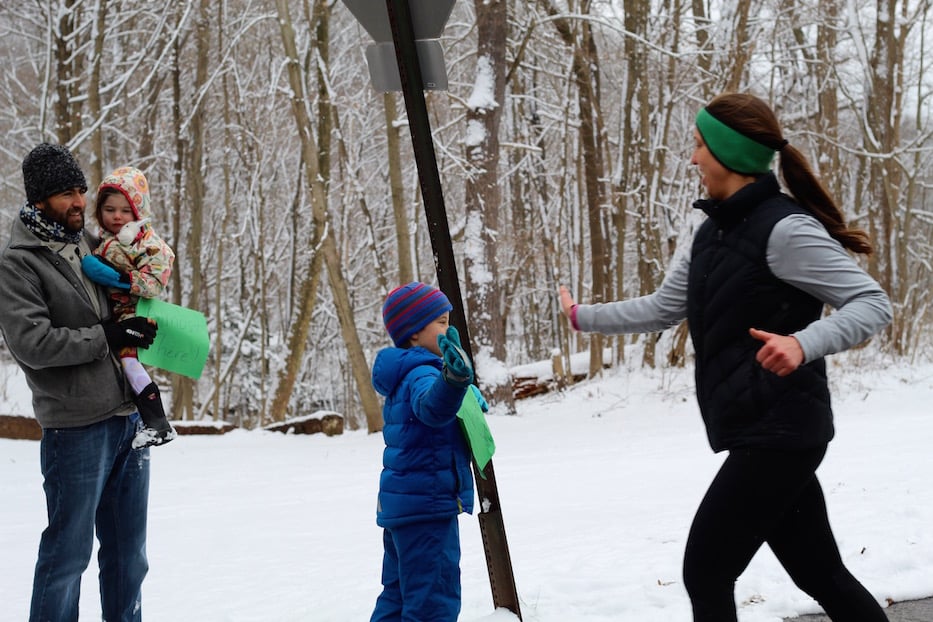 Five-year-old Tashtego Williams high-fives runner Kelly Hebrank as his dad, Connor Williams, and two-year-old sister Caledonia look on. Hebrank is an ESOL teacher in the city's public schools, and used to work for IRIS.
At the same time, IRIS had 150 existing clients who had returned to Afghanistan for the summer to see their families, and were still in the country as its government fell. For months, staff figured out how to do money drops, maintain contact, and get them out of the country. The last of those families was evacuated in mid-November of last year. O'Brien described the stress of hearing updates on those families "while doing our daily jobs," which included resettling additional families from Sudan, Eritrea, Syria and Congo that the federal government sent its way.
Between August and December of last year, it resettled 30 individuals who were not Afghan families, and hundreds of refugees from Afghanistan. At one point, case managers were so burnt out that other staff members, and one member of the organization's board, started covering new arrivals just so case managers could take one or two days off.
IRIS also brought on 30 new staff members, who are working remotely because the Nicholl Street building is now much too small for the operation (O'Brien said she misses the "low-budget U.N. feel, which is impossible with a larger staff and a global pandemic). It plans to resettle another 600 refugees before the end of the calendar year. O'Brien praised the organization's community partners across the state for stepping up as a resource during the past several months.
"For us as an organization, it's truly hard to describe what last fall did to us," she said. "It was brutal, and it hasn't ended. We took in over 400, 450 new arrivals in two months. There was something about this, just the level of constant exhaustion—that was really really hard. It's tough to put into words."
In that fog of exhaustion, she said, Sunday's run was a reminder of pure joy. For the first time in two years, staff members were able to gather in a single place to celebrate their work. On the mics, Ahmed and Sanchez made it a party ("oh man, dude without a shirt, shout out to you," Sanchez said, drawing laughs from passing runners). Employees and IRIS clients alike, many of whom ran Sunday's race, were able to look around and see the impact of the work on a community.
"To be there today, it was such a burst of normalcy," she said. "Just a sense of—this is the way we can be again. Even though this week, we're going to return to our work and say 'Okay, we still have a year's worth of destroyed processes' … This gave them [new staff] just a little inkling of what this is really about, in a way that no zoom call or department meeting can."
To watch more from Sunday's race, click on the videos above.