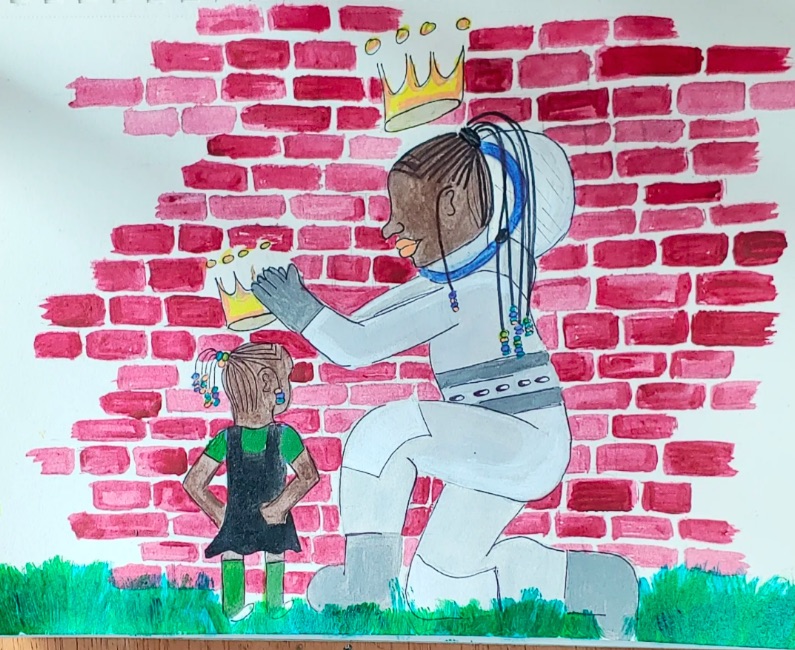 Fair Haven | Public art | Arts & Culture | Arts & Anti-racism | Nu Spiral Collective
Demeree Douglas/Nu Spiral Photo.
The little girl stands shoeless in the grass, her socks pulled to her thighs. We can't see her face, but there's a sense that she's awestruck at the vision in front of her. On one knee, an astronaut bends toward the earth, lowering a crown to the girl's head. She looks at the girl with wonder, and a viewer notices that they have the same long braids, the same beads in their hair. They are two versions of the same woman, in a world where dreaming is fully possible.
The design is one of two coming to Fair Haven this summer, thanks to the Nu Spiral Collective and $100,000 in funding from IKEA. The first, from artist Demeree "D." Douglas, is slated to go up on the underpass at Front Street and Middletown Avenue starting in June. Then the second, from artist Carlos Perez, is slated to go in on Grand Avenue by Hamilton Street in July. Both respond to the question "What does liberation look like to you?"
The Nu Spiral Collective includes Isaac Bloodworth, Joy Meikle, Ala Ochumare-Harris and MiAsia Harris, who have worked with New Haven's Department of Arts, Culture and Tourism and the Connecticut Department of Transportation on the project. This month, Nu Spiral is also working with artists Candyce "Marsh" John and Jesse Wolf on a mural on upper Whalley Avenue.
"It's not many times when I see opportunities where you really get to express yourself," Douglas said in a recent phone call. "I said, let me see how far I can go with this. As an artist, you're always growing. There's always something more to learn."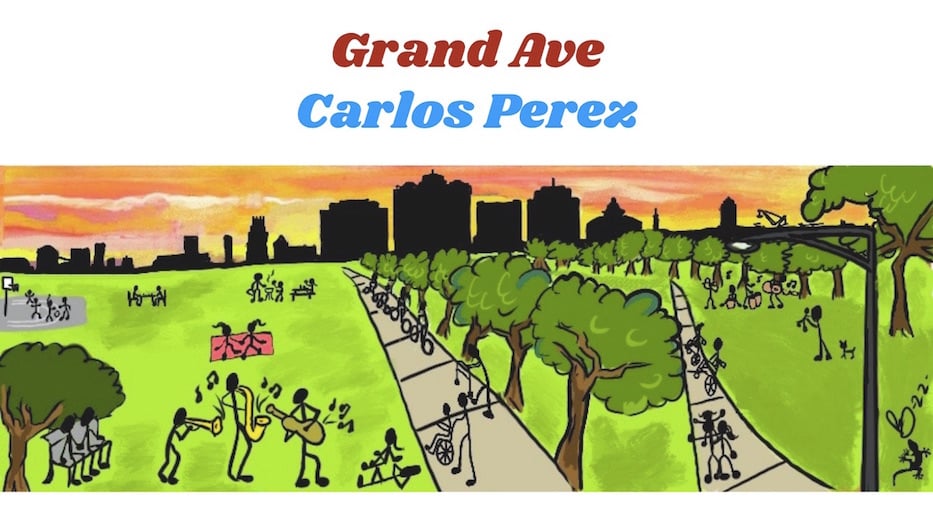 Carlos Perez/Nu Spiral Photo.
Both of the artists have been growing their public art footprint in New Haven for the past few years. Since starting his mural work in 2020 (read more about that here), Perez has completed commissions for City Angels Baseball Academy, the Meriden Humane Society, Ms. Mia's Daycare, and Black Lives Matter New Haven, where he was one of three artists on a large Temple Street mural in October 2020. This month, he's been working on a piece in Hartford's Constitution Plaza.
Two years ago, he met Ochumare-Harris while painting the Black Lives Matter mural on Temple Street, where it still stretches in sunshine-yellow lettering across the pavement. He followed her work as she became part of Nu Spiral, so named in honor of the New York-based Spiral Collective of the 1960s. When the group announced a three-underpass mural project last year, he applied for the Grand Avenue site. For him, that geography is personal: Perez grew up between the Hill, West Rock, Puerto Rico, and Fair Haven. At 14 or 15 years old, Fair Haven became his playground. He's excited to give back to a neighborhood that helped raise him.
Initially, he struggled with the prompt, which asked artists to envision liberation. When he initially submitted designs, Perez said, he took it literally—he pictured a cartoon version of himself in thought, with two fingers to a temple and art flowing out on the other side. Members of Nu Spiral liked the art, he said, but pushed him to think in broader terms. They asked what a liberated moment looked and felt like to him.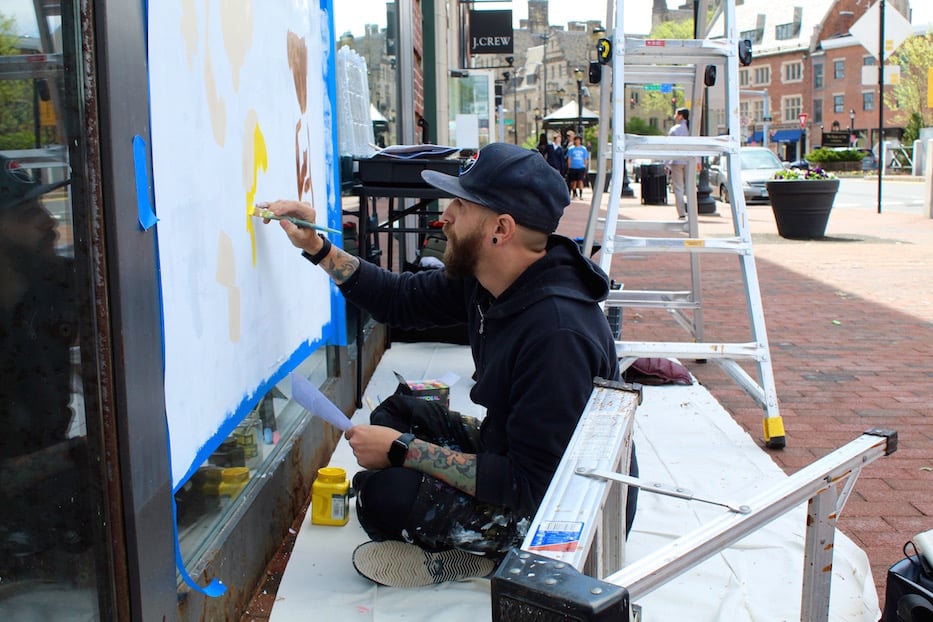 Carlos Perez, who most artists know affectionately by his last name. "This is what I think about when it's a perfect day out, when you're not worried about what's going on in the street," he said of his forthcoming mural. Lucy Gellman Photos.
Something clicked for the artist, who is also a doting dad and husband, and loves to spend time with his family. He went back to the drawing board, and reemerged with a picture of a lush, sprawling public park at sunset. In the rendering, there are drum groups and a horn trio, fleet-footed dancers and cyclists, family barbecues and pickup basketball games. Trees line every walkway, their green tops rising into the orange and pink sky. Further out, the New Haven skyline beckons in the distance.
"This is what I think about when it's a perfect day out, when you're not worried about what's going on in the street," he said. "I just feel like it doesn't happen often. A lot of the kids growing up here don't have that."
On a recent Sunday, he was working downtown, painting the window at Urban Outfitters as part of Yale's seasonal window art contest. A design with two young kids eating soft serve ice cream sat on a paint-splattered drop cloth in front of him. At the left, one kid leaned into a yellow fire hydrant, winking at the viewer. His hat, emblazoned with the letter "P," doubled as the artist's signature. Beside him, a young girl smiled, enchanted with the rainbow sprinkles on her cone. Two perfect Afro puffs completed her summer look.
As he worked, he praised Nu Spiral for taking care of the logistics, from permits to scheduling. All he needs to do is show up and paint.
"They're on it," he said. "The ambition is there, and obviously the love is there. I feel like they're just trying to create more opportunities for muralists, especially Black and Brown people. They're trying to change what's going on with the art world in New Haven. With how they've been moving, being brand new, they're gonna do a lot.."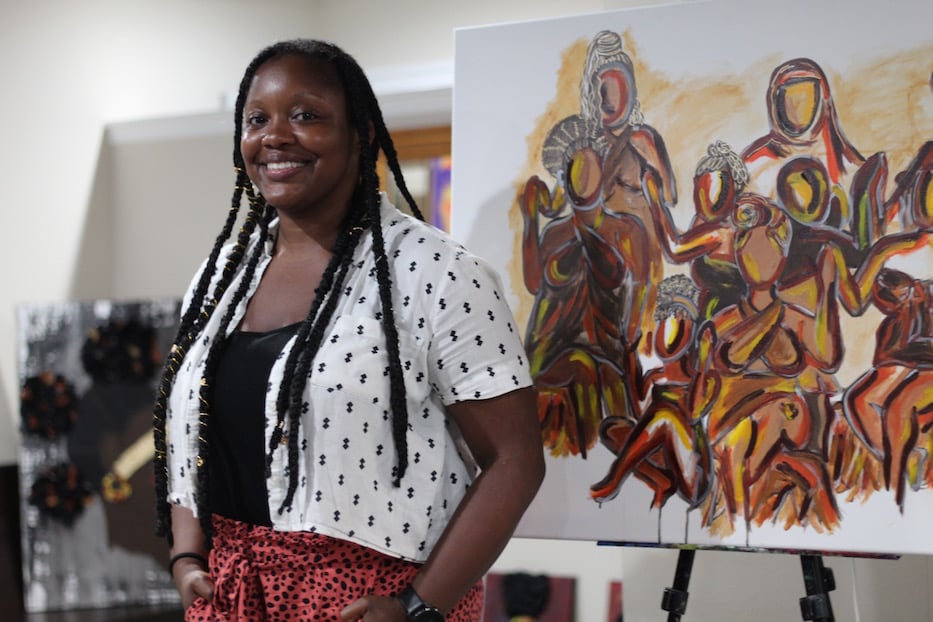 Artist Demeree Douglas, who goes by D., pictured during her exhibition The Mane Event at Poetic Haven last year. Lucy Gellman File Photo.
Douglas, a daughter of the Hill who may be best known for her celebrations of Black hair, jumped at the opportunity when she saw a notice for the project on social media. Since deciding to pursue art full time in 2020, she's been applying to every opportunity she spots. In February of this year, she and artists Liz Egan, Marsh, and Wolf completed a mural project at the New Haven Department of Children and Family Services. She decorated the toddler room with bright illustrations of animals.
When she spotted Nu Spiral's call for proposals earlier this year, the group's focus on liberation seemed right up her alley. But when she sat down to complete a rendering, "I had trouble with the topic at first," she said. "This is something that I've never thought about because it's not a realistic depiction of the society I'm living in now."
Initially, Douglas submitted images of chains breaking and hands reaching toward the word "liberation." Members of the collective urged her to think about freedom in more personal terms. It led her to an image of a young girl in a field, looking up at a vision of her future self.
In the final rendering she submitted, she painted a world where dreaming and freedom were both within reach. To the left, the girl is just four or five years old, hands planted firmly on her hips. Small blue and yellow beads dance on her braids. A wall glows terracotta red behind her.
To the right, she is all grown up, her body zipped into a white space suit. With the helmet removed, braids fall down her shoulders and brush her back. The grass beneath them is a lush emerald color, like crushed velvet. With both hands, the astronaut lowers a crown onto the girl's head. A matching version hovers above her braids.
For Douglas, the mural represents the chance to show fellow New Haveners—particularly young people of color—that the world is open to them. As an artist, she said, she is trying to live that reality in her work every day, in a world that often doesn't feel built for Black women. She plans to incorporate a lotus flower, which grows in river mud and blooms fresh each morning, as a symbol of that resilience. Or in her words, "the come back being greater than the set back."
"I really want the current as well as future generations to come to see my mural and realize that although I didn't grow up in a liberated society, that is not stopping me from achieving my goals and it shouldn't stop them either," she said. "Any dreams you have, go for it. Any stars that you feel are unattainable, reach for it. And don't let anything or anyone in this world stop you from doing just that. Know your worth and carry on."
Community paint days are planned for Saturday, June 25 at Front Street and Middletown Avenue and Saturday, July 16 on Grand Avenue. For more information and updates from Nu Spiral, check out their Instagram and Facebook pages.